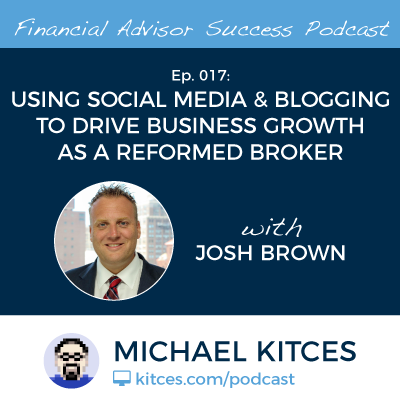 Welcome back to the seventeenth episode of the Financial Advisor Success podcast!
This week's guest is Josh Brown, a financial advisor and CEO of Ritholtz Wealth Management, and regular guest on CNBC's The Halftime Report, but known to most in the financial advisor community through his prolific presence on social media – including more than half a million Twitter followers – and his popular finance blog, The Reformed Broker.
What's fascinating about Josh, though, isn't just that he's active on social media, but that his firm has been able to turn it into real business growth. As having broken away to become an independent RIA with less than $100M of AUM in late 2013, Ritholtz Wealth Management has grown in under four years to a 13-person firm managing nearly $500M in AUM. In fact, Josh and his team get anywhere from 10-30 inbound prospect inquiries each week now, thanks to the constant publication of valuable (and entirely free!) content produced through the blogs of Josh, firm founder Barry Ritholtz, and several other advisors-who-also-write in the firm.
In this episode, Josh tells the story of how he became one of the best known voices in the industry, after starting out doing cold-calling for nearly a decade in a number of small regional broker-dealers before finally deciding to make the switch to become an investment adviser, and how the trajectory of his entire career was changed when he decided it was worth racking up some credit card debt to accept an invitation to a financial conference where he ended up meeting his future business partner. Josh also talks about how his own role in the firm has shifted and evolved as the business has grown, and the steps he takes to make sure he's still working on the business and not just in the business.
And be certain to listen to the end, where Josh shares some of the books that have been most influential to his career, and the advice that he offers to anyone – whether a newer advisor, or an experienced one – on how to get started if you want to build your own digital presence with blogging and social media.
So whether you've been curious to learn how an advisory firm with a prolific blogging and social media presence turns free content online into real business, or want to hear the story of how a cold-calling broker ultimately broke out to success by becoming an investment advisers, or just want some ideas on how to build your own business with more digital marketing, I hope you enjoy this latest episode of the Financial Advisor Success podcast!