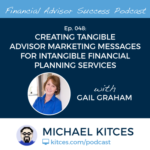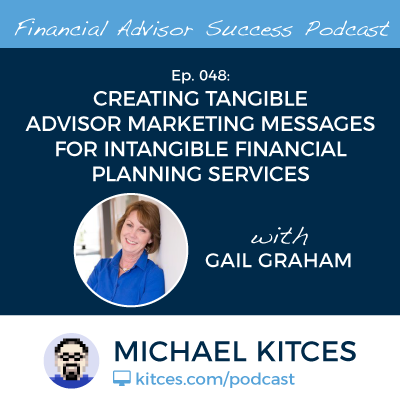 Welcome, everyone! Welcome to the 48th episode of the Financial Advisor Success Podcast!
My guest today is Gail Graham. Gail runs an eponymous marketing consulting firm called Graham Strategy, that works with both advisory firms and B2B vendors serving financial advisors, on how to more effectively craft relevant marketing messages to reach their target clientele.
What's fascinating about Gail, though, is that she's had a similar marketing role in a wide range of advisory industry businesses, from the private wealth division of PNC bank, to Fidelity's private client group, and later as Chief Marketing Officer for the mega-RIA United Capital. And through the journey, Gail has gained some incredible insights about what it really takes to effectively market an intangible like financial planning services.
In this episode, we talk in depth about how to more effectively communicate financial planning and its value, from the importance of using plain language that people understand (instead of saying "I'm a fiduciary" simply say "Here's how it works – I'm personally liable if I give bad advice"), to the benefits of converting your value proposition into a physical proposal sheet and bringing a Sample Financial Plan to every prospect meeting (because it literally makes the advice value proposition more physically tangible), to the benefits of including "proof points" that actually validate your value proposition with prospective clients (such as "we've helped 300 families do this in the past 8 years").
We also talk about why getting better at financial advisor marketing is all about getting clear for yourself on who your ideal client really is, why it's absolutely essential to focus in order to find the right marketing messages that really resonate, and Gail's process to finding and refining your own value proposition.
And be certain to listen to the end, where Gail shares her perspective on the benefits and challenges of the RIA custody model, and why she's decided to collaborate as a marketing strategist with Apex Clearing to try and help disrupt the status quo, for the betterment of advisors and their clients.
So whether you have been contemplating to how to make your own marketing of intangible financial advisory services more tangible, have been reconsidering who your ideal client truly is, or are simply interested in hearing some new perspectives on marketing topics, I hope you enjoy this episode of the Financial Advisor Success podcast!