Executive Summary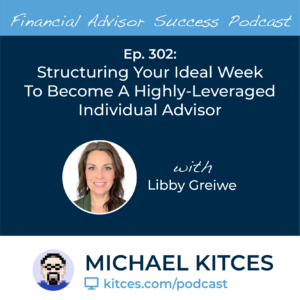 Welcome back to the 302nd episode of the Financial Advisor Success Podcast!
My guest on today's podcast is Libby Greiwe. Libby is the owner of The Efficient Advisor, a financial advisor coaching and consulting business based out of Loveland, Ohio, that's focused on helping advisors create systems and processes for themselves so that they can run their businesses in less time and with less stress.
What's unique about Libby, though, is how she developed the efficiency systems she coaches on by having lived it herself, growing to a $1M revenue practice that she was able to support with a lean team while working just 25 hours per week as a busy Mom, built primarily around creating what Libby calls an "Ideal Week" where she modeled exactly how she wanted to focus her time for maximum efficiency, and then put the team and systems in place to make it happen.
In this episode, we talk in-depth about how, while working for a broker-dealer, Libby realized their internal 'structure for success' was entirely built around working more to earn more and realized that she would need to build her firm with a different kind of mindset if she wanted to earn more while working less (so that she could have the time she wanted to start a family and take care of herself), why, in order to create even more efficiency, Libby decided to implement a tiered service model, which she created based on the amount of revenue per hour she wanted to generate from herself and her team, so that she could determine exactly how many hours of service a particular client would get, and how, by implementing workflow systems that were especially proactive in client communication, Libby was able to systematize a client experience that led her practice to actually be able to grow entirely on a referrals-only basis and no other marketing.
We also talk about how, while she was still working for a broker-dealer, Libby learned to differentiate herself not by learning to better sell her firm's products but instead by diving deep into contract language of her clients' insurance and annuity policies to find the gaps where those products didn't really fit their financial planning needs, how after finding out she was pregnant and realizing she would need to change how she was using her time, Libby went through a process of relentlessly scrutinizing everything the firm did for clients to figure out what they could actually stop doing that no one would likely notice or miss, and why, even though Libby reached a point of efficiency where she was serving 285 clients while maximizing her recurring revenue, she decided to sell her practice and semi-retire at 37 so that she could focus on starting a new consulting business… to have an even greater impact on even more client households by teaching and coaching other advisors on her methods so that they can develop more efficient and effective practices, too.
And be certain to listen to the end, where Libby shares how she began to track time and energy she was spending on each client, which allowed her to right-size her client load to only serve the ones that she truly enjoyed working with (and not just the ones that were profitable), why Libby believes that, while it is important for advisors to absorb as much knowledge as possible and learn what other advisory firms are putting into practice, it is even more important to take the time to discern which pieces actually work for their individual practices and not try to just blindly replicate exactly what they see (as there is no perfect practice to copy because each advisor is a unique human being), and why Libby believes that because the financial services industry can be tumultuous, it can be easy for advisors to be derailed from their core visions of success, but by finding support in like-minded advisor communities, advisors can realize they are not alone and refocus their energy into following through with their own definitions of success.
So, whether you're interested in learning about how Libby implemented her ideal week which led to more efficient, template-able processes, how Libby helps other advisors put into practice more efficient processes for their firms, or how shifting the focus of her service model to revenue per hour helped her maintain revenue for the firm while working less, then we hope you enjoy this episode of the Financial Advisor Success podcast, with Libby Greiwe.
Never miss a Financial Advisor Success podcast episode! Get notified of the latest episodes (and all our research as it's released!) directly via email:
Resources Featured In This Episode:
Looking for sample client service calendars, marketing plans, and more? Check out our FAS resource page!
Full Transcript:
Michael: Welcome, Libby Greiwe to the "Financial Advisor Success Podcast."
Libby: Well, thank you so much for having me. I'm excited to talk with you today.
Michael: I'm really looking forward to today's discussion, and what to me is an interesting phenomenon of how we leverage ourselves efficiently as advisors. Because to me, there's sort of this dichotomy out there for the advisor landscape these days of, you want to grow a big thing, and you're going to have multiple advisors, and all these people over time. And eventually, you have to make the shift to managing and dealing with all the people. Or you say, like, no, no, I don't really want to manage all those people and do all that. And so, I'm going to stay solo, and then I won't have to manage people. And I see a lot of firms kind of migrating to those polar ends of, do you want to scale up with lots of people? Or do you say, I don't really want to do the people thing. I'm just going to build this around me and my lifestyle and do what I want to do.
And I know you have an interesting story of what I almost think of as a little bit of a midpoint between the two. What does it look like when we don't necessarily stay entirely solo, we build a team around ourselves, but we're not trying to be multi-advisor? The team is still, how do I leverage myself to the maximum with the right support team around me? Because I know you can make some pretty amazing numbers for just the economics and the business of the practice by getting really focused and being really efficient with the right lean team around you. And so, I don't even know if we call these solo practices, or boutiques, or something else. But I'm just kind of envisioning, what does it mean to be a highly leveraged solo advisor?
Libby's Journey Into The Financial Services Industry [05:44]
Libby: Yeah. Okay, so I'll take you back to 2008, right? This is really where my quest for becoming an ultra-efficient advisor really started. And the main reason is, I found out I was pregnant. So, it was great news, because we really wanted a baby. But it was really scary because I had been maybe in the business about four years, and I had been just previously working around the clock, like a crazy person, right? You know, nights, weekends, Saturday morning. You wanted to meet, I was there. I was your girl. And the broker dealer that I grew up in... So, when I started my practice, I was 22. And I grew up in a world, and I always called it the FBFs, right? Everybody there was fat, bald, and 50. And at the time, I was one of the few women in the room, much less one of the few super young, fresh out of college, looking around and going, "Oh, my goodness, nobody here looks like me." And this culture that we had was very much a, if you want to make more, you have to work more. So, the harder you work, the more money you'll make. You have your wife do all of this stuff for you for free. She's your assistant. And I'm going, "Well, I don't have a wife. What am I going to do? I'm going to have to get one of those."
And, you know, when I found out I was pregnant, I was like, "Gosh, I really want to be fully present in my kiddo's life. And I know that I cannot work like this and have the life that I really want." So, it was really a matter of stepping back and trying to just really define, well, what does success actually look like for me? What does that feel like for me? What is it that I want to build? And how do I come from a place where it can be just about anything, and I can pivot, and I can be flexible? And I can really take this business and make it work for me, and be authentic to me, and build it in the way that I want to build it with the people that I want to have running the show with me. And the strategy and the vision that I have. Versus sort of what was floating around in the room around me back in 2004.
Michael: So, what did the business look like at the point that it's 2008, you found out you're pregnant. You said, okay, I want to do this differently because I don't want to work a bajillion hours like everybody else does around here to get ahead. What was the state of the practice at that point?
Libby: Yeah. So, I was super fortunate because when I started, I just had this immediate hockey stick experience. My practice, I started with a broker dealer. And within the first three years, I was up in the top 30 advisors in the company. So, I had this just huge exponential growth.
Michael: So, where was this coming from? What did you do? How do we all do this? Because it sounds lovely.
Libby: Right? Well, okay, so I was always that kid in high school who was like, "Okay, what is the bare minimum work that I need to do to get the best possible grade?" So, even when I was studying for my 7, right, I was like, I am not studying to get an 80%, or an 84%, or a 99%. I need to get a 70 to pass this thing. So my goal is 71, right? So, okay, there's this whole chapter, there's only three questions from that chapter, I'm not even going to read it because it's not important. You know, that's not worth my... So, I was always kind of calculating. And originally, I went to school for physics. So, I have this...I like to consider myself a recovering analytic. So, I have this super analytical side, but I was far... And I'm sure that will come through in this interview that I was far too extroverted to be a physicist. That just was not going to work for me. And I found that out pretty shortly after a really interesting summer internship. So, I was really analytical, but also had interpersonal skills. And I was able to take an orphan book that I was given that was just total garbage, and really come from a place of... And so, this was...I mean, this is almost 20 years ago.
This was when mostly people were leading with sales, and leading with product, and leading with very isolated decision-making or sales opportunities. And my brain just could not function like that. So, it was really coming from a place of, okay, well, what are we solving for? And then how do I reverse engineer this? And then how do I provide different solutions to help you get there? And so, it was kind of, at least at the time, now it's like, well, duh, isn't that what everybody does? But at the time, our firm was really trying to help get people on board with this idea of comprehensive planning. So, I really just kind of took that and ran with it. And I think I'm naturally inclined at sales, but I had this very, very analytical background that people... There was at least that competency there, and a very good energy. I have an ability to get people excited to do something different and to get inspired to make a change. So, I wish I could…
Michael: So, you had an opportunity to call on an orphaned book of existing folks, the agency. I guess, so for those who aren't familiar, orphaned clients lives in broker dealer and insurance environments. It's the client who had an advisor, and the advisor since left the company and usually left the business. And so, there is no advisor assigned anymore. So they're "orphans." And sometimes they get reassigned to other advisors. But for some firms, especially 10, 20-plus years ago, they would just be tagged as orphans, no advisor assigned, particularly if they were smaller clients that no one else had wanted to try to grab and do something with. And so, new people coming in sometimes would get the opportunity to say, "Well, if you don't want to do straight cold calling, here's some orphans, you can call on, maybe they'll take your call."
Libby: Yeah. And it sounds really amazing, right, until you realize that your orphan book, everybody is 83 and dragging around an oxygen tank, and you're supposed to be positioning life insurance with these uninsurable individuals. But it's a really great experience to cut your teeth. And I think that's where I quickly found for me that it was... You know, the planning is really important, and the positioning, and the products, and the services. But what I think ultimately set us apart, at least from the experiences they had previously with my broker dealer, was we were all in on client experience. And I quickly realized that everybody can be professional, everybody can access really good products and services, everybody can be a really great planner and come up with really great strategies and ideas. And we all kind of have access to the exact same stock market. There's really nothing special here. So, what is it that I could do within my control, that could provide a unique experience?
And for that, it was really kind of all in on what do clients feel like working with me? How do I create this authentic relationship? And what I realized, I think, is most advisors were missing this level of caring, at least in my experience. That's what set us apart, was this ability to genuinely care about them, and make them feel connected to our practice, and focusing how they felt working with us. And how do we amplify that and increase that? And I really think when we got to this place of where we were referral only, we had a $0 marketing budget. When we come back to figuring out, okay, well, how do we reverse engineer that? And how do I teach that to other advisors? It all came back to that desire to care and to have a really high commitment to delivering a consistent client experience.
Michael: So, I want to dig more in a moment into this client experience, what that looks like in practice. But I'm still just fascinated by this rocket of growth in the first few years. Just what was the approach to this orphan book? How did you call on them? What were you saying? What were you offering or implementing to the 80-somethings dragging their oxygen tanks? Just help us understand how you were doing this that just, most advisors, the first few years are absolutely brutal. And you're having this rocket of growth calling on orphans.
Libby: Yeah. So, if I really dust off my brain, I think I have actually intentionally blocked those years out of my life because they...
Michael: They are dark, intense years for everyone.
Libby: Yes, they were. And it sounds like, "Oh, that was amazing. You had this really great trajectory, and you were making like hundreds of thousands of dollars as a 23-year-old. That must be really amazing." But I was working 90 hours a week, right? And I was definitely doing things well before I was ready, and then figuring it out as I went along, and saying yes to experiences and opportunities that I 100% was not prepared for, but got prepared in a jiffy. Right?
Michael: Like what? I mean, like complex clients or what were you yessing yourself into, and then figuring it out later?
Libby: Literally everything, Michael. So, I would go and meet with clients, and I would... So, this was back in the days of annually renewable term. And I'd meet with these clients who had annually renewable term, and it was super cheap. And I'd go, "Well, wait a minute, in a few years, you're going to be at this dollar amount, and then this dollar amount. And what's the breakeven point? And just started eventually doing really simple sales. And it was funny, I was at a corporate event, and I was talking to another advisor who had been there... She was like one of the OG females in the business. And she had been there for maybe 20 years. And we were having this conversation about how she had never actually read any of the insurance contracts for the company that we sold or opened any of our mutual fund prospectuses. And it was funny because I had spent a lot of time... Being an analytical, I had spent just so much time reading these contracts, and really understanding the nuances of it. And then I'd go, okay, well, how do I get my hands... You know, when clients would say, "Oh, we have this policy from this company, or we have this policy." And I'd say, "Great. Can I borrow it?"
And I'd start just really reading through it and saying, "Okay, here's an opportunity where I can be more competitive, or here's the thing I see coming down the pike for this particular client, or this particular policy, that maybe they're not thinking about. Just it was a lot of just data gathering at a really deep level, and for me having just an unparalleled knowledge of our products and services. So, it got to a point where other advisors were bringing me in to talk about certain policies that we had that were these beautiful old grandfathered, just amazing policies that people were not utilizing properly. So, I started going to veteran advisors' meetings and talking about this one singular product over and over and over again and helping them position huge sales. And it's like, "Well, if I can learn this one really good, what about this one? And what about this one?" So, did it start from a product place? Yeah, it absolutely did, until I got to a place where I could really figure out how that fit into their whole plan.
Michael: Interesting. So, you just went really deep into, read the products, read the prospectus, find the unique angle. Because just when you get deep enough in there, there's fine print language on anything that creates some opportunity to say, like, did you realize blank was coming your way? You're about to hit the end of the window where the premiums are guaranteed. They're going to pop very significantly in three years. Let's talk about what we're going to do about that. You were so deep into the products that just you would find holes, or gaps, or issues that were coming. And then at that point, you're in front of them and comfortable to talk and present. And so, business falls in place at that point?
Libby: Yeah. And it was really bringing those products alongside that broader scope planning. So, like I said, I always had to reverse engineer it. And it was like, well, how can I work backwards and then figure out what's the best thing for them right now, in order to be positioning them for the best point here, there, down the road? So, that's kind of how I got started. I would say that's kind of where quickly... And this was back...like I said, this was 20 years ago. So, this was back when we had sales grids, and we were compensated, and there was new advisor compensation. And I somehow was on both of these grids. And it was like, whoa. And I was selling a lot of product. And I knew I didn't want to be in sales. I knew I wanted to be in planning. And so, it was really trying to figure out the planning piece while I was actually able to pay my mortgage and such, and then marrying the two together.
Michael: So, out of curiosity, just how did it hit you when you're going with...basically you're like, I nerd out on products and find the opportunities, and then talk to the leading woman in the company and was like, yeah, I never cracked the spine on one of those?
Libby: That was one of those like, oh crap moments. Wait a minute. Well, I think for me, really, it was like, wait, what? And I think it was one of the first times I realized, oh, my gosh, not everybody is a good advisor. And I know that sounds really like whatever. But I mean, I really started realizing like, whoa, there's a huge differentiation between advisors, and experiences, and offices, and what they're delivering and what they're not. I think I was in a silo and I was kind of doing it my way and trying to figure it out. And I don't think I really realized how different a client's experience could be with different advisors, even within the same firm.
Michael: Interesting. So, you didn't at least come out of it and saying, like, "Well, then I'm never reading another one of these contracts?"
Libby: Oh, God, no. I was like, "How can you sell something if you really don't understand it?" For me, it didn't compute. But again, I was that analytical person going, "Well, what do you mean you don't understand the cost structure of that, and what happens here, and how that impacts this? What do you mean you don't understand that?"
Michael: Interesting. So, the takeaway for you was, like, "Oh, I actually might be more above average than I realized, because I get into this stuff, because apparently, actually, a lot of other advisors don't."
Libby: Yeah. And really, probably it felt like a calling too, like, people need this level of information. People need advisors who are going to really wrap their arms around this and run it like a business, and really treat it like beyond just a sales interaction or a transactional business. People really want and need more, and they deserve more.
Michael: So, by the time you get to 2008, so, take me there once more. What's the state of the practice at this point? Because I'm envisioning you're so deep in the product end, is this almost all transactional business? Are you still living a world of, I'm working a ton of hours and making good money, but the moment that I slow down my work, the revenue all stops. Because if you're not selling, you're not bringing anything in.
Libby: Right. No. So the state of my business at that point, so I was four years in, as we were doing what I would consider real planning. And we were still positioning product, right? And eventually got away from that. But I was kind of in this place where, from an operational standpoint, I was running around like a person with their hair on fire. Because I had accumulated all of these clients. I was getting tons of referrals. I was doing all of this business and making promises to people. And then I had to back up and realize, oh, my gosh, I've been so worried, or so focused on just making sure I'm going to make it in this business, which I see happen with advisors all the time, right? We get to that place we're like, "Okay, I've been so worried about making it, I think I'm going to make it." And then you stop and look back and you go, "Oh, my gosh, I have like, no organizational structure here. It's literally I have a Libby, I don't have a business. If I don't show up tomorrow, nothing happens, nothing's going to get done. It all falls on me. And holy crap, that's really overwhelming." So I realized I had built a business, but what I'd really build was a big old mess, that really needed to be stepped back, and cleaned up, and organized in a meaningful way.
Michael: Do you recall, what was revenue at this point? I mean, just where was the practice now?
Libby: In 2008, I was probably around between $300,000 and $400,000 of revenue.
Michael: Okay. And all on your own?
Libby: Yes.
Michael: So, really good income, really nice take home, really big number of hours.
Libby: Right, right. Yeah, my per hour revenue quadrupled when I cut my time. I probably could have worked at McDonald's and made about the same amount, but yes. So, when I eventually scaled it back and I really started... Actually, that became a major kind of key performance indicator for myself as my actual revenue per hour. And that's actually where I started focusing my time on was, how can I really scale myself? How can I scale my practice? How can we make more in less and less time without sacrificing the quality?
Utilizing A 'Model Week' To Create Efficient, Repeatable Processes [22:16]
Michael: So, help me understand a little bit more of just what started to change. So, it's 2008, you're working a bajillion hours, but you're bringing in $300,000-plus of gross revenue. So, like, lots of money, going well, horrible, horrible hours. Oh, my gosh, I'm pregnant, and I want to actually have a family and be there for my children. So, what happens? I mean, what do you look to do at this point?
Libby: Right. Yeah. It's not like I grew some superpowers overnight and was just like, "Oh, okay, I'm just going to work 24 hours a week and this should all work itself out." No, it was really deliberate. And I really kind of did maybe five key things in order to start to reduce the amount of time, to put my arms around my practice. It was really building simple systems and processes for myself that were repeatable, and that were automatable, and that I could, and I made this word up, but delegateable. And realizing, I really need help here. I really need to create some systems. I keep recreating the wheel every time I do this. And my brain kind of reverted back to that high school kid going, okay, what's the easiest way to do this with the least amount of effort? And how can I make it where it's... You know, and I just would start templating this and say, okay, I've really got to...
Michael: I mean, where do you start?
Libby: Yeah. So, the first thing that I did, and I think the most effective thing for me. So, you know, we started hosting live, two-day workshops for advisors from all over the country would come in, and we'd teach them our systems and processes. And I'd have people say, well, if you could only teach one thing, what would it be? And for me, it's this idea of having a model week, or I've heard it called an ideal week. And so, for me, I grew up, right, I was an entrepreneur. I had a very entrepreneurial spirit. I was married to an entrepreneur. We slept till noon and worked till midnight. I had this idea that, look at me, I'm this entrepreneur. I have no restrictions. I have all the freedom in the world. I have all the time in the world to do things when I want to do it. And it was when I realized that creating some structure is actually what gave me freedom. That for me was when things really, really started to change. So, it really kind of came down to, how do I manage my time better? How do I make sure that I'm not wasting any time? How do I start to manage my energy? And how do I really just become more effective and more efficient?
And it was really just a process of starting to build out a model week and really look for inefficiencies, really look for when my energy was high, or when should I be doing deep planning? When should I be meeting with clients? For me, I am not smart until 10 a.m. I should not be talking to another human, especially about finance, until 10 a.m., and three cups of coffee. So, I just didn't hold client meetings before that. So where my peers and counterparts would be doing breakfast meetings, for me, that was a no. So, it was really just kind of trying to create some structure for myself, and continuing to fine-tune that. So little things like, I realized I would hold a meeting and then I'd give myself a half hour in between meetings. Where theoretically, I was going to be doing follow up. Well, what happened was my meetings would run over by 10 minutes, because I knew I didn't have to worry about that. And then I was like, oh, I only have 20 minutes left. And then I have to go the bathroom, and make a cup of coffee, and talk to somebody else for a few seconds. And then I realized I'm just wasting this half hour. So wouldn't it be more effective for me if I just did my meetings back to back, and then had one block of time to do all of my follow up?
And so, it was just little constant twists and nuances, and really probably like 100 iterations of a model week. And then as we added team members, or we created a system or a process that we could make something better, smarter, cheaper, faster. And it really came down to managing myself. And going, okay, it's not effective for me to check my email 377 times a day. I'm going to check it once at this time, and once at that time. And really building out this week that gave me enough adequate time to do the things that I needed to do, but also gave me pretty significant deadlines. Like, hey, you've got 45 minutes to work on this, so it needs to be done in 45 minutes. Or I become the bottleneck of the practice, right? And so, having other people depending on me to get the stuff done in the time that I was supposed to do it, was for me a big game changer. So, really kind of scaling myself first and managing my time.
Michael: So, for those who aren't familiar, just can you explain more just what a model week is? Like, just what is this thing, structure, system?
Libby: Yeah. And so, for everyone, it looks a little different. So, I have advisors that I work with that we have a model month, or they might have a week one or week two. So, for me, every week kind of looked the same, but it was very structured. So, Monday morning, I would come into the office, and before I could touch any computer or look at anything, I had a two-hour window where I was preparing for all of my meetings that were two weeks away. So, this is where I would go through the agendas. I'd make sure everything that I needed to know was prepared for that meeting. If there was anything that needed to happen, like research or an illustration that needed to be run, I had time to delegate that to somebody else in my practice. And I would then be fully prepared. So, in my world, I only worked three days a week, so I was about six business days ahead if you will.
So, we would be preparing for stuff two weeks out. And that gave my team adequate time to run numbers, put stuff in different software programs, call the client if I had a question. And then it gave me adequate time to have time to respond to that and fine-tune it before the client meeting. So I would do that like first thing. Then I would have a half hour where I could process my email, meaning, go through it, see what was in there, delegate the right things. This was before I had someone checking my email, but not responding to them. And then I would go into a meeting block. I had maybe three meetings in a row. And then I had a hour-long team meeting, or time with my director of operations, where she and I would then work on stuff. And then maybe I had a half hour for calling clients back. And then I had another meeting. So the idea is that you have these blocks of time on your schedule that are designated for certain tasks. So you have adequate time to do... So, it's predetermined, right? So, I'd sit down, and this is the time that I do this. And I'm an Enneagram seven, that is not in my nature. The thought of it makes me want to vomit, and I really rejected it.
But I realized, if I could work like this three days a week, and be really structured, then that gave me four days of complete freedom. And so, it was everything from, this is the time that I use to better educate myself. This is the time I use to study for additional designations. This is the time that each of my team members has access to me. This is the time that I do blah, blah, blah. So, marketing, whatever it looks like. So, I help advisors build out their model weeks to make sure that they have adequate time for follow up, that they're not scrambling before meetings to get stuff together. Just really having blocks of time that are pre-designated for certain activities. And not only do you know what you're supposed to be doing, but your team knows what you're supposed to be doing. And they then have deadlines for their tasks and their activities. Like, hey, if this needs to be on her desk by 1 p.m. on Mondays, I better have my stuff done.
Michael: So, I'm just visualizing just literally, the whole week is laid out in a fixed schedule, and just every week operates on that schedule, everyone is expected to accommodate to whatever that schedule is?
Libby: Correct. Yep. Yep. That's why I could never be in charge of my own calendar because I, as the advisor, being a people pleaser and a super service-oriented person would always be like, oh, I can squeeze that in. Oh, yeah, sure. Oh, yep, I can say yes to that. And I really couldn't, I couldn't squeeze it in. The person who paid the biggest price for getting off the model week was always me, right? I was the one who was always like, oh, I could sacrifice my workout. I'll come in early that day. Or, oh, you know what, I'll stay a little late. And then I run home, and then we're behind schedule for the practice, or the dinner, and all the things. So, I was always the one who paid the price when we got off the model week. So, I had to turn my calendaring over to somebody else. And they ran the schedule based on what I told them versus if I did it, we were all over the place.
Michael: And so how is it like letting go of your calendar then?
Libby: Initially, really crappy, right? And really until we figured out the model week that worked best for me, because I would come and be like, oh, yeah, I could do this, this, this, and this. And then realize, you know what, I actually don't have the energy for that. Or, like I said, I thought a half hour block between appointments would be great. Turns out it's not. So, at first, it was really scary. But then once I realized, wow...like I said, the structure gives me a lot of freedom. And I know what to expect. My team knows what to expect. This is how we don't get out of whack and overcommitted. Because I find, as advisors, as great as we are supposed to be at math, we actually really suck at math. Because we say, "Sure, I can add that. I can add that." And we never subtract anything. So we just keep saying yes. And, oh, sure, I should be able to do that. Yeah, yeah, absolutely. Yeah, oh, let's add that new marketing. We go to a conference and we see a shiny idea. And we're like, "Totally, let's do that. Let's add that." And we never subtract anything else.
And the person who kind of eats that is you, right? You end up overwhelmed. You end up running around with your hair on fire. You end up feeling like you're behind or like something's wrong with you. Because everybody else is doing this and it looks so seamless. But here I am coming in on a Saturday morning at 7 a.m. to get caught up. And that was really that feeling. And when I talk to advisors about all the time is that feeling of... I can't tell you how often I hear people say, if I could just get ahead. Or, oh, man, if I could just get caught up, or if I could just get ahead. And we're living our lives in a way where we're never actually feeling caught up. And we're always feeling behind. And that's just a really crappy feeling. And so for me, that model week was my way of... You know, did I ever feel ahead? Were there days where I was literally printing stuff off when the client was coming in the door? Yeah, absolutely. But if I could 80% of the time be working on my model week, that was when my overwhelm was at its lowest, when my stress was at my lowest, and when my team was at its happiest.
Michael: And so just in that context, if you got to 80% of your model week, you were happiest. So, presuming that means like, so most weeks don't actually end up going by the model week. If 80% is good, it means there were other weeks that was not even 80% on.
Libby: Yeah. I mean, as a mom, I always had to, like, "Oops, your kid threw up on the bus." So, you thought your day was going to go fine. But no, you actually need to go to school and get them. Just turns out, they ate their cereal too fast, and the bus ride was kind of bumpy. And they're not actually sick, and they're running around the house like crazy people and they're not at school. So you always have those things that are going to throw you off. And that's where for me, I found working in advance, working in that two weeks in advance, gave me enough wiggle room that if something like that popped up in just normal daily life, that we weren't scrambling because we weren't prepared. Being prepared for me was an absolute game changer for a stress level.
Michael: So, it sounds like much of this is also predicated around having a team, and the team person that you're prepping with, the team people that are managing your calendars to protect you from yourself. So, when did this shift from Libby solo to Libby having a team? Who did you hire? How did that evolve?
Libby: Yeah. So, it was literally probably my first conference that I ever qualified for. This would have been probably my second or third year in the business. It was the top conference at our company. And I remember going to this conference, and they had this event for...it was like the top 10 in the company, and then the top 10 first time qualifiers. And it was this little cocktail mixer. And we were all together. And I remember it was really interesting hearing these guys sharing what they were doing. And I just remember thinking, like, they were talking about the same software programs that I was using. And they were talking about their same issued laptop that I had. And I just remember thinking like, holy smokes, they don't have access to anything different or special, right? I have access to everything that they have. And why not me? Why can't I do this? And why not now? There's no sense waiting. So what's the differentiator between the people at the top and the people who aren't quite there? And it was learning about their systems and processes, and how they were delegating. And this idea of doing it better, smarter, faster, cheaper, easier, that really resonated with me.
So, when I got home from that very first conference, was the day that I... And again, I was working in an area where everyone just had their wives, right? So, I got home and was like, "Okay, we're buying an office building, and I'm hiring somebody." And my first hire was terrible. She basically played Solitaire 10 hours a week, and maybe made a few phone calls. So it was kissing a couple of frogs before I found my prince. And really, I was 24 at the time, really trying to figure out, well, who's the right person? What's the right personality? What is it that I really need them to do? Because I think I just hired her and was like, okay, great, I'm going to have her do this, and I'm going to have her do that. And there was really no plan, and really no structure around that. And so I think it was really figuring out, okay, I think in the beginning, I hired the person, and then tried to give them the tasks that matched them. But I think a pivotal moment for me was more like, I actually need to create a role and then I need to hire the correct person for the role. Because the role is what my business needs. Versus hiring the person and then trying to work my business around their skill sets and their sweet spots.
Michael: So, how did you figure out what the role should be then if you had never hired someone and had people in other roles?
Libby: It was lots of... I always joke that I have my Amazon business degree, because I just read, read, read, read, read, right? And interviewed, and sponged, and listened to as much as I possibly could about the actual business side of things. And because as an advisor, I was so focused on learning the business of advice, right? The how to do the planning, the tax analysis, the insurance products, the investments, the management, all of that stuff. And I realized, I actually really need to figure out this business piece. And so it was making a lot of mistakes. It was really making a lot of mistakes and then realizing, okay, well, what a bigger companies do? And then how do I do that on a small business scale? So it sounds really dumb, but I had an org chart when it was just me and a part time staff person. And it sounds really silly. And I put people through this exercise all of the time and say, "Okay, let's build an org chart. And let's define what are all of the potential different roles within your practice. And sometimes we can have one person serving multiple roles, but we can't have multiple people serving one role. So, let's define out what are the different pieces of your practice."
So, I kind of look at that as, there's operations, there's advice, there's marketing, and there's investment management. Those, for me, are kind of the four basic categories. And then what really needs to happen within each of those categories. And what's the stuff that needs to actually happen? And then what's the stuff that maybe we can anticipate for a future bigger business? And how do all of these roles interact with each other? How do they all kind of weave together? So, one of the hard parts about being a small business is hiring people who are ambitious, and they want to go to the next level within their own... They have personal development goals for themselves. And being able to show them this little org chart, and being able to say, "Hey, this is where you're starting. But here are all of these other different roles within this practice that currently, maybe I'm fulfilling, that I could see you ascending into or taking over."
And that's really kind of where I acquired the person who ended up being my director of operations for a decade or more, is, she started in that part time role, but she loved this idea of, oh, my gosh, there's somewhere for me to go within this small business. Versus, oh, I'm just going to take on more tasks. Versus that idea of like, okay, I'm just the part time admin person, and I don't really want to be an advisor. So, what are the other options? And being able to show, like, hey, there's actually all of these different roles within a small practice structure that you can do or not. Right?
Michael: Well, I like just the framing of thinking about an advisory business in sort of four core functional areas. There's operations, there's the advice planning domain, there's the investment management domain. And then there's the marketing sales growth domain. And well, you start on your own, you do everything first. Most advisors tend to let go of the operations part first, right? So, you hire an admin person. Then it gets a little crowded in the advice domain, so you hire a paraplanner, associate advisor. Then you got more clients, there's a lot of portfolios to handle, if that's your side of the business, so then you hire an investment person to help. And just seats start filling out until after a certain number of hires, like, okay, now we actually have other people in operations, and planning, and investments, and in marketing.
Libby: Right, right. Yeah. And I think too, in that idea that there's all of these different areas of the business to focus in. I think, sometimes advisors get caught up... I'll have people all the time say, "Libby, okay, what's the first hire? What's the second hire? What's the third hire? What's the fourth hire?"
Michael: I'm just going to ask. So what were your seats? And what was the sequence that you hired them?
Libby: Yeah. And for me, I look at it and I go, well, it actually depends, for me, on what your business needs. So, I like to look at an advisor's planning process kind of start to finish and say, "Well, what are the things that you love doing? What are the things that you're good at? What are the things that are easy to teach? And what are the things that are easy to template?" And so we kind of actually...I put them on a quadrant and we say, "Okay, what are the things that are teachable, and template-able?" And those are the things that we're going to give away first. Because some advisors will have really obvious needs, and this is a very scalable part of your practice that you can give away. And they didn't realize that that was the person that they needed, that they have someone they could actually delegate those things to.
Michael: So, what were the four templates again? What do you love to do?
Libby: Yeah. If I look at like a Y and X axis, we kind of put it as, so the Y axis is teachable and the X axis is template-able. And so, things that are highly teachable and highly template-able, those are the things that are going to be easiest to scale, right? That's the upper right-hand quadrant. Those are the things that we can create a template and we can teach somebody else to do it. And so, I have everybody map out literally every single piece of their process. What happens before, during, after, and in between every single meeting. And then we look at that and say, "Well, which of these things do you despise doing? What are the easiest ones for you to give away that you don't enjoy?" Because your enjoyment factor will go up. And some people go, "Well, these ones are easy, and I can give them away. But I get a lot of satisfaction out of that. And that's what keeps me going, and I'm fired up by it, and I enjoy it." So, I really want to look at, well, what is it that your practice actually needs. Because everybody's going to look a little different. If you're just a fee-based planner, and you're doing this, if you only serve 100 households, it might look like this. So, for me, there's really no prescriptive way of doing it. It's really letting what the vision and mission of your practice is define the role that needs to be hired.
Michael: So, I'm putting all of the stuff that happens in my business. So, I guess just doing client meetings, making plans, doing investment stuff, all the operations themes, just like all the things in the business. I'm mapping all of them out on this two-by-two grid style thing of, what's teachable and what's the template-able on the X and Y axes. And then that subset of things that are in the upper right quadrant, so they're high on teachable and high on template-able. You start there, or you start with the subset there that are teachable, template-able, and you don't like doing.
Libby: Right, yes. Yes. And then that kind of helps define the role. And then there's some things that are teachable, but they're hard to template, and that's going to be a little bit different role. You're going to have to have capacity to train and you're going to have to have the other support structure in place to allow you... Because you train a salesperson, if that's what we want to call them, that takes time to develop that competency and the confidence in that person. So that's maybe a little bit longer of a horizon and a slightly different role. Where if it's something that's teachable, but maybe I as the advisor can retain that for now. But maybe there's something that's really template-able that I can give away sooner, that will give me more capacity. So I either am happier in my role, or there's less on my plate. And then I use that to define like, well, who's the right person to hire now? Who's the right person to hire? And like, okay, let's keep revisiting this. And now what can I give away? Look, now I have enough tasks that we've mapped out that I can give away to this paraplanner. And that's going to be a longer, slower burn, right? That's going to take a while to get that person really up and running. But now I have the capacity to do that, because I've given away everything else.
And I can keep honing in then on the one thing that I love. So, I might be really good at tax analysis, but I may not enjoy it. So, I'll do tax analysis as long as I can, but I really, really, really want to spend my time doing, I don't know, maybe I just want to be the rainmaker and bring the people in, right? And so, I can start looking at these things saying, "Well, I can give that away. And oh, I can give that away." And I can just keep narrowing down to the thing that I enjoy the most. Because I really want for everybody... My mission for them would be to have a practice that's efficient, effective, and enjoyable.
Creating Efficiencies By Focusing On The Offerings Clients Truly Care About [44:32]
Michael: So, take us back, you were kind of highlighting the five things that you were doing that started to materially reduce your time and get your arms around the practice. So, one was building out a model week. One was sort of org charting, and starting to hire. So, take us through what else you were going through in this transition.
Libby: Yeah. So, I'd say even probably, the predecessor for that was really kind of just redefining my own version of success, and really defining for myself what that looked like, and kind of tunnel-visioning then in on what I wanted my practice to do for my clients and what I wanted it to do for me. So, it was really kind of redefining, well, what does success look like? And I had a really difficult time, I think, early on in my career, balancing this idea of contentment, and complacency, and maybe confusing the two. And so, getting really comfortable with this idea of like, here's what I'm going to say is successful for me. And really kind of put those blinders on to what everybody else is doing. And I'm very highly distracted. I have ADD. I love shiny things. And that's very hard for me. And looking around going, "Oh, but look what this person is doing? Well, what is she doing over there? Oh, my gosh, look how amazing that is." And really kind of stripping it all back and prioritizing what's actually important for me, what matters five years from now, what's going to matter? And what's going to actually have an impact on my family, on myself, and on my community.
So, it was defining those success. It was scaling myself first through a model week, starting to scale the practice through hiring. And it was really creating a very specific client experience that I wanted people to have working with us. I had a very, very fine-tuned vision of how I wanted people to feel when they engaged with our practice. And really kind of doubling down on that, and not allowing myself to be distracted from delivering the experience. That was kind of our Northstar, right? Everything was measured up against that. I'd go to a conference and come back with 4672 amazing ideas. And the Northstar was, is this idea of going to move our client experience forward in the way that we see it moving forward? And if the answer was yes, great. Let's figure out how to implement that in a way that makes sense. And if the answer was no, that goes on the list of really cool stuff to try down the road.
Michael: So, help me understand more just what was your personal definition of success adjusted to? And how does that connect to the contentment versus complacency concern?
Libby: Yeah. So, when I first had my baby, and this is really when I was going through this existential defining of success, right? For me, there were days where it was like, my definition of success today is just to keep this baby alive. That is like the minimum goal here for the day. And that was really a season where that was literally it. I just had to keep the baby alive. And then it was, okay, I have to keep the baby alive. And my goal is also to show up at the office with the same colored shoes on. Because there were lots of navy and black days that I didn't mean to have early on when my kids were not sleeping through the night, and really little. And so, it kind of just evolved. And honestly, it was scaling it way back and saying, what's really critically important to me? And for me, it's to be fully present when I was at the office. So, my definition of success was really, I want to be fully present when I'm at the office. I want to be 100% all in when I'm at the office. And then when I leave this office, I want to be 100% all in at home. And it took a while to get there because it would be, I was at the office, and I was doing stuff with my kids, and thinking about, "Oh, I got to sign them up for swim lessons." And then I'd be at home, and I'd be fielding calls from my office.
And it was when I was really able to put a clear delineation between the two, and that was using that model week, and really separating them out and being 100% present wherever I was. And I had revenue goals, and I had other goals. But my goal was really to make sure that I was living a full life outside of the office. Because I have this personality, I could very easily become a workaholic. If I love what I'm doing, I could do it all day, every day. And so, it was finding this place of contentment where I wanted to achieve a certain level of growth, I wanted to always be getting better. And I always wanted to be learning more. And I always wanted to be delivering more and more value to our clients without sacrificing my family, or myself, or this idea of having a full life outside of the office.
So, I'm a big fan of this idea of helping advisors be able to enjoy their practice, and then come home at the end of the day and be able to give their best energy to their family as opposed to their leftovers. Right? I know so many advisors who at the end of the week, they're like, "Oh, thank God, it's Friday. And then I'm just burned out all weekend, and I'm checking my phone at the soccer game. And I'm just constantly just feeling like my family is kind of getting the short end of the stick here." And how do we flip that on its head and actually create your business in a way that gives you energy, and gives you excitement, and that you're actually giving your family your first fruits or your best energy, because your business is energizing you versus depleting you.
Michael: So, you said a part of this was that you needed to scale back. So, was that literally, like, started getting rid of clients, started letting go of revenue, had income go down as you scaled back?
Libby: No. Because I was a completely rational postpartum woman who has no hormonal issues ever. I was like, "Yeah, I think what I'm going to do is I'm going to make the same money, if not more, but I'm going to work about half the time." And I was really committed to that. I was like, "Either that's going to happen, or I have to quit." There was no middle ground, right? It was like, one extreme or the other. And so, I committed to this idea of, okay, well, just what do I need to do to work better, faster, smarter, easier? And it was really, what actually matters to our clients? What doesn't matter to our clients? Where's the fat that we can cut out? What am I wasting time and energy on that's not actually having a huge impact? So, if I removed this whole piece, is anyone going to notice? Am I doing this for vanity? Am I doing it for myself? Am I actually doing it for clients? Do clients care? Do they notice? Will they notice if it's missing? And then it was like simple systems and processes just within my own business.
So, okay, how do I create a template for that? How do I make that... And niching down. So, niching down would be another one of the things on the list of, instead of me having to know everything about everything, what if I just got really deep on a few things? And then we only had to have systems and processes for that type of a client. So, we stopped working with young families. Well, great, well, now I don't need to know anything about 529s. My staff doesn't have to know anything about 529s. We don't have to stay up to date on that. We don't have to have recommendations. We don't have to offer them. There's all of these things that we got to eliminate because it wasn't really critical to the clients that we were serving. So, the more we narrowed our focus, the more we could narrow our templates. The deeper our templates could get. The more effective our templates could be. The deeper my staff could build their knowledge in that single planning area versus having to be all things to everybody.
Michael: So, what direction did you take this niching focus?
Libby: Well, Michael, there were a lot of different directions over the years. So, I'd love to say like, "Oh, we went right here and that we stayed there forever." No. Like I said, I have ADD. I'm an Enneagram seven. I love all the different things. So, it kind of moved around over the years until I really settled into what was the type of planning that I had the most fun doing, that I stayed the most engaged with. So, we worked for a period of time we focused in the medical field, we had a lot of pharmaceutical sales reps, a lot of doctors. Then we kind of evolved into, okay, I really like the complexities of that 5 to 10 years out from retirement. And then we got really into, I kind of like the complexities of executive compensation within that 5 to 10 years pre-retirement. And then it became, I really like executive compensation for Procter Gamble and General Electric, because those are two companies based here in Cincinnati. So, it just kept getting more and more narrow to a place where we were really focused on P&G, and General Electric executives who had complex compensation packages, who were anywhere from 5 to 10 years out from retirement and helping them create that strategy and build up towards retirement.
Michael: So, do you have issues with all of your existing clients? Or, like, now we're going after pharma reps, and then you get a bunch of pharma reps, and you're like, "No, we don't do pharma reps anymore. We're doing executive comp." And the pharma people are like, "What?" And then the people from before that are like, "I'm really..." Just was that an issue, as you keep moving from one niche to another?
Libby: Really, we didn't bounce really far. It wasn't like, today, we're helping farmers, and now we're working with executives. So, a lot of it was like a natural progression. Even the doctors that we worked with had complicated compensation packages. And even the pharma reps that we worked with had kind of unique compensation packages. So when we would start positioning it with kind of niching down... I'm a big believer that even when you speak to an ideal client avatar, it doesn't mean everybody else hears you and goes, "Oh, she can't help us anymore." The people who you're speaking to will definitely raise their hand go, "Oh, my gosh, she's talking to me. I work for P&G. I work for General Electric." But we were doing such a good job for our existing clients. And we would share like, "Hey, we're building expertise in this category. We're really loving and feeling super passionate about executive compensation." But it was also, "We're going to still help you." And of course, we did move up market, and we did start to take clients and pass them off to other advisors. We did do that in an effort to keep our business tight. And we always did it in a way that was super client-centric.
And it was a better move for them, because they were going to receive better service, or more focused, or more specialized service from another advisor. So, like young families. And we really got to a place where we were just pretty clear with like, hey, here's who we work with. And here's who we do our best work with. And here's what that looks like. And a lot of our clients kind of self-selected. Most of them were like, "Hey, we'd love to stay with you." And it's like, well, okay, great. But are we going to be able to serve them well? And if we knew we couldn't serve them well because they were so far out of our category, that we would kind of default and bump them to somewhere else. But the vast majority of our clients... Because I started when I was 22. So, the clients that I had that were in their 30s, by the time... Let's say our farmers and our doctors that were in their 30s, by the time we got to this niche, they were in their late 40s. And they had high compensation, and they had those executive packages. So, we weren't jumping around like crazy, but it did narrow more and more over time. But they were mostly parallel, if that makes sense.
Michael: So, you said a part of this was narrowing down, what am I wasting time and energy on that no one will notice if I stopped doing. What was on the stop doing list? What did you actually eliminate?
Libby: Yeah. So, it'd be things like even in client meetings. So, for a long time, we were preparing rates of returns, and we were doing all of this investment analysis. And we were sharing all this stuff, we were taking all the time to prepare it, and organize it, and explain it to our clients. And most of them were like, "Libby, we don't care. That's not the stuff that actually matters to us." So, we started kind of scaling back and just going a little bit more high level. And then it got to a place where I'm like, you know what, they can look up their investment returns online. So, maybe that's not even something we cover in this meeting. Or it became where, okay, well, maybe we start creating different types of meetings. So, the first meeting of the year, we will focus on investments and investment returns. But then the next time we see them, we're not going to talk about that. We're going to have a different theme, or a different kind of meeting structure so that it didn't feel like they were coming in and we're doing the same thing over and over again. And what that did for us is, we started planning in quarters and planning in themes. And this will be kind of a rabbit hole, if that's okay, if I go down.
Michael: Please.
Libby: First it was like, okay, we're doing two or three meetings a year, and they were the same structure. We talk about their protection. We talk about their overall plan. We talk about their investment portfolio. We talk about their estate stuff. And I just felt like I was saying the same crap over and over and over again. So, it was finally like, well, what if we do the first meeting of the year, it's going to be all about their current tax situation. And we're going to do a lot of tax strategy for this next year. And then second quarter, maybe we focus on, I don't know, generosity, or charitable planning. Then maybe this quarter, we'll talk about estate planning. And every year we kind of rotate it. So the first meeting was usually investments. The second half of the year, we usually did a tax meeting of some type. And then we filled in the quarters with other relevant timely information that sort of was on a rolling schedule. So, that every time they came in, it felt like we were talking about something new, different, interesting. And we weren't just repeating ourselves. We weren't just delivering the same information over and over again. We wanted people who came to our office to leave going, "Oh, my gosh, I'm so glad we came. Oh, I learned something. Wow, she thinks of everything. I was just thinking about long term care. And wow, she said that's what we're going to talk about next time." So, we had kind of like rolling themes.
Michael: So, every quarter would have a theme. This is what I'm following. So Q1 was pretty consistently what's going on with our portfolios. Q2 was pretty consistently, let's talk about taxes, since we'll just finish tax season and get the returns. And then Q3 and Q4 were a little more varied, potpourri, we'll do charitable generosity this quarter, we'll do estate next quarter, or next year in Q3, we'll do some insurance stuff. And that would just rotate around.
Libby: Yeah. So, maybe every two years or every three years, we'd do a benefits package review in the fourth quarter. But we weren't doing it every single year because it was kind of beating a dead horse. Like, not that much changed, unless they came to us and said, "Whoa, my company just switched 401(k) providers, and we have this new legal program we're offering. And can you help us look at that?" Well, of course, their needs were first and foremost. But what we found from an efficiency standpoint is, we were doing the more brain intensive, more prep-oriented meetings in the first quarter and the third quarter. Which worked out well because riding writing that January high. And then my kids went back to school in the third quarter. So second quarter was when the school year was wrapping up and stuff was just bananas at home. So we took an easier theme that didn't require as much prep. And same thing with the holiday season. So, fourth quarter, when things are crazy, and everybody's busy, and there's 5000 school programs, and you have to go watch your kids play the recorder, which is like a painful experience. But you're going to do it because you love your children. We would have an easier fourth quarter where almost every meeting didn't require unique individual prep. It was kind of the same topic, or education, or some sort of value add.
Michael: What kind of things were you doing that didn't require prep?
Libby: Yeah. So maybe it was talking about a governmental change. So, let's say they just increased interest rates, and they made this change, and the government's doing this, or here's what's happening with Social Security. Sometimes it was just timely topics that were happening in the headlines. Or let's say, we're in an environment where we're now, the market's doing... We're going to want to talk about what's happening in a timely way. Or it just might be education. So, we might say, we're going to talk about proactive RMD planning. And I know RMDs aren't four or five years for you, client, but we're going to talk about what this looks like and what we can be doing now. Or qualified charitable distributions, or here's things that are going to happen once you have RMDs. And here's how we handle all of these different things. I mean, we had a list, and I give it to our advisors, it has maybe like 50 or 60 different topics. Sometimes it'd just be beneficiary reviews, or estate planning reviews, or just kind of reminding people how probate works in Ohio and making sure they have this document and that document. And when's the last time we updated this? Or when's the last time you saw your attorney? And did you add the grandbabies to the thing?
Michael: So, does that mean you have to pick things that work for all the clients, otherwise, some clients don't fit the quarterly theme?
Libby: Yeah. And pretty much whatever it was, we would modify for. But the vast majority of our clients were all super similar. And that's where that efficiency came in, right? When we were working with kind of one type of client that had similar problems, similar fears, similar needs, similar questions, similar biases, it made it really easy. And I was one of those... We would modify, of course, if you're taking our RMDs, then we're not going to have a proactive RMD strategy. But we might be talking about other RMD strategies like qualified charitable distributions, or kind of getting into some of that other stuff that they could be doing. So, it'd be a theme, but it would be slightly modified or individualized, but not require significant amounts of prep. Because I know advisors who are doing full plan updates two or three times a year. And it's like, holy Moses, that's a lot of work. And not that much changes in four months.
Building Repeatable Processes To Create A Concierge Experience For Clients [1:01:44]
Michael: So, you were highlighting that a big piece of this for you was the client experience you wanted to frame up, as you'd put it, how they feel when they engage with our practice. So, help us understand a little more of just what that means. What did that look like in practice? How does that fit into the themes structure of client meetings?
Libby: Sure. So I did a podcast interview with this couple who has this most amazing client experience in their office. And they hire a personal chef that comes in and curates a little menu for them. And it changes every single week. And they feed all of their clients. They have all this beautiful food brought in. And they have one of those $4 million coffee machines and a barista. And for some people, that's client experience. And that's all really awesome and super amazing. And I know you have an amazing article out there on how to set up your office to make it a great experience for your clients. And some of those small nuances. Having beautiful coffee mugs or real water glasses, versus bottled water. Great. That's all part of it. But for me, it was more of, how do we deliver a lot of value and make our clients feel like they're our only client. And for me, it didn't require deconstructed tomato soup. It really was just, how do we care at a level that nobody has cared about them before? And how do we continue to deliver value to them, so that we become an indispensable advisory team.
We want people to call us about every little thing. Anything related to money, we want them to think of us first and to know that we're going to be available to help them. So, for us, it was kind of like this idea of, how do we add a little concierge level services to our practice. And it doesn't have to be big, elaborate, or expensive. So, a simple example, when I think about a concierge, so think about the Ritz Carlton, who at least before they were bought out by Marriott, was historically known as having the world's greatest concierges. And these concierges were proactive. They wanted to make sure everything about your stay was perfect. They wanted to anticipate your needs before you even know that you needed them. And so, we kind of applied that same thing to our practice, and just making sure that everything came to them, and it was all very personalized. And that they knew what to do with everything. What was going to happen next. And then how could we facilitate that to happen for them in the easiest way possible? How can we remove all of the friction out of the financial planning process?
So, it was little things like, oh, gosh, so let's say a client was doing an insurance physical, and they had an insurance physical coming up. We would send them an email ahead of time saying, "Hey, your insurance physical's coming next Tuesday. Here are some tips and tricks to get the most out of that insurance physical. We want you to get the best possible premium rates. We want you to have the best opportunity to get the policy. So here are some simple things that you can do to improve your blood chemistry profile. Here are some things that you shouldn't do before your insurance physical. Here's what you can expect from that meeting. They'll show up at this time. Here's how long it's going to take. Here's what kind of fluids they're going to need from your body and what you can do to be prepared for that." And just making sure that they knew exactly what to expect each and every interaction that they had with us. Or if we had pending business.
Michael: Interesting. So, this would just be like a templated email. I mean, tips and tricks to have a good insurance physical is pretty standard once you've got the thing. But this would be a template, and so, okay, we're writing some insurance for a client. So, they're going to have to do the physical. We know the physical got scheduled. So, let's make sure we queue up that email for them.
Libby: Yeah. And we'd never say to a client, like, "Okay, call your 401(k) company and get the rollover paperwork." It was, "Here's what's going to happen next. We're going to schedule a time with Laurie and you guys are going to call your 401(k) provider together. And here's what we're going to do. You're going to give them permission to speak to us. We're going to ask all the appropriate questions. And we're going to facilitate that process for you. And then we'll see if they'll send us the paperwork directly. If not, we'll have them email it to you. And then you can just forward it to us." Because we had clients all the time come in and go, "The guy I was working with before, I never rolled over my 401(k) because I called them and they asked me a bunch of questions and I didn't know the answers to them. So I had to call him back. And then I was going to call them back, and you know what, it just never happened." And we would facilitate that for them and they'd go, "Oh, my gosh, that was so easy. I'm so glad you were on the phone. Oh, I'm so glad you asked those questions."
We'd call an annuity company and we'd be like, "Well, what's your M&E charge? What's your sub-account fees?" And we'd ask all of these questions, and the client could hear us asking them. And it was like, wow, they know a lot. They're asking all the right questions. I would have never thought to ask these questions. Even if we were just getting information to do their plan. We'd never say, "Oh, here, go get this information." It was, how can we facilitate that for you? How can we make that easier for you? How can we remove that friction for you?
Michael: Interesting. And so, I'm struck by just the way you're setting these up. Like, so here's what we're going to do. We're going to set up some time to get that 401(k) rollover. We're going to set up some time with team member name. We're going to call them together. You're going to give them permission to talk to us. We're going to ask these questions. Then we're going to get the paperwork together. Then duh, duh, duh, duh, way down the line. But just literally spelling out like, here's what we're going to do, and then we go do it.
Libby: Yeah. And here's what happens next. And then after that, here's what's going to happen. So let's say we had pending business with them. So something really long like long term care, right? It can take six months to underwrite long term care and clients can lose interest, or be like, "Are they doing anything?" So we just developed a process in our office where we would send a weekly email to any client that had pending business saying, "Hey, here's where we're at with things. We're just waiting on your doctor to send in your medical records. And as you know, that can take anywhere from one to three months. Sit tight, we'll let you know if there's anything you need to do." Or "Hey, we've sent all of the paperwork into Fidelity. Here's what will happen next. Once they receive it, they will cut a check, they'll mail that directly to you. When you get that, call us and then we'll talk about what happens next, or how to get that deposit."
So, it was just literally like every single week. Or sometimes it was, "Hey, we're still waiting on this. And if we don't hear back from, I don't know, this company by this date, Laurie will call you and we'll set up a time where you do a joint call to follow up with them. But we're going to give them a couple more days to get their act together." So, it was always just, here's where we're at, here's what... So that way nobody was ever thinking, "Gosh, I wonder where... I'm rolling over a million dollars. I wonder where that roll- it What's happening there? Do I need to do anything?" We just always wanted to be proactive and to be answering any questions that they had before they even knew that they had them.
Michael: So what did this ultimately build the practice up to? How did the business ultimately Shift as you started down this road in 2008 to what it's ultimately become?
Libby: Yeah. I think really what the biggest shift was, was referrals. And I think that we all overthink a lot of things. Because it's so funny, when I'm working with advisors, and I go, "Well, what if you did this?" And they'll go, "Well, that..." It just seems so easy, right? That seems so simple. Sending an email or ahead of time, is that the stuff that's really going to make or break your practice? Or having a really detailed onboarding practice to remove any friction in the future with clients, making sure that everybody has access to all the right things. They know how to get this, they know how to get that. It seems so simple, but we often forget that our absolute best form of marketing is just doing a really good job for our clients. And we kept every detail. So, if Sue called in between meetings and talked to Lisa at the front desk, and mentioned that her mom's big toe had a cyst on it, and they were all freaking out and concerned about it. We would document all of that stuff. And it's not like Lisa ran into my office and was like, "Oh, you're not going to believe it. Sue's mom has a cyst on her toe. Make sure you commit that to memory so when you see her in January, you can ask her about it."
But we had a system to track that type of information. So, when they would come in, and it sounds so silly, right, but like, "Hey, how did that thing with your mom ever turn out? How's your mom doing it?" Obviously, a cyst on a toe is a stupid example, but anything that they've mentioned. Or if they took out $5,000 to put down on a car, Lisa would document it. I never handled that transaction. But when they came in, I could have on my agenda, "Oh, my gosh, did you drive the new car? I'd love to see it. Does it still have that new car smell?" All of those things that make them go, "Wow, they really remember and pay attention to the details, and not just our account, or our portfolio, or how much money do we have with them. It's, they really genuinely care about how my mom's doing, and how that thing worked out with my sister-in-law. And if Jill got into the college that she was hoping for," or whatever.
Why Libby Sold Her Practice And Where Her Business Stands Today [1:10:37]
Michael: And so, what did the practice grow to?
Libby: So, ultimately, I mean, we hit a seven-figure point where... We just kept growing exponentially where I was never adding more time. We were becoming just so efficient and so effective. So, we served 285 households, which sounds like a lot when you've only got one advisor working three days a week. But we were able to do it really effectively and efficiently. And we did start going up market, but the vast majority of our clients were normal executives. We weren't working with people making $2 million, $3 million, $4 million a year. We were working with people in that $200,000, $300,000 space, that had maybe $1 million to $2 million saved, or investable assets that they could invest with us. We're not talking uber wealthy. We worked with a lot of really normal people. And so we just kind of kept increasing that revenue per hour. As I mentioned at the beginning of the episode, that was my big KPI, is how much money are we making per hour? And how can we continue to streamline? How can we continue to deliver value?
And then it got to some of our quarterly themes. We weren't necessarily delivering the same level of service to every client, it was based on the revenue. We had a client service model, they were segmented. It was all just really tight. And then I sold. So I'd be curious to see where it could have gone beyond that point. But we were at that point where we were busting at the seams. And we were starting to continue to shift and give away our smaller clients to advisors who had more time and capacity. And we were narrowing our focus. But yeah, the last five years of my practice, we had a $0 marketing budget, and we were literally 100% referral only, which gave us the ability to be really picky and choosey about who we added to the book.
Michael: And why did you sell this?
Libby: That's a really great question.
Michael: You're making it sound pretty good.
Libby: Right? I know. Like, oh, I was working part time, making tons of cash. It was really a combination of a lot of things. So I had my whole career was with the same broker dealer. And I was getting to that point where I wanted a lot more flexibility with creativity, always wanting to reinvent myself, and kind of looking at what was happening outside of our industry and wanting to do some of those things and incorporate them to keep it interesting and enjoyable for me. I mean, basically, I graduated from college, and at 37, I was essentially doing the same job. It looked a little different and it had taken a lot of different iterations. I feel like at that point, I was really stepping more into that CEO role. But my husband had wanted to do some stuff professionally. He had wanted to do a lot of traveling. And we wanted to do some stuff while our kids were still young. And my broker dealer opened up this really small window, where I had the option to sell my practice at a multiplier that had never really been seen before. So, we took a leap of faith.
I knew if I wanted to move into an RIA space, it would require a lot of complexity, a lot of time and energy. And our kids were at really integral ages. That really just wasn't on my heart. And about three years, four years prior, I started the Efficient Advisor. And I started coaching advisors, and I started helping other advisors with their systems and processes, and watching them scale and have exponential growth. And frankly, that brought me so much more joy. And I knew I could have a bigger impact on the financial planning community. I could only help these 285 households as an advisor. I knew if I could help 285 advisors, that could impact their 285 households, that I could have a much bigger impact. And I really felt like it was a divine calling. We were having so much fun in the Efficient Advisor when I was just kind of playing around with it. And we had a video show, and we were hosting these workshops. That was the thing that set my soul on fire, and I felt like I was really put on this planet to do.
Michael: So, help us understand what you do now.
Libby: That's a great question. So, my husband and I had multiple businesses, so we kind of sold and we truly were "retired." But I was only 37, so I knew I wasn't going to stay dormant for long. So we took a two-year sabbatical. We moved, we did some really cool stuff. And then I really kind of just felt it on my heart to come back. And I knew the Efficient Advisor had always been kind of in my back pocket. I knew that I wanted to come back to it at some point. So, I spent really kind of those two years getting clear on what was my vision, and what is it that I really wanted to do. And I felt like, there's lots of coaches in the advisor space that are really great on the big picture, and really great on the why, and really great at mindset, and getting people thinking in a different direction. And I knew my sweet spot was the systems and processes. I knew I loved helping people with the how. And I felt really passionate. I would always go to these conferences and people would have all these amazing ideas. And they'd be like, "You should do this in your business." And I'd be like, "That's amazing." And I'd get back to my office and be like, "Okay, team, here's what we're going to do." And they'd be like, "Okay, but how?" And I'd be like, "Well, I don't know, we'll have to figure that out."
And just always went on the list of good intentions because it took time to really carve out, create a system, create a process for it. It just never happened because you were always just handling what was right in front of your nose. So I found that we just started giving advisors like, "Hey, here's the standard operating procedure that we created for that. Take that. Here's an editable version of it, take it and make it your own, see what works for you." And I just started working with advisors from all over, and different niches, and different types of firms, and collecting all of these things and saying, "Oh, here's three different examples of standard operating procedures for that specific thing. And pick which one works for you and make it your own." And so I really found that I loved helping advisors step into that CEO role. The ones who we were talking about before, right? They know they're going to make it, they've got clients, they know how to make income, but they're looking back at their business like I was, and saying, "Okay, how do I get my arms around this thing? How do I not let the business that I love become the business that kills me? And how do I get organized? And how do I create an actual business versus a Libby?"
And so we do that through a couple of different things. We do that through the podcast. So, "The Efficient Advisor Podcast" is really all about tactical systems and processes. Here's very specific examples with really specific things, lots of downloads, lots of free SOPs, lots of free templates. Here are things that I used in my practice. Here are things that we've created for other advisors that they use really successfully. Even teaching people how to delegate better, and just really how to be that CEO. So we have the podcast. I do a lot of speaking engagements. And then we of course have, we have one-to-one coaching. And then we have a group coaching program called Systems to Scale. And that's really a framework that I created that's sort of the six levels of really turning your practice into a business, that I have kind of created and defined for myself and helped other advisors with. So we kind of move through these six different stages to really help them you really go from advisor to CEO.
Michael: And so what does it cost to go through this? And how do you actually structure this for advisors that are stuck in trying to figure this out?
Libby: Yeah, I love that. So, I can just remember when I hired my first business coach. It was a huge leap for me financially. And I was at that $300,000, $400,000 of revenue range going, "Okay, there has to be a better way, but I don't feel yet like I can sign up for something that's like $20,000 a year. Like, oh, I'm only in my fourth year." I had a lot of fear around investing in myself that way. So when I came back knowing like, okay, this is a passion project, this is a hobby business for me. I want to be an affordable option for people who are right on the cusp, where they know they need to go to that next level. And they know they need some guidance, and some accountability, and some coaching to do that. And someone to give them some of the chassis to work off of. So we wanted to make it really, really affordable.
So the systems and scale framework, we've been beta testing it. So I'm a big believer in, hey, before you launch it out into the world, let's have a bunch of people go through it. But the goal is for it to be around a yearlong program, and it's $3,000 per advisor in small groups. So it's up to 10 advisors in a group. So it has a lot of mastermind component, and a lot of camaraderie, and what can sometimes be a really isolated business where we feel like we're on an island. So it's kind of combining the mastermind concept alongside the coaching, and having a set curriculum that we follow and work through.
Michael: And so what is that in... I mean, is that self-guided programs, monthly meetings, coaching? Just how does that work?
Libby: Yeah. And that's what we've been kind of testing and kind of going, okay, well, what's the right format for it? So we've been doing live group calls. And we've been kind of mixing that with live group calls where we do the work together live. So it's actually like, hey, we've got this hour, we're going to actually going to sit down. And it's not like, I'm just going to teach you the thing. Sometimes I just teach you the thing, and then you have to go create it with the template that I've given you. Other times, it's we're going to do this right now. And literally at the end of this call, we're going to be done with this. So you can go implement that. And then there's other weeks where there's bi-weeks where we know the works a little bit deeper and a little bit harder. And then there's some prerecorded weeks. So, there's kind of a cadence that we're figuring out right now, but it's a combination of live and prerecorded. But we're always meeting in a small group. So it is still personalized coaching. It's not just an online program where you go work through the modules on your own.
Michael: Okay. And then how does individual coaching work for you?
Libby: Yeah. So individual coaching, there's two different options. We have what I call a CEO session, where it's maybe you have one or two things in your business that you're like, okay, I could really just use somebody to point me in the right direction, help me point out flaws, help me think through this, maybe come up with a... Especially if you're not a systems and process-oriented person. How can I come up with a better, smarter, faster, cheaper way of doing this? So, typically, that includes some pre-work, where I have you pre-fill out a pretty reasonably sized intake form, so that we're super effective with our 90-minute call. And then there's usually some form of follow up. So, I love to send lots of resources where it might be additional video recordings that I have. It might be some of the content from our systems that scale, it might be podcasts of mine, it might be podcasts of other people, things that are relevant to helping them take care of the one to two issues that we were talking about in our live call. And then really, it's a process of me following up with them until it's done. So, it feels like a 90-minute session, because that's the amount of one-to-one time, but it's really probably anywhere from four to five hours of content or work. And then me going, "Hey, did you do it yet? Send it to me, I want to look at it." And kind of helping them prove for work through different things as they start to create them and they go, "Okay, we ran into this. We were using it and here's the problem we're having."
I like to kind of work through it till completion. The other option is we do a six pack of coaching. And that's where we're typically working on maybe more like four or five different key things in the business. And we're scheduling calls at whatever cadence the advisor feels that they can comfortably work at. So, sometimes it might be a month between our calls, sometimes it might be three weeks between our calls, sometimes it might be two months, depending on what's going on in their lives, and the amount of deep work that's required. And again, it comes with lots of resources, and videos, and templates, and samples, and things for them to work on. So it's really more for advisors who want very, very specific, like, hey, I've got a couple of acute issues that I really want to handle. Versus the group coaching is more of like, hey, I really need to kind of step back and recreate this baseline. I really need to define my business, create some things, figure out how to attract better clients, how to systematize it, how to scale, and then truly how to lead my team.
Michael: And how do you price that structure?
Libby: So, the CEO days, right now, the CEO sessions are $450. And the six pack is $1800.
Michael: Okay. So who's the typical advisor for this? I mean, is it you for where you are, the advisor that's at $300,000, $400,000 in revenue and has hit that personal wall? I've got good revenue, I'm making good money, I'm working a zillion hours. I don't know how to hire, or build, or delegate, or restructure. I've smacked into that wall.
Libby: Yeah, yeah. So the system that scale is really designed exactly for that person. The person who's like, "I never thought about brand pillars. And I really don't know who my ideal client avatar is. And I don't really know how to figure out who my most profitable clients are. I have a planning process, but it's not on paper. There's no templates, there's no who does this, when, where, how. I don't have any of those systems in place." The one-to-one is typically for advisors who, they can be in that range. They're usually even a little bit more advanced. They're like, "Okay, I've got a lot of that other stuff. But I just have these acute ceilings of complexity that I've hit, and I just need somebody else to look from the outside in. And just kind of point out, like, hey, do this, do this, try this." So that one is just a lot more geared towards advisors who are really looking for a specific solution versus, okay, I really need a business overhaul.
The Surprises That Libby Encountered On Her Journey [1:24:06]
Michael: So, what surprised you the most about this journey of building your advisory business?
Libby: I think the thing that surprised me the most about building my advisory business is that I did it. And I know that sounds so stupid, but I look at it, I'm like, I'm not smarter, I'm not special. The fact that people would call me and ask me to come speak to their advisors and share how I did this, what they called an amazing thing. I'd look at it and be like... It's funny because every time I get interviewed, people will go, "I want more." I'm like, "I don't know, I just kind of figured it out." And I'm always kind of amazed. But what that means is, if I can do it, that means literally anybody is capable of it. So for an advisor that has ADD, and hates structure, and not a natural born leader. If I can do it, that means literally anybody can. It's just building it correctly in a way that you can create a vision for yourself and make it a unique vision, and then build the business around that vision so you don't have to look like everybody else. You don't have to be the smartest person in the room. You just have to have a vision of what it is that you want to deliver. And I think literally anybody can do the backend stuff to support that vision.
Michael: And so, just help me understand once more the vision. I'm just sort of doing the rough math of 285 clients, and we're trying to meet with most of them quarterly, and we're trying to do this in three days a week. I'm running out of hours in this math really quick. This is a lot of people for your brain to keep track of.
Libby: For sure. Well, and my brain didn't keep track of them, our systems did.
Michael: Fair enough.
Libby: Literally, if Jan walked in, I did not remember that she bought a new car. It is literally the system that we had to do that. But not everybody got the same level of service. So it was really dependent on the revenue that they brought into the practice. And so some of those value adds might be done in a one-to-many format. So, it might be a workshop, or a webinar, versus a one-to-one. Or they might not get some of the value add, or it might be done through the mail. It might be, hey, here's a- Instead of a formal beneficiary update meeting, it might just be, hey, here's all your current beneficiaries. Here's how much Jimmy's going to get. Here's how much Jamie's going to get. When's the last time you checked your 401(k)? Blah, blah, blah. So it might not have been as personalized.
Michael: Okay. And so you would tier that by their revenue?
Libby: Yes. And so, I worked off of a revenue per hour. So, I had a certain dollar amount that I valued our team's time at. And then that kind of dictated how many hours those clients got based on the revenue that they brought in. So that way, we made the same dollar amount per client, if that makes sense, per hour.
Michael: And so, where did you set those targets? What were they?
Libby: Yeah. So, I tried in the beginning, I had this really complicated formula that I had found somewhere. It was like, well, if your office professional, if you pay her $15 an hour, and you want to make a profit on that, she should be worth $20 an hour. And I was like, no, no, no, no, no, we're just going to pick an arbitrary number. I would take like, hey, here's how much money we made last year. And here's roughly how many hours I think we all worked. And that's our number. And our goal is to increase from here. So, I think it started out at about $300 an hour, was our revenue per hour. And then ultimately when I sold, I think we were at about $650 an hour. So, again, I was like, let's just keep it simple. I don't want formulas. I don't want to overthink this. Because if it's complicated, I'm not going to do it consistently. And I know that about myself.
Michael: So you are in this realm of, okay, we're valuing time across the practice $300 an hour or so. My clients who pay $2,000 to $3,000, they're going to get somewhere between 7 and 10 hours of service a year. So, we have to make sure our ongoing value adds add up to no more than about 7-10 hours' worth.
Libby: Yes, exactly.
Michael: And so, I'm assuming you still have to have some bands, some tiers to this. It feels very cumbersome to back into that for every single client.
Libby: Oh, yeah. No, no, we had like, these are the people who are the [$]10,000 per year plus revenue people. And then these are the people who are in the 7 to 10 range. And then these are the people who are in the 4 to 7 range. Collectively as a group, it was roughly this many hours' worth of work.
Michael: Okay. And so, no distinction of like, what's Libby time versus what's team time? You just put it all in one giant bucket.
Libby: Yeah. And really, the goal was that I would be meeting the client, and that's about it, with a little bit of prep. And so, yeah, I mean, I tried doing it where like, oh, this is the amount of time that I'm doing. And just for me, I didn't keep updated.
Michael: I mean, do you include the team time in it, though?
Libby: Oh, yeah, yeah, yeah. Absolutely. It was, here's how much time it takes for Lisa to call them to schedule the appointment, and for the pre-worked for them to go out. And for us to get it, and Laurie to put it in Money Guide Pro. So we had it all kind of, here's roughly how much time that client was getting from our team as a whole.
Michael: And so, clients on the lower end, just they have to get some version of the process that is not so time consuming. So, you're getting, the letter, not a meeting. We're going to do the education thing in a 12-person workshop. You're not getting a one-to-one meeting.
Libby: Yeah. So, I kind of think of it like this. I think about boxes of Cheerios, right? So, General Mills makes Cheerios. They know exactly what it costs for them to make the small little individual cereal boxes, right? They know exactly how much the box cost to print. They know how much they need to fill it with. They know what the Cheerios cost. They know the weight. They know the printing price. And they know what they need to sell it to the consumer for. And then there's the bigger box, and then there's the Costco size, right? So our best clients were getting the Costco sized box of Cheerios. And our lower clients were getting the individual serving of Cheerios. It was still the same Cheerios, it was still the same high-quality work. They were just getting it in different quantities. But we knew exactly how much time and energy it took to produce each of those levels.
The Low Point Libby Encountered On Her Journey [1:30:13]
Michael: So, what was the low point for you on this journey?
Libby: Oh, gosh, I think I tried to quit every six months. And it's funny because when we used to host these workshops, I had a spreadsheet because people always want to know, what was your revenue every year? And what conference did you qualify for? And I had another column on there. It said, did I try to quit that year? And the answer was yes in every single year. There were always moments where I had impostor syndrome. There were times I'm like, I can't get this all done. I overcommitted myself. I don't know what to do next. Oh, my gosh, that person quit. What am I going to do? I can't do this without... I'm never going to find a new Laurie. I had something happen all the time that took the wind out of my sales, or ripped the confidence where I'd thought, oh, man, I'm going to get that amazing client. And it's amazing to me how like, you could get 5000 compliments, but you get one thing that's tough, and you focus on that one thing, and forget all the good things.
Michael: Oh, the darn humanness of us.
Libby: Right. Or you'd have one thing from compliance going, "No, you can't do that." And you'd be like, "Well, what am I going to do?" So I had those moments all the time. I always kind of think of it like the duck, right? There's this duck floating across the water, and it looks so graceful. And there's this beautiful little lake behind it. But underneath, its little feet are just going...paddling as fast as it can. And it's kind of crazy, and the water's churning, and it's a little tumultuous down there. But it came out really smooth on top. And I always like to remind people that it is tumultuous, and there's a lot of different things happening and a lot of different directions. And it's not always so pretty underneath. And that's why it's really important, I think, to be in a community with other advisors, and really normalizing the fact that it's a hard-freaking business. You feel like a commodity sometimes. Sometimes you feel like there's always someone who knows more than you, or who's smarter than you, or has it all figured out. And it's so easy to let that derail you from what that core vision and your core definition of success really is.
The Advice Libby Would Give Her Former Self [1:32:17]
Michael: So, what do you know now you wish you could go back and tell you from 15 years ago as you were getting started?
Libby: Yeah. I think the first thing I would say to 2004 Libby was, there will be a day someday where you will be turning away clients who have a checkbook in a heartbeat. And that is shocking. At some point, you will be successful enough that you'll get to kind of pick and choose who you work with.
Michael: How long was it to actually get to that day?
Libby: Oh my gosh, I don't know, when I sold my practice, I feel like. No. I think, for me, it took a good four or five years, where I really felt like, oh, wow, I can say no to people and I can be choosy. And I think for me to kind of figure out this revenue per hour thing, sometimes I would realize like, wow, I have a client who is an A client. And they are such a pain in the butt, and they take so much time away from me that it's actually more cost effective I make more money having two B clients that take up the same amount of time. So for me looking at a revenue per hour standpoint, gave me a lot of that freedom too, to not just say, "Oh, that's a $10,000 a year client. I'd rather have two easy $5,000 a year clients that I love working with versus this one that's a total PITA."
Michael: Interesting. So, not just looking at what's the revenue from the client, but what's the revenue per hour from the client? How much time did I need to spend with this client, so my highly time-consuming clients get appropriately debited for their load relative to the client that maybe isn't quite as high on revenue, but is much easier and less time consuming to serve, and is not so high maintenance on you
Libby: Yeah. And more enjoyable. So I think for me, the other thing I would share with 2004 Libby was, it's good to look around and see what other people are doing. And it's okay to do things in a way that feels good and authentic to you. I think I spent a lot of time in my career kind of trying to look like this person or trying to look like that person. Or, oh, they're offering that, I should offer that too. Oh, they're making a ton of money in college planning. I hated college- it sucked the life out of me. So, just really saying like, you do you and do the best possible job that you can. And I want you Libby to look at what other people are doing and stay informed. And I want you to look outside the industry and stay informed. But at the same time, I really just want you to be authentic to who you are and what it is that you envision for your practice. Because there's somebody out there praying for you to do what you do in the way that only you do it.
Michael: Now I understand why you were so excited to let go of younger clients, so you wouldn't have to look at 529 plans anymore.
Libby: No, I did not love the whole FASFA and education. I hated it. I hated it. And I don't know why I hated it. Just it didn't bring me joy. And so, I got to that place where I was like, hey, if it's not enjoyable, if it's not profitable, and if it's not in my place of aptitude, I'm just a no for that. And that's okay.
The Advice Libby Would Give Younger, Newer Advisors [1:35:16]
Michael: So, what advice would you give younger, newer advisors getting started and going today?
Libby: It would be to really just be as much of a sponge as humanly possible. Take in everything around you, learn what other people are doing. So, I always kind of think of it like a car. Go figure out what other people are doing and bring back four different wheels for your vehicle. So instead of trying to copy somebody, take things from practices that you go, yes, that's awesome, I can totally see how I could do that in a way that's unique and good for me. And, oh, I see that they're doing this over here. And wow, that sucks. And that feels yucky. And I want nothing to... There's no perfect practice to copy. And again, it's just that finding what really works for you. And if something doesn't feel good, it's okay to just say no. And the other thing I teach advisors all the time who are coming into the business, I call it my management smile and nod. And I say, okay, so when your management team comes in and says, you should do this, and you should do this, and you should do that, you know what else is really great, you just smile and nod at them, and then go do whatever works for you.
Michael: So, let them do all their shooting, and then ignore it and move on.
Libby: Yeah. And know where their motivations are coming from. And their motivations are good. And their job is always bringing you new ideas. But it doesn't mean every new idea is really going to actually point you in the right direction. So, if you have something that's working, double down on that s***, triple down on it. Don't keep going and trying all this different stuff when you have something...like, you have a little golden goose that's working really well for you. It's good to try new things and it's fun. But sometimes it just dilutes... If you're like me, and you go, "Whoo, shiny. Whoo, that's fun." It just dilutes what you were doing that was really effective.
What Success Means To Libby [1:37:00]
Michael: Right. So as we wrap up, this is a podcast about success. And one of the themes that comes up is just the word success means different things to different people. It sometimes changes for us as we go through our lives. And so you built this incredibly successful practice, ultimately sold the practice, now get to consult around building practices in a similar manner. But how do you define success for yourself at this point?
Libby: Yeah. For me, it's, am I happy? Do I feel like I'm making an impact? And is this something my kids are going to be proud of someday to say my mom did that? And that's really it. It seems so simple. And everything else kind of doesn't matter. The details, and the minutia, and the nuances of it all. If it makes me happy, if I'm impacting people in a positive way, and my kids are going to look back and go, "Wow, my mom did some really cool stuff. She helped people. She loved what she did. She was passionate about what she did." Versus, "She went to work every day and hated it. And came home and grumbled. And hated Monday. She's a Garfield. She eats lasagna and hates Mondays." No, I want them to see their mom building an empire and doing it in a way that made her happy.
Michael: Very cool. Very cool. Well, thank you so much, Libby, for joining us on the "Financial Advisor Success Podcast."
Libby: It was my pleasure. Thank you so much for having me. This was great.
Michael: Absolutely. Thank you.