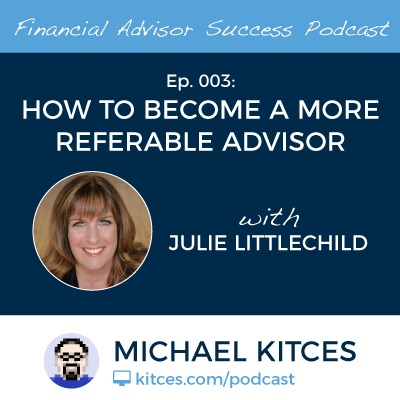 Welcome back for the third episode of the Financial Advisor Success podcast!
This week, we're changing it up a little bit – rather than speaking with a financial advisor, my guest is Julie Littlechild, a speaker, writer, and researcher focused on understanding and improving financial advisors' engagement with their teams and their clients. She is now the founder of Absolute Engagement, a firm that is conducting ongoing research into personal, client, and team engagement in advisory firms, and has also done extensive research on generating client referrals.
In this episode, Julie shares what she's learned from her real-world research about what works – and what doesn't – for financial advisors, including why asking clients for referrals is generally a terrible way to actually get referrals, and how to reposition yourself to become more referable. Julie also shares her research on how advisors can get more energized and re-engaged in their practices, and how her own experience of building and then selling her coaching business gave her perspective on the challenge of staying engaged in the business you've built.
So whether you're a financial advisor trying to generate more and better client referrals, or feel like you've hit a wall and need to get re-energized in your own business, I hope you enjoy this latest episode of the Financial Advisor Success podcast!