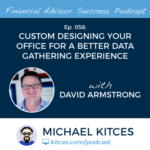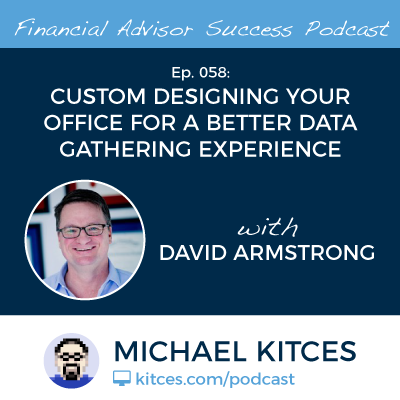 Welcome, everyone! Welcome to the 58th episode of the Financial Advisor Success Podcast!
My guest on today's podcast is David Armstrong. David is the co-founder of Monument Wealth Management, a hybrid RIA in the Washington DC area that serves 120 families and oversees nearly $300 million of assets under management with a team of 11 people.
What's unique about David's business, though, is the way that he's evolved the business over time, having built his early career under a broker-dealer, then shifting to a hybrid arrangement with an outside SEC-registered RIA that is separate from his broker-dealer, and steadily dialing down his amount of broker-dealer business over time as he shifts increasingly towards an AUM-based wealth management model to serve his clients.
In this episode, we talk in depth about the way that David has focused the firm over time towards clients who have created their wealth through a business or other liquidity event, their Ensemble approach where every client is truly a client of the firm and not just a particular advisor, the way Monument Wealth Management has structured their team into Client Services, Financial Planning, and Asset Management, and how the firm has systematized everything from their financial planning deliverables, to their path to partnership, the using of an engagement letter before taking on a client, and even their data gathering process.
In fact, we talk in depth about the way David structures his data gathering process with clients in particular, by creating an interactive experience using a series of conference room white boards to collect information – and help clients actually see and visualize their own financial situation – in a physical space in his office that was first built as a "thinking room" and then become the planning and discovery room specifically to support this process with clients… culminating in a physical deliverable to clients that David calls their "Monument Blueprint", and becomes the basis for subsequently building out the client's entire financial plan.
And be certain to listen to the end, where David also shares his unique hiring process to find great staff to join the firm, which includes a job description that explains not only the nature of the job and the tasks that it entails, but an in-depth discussion of the values of the firm that every candidate should be interested in before they work there, and a lengthy list of all the reasons that a potential candidate should not take the job… just to ensure they really screen out those who wouldn't be a good cultural fit anyway!
So whether you are interested in learning more about transitioning away from a broker-dealer business to an AUM-based RIA business, curious how you can grow your business through a more interactive data gathering process, or simply want to learn more about how you can find great staff to join your team, I hope you enjoy this episode of the Financial Advisor Success podcast!