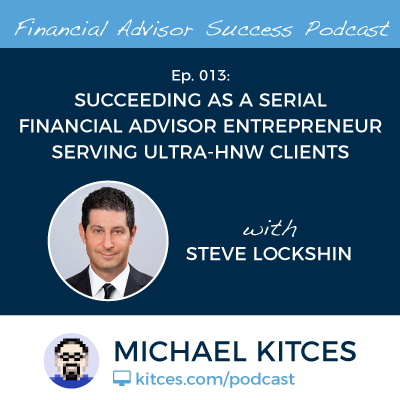 Welcome back to the thirteenth episode of the Financial Advisor Success Podcast!
This week's guest is Steve Lockshin, a founder of AdvicePeriod, a Los Angeles-based advisory firm that serves ultra high net worth clients. So if you've ever been curious to hear what's involving in serving clients with tens of millions of dollars of net worth (or more!), and charge financial planner retainer fees that could start at $100,000 and go up from there, you won't want to miss this episode!
What's fascinating about Steve, though, is not simply his success in serving ultra high net worth clientele, but his path as a serial entrepreneur who has founded several businesses in the advisory industry. His prior advisory firm Lydian Wealth Management, which also served ultra high net worth clientele and had more than $7B of AUM, was acquired by City National Bank. And the performance reporting software solution he co-founded, Fortigent, was acquired in 2012 by LPL Financial. And currently, Steve is also a part of AdvicePeriod for Advisors, which gives independent advisors access to AdvicePeriod's branding, tools, and resources, for those who want to use his tools while maintaining control of their own advisory businesses.
In this episode, you'll hear how Steve first created and sold a software company without a background in programming, and then got started as a financial advisor without any experience in the field either. In fact, his story is a fascinating example of true entrepreneurialism – of someone who sees problems and gaps to be solved, and then marshals the resources necessary to create a solution (and a business around it!), while continuously looking for new opportunities as a lifelong learner.
And be certain to listen to the end, where Steve shares his thoughts on what he thinks is the single most important choice an advisor has to make in building their own advisory business (or shaping their own career trajectory), to be successful in the long run.
So whether you're curious to get a glimpse of what it takes to serve ultra high net worth clients, or just want to hear the perspective of a true financial advisor entrepreneur, I hope you enjoy this latest episode of the Financial Advisor Success podcast!