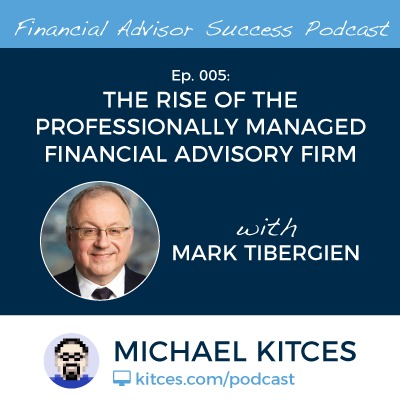 Welcome back for the fifth episode of the Financial Advisor Success podcast!
One of the things I'm enjoying the most about this podcast is that it gives me an opportunity to reach out to people I've admired for their expertise throughout my career, and invite them to be a guest and share their insights with all of you.
And today's guest is a perfect example: Mark Tibergien. Most people today know Mark as the CEO of Pershing Advisor Solutions, a major – albeit slightly less known – RIA custodian that competes with Schwab, Fidelity, and TD Ameritrade, particularly for larger RIAs that focus on serving an ultra-high-net-worth clientele.
But I first became familiar with Mark's work in his prior role – as a Principal for Moss Adams, where for almost 15 years, he led their practice management consulting group for advisors, and pioneered the first financial advisor benchmarking studies going back to the 1990s. In fact, I don't think it's a stretch to say that Mark is the godfather of financial advisor benchmarking and practice management consulting!
In this podcast episode, you'll hear Mark tell his own story of how he landed in financial services after starting out as a journalist, and share his collective 30 years of knowledge on practice management, as we cover everything from the four stages of an advisory practice – which Mark calls the "wonder, blunder, thunder, and plunder" phases – to the walls that advisory firm owners will hit as the business grows, and why standardization of the firm doesn't commoditize its value but actually makes it feasible to better offer the client a customized experience! And be certain to listen to the end, where Mark shares his own perspective on where he sees the financial advisory profession going in the coming years, and where the challenges and opportunities are.
So whether you're an experienced financial advisor and business owner trying to figure out how to take your firm to the next level and get over a wall, or are newer to the business and trying to figure out your own career/business trajectory, I hope you enjoy this latest episode of the Financial Advisor Success podcast!