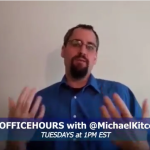 In the vast ocean of the internet, financial advisors often struggle to figure out how to get noticed and gain digital exposure. The gap has led to a growing number of "Ask An Advisor" Q&A sites, from NerdWallet to the recently announced Investopedia Advisor Insights, all of which promise "digital exposure" in exchange for answering questions on their websites.
In this week's #OfficeHours with @MichaelKitces, my Tuesday 1PM EST broadcast via Periscope, we look at why participating on platforms like Investopedia Advisor Insights is a bad idea for most financial advisors, and that the only one likely to make money in the long run is Investopedia, not the advisor.
The reason, simply put, is that content sites are in the content business, which means selling advertising, or other lead generation activities. Which means at best, advisors who are successful on third-party sites will find the companies serving up ads to their competition right next to their own answers. Assuming that information-seekers who ask questions online are even likely to hire an advisor in the first place, which they're probably not. And at worst, the effort actually will be successful in driving business to the advisor… so successful that the site will change its model and begin to charge advisors to get access to their own leads!
The fundamental challenge in the entire approach is that giving away content and expertise to someone else's site is the equivalent of building someone else's business for free, in the hopes that some of their success rubs off for you too. It's a dangerous marketing strategy at best.
So what's the alternative? If you want to demonstrate your expertise to prospects by answering questions, then take the questions your clients ask you, put them up on your own website, and answer them. Make a blog, or a Frequently Asked Questions section, or something similar. But when you create content, create it for yourself, so you can build your own business in the long run, not someone else's!