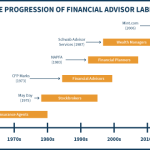 As the world of financial advice continues to evolve, so too does everything from the services we provide to clients, the business models by which we operate, and the labels that we use to describe ourselves. The past 50 years alone we witnessed transitions from insurance agents and stockbrokers, to financial advisors and financial consultants, to financial planners, and now wealth managers.
And now the ongoing crisis of differentiation appears to be spurring the next evolution for financial advisors, towards an ever-more-holistic model that United Capital's Joe Duran has dubbed "Financial Life Management" instead. In this 'new' approach, advisors would be increasingly focused around client advice in regards to work and employment, and spending behaviors – which research finds is, from the consumer's perspective, the real focus of their "financial life story" (and not their savings and investment portfolios!).
Of course, the caveat is that most financial advisors have limited skills and even fewer tools to support clients when it comes to areas like managing their human capital and providing guidance on spending and household cash flow. Yet in this gap is the very opportunity for firms to differentiate themselves by going deeper into a new type of service model. Including firms like United Capital that may offer a platform (e.g., FinLife Partners) to deliver on the FinLife value proposition.
Ultimately, it remains to be seen if "Financial Life Management" really becomes the new term du jour that supplants financial planning and wealth management, but arguably the time really has come for the next stage of advisor evolution. And "FinLife" seems as good a label as any to capture the ever-more-holistic focus for the future of financial advice!