Executive Summary
Since the 1970s, the Securities and Exchange Commission (SEC) has prohibited Registered Investment Advisers (RIAs) from using client testimonials in their advertising. While their rules were intended to protect consumers by preventing advisors from showcasing only the best investment results of a few select clients, two major developments in recent years have necessitated reforms of the existing rules to permit the use of testimonials by financial advisors.
First, consumers are increasingly reliant on testimonials and reviews when choosing which products and services to buy, leading to the massive growth of testimonial-based marketing in other industries, but leaving financial advisors without a key tool in their marketing toolbox. Second, the expansion of RIAs' services beyond 'just' investment advice – often addressing increasingly complex family, career, and retirement questions alongside (or sometimes even instead of) managing an investment portfolio – means that the blanket prohibition against testimonials, meant to tamp down on misleading performance numbers, also stifled advisory firms' ability to highlight other important features like planning expertise and exceptional client service that might matter far more to potential clients than past investment returns.
In May 2021, the SEC finalized its updated advertisement rules to allow the use of testimonials in RIA marketing materials. This change offers a new opportunity for advisory firms to provide social 'proof' of their ability to build relationships through their services and to develop trust and a positive reputation among potential clients. The proliferation of options available to potential clients makes the 'stamp of approval' of a good testimonial a key part of the client's decision of whom to hire, which makes it all the more important for advisors to understand how to deploy testimonials as part of their overall marketing strategy.
The core goals of using testimonials are to connect with a target audience in a relatable and authentic way and to highlight the firm's services and specialties. Accordingly, a good testimonial will go beyond general praise, and will instead reflect the firm's own values and areas of specialization. For example, a firm with a certain niche focus might use a testimonial that specifically acknowledges their unique area of expertise, not just in a positive manner, but with honesty as well – after all, the trust-building effect of testimonial advertising only works as far as the testimonials themselves are trustworthy.
Of course, the ability to select good testimonials depends on actually having a 'supply' of testimonials, so firms must find some way to gather testimonials to be able to choose the ones that work best for them. Some firms may already have an existing trove of material on third-party review sites like Yelp or Google Reviews (which were permitted before the new rules went into effect), while others can use a Net Promoter Score (NPS) survey or a direct email request to current clients to obtain new testimonials.
Regardless of how the testimonials are ultimately used – on the firm's website, in social media posts, on third-party platforms, or elsewhere – they should complement the firm's overall marketing strategy and comply with SEC rules including appropriate disclosures and client confidentiality (e.g., the client must give permission for the firm to use their testimonial in public). Luckily, the same principles that make for an effective testimonial – honesty, authenticity, and transparency – also lend themselves to compliance under the new rule, so that ultimately, firms that take advantage of the new rule allowing testimonials can do so while highlighting their services in a relatable, trust-building way!
When you're ready to hire a service provider, you may research and compare local businesses, visit their websites, and review past client testimonials before making your decision. However, as a financial advisor, the same strategy you would use to select who you would work with, namely the use of testimonials, may have previously been unavailable in your marketing to potential clients.
Since the 1970s, the Securities and Exchange Commission (SEC) has prohibited Registered Investment Advisers (RIAs) from using testimonials in advertising. The basic principle was rather straightforward: if testimonials were permitted, there was a risk that RIAs could end out touting their performance for particular clients (which may or may not be representative of the results for all clients). Accordingly, the SEC regulations helped to shield consumers from misleading or unethical firms, while underscoring the legitimacy and client-centered principles under which SEC-registered firms are expected to operate.
However, modern technology and communication have dramatically changed how consumers select businesses they'll work with, incorporating social proof or a 'stamp of approval' from others through the widespread and easy-to-use practice of sharing first-hand consumer testimonials. The growth of testimonials in marketing is confirmation that opinions about an experience or purchase are trusted factors for consumers when researching their buying options. According to Podium, "93% of consumers say online reviews have an impact on their purchase decision."
And the need for financial advisors to be able to use testimonials – for the benefit of consumers trying to select an advisor – has arguably never been greater as the role of the financial advisor is expanding. The modern client can have complex family, career, and retirement needs, and often asks their advisory firm to do more than simply review and manage an investment portfolio. In fact, often what consumers want to see most in advisor testimonials is specifically regarding the factors beyond investment performance, from the depth of planning expertise to the quality of client service.
In other words, client testimonials about advisors are no longer simply implied statements about investment performance results that may be cherry-picked by the advisor. Instead, client testimonials cover an ever-increasing breadth of information about advisors – crucial to other prospects to decide who to work with – and the rise of various "review" platforms has proliferated both the number of testimonials in the marketplace, and how consumers use them. Which means the prohibited use of testimonials is now impeding many firms' efforts to effectively market their new services as valuable and worthy of consideration, and help consumers find the right advisor or advisory firm for them.
Modernization Of The SEC's Investment Adviser Marketing Rules
In response to the need for more modern advertising practices for financial advisors, the SEC announced the final reforms to the Investment Advisers Act in December 2020, merging new amendments within the SEC's acceptable advertising practices with the previously adopted SEC advertising and cash solicitation rules. The final ruling went into effect on May 4, 2021, officially updating the acceptable marketing practices for Registered Investment Advisers (RIAs) to accommodate investors' evolving preferences and modern needs… including for the first time allowing financial advisors to use testimonials as part of their marketing efforts (provided they adhere to certain compliance and disclosure requirements).
This monumental change opens the door to a brand-new marketing strategy that RIAs – particularly those that want to highlight a breadth of financial planning services beyond just investment management – can now use in their overall marketing approach to build a practical trust-building testimonial component into marketing campaigns and collateral.
At its core, the new rule permits financial advisors to solicit and use testimonials in advertising, including websites, social media channels, print, and other mediums. Additionally, an RIA's advertising may also include third-party ratings (e.g., ratings on platforms such as Facebook or Google Reviews). Clients who provide testimonials (or non-clients who provide endorsements) are deemed "promoters", with certain disclosure requirements that must be provided to acknowledge the nature of the advisor's relationship with the promoter (e.g., whether they are a client or not, whether the testimonial is compensated or not, etc.).
Disclosures themselves should be brief, easy-to-understand, and prominently located. Furthermore, disclosures should include the following information:
Whether the testimonial is from a current or previous client;
If compensation was exchanged for the review (e.g., "The client was compensated for providing their honest review."); and
Information that could be perceived as a conflict of interest, such as the firm's relationship to the reviewer or the extent of the operating practices that produced the stated outcomes.
Of course, financial advisors also still have to adhere to the general compliance requirement that their advertisements and practices continue to be fair, balanced, and are not false or misleading to the public.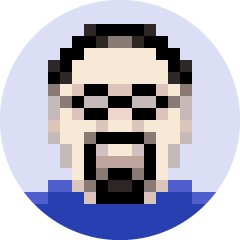 Nerd Note:
The new SEC rules technically only apply to SEC-registered investment advisers. State-registered investment advisory firms are subject to their own state securities regulations, and states are still engaged in their own process of updating their own regulations to match or adapt the SEC's new marketing rule. As a result, not all state RIAs can currently utilize the SEC's marketing rule for testimonials as written, and should consult their compliance consultant/attorney and/or their state regulators about whether or how the new marketing rule applies to their advisory business.
Why Testimonials About Service Are Important In Marketing
Financial advisory firms primarily sell an experience to their clients and families, potentially for generations. As an advisory firm, the greatest quality that can be demonstrated to future clients is the firm's ability to build relationships through its service. Testimonials can provide that social proof, and at the same time help to build trust and a positive reputation among existing and potential clients.
A customer service and experience survey by Zendesk found that perceptions of a company's customer service experience changed future buying behavior in nearly 90% of the respondents, which then influenced how likely they were to recommend a company to others or to become return clients in the future.
Accordingly, the appropriate use of testimonials in an advisor's marketing strategy can help them to do the following:
Connect with a target audience in relatable and authentic ways as if they are hearing from a trusted friend;
Highlight the services and specialties the firm offers from a client's perspective rather than the advisor's; and
Balance unsolicited negative reviews on social platforms (e.g., Google Reviews) using positive, real-world examples.
How To Identify A Useful Testimonial
When developing an action plan to incorporate testimonials into the firm's marketing strategy, the first step is to identify target goals to ensure the right testimonials are chosen. Which means not just including any testimonials that sound positive, but the ones that align with the firm's goals and the areas of excellence the firm wants to highlight.
So, how do firms identify good testimonials that will complement their marketing strategy? When reviewing a testimonial, decide which criteria are most important to the firm. Some important questions to consider are provided below.
Does the testimonial speak to who the firm is and what it's trying to promote? An impactful testimonial might highlight how a firm's advisors have provided above-and-beyond attentiveness to clients, or may note the expertise a firm has with a particular niche market or service specialty.
Example 1: "The advisors at Firm ABC are experienced professionals that know how to work with new doctors. After I first started my residency, I sought help from the team at ABC. They were very familiar with the challenges that new doctors like me are facing (e.g., mountains of student loan debt, responsibly adapting to higher income levels). They designed a sensible financial plan that made me feel a lot more confident about how I need to plan for the future of my medical career and invest for retirement."
Does the testimonial tap into the right target market? The more specific the testimonial, the better. Testimonials where the clients provide specific job titles or industry/company affiliations will generally be more impactful. A strong understanding of an industry, profession, or even life stage (e.g., widowhood) can provide additional confidence to a potential client.
This is also important because the repetition of the same terms or specialty (e.g., "business owner," "dentist" etc.) helps Google to see the firm as an expert to serve a particular niche. As a result, more prospects within that niche will have an easier time finding your firm and seeing you as a trusted expert for their particular needs.
For example, a testimonial describing a firms' expertise in a particular planning area (e.g., exit planning for business owners) will be more likely to attract clients seeking similar services if it's communicated from someone who clearly had that need.
Example 2: "ABC's expertise in exit planning when I was ready to sell my business provided the financial security and assurance I needed to enter my retirement."

- Joe Smith, founder of Smith Enterprises
Does the testimonial provide measurable, quantifiable results? The more concrete the testimonial in terms of the benefits provided, the greater the credibility, and the better it demonstrates the actual 'tangible' value that the financial advisor offers relative to the fees they charge.
Of course, firms should ensure the claims being made can be validated, to ensure they follow compliance guidelines about not being misleading. It is also good practice to provide disclosures indicating that every situation is unique, and that past results do not guarantee future performance (even when the testimonial isn't speaking directly to investment performance).
Example 3: "ABC firm has helped align a financial and investment plan around our family's goals and personal situation, which included designing a 30-year retirement income plan that is projected to replace 100% of my pre-retirement salary, while cutting my tax obligations by more than $7,000 in the first year alone!"

Outcomes are personal and specific to each client, and one client's results do not guarantee identical outcomes in the future for another client.
Where To Collect Testimonials
Once firms establish the criteria to use to select their testimonials, they can begin to build their testimonial collection.
Leveraging Testimonials Already Received
While financial advisors haven't been permitted to collect testimonials in the past, the reality is that for many, testimonials still exist: they've simply been left by clients, unsolicited, on various third-party websites. (Which was previously permitted, as long as the advisor had no 'entanglement' in making those testimonials happen.)
Accordingly, the starting point to building an advisor's testimonials under the new rules is simply to collect up all the testimonials that have already been received through social media (e.g., LinkedIn, Facebook) or other third-party sites (e.g., Yelp, Google Reviews).
The credibility of testimonials on third-party sites could build more trust and credibility with prospects because the review is not one you're promoting. Here, the messenger is different and that may bring more credibility. According to Mintel, of those who seek reviews and opinions before making a purchase, 70% are likely to visit an independent review site before buying.
However, it is important to always consult with a legal professional about a third-party site's Terms of Service before using them in marketing plans, as some third-party sites have limitations on whether or to what extent testimonials on their site can be added to the advisor's website.
In addition to client testimonials, firms can collect and leverage other social-proof icons, such as news features, logos, and awards, that provide additional transparency and trust-building.
---

Pro Tip: Be sure to use a spreadsheet or other tool to track who wrote the review, and where it came from (website or other source), so it will be easy to ask for permission to use the review publicly. Take a screenshot for compliance purposes, too, as individuals might be able to edit their review on third-party platforms.

In addition, advisors can also look to leverage testimonials that may have been embedded in past emails from clients (that were sent directly to the advisor or their team but hadn't been published).

---
Using A Net Promoter Score (NPS)
If you've made a recent purchase, you may have received an email asking you to rate, on a scale from 1 to 10, how likely you are to recommend the company to others. If you responded, you participated in an NPS (Net Promoter Score) survey.
The NPS is a metric that can help companies assess a customer's or client's satisfaction. Generally presented as a single-question survey, an NPS survey invites the respondent to rate how likely they would be to recommend a firm to others, categorizing respondents as promoters, passives, or detractors. Wherever they fall on the scale, the results can offer insight into understanding the firm's audience better; improving quality; and addressing customer service, products, and processes.
An NPS survey is a practical starting point with multiple benefits:
It is brief and helps avoid directly asking for a positive review. This makes it nearly effortless for clients to complete, and sets the stage for more genuine client responses.
The survey opens the door to both positive and also constructive-criticism reviews, which can be incorporated into your future improvement goals.
The final score results can be used in the firm's marketing plan and updated annually or biannually, as suitable for the firm's operations.
---

Pro Tip: Pick the right survey by exploring multiple tools such as those offered by Nexa Insights, Dimensional Fund Advisors, Survey Monkey, and others.

---
Emailing Current Clients
When developing an email campaign to request testimonials from existing clients, the key is to select clients with whom the firm has had a positive relationship, who fit your ideal market, and who the advisor anticipates will be eager to share their experience.
The email, which can be sent separately to each client or built for mass outreach with programs such as MailChimp or Constant Contact, should be personal and provide options to write a brief testimonial, or direct them to share their review on another channel such as Google or Facebook. This approach makes it easy for clients to choose the route they prefer, while potentially boosting the firm's ratings on other sites.
Example 4: "I'd love to get your feedback on our recent work together building your financial plan and helping you transition into retirement, so we can share your experience with others. You can also leave a review on our Google Business here: [INSERT LINK]"
---

Pro Tip: Schedule email requests so they don't conflict with concurrent email campaigns, an NPS survey, or other communications, to avoid unwittingly bombarding clients with email messages and requests for feedback.

---
How To Address Feedback When Asking For Client Testimonials
Sending invitations for testimonials also comes with a responsibility to address feedback that is not necessarily positive but that provides constructive criticism. Even if there is already a plan in place for responding to comments on social media, it can be worth revisiting that plan as testimonials begin to roll in from various sources.
Developing a strategy and standard responses to address constructive or negative reviews demonstrates to current and future clients how the firm manages all types of customer service concerns. While this isn't directly related to marketing testimonials, it does involve social proof of how the firm is perceived and operates.
For example, if a firm receives a review that warrants a response, it can address the review directly within the social media platform. We recommend an honest response that can be backed up by paperwork.
Example 5: "[name], Thank you for taking the time to write a review and for bringing your concerns to our attention. Our records, however, indicate that you were never a client at [insert firm name]. If you have any other questions or concerns, you can always email [email protected]."
After all, the ironic reality is that consumers actually trust 5-star reviews less than 4.5-star reviews… everyone knows that no business is perfect, and how a firm shows up in response to the occasional criticism it will inevitably receive is just as important as the social proof of the positive testimonials themselves.
Reviewing (And Editing) Testimonials On Third-Party Review Sites
Another reason why it's so important to have a proactive game plan to deal with the occasional constructive criticism or negative review on a third-party review site is that when it comes to editing testimonials, there are some compliance restrictions to be aware of.
Some important considerations are listed below.
Testimonials generally cannot be modified if, by doing so, the content and perception of the review to a client are altered. Firms should not be tempted to rearrange or paraphrase testimonials so that they reflect more favorably on the firm, as doing so can turn an otherwise permissible testimonial into one that is deemed 'misleading' by the regulators.
Negative client reviews shouldn't be removed or addressed from social media channels if the intention is to skew the firm's profile toward a more positive light.
It's good practice to avoid testimonials that can't be used in their entirety (or if links to the full review can't be provided).
Be mindful of word usage when advertising a review from another site. For example, stating "A top-rated financial advisory firm on Google" in your marketing may falsely indicate an affiliation with or endorsement from Google. Instead, you can point people to your Google business page to read more reviews.
Thoroughly review usage and Terms of Service policies to comply with the review site's restrictions.
If you use the testimonial in paid ads (whether digital or print), be mindful and sensitive about how it is used to avoid painting a limited view of the firm.
Firms that anticipate collecting (or have already collected) a significant number of reviews on third-party sites (e.g., Yelp or Google) may also consider providing a link or plugin to the review site on the firm's website or social media channels for prospective clients to explore independently.
How Firms Can Incorporate Testimonials Into Their Marketing Plan
Once a firm has begun to gather testimonials, they'll want to develop a strategy to optimize the use of those testimonials to support their overall marketing goals. There are several areas testimonials can be helpful, from bolstering marketing collateral, to promoting a social media presence, and creating strong email campaigns.
The fundamental steps for incorporating testimonials into a marketing plan start with identifying when and where to use testimonials. Once that has been determined, firms can then draft a confidentiality and disclosure policy, and then plan on revisiting the strategy on a periodic basis, making adjustments and refinements as needed.
Identify Where To Use Testimonials
The first stage of building a marketing plan that includes testimonials starts with determining the target market the testimonials will speak to, and the problem the testimonials are being used to solve.
For example, when and where would it be most helpful for future clients to hear about a positive experience from an existing or previous client? Reviewing the steps that a firm's potential clients must take to become a client (i.e., the sales funnel) can identify specific points where testimonials may have the most impact, and where they might speak to clients with similar challenges or interests.
Is the testimonial an opportunity to upsell current clients with other services and programs offered by the firm? Perhaps a firm's clients underutilize its tax minimization services. A testimonial within a collateral piece that highlights the firm's tax offering could present space to communicate its features and benefits with specifically relevant testimonials.
Other areas where testimonials can add value include:
The firm's website. Testimonials can help close the deal for those considering the firm's services. Place testimonials on the home page for those who visit the website and who want to learn more. Also highlight niche service areas and types of clients served by placing specific testimonials on services pages or client profile pages.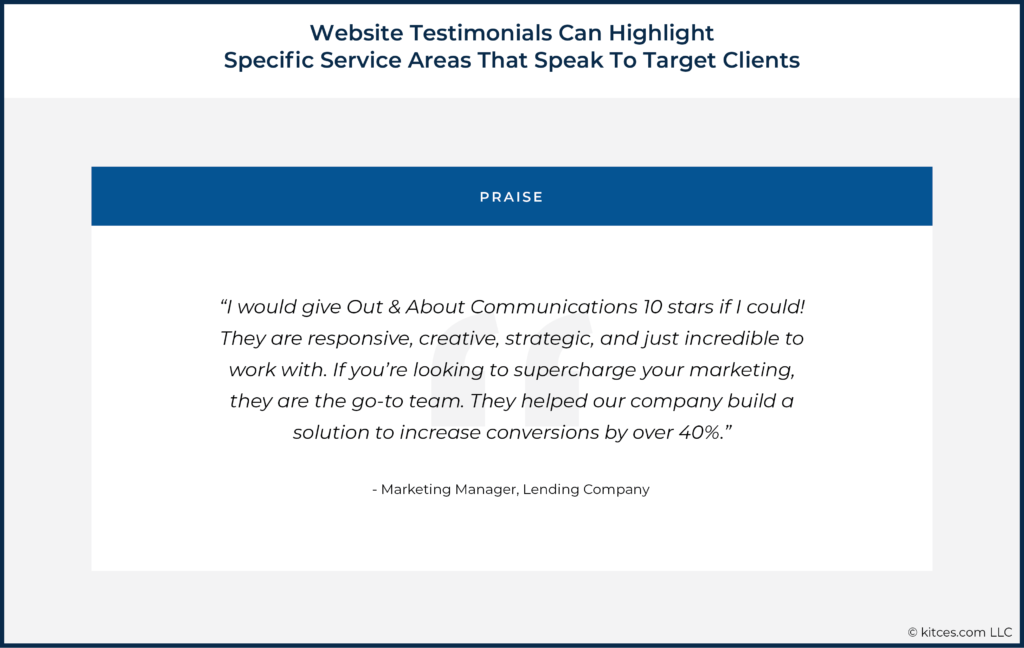 Social media graphics. Incorporating user-generated content like testimonials into social media strategies can help build trust and engagement among a firm's audience while maintaining a consistent online presence and staying top of mind among existing and future clients.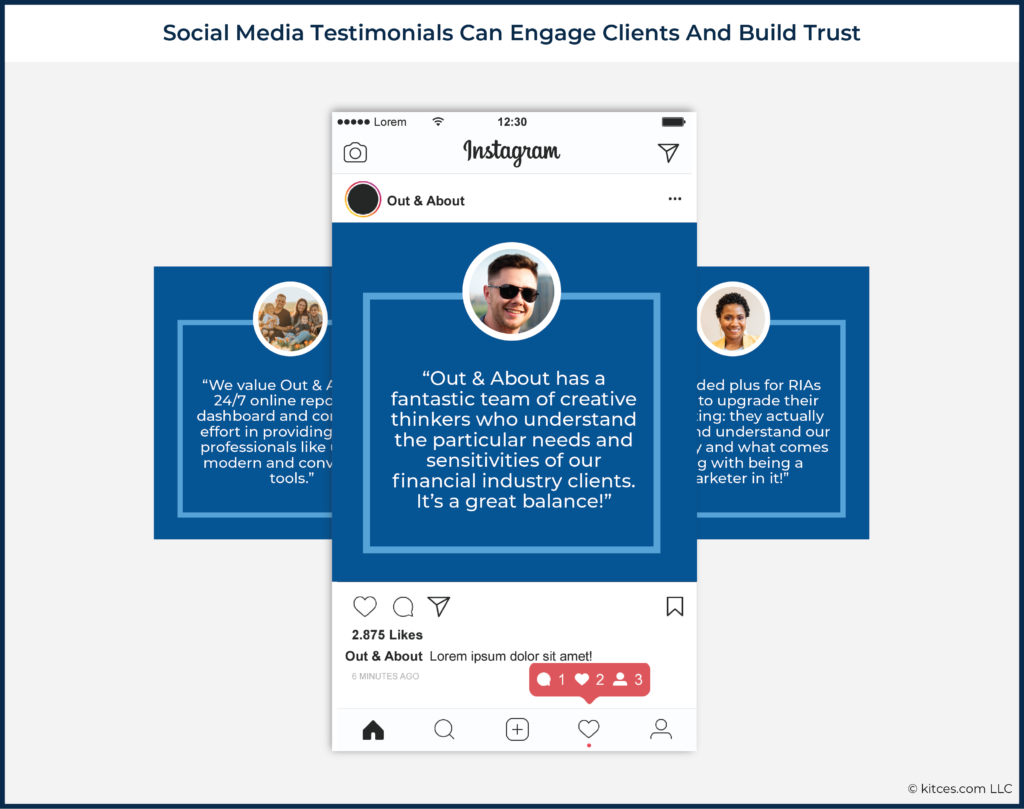 Other marketing materials targeting your ideal client. By organizing testimonials using specific examples provided by the reviewer that speak to the clients served or that describe the firm's services, firms can use testimonials thoughtfully in their marketing pieces. For example, testimonials presented in an introductory brochure that address early steps in the customer journey can show prospects how easy it can be for a client to get started with the firm.
Draft A Disclosure And Confidentiality Policy
Once a firm has determined where and how they want to use testimonials, it is important to create a disclosure and confidentiality policy to be approved by the firm's lawyer. This is important because, aside from the SEC's permissiveness to use testimonials for marketing purposes, any business that uses a customer or client's name and likeness in their marketing materials (e.g., as a testimonial) needs permission from that person to do so.
Reviewers who leave testimonials on third-party platforms automatically opt-in to the platform's particular disclosure and confidentiality rules about how their testimonials will be made publicly available on their platform. However, firms that actively solicit testimonials from their clients should consider providing a disclosure notice with an option to opt-out from publicly sharing their remarks for marketing purposes. This helps to protect firms by clearly obtaining consent from the person submitting the testimonial.
For consistency and transparency, it can be helpful to consider a standard template and policy to be used for disclosures and attributions. The policy should include a clear statement identifying where and how a client's review and information will be used when asking the client for permission to use their review. For example: "By providing an honest review, you agree that we may use your statements in marketing materials." Firms can add such a notice in an NPS survey or when they ask for testimonials in digital or print format; alternatively, they can also ask for written testimonials or feedback after an in-person workshop is given.
While specific testimonials featuring names, industries, and job titles may create more trust and credibility, there may be instances when anonymity is required. This may be the case simply when clients do not provide consent for their name to be used (such that the testimonial must be anonymous), but also when a testimonial that reveals potentially sensitive data requires that more general attributions be used… ideally in such a way that the testimonial can still relatable and relevant to target clients (e.g., substituting names with "Business Owner" or "Recent Retiree").
Policies can also include a photography release to use a client's image with the testimonial, if they agree. However, using stock photos can also provide an impactful storytelling element in lieu of actual client photos.
Refine Your Testimonial Strategy Periodically
As testimonials become a routine part of a firm's marketing strategy, it is important to revisit the strategy and to realign it as needed, to incorporate new testimonials as they are received and also as marketing goals shift. With a systematic workflow, keeping testimonials fresh doesn't have to be constant or burdensome.
A few ways firms can achieve this include:
Creating a central hub such as a spreadsheet with links to the original source and the published source for categorizing your testimonials as the firm's pool of testimonials grows;
Putting NPS surveys on the calendar annually or twice a year to update, as needed;
Scheduling how often new feedback will be requested from clients within the firm's regular nurturing and retention campaigns; and
Swapping out less specific or general testimonials with stronger ones as they become available and are identified through a regular testimonial review process. For example, "The ABC Financial Firm provided our family with excellent service," may be replaced with, "We value ABC's 24/7 online reporting dashboard and continued effort in providing young professionals like us with modern and convenient tools."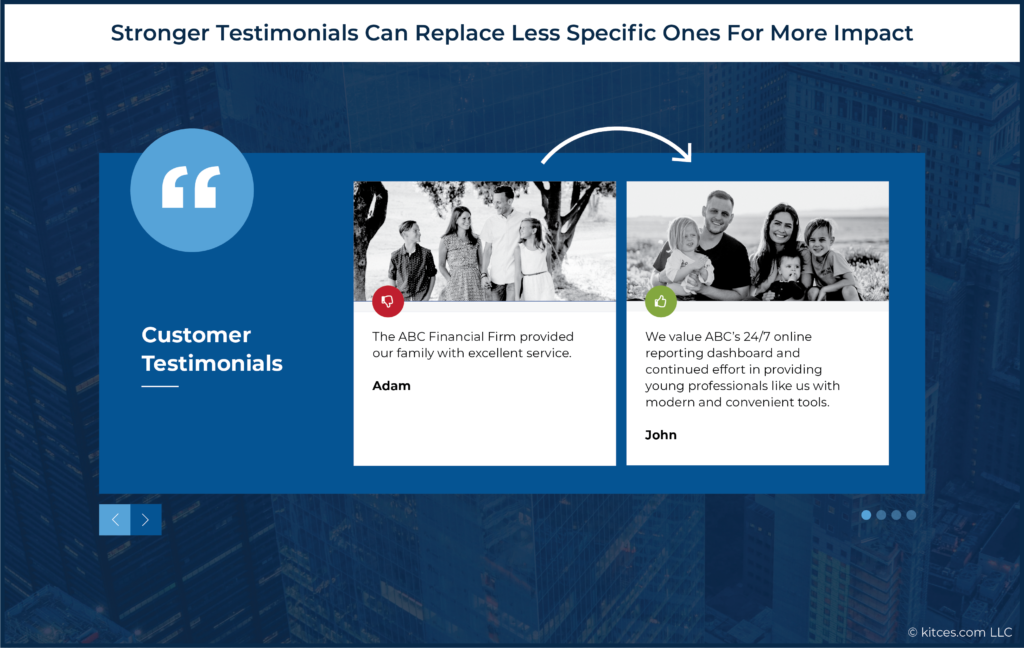 ---
With the enactment of the SEC's new marketing rule, there is much to prepare for in this new era of advertising for financial advisory firms. Still, the exciting possibilities can provide for productive additions to advisory firms' marketing strategies and businesses.
While the official date for firms to comply with the new rule is in October 2022, 18 months following the effective date of May 2021, firms are encouraged to embrace the transition period to familiarize themselves with the new rules and provisions, build efficient systems, and consider implementing tactics to support the firm's business strategy and current marketing work. And in practice, firms don't have to wait until October 2022 to begin using testimonials as long as they're operating in good faith with what the new rules stipulate.
We are not compliance attorneys, so we recommend that firms consult with their compliance and legal teams to take requisite due diligence steps as they plan.
We hope the practical tips and techniques outlined here are valuable in helping firms and advisors leverage the new rule, while being mindful of the conditions and restrictions it comprises to protect clients, firms, and future industry practices.