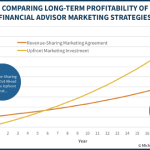 For most financial advisors, the single hardest part of growing the advisory business is simply getting new clients in the first place. Especially since most financial advisors have very limited capital to invest into the business and its marketing efforts early on.
As a result, most financial advisor marketing strategies involve approaches that have little or no upfront cost, such as partnering in formal RIA solicitor referral agreements that share a percentage of the revenue from the client.
The upside of this approach is that the advisor has an opportunity to incentivize a marketing partner, with no upfront marketing costs. The downside, however, is that given the high client retention rates of most advisory firms, revenue-sharing agreements can actually be an astonishingly expensive form of marketing.
In fact, for advisory firms with 95%+ client retention rates, it would be more profitable in the long run to spend a year's worth of client revenue just to obtain the next new client – a strategy that can produce an incredible 400% Return On Investment for the marketing dollars… with the caveat that few advisors can afford a marketing approach that might take years to recover the initial investment.
Nonetheless, when looking to the marketing practices of leading independent advisory firms – and even some of the more successful robo-advisors – it appears that the firms most focused on scaling their advisory businesses are beginning to eschew revenue-sharing agreements, and instead are shifting their spending to scale far-more-profitable upfront marketing investments!