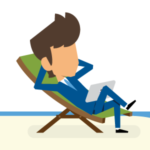 As the vaccination count continues to rise and the new case count for the coronavirus continues to decline, more and more people – including financial advisors – are beginning to emerge from the shutdown and return to 'life as normal', which means a return to school, a return to the office… and now that summer is arriving, a return to the family trip and summer vacation. Which means some downtime for rest and relaxation. And for many, that includes finding some time to read and catch up on a few good books!
For those who love a good book, though (and especially for those who have limited time and will only get to read a few), the question quickly becomes "what's a good book worth reading these days?" As a voracious reader myself, I'm always eager to hear suggestions from others of great books to read, whether it's something new that's just come out, or an "old classic" that I should go back and read (again or for the first time!). And so, in the spirit of sharing, a few years ago I launched my list of "Recommended (Book) Reading for Financial Advisors", and it was so well received that in 2013 I also started sharing my annual "Summer Reading List" for financial advisors of the best books I'd read in the preceding year. It quickly became a perennial favorite on Nerd's Eye View, and so I've updated it every year, with new lists of books in 2014, 2015, 2016, 2017, 2018, 2019, and a fresh round last year in 2020.
And now, I'm now excited to share my latest Summer Reading list of top books for financial advisors in 2021, including some suggestions from our growing 'team of nerds' here at Kitces.com, from a deep dive into how helping clients with their money psychology can impact their wealth more so than 'just' the technical financial planning advice, why it's so important to create time and space for the "Deep Work" that adds the most value, what the financial advice business can learn from the restaurant hospitality business, why the long-term key to building a successful business is not about maximizing your own skills and productivity but in finding the "Whos" that can help turn your ideas into reality (and then how to get the most out of the people on your team), what it takes to be more relevant for prospective clients and how to get them to actually see your value as a financial planner (hint: stop telling them about the value of your financial planning advice, and just start giving them financial planning advice that they'll only want more of!), and some great guidance on how to not just have more answers for clients but how to ask better questions (replete with a list of actual questions to try out with your clients!).
So as the summer season gets underway, and summer vacations return, I hope that you find this suggested summer reading list of books for financial planners to be helpful… and please do share your own suggestions in the comments at the end of the article about the best books you've read over the past year as well!