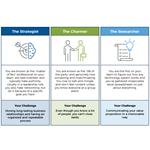 With the financial advice industry's roots being primarily in product sales, revenues (and compensation) have traditionally been the result of a "numbers game" and derived exclusively from a broker's ability to get in front of as many people as possible and convince some percentage of them that they should buy whatever it was that the broker was selling. In other words, selling was entirely an outward process of distributing products and was best-suited to those who had highly outgoing personalities.
However, as the industry's value-proposition continues to transition away from products and towards a more consultative, service-driven approach, the truth is that success as a financial advisor isn't as predicated on having a certain personality type. But, while advisors might not be selling products, per se, it doesn't mean that they're off the hook when it comes to developing those business development skills, since they still have to "sell" themselves and their services to prospects and (on an ongoing basis) clients. Unfortunately, though, most advisor sales training programs today still focus on the traditional extroverted salesperson ideal (or try to nurture an advisor's inner-extrovert instead), rather than playing to the advisor's natural strengths and augmenting their personal styles.
Accordingly, in this guest post, Amy Parvaneh (founder and CEO of Select Advisors Institute, a coaching firm that works with financial advisors) discusses why sales training programs should be designed around an advisors specific personality type, the three Consultative Sales Personalities her firm has identified, and specific strategies each of those personality types can employ to turn their unique challenges into business development advantages.
For instance, advisors with the Charmer personality type are the "traditional" extroverted ideal, have the uncanny ability to make a connection with just about anyone, and typically shine in the relationship management stage. However good they are at striking up conversations, though, Charmers usually need help moving prospective clients through the sales process and closing new business (rather than just engaging in endless chit-chat!), and can gain a lot by going through a more formalized sales training program. By contrast, Strategics are another subset of extroverts, but ones who typically set clear and measurable goals, which pairs well with their ability to get in front of prospects and bring in new business. Yet Strategics often focus so much on "what's next" that they have difficulty developing deep ongoing relationships with clients after they come on board (which makes them pair especially well with Charmers who can take over from there). On the other hand, advisors with the Researcher personality type are very analytical and more introverted, and struggle the most with "traditional" extroverted sales strategies. Yet with their ability to dig into complex financial planning issues, be good listeners, and show genuine empathy towards clients, Researchers can often be quite effective at business development and sales as well, but must engage in strategies that leverage their expertise to bring prospects in to them (because they're not wired effectively to go out and find the prospects themselves).
The bottom line is that, by tailoring your business development approach to your unique sales personality, not only will you be better equipped to find your ideal clients and convince them that it's worth it for them to pay you for your financial planning services, but you'll be able to more effectively communicate the value that you bring to the table on an ongoing basis.