Executive Summary
As the total number of CFP certificants crosses 90,000 – nearly 1/3rd of all financial advisors – and the number of undergraduate and graduate school CFP Board registered programs continues to grow, the pathway of a college degree plus CFP certification is increasingly becoming the way new financial planners learn how to do financial planning. Yet the reality is that while a theory-based education may provide the "book smarts" and an understanding of the regulatory and legal sides of the practice, it doesn't necessarily give future financial advisors the full scope of understanding and skills needed to thrive as emerging professionals. While at the same time, 'on-the-job' training is still far too often focused on teaching the sales skills it takes to get new clients… but not necessarily what new financial planners need to learn to deliver good advice that clients will actually implement. Which means, simply put, that the emerging pathway for training new financial planners may not be providing the full base of knowledge and education really needed to be successful as a financial planner.
Fortunately, though, other established professions have long since determined an alternative approach to teaching and training new professionals to figure out how to actually apply their book knowledge in real-world situations: experiential learning. From veteran craftsmen to train apprentices, to experienced doctors who train residents, to simply getting an internship with an experienced professional, getting an opportunity to learn by "seeing how it's done" in practice remains a remarkably effective way to learn. In the context of financial planners, in particular, this means shifting from a purely technical-focused training or one that only practices sales techniques to turn prospects into clients, into an experiential learning approach that allows for the practice of advice techniques to convince clients to actually implement the advisor's advice.
However, experiential learning opportunities have been limited in practice. Conferences can be costly and take time to vet out which ones are genuinely applicable to people who have not truly entered the industry yet. Internships, while useful (at least when well implemented), are limited in number and often only provide the scope of how one particular firm does financial planning. And few firms have the depth of team or capability to implement a systematized apprenticeship-style training program for a large number of aspiring financial planners.
The good news is that the rise of the pandemic has driven such a newfound focus to online learning, that it is also creating new opportunities and best practices for experiential learning to go online as well. A case-in-point example is the FPA Externship, which launched in 2020 as an 8-week intensive online experiential learning program. Similar to an internship, the goal of the FPA Externship is to provide new financial planners an opportunity to get exposed to the real-world practice of financial planning. However, the virtual environment makes it possible to give participants exposure and experience to many different firms' styles and strategies, while ensuring a rotation through all the different areas of financial planning (not just the one area that one particular firm is focused on). In other words, aspiring financial planners get to see a wide range of what it actually looks like to be a financial planner and do financial planning for various types of clients with varying needs delivered by experienced advisors with a wide range of planning styles.
The significance of programs like the FPA Externship is that the financial services industry is in the midst of a shift from sales-based "financial advisors" to advice-based financial planning, but new financial planners often can't tell which jobs are which until it's too late. Consequently, a break can emerge between what new advisors saw in education and what they witness in practice. Which in turn can lead to disillusionment and many talented financial planners leaving the profession… not because of lack of interest, but because they never get to see what the financial planning profession is truly capable of at its best.
Ultimately, the key point is that technical and sales training can take future advisors far, but without experiential learning to understand what the financial advice business is really about, new financial advisors will at best be under-trained when they first begin to work with clients, and at worst can face disillusionment as they begin their careers (and potentially leave the profession before they even really start!). Fortunately, though, programs like the FPA Externship – which is soon to close its summer 2021 enrollment! – are emerging that can fill this gap and provide advisors an understanding of the true power of financial planning, thus developing a stronger generation of financial advicers for years to come!
Limitations Of The "Theoretical" Learning Model Based On Book Knowledge
Historically, financial planners have been schooled in the theoretical "book" knowledge of the financial services industry. The starting point for this education, for those who hold themselves out as financial advisors or financial planners, is primarily the FINRA Series licenses, such as the Series 7, 65, 66, or the SIE, as well as the state life-and-health insurance license. In practice, though, these licenses are primarily established to determine that the individual understands the rules and regulations that will apply to their regulated product sales… not advice itself, per se. This isn't surprising, though, given the origins of the financial planning profession are heavily rooted in the world of investment and insurance product sales.
Over the past two decades, the education of the financial planner has shifted to focus on the CFP Board's list of 70 Principal Knowledge Topics, as embodied in the six required educational courses needed to complete the CFP designation. But this focus on theoretical knowledge, while critical to the success of a financial planner, is now also becoming table stakes for what it means to be a competent financial planner. Instead, what distinguishes the training of a professional financial planner – akin to most skilled trades and professions – is the opportunity to learn experientially, by doing (or at least 'practicing' in a structured environment).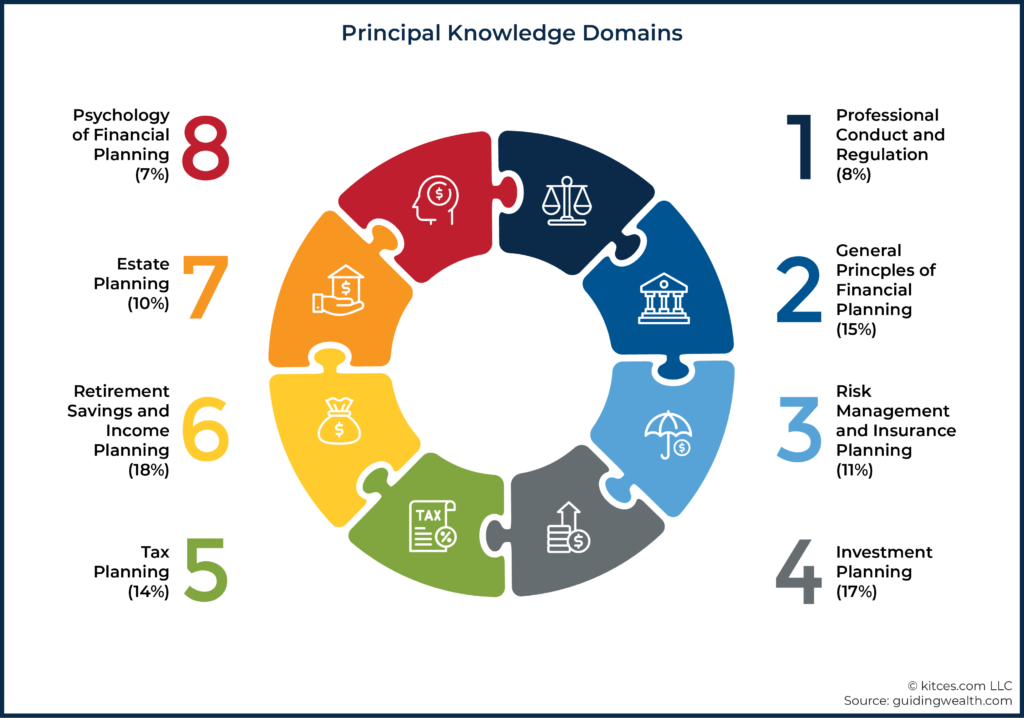 To highlight the difference between traditional or "book" learning and the practice of doing financial planning, many times the technical knowledge will showcase more than one way to solve a client's issue. In practice, a financial planner must select the particular way they want to approach the issue with a particular client, though, and more importantly, must have the conversation with the client and focus on getting the advice to "stick" and the client to actually adhere to it. The significance of this distinction is that whereas the technical knowledge tends to be more black and white, the actual implementation and work with the client – figuring out how to get the client to actually take the advice – requires skill and application that cannot be found in the traditional book training itself.
And unfortunately, regardless of one's pathway into financial planning, there is little opportunity to ever see or interact with real clients before becoming a financial planner. One must commit the financial resources and years of education before they can actually see the application of the theoretical knowledge applied to real client situations. The lack of real-life experiential training has resulted in many people not understanding what real financial planning is, or at a minimum have a misunderstanding of what their work will actually entail.
In fact, the irony is that because there is standardized financial planning knowledge to be taught but not a consistent experiential training process to learn to deliver it, many firms, even with established planners, don't necessarily know what financial planning is. They may have been told what planning is, or believe they do some version of "planning", but haven't seen it in practice themselves to have a comparison of whether they're doing it well (or at all). A phenomenon that has been further fueled by traditional advisor business models that have rewarded or often required financial advisors to go at it alone as independents. They are doing the best they can with the information they have, but how can they teach the next generation if they never experienced a training process for themselves?
The lack of a clear experiential training approach to financial planning also means that when new financial planners get jobs in firms, they have little context to know if what the firm is doing really is financial planning, and little way to reconcile whether what they are seeing is really congruent with what they learned about in school (or not).
The end result of all of this is that "financial planning" is largely in the eye of the individual practitioner, new planners sense this and struggle to understand where the real financial planning opportunities are, and the gap between financial planning theory as taught in CFP registered programs and the reality that new planners may see in practice results in higher employee turnover and many talented financial planners leaving the profession… because they simply haven't had a good example modeled to them.
Shifting The Profession From Sales To Helping
Far too often, the profession's current version of experiential training is about sales and not advice. Knowing where the profession came from, it makes sense. The fastest dollars to a firm come through immediate client acquisition, and commission-based firms in particular had little revenue to pay new advisors unless those advisors generated immediate revenue for the firm to pay for themselves.
The shift to various recurring revenue business models, though, from the assets-under-management (AUM) model to the monthly-subscription-fee model, opens the door for new kinds of job opportunities, where advisors are compensated for delivering great advice that serves and retains clients, and the advisor may have no responsibility at all to generate that new client revenue in the first place. In other words, advisors are no longer just paid to sell; now, they're increasingly being paid to help and serve.
This is the crux of the profession versus industry debate. If we are truly a profession, it's about serving our clients well and mastering our craft, which is financial planning, not sales and client acquisition. Yes, client acquisition can be a competency for financial planners – at least, the subset who want to build their own client bases, or take roles with a sales component – but to prioritize it above all other competencies relegates the true work of financial planning to the back burner when it should be the focal point.
And make no mistake, the new talent entering financial planning wants to help people and live up to the ideal of financial planning. A Kitces Research study in 2019 found that "a desire to help/serve others" was actually the primary motivator of financial planners (far more than income potential, performance-based pay, and other sales-related incentives).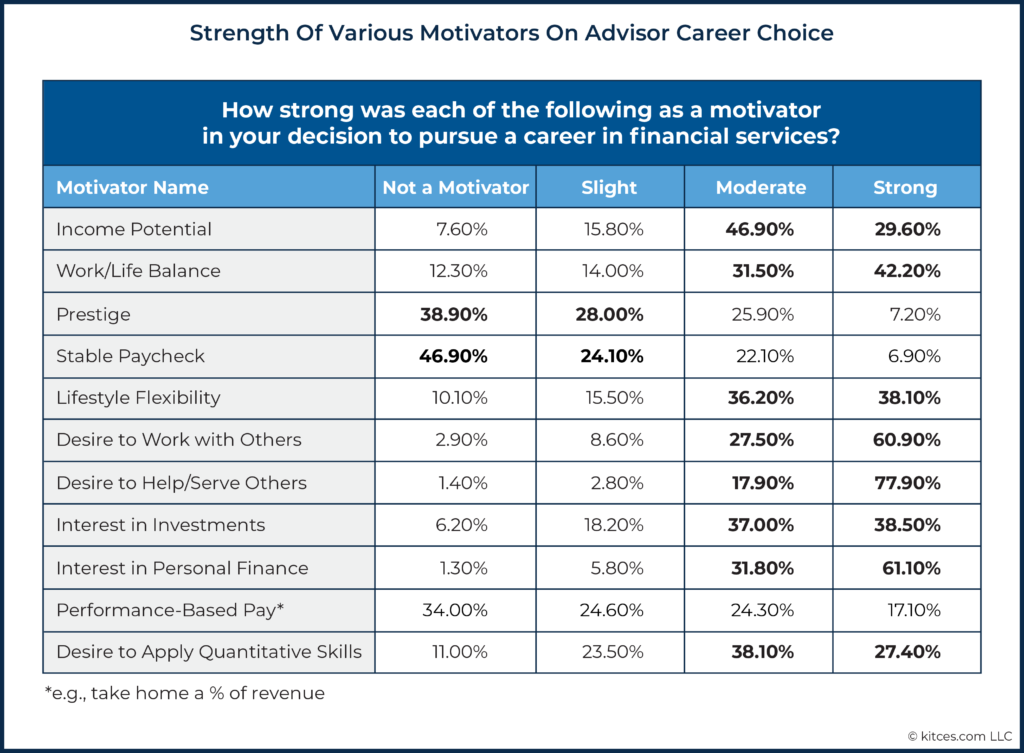 Similarly, out of the over 1100 active "externs" in the FPA Externship last year, 83% said a primary driver in working in financial planning was helping people. At the bottom of the list were only 23% of students saying starting salary was the driver, and only 26% said the demand for jobs. The new talent coming in wants to and will demand to be able to truly help people… not just drive new sales transactions.
And yet, in a recent Kitces Twitter poll, 70% of those seeking their first planning jobs were asked to bring a list of prospects they already knew (their "natural market") with them to the job on day 1. This disconnect – to hire for "financial planning" but recruit for sales – will continue to cripple the profession of financial planning with respect to the talent pipeline that exists.
Question for newer advisors seeking out their first job as a financial advisor: how often are you being asked to provide a 'friends and family' list or otherwise justify your 'natural market' of people you already know who can be asked to become your first clients?

— MichaelKitces (@MichaelKitces) May 2, 2021
Furthermore, a pathway to financial planning via sales may also be amplifying the industry's ongoing diversity challenges. As when the entry pathway to financial planning is through selling to one's natural market, those from communities of limited wealth are most likely to struggle in their career; consequently, when wealth is not evenly distributed racially, financial planners themselves end out not being racially distributed either.
Accordingly, while we know that diverse talent is drawn to the idea of financial planning, a profession of helping and serving others – within the FPA Virtual Externship, 59% of the participants were white, meaning the remainder were of a diverse background, including 8.9% African American, 10.5% Latino and 14.9% Asian – in practice amongst CFP certificants (who have been in the industry long enough to 'survive' and complete the CFP experience requirements) only 4% are Black or Latino.
The Experiential Learning Approach To Teaching Financial Planning
There is a shift happening within financial planning. This shift is a transition from simply being part of the financial services industry, to being recognized as a financial planning profession. A truly helping profession.
But becoming a helping profession requires us to learn to really help people. People who are complicated and nuanced, and make decisions that aren't necessarily based in logic. Yet so much of our training is on the technical side of financial planning. Our technical training teaches us the specifics and many ways to do a Roth conversion or to set up a retirement plan, but it doesn't take into account the people who are receiving that advice and how best to get them to take that advice.
When the rubber meets the road, true financial planning is not about crafting the optimal way to maximize some aspect of a person's financial life, it's about the best way to get a client closer to their goals, which may mean a less-than-technically-optimal solution (that they will actually act upon). The training we need to move towards a true helping profession has to involve this dynamic. It cannot simply be about knowing the technical answers; it's about how those answers intersect with a person's life.
This is where experiential learning is critical. Not just to practice sales techniques to convince prospects to become clients, but also to practice advice techniques to convince clients to actually implement the advice.
There are many firms where new financial planners get to see this in action. They see senior financial planners working with clients and navigating these complexities, and are able to respond appropriately when a client adds more complexity. Over time, they being to work with clients themselves more directly, and build their skills and competencies over the years.
Yet in practice, not all firms have the depth of team and capabilities to provide these opportunities to learn from seeing how it's done and being able to practice the 'doing' themselves. Instead, the core of the traditional model of learning financial planning meant an aspiring financial planner would go to a CFP Board registered program, complete their designation requirements, and then either be sent out to get their own clients from scratch (with no actual training in how to give them advice), or be relegated to an internal operations job where the candidate would learn the firm's processes and internal systems but wouldn't see clients or even work on plans until they would have had a few years of "experience".
As a result, it has been difficult to learn the real practice of financial planning. Few have the opportunity to see what real financial planning looks like in practice. And the only way to see financial planning is to actually see it.
Leveraging A Virtual Approach To Experiential Training For The Next Generation of Financial Planners
It's time for a new model for training financial advisors. One that more consistently and uniformly exposes aspiring financial planners sooner to the actual experience of how real financial planning is delivered.
This new, more experiential learning model would extend the learning beyond the CFP Board Registered Programs teaching the 'book' knowledge, without relying on individual firms and practitioners that may have little-to-no experience of their own in how to teach and train financial planning. We can use professional resources and associations, like the Financial Planning Association and others, to extend our knowledge beyond a single firm or planning process. We can discuss and collaborate with a diverse group of professionals and firms that benefit all parties involved.
This experiential learning concept is not new, and there have been resources in the past where experiential learning is central. Even within the CFP curriculum, many universities and professors have developed some level of experiential learning within their coursework. Specific schools have developed programs, like the University of Georgia's ASPIRE Clinic or Texas Tech University's Red To Black, where students actually do pro bono financial planning, with real clients, to gain exposure to the intricacies that come with being a financial planner and trying to deliver advice that sticks.
Conferences and other training programs outside of the traditional CFP coursework, such as the FPA Residency program, do focus on in-depth experiential learning, but tend to be expensive and require the new advisor to travel and/or take extended time off from work. While all of these requirements can enhance the experience for participants, it restricts access and makes it even more difficult for planners, particularly new and aspiring financial planners, to truly experience what is possible.
Alternatively, internships can also help with the experiential learning process, but they are limited by the number of internships available. And even when someone completes the 'best' internship, they are only shown one firm's methods, rather than letting them experience multiple firms and their different methods. And when we limit experiential learning to just a single "experience", that doesn't show the new planner what's possible as a financial planner, which limits what we do in our careers and even limits the impact we can have.
Even just seeing others do financial planning can have a material positive impact, as it allows planners to model their behavior after others and at best, inspires and helps spark innovation in how one does financial planning by incorporating the best practices from multiple other advisors that fit the individual's own style and approach.
As a byproduct of the pandemic, though, virtual learning environments have become far more prevalent, and have created new opportunities to engage in experiential learning, so people really can see financial planning in action.
No longer does an aspiring planner need to get the ideal internship to see "in-person" financial planning anymore. Online learning management systems can create rich environments to support experiential learning with guided practice and application.
The FPA Externship As A Pathway For Online Experiential Learning
While many may recognize the importance of experiential learning, it may seem far off or too much to achieve at scale and across the financial planning profession. Few firms have the depth and capabilities to implement a systematized apprenticeship-style training program for a large number of aspiring financial planners. But the FPA Virtual Externship is an example of how experiential learning can be done in an online environment, and have an impact at scale in training financial planners.
To give more context, last year, in my work as a consultant with the Financial Planning Association, we saw lockdowns start due to the pandemic, and knew we wanted to help the larger financial planning community. As we looked across the landscape of financial planning to see where we could provide the most impact, we started noticing students who were losing their internships. Professors were reaching out asking for help for their students because internships are one of the few pathways that currently exist for many students in their professional journey of gaining experience, and we quickly realized this issue was only going to be magnified.
We created several focus groups of students and quickly realized that while we would never be able to replicate the in-depth experience students have with a firm, it may be possible to test out these ideas in an experiential learning context and apply them in an online experience that could provide similar developmental objectives to students that an internship did.
This resulted in the FPA Virtual Externship, an 8-week intensive experiential learning program designed to give participants exposure and experience with many different firms, and the actual way they work with clients. Every week we covered one of the pillars of financial planning, including investment planning, insurance planning, client communication and care, student loan and college planning, tax planning, retirement planning, and estate planning, and brought in three experts to share how this actually works in practice at their firms. These planners shared their actual client deliverables, allowing the externs to learn from over 25+ different firms. With our partnerships with eMoney Advisor, Morningstar, and TD Ameritrade, we were able to then assign students to do the actual work they would do in an internship, but for many different firms. We gave students the opportunity to truly experience what a job within many different avenues of financial planning would be like.
This inaugural Externship had over 1100 actively engaged "externs" in the program. There were 209 different universities represented, with over 120 of those from colleges or universities that did not have a formal CFP registered program. And the demographics of the Externship mirrored a far more diverse demographic that is far more representative of the demographics of our country.
Additionally, externs were able to see multiple different career paths within financial planning. So often, they only see the one pathway they currently are on, and if it doesn't align, they don't know to continue looking for other opportunities in the profession. By showcasing the many different pathways and many different ways to be a financial planner, we believe the Externship will increase the retention of talent within financial planning. And not only were externs able to see different pathways, but they were able to see different ways to serve diverse communities modeled for them.
The Externship was able to address many of the challenges with developing next-generation financial planning talent because it was an experiential learning program. The training within the Externship was not technical training or sales training – it was focused on what it looks like to actually be a financial planner and do financial planning.
Specifically, students were able to actually see what financial planning looked like in action. Students had access to see if financial planning was a career they wanted to pursue before spending years and significant financial resources to determine if this was the path for them. Additionally, students were able to get a broad understanding of what financial planning is – not just from one firm or one planner, but from over the 60 different financial planners who were part of the Externship. No longer does the primary entry point to first gain familiarity with financial planning need to be a sales role.
The response we heard from externs was overwhelming. When surveyed, 99% of the externs said that the Externship was transformational, or would lead to significant improvements in their work.
The impact of using experiential learning is profound. From students deciding on a major, to even established financial planners rediscovering their love for financial planning, sharing insights and training from the larger financial planning community has a meaningful impact on careers. And frankly, it is just a lot more fun than traditional continuing education and the traditional training models!
As we look forward to this year, and continuing to develop this model of experiential learning, we are bringing in real client meetings, where students can learn not just from people talking about financial planning, but actually seeing financial planning in action with real clients (who, of course, have agreed to be recorded and have their meetings shared!). The externs will then be able to practice doing the work for those clients as if they were sitting in the meeting with the lead planner. (Watch the 2021 FPA Virtual Externship Promo #1 from Amplified Planning on Vimeo.)
This is the future of financial planner education, and it's just the tip of the iceberg. The Externship is one of the first dominos, and I believe the tide is changing. Soon, the way we learn as professionals will shift from sales and technical training, to experiential learning as professionals that will open doors to careers, serving clients, being better professionals, and truly us as financial planners stepping into our role as a profession. As we make this shift, we will see many of the issues that have plagued us dissipate, and us truly emerging as the profession we aspire to be.
In the meantime, for those who are interested in experiencing the FPA Externship for themselves… registration is still open, but ends very soon on June 1st!