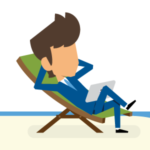 As the 2018 school season winds down and summer begins… it's time for the annual summer slowdown for most advisory firms, as client meetings get harder to schedule because they're on vacation, and as advisors we ourselves have some time to relax with family... and catch up on good books.
As an avid book reader myself, I'm always eager to hear suggestions from others of great books to read, whether it's something new that's just come out, or an "old classic" that I should go back and read (again or for the first time!). And so, in the spirit of sharing, a few years ago I launched my list of "Recommended (Book) Reading for Financial Advisors", and it was so well received that in 2013 I also started sharing my annual "Summer Reading List" for financial advisors of the best books I'd read in the preceding year. It quickly became a perennial favorite on Nerd's Eye View, and so I've updated it every year, with new lists of books in 2014, 2015, 2016, and a fresh round last year in 2017.
And now, I'm now excited to share my latest 2018 Summer Reading list for financial advisors, with suggestions on books about everything from how to improve your financial advice so it actually "sticks" with clients, guidance on how to navigate your career path as a next generation "G2" advisor (or to hire one if you're a firm owner looking to attract the next generation of talent), self-improvement books on how to better manage your productivity throughout the day or broader Principles to live and manage your life (and business), and an uplifting read on how the world continues to improve in amazing ways, and why the primary issue we face today is not the concerns of our political system or our economy or all the other dreadful drumbeats of negative news, but simply the ways that our own human instincts cause us to misinterpret (in a systematically negative way) the avalanche of information around us.
So as the summer season gets underway, I hope that you find this suggested summer reading list of books for financial planners to be helpful… and please do share your own suggestions in the comments at the end of the article about the best books you've read over the past year as well!