Executive Summary
In the early days when financial advisors were first and foremost salespeople for insurance and investments products, the reality is that "advisor training and education" wasn't really about finance or advice… it was mostly just about learning how the company's products worked and how to effectively sell them to consumers. But as technology (in particular, the internet!) has increasingly made financial services products available directly to consumers, financial advisors have focused more and more on the business of financial advice itself.
This shift has not only led to ongoing growth of advanced professional designations like CFP certification and various 'post-CFP' designations, but more recently, it has even led to regulators recognizing that financial services professionals should probably have a greater obligation to maintain their educational knowledge on finance and the responsibilities of being a professional advisor. Accordingly, in 2020 the North American Securities Administrators Association (NASAA) introduced a Model Rule for the first-ever CE obligation for Investment Adviser Representatives (IARs) to maintain their Series 65 license after initially obtaining it.
As states then began to implement the Model Rule in 2021 and IAR CE obligations first took effect (in 3 states) in 2022, our Kitces Members Section made our written Nerd's Eye View blog content eligible for IAR CE credit to help financial advisors fulfill the new requirements (while also getting crossover credit for CFP, CPA, and other professional designations and licenses that advisors at RIAs often hold!).
Now in 2023, we're excited to announce the launch of our first-ever "IAR CE Day", a 6-hour live virtual event that will run on August 24th and allow financial advisors to fulfill the entire annual IAR Ethics CE obligation in a single day event (in addition to crossover credit for the bi-annual CFP Ethics requirement, and CE credits for other professional designations as well). While we're committed to maintain more than enough IAR CE Ethics content in our Members Section for Members to fulfill all their requirements each year, we've heard the feedback that many of you would prefer a live video-based event (instead of written articles for IAR CE)… and so for those who'd prefer to see it than read it, our IAR Ethics CE Day is for you!
We've also just launched our latest Kitces Course – "How To Dissect Existing Life Insurance Documents To Ensure Client Coverage Matches Their Needs" – as we continue to expand our curriculum of training for financial advicers on how to really delve deep in the data gathering process and the slew of primary documents that clients are expected to provide but few advicers are ever really trained in what to do with them. Our newest course on Life Insurance Policies adds to our existing programs on reviewing Tax Returns and navigating Estate Documents as well, and we're committed to continue to expand our financial advicer curriculum in the years to come!
This July also marks the release of our latest Kitces Research Study – this time, on Advisor Technology – where we delved deep into literally hundreds of vendors to understand what financial advisors are using (or not), what they actually like (or not), and the trends that are driving the growth of certain advisor technology vendors (or whole categories) over others. The results will be available to Members (and those who participated in the survey itself) next week, with the study available for free to the full advicer community at the end of the summer. In addition, on August 8th we'll be conducting a paid AdvisorTech Trends webinar, hosted by yours-truly and our Kitces Consulting Consortium partner Craig Iskowitz, to provide further perspective on trends and opportunities of particular interest to professional investors (VC, PE, and family offices), strategy teams, and AdvisorTech vendor and platform executives!
In the meantime, we continue to make ongoing investments into the Kitces platform and the Kitces team. The first half of the year saw 4 new hires at Kitces, including new Director of Advisor Learning & Development Patty Stilwell, Digital Content Editor Estelle Di Francia, Digital Engagement Specialist Kelsey Hopper, and Engagement Specialist Claudia Lopez! In the 2nd half of the year and into 2024, we'll also be hiring a new Manager of People & Culture, a Curriculum DesigNerd and Instruction DesigNerd for our Education team, and a full-time Director of Advisor Research. We're also making heavy updates to the back-end of our website, with new systems that should expedite the login process and speed up pageloads and Members Section navigation (yes, we've heard your feedback that the site is loading more slowly lately, and we're doing something about it!).
All in pursuit of our mission: Making Financial Advicers Better, And More Successful, as we continue to execute on providing financial advicers with relevant content across our 4 strategic pillars: Navigation, Education, Research, and Development (and yes, our organizational strategy really does spell out N-E-R-D!). I hope you'll continue the journey along with us in 2023 and beyond!
Announcing "IAR CE Ethics Day" As 8 More States Adopt In 2023
Thanks to the growing popularity of both the CFP marks and other advanced professional designations, most financial advicers have an ongoing obligation to earn a certain amount of Continuing Education (CE) every year. However, the irony is that professional designations (and thus their CE requirements) are purely voluntary; the actual Series 65 license required to give and get paid for financial (or at least, investment) advice has never had a CE obligation of its own that would apply to any/all financial advisors. Until now.
As in 2020, the North American Securities Administrators Association (NASAA) promulgated a new Model Rule that would require Investment Adviser Representatives (IARs) of RIAs to obtain 12 hours of annual CE (including 6 hours of "Products & Practices" and 6 hours of "Ethics & Professional Responsibility"). The caveat, though, is that as with any Model Rule from NASAA, the new IAR CE requirement doesn't actually become a requirement until each individual state enshrines it into law or regulation within that state. As a result, it wasn't until 2021 that states even began to take up legislative or rulemaking processes to adopt NASAA's IAR CE Model Rule, and only 3 states – Maryland, Mississippi, and Vermont – actually came online with IAR CE requirements in 2022.
However, during 2022 itself, 8 more states passed their own versions of the IAR CE Model Rule, such that now in 2023, the requirements further expanded to IARs that operate in (or are registered in) not only the preceding 3 states, but also Arkansas, Kentucky, Michigan, Oklahoma, Oregon, South Carolina, Wisconsin, and the District of Columbia. And the list is expected to just keep expanding – with Colorado, Florida, Nevada, North Dakota, and Tennessee already scheduled to take effect in 2024 (and potentially more as additional states pass their rules in the 2nd half of 2023).
Notably, the IAR CE requirement doesn't just apply to state-based RIAs in any of the 11 states that have passed the rule; if an individual advisor (Investment Adviser Representative) is themselves registered in any of the 11 states (because they have more than the 5-client de minimis that would trigger registration), then they have an IAR CE obligation to meet, regardless of their home state and regardless of whether they're with an SEC- or state-registered firm! Though thanks to the inter-state reciprocity built into the rule, once the advisor has satisfied the IAR CE obligation for any state where it is required, it is satisfied for any/all states.
To address this newfound need for an additional type of CE – on top of the CE obligations that those with professional designations already face – last year in 2022, Kitces.com rolled out its own IAR CE programs to meet the full 12 hours/year obligation for investment adviser representatives in the affected states as a part of our Members Section CE offering, stacking on top of the CE we already provide for CFP certification, CPA and EA licenses, and various Investments & Wealth Institute (IWI) and American College designations.
However, thus far our Kitces IAR CE programs have been exclusively in the form of written articles or pre-recorded webinars, and in the past year we've heard an increasing desire from some advisors to have a 'live' option to earn IAR CE (for those who would rather engage with a live real-time program, rather than just read it online).
And so now, we're excited to announce our first ever "Kitces IAR CE Day" – a live 6-hour virtual event, that will allow financial advicers subject to the IAR CE requirement to check off their entire 6-hour IAR Ethics CE obligation in a single day. For all those who would rather see it than just read it!
In order to satisfy the "Ethics and Professional Responsibility" requirement for IAR CE (6 of the required 12 hours for the year), all the sessions at IAR CE Day will have a focus on the legal and compliance obligations, and the professional ethical standards, that financial professionals must adhere to. Though given how many financial advicers are also CFP professionals, our IAR CE Day will be cross-registered to fulfill the bi-annual CFP Ethics requirement as well (in addition to the rest of the day's lineup being eligible for general CE credit for CFP professionals, as well as for CPAs and holders of other popular designations).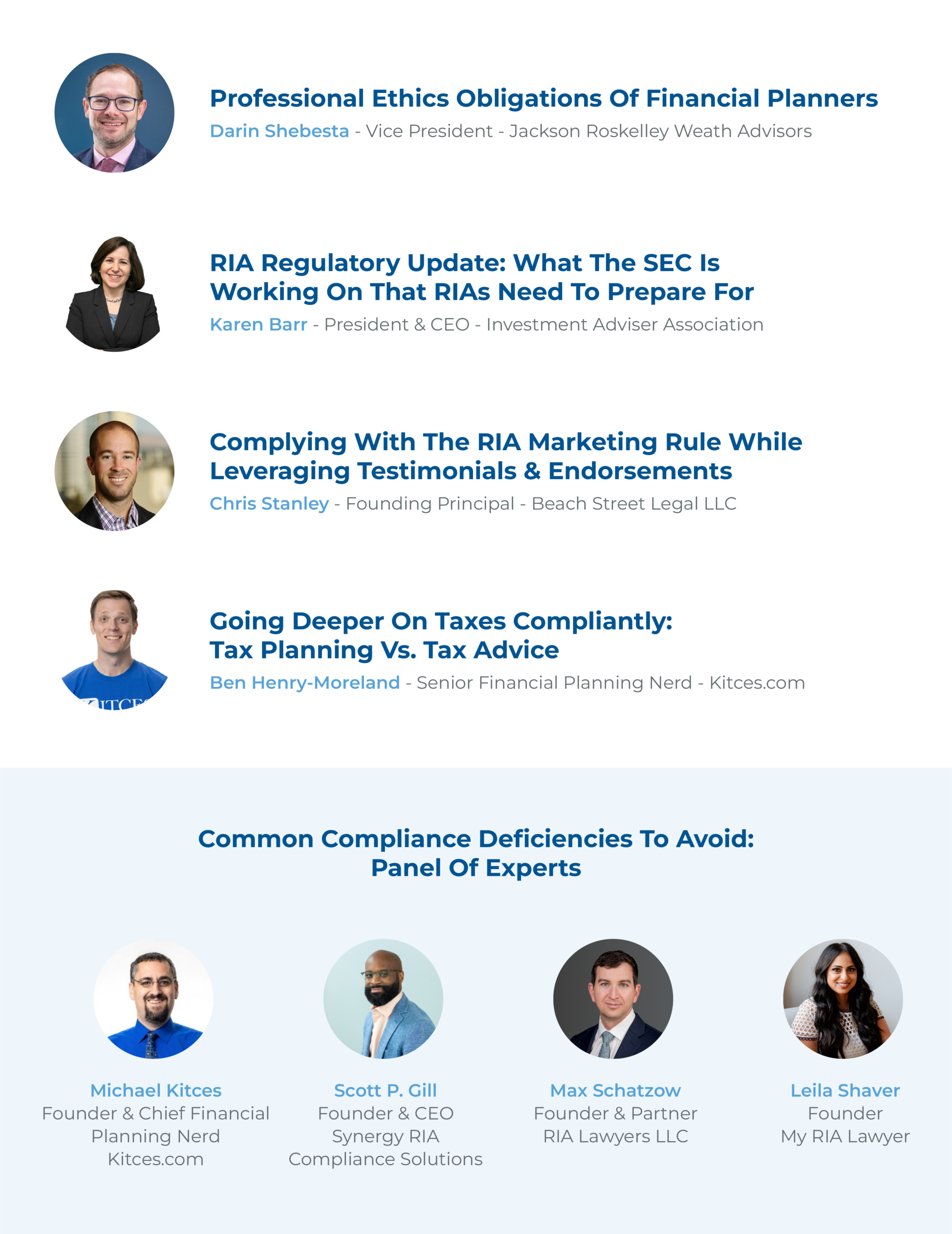 Our live Kitces IAR CE Day virtual event will be available for a fee of $199 for the day (discounted to $129 for Kitces Premier Members, or a 'combo' discount of $298 for non-Members who want to join the Kitces Members Section and register for IAR CE Day at once), and already includes the mandatory $18 IAR CE filing fees for 6 hours of content (along with any/all other CE filing costs). Additional discounts are available for multi-advisor Group members by contacting [email protected].
So for those who have been looking for more IAR CE, want to check off the hard-to-obtain 6 hours of IAR CE Ethics requirement in one fell swoop, and have wanted a live-event alternative to written IAR CE content, we hope you'll come join us for our first Kitces IAR CE Day!
New Life Insurance Documents Course As Kitces Advicer Curriculum Expands
Most established professions use some version of the 'apprentice' model, where the new/emerging professional learns and then refines their skills under the supervision of a more senior professional, and often in a 'safer' and more controlled environment… recognizing that for many professions, the stakes are so high that it's dangerous to learn by practicing on real human beings. Thus, for instance, why new doctors often learn and practice the skill of suturing (stitching up a cut or incision) not on actual patients, but on fruit like grapes or oranges!
In the realm of financial planning, though, 'residency' programs to create controlled learning environments are still very rare, and there are few opportunities to actually practice the skills it takes to deliver financial planning or even analyze a client's financial planning scenario, short of doing it with real clients – even as an inexperienced advisor – and at best, hoping that supervision from compliance will ensure that clients get the right advice from the still-learning advisor.
To help fill this void, in 2021 we decided to "Be The Orange" (the fruit that an emerging professional can safely practice upon) with the launch of our Kitces Courses. Starting first with our Tax Course on "How To Find Planning Opportunities When Reviewing A Client's Tax Return", and followed up in 2022 with our Estate Course, "How to Spot Issues for Discussion When Reviewing Estate Documents", we're aiming to help financial advicers who are commonly told to gather all these primary documents learn how to actually review the documents to find the key planning opportunities (and not just drown in a sea of tax returns and Wills and trusts), with real-world sample documents to practice on (so when they get documents from actual clients, it's not the first time the advisor has seen them!).
And now, we're excited to launch our latest 2023 Kitces Course on Life Insurance. In the program, "How To Dissect Existing Life Insurance Documents To Ensure Client Coverage Matches Their Needs", advicers will have the opportunity to review term, whole life, universal life, and variable and indexed universal life insurance policies, with guidance on how each are structured; the key pages to seek out in the insurance policy itself; and tips and best practices on what (sometimes-missing) information to request from insurance companies (e.g., recent statements and in-force ledgers) to best understand the current state of the client's life insurance coverage and its appropriateness.
As with our other Kitces Courses, pricing for the 6-hour self-study program is $397 (reduced to $297 for Premier Members), with additional discounts for multi-advisor firms that wish to purchase a bundle of Kitces Courses for their new advisors to train and learn together (or for their existing more experienced advisors who would like a good brush-up opportunity!). Interested Groups can reach out directly to [email protected].
Going forward, you can expect to see more Kitces Courses to round out the full breadth of the data gathering process – from the tax returns, estate documents, and life insurance policies we've covered already, to disability and long-term care insurance, annuities, and more. After which, we will delve deeper into best practices (and practical opportunities to practice) to actually analyze clients' financial planning needs using case studies (once the information has been gathered from documents), and subsequent Kitces Courses will focus on how to deliver those various components of the financial plan and ongoing advice to clients.
In the long term, we aim to build an entire curriculum on what it really means to 'do financial planning' and deliver advice to clients effectively! So stay tuned for many more Kitces Courses to come!
But for the time being, we hope you enjoy our latest Kitces Course, "How To Dissect Existing Life Insurance Documents To Ensure Client Coverage Matches Their Needs"!
Kitces Research On Advisor Technology And Upcoming AdvisorTech Trends Webinar
Every year, our Kitces Research team publishes 2 major studies – part of our 2-year 4-study rotation analyzing Advisor Marketing, Advisor Productivity, Advisor Technology, and Advisor Wellbeing. And after spending the first half of the year gathering data and analyzing the latest trends in how independent financial advisors are using technology, next week we'll be releasing the results of our 2023 Kitces AdvisorTech Study for the financial advicer community.
This year's AdvisorTech Research invited advisor feedback on more than 300 different technology vendors across 27 different software categories, and was built using our industry-unique sampling methodology of advisor-specific survey links sent to our 55,000+ financial advisor mailing list (which prevents vendors from sharing the survey link and encouraging their users to participate in a manner that can potentially 'stuff the ballot box' and distort market share estimates).
Per our standard practice on Kitces Research, results will go first to those who participated in the AdvisorTech Research survey itself, along with those who have joined our Kitces Members Section, with the full study available entirely for free to the general advicer public at the end of the summer.
To further improve the accessibility of our research results to the advicer community, including Advisor Satisfaction scores across nearly 200 vendors (that had more than a de minimis number of responses), we'll also be adding our latest results data directly into our Kitces AdvisorTech Directory, so advicers looking for new or replacement technology and trying to build out their own advisor tech stack can see all the results in one place. We've also added a new Categories feature to the AdvisorTech Directory that will make it easier to see how all the vendors stack up against one another!

In addition to our Kitces AdvisorTech Report (results of our Research) and incorporating the results into our AdvisorTech Directory, in early August, we'll also be conducting a new Kitces AdvisorTech Research webinar to discuss the emerging trends and investment opportunities – with a particular focus on what professional investors (Venture Capital, Private Equity, and Family Office firms), vendors considering mergers and acquisitions, and the executives and strategy teams at advisor enterprises, would want to know to make long-term decisions about where to allocate their investments and resources.
Intended as a less expensive alternative to our private consulting options, our new Kitces AdvisorTech Research webinar will run on Tuesday, August 8th at 2PM EST, at a cost of $500 to register, and feature Michael Kitces speaking for 1 hour of AdvisorTech trends from our latest Research, along with 30 minutes of Q&A including our Kitces Consulting Consortium partner and Enterprise AdvisorTech expert Craig Iskowitz of Ezra Group.
Interested professional investors, strategy teams, and AdvisorTech vendor and platform executives can register for the upcoming August 8th Kitces AdvisorTech Research webinar by going here.
Expanding The Kitces Team Of Nerds And Ongoing Platform Improvements
The ongoing growth of 'Financial Advicers' who deliver (and really get paid for) financial planning has driven a significant increase in demand for more education, resources, and guidance on how to improve at the craft of advice delivery, which in turn has led to significant growth in the Kitces team over the past several years, which now numbers more than 20 people who work behind the scenes to make it all happen.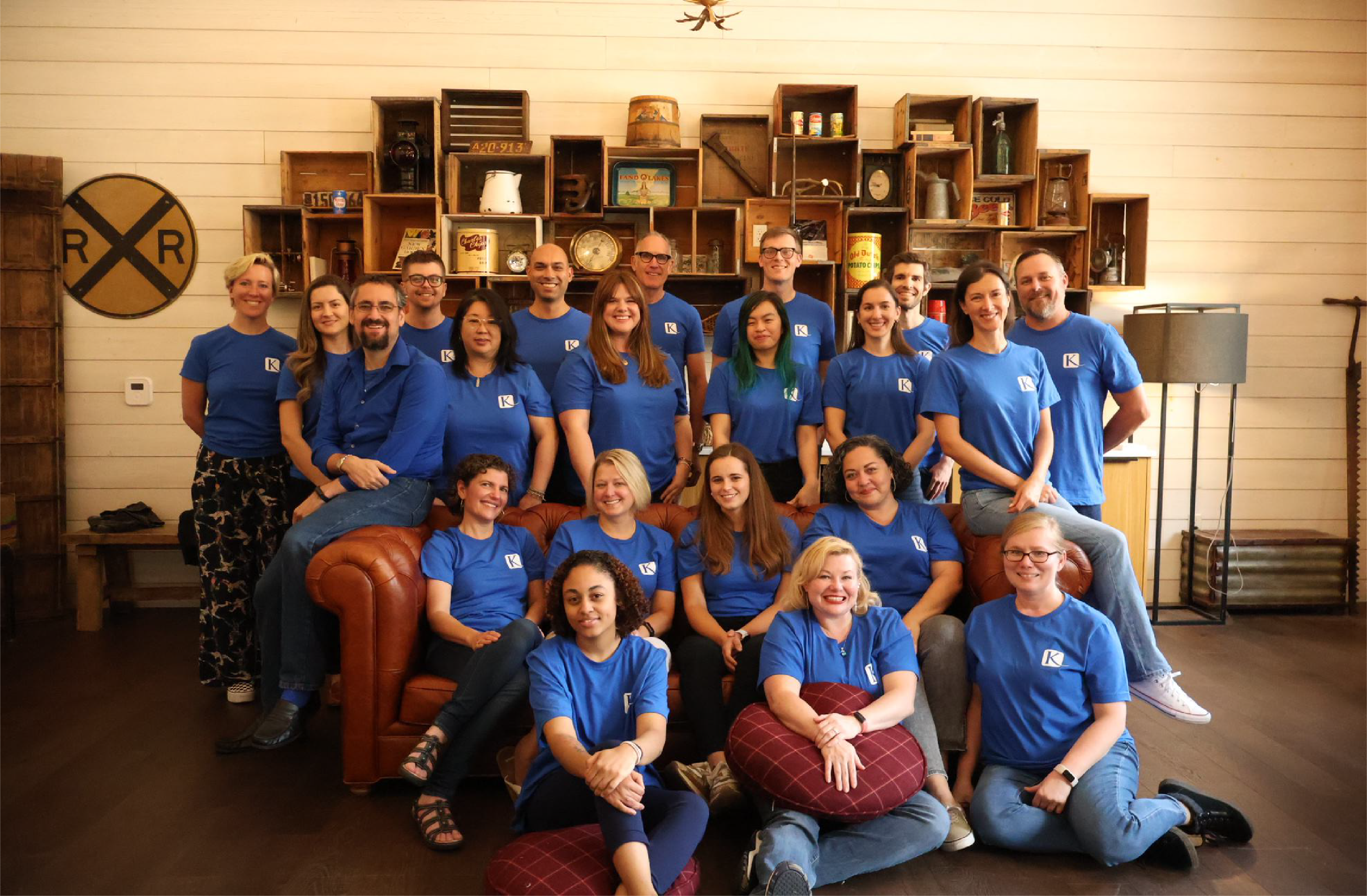 And it's been the growth of this team that has allowed us to expand our content, with more navigational resources like our AdvisorTech Directory, more webinars and Office Hours, and the launch of Kitces Courses and our Marketing and Value Summits, as well as a host of behind-the-scenes platform improvements such as the ability to Save Articles and Suggest Topics that you'd like us to 'Nerd Out On' for you, in addition to last year's rollout of IAR CE.
In the coming months, we're engaging in a substantive overhaul of the back-end of our website systems, which ultimately should make the login process easier, page loads and navigation of the Members Section significantly faster (yes, we've heard your feedback that the CE quizzes are loading more slowly lately!), and will provide us with a foundation for further enhancements to the Members Section in 2024, including updates to how our content is organized to make it easier to find the types of CE you want, and a more centralized repository of all the CE certificates you've earned with us.
All in pursuit of our mission: "Making Financial Advicers Better, and More Successful".
So to put it mildly, we're not done yet! In fact, we've made a number of investments into the team in the first half of the year to support the ongoing growth, including new Director of Advisor Learning & Development Patty Stilwell, Digital Content Editor Estelle Di Francia, Digital Engagement Specialist Kelsey Hopper, and Engagement Specialist Claudia Lopez!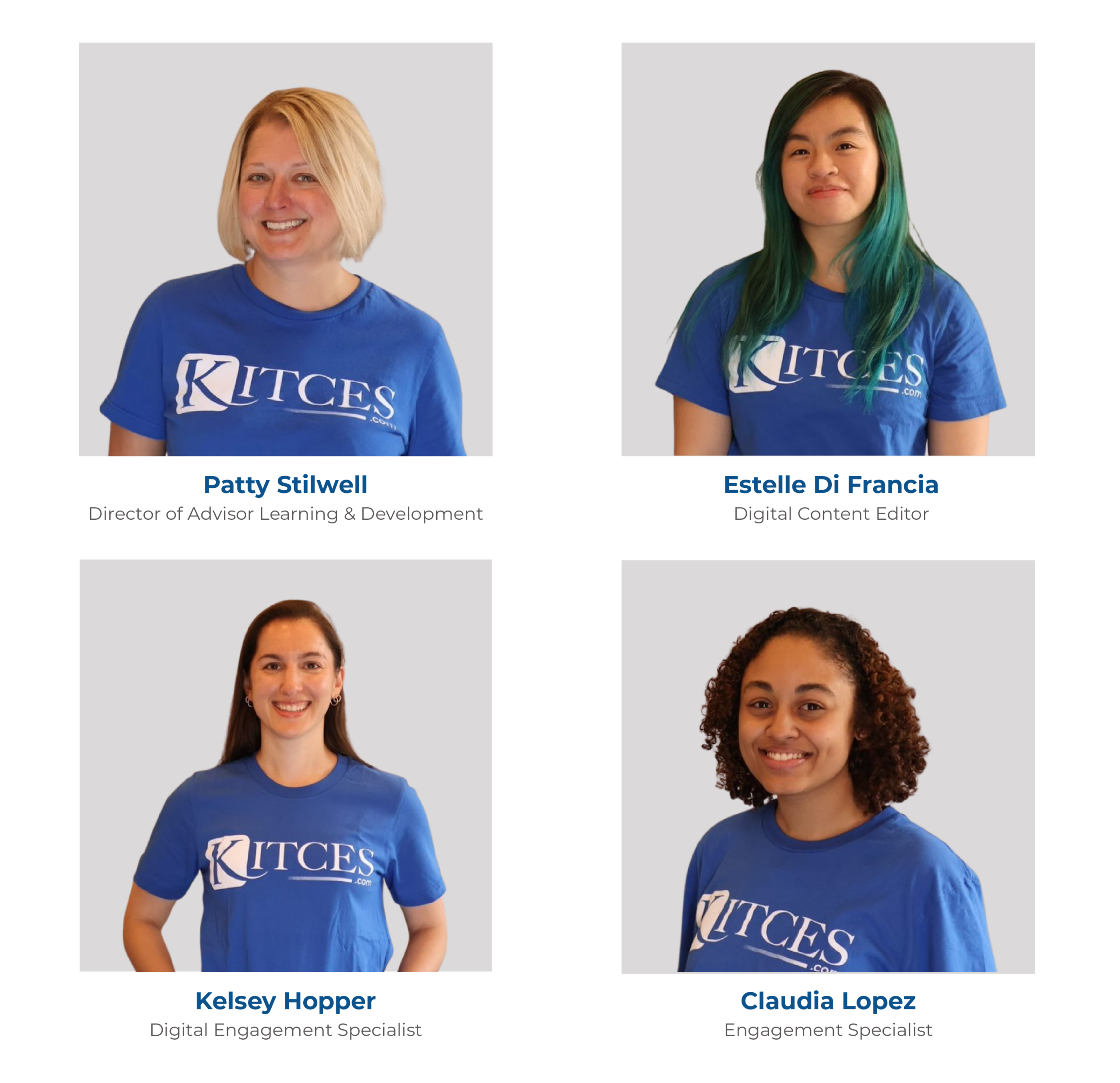 In turn, in the coming year, we'll be hiring several new positions to support the continued growth of our Team of Nerds! A few of the open (or soon-to-be-open) positions include:
Manager of People & Culture (open now!)

to help us continue to maintain our strong 'nerdy' culture as we scale up the Kitces team, lead the hiring process to ensure we bring on the Right People into the Right Seats, and support the ongoing training, development, and engagement of the Kitces team!

Curriculum DesigNerd

(coming soon!)

on our Education team to develop the curriculum of our Kitces Courses, and help translate subject matter expertise into the specific learning objectives that advicers need to be better and more successful!

Instructional DesigNerd

(coming soon!)

on our Education team to turn our advicer curriculum into actual Course material in our LMS (for those who have expertise in instructional design tools like Articulate or Captivate!)!

Director of Advisor Research

(coming soon!)

to lead our expanding research work on Advicers across our 4 major studies (AdvisorTech, Pricing & Productivity, Marketing, and Wellbeing)!
If you or anyone you know might be interested, they can apply directly via our Career Opportunities page. Or sign up for the Kitces Careers mailing list here to stay apprised of future openings on the team!
All of which is ultimately in pursuit of our mission at Kitces.com – To Make Financial Advicers Better, and More Successful – through our focus on providing Navigational resources, Educational insights, Research on advicers, and supporting the Development of advicer skills. (Yes, our organizational strategy really does spell out N-E-R-D!)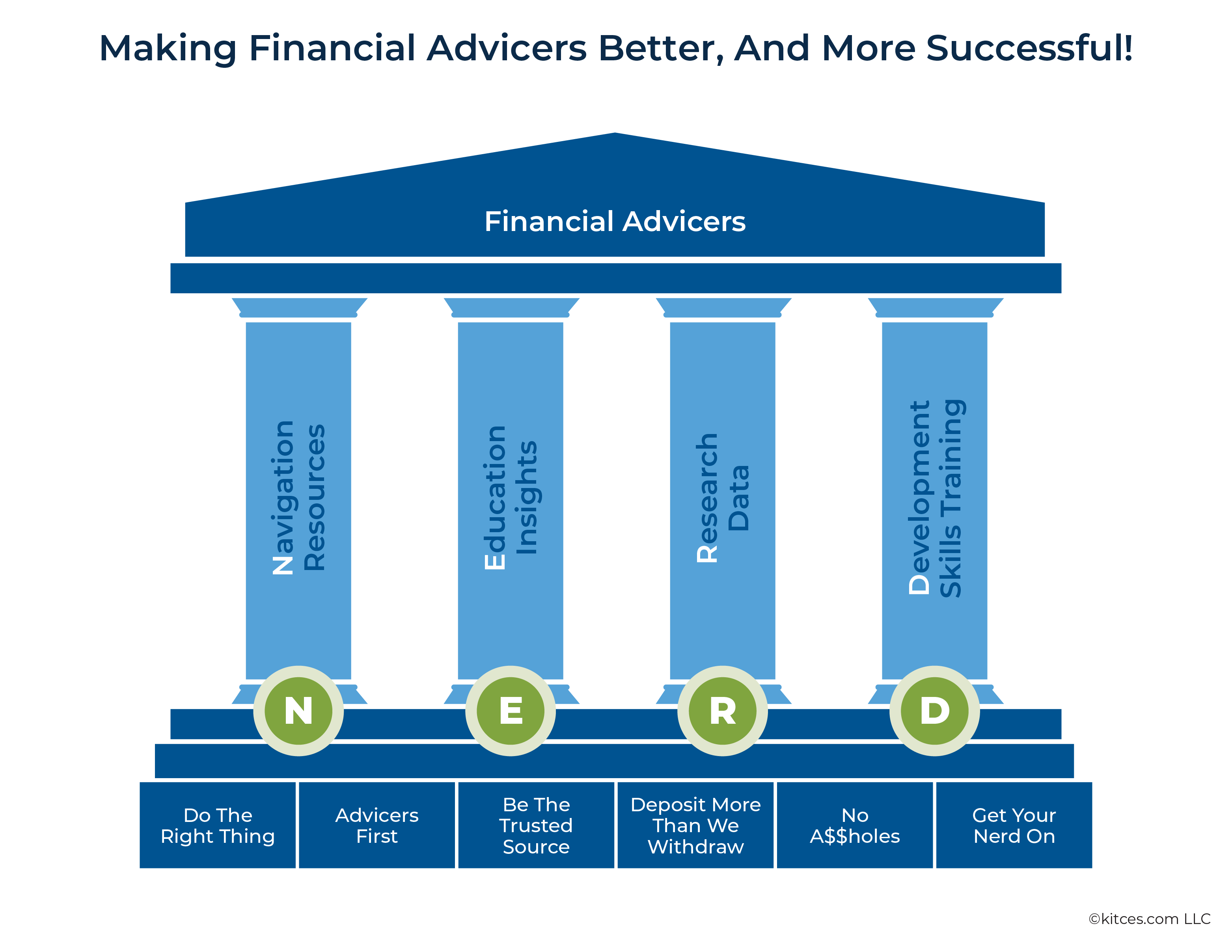 I hope you'll continue the journey along with us! And if you think there's anything else we should be working on that we've missed, please share your thoughts in the comments below!