Executive Summary
The COVID-19 pandemic has forced a number of dramatic changes for the typical financial advisor, who suddenly found themselves meeting with all their clients virtually, managing their entire team virtually… and trying – usually unsuccessfully – to network with other financial advisors at virtual conferences. As in the end, while the transition to Zoom-based conferences was 'reasonably' successful at delivering content for advisors, it's done very little to alleviate the sense of isolation that has come with 18+ months of a work-from-home environment and the near-total shutdown of financial advisor conferences.
And so as vaccination rates continue to rise across the country – now accelerating as age 5–11 vaccines begin to roll out – advisors are steadily returning to the office, conferences are preparing to re-open their doors for in-person events in 2022… and a lot of advisors are expressing a newfound desire to get out from their 4 walls, take a trip (or an extended vacation!), and reconnect with other financial advisors and get some fresh ideas and inspiration about 'what's next' for their own advisory businesses. Which just raises one key question: if you're going to go back out for a conference in 2022, for the first time in nearly 3 years… what's the best conference to attend?
As someone that has been speaking at 50-70 conferences a year for almost 15 years myself, I've seen the good and bad of our wide range of industry events, which are spread across membership associations, broker-dealers, insurance companies, RIA custodians, product manufacturers, media companies, private events, and more. And as a result, I am often asked for my own suggestions of what, really, are the industry's 'best' conferences to attend.
Accordingly, back in 2012, I started to craft my own annual list of 'best-in-class' top conferences for financial advisors, allocated across a range of different categories (as what's best for solo advisors isn't the same as what's best for larger advisor enterprises, what's best for fee-for-service advisors isn't the same as what's best for AUM firms, more technically oriented advisors will prefer different conferences than those seeking practice management or marketing ideas, etc.).
Having updated our annual conference list in every year since, I'm excited now to present my newest list of "Top Financial Advisor Conferences" for the upcoming 2022 year, including both some technical conferences, a wide range of practice management conferences, and highlighting a few never-before-seen events that are emerging for the first time in the coming year.
In addition, we've also launched a new "Master Conference List" of all financial advisor conferences in 2022, for both advisors looking for a wider range of events to attend, and for vendors looking for more conferences to exhibit at!
Of course, because of the disruption of the pandemic, it's not entirely clear whether some events will show up in 2022 differently than they did the last time they were in person (which for most, was all the way back in 2019!). Nonetheless, as long as you find the conference that is the right type for you, the odds are good that your experience will be good when the content is more relevant, and the other attendees are similar to you (because they, too, were looking for the same thing!).
So I hope you find this year's 2022 conferences list (and our new Master Conference List) to be helpful as a guide in planning your own conference budget and schedule for next year, and be certain to take advantage of the special discount codes that several conferences have offered to all of you as Nerd's Eye View readers!
Where available, Nerd's Eye View reader discounts are highlighted in red.
Best Conference For/In: Overall Financial Planning | Advanced Education | Investment Management | Mid-To-Large-Sized Firms | Transitioning: Practice To Business | Advisor Technology | Scaling Advice | Recharge And Reconnect | Destination Event | New Conferences | "Community" Conferences
Prior Years' Best Conferences List: 2021 | 2020 | 2019 | 2018 | 2017 | 2016 | 2015 | 2014 | 2013 | 2012 | Master Conference List
For Conference Organizers: For the embed code to post a "Top Advisor Conference in 2022" badge to your own conference website, click here or scroll to the bottom of this page. To post a "New Conference to Watch in 2022" badge, click here or scroll to the bottom of the page for the embed code.
For Vendors/Exhibitors Considering Sponsorships: Hopefully, this list will be helpful to you in deciding which conferences to potentially attend and exhibit at. For further ideas, please see our new comprehensive master list of all financial advisor conferences, along with the earlier years' Best Advisor Conference lists (noted above). There are also many opportunities to exhibit at various FPA chapters, some of which have a sizable (150+) attendance at annual chapter symposia. For those seeking further assistance, I have limited availability to consult directly with companies on distribution and go-to-market strategies to reach financial advisors as well.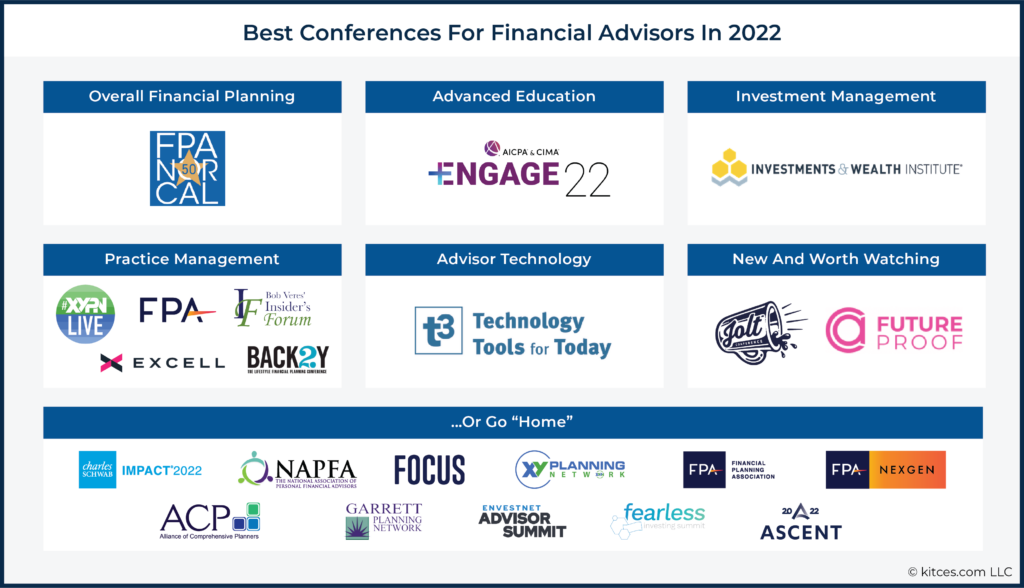 The Ongoing Evolution Of The Financial Advisor Conference Model
From the perspective of the financial advisor, conferences are an opportunity to get outside of the 4 walls of your office, connect with fellow advisors (with whom you can commiserate about business challenges and perhaps glean a new idea or two), and learn something new from the various speakers on the agenda.
From the broader perspective, though, conferences are a business – and one that historically was a pretty good business – built around 3 core pillars: advisors who want to connect with one another and learn from speakers; speakers who are paid (in exposure or dollars) to provide the education; and vendors who sponsor the speakers and financially underwrite the event (as most events do not generate nearly enough in ticket sales to cover the cost of executing the conference) in exchange for the opportunity to get in front of the advisors to market their own products or services. Which the conference organizers – largely associations and media companies who had access to lists of advisors to solicit for their event – administered and profited from.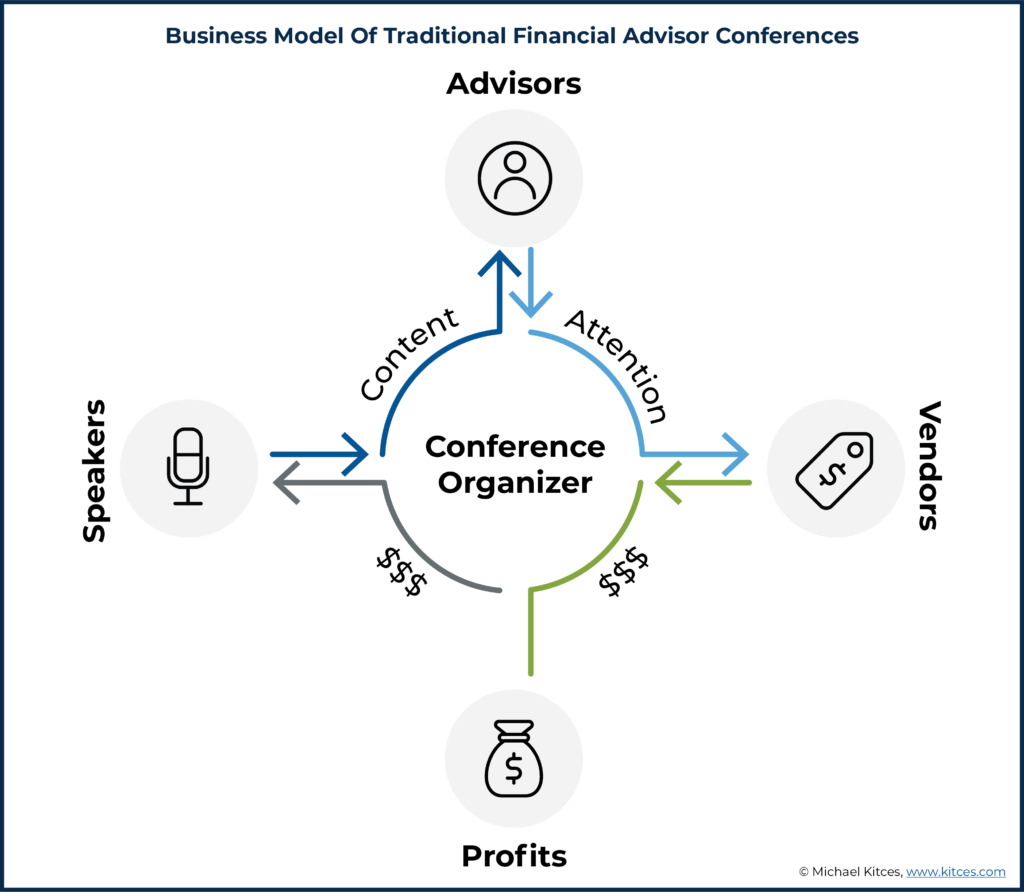 But this dynamic has become increasingly tenuous in recent years… even before the pandemic. As the reality is that most existing advisor conferences – and especially the most popular ones – tend to build a very loyal audience that comes back every year. Which is great from the perspective of having a stable and growing attendance over time. But not-so-great from the perspective of vendors that are sponsoring an event in the hopes of developing new business. Because after a few years, there aren't very many new advisors left to do new business with… only a growing number of repeat advisors who grow tired of saying "no" to whatever vendors they have already decided they're not going to work with. As in practice, advisors only change technology solutions every few years, and often change their investment solutions with clients even less frequently once they find providers they're comfortable with.
The end result was a steadily declining level of engagement between advisors attending conferences and the sponsors who funded them. Which in turn led to escalating pressure on conference organizers to generate more engagement between attendees and sponsors, driving changes from rearranging conference spaces (vendor booths up front, coffee in the back, so the advisors have to at least walk past the vendor booths to get to the snacks!), to expanding the conference agenda to allow more time for sponsors to provide speaker introductions and "2-minute blurbs" to promote their products or services directly from the podium, to an increasing number of pay-to-play slots on the conference agenda where the sponsors delivered the sessions themselves (to ensure that the sponsors would be seen!).
Yet because most of the (repeat) advisors still weren't there for the sponsors – they were there for the education on the stage and the community of their peers – engagement declined further, leading to even more pressure from sponsors seeking to get more visibility, in a vicious cycle. In fact, in a recent Veres/T3 Study on Advisor Conferences, "Exhibit Hall: New Investment Opportunities" ranked 16th out of 16 on the most important components of a conference experience.
And then the pandemic happened. And events were forced to go entirely virtual. And most sponsors lost what little connection with conference attendees they had left.
As while most conferences tried to adapt, the reality is that 'virtual' exhibit halls were mediocre at best – generally only drawing advisors who already used the software (to visit with their provider), or perhaps a handful of advisors who were genuine prospects for the vendor and specifically wanted to evaluate the solution further (but also could have done so simply by going to the vendor's website and requesting a demo directly, because they were already seeking a solution).
The limitations of the virtual exhibit hall meant for most vendors, the 'only' opportunity to get any meaningful visibility at a virtual conference was to be a speaker on the agenda itself. Except there's little reason for vendors to pay to "sponsor" an event to run a webinar, when it's often cheaper to just buy a mailing list of financial advisors directly from Discovery Data or RIA Database and invite advisors to join a webinar run by the vendor themselves! Which allows the vendor to deliver the same content, but have full control over the event experience, along with the entire sign-up list of attendee 'prospects' (e.g., getting 500 webinar registrants to follow up with, versus just 20 business cards collected at an exhibit hall booth!). And to the extent that the vendors needed a popular speaker to anchor the virtual event and attract the audience… the vendors could simply hire high-profile speakers directly, without the involvement of the traditional conference at all!
Divvying Up The Advisor Conference Landscape
The fact that in a post-pandemic world, industry vendors are increasingly running their own webinars (and even entire in-person events for their community of users), means the 'traditional' conference landscape is in flux. Ultimately, conferences do still provide vendors an opportunity to get in front of new advisors – at least for the first time or few that the vendor is sponsoring the event – but the relative shift in focus, combined with a rise of (and growing comfort with) virtual events for at least some types of advisor learning, is reconfiguring the types of advisor events to consider.
At a high level, three core types of advisor events are now emerging:
Topical Education Events. The topical education event is a focused session (or few) on a particular topic or theme. Historically found as 'breakout sessions' at in-person conferences, topical education is focused content on a particular subject, and was the first to shift online into a virtual format. As the reality is that when the sole focus is the educational topic itself – to spend an hour or few learning more about X – there is little benefit to the additional time and cost of in-person conference travel. Instead, from written articles to one-hour CE webinars to a half-day Summit on a particular educational topic to even a full day of focused content (e.g., AdviceTech Live on advisor technology), the most straightforward way to learn (and check a CE box) is simply to start reading or turning on the screen to watch and learn, one hour at a time.
Deep Learning Events. While topical educational sessions can be fairly advanced, they still tend to only scratch the surface, as there's just only so much that can be taught (and absorbed) in the span of a typical one-hour session. By contrast, "deep learning" events are ones that, as the name describes, tend to go much deeper. More commonly structured as an event across multiple days (or sometimes, spanning multiple events throughout the year), deep learning events require a much deeper commitment of time and resources… and thus are ideal for building a deeper specialization (e.g., the Heckerling Institute for estate planning, or Fi360 for working with retirement plans as an ERISA fiduciary) or to go deeper on a practice management issue (e.g., Limitless Adviser for high-efficiency solo practices, or the Ensemble Practice's G2 Leadership Institute for next generation leaders of larger ensemble firms), where there is a clear potential ROI for making the investment into the event.
Community Events. Historically, the most popular industry events were run by the large membership associations and the major advisor platforms, which brought out their communities of advisors (who shared a common bond of the membership association or the advisor platform) for networking and a chance to learn from each other. In a pandemic environment, though, such community events were the hardest hit – as it's especially difficult to create the kinds of spontaneous conversations and peer-to-peer connections in a virtual format the way they happen more 'naturally' at an in-person event. Nonetheless, to the extent that human beings are 'herd animals' and have a fundamental desire to connect with other human beings, there will always be a need and desire for community events… and in practice, it's been the community events that have experienced the most rapid rebound as pandemic restrictions have lifted and advisors gain the chance to (re-)connect with other advisors.
Of course, the categories above are not entirely mutually exclusive. Advisors can satisfy their topical CE obligations with many deep learning programs (at least on technical topics). Deep learning events focused on a particular specialization can create community amongst those pursuing a similar expertise. And community events for a certain type of advisor often provide at least some topical education (or occasionally more deep learning opportunities).
Nonetheless, it's important to be clear in what you're going after, because entering an event with the wrong expectations leads to an unenjoyable outcome! Especially given that topical learning (i.e., CE) is increasingly accessible in a purely digital format via online education, from articles to webinars to a growing number of structured Courses, while in-person events are still the most conducive to Deep Learning and especially Community gatherings.
Which means "go to a [generic] Community Event, and check a bunch of CE boxes along the way" is simply not the efficient means of CE that it once was. Instead, at the least, it's "find the community you really want to hang out with…" if only because then when the conference organizers set the content agenda, it's more likely to be relevant to you because it's targeted to a community of advisors who are (probably) very similar to you!
Finding The "Best" Advisor Conference (For You)
When it comes to financial advisor conferences, the reality is that some events are simply 'better' than others. In some cases, it's driven by the quality of their speaker selection process, while for others it's about their excellent on-site execution. But nearly anyone who's even been to more than a few conferences has seen the difference between a "good" conference and a "bad" one.
However, it's frustrating to have to go to a conference just to have the experience and find out whether it's any good. As a result, since 2012, we've published an annual list of the Best Financial Advisor conferences, based on my own experience speaking at more than 700 conferences over the past 15 years, and having seen first-hand which events are particularly good and worth recommending (or not).
The caveat, though, is that with the disruption of the pandemic for most of 2020 and now much of 2021 as well, it's difficult to know which events will really be executed best – or at all!? – in the coming year. At best, many conferences that will finally return to in-person for 2022 will be rebuilding their systems and process to 'return to in-person' for the first time in 3 years. At worst, it's not entirely clear which events will return at all, which organizations have lost staff and institutional memory and may not be able to execute at the level they did in the past, and which organizations may take advantage of the disruption as an opportunity to improve the quality of their conference going forward. In other words, when it comes to 2022, all bets are off about which events will really be the best in quality and execution for 2022.
Nonetheless, the reality is that the more focused you get on the type of event you pursue, the more likely it will be to go well anyway. Because the more targeted the event, and the better it fits your needs as an advisor, and the more relevant it will be – from the sessions on the stage to the conversations in the hallway. Which can make any event at least reasonably 'good'.
Accordingly, in this year's list of Best Conferences, we focus less on rating which events are the strongest from a process and content execution perspective (though, hopefully, those that have executed well in the past will continue to do so, pandemic disruption notwithstanding!), and more on events that have a clear target of who they're for… recognizing the 'target advisor' that the event is intended for, to ensure that advisors find the right content focus, or the right type of community, to make the conference a good experience.
Best Overall Financial Planning Conference: FPA NorCal 2022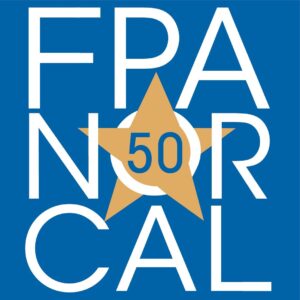 On December 12th of 1969, Loren Dunton called together a gathering of 13 men at a hotel near the Chicago O'Hare airport with a vision of raising the professionalism of those selling financial services products to consumers, in what ultimately became known as the birth of the financial planning profession. After the 2 days of meetings had concluded, two organizations were formed: the International College for Financial Counseling (which eventually became the College for Financial Planning), and the International Association of Financial Counselors, or IAFC (which was later renamed the International Association of Financial Planners, or IAFP, and ultimately merged in 2000 to become the Financial Planning Association).
When the IAFC/IAFP was first created, there was no centralized 'national' office, as is typical for membership associations today. Instead, those who wanted to affiliate with the fledging organization from across the country had to establish their own local chapters (which then affiliated with the national entity), and host their own local events to attract and retain local members. Of which one of the first created chapters was in the East Bay area of San Francisco in 1970, followed by several other local chapters in the greater Bay area in the early 1970s.
By 1972, these northern California chapters decided to come together to form a 'regional' conference – the "NorCal Conference" of the IAFP – in what has become the longest-running financial planning conference in the country, now entering its 50th(!) anniversary year for the upcoming 2022 conference.
And with such deep roots, the now-FPA NorCal conference has spent decades honing itself into what is technically still a "regional" conference, but in practice is consistently one of the best National conferences in financial planning, attracting national-caliber speakers, featuring a rich 6-track series of breakout sessions across the 2-day event (chosen for their content quality alone, as NorCal has no 'pay-to-play' speaking slots at all!), and includes a recording of all the conference sessions (not just the keynotes, but every breakout, for those who want to go back and listen!). The content itself features a broad mix of both technical and practice management sessions, though it does skew towards more advanced/experienced practitioners (as the NorCal area has a high concentration of very experienced planners, given the region's deep financial planning roots).
An added bonus of the FPA NorCal conference is that it's an excellent destination conference, hosted at the beautiful Palace Hotel in the heart of San Francisco (a Marriott property, for those looking to use their points!), and running on the Tuesday and Wednesday immediately following Memorial Day (which makes it easy to take a personal vacation to spend Memorial Day weekend in San Francisco or visit the wineries in Napa and Sonoma valleys, and then get underway at the conference in the days that follow, while deducting the full cost of airfare as a business expense!).
Notably, though, because the FPA NorCal conference is ultimately constrained by the maximum capacity of the main ballroom at the Palace Hotel, the event has a hard-cap limit of about 600 registrants, and it does sell out many years (especially given its very-reasonable registration fee for a national-quality event). So those who are interested in attending should not wait to register!
Who Should Attend: Experienced financial advisors who really want to attend the conference sessions and are looking for high-quality content and a well-run event (or those who simply want a nice destination conference to travel with a significant other!?).
Details: May 31-June 1 at The Palace Hotel in San Francisco, CA.
Cost: $949 for FPA members and $1,149 for non-members. Early bird price is $799 for FPA members and $999 for non-members and is valid between December 13, 2021, and January 29, 2022.
Conference Website: FPA NorCal 2022
Best Advanced Educational Conference: AICPA ENGAGE 2022

For most of its history, the growth and evolution of the emerging financial planning profession has been a story of stockbrokers and insurance agents who have increasingly shifted from product-based roots into a value proposition built around their expertise and advice, formulated by and delivered through the financial planning process. However, the reality is that there has long been a 'parallel' track for financial planners – those who start out by preparing their tax returns as CPAs, and are somewhat inevitably drawn deeper into giving more and more financial advice as their clients ask questions about their assets and income that generated the tax consequences. In fact, many of the largest independent RIAs today were formed by CPAs who provided HNW financial planning within what at the time were Big-8 accounting firms in the 1980s and 1990s, and eventually spun out to create their own wealth management firms.
And this "other world" of CPA financial planners, built around their own membership organization (the Personal Financial Planning section of the AICPA), has its own national conference, which – as one might expect given its CPA roots – features some of the very best in advanced technical sessions in financial planning, with a particular focus on tax- and estate-planning-centric sessions (though the conference includes tracks on investments and retirement planning as well). For which a CPA license is not required – any financial advisors can attend – though the content itself is still very much targeted at practitioners with a CPA-level of education (which means a graduate degree, and a professional license/designation). And is priced accordingly (as one of the more expensive conferences for financial advisors who want and are willing to pay for more advanced content).
For many years, the AICPA's PFP section actually ran its own independent conference, but in 2017 the PFP conference was rolled into a broader national multi-track national AICPA conference called "ENGAGE", which is still how the PFP conference operates today. As a result, financial advisors who wish to attend will register for the main AICPA ENGAGE conference, but purchase 'only' the 3-day pass and not the full-event 4-day pass (as the 4th day includes sessions that aren't part of PFP and aren't relevant for financial advisors).
Notably, though, since registration for ENGAGE allows advisors to attend any sessions that are underway as part of the conference – not just the ones tagged to the PFP track – advanced practitioners will appreciate that AICPA ENGAGE also includes the AICPA's "Tax Strategies for the High Income" event, as well as its "Advanced Estate Planning" event – both of which go even deeper into more advanced content (particularly relevant for those serving ultra-affluent clientele who have such high-income and large-estate planning challenges).
Ultimately, because the PFP conference (and Tax Strategies and Advanced Estate) are still just a subset of an even-larger multi-thousand-CPA event, while there are some fellow advisors to meet and get to know, the PFP conference isn't the best for those who are looking to network with other advisors on practice management topics. (As there is a somewhat overwhelming crowd of 'non-financial-advisors' attending the broader ENGAGE event.) However, for those looking to go deep on educational content – and really pack in the CE credits, with 8+ hours of CE per day as sessions typically start at 7AM and run until 6PM(!) – the AICPA's PFP conference is great for those who are looking to up their technical game.
Who Should Attend: Financial advisors with advanced degrees/designations who are looking for more advanced content to challenge them (though again, having a CPA license is not required), and are willing to pay a premium registration fee for such content. Particularly financial advisors who also have clientele that skews towards the HNW/ultra-HNW segment.
Details: June 6-9 at the ARIA Resort in Las Vegas, NV.
Cost: Four-day passes are $1,795 for AICPA members and $2,095 for non-members and three-day passes are $1,395 for AICPA members and $1,795 for non-members. The three-day pass has traditionally covered the PFP conference plus Tax Strategies and Advanced Estate sessions, but interested advisors should check the final agenda once it is released. A $300 early bird discount is available through November 30.
Conference Website: AICPA ENGAGE 2022
Best Investment Management Conference: Investments & Wealth Institute's Annual Conference Experience (ACE) 2022

For most of its history, the Investments & Wealth Institute (IWI) was known as the Investment Management Consultants Association (IMCA), which has long conferred the Certified Investment Management Analyst (CIMA) certification. Over the past decade, the organization has expanded further into wealth management with the launch of the Certified Private Wealth Advisor (CPWA) certification for advisors serving ultra-HNW ($10M+ net worth) clientele, and more recently with the acquisition and expansion of the Retirement Management Advisor (RMA) program.
However, notwithstanding its growth and evolution over time – and its rebrand from IMCA into the broader 'Investments & Wealth Institute' – the organization's roots remain deep in its investment domain. Which makes the IWI annual conference – dubbed "ACE" (for Annual Conference Experience) – an especially good conference for advisors looking for deeper investment education.
Notably, as a deep investment-oriented conference, IWI's ACE is still focused on financial advisors, who may be in the institutional investment consulting (IWI's roots as IMCA) or the investment management business – or more generally, those focused on "portfolio construction" – but not necessarily those who do hands-on investment analysis on individual securities (where events like the CFA Institute's annual conference are a better fit).
What's unique about the IWI conference in particular is that it takes a particularly high-brow approach to investment (and other) content. As a result, investment-related content is not the typical wholesaler talking about their investment offerings, or even an investment manager talking about their strategies; instead, IWI's content has a heavy focus on academic speakers (e.g., Ivy League professors doing research in finance and business) and very experienced practitioners (discussing how they put the academic theory into practice). Which was originally in place to provide required CE for its CIMA certificants (who earn their marks through Wharton School of Business, Yale School of Management, or the Chicago Booth School of Business), but over time has become well-recognized as a high-quality investment-oriented conference for advisors unto itself. (Albeit while also expanding its tracks into wealth management and retirement in recent years, to align to its broadening focus with CPWA and RMA.)
Who Should Attend: Financial advisors who have a business focus on investment management and constructing portfolios as a key part of their value proposition for clients, who are looking for content with an academic tilt towards advanced education on investments.
Details: May 15-18 at the Nashville Music City Center in Nashville, TN.
Cost: $1,095, with a $100 early bird discount available through December 27. Nerd's Eye View readers can receive $100 off the regular price with the Ace22kitces discount code!
Conference Website: IWI ACE 2022
Best Practice Management For Mid-To-Large-Sized Independent Firms: Insider's Forum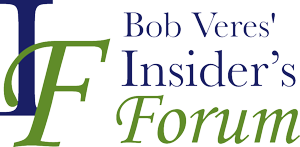 Financial advisors have traditionally all been solo practitioners, from independent RIAs who "hung their own shingle" to advisors affiliated with larger broker-dealers and insurance companies that may have been a part of a sizable organization but still, ultimately, were on their own to attract and service their clients. Which, in practice, rarely ever grew above 1-2 administrative staff members to support, as in the end when advisors were compensated almost entirely with commissions – and their income 'reset' at $0 at the beginning of every year – it wasn't very appealing to hire staff members and take on overhead that effectively made their income negative until they did enough business in the first half of the year just to breakeven!
But the rise of the AUM model, and its recurring revenue, has fundamentally changed that equation, as now advisory firm owners can start the year with a relatively stable base of revenue from existing clients, that will remain as long as the advisor maintains their relationship and provides good service. Which incentivizes the firm to hire and invest into staff members to provide that ongoing service, retaining more recurring revenue, enabling the firm to grow further, and hire even more staff… slowly and steadily – and with enough time, somewhat inevitably – growing from a practice into a multi-employee business.
The caveat, though, is that few conferences exist to speak to this "accidental" business owner, who didn't set out to grow a large business where success is increasingly defined by their ability to manage and lead their teams (not to attract and give good advice to clients), and doesn't necessarily have much of any training to meet their newfound responsibilities.
And so 10 years ago, Bob Veres – the publisher of Inside Information (the longest-standing practice management newsletter for independent financial advisors) – decided to launch a practice management conference to focus on mid-to-large-sized advisory firms and the unique challenges they face. Originally dubbed the "Business and Wealth Management Forum", and now simply known as the "Insider's Forum", Veres' conference is best suited to multi-advisor ensemble firms (e.g., 2+ owners, $2.5M+ revenue, and 10+ staff) that are running bona fide businesses and feel they have outgrown the other more-individual-focused practice management content at other conferences (which is usually more focused on the personal productivity of the advisor than actual business management of a multi-team-member growing enterprise).
Notably, recognizing the nature of the growing leadership team that emerges in a growing advisory business, Insider's Forum typically has separate conference tracks for both Executive leaders (e.g., Founders, CEOs, etc.) and also the Operations leaders of the business (e.g., COOs, Operations Managers, etc.), with content around themes like attracting and retaining both advisor and operations team talent, building culture more intentionally, refining your client experience and value proposition, and choosing the 'right' technology for your firm. Which is nicely complemented by the Insider Forum's "invitation-only" exhibit hall, where Veres curates the vendors that are most relevant and appropriate for mid-to-large-sized independent advisory firms.
Who Should Attend: Advisory firm owners/partners and key executive leadership (e.g., CEOs, COOs, etc.) of mid-to-large-sized advisory firms (with at least $2.5M+ of revenue and 10+ team members) that are looking to grow and scale.
Details: September 28-30 at the Grand America Hotel in Salt Lake City, UT.
Cost: $975 until April 29, 2022. Nerd's Eye View readers can receive $75 off the regular price with the KITCESBVIF discount code!
Conference Website: Insider's Forum 2022
Best Practice Management For Transitioning From Practice To Business: Carson Excell 2022

While the industry media tends to focus its coverage on the biggest and fastest-growing advisory firms, the reality is the typical financial advisor is more akin to Henry David Thoreau's statement that "the mass of [financial advisors] lead lives of quiet desperation", having survived the grueling initial years of just trying to get enough clients to survive, and now mired in a world of having 'enough' clients to make ends meet but dealing with so many clients demands that there is no real way to grow to the next level, become more profitable, or do anything but just try to keep surviving one day at a time. As advisors, most of us get 'stuck'.
And one of the advisors most known for trying to help advisors get 'un-stuck' is Ron Carson, who lived a similar pathway of struggling for many years in his advisory firm in its early years, but ultimately grew to become LPL's top producer for nearly 20 years (before eventually breaking away and growing his business even larger in the RIA channel). Along the way, Carson developed a Coaching program to teach other advisors to implement for themselves the kind of systems that he used to grow himself to the next level, which in turn spawned the "Excell" conference to bring Carson's Coaching clients together for practice management advice about how to make the transition from a solo product-centric practice into a scaling advisory business.
In recent years, Carson's offerings have expanded further, as Carson Coaching has continued to grow, Carson Partners provides an outsourcing solution for small-to-mid-sized advisory firms to leverage the back office and technology capabilities of Carson Wealth (Carson's own RIA) while growing their own advisory businesses. And accompanying this growth has been an expansion of the Excell conference, which is now no longer 'just' for advisors using Carson Coaching, but any advisors that want to explore the content (which obviously is still a good branding and marketing opportunity for Carson's Coaching and Partners solutions).
In practice, the Carson Excell conference is a blend of sessions about how to scale an advisory firm beyond yourself as the founder/owner (the transition from practice to business), along with a lot of content on marketing and growth strategies to get to that next level, and inspirationally oriented keynote sessions to fire up attendees to go home and try it all out (because let's face it: this is a hard transition, and sometimes we need a little help to get fired up for making the change!).
Who Should Attend: Advisors with $250k to $750k of gross revenue, whether in the RIA or broker-dealer channel, who have "hit the wall" and are feeling stuck, want to begin making the transition from practice to business and get to the next level, and are looking for more ideas of what to do to actually get there. (Notably, Carson's Excell conference has also traditionally included a parallel track for Operations staff, so advisors should consider bringing their administrative assistant/client service manager/operations manager along with them as well!)
Details: September 13-15 at The Cosmopolitan of Las Vegas in Las Vegas, NV.
Cost: $999 until April 30, 2022. Nerd's Eye View readers can receive an additional $150 off with the KitcesExcell150 discount code!
Conference Website: Carson Excell 2022
Best Advisor Technology Conference: Technology Tools For Today (T3) Advisor Conference 2022

The T3 Advisor Technology conference is the longest-running conference focused not just on "FinTech" in general, but specifically on the technology that financial advisors use in their practices. It was launched nearly 15 years ago by Joel Bruckenstein and David Drucker, who were already publishing a "Technology Tools for Today" (T3) newsletter for advisors, and expanded their newsletter offering into a full-scale conference of the same name as the breadth of advisor technology solutions began to proliferate in the mid-2000s.
Unlike most other advisor conferences, though, the T3 Conference functions more as a "trade show" instead, where the primary focus is not a series of educational speakers on practice management or technical-CE topics, but instead is squarely focused on the conference exhibitors themselves, who attend to showcase their solutions and demo their latest features… which isn't seen as 'selling out' the conference agenda to the sponsors, as the whole point of a trade show is to see the solutions in the first place!
As a result, the primary benefit of attending the T3 Advisor Technology conference is the opportunity to simply see 'everything' that the advisor technology landscape has to offer, in one efficient trip. Which makes the T3 conference especially appealing to independent advisors who are 'shopping' for new technology solutions in a particular category (e.g., see all the CRM systems, or all the financial planning software providers, in one place, to vet them against each other on the spot), or simply those that want to see what the latest-and-greatest is, in seeking ideas for new technology they might try out and implement (as it is common for new vendors to debut at T3). Many advisors systematically visit the T3 conference every 2-3 years just to stay abreast of advisor technology trends… and with the T3 conference canceled in both late 2020 and 2021, due to COVID-19, the 2022 conference (which is 'technically' the rescheduled date of the fall 2021 event), the 2022 conference will be the first since 2019, is likely to draw a stronger-than-normal turnout.
Notably for the tech vendors themselves, though, the T3 conference is still not a "huge" buying audience for companies looking for new users (as almost half of the 600+ attendance is typically fellow software vendors, media, and industry consultants). Though, while T3 used to run a separate "T3 Enterprise" conference (specifically targeting the largest broker-dealer and RIA enterprise decision-makers), the 2022 T3 conference will be a blend of the Advisor and Enterprise events, creating more business development opportunities for vendors. But in practice, the primary "ROI" for vendors that exhibit at T3 is not measured in new users, but a chance to gain better visibility amongst 'influencers' (as T3 has historically been very well covered by industry media and independent consultants), and the potential to establish relationships with other tech vendors that might be future integration partners (or even strategic acquirers!).
Who Should Attend: Advisory firm owners who are either independent or making the transition to independence, or technology decision-makers in larger advisor enterprises, who want an efficient way to see the full breadth of advisor technology solutions all in one place. Companies that offer AdvisorTech solutions for advisors should aim to attend both to showcase their solutions, and also for networking opportunities.
Details: May 2-4 at the Embassy Suites by Hilton Denton Convention Center in Denton, TX.
Cost: $799 for financial advisors, and the conference has a Buy-One-Get-One-Free registration offer available until November 26. Nerd's Eye View readers can receive $100 off the standard registration price with the Kitces2022 discount code!
Conference Website: T3 Advisor Technology Conference 2022
Best Practice Management For Scaling Advice: #XYPNLIVE 2022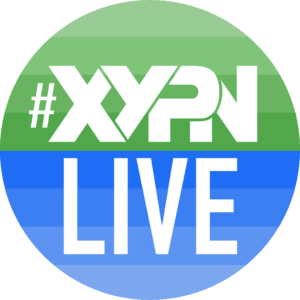 Technology's ongoing commoditization of creating diversified asset-allocated portfolios is driving the next stage of evolution for financial advisory businesses, and leading to a fork in the road where firms must choose. Down one path are firms that decide to go deeper in their investment-based value-adds, 'defending the 1%' AUM fee by creating a more unique and proprietary investment management process, identifying and selecting 'unique' investments not generally available to consumers (e.g., various categories of alts), or looking to leverage more customized or personalized portfolio construction tools (e.g., the new wave of direct indexing tools). Down the other path are firms that decide to go deeper with their (non-portfolio) financial planning services, evolving towards non-AUM "fee-for-service" business models, and offering more comprehensive or more specialized/niche advice services.
The caveat, though, is that what it takes to scale an advice-centric business is fundamentally different from scaling an investment-centric advisory firm. As while the latter entails creating and systematizing a range of model portfolios for clients, with a centralized investment management team, and then implementing technology to manage and rebalancing client portfolios on an ongoing basis, scaling an advice business is far more difficult, given the historically more-time-consuming process of actually doing financial planning, which Kitces Research has shown averages nearly 35 hours(!) in the first year of a new client relationship.
In 2014, the XY Planning Network was established as a turnkey financial planning platform specifically to support monthly subscription and other fee-for-service advice businesses, that are launching, growing, and scaling advice (not investment management) businesses. And with nearly 1,600 advisors, it has become the largest concentration of advisors all focusing on how to efficiently scale the time-consuming process of advice itself.
Accordingly, #XYPNLIVE – the network's annual conference – has become the go-to event for advisory firms trying to figure out how to more efficiently scale advice itself, with sessions on topics from how to transition to and roll out a non-AUM fee-for-service offering for clients, leveraging paraplanners and associate advisors to make the advice delivery process more efficient, and "productizing" your advice offering to make it easier to market intangible advice services.
In addition, #XYPNLIVE also includes an "AdvisorTech Expo", which typically showcases 6-12 new up-and-coming technology solutions specifically focused on scaling advice – not 'just' scaling portfolio management for AUM clients – to catch a glimpse of the latest emerging technology to make it even more efficient to scale advice.
Who Should Attend: Financial advisors looking to transition into, or figure out how to better market, run, and scale, a fee-for-service financial advice business.
Details: October 8-11 at the Sheraton Denver Downtown Hotel in Denver, CO.
Cost: $324 for XYPN members and $499 for non-members until February 28; $399 for members and $599 for non-members between March 1 and June 30; and $449 for members and $649 for non-members starting July 1. Nerd's Eye View readers can receive $25 off registration with the KITCES discount code!

Conference Website: #XYPNLIVE 2022
Best Practice Management To Recharge And Reconnect: FPA Retreat

The term "mid-life crisis" was coined in 1957 by a psychologist named Elliott Jaques, who observed that people in their mid-30s to 40s tend to experience a multi-year depressive period as they reach a crest in life after years of early challenges… only to see their own mortality on the horizon, and realize they may be getting closer to the end than the beginning. Which in turn can spark a number of major life changes, from religious awakenings to attempts to retain our youth, or simply a questioning and yearning to figure out "is this all?" and "if not, what's next?"
It's not uncommon for financial advisors with 15+ years of experience to have a similar 'mid-career' crisis, where the firm is past the challenging early years of just trying to get enough clients to survive, and reaches the point where it is financially successful and stable, may only need to add a handful of new clients each year (to replace the few who attrition or pass away), and can operate largely in 'maintenance mode' for the time being… which means few (if any) new clients to bring new opportunities and new intellectual challenges, and a similar wondering of "is this all?" and "if not, what's next?"
Enter the FPA Retreat conference. FPA Retreat has long been known as one of the leading "advanced planning" conferences, focused on the intersection of the art and science of financial planning. But in reality, Retreat is more of a conference for advanced plannERS than advancing planning, where experienced advisors can spend time with other veteran practitioners who are looking for some fresh ideas and a new spark.
For an 'advanced practitioners' conference, the FPA Retreat agenda, in general, tends to be focused more on the 'softer side' of financial planning than the advanced technical sessions (akin to AICPA's ENGAGE conference). But in the end, despite typically having a strong agenda of content for advanced practitioners, FPA Retreat is the conference I've long found myself most likely to realize that other attendees are walking out of the session that I had intended to walk into an hour prior, before getting caught up in (an even more interesting) conversation with other practitioners in the hallway.
In other words, attending FPA Retreat is really first and foremost about the connections that come when talking with other very experienced practitioners who may be facing a similar mid-career crisis, who have all reached a healthy stage of the business, but may no longer feel challenged the way they once were, and are all trying to figure out "What's Next".
Who Should Attend: Experienced financial planners who are looking for new ideas and new challenges to expand their minds around financial planning or refresh and re-energize themselves… and who want to connect with others looking for the same thing.
Details: April 25-28 at the Hyatt Regency Lost Pines Resort and Spa in Lost Pines, TX.
Cost: $1,499 for FPA members and $1,699 for non-members. Early Bird discount of $200 through January 31 and Advance discount of $100 between February 1 and February 28. Nerd's Eye View readers can receive an additional $50 off with the KitcesRET22 discount code!
Conference Website: FPA Retreat 2022
Best Practice Management Destination Event: Back2Y Lifestyle Conference
The term "lifestyle practice" – connoting what is typically a solo advisor who serves a smaller group of clients (limited to the number they can personally serve without impinging their own 'lifestyle') – is sometimes used in a pejorative way amongst financial advisors. Even though a recent Kitces Research study showed that it is often the solo lifestyle advisors, who have a focused group of clients, and a small support team to service them, who are actually the happiest financial advisors (even more so than advisors who have 3X+ the revenue). After all, once you have enough to live the life you want to live, and do the work you want to do with the clients you want to work with, what's the point of growing more?
And of course, this phenomenon of getting clarity about "What Is Enough?", and finding greater contentment once we get clear on what "Enough" means – and then build a pathway to achieve it – is not unique to financial advisors. It's the same thing we advise clients on as well, helping them figure out What Is Enough to achieve their financial goals… and then putting them on a path to achieve it, and helping them recognize when they've "arrived" and no longer need to keep stressing and pushing themselves the way they once did.
The Back2Y conference – which is shorthand for getting "Back To WHY" – is an event in the UK created by Paul Armson, a financial planner who pioneered what he calls "lifestyle financial planning," roughly akin to the "Life Planning" movement here in the US where the focus is not on financial services products, or just financial advice for advice's sake, but specifically on doing financial planning to help clients fit their money to the end lifestyle they want to achieve that will be most personally meaningful for them (or as Armson puts it, "financial planning with the end in mind").
In essence, Armson's Back2Y conference in the UK lives at the intersection of what in the US would be George Kinder's "Life Planning" meets NAPFA's "fee-only" advice approach combined with XY Planning Network's "golden age of the solo advisor" approach to building a business, and has become a gathering point for UK-based advisors making the transition from products to advice fees and a more "client-life-centered" approach to financial planning (including many who are implementing Armson's "Inspiring Advisors" training program where he teaches his own fee-for-service financial advice approach).
What makes the Back2Y conference unique – beyond its particular advisor focus and a content lineup around changing the way we work with clients to be more focused on the planning issues that really matter most to them – is that as an advocate of fee-for-service advice with no product sales, Back2Y has not only no sponsored sessions, but no exhibitors at all, and instead is – like fee-only financial planning itself – a fee-only conference focused entirely on the advisors it serves.
For advisors based in the US, the reality is that many of these themes can be captured at other US-based conferences. But for those that are looking for something entirely new and different – and a conference that can be used as a destination travel event, as Armson and his Back2Y event as based in London – the Back2Y conference is a compelling option to consider!
Who Should Attend: Financial advisors who run fee-for-service advice businesses (or at least are looking to make more of a transition towards advice fees), and are looking for fresh ideas and inspiration about a different way to create and show advice value for clients.
Details: March 10, 2022, location TBD. This is an invite-only event. Interested participants must request an invitation on the website.
Cost: TBD
Conference Website: Back2Y 2022
New Conferences To Watch
The past 2 years have been incredibly challenging for the world of financial advisor conferences. In-person events were canceled entirely in 2020 from the COVID-19 outbreak that March through the end of the year, and while conferences sought to re-open in 2021, the surge of the Delta variant through the summer and into the fall caused many events that had been looking to return to in-person to cancel once again. As the reality is that conferences have a significant amount of overhead (in terms of staff) and fixed costs (in food-and-beverage and room block commitments to hotels), which means that when conference and exhibitor attendance is even 'just' a little light, it can entirely eliminate the profitability of the conference. Which means for-profit conferences (along with a number of conferences run by non-profit organizations that still rely on the conference itself to be profitable to subsidize the rest of its organizational costs) were especially at risk for cancelation in the pandemic.
Yet even as a number of advisor conferences were canceled (or at least consolidated) during the pandemic, new events are emerging in 2022 as the advisor community looks to return to in-person events to reconnect.
Of course, it's difficult to tell what will end out being a "good" new conference or not – there's no way to rate a conference that has never been held before! Nonetheless, we highlight here a few of the most notable new events to watch and consider in 2022.
New Conference For Advisor Marketing: Jolt 2022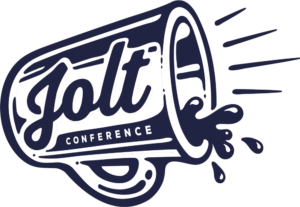 Despite the fact that business development has long been one of the most foundational elements of the financial advisory business – after all, it doesn't matter how much you 'know' as a financial advisor, if you can't convince anyone to pay you for your expertise! – the irony is that there is not a single standalone conference on how to better market an advisory business and its services to clients. (At best, the closest has been the personal finance bloggers conference, FinCon, which for several years has had a track for financial advisors leveraging blogging in their digital marketing.)
Of course, most conferences do at least feature some sessions on 'how to grow' as a part of their agenda. But in practice, most sessions on 'growth' are really about sales (how to convince a prospect sitting across from you to engage your services), or alternatively are about prospecting (how to personally 'get out there' and establish new relationships that can turn into clients). And remarkably few are actually about how to market – i.e., creating an ongoing marketing presence that means the firm's ideal clients find you and call or email, rather than being expected to go out and (personally) find them yourself.
And so it's notable that in 2022, Robert Sofia (formerly of marketing consulting firm Platinum Advisor Strategies, and now CEO of marketing technology solution Snappy Kraken) is launching the "Jolt" conference, specifically focused on Advisor Marketing.
Accordingly, the Jolt agenda has a heavy focus on actual marketing content, from figuring out how to create marketing content that actually connects and attracts (ideal) prospects, to building thought leadership in your target market, leveraging storytelling to make your marketing messages more memorable, video and social media and other marketing channels to reach prospects, and scaling your marketing (beyond yourself with a marketing team) as the firm grows.
Notably, a significant portion of the Jolt agenda are staff members from Snappy Kraken itself, which as a marketing technology firm has 'something to sell' at a marketing conference (that it is organizing and hosting itself). Yet in the end, scalable marketing necessitates building systems and leveraging technology to implement it, for which Snappy Kraken is already one of the more popular solutions on the Kitces AdvisorTech Map, so if advisors are going to look for advisor marketing content, why not get it from an event that has the solutions to actually help implement those ideas?
Who Should Attend: Financial advisors who are trying to figure out "how to make the phone ring" with a marketing process that attracts prospects to them (rather than going out to market), and are ready to try something different from traditional referral-based and networking tactics for business development.
Details: May 4-6 at the Aria Resort in Las Vegas, NV.
Cost: $589
Conference Website: Jolt 2022
New Conference Experience: Future Proof Festival 2022

While the aftershocks of the COVID-19 pandemic are still playing out across the world of financial advisor conferences, one of the clearest trends emerging is that the future of conferences will no longer just be a function of 'getting CE credit' alone, as the proliferation of online educational platforms providing CE credit, coupled with an explosion of webinars and even entire virtual programs offering CE, means that at best a conference must be 'genuinely educational' with advanced content (a la AICPA ENGAGE) to even have a chance on the basis of education alone.
For some conferences, the alternative is to go deeper by getting more specialized on a particular topic (e.g., the Heckerling conference on Estate Planning, or the Jolt conference on advisor marketing), or to stay focused on a particular community of advisors (e.g., NAPFA, the Alliance of Comprehensive Planners, Schwab IMPACT, LPL Focus, etc.). But for one new event, the goal is to make the conference such an Experience that advisors have to… experience it themselves.
And so last month, the launch of a new 2022 event was announced: the Future Proof Festival. Organized by advisors Josh Brown and Barry Ritholtz (of Ritholtz Wealth, and also co-founders of the WealthStack advisor technology conference), along with Matt Middleton and John Swolfs (formerly of Informa, who organized the Inside ETFs and WealthStack conferences), and Matt Hougan (original co-founder of Inside ETFs), the Future Proof Festival is being described as just that – a "festival", more akin to events like the popular South By Southwest (SXSW) music festival than a traditional conference.
Accordingly, Future Proof is blocking off a whopping half-mile stretch of beachfront in Huntington Beach (in the suburbs on the south side of Los Angeles) for four whole days, organizing sessions in outdoor space (not in auditoriums), and bringing in local food trucks (not 'conference food'). The details of the conference agenda have not yet been released, but the conference organizers are stating a goal to make the festival more of a 'festival'-style experience (with stages for speakers but also for musical performances), a wide range of content types (from "battle of the voices" debates to "just enough to be dangerous" fast-paced pitches and "Office Hours" where all Future Proof speakers will be required to hold 30-minute Q&A sessions after their presentations), and a line-up that will feature more new and original speakers (but no "pay-to-play" sponsored speaking slots). Though the conference will separately feature festival-style "brand activations" (defined as "campaigns, events, or interactions to promote new products or services").
Notably, in order to drive a large festival-style turnout, Future Proof tickets are 'aggressively' priced at just $450/advisor (and discounted to just $150 as super-early-bird pricing for the entire 4-day event), though ultimately the cost of beachfront hotels in Orange County for 4 nights will make the total all-in cost quite a bit higher for attendees than 'just' the registration fee.
Ultimately, Future Proof itself is being marketed to a very wide range of all people in financial services, from financial advisors to institutional investors, asset managers to fintech firms, "financial creators" to activists to artists, and more, with a stated target of 3,000+ attendees. For such a new event, no one is really sure quite how it will all come together, or what to really expect – given how intentionally different Future Proof is trying to make its experience compared to any other advisor conference – but for those early adopters who are looking for something completely new and different to try out in 2022: Future Proof is it.
Who Should Attend: Financial advisors who are tired of the traditional conference, and are willing to take a shot on something that is aiming to be a completely new and different advisor experience. (Or perhaps simply wouldn't mind an excuse for a tax-deductible 'business trip' to southern California by tagging the Future Proof Festival experience onto a vacation!?)
Details: September 11-14, Citywide in Huntington Beach, California.
Cost: $150 for advisors. Pass options are available for other financial professionals as well.
Conference Website: Future Proof Festival 2022
There's No Place Like Home
Notwithstanding the wide range of increasingly specialized conferences available spanning various technical and practice management topics, the reality is that one of the best conferences for advisors to attend at least once every few years is their "community" conference – for whatever community it is they belong to, that they may want to reconnect with.
Most commonly, an advisor's "home" conference was the annual conference of their RIA custodian or broker-dealer, and in fact events like Schwab IMPACT and LPL Focus are some of the largest conferences in the industry, providing an opportunity for the advisors on their respective platforms to see the latest services and capabilities their platforms are rolling out, hear from senior leadership what they're focused on (or have a chance to ask questions and express concerns), meet 'home office' staff, and simply connect with other advisors who tend to be reasonably similar if only by virtue of being on a similar advisor platform in the first place.
For other advisors, their "home" conference to find community is via the various membership associations and networks, from the FPA National conference to NAPFA National conferences, or more niche communities like the FPA NexGen Gathering, the Alliance of Comprehensive Planners, Garrett Planning Network, or XY Planning Network.
In recent years, a new kind of "home" community conference has emerged: built around some of the major technology vendors around which advisors are building their businesses, who similarly are increasingly offering national-scale conferences to bring their users together to both network with each other (as again, advisors using similar systems tend to share other commonalities that make for good networking), and again to hear the latest from their technology platforms and share their feedback with the leadership. Recent standouts in recent years have included the Envestnet Advisor Summit, the Orion Ascent conference, and the Riskalyze Fearless Investing Summit.
And so, for advisors who otherwise aren't certain what conference to attend in 2022, there's no place like Home as the conference of choice. For advisors who are looking to attend more than one conference, choose your Home conference as the first, and a new conference for the second. Or alternatively, multi-advisor firms may wish to divide and conquer, with one advisor going to their Home conference, and another going to something new for 2022!
So what do you plan to attend? Do you have any conference favorites that I didn't include in the list? Please share in the comments section below!
Disclosure: Michael Kitces is a co-founder and partner of the XY Planning Network, which operates one of the "best conferences" on this list.
---
Top Advisor Conference Badge:
You can embed a badge for your conference website or marketing materials using the following:
Copy the embed code below:
<div style="text-align: center; padding: 10px;"><a href="https://www.kitces.com/blog/2022-best-financial-advisor-conferences-community-deep-learning-topical-ce/?utm_source=Top2022Conf_badge&utm_medium=Top2022Conf_badge&utm_campaign=Top2022Conf_badge"><img src="https://www.kitces.com/wp-content/uploads/2021/11/Top-Advisor-Conferences-2022-Badge.png" alt="Best Conferences For Top Financial Advisors To Attend In 2022 – Rankings From Nerd's Eye View | Kitces.com" title="Best Conferences For Top Financial Advisors To Attend In 2022 – Rankings From Nerd's Eye View | Kitces.com" /></a></div><p>
<div style="text-align: center; padding: 10px;"><a href="https://www.kitces.com/blog/2022-best-financial-advisor-conferences-community-deep-learning-topical-ce/?utm_source=Top2022Conf_badge&utm_medium=Top2022Conf_badge&utm_campaign=Top2022Conf_badge"><img src="https://www.kitces.com/wp-content/uploads/2021/11/Top-Advisor-Conferences-2022-Badge.png" alt="Best Conferences For Top Financial Advisors To Attend In 2022 – Rankings From Nerd's Eye View | Kitces.com" title="Best Conferences For Top Financial Advisors To Attend In 2022 – Rankings From Nerd's Eye View | Kitces.com" /></a></div><p>
<div style="text-align: center; padding: 10px;"><a href="https://www.kitces.com/blog/2022-best-financial-advisor-conferences-community-deep-learning-topical-ce/?utm_source=Top2022Conf_badge&utm_medium=Top2022Conf_badge&utm_campaign=Top2022Conf_badge"><img src="https://www.kitces.com/wp-content/uploads/2021/11/Top-Advisor-Conferences-2022-Badge.png" alt="Best Conferences For Top Financial Advisors To Attend In 2022 – Rankings From Nerd's Eye View | Kitces.com" title="Best Conferences For Top Financial Advisors To Attend In 2022 – Rankings From Nerd's Eye View | Kitces.com" /></a></div><p>
<div style="text-align: center; padding: 10px;"><a href="https://www.kitces.com/blog/2022-best-financial-advisor-conferences-community-deep-learning-topical-ce/?utm_source=Top2022Conf_badge&utm_medium=Top2022Conf_badge&utm_campaign=Top2022Conf_badge"><img src="https://www.kitces.com/wp-content/uploads/2021/11/Top-Advisor-Conferences-2022-Badge.png" alt="Best Conferences For Top Financial Advisors To Attend In 2022 – Rankings From Nerd's Eye View | Kitces.com" title="Best Conferences For Top Financial Advisors To Attend In 2022 – Rankings From Nerd's Eye View | Kitces.com" /></a></div><p>
<div style="text-align: center; padding: 10px;"><a href="https://www.kitces.com/blog/2022-best-financial-advisor-conferences-community-deep-learning-topical-ce/?utm_source=Top2022Conf_badge&utm_medium=Top2022Conf_badge&utm_campaign=Top2022Conf_badge"><img src="https://www.kitces.com/wp-content/uploads/2021/11/Top-Advisor-Conferences-2022-Badge.png" alt="Best Conferences For Top Financial Advisors To Attend In 2022 – Rankings From Nerd's Eye View | Kitces.com" title="Best Conferences For Top Financial Advisors To Attend In 2022 – Rankings From Nerd's Eye View | Kitces.com" /></a></div><p>
<div style="text-align: center; padding: 10px;"><a href="https://www.kitces.com/blog/2022-best-financial-advisor-conferences-community-deep-learning-topical-ce/?utm_source=Top2022Conf_badge&utm_medium=Top2022Conf_badge&utm_campaign=Top2022Conf_badge"><img src="https://www.kitces.com/wp-content/uploads/2021/11/Top-Advisor-Conferences-2022-Badge.png" alt="Best Conferences For Top Financial Advisors To Attend In 2022 – Rankings From Nerd's Eye View | Kitces.com" title="Best Conferences For Top Financial Advisors To Attend In 2022 – Rankings From Nerd's Eye View | Kitces.com" /></a></div><p>
<div style="text-align: center; padding: 10px;"><a href="https://www.kitces.com/blog/2022-best-financial-advisor-conferences-community-deep-learning-topical-ce/?utm_source=Top2022Conf_badge&utm_medium=Top2022Conf_badge&utm_campaign=Top2022Conf_badge"><img src="https://www.kitces.com/wp-content/uploads/2021/11/Top-Advisor-Conferences-2022-Badge.png" alt="Best Conferences For Top Financial Advisors To Attend In 2022 – Rankings From Nerd's Eye View | Kitces.com" title="Best Conferences For Top Financial Advisors To Attend In 2022 – Rankings From Nerd's Eye View | Kitces.com" /></a></div><p>
<div style="text-align: center; padding: 10px;"><a href="https://www.kitces.com/blog/2022-best-financial-advisor-conferences-community-deep-learning-topical-ce/?utm_source=Top2022Conf_badge&utm_medium=Top2022Conf_badge&utm_campaign=Top2022Conf_badge"><img src="https://www.kitces.com/wp-content/uploads/2021/11/Top-Advisor-Conferences-2022-Badge.png" alt="Best Conferences For Top Financial Advisors To Attend In 2022 – Rankings From Nerd's Eye View | Kitces.com" title="Best Conferences For Top Financial Advisors To Attend In 2022 – Rankings From Nerd's Eye View | Kitces.com" /></a></div><p>
<div style="text-align: center; padding: 10px;"><a href="https://www.kitces.com/blog/2022-best-financial-advisor-conferences-community-deep-learning-topical-ce/?utm_source=Top2022Conf_badge&utm_medium=Top2022Conf_badge&utm_campaign=Top2022Conf_badge"><img src="https://www.kitces.com/wp-content/uploads/2021/11/Top-Advisor-Conferences-2022-Badge.png" alt="Best Conferences For Top Financial Advisors To Attend In 2022 – Rankings From Nerd's Eye View | Kitces.com" title="Best Conferences For Top Financial Advisors To Attend In 2022 – Rankings From Nerd's Eye View | Kitces.com" /></a></div><p>
<div style="text-align: center; padding: 10px;"><a href="https://www.kitces.com/blog/2022-best-financial-advisor-conferences-community-deep-learning-topical-ce/?utm_source=Top2022Conf_badge&utm_medium=Top2022Conf_badge&utm_campaign=Top2022Conf_badge"><img src="https://www.kitces.com/wp-content/uploads/2021/11/Top-Advisor-Conferences-2022-Badge.png" alt="Best Conferences For Top Financial Advisors To Attend In 2022 – Rankings From Nerd's Eye View | Kitces.com" title="Best Conferences For Top Financial Advisors To Attend In 2022 – Rankings From Nerd's Eye View | Kitces.com" /></a></div><p>
<div style="text-align: center; padding: 10px;"><a href="https://www.kitces.com/blog/2022-best-financial-advisor-conferences-community-deep-learning-topical-ce/?utm_source=Top2022Conf_badge&utm_medium=Top2022Conf_badge&utm_campaign=Top2022Conf_badge"><img src="https://www.kitces.com/wp-content/uploads/2021/11/Top-Advisor-Conferences-2022-Badge.png" alt="Best Conferences For Top Financial Advisors To Attend In 2022 – Rankings From Nerd's Eye View | Kitces.com" title="Best Conferences For Top Financial Advisors To Attend In 2022 – Rankings From Nerd's Eye View | Kitces.com" /></a></div><p>
<div style="text-align: center; padding: 10px;"><a href="https://www.kitces.com/blog/2022-best-financial-advisor-conferences-community-deep-learning-topical-ce/?utm_source=Top2022Conf_badge&utm_medium=Top2022Conf_badge&utm_campaign=Top2022Conf_badge"><img src="https://www.kitces.com/wp-content/uploads/2021/11/Top-Advisor-Conferences-2022-Badge.png" alt="Best Conferences For Top Financial Advisors To Attend In 2022 – Rankings From Nerd's Eye View | Kitces.com" title="Best Conferences For Top Financial Advisors To Attend In 2022 – Rankings From Nerd's Eye View | Kitces.com" /></a></div><p>
<div style="text-align: center; padding: 10px;"><a href="https://www.kitces.com/blog/2022-best-financial-advisor-conferences-community-deep-learning-topical-ce/?utm_source=Top2022Conf_badge&utm_medium=Top2022Conf_badge&utm_campaign=Top2022Conf_badge"><img src="https://www.kitces.com/wp-content/uploads/2021/11/Top-Advisor-Conferences-2022-Badge.png" alt="Best Conferences For Top Financial Advisors To Attend In 2022 – Rankings From Nerd's Eye View | Kitces.com" title="Best Conferences For Top Financial Advisors To Attend In 2022 – Rankings From Nerd's Eye View | Kitces.com" /></a></div><p>
<div style="text-align: center; padding: 10px;"><a href="https://www.kitces.com/blog/2022-best-financial-advisor-conferences-community-deep-learning-topical-ce/?utm_source=Top2022Conf_badge&utm_medium=Top2022Conf_badge&utm_campaign=Top2022Conf_badge"><img src="https://www.kitces.com/wp-content/uploads/2021/11/Top-Advisor-Conferences-2022-Badge.png" alt="Best Conferences For Top Financial Advisors To Attend In 2022 – Rankings From Nerd's Eye View | Kitces.com" title="Best Conferences For Top Financial Advisors To Attend In 2022 – Rankings From Nerd's Eye View | Kitces.com" /></a></div><p>
<div style="text-align: center; padding: 10px;"><a href="https://www.kitces.com/blog/2022-best-financial-advisor-conferences-community-deep-learning-topical-ce/?utm_source=Top2022Conf_badge&utm_medium=Top2022Conf_badge&utm_campaign=Top2022Conf_badge"><img src="https://www.kitces.com/wp-content/uploads/2021/11/Top-Advisor-Conferences-2022-Badge.png" alt="Best Conferences For Top Financial Advisors To Attend In 2022 – Rankings From Nerd's Eye View | Kitces.com" title="Best Conferences For Top Financial Advisors To Attend In 2022 – Rankings From Nerd's Eye View | Kitces.com" /></a></div><p>
<div style="text-align: center; padding: 10px;"><a href="https://www.kitces.com/blog/2022-best-financial-advisor-conferences-community-deep-learning-topical-ce/?utm_source=Top2022Conf_badge&utm_medium=Top2022Conf_badge&utm_campaign=Top2022Conf_badge"><img src="https://www.kitces.com/wp-content/uploads/2021/11/Top-Advisor-Conferences-2022-Badge.png" alt="Best Conferences For Top Financial Advisors To Attend In 2022 – Rankings From Nerd's Eye View | Kitces.com" title="Best Conferences For Top Financial Advisors To Attend In 2022 – Rankings From Nerd's Eye View | Kitces.com" /></a></div><p>
<div style="text-align: center; padding: 10px;"><a href="https://www.kitces.com/blog/2022-best-financial-advisor-conferences-community-deep-learning-topical-ce/?utm_source=Top2022Conf_badge&utm_medium=Top2022Conf_badge&utm_campaign=Top2022Conf_badge"><img src="https://www.kitces.com/wp-content/uploads/2021/11/Top-Advisor-Conferences-2022-Badge.png" alt="Best Conferences For Top Financial Advisors To Attend In 2022 – Rankings From Nerd's Eye View | Kitces.com" title="Best Conferences For Top Financial Advisors To Attend In 2022 – Rankings From Nerd's Eye View | Kitces.com" /></a></div><p>
<div style="text-align: center; padding: 10px;"><a href="https://www.kitces.com/blog/2022-best-financial-advisor-conferences-community-deep-learning-topical-ce/?utm_source=Top2022Conf_badge&utm_medium=Top2022Conf_badge&utm_campaign=Top2022Conf_badge"><img src="https://www.kitces.com/wp-content/uploads/2021/11/Top-Advisor-Conferences-2022-Badge.png" alt="Best Conferences For Top Financial Advisors To Attend In 2022 – Rankings From Nerd's Eye View | Kitces.com" title="Best Conferences For Top Financial Advisors To Attend In 2022 – Rankings From Nerd's Eye View | Kitces.com" /></a></div><p>
<div style="text-align: center; padding: 10px;"><a href="https://www.kitces.com/blog/2022-best-financial-advisor-conferences-community-deep-learning-topical-ce/?utm_source=Top2022Conf_badge&utm_medium=Top2022Conf_badge&utm_campaign=Top2022Conf_badge"><img src="https://www.kitces.com/wp-content/uploads/2021/11/Top-Advisor-Conferences-2022-Badge.png" alt="Best Conferences For Top Financial Advisors To Attend In 2022 – Rankings From Nerd's Eye View | Kitces.com" title="Best Conferences For Top Financial Advisors To Attend In 2022 – Rankings From Nerd's Eye View | Kitces.com" /></a></div><p>
<div style="text-align: center; padding: 10px;"><a href="https://www.kitces.com/blog/2022-best-financial-advisor-conferences-community-deep-learning-topical-ce/?utm_source=Top2022Conf_badge&utm_medium=Top2022Conf_badge&utm_campaign=Top2022Conf_badge"><img src="https://www.kitces.com/wp-content/uploads/2021/11/Top-Advisor-Conferences-2022-Badge.png" alt="Best Conferences For Top Financial Advisors To Attend In 2022 – Rankings From Nerd's Eye View | Kitces.com" title="Best Conferences For Top Financial Advisors To Attend In 2022 – Rankings From Nerd's Eye View | Kitces.com" /></a></div><p>
<div style="text-align: center; padding: 10px;"><a href="https://www.kitces.com/blog/2022-best-financial-advisor-conferences-community-deep-learning-topical-ce/?utm_source=Top2022Conf_badge&utm_medium=Top2022Conf_badge&utm_campaign=Top2022Conf_badge"><img src="https://www.kitces.com/wp-content/uploads/2021/11/Top-Advisor-Conferences-2022-Badge.png" alt="Best Conferences For Top Financial Advisors To Attend In 2022 – Rankings From Nerd's Eye View | Kitces.com" title="Best Conferences For Top Financial Advisors To Attend In 2022 – Rankings From Nerd's Eye View | Kitces.com" /></a></div><p>
<div style="text-align: center; padding: 10px;"><a href="https://www.kitces.com/blog/2022-best-financial-advisor-conferences-community-deep-learning-topical-ce/?utm_source=Top2022Conf_badge&utm_medium=Top2022Conf_badge&utm_campaign=Top2022Conf_badge"><img src="https://www.kitces.com/wp-content/uploads/2021/11/Top-Advisor-Conferences-2022-Badge.png" alt="Best Conferences For Top Financial Advisors To Attend In 2022 – Rankings From Nerd's Eye View | Kitces.com" title="Best Conferences For Top Financial Advisors To Attend In 2022 – Rankings From Nerd's Eye View | Kitces.com" /></a></div><p>
<div style="text-align: center; padding: 10px;"><a href="https://www.kitces.com/blog/2022-best-financial-advisor-conferences-community-deep-learning-topical-ce/?utm_source=Top2022Conf_badge&utm_medium=Top2022Conf_badge&utm_campaign=Top2022Conf_badge"><img src="https://www.kitces.com/wp-content/uploads/2021/11/Top-Advisor-Conferences-2022-Badge.png" alt="Best Conferences For Top Financial Advisors To Attend In 2022 – Rankings From Nerd's Eye View | Kitces.com" title="Best Conferences For Top Financial Advisors To Attend In 2022 – Rankings From Nerd's Eye View | Kitces.com" /></a></div><p>
<div style="text-align: center; padding: 10px;"><a href="https://www.kitces.com/blog/2022-best-financial-advisor-conferences-community-deep-learning-topical-ce/?utm_source=Top2022Conf_badge&utm_medium=Top2022Conf_badge&utm_campaign=Top2022Conf_badge"><img src="https://www.kitces.com/wp-content/uploads/2021/11/Top-Advisor-Conferences-2022-Badge.png" alt="Best Conferences For Top Financial Advisors To Attend In 2022 – Rankings From Nerd's Eye View | Kitces.com" title="Best Conferences For Top Financial Advisors To Attend In 2022 – Rankings From Nerd's Eye View | Kitces.com" /></a></div><p>
<div style="text-align: center; padding: 10px;"><a href="https://www.kitces.com/blog/2022-best-financial-advisor-conferences-community-deep-learning-topical-ce/?utm_source=Top2022Conf_badge&utm_medium=Top2022Conf_badge&utm_campaign=Top2022Conf_badge"><img src="https://www.kitces.com/wp-content/uploads/2021/11/Top-Advisor-Conferences-2022-Badge.png" alt="Best Conferences For Top Financial Advisors To Attend In 2022 – Rankings From Nerd's Eye View | Kitces.com" title="Best Conferences For Top Financial Advisors To Attend In 2022 – Rankings From Nerd's Eye View | Kitces.com" /></a></div><p>
<div style="text-align: center; padding: 10px;"><a href="https://www.kitces.com/blog/2022-best-financial-advisor-conferences-community-deep-learning-topical-ce/?utm_source=Top2022Conf_badge&utm_medium=Top2022Conf_badge&utm_campaign=Top2022Conf_badge"><img src="https://www.kitces.com/wp-content/uploads/2021/11/Top-Advisor-Conferences-2022-Badge.png" alt="Best Conferences For Top Financial Advisors To Attend In 2022 – Rankings From Nerd's Eye View | Kitces.com" title="Best Conferences For Top Financial Advisors To Attend In 2022 – Rankings From Nerd's Eye View | Kitces.com" /></a></div><p>
<div style="text-align: center; padding: 10px;"><a href="https://www.kitces.com/blog/2022-best-financial-advisor-conferences-community-deep-learning-topical-ce/?utm_source=Top2022Conf_badge&utm_medium=Top2022Conf_badge&utm_campaign=Top2022Conf_badge"><img src="https://www.kitces.com/wp-content/uploads/2021/11/Top-Advisor-Conferences-2022-Badge.png" alt="Best Conferences For Top Financial Advisors To Attend In 2022 – Rankings From Nerd's Eye View | Kitces.com" title="Best Conferences For Top Financial Advisors To Attend In 2022 – Rankings From Nerd's Eye View | Kitces.com" /></a></div><p>
<div style="text-align: center; padding: 10px;"><a href="https://www.kitces.com/blog/2022-best-financial-advisor-conferences-community-deep-learning-topical-ce/?utm_source=Top2022Conf_badge&utm_medium=Top2022Conf_badge&utm_campaign=Top2022Conf_badge"><img src="https://www.kitces.com/wp-content/uploads/2021/11/Top-Advisor-Conferences-2022-Badge.png" alt="Best Conferences For Top Financial Advisors To Attend In 2022 – Rankings From Nerd's Eye View | Kitces.com" title="Best Conferences For Top Financial Advisors To Attend In 2022 – Rankings From Nerd's Eye View | Kitces.com" /></a></div><p>
<div style="text-align: center; padding: 10px;"><a href="https://www.kitces.com/blog/2022-best-financial-advisor-conferences-community-deep-learning-topical-ce/?utm_source=Top2022Conf_badge&utm_medium=Top2022Conf_badge&utm_campaign=Top2022Conf_badge"><img src="https://www.kitces.com/wp-content/uploads/2021/11/Top-Advisor-Conferences-2022-Badge.png" alt="Best Conferences For Top Financial Advisors To Attend In 2022 – Rankings From Nerd's Eye View | Kitces.com" title="Best Conferences For Top Financial Advisors To Attend In 2022 – Rankings From Nerd's Eye View | Kitces.com" /></a></div><p>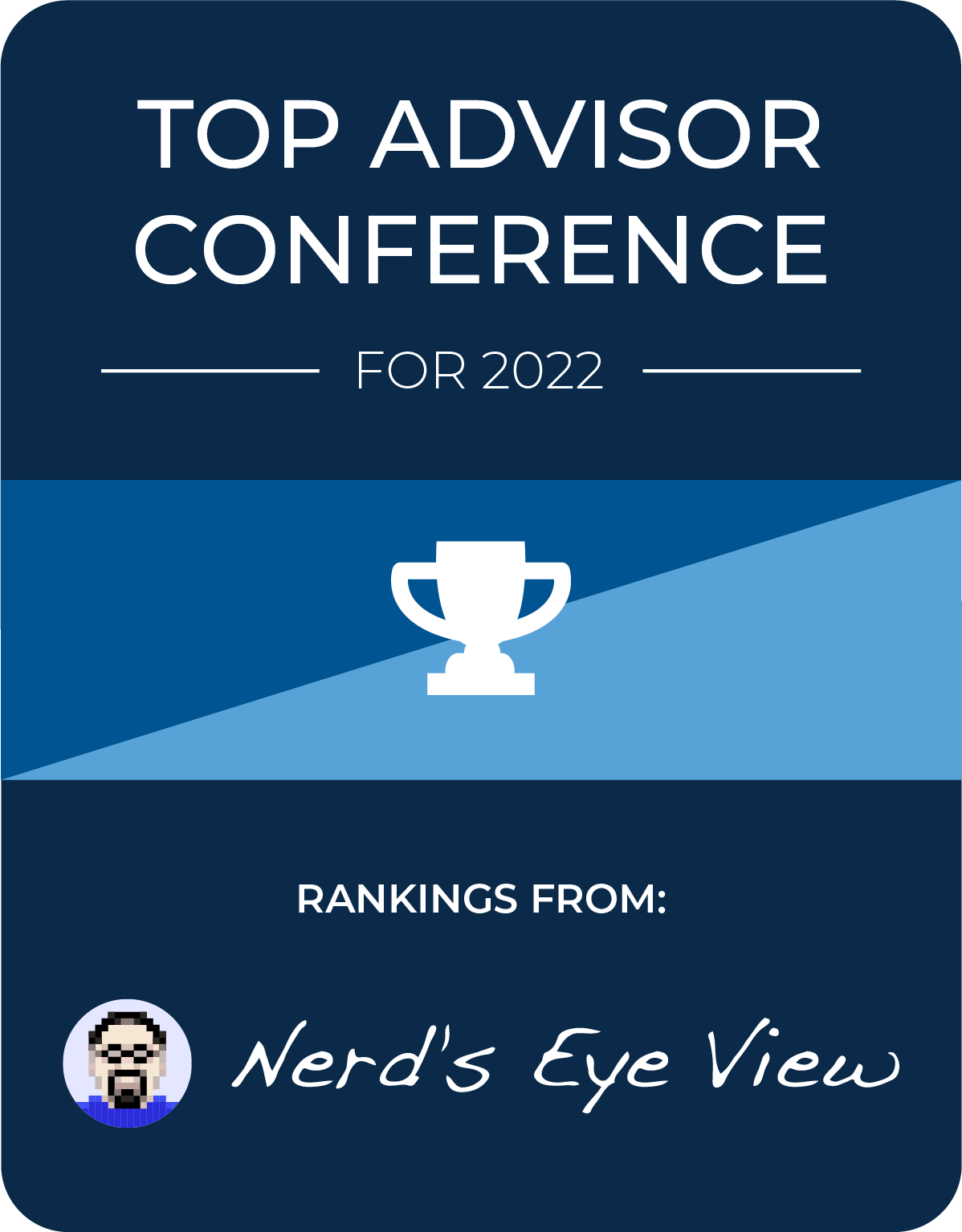 ---
New Conference To Watch Badge:
You can embed a badge for your conference website or marketing materials using the following:
Copy the embed code below:
<div style="text-align: center; padding: 10px;"><a href="https://www.kitces.com/blog/2022-best-financial-advisor-conferences-community-deep-learning-topical-ce/?utm_source=New2022Conf_badge&utm_medium=New2022Conf_badge&utm_campaign=New2022Conf_badge"><img src="https://www.kitces.com/wp-content/uploads/2021/11/New-Conference-To-Watch-2022-Badge.png" alt="New Conferences To Watch For Financial Advisors In 2022 – Rankings From Nerd's Eye View | Kitces.com" title="New Conferences To Watch For Financial Advisors In 2022 – Rankings From Nerd's Eye View | Kitces.com" /></a></div><p>
<div style="text-align: center; padding: 10px;"><a href="https://www.kitces.com/blog/2022-best-financial-advisor-conferences-community-deep-learning-topical-ce/?utm_source=New2022Conf_badge&utm_medium=New2022Conf_badge&utm_campaign=New2022Conf_badge"><img src="https://www.kitces.com/wp-content/uploads/2021/11/New-Conference-To-Watch-2022-Badge.png" alt="New Conferences To Watch For Financial Advisors In 2022 – Rankings From Nerd's Eye View | Kitces.com" title="New Conferences To Watch For Financial Advisors In 2022 – Rankings From Nerd's Eye View | Kitces.com" /></a></div><p>
<div style="text-align: center; padding: 10px;"><a href="https://www.kitces.com/blog/2022-best-financial-advisor-conferences-community-deep-learning-topical-ce/?utm_source=New2022Conf_badge&utm_medium=New2022Conf_badge&utm_campaign=New2022Conf_badge"><img src="https://www.kitces.com/wp-content/uploads/2021/11/New-Conference-To-Watch-2022-Badge.png" alt="New Conferences To Watch For Financial Advisors In 2022 – Rankings From Nerd's Eye View | Kitces.com" title="New Conferences To Watch For Financial Advisors In 2022 – Rankings From Nerd's Eye View | Kitces.com" /></a></div><p>
<div style="text-align: center; padding: 10px;"><a href="https://www.kitces.com/blog/2022-best-financial-advisor-conferences-community-deep-learning-topical-ce/?utm_source=New2022Conf_badge&utm_medium=New2022Conf_badge&utm_campaign=New2022Conf_badge"><img src="https://www.kitces.com/wp-content/uploads/2021/11/New-Conference-To-Watch-2022-Badge.png" alt="New Conferences To Watch For Financial Advisors In 2022 – Rankings From Nerd's Eye View | Kitces.com" title="New Conferences To Watch For Financial Advisors In 2022 – Rankings From Nerd's Eye View | Kitces.com" /></a></div><p>
<div style="text-align: center; padding: 10px;"><a href="https://www.kitces.com/blog/2022-best-financial-advisor-conferences-community-deep-learning-topical-ce/?utm_source=New2022Conf_badge&utm_medium=New2022Conf_badge&utm_campaign=New2022Conf_badge"><img src="https://www.kitces.com/wp-content/uploads/2021/11/New-Conference-To-Watch-2022-Badge.png" alt="New Conferences To Watch For Financial Advisors In 2022 – Rankings From Nerd's Eye View | Kitces.com" title="New Conferences To Watch For Financial Advisors In 2022 – Rankings From Nerd's Eye View | Kitces.com" /></a></div><p>
<div style="text-align: center; padding: 10px;"><a href="https://www.kitces.com/blog/2022-best-financial-advisor-conferences-community-deep-learning-topical-ce/?utm_source=New2022Conf_badge&utm_medium=New2022Conf_badge&utm_campaign=New2022Conf_badge"><img src="https://www.kitces.com/wp-content/uploads/2021/11/New-Conference-To-Watch-2022-Badge.png" alt="New Conferences To Watch For Financial Advisors In 2022 – Rankings From Nerd's Eye View | Kitces.com" title="New Conferences To Watch For Financial Advisors In 2022 – Rankings From Nerd's Eye View | Kitces.com" /></a></div><p>
<div style="text-align: center; padding: 10px;"><a href="https://www.kitces.com/blog/2022-best-financial-advisor-conferences-community-deep-learning-topical-ce/?utm_source=New2022Conf_badge&utm_medium=New2022Conf_badge&utm_campaign=New2022Conf_badge"><img src="https://www.kitces.com/wp-content/uploads/2021/11/New-Conference-To-Watch-2022-Badge.png" alt="New Conferences To Watch For Financial Advisors In 2022 – Rankings From Nerd's Eye View | Kitces.com" title="New Conferences To Watch For Financial Advisors In 2022 – Rankings From Nerd's Eye View | Kitces.com" /></a></div><p>
<div style="text-align: center; padding: 10px;"><a href="https://www.kitces.com/blog/2022-best-financial-advisor-conferences-community-deep-learning-topical-ce/?utm_source=New2022Conf_badge&utm_medium=New2022Conf_badge&utm_campaign=New2022Conf_badge"><img src="https://www.kitces.com/wp-content/uploads/2021/11/New-Conference-To-Watch-2022-Badge.png" alt="New Conferences To Watch For Financial Advisors In 2022 – Rankings From Nerd's Eye View | Kitces.com" title="New Conferences To Watch For Financial Advisors In 2022 – Rankings From Nerd's Eye View | Kitces.com" /></a></div><p>
<div style="text-align: center; padding: 10px;"><a href="https://www.kitces.com/blog/2022-best-financial-advisor-conferences-community-deep-learning-topical-ce/?utm_source=New2022Conf_badge&utm_medium=New2022Conf_badge&utm_campaign=New2022Conf_badge"><img src="https://www.kitces.com/wp-content/uploads/2021/11/New-Conference-To-Watch-2022-Badge.png" alt="New Conferences To Watch For Financial Advisors In 2022 – Rankings From Nerd's Eye View | Kitces.com" title="New Conferences To Watch For Financial Advisors In 2022 – Rankings From Nerd's Eye View | Kitces.com" /></a></div><p>
<div style="text-align: center; padding: 10px;"><a href="https://www.kitces.com/blog/2022-best-financial-advisor-conferences-community-deep-learning-topical-ce/?utm_source=New2022Conf_badge&utm_medium=New2022Conf_badge&utm_campaign=New2022Conf_badge"><img src="https://www.kitces.com/wp-content/uploads/2021/11/New-Conference-To-Watch-2022-Badge.png" alt="New Conferences To Watch For Financial Advisors In 2022 – Rankings From Nerd's Eye View | Kitces.com" title="New Conferences To Watch For Financial Advisors In 2022 – Rankings From Nerd's Eye View | Kitces.com" /></a></div><p>
<div style="text-align: center; padding: 10px;"><a href="https://www.kitces.com/blog/2022-best-financial-advisor-conferences-community-deep-learning-topical-ce/?utm_source=New2022Conf_badge&utm_medium=New2022Conf_badge&utm_campaign=New2022Conf_badge"><img src="https://www.kitces.com/wp-content/uploads/2021/11/New-Conference-To-Watch-2022-Badge.png" alt="New Conferences To Watch For Financial Advisors In 2022 – Rankings From Nerd's Eye View | Kitces.com" title="New Conferences To Watch For Financial Advisors In 2022 – Rankings From Nerd's Eye View | Kitces.com" /></a></div><p>
<div style="text-align: center; padding: 10px;"><a href="https://www.kitces.com/blog/2022-best-financial-advisor-conferences-community-deep-learning-topical-ce/?utm_source=New2022Conf_badge&utm_medium=New2022Conf_badge&utm_campaign=New2022Conf_badge"><img src="https://www.kitces.com/wp-content/uploads/2021/11/New-Conference-To-Watch-2022-Badge.png" alt="New Conferences To Watch For Financial Advisors In 2022 – Rankings From Nerd's Eye View | Kitces.com" title="New Conferences To Watch For Financial Advisors In 2022 – Rankings From Nerd's Eye View | Kitces.com" /></a></div><p>
<div style="text-align: center; padding: 10px;"><a href="https://www.kitces.com/blog/2022-best-financial-advisor-conferences-community-deep-learning-topical-ce/?utm_source=New2022Conf_badge&utm_medium=New2022Conf_badge&utm_campaign=New2022Conf_badge"><img src="https://www.kitces.com/wp-content/uploads/2021/11/New-Conference-To-Watch-2022-Badge.png" alt="New Conferences To Watch For Financial Advisors In 2022 – Rankings From Nerd's Eye View | Kitces.com" title="New Conferences To Watch For Financial Advisors In 2022 – Rankings From Nerd's Eye View | Kitces.com" /></a></div><p>
<div style="text-align: center; padding: 10px;"><a href="https://www.kitces.com/blog/2022-best-financial-advisor-conferences-community-deep-learning-topical-ce/?utm_source=New2022Conf_badge&utm_medium=New2022Conf_badge&utm_campaign=New2022Conf_badge"><img src="https://www.kitces.com/wp-content/uploads/2021/11/New-Conference-To-Watch-2022-Badge.png" alt="New Conferences To Watch For Financial Advisors In 2022 – Rankings From Nerd's Eye View | Kitces.com" title="New Conferences To Watch For Financial Advisors In 2022 – Rankings From Nerd's Eye View | Kitces.com" /></a></div><p>
<div style="text-align: center; padding: 10px;"><a href="https://www.kitces.com/blog/2022-best-financial-advisor-conferences-community-deep-learning-topical-ce/?utm_source=New2022Conf_badge&utm_medium=New2022Conf_badge&utm_campaign=New2022Conf_badge"><img src="https://www.kitces.com/wp-content/uploads/2021/11/New-Conference-To-Watch-2022-Badge.png" alt="New Conferences To Watch For Financial Advisors In 2022 – Rankings From Nerd's Eye View | Kitces.com" title="New Conferences To Watch For Financial Advisors In 2022 – Rankings From Nerd's Eye View | Kitces.com" /></a></div><p>
<div style="text-align: center; padding: 10px;"><a href="https://www.kitces.com/blog/2022-best-financial-advisor-conferences-community-deep-learning-topical-ce/?utm_source=New2022Conf_badge&utm_medium=New2022Conf_badge&utm_campaign=New2022Conf_badge"><img src="https://www.kitces.com/wp-content/uploads/2021/11/New-Conference-To-Watch-2022-Badge.png" alt="New Conferences To Watch For Financial Advisors In 2022 – Rankings From Nerd's Eye View | Kitces.com" title="New Conferences To Watch For Financial Advisors In 2022 – Rankings From Nerd's Eye View | Kitces.com" /></a></div><p>
<div style="text-align: center; padding: 10px;"><a href="https://www.kitces.com/blog/2022-best-financial-advisor-conferences-community-deep-learning-topical-ce/?utm_source=New2022Conf_badge&utm_medium=New2022Conf_badge&utm_campaign=New2022Conf_badge"><img src="https://www.kitces.com/wp-content/uploads/2021/11/New-Conference-To-Watch-2022-Badge.png" alt="New Conferences To Watch For Financial Advisors In 2022 – Rankings From Nerd's Eye View | Kitces.com" title="New Conferences To Watch For Financial Advisors In 2022 – Rankings From Nerd's Eye View | Kitces.com" /></a></div><p>
<div style="text-align: center; padding: 10px;"><a href="https://www.kitces.com/blog/2022-best-financial-advisor-conferences-community-deep-learning-topical-ce/?utm_source=New2022Conf_badge&utm_medium=New2022Conf_badge&utm_campaign=New2022Conf_badge"><img src="https://www.kitces.com/wp-content/uploads/2021/11/New-Conference-To-Watch-2022-Badge.png" alt="New Conferences To Watch For Financial Advisors In 2022 – Rankings From Nerd's Eye View | Kitces.com" title="New Conferences To Watch For Financial Advisors In 2022 – Rankings From Nerd's Eye View | Kitces.com" /></a></div><p>
<div style="text-align: center; padding: 10px;"><a href="https://www.kitces.com/blog/2022-best-financial-advisor-conferences-community-deep-learning-topical-ce/?utm_source=New2022Conf_badge&utm_medium=New2022Conf_badge&utm_campaign=New2022Conf_badge"><img src="https://www.kitces.com/wp-content/uploads/2021/11/New-Conference-To-Watch-2022-Badge.png" alt="New Conferences To Watch For Financial Advisors In 2022 – Rankings From Nerd's Eye View | Kitces.com" title="New Conferences To Watch For Financial Advisors In 2022 – Rankings From Nerd's Eye View | Kitces.com" /></a></div><p>
<div style="text-align: center; padding: 10px;"><a href="https://www.kitces.com/blog/2022-best-financial-advisor-conferences-community-deep-learning-topical-ce/?utm_source=New2022Conf_badge&utm_medium=New2022Conf_badge&utm_campaign=New2022Conf_badge"><img src="https://www.kitces.com/wp-content/uploads/2021/11/New-Conference-To-Watch-2022-Badge.png" alt="New Conferences To Watch For Financial Advisors In 2022 – Rankings From Nerd's Eye View | Kitces.com" title="New Conferences To Watch For Financial Advisors In 2022 – Rankings From Nerd's Eye View | Kitces.com" /></a></div><p>
<div style="text-align: center; padding: 10px;"><a href="https://www.kitces.com/blog/2022-best-financial-advisor-conferences-community-deep-learning-topical-ce/?utm_source=New2022Conf_badge&utm_medium=New2022Conf_badge&utm_campaign=New2022Conf_badge"><img src="https://www.kitces.com/wp-content/uploads/2021/11/New-Conference-To-Watch-2022-Badge.png" alt="New Conferences To Watch For Financial Advisors In 2022 – Rankings From Nerd's Eye View | Kitces.com" title="New Conferences To Watch For Financial Advisors In 2022 – Rankings From Nerd's Eye View | Kitces.com" /></a></div><p>
<div style="text-align: center; padding: 10px;"><a href="https://www.kitces.com/blog/2022-best-financial-advisor-conferences-community-deep-learning-topical-ce/?utm_source=New2022Conf_badge&utm_medium=New2022Conf_badge&utm_campaign=New2022Conf_badge"><img src="https://www.kitces.com/wp-content/uploads/2021/11/New-Conference-To-Watch-2022-Badge.png" alt="New Conferences To Watch For Financial Advisors In 2022 – Rankings From Nerd's Eye View | Kitces.com" title="New Conferences To Watch For Financial Advisors In 2022 – Rankings From Nerd's Eye View | Kitces.com" /></a></div><p>
<div style="text-align: center; padding: 10px;"><a href="https://www.kitces.com/blog/2022-best-financial-advisor-conferences-community-deep-learning-topical-ce/?utm_source=New2022Conf_badge&utm_medium=New2022Conf_badge&utm_campaign=New2022Conf_badge"><img src="https://www.kitces.com/wp-content/uploads/2021/11/New-Conference-To-Watch-2022-Badge.png" alt="New Conferences To Watch For Financial Advisors In 2022 – Rankings From Nerd's Eye View | Kitces.com" title="New Conferences To Watch For Financial Advisors In 2022 – Rankings From Nerd's Eye View | Kitces.com" /></a></div><p>
<div style="text-align: center; padding: 10px;"><a href="https://www.kitces.com/blog/2022-best-financial-advisor-conferences-community-deep-learning-topical-ce/?utm_source=New2022Conf_badge&utm_medium=New2022Conf_badge&utm_campaign=New2022Conf_badge"><img src="https://www.kitces.com/wp-content/uploads/2021/11/New-Conference-To-Watch-2022-Badge.png" alt="New Conferences To Watch For Financial Advisors In 2022 – Rankings From Nerd's Eye View | Kitces.com" title="New Conferences To Watch For Financial Advisors In 2022 – Rankings From Nerd's Eye View | Kitces.com" /></a></div><p>
<div style="text-align: center; padding: 10px;"><a href="https://www.kitces.com/blog/2022-best-financial-advisor-conferences-community-deep-learning-topical-ce/?utm_source=New2022Conf_badge&utm_medium=New2022Conf_badge&utm_campaign=New2022Conf_badge"><img src="https://www.kitces.com/wp-content/uploads/2021/11/New-Conference-To-Watch-2022-Badge.png" alt="New Conferences To Watch For Financial Advisors In 2022 – Rankings From Nerd's Eye View | Kitces.com" title="New Conferences To Watch For Financial Advisors In 2022 – Rankings From Nerd's Eye View | Kitces.com" /></a></div><p>
<div style="text-align: center; padding: 10px;"><a href="https://www.kitces.com/blog/2022-best-financial-advisor-conferences-community-deep-learning-topical-ce/?utm_source=New2022Conf_badge&utm_medium=New2022Conf_badge&utm_campaign=New2022Conf_badge"><img src="https://www.kitces.com/wp-content/uploads/2021/11/New-Conference-To-Watch-2022-Badge.png" alt="New Conferences To Watch For Financial Advisors In 2022 – Rankings From Nerd's Eye View | Kitces.com" title="New Conferences To Watch For Financial Advisors In 2022 – Rankings From Nerd's Eye View | Kitces.com" /></a></div><p>
<div style="text-align: center; padding: 10px;"><a href="https://www.kitces.com/blog/2022-best-financial-advisor-conferences-community-deep-learning-topical-ce/?utm_source=New2022Conf_badge&utm_medium=New2022Conf_badge&utm_campaign=New2022Conf_badge"><img src="https://www.kitces.com/wp-content/uploads/2021/11/New-Conference-To-Watch-2022-Badge.png" alt="New Conferences To Watch For Financial Advisors In 2022 – Rankings From Nerd's Eye View | Kitces.com" title="New Conferences To Watch For Financial Advisors In 2022 – Rankings From Nerd's Eye View | Kitces.com" /></a></div><p>
<div style="text-align: center; padding: 10px;"><a href="https://www.kitces.com/blog/2022-best-financial-advisor-conferences-community-deep-learning-topical-ce/?utm_source=New2022Conf_badge&utm_medium=New2022Conf_badge&utm_campaign=New2022Conf_badge"><img src="https://www.kitces.com/wp-content/uploads/2021/11/New-Conference-To-Watch-2022-Badge.png" alt="New Conferences To Watch For Financial Advisors In 2022 – Rankings From Nerd's Eye View | Kitces.com" title="New Conferences To Watch For Financial Advisors In 2022 – Rankings From Nerd's Eye View | Kitces.com" /></a></div><p>