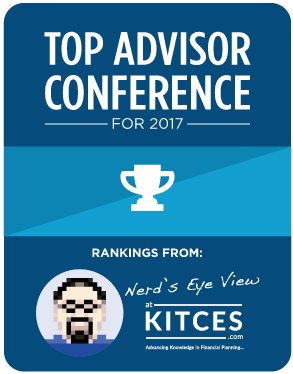 There's a famous saying that to be a successful business owner, you have to make sure you don't just work in the business, but that you also work on the business. Which means occasionally taking time out to step away from the daily grind of working with clients and running the business – ideally, by literally stepping away from the business, and going to at least one financial advisor conference every year. Because the reality is that for a successful advisory firm, you really just need one good takeaway from a conference to take home and have a material impact on the business that makes the trip more than worthwhile.
The caveat, though, is that there can be an overwhelming number of financial advisor conferences to choose from in the first place. From events run by the various membership associations, to those hosted by custodians and broker-dealers, a growing number of conferences run my media publications, and more, it's difficult to figure out which are really the top financial advisor conferences, and which will be little more than a parade of thinly-veiled product pitches by sponsors from the podium.
Given that I speak at nearly 70 conferences myself every year, I've participated in virtually every major conference out there for financial advisors, and as a result I'm often asked for recommendations of what I think are the best conferences for financial advisors. The caveat is that – as with financial planning advice itself – the "best" will vary depending on the person receiving the advice… in this case, depending on the kind of job or business the advisor has, where they are in their career progression, if they're looking for practice management guidance (or a firm to buy or merge with or sell to) versus a new job and personal career advancement, and what kind of expertise they already have (or are looking for), etc.
Accordingly, in 2012 I started to craft my own annual list of "best-in-class" top conferences for financial advisors, based on my own travels and experience, and divvied up into categories that would make it easier for advisors to select what matches their own needs at their current business or career stage.
And now, I'm excited to present my newest list of "Top Financial Advisor Conferences" for 2017, which introduces several new categories like "Best Fiduciary" (given the looming rollout of the DoL fiduciary rules in April!) and "Best SRI Conference" (given the rapidly rising popularity of sustainable investing!). Of course, the reality is that the current 2016 conference season isn't even quite over yet, but with some of the best conferences in 2017 running in January and February of next year, the early bird registrations for 2016 events are already closing soon!
So I hope you find this year's 2017 conferences list to be helpful as a guide in planning your own conference budget and schedule for next year, and be certain to take advantage of the special discount codes that several conferences have offered to all of you as Nerd's Eye View readers!