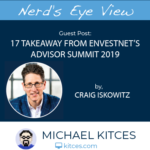 Last week, Envestnet – the wealth management mega-platform that now touches nearly 100,000 advisors with their various technology tools – hosted their annual 2019 Advisor Summit in Austin, Texas. Fresh off the heels of its half-billion-dollar acquisition of MoneyGuidePro – a transaction that officially closed on the first day of the conference itself – Envestnet's Advisor Summit provided a fascinating glimpse of what Envestnet plans to do with MoneyGuidePro, its recent purchase of Yodlee, and where the company sees its next opportunities… as communicated in a series of keynotes from the Envestnet leadership to over 3,000 attendees.
In the guest post, Craig Iskowitz – CEO and founder of Ezra Group, a financial technology consulting firm – provides a recap of the 2019 Envestnet Advisor Summit and shares highlights from various presentations as the company maps out their vision for creating an integrated wealth management platform that allows advisors to deliver solutions that support not just financial planning but the "financial wellness" of their clients.
From its roots as a TAMP and distributor of various third-party managed accounts, Envestnet in recent years has executed a series of industry-changing acquisitions, with two blockbuster deals announced just in the past few months, including the purchases of PortfolioCenter from Schwab in March and MoneyGuidePro in April. The newly-named Envestnet | MoneyGuide was out in force at the conference, as the company took the opportunity to point out that the deal aligns perfectly with their financial wellness marketing strategy, as they endeavor to differentiate themselves from an increasingly crowded wealth management technology space by building an integrated experience of portfolio management (via Tamarac), financial planning (via MoneyGuidePro), and centralized data (via Yodlee), to give advisors a more holistic platform to service their clients (and run their own businesses).
Envestnet executives also focused on data integration and analytics, as Envestnet's acquisition of Yodlee back in 2015 continues to bear fruit, with the company touting that they've improved the accuracy of held-away data from 72% to the low 90s, and they continue to integrate their suite of tools and bulk up their data sources. Data also is also playing a big role as Envestnet builds a mobile budgeting app that advisors can white-label and offer to their clients, as well as in their plans to give advisors and firms the ability benchmark their performance and fees against 90,000 other advisors on Envestnet using the Advisor Analytics package (and to predict with 90% accuracy that a client is planning to jump ship within 90 days!).
Finally, Envestnet took the opportunity to highlight its recent introduction of its Credit and Insurance exchanges, which are seen as yet another game-changing development for the industry as the company seeks to address not only a huge area of opportunity for advisors who continue to seek ways to differentiate themselves in a crowded marketplace but a tremendous gap between client expectations of what products they should be receiving from advisors versus what advisors are actually able to provide, especially in the growing fee-based channel.
Ultimately, the 2019 Advisor Summit allowed Envestnet to present to the advisor community its vision for the future of the industry, and the massive technology platform it is building for them. Given how notoriously difficult it's been for businesses to successfully integrate complex systems into one cohesive platform, though, it remains to be seen whether Envestnet can realize its vision. Nonetheless, Envestnet has moved well ahead of the pack to dominate every part of the marketplace they've entered, and has, at the very least, put themselves in a position to deliver on their ambitious goals.