Executive Summary
From the sudden changes to everyday life brought on by the pandemic to navigating the new world of hybrid or remote work, employees have endured a challenging few years. At the same time, this shock to the system has led many individuals to reflect on where they are in their careers today and where they want to go in the future. But thinking about career goals is not necessarily enough; instead, employees need to take ownership of their careers to achieve the career goals they seek.
In this guest post, Stacey McKinnon, Chief Operating Officer (COO) of Morton Wealth, discusses her career path and the steps employees can take to build their own desired careers.
The first step to career advancement is to understand your current mindset. For instance, an individual with a sense of curiosity or open-mindedness will likely be better prepared to take ownership of their circumstances than one who is merely trying to protect their current position. In addition to understanding mindset, it is vital to understand your personal 'why' or purpose. Defining your personal 'why' helps give meaning to your work, serves as a North Star that offers direction when making big decisions, and provides motivation to keep pursuing your goals during tough times.
The next step is to discuss career intentions with personal stakeholders, including friends and family. For example, if your spouse knows your 'why' and understands what you are trying to achieve in your career – and how that will impact your family life – they are more likely to accept when you have to stay late at work or spend extra hours studying for a designation. But when personal stakeholders in your life do not understand what you are trying to achieve, it can become much harder to grow a career because of the increased likelihood of conflict and disagreements.
Building a professional community is another important step in advancing your desired career path. Such a community could include a sponsor (a leader who has direct influence over your career and will give you advice that leads to advancement), a mentor (a person who has been where you want to go and will be a safe space for you to seek guidance), and a confidant (someone unrelated to your company that will be there to help you work through issues and solve problems). These people will make up your team of coaches and provide you with specific advice that will lead to better decision-making around your career.
Also, because companies typically look for people who will go above and beyond to improve the company, seeking ways to add value can help you advance within the firm. This could include creating a proposal to enhance the firm's growth, resiliency, profitability, or client experience and sharing ideas with your direct manager before moving it up the leadership chain to understand better how upper management might respond to the idea. You can also be proactive about gaining expertise by pursuing relevant designations or training in soft skills like leadership.
Ultimately, the key point is that successful careers rarely just 'happen' to individuals; instead, the most meaningful careers typically result when people take the initiative regarding their professional development. From finding ways to add value to your firm to building your expertise and network, there are many ways to claim ownership of your career and move toward your goals in the coming year!
In the midst of the Great Re-evaluation and Great Resignation, it has been common for many workers to feel a lack of control over their futures, uncertainty when it comes to establishing meaningful careers, and recurring burnout. With nearly 3 out of 5 employees reporting they have experienced the negative impacts of workplace stress, it is no wonder the majority of people are wondering where their career goes from here.
To get out of these unfulfilling states, we have to take control back and be the makers of our own destinies. We need to adjust our mindset to be focused on the outcomes we want to achieve, and we need to be dedicated to the process of getting there. By taking true ownership of our future, we will be more likely to pursue a career where we are happy, fulfilled, and empowered. The journey won't be easy, but it will be worth it.
Stacey's Journey
I never imagined I would end up in wealth management. I pursued a business economics degree in college because I figured it would be a catch-all, and I layered on a second degree in religious studies because I loved history and culture. After college, I worked as a wedding coordinator, barista, catering manager, and Pilates instructor. While these jobs were interesting, I always hit a ceiling. The work was laborious, and I often went home unfulfilled and, frankly, bored.
However, even though these jobs weren't always deeply fulfilling, they taught me many lessons along the way that have supported my growth at Morton Wealth. Specifically, I learned what it meant to serve others, how to set client expectations, the importance of planning, and how to communicate effectively. These skills – not the technical ones – were what made Meghan Pinchuk, CIO of Morton Wealth and one of my Pilates clients, notice me and offer me a position with Morton.
I started working at Morton in 2014 as an Operations Associate, preparing and processing client paperwork. Meghan had painted a picture of life as a financial advisor, but I had no idea about what that really meant or the career possibilities that were opening up for me ahead.
In my first few weeks at Morton, I was fairly certain I had signed up for a foreign language course. I was overcome with anxiety, wondering if I would ever understand the complex world of financial planning and investments. But I took it day by day and slowly started to understand phrases. I asked tons of questions, began my courses for CFP certification, and could (mostly) follow conversations at our weekly investment committee meetings.
When I started, I was told that it would take 3 years to become an associate advisor and another 3 to become an advisor. The timeline was clear, but I became slightly impatient to be in a place where I added value. I didn't want to just be a doer that completed paperwork. I wanted to make an impact.
Six months into working at Morton, I asked if I could help with marketing. I figured that if I wasn't ready to be an advisor yet, the least I could do was help the company better represent our value. I used what I knew to design a new site, create brand continuity, and develop a new pitch book. Leadership was thrilled because I took an item off their to-do list, and I was proud that I could help the company. This was the moment I realized that building a career wouldn't just be about taking courses and working with clients. I could build a career focused on making a company better.
This experience made me laser in on how I could help to improve the company. In my first 4 years at Morton, I developed a client onboarding program, built an employee development and training structure, designed workflow processes, implemented a new CRM/reporting software, revamped the compensation structure, passed the CFP exam, and became an advisor. In late 2017, leadership gave me the option to either pursue the advisory track or become the Chief Operating Officer.
After seeking advice from mentors, one particular consultant, Angie Herbers, asked me the question that forced me to think deeply about the impact I wanted to make through my work. She asked, "Do you want to directly impact 100 clients or indirectly impact thousands?" It was that question that made me chose to become the COO and work with a limited number of clients. And I have never regretted that decision. It has afforded me the opportunity to become a partner of the firm, grow the business with my colleagues, design infrastructure, help our people develop their careers, create a resilient organization, and help our clients enjoy their wealth.
When I started 9 years ago, I was employee number 18; we now have 53 team members. I've experienced growing pains, painful mistakes, watching team members coming and going, and the challenges that many have faced making the jump from mom-and-pop to institutional. Since 2017 when I made my decision to pursue the COO role, my career has continued to evolve as our company grows, the industry changes, and my own purpose becomes clearer. I want to be a positive impact on our company, within the industry, and on our clients.
It is with this sense of purpose that I wrote the paper Your Career is up to You in September 2022 and am now sharing my best advice for building a meaningful career.
Build A Solid Foundation
Careers are not built alone. It is only through the support of people in our personal and professional lives that we can truly achieve the things most important to us. They will give us the guidance and advice we need to take ownership of our careers by helping us with our mindset, knowledge, and personal mission.
Establish An Ownership Mindset
It has become somewhat of a recent trend to talk about mindset. A decade ago, we would try and climb the career ladder by putting our heads down and focusing on work, hoping that someone would eventually notice and give us an opportunity. However, life doesn't really work that way, and we should have been taught this lesson at a younger age.
I wish education around mindset had been a core course in high school. Our mindset controls everything we do, and if we are feeling empowered, we make different decisions than we do when we are sad or depressed. The framework by which we make decisions will have a dramatic impact on our careers and our pursuit of fulfilling work. And if your goal is to grow your career, you'll need to start with an ownership mindset.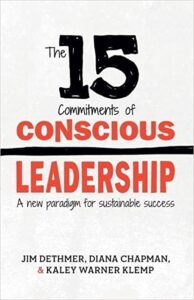 On my list of top-10 most impactful books is The 15 Commitments of Conscious Leadership by Jim Dethmer, Diana Chapman, and Kaley Klemp, because it transformed my mindset. The authors describe our common state of being as either "below the line" or "above the line". When we are below the line, we tend to be defensive and close-minded, a victim to our circumstances. As humans, we tend to fall below the line more often than we care to admit because it is instinctual for us to protect ourselves. When we are above the line, though, we are curious and open-minded, ready to take responsibility for our lives. And when we are able to get ourselves out of a below-the-line state and back above the line, we are more likely to be in a learning state where we grow and evolve more quickly. This happens because we are not distracted by drama and comparing ourselves to other people. Instead, we take personal ownership and responsibility for our decisions and are better able to align our actions with our values.
In addition to understanding your state of being, it is also vital to understand your personal 'why' or purpose. Simon Sinek published the book Find Your Why, which helps individuals better understand how they are personally fulfilled. Defining your personal 'why' helps give meaning to your work, a North Star to point to when making big decisions, and motivation to keep pursuing your goals during tough times. If you want to have a career that is fulfilling, you must align it with your 'why' and try to exist above the line where you have power and control over your future.
Communicate To Personal Stakeholders
It is common for us to draw a line in the sand between our personal and professional lives, but the reality is that work is intertwined with our personal life. The decisions we make regarding our work directly impact our families and personal communities. While it is possible to build a career without the support of family and loved ones, it is much harder to do so.
For example, if your spouse knows your 'why' and understands what you are trying to achieve in your career – and how that will make a positive impact on your family life – it will likely be understood when you have to periodically stay late at work or spend extra hours studying for a designation. If the personal stakeholders in your life do not understand what you are trying to achieve, it becomes much harder to grow a career because you will be in a constant state of conflict.
Recognizing the people most impacted by your work is vital if you want to have a solid foundation when building a career. If you neglect to communicate with these people, the result will likely be burnout, feeling unbalanced, and an inability to focus. If you feel any of these feelings, ask your family and friends if they understand your goals, how you can ensure that they feel valued, and what their own priorities are.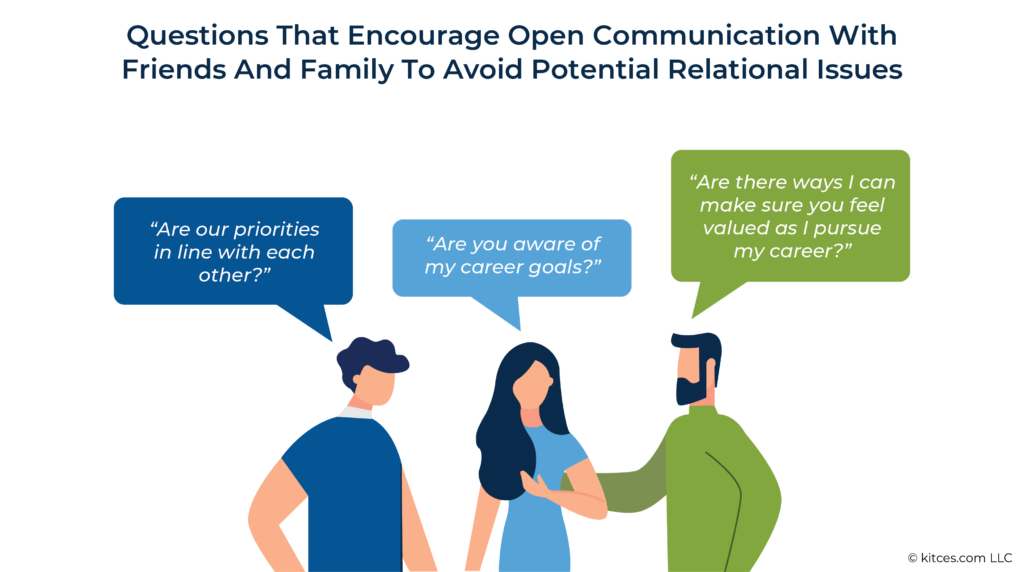 By acknowledging the potential conflict and proactively communicating, the people most important to you will know your goals: how you want to achieve them, the time it takes to accomplish them, and how they will benefit you and your family.
Build A Professional Community
Over the past few years, it has become obvious how much we need other people. The pandemic evoked feelings of loneliness and made many of us realize the importance of our friends, families, and colleagues. Even as technology has advanced and we do more than we ever thought capable, we still ask for advice from others. When we do this, we are actually seeking wisdom that goes beyond any information that Google can provide. While Google can give us information and knowledge, that isn't the same as developing skills through the mentorship of others. Skills take practice, repetition, discipline, and often, feedback. And to get impactful feedback, we need to seek those who have "been there" before us and who can provide us with personal guidance to help us grow and improve.
When establishing a career, make sure you have a community to provide you with wise advice. It can consist of people who are mentors, leaders, colleagues, or friends. They will be there to listen when you have to navigate through complex decisions and will believe in you when you doubt yourself. Don't try and do it without them – you'll miss important lessons and make unnecessary mistakes. Lean on these people to help you make decisions that align with your 'why' and that will have the greatest impact on your career.
If you are struggling to determine who can help you build a career, try identifying these people:
A Sponsor: A leader who has direct influence over your career and will give you advice that leads to advancement.
A Mentor: A person who has been where you want to go and will be a safe space for you to seek guidance. This person will be direct but kind and help you develop the necessary skills to achieve your goals.
A Confidant: Someone unrelated to your company that will be there to help you work through issues and solve problems. This person should be pragmatic, an excellent communicator, and objective. You are looking for someone who will listen well but will ultimately help you get above the line to solve problems.
These people will make up your team of coaches and provide you with specific advice that will lead to better decision-making around your career. In addition to your personal coaches, seek opportunities to learn from others in the industry. Join groups like High Impact Financial Operations Network (HIFON), the Financial Planning Association (FPA), XY Planning Network, or the G2 Leadership Institute to discover those who are pursuing a similar path. Relying on others will help you make fewer mistakes and grow faster with their support, advice, and their belief in you.
Be A Contributor
In most circumstances, companies are looking for people who will add value beyond the job description. This is at least true for companies with good cultures. These companies are interested in helping people grow in their careers because they know if their people are fulfilled and happy, they are more likely to benefit the company as a whole.
However, it can be difficult to determine how to add value beyond your job description. We tend to get nervous that we will offend a senior person if we offer to fix something they didn't think was broken. It is also possible to pursue 'extra credit' that isn't actually valuable to the organization. Earlier I shared my own story of how I found opportunities to add value to the company while I was learning how to become an advisor. In order to do this effectively, I had to get buy-in to my ideas, gain technical expertise, and be disciplined in my process so that I could show up as a contributor to the culture/company and be a professional who achieved results.
Lead With Your Ideas
Over the past few years, I've had dozens of 1:1 mentorship calls with young professionals struggling to become effective contributors. They have ideas, passion, and purpose, but either they are not getting buy-in from leadership, or they lack confidence in their abilities. While some of these people were suffering from toxic and disempowering cultures (where the results they achieve are rarely recognized), the majority just needed to change the way they approached the leadership team. They were either trying to pitch their leaders with too much information or too little.
If you want to make the company better in a specific way, try answering these questions first before working to formulate a plan:
How will this idea help the company achieve its goals? (e.g., how will it help promote growth, resiliency, profitability, or client experience?)
What are potential roadblocks that could get in the way of my idea working?
How will this idea make our clients' or employees' lives better?
Will this require any company resources?
What is the timeline?
After you have answered these questions, talk to your manager or leader about your idea and ask them to poke holes in it. Get their buy-in first before showing it to a broader leadership team. When you present to the leadership team, keep it simple and focus on impact and potential results. For example, let's say your idea is to refine your new client onboarding experience. You might say something like this:
One of our goals is to create an amazing client experience so that we can help our clients live their best lives. As a result, they will want to tell people in their community about us.

Statistically, clients are more likely to give referrals in the first year, so I would like to refine our client onboarding experience to truly WOW clients over the first year. I understand that it may be challenging to get the team to buy into a new process, but I feel that having automated processes and touchpoints with clients will actually make our jobs easier.

In order to implement this new onboarding experience, I'll take the next 6 months to better understand what is and isn't working, interview our advisors, get feedback from a handful of client advocates, work with operations to build out processes, and oversee training and implementation.
In this scenario, you will have clearly articulated the benefit to the company (increased client referrals arising from an improved client experience), how you will have ownership over the project (specific tasks involved in the project), and set clear expectations (time commitments, involvement of clients and other team members). It is okay if all of the details are not in place yet; the first step in leading with your ideas is to get buy-in to the idea, not to present a completed business plan. Once you get buy-in, keep the leadership informed at key milestones along the way.
In the above example, once leadership agrees to your plan, you would then set another meeting to go over key results from advisor/client feedback, present the revised client onboarding program, and then go through the implementation plan. Too often, people try and sell leadership on a complete package, which just leaves them overwhelmed. Instead, try implementing your idea one step at a time (read Atomic Habits by James Clear if you need support building habits that make big goals more manageable). Set yourself up as someone who proactively benefits the organization and is willing to go above and beyond to make the company better.
Gain Technical Expertise
Most professionals get into wealth management because they want to help others make better financial decisions. This is a noble cause, especially since society has failed to include financial education in most K-12 schools. Unless you were born into a family with excellent money habits, you probably didn't learn how to goal set around your finances. It is a pity that money is central to so many of the decisions we make, but we are ill-equipped to understand the impact of such decisions if we have not been properly mentored, educated, or coached.
This makes our jobs as financial advisors even more critical and heightens the importance of our personal education because bad advice is potentially worse than having no advice. If we want to have organizations that provide our clients with excellent advice, we need to give our team the resources to be excellent.
Although my current role is as Chief Operating Officer and Chief Marketing Officer, I still took the necessary education to gain my CFP marks. Understanding the client experience, services, and education needed to accomplish the organization's mission makes it much easier to manage it. By living the role of an advisor working with 20–25 clients and a handful of fellow colleagues, I am better able to help my team structure relevant onboarding programs, prospect experiences, client meetings, and operational processes. Gaining this expertise wasn't easy, but I certainly set myself up to be more successful by having the knowledge and capabilities. Part of owning your career is understanding what is within your control, and knowledge is one of those things. Anyone can become more knowledgeable if they try.
In addition to advisory expertise, I have spent hours researching and learning from resources inside the industry to hone my skills as a leader, change manager, and operational technician. I've joined study groups and asked for advice from peers with much more experience. In addition, I spend significant time seeking knowledge from outside our industry through leadership podcasts like The Knowledge Project or programs like Admired Leadership. It is helpful to step outside the industry periodically to gain an understanding of what others are doing to build great companies.
If you are curious about your learning objectives, try asking yourself the question, "What would I need to know if I was in the position above me on the org chart?" and start pursuing those educational objectives. This could look like financial planning specialist certifications, project management training, leadership training, or executive coaching. If you are serious about your career, you'll invest into it beyond your current position so that you are ready for whatever comes next.
Establish Excellent Habits And Routines
The fastest way to burn out is through bad habits. I learned this mistake a little too late, and it caused me to re-evaluate my career choices unnecessarily. It was not my career that was causing burnout; it was my lack of daily organizational habits, clear goal-setting, and excessive multitasking. I was making my brain tired by doing too much in an unsystematized way. Wondering if you are doing the same thing? Here are a few clues:
Do you keep your inbox open and look every time a new email pops up?
Do you keep your phone with you at all times and get distracted by notifications?
Are you able to work on 1 item for at least 1 hour?
You are a unicorn if you are naturally able to avoid emails and notifications and focus for long periods of time. As technology develops, we are more connected than ever, which, ironically, can actually sabotage our productivity. I learned this lesson 6 months into the COVID-19 pandemic. I found myself exhausted every day but accomplishing very little. Eventually, I realized that my work wasn't the problem; it was the way I was working. I let my habits slip, and my sense of fulfillment slipped with them.
For the past 2 years, I have become disciplined and dedicated to working smarter – not harder. I created a daily routine for myself, which means I am able to accomplish more work, feel fulfilled by the results, and avoid burnout. Here is my routine:
Spend at least 1 hour every day on task organization, clearing emails from my inbox, setting meeting agendas for the next few days, managing my calendar, connecting with team members regarding their goals, preparing for client meetings, and scheduling time for important projects.
Block time for personal goals, commitments, and time with family.
The rest of my time is spent achieving the important projects I scheduled, meeting with clients or team members, and gaining knowledge through education or collaboration.
By taking control of my time, I am able to show up as a more effective contributor and, as a byproduct, grow my career more effectively. If you are struggling with time management (like most of us), I recommend reading these books and then establishing a routine that works well with your own life:
Atomic Habits: Perfect for anyone who struggles with breaking down big goals (as mentioned above).
How to Change: If you suffer from procrastination, laziness, or lack of structure, this book is for you!
LifeScale: Do you find yourself addicted to multitasking? Read this and you will think differently. Hint: If you multitask, you may get more done, but you might not achieve more impactful results.
The One Thing: If you are trying to achieve more balance in your life, read this book. It teaches you how to replace 'balance' with 'counterbalancing' and has been instrumental for my personal relationships.
Take Back Control
All of us suffered from a lack of control because of the COVID-19 pandemic. Every day felt like a new set of rules, and most of us became exhausted trying to navigate the uncertainty of it all. That feeling of uncertainty wasn't just limited to our health. It also showed up in the way we interacted with friends, family, and work colleagues. We became shy when it came to sharing our perspective out of fear that we would be politically incorrect and offend someone, which generally resulted in unfulfillment, and for many, caused the Great Re-evaluation.
However, if we are serious about taking ownership of our careers, we must have direct conversations with stakeholders and show up with actions and behaviors that establish trust, display dependability, and result in growth.
Have Direct Conversations
Most of us cringe when we think about having difficult conversations with others because we are worried that these discussions will negatively impact relationships. However, there is an easier way to have honest conversations: by asking the other person to help solve a common problem, instead of making the person the problem. If you are struggling to grow in your career, you need to ask your manager or leader to help you solve the problem.
For example, instead of asking why your career growth might not be going the way you'd like, focus on getting advice on what you can specifically do to make progress.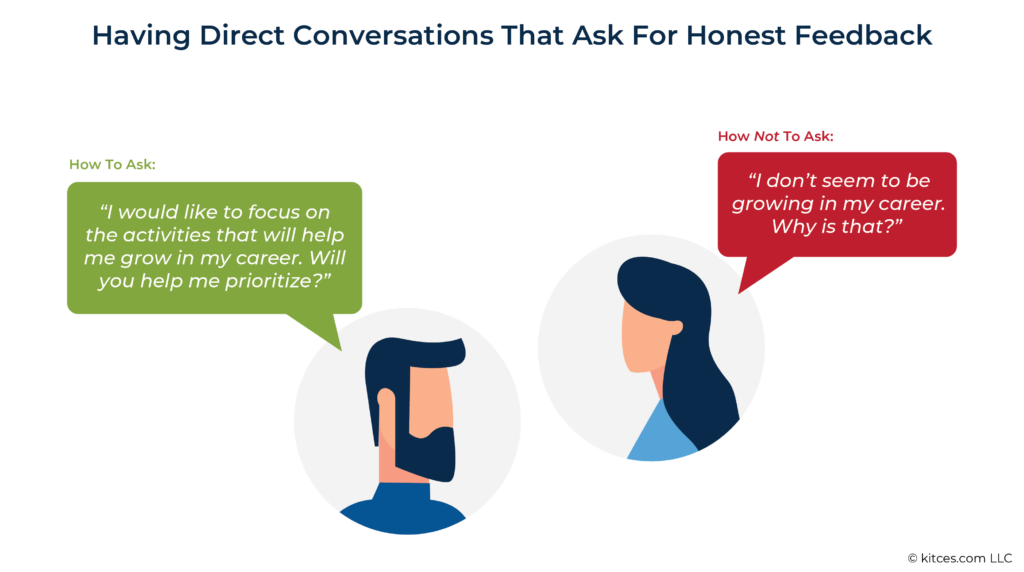 The people you work for are generally not there to hold you back, so attacking them is not going to get you the results you want. If you approach challenges through collaboration, it will make it easier to have direct conversations (instead of difficult conversations).
Now, the feedback may not be what you want to hear, but by gaining clarity into what is expected of you, you are much more likely to prioritize the projects, education, or experience that will have the greatest impact on your career growth.
Solve High-Impact Problems
If you think about your organization today, are there 2-3 changes that would create more efficiencies, a superior client experience, a more cohesive culture, or opportunities to better accomplish the mission? The "low-hanging fruit" phrase comes to mind here. For example, if each manager had a systematized process to give their team members empowering feedback, would the company benefit? Likely, yes. If workflows were built so that processes were the same across team members, would that make the company better? Yes. If all team members could articulate the company story in a way that made it obvious to prospects how they would live a better life partnering with your company, would you grow? Very likely. These are the ideas you need to bring to the table and then support with a clear path to solving the problem.
In general, there are 5 key areas in any organization where problems exist and where solving them would greatly benefit the company. They are:
Employee Training & Development
Client Experience & Communications
Operational Procedures & Processes
Culture & Connectivity
Growth Channels & Sales Training
Look for problems to solve in these areas, share your ideas with the leadership team, and take ownership of the project. If you do this, you will be seen as a long-term contributor to the organization.
Focus On The 4 Areas of Growth
When we talk about growth, we immediately start thinking about numbers. Did we increase AUM? Revenue? Profitability? However, there is more to growth than just the numbers. Instead, professionals must focus on growth in 4 areas to positively impact their careers and the company: Revenue (financial), Relationships (clients and network), Personnel (colleagues and teammates), and Personal (education and skillset).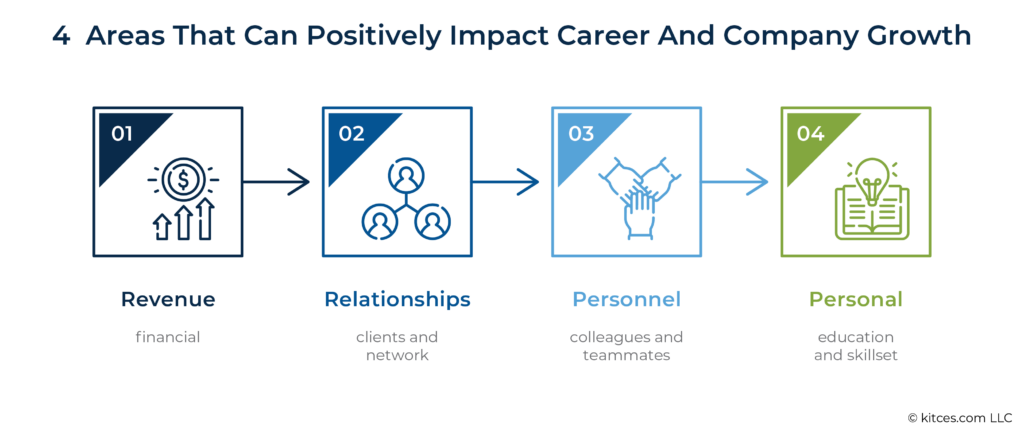 If you are trying to grow your career, I recommend focusing on all 4 areas to make the most meaningful impact. Answer these questions for yourself and integrate them into your goal-setting process:
How can I directly increase our revenue or profitability?
Is there anything else I can do to create deeper relationships with clients or my network?
What can I do to help my teammates grow in their careers?
Should I pursue personal development activities?
When setting goals in these areas, make sure you have buy-in from your manager to confirm that they are important for your career and the organization. Ensuring you are on the same page as leadership is paramount in achieving career growth.
---
True ownership of your career is dependent upon you. You're the only one who can establish a solid foundation with an ownership mindset, align with personal stakeholders, and build a professional community.
You'll need to show up as a professional that contributes through their ideas, expertise, and habits.
And finally, you can take control over your future by having direct conversations, solving high-impact problems, and growing your organization.