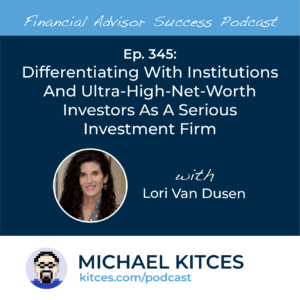 Welcome back to the 345th episode of the Financial Advisor Success Podcast!
My guest on today's podcast is Lori Van Dusen. Lori is the CEO of LVW Advisors, an independent RIA based in Pittsford, New York, that oversees more than $2 billion in assets under management for over 450 small-to-mid-sized institutions and ultra-high-net-worth families.
What's unique about Lori, though, is how through her multi-decade career, she has built a deep expertise in the investment intricacies and complex issues faced by small-to-mid-sized institutions and ultra-high-net-worth-families with $10s of millions of dollars each, and has built an RIA that focuses on that serious investing expertise as a differentiator.
In this episode, we talk in-depth about how Lori built her in-depth investment knowledge while working with large institutions and endowments at wirehouse firms like Shearson Lehman Brothers and Citigroup Smith Barney, how Lori approaches portfolio management with an approach of "don't fix what isn't broken" and assumes most large portfolios she manages will only need incremental changes from what they've already got (which she identifies by stress testing every portfolio in Hidden Levers to identify where they need to be shored up further), and why Lori and her firm developed a governance calendar to systematize and scale their quarterly deliverables and check-ins with ongoing clients.
We also talk about how Lori dealt with being sued by Citigroup and the lengthy legal battle that ensued after she decided to break away and go independent (and how she ultimately won because she was diligent in following the Broker Protocols when leaving), how Lori learned the hard way about conducting her own due diligence on advisor platform after the RIA she decided to join upon leaving Citigroup didn't have the level of technology she thought they did to support her business which ultimately led to her deciding to leave them too, and how Lori dealt with the aftermath of deciding to leave the RIA she partnered with and launch her own RIA only to discover that choosing to transition twice made many of her institutional clients lose confidence and issue RFPs which ultimately led to billions of AUM leaving that Lori had to rebuild.
And be certain to listen to the end, where Lori shares why, even though she has experienced turmoil in her business, she tries to maintain a positive outlook because without these experiences, she would not have developed the specific expertise or become the advisory firm owner she is today, why, after dealing with a personal tragedy and not coming back to work for a year, Lori realized that she had finally built the team support she always wanted and decided to reward her loyal employees (and not just advisors) by offering a deferred compensation plan and defining a clearer pathway to equity ownership, and why Lori believes that younger, newer advisors would benefit from finding a mentor that can help them grow and being objective about their strengths and passions so that they can focus their career on what they are good at and love to do to build their own successful career.
So, whether you're interested in learning about how Lori spent a year right out of college learning SPIN sales techniques from Xerox's sales training which has shaped how she digs deeper into her clients' issues, how Lori dealt with her legal issues and moving her clients to a new RIA all while the economic crisis in 2008, or how Lori learned that when making big decisions, it is important to listen to your gut and to always make sure your values and culture are in alignment with what you want to achieve, then we hope you enjoy this episode of the Financial Advisor Success podcast, with Lori Van Dusen.