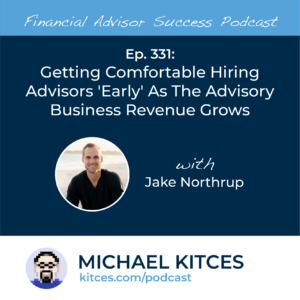 Welcome back to the 331st episode of the Financial Advisor Success Podcast!
My guest on today's podcast is Jake Northrup. Jake is the Founder of Experience Your Wealth, an independent RIA based in Bristol, Rhode Island, that advises 78 client households with a 3-person team supporting more than $550,000 of ongoing revenue.
What's unique about Jake, though, is how he's been able to grow to over $550,000 of revenue in just 4 years since launching from scratch, and how he realized that because of how his rapid growth was going to impact future capacity and time constraints, he would need to hire employees sooner rather than later… and decided to hire an associate advisor in the 2nd year after launching his firm before he even had $200,000 of annual revenue.
In this episode, we talk in-depth about why Jake decided to hire an associate and then a lead advisor within the first few years of what was originally intended to be a solo practice because he felt his practice was too completely dependent on him, how Jake and his team implement a 4-meeting financial planning process that includes creating a life planning timeline, using MindMeister to develop a mind map to visualize a client's goals, and creating a client dashboard in MeisterTask where clients can track their progress as well as mark off tasks that need to be completed to move them along their financial journey. We also talk about why despite being a CFA charterholder Jake outsources investment management to First Ascent – for which clients pay an entirely separate additional fee – because it both allows him to simplify compliance to not manage investments in-house, and takes away the cost pressure of having to hire a separate employee to just manage clients' investment portfolios.
We discuss how Jake attributes much of his fast-growth success to launching with an $8,000 website that focuses on his values-based niche of "travel-loving young families that don't buy into the traditional '9-5, work-until-you-are-65' concept" and then leveraging on Google reviews to enhance his SEO, the way Jake stuck to and didn't compromise his niche from the very start when he launched but was more flexible about the financial criteria early on and only started setting higher fee minimums after his 1st year in the business. We also discuss why Jake and his team not only create long-term financial plans for their clients, but also focus on a 10-year vision to help his younger, travel-loving clientele start achieving more of their immediate goals so they're more likely to retain as clients by feeling like they're making near-term financial planning progress.
And be certain to listen to the end, where Jake shares how he's struggled over the years with perfectionism, control, and a fear of failure that led him to remain a solo advisor, yet realized that by focusing on those issues, he was potentially missing out on more, how Jake invested heavily to get his CFA early in his career and in retrospect wishes he spent more time learning about life planning and money scripts. He also shares why he feels fulfilled in how he consciously built and staffed his practice because it allows him to have more flexibility and time to spend with his wife and start a family, while also creating an environment for his employees to thrive and be present for their families, lives, and helps his clients enjoy their money and pursue their passions now instead of waiting for retirement.
So, whether you're interested in learning about the business metrics Jake relied upon to know when to hire, why Jake charges a flat annual a fee so clients don't have to deal with constant fee changes, or why Jake decided to niche-focus from the launch of his firm, then we hope you enjoy this episode of the Financial Advisor Success podcast, with Jake Northrup.