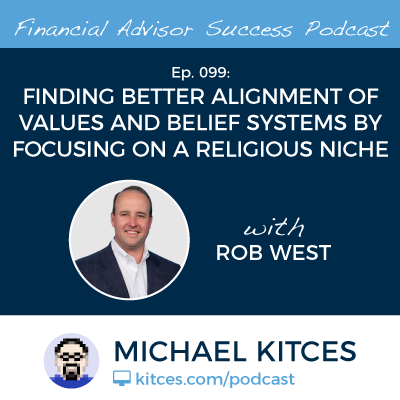 Welcome back to the 99th episode of the Financial Advisor Success podcast.
This week's guest is Rob West. Rob is the president of Kingdom Advisors, a membership organization that supports financial advisors who want to serve Christians as their niche market segment. What's unique about Kingdom Advisors, though, is that they've formed not only a community of 2,600 financial advisors from all the different industry channels all serving the niche segment of Christian clients, but they've also developed a training program and supporting CKA designation, short for Certified Kingdom Advisor, to be, as they put it, the gold standard for delivering biblically wise financial advice.
In this episode, we talk about what it really means to serve Christians as a niche segment. How you can even have a niche in a target market that's technically 67% of all Americans, according to the Pew Research Religious Landscape Study, the way that Kingdom Advisors integrates their faith and nearly 2,300 passages from the Bible about money and possessions into their financial planning conversations with clients, and why despite the traditional view that politics and religion should be forbidden subjects to discuss with clients, that the advisors with the CKA designation have actually been able to find success specifically because holding out as a Christian financial advisor helps to connect with clients who share similar values and belief systems.
We also talk about the evolution and growth of Kingdom Advisors itself as the industry has transitioned from its generalist roots to be increasingly focused on niches and specialization. How Kingdom Advisors as an organization focuses on four core pillars of advocacy for Christian financial advisors, that includes a radio show to more than 1,500 Christian radio stations to attract Christian consumers to advisors with the CKA designation, training with both the CKA designation itself and monthly virtual educational programs, community with more than 200 study groups and a 1,500-attendee annual conference, in an effort to become the recognized organization of distinction when it comes to biblically wise financial planning.
And be certain to listen to the end, where Rob reconciles the biblical concepts of stewardship and the industry's current debates about the fiduciary duty, and why in the long run Kingdom's focus is really simply on helping advisors discover how their work can be aligned with their own purpose and significance.