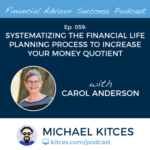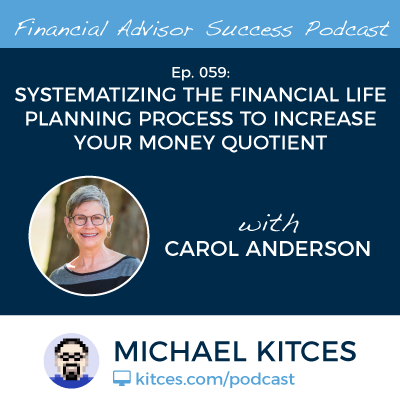 Welcome, everyone! Welcome to the 59th episode of the Financial Advisor Success Podcast!
My guest on today's podcast is Carol Anderson. Carol is the founder of Money Quotient, a 501(c)(3) non-profit organization in Portland, Oregon that provides financial life planning training to advisors.
What's unique about Carol and Money Quotient, though, is the way they have systematized the process of doing financial life planning for clients.
In this episode, we talk in depth about the 5-meeting financial life planning process that Money Quotient has developed, built around their 5-E stages of Explore, Engage, Envision, Enlighten, and Empower, how advisors can use standardized survey tools regarding a prospective client's financial well-being and potential life transitions eto set a more holistic tone to a financial planning engagement from the start, the way Money Quotient segments the qualitative data gathering process into Satisfaction and Values, Biography, Transitions, and Goals, and the meeting templates they've developed to systematize every step of the process along the way.
We also talk about the psychology and sociology research and theoretical framework that underlies the Money Quotient approach – as they are a uniquely research-based organization in developing their financial life planning framework – the 3-day training program they've developed to teach advisors about their communication tools, and why Carol doesn't consider financial life planning to be an alternative to traditional financial planning, and instead simply views it as a better way to help clients develop the self-awareness they need to truly identify the goals that will really improve their own well-being.
And be certain to listen to the end, where Carol shares her own story about developing Money Quotient, the challenges she faced when her initial partnership didn't work out well, how her daughter ultimately pulled her back into the business, and how Money Quotient is now seeking to grow its own footprint. Because the reality is that the challenges of building a business are equally applicable to both us as financial advisors, and the service providers who work with and train us, too.
So whether you are interested in learning more about Money Quotient's financial life planning process, curious what insights psychology and sociology may have for financial planners communicating with clients, or want to learn more about building a business servicing financial advisors, I hope you enjoy this episode of the Financial Advisor Success podcast!