Executive Summary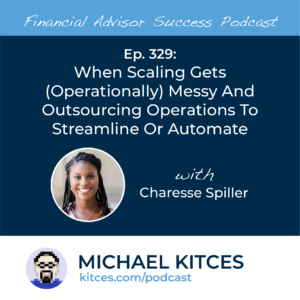 Welcome back to the 329th episode of the Financial Advisor Success Podcast!
My guest on today's podcast is Charesse Spiller. Charesse is Founder and Principal Consultant for Level Best, an operations and process strategy consulting firm based in Houston, Texas.
What's unique about Charesse though, is how she has founded a consulting firm that doesn't just try to teach financial advisors how to systematize and automate, and instead actually works as an outsourced provider to build and implement those systems… with a goal of working themselves out of a job over 6 to 12 months so the advisory firm can once again run on its own (but now, in a far more streamlined and efficient process).
In this episode, we talk in-depth about how Charesse developed her approach of not only evaluating an advisory firm's technology, but also their processes and systems, and incorporates the importance of training the firms' teams to implement best practices within their existing system, how Charesse defines her 3 pillars of operations including streamlining (which is all about creating an efficient repeatable process), automation (which is about leveraging technology to not just streamline a task but make automate it away altogether), and delegation (for that subset of tasks that can't feasibly be automated, but could still be trained and handed off to another team member to free up the advisor's time), and how Charesse developed her own 3 tiers of service from consulting with advisors about the tech they could be using, to working with advisors to build their workflows and process maps within the firm, to helping firms actually implement their new workflows and processes in their technology (and train their teams to actually use the tech and follow the new processes!).
We also talk about how Charesse discovered that for larger RIAs the real blocking point in scaling is often not whether the firm has developed systems and processes but a lack of clear accountability about which team member is responsible for each step of the process as the firm grows, why Charesse decided to create an educational resource and community called FinOps Co-op to further educate operations professionals on how they can optimize their systems and processes on an ongoing basis, and how Charesse realized that even though she was helping others optimize their time and businesses, she needed to help herself as a founder of a consulting firm and hired a financial coach to get her more centered and steer away from possible burnout.
And be certain to listen to the end, where Charesse shares how she's lived first-hand the challenge that all service firms face as they begin to scale up with staff and have to revisit and increase their pricing to be able to afford to scale up, how she decided to go from an employee in an advisory firm to a freelancer supporting advisory firms to an all-in founder of a consulting firm for advisors, and how Charesse has combined reading business books, leveraging local mentoring programs, and forming 2 Mastermind groups for herself to level up her own marketing, sales, and leadership skills as she and her business grew.
So, whether you're interested in learning about how Charesse helps advisory firms create better processes and follow through on implementation, how Charesse is helping to further educate operations professionals on best practices through her FinOps Co-op, or why Charesse offers additional consulting services to advisory firms as they scale so that their processes evolve as the firm evolves, then we hope you enjoy this episode of the Financial Advisor Success podcast, with Charesse Spiller.
Never miss a Financial Advisor Success podcast episode! Get notified of the latest episodes (and all our research as it's released!) directly via email:
Resources Featured In This Episode:
Looking for sample client service calendars, marketing plans, and more? Check out our FAS resource page!
Are you a successful financial advisor, or do you know of one that would be a great fit for the Financial Advisor Success podcast? Fill out this form to be considered!
Full Transcript:
Michael: Welcome, Charesse Spiller, to the "Financial Advisor Success" podcast.
Charesse: Thanks for having me today.
Michael: I'm really looking forward to today's discussion, and getting to talk a little bit about just the dynamics of operations in scaling. This is a theme that we've had popping up a little bit more on the podcast over the past year or 2, just, I think, I hope, reflective to the broader just shift that I'm seeing in the advisory firm environment. There's this phenomenon that, because clients tend to be so sticky in financial advisor models, and so many of us are attached to assets-under-management models where markets grow over time, advisory firms almost inevitably have recurring revenue models that goes up every year, some combination of assets grew, clients add more assets. We get a couple of new client referrals, maybe we've got a marketing thing that works, and we attrition usually very, very few clients.
And if you do that for enough years in a row, at some point there are too many clients to do this on our own and we start hiring some team members, and maybe multiple team members, and more team members. And then at some point things start breaking because a lot of different people are touching a lot of different things. And almost every advisory firm, when they start hiring and growing, the primary things that they hire are more advisors to service the clients, and maybe some administrative staff simply to do the task work that's necessary to execute the steps of the business.
But no one actually really starts thinking about the systems of the business, and the technology of the business, and how it's actually standardizing and scaling. If you go far enough, things just start breaking, and the only way to really get through that is a big investment of hiring someone to become your full-time operations manager, or COO, or managing director and start fixing that stuff. But if you've never hired that position before, it feels like a lot of money for a non-revenue producing position to do that.
And so, I find a lot of firms start getting stuck, for which in recent years, just this new solution has started to emerge of, kind of, like, fractional outsourcing, fractional outsourcing around paraplanners, fractional outsourcing around virtual assistants, and even now fractional outsourcing around just the operations management in the systems building part. And I know you've spent the past several years building a business doing outsource operations management. You lived this firsthand, and so I'm just, I'm looking forward talking about where these crossroads start cropping up, and just how it works when you're trying to outsource operations management so you can grow the business and get to the next level.
Charesse: Yeah, I think that is a great point, and I'm looking forward to talking about it today, just because as soon as you launch or decide to launch a business, it should be something that's on your mind.
Michael: Yeah, like, at some point this is going to get big enough. We're at least going to have to figure these systems out. And I get it, a lot of us as advisors, we didn't necessarily start an advisory firm because we were really excited to build a scalable operational systems. It becomes necessary, and I don't mean to belittle that work at all. It's hugely important, but if you're wired to build operational systems, often you find existing growing businesses that you can scale operational systems.
The folks that start advisory firms from scratch tend to do it because there's some kind of vision around, "I want to give advice to clients and I want to serve them a certain way, and I'm pretty good at doing this and getting clients to come in." And just that, that mental brain makeup is often not the same as the one that's really good at hiring systems, which means the thing you're really good at that gets your business off the ground ends up being the thing that starts breaking it later when you find this gap around, "Oh, all these operations systems are going to get a little messy."
Charesse: Yeah, that's such a good point, and you can't really be the master of all in the business, and neither can your team, so then it becomes tough. And I call CEOs sometimes chief-of-everything officers, so taking off one hat at a time to focus on your passion and what you're truly good at is the goal for all business owners, I would say.
Michael: Well, and I find there's this dynamic that, I don't know, I feel like sometimes is almost celebrated in the business owner entrepreneurial world, that when we start businesses and we're the CEO, as I think you frame it well, we're the chief-everything officer, like, "I've done everything. I built everything in the business." There's a lot of sayings out there around, just, "You have to do whatever the business needs of you, and your role will shift over time as the business needs shift, so you're supposed to do that. And you're a good CEO if you change and adapt the business," and I think that's true to some extent. But often I find the people take it to a natural extreme of, "Oh, I literally have to figure out how to do everything it is that my business needs done, even the things I'm not really good at, because, hey, the business needs it and someone's got to do it, so I guess that's me."
And we get stuck trying to solve the things that we're just really not actually good at solving in the business. And then at best you're miserable because you're doing a bunch of work you don't actually like to do, and at worst, you're stuck because you can't actually figure out how to do it because it's just not how you're built and how your brain is wired. And you get stuck if you're not ready to hire or at least outsource to say, "Maybe the best solution is not to spend all my time trying to build the solution. My best solution is to spend all my time trying to find someone else who can make it solved for me," right? So, this is very Dan Sullivan, "Who Not How," approach.
Charesse: Yes, exactly. And I think you have to make a decision, do you have more time, or do you have more money? And then, from there, also, like you said, the who, not why, finding the resources to get the job done.
Why Charesse Focuses On 3 Pillars Of Operations [09:20]
Michael: So, for those who aren't familiar, and have never gone down this kind of road before, can you just paint the picture for us? I know you have a business that does outsource operations management. What does that actually mean? What do you do? What do you do?
Charesse: Yeah. So, I am an operations consultant, and I consider Level Best an operations and process strategy consulting firm. So, we partner with only financial advisory firms to work on their business. So, for us, we're actually going in and setting up operations strategies and systems for the company but then we work our way out of a job. So, once we set up our systems, usually there's someone in the company that's managing the implementation we did. So, I look at our services in 3 levels, so all things operations, when it comes to strategy, analysis, and implementation.
So, we start off with a strategic plan around systems and technology. So, our foundations for strategy, for operations are around technology education, service offerings in the client experience. From there, we typically always have to do analysis work because we're not going to give cookie-cutter recommendations. We get to know our clients and how they run their business. From there, we'll say, "Okay, based on how they currently offer services, and their team size, and their goals, how can we implement best practices that we've seen into their firm?" So, that's where the strategy and analysis come from. Then, from there, if the recommendations are good and the firm wants to move forward, we then help with building out our recommendations, which means workflows, technology integrations, and automations, training their team. So that's, like, our full, high-level scope of what we do.
Michael: So, I guess I'm just trying to envision, what kind of firm engages this? What size or stage are they at that they're reaching out around something like this?
Charesse: Yeah, so, I feel like we help with transitions. So, we have firms of all sizes, from those who have been in business for 15 months and they're saying, "Hey, things are going great. I have a great client flow, but am I systematized enough? I don't know. I haven't had time to audit my technology." So, we have those, I would say, career changers, so those who decided to leave their full-time job to start their business. Then we have the seasoned solo-preneur, I call them, so advisors who have a successful practice, more lifestyle focused, and they're working alone, and they want to save more time. So, they may come to us, or they're considering on hiring, so it's like, "Can I be more lean before I make this next hire?" And then we have our top clients, which are the RIAs who are established. They have someone in-house that manages their operations, but they really don't have a good way to audit the way they are currently doing business.
Michael: And how big is a firm at that point? If they've got someone in-house who managed operations, that's usually you're already north of $2 million of revenue at that point.
Charesse: Exactly. So, those full-time ops person would be between $2 million upward and going, and then there's different levels to who that operations person in-house may be. Are they an associate? Are they a COO? But typically, we're working with a director of operations. Now for the solo advisors who may have a client relationship manager, we usually have people who have dual titles, right? For the smaller companies, they may have someone who manages the work that we set up for them but it's just not their full-time job.
Michael: Right. So, I'm struck by those 3. So you've got the fast-start firms, right, "I launched a year or two ago. It's actually going really well, but when I had my first, 1, 2, 3, 5, 10 clients, I just did everything. Then I got 20, then I got 30," and I usually find somewhere around 30 to 40 clients… in the early days you have a lot of time and not a lot of clients so you can actually be fairly inefficient. It doesn't matter because you don't have enough work to keep you busy through the day yet until you get to a certain number of clients. And then somewhere, I find around 30 to 40 clients, there's just so many clients, and there's so many requests that they have, and there's so many things you need to service ones, plus onboard the new ones, plus remember to go market and prospect to get a couple more, that suddenly time that was very available starts getting really scarce.
And firms start saying, like, "Oh, maybe I actually have to figure out some of this tech and systems stuff right now because I just did it with yellow pads, and random Excel spreadsheets to keep track of things, and my email inbox, and that totally worked fine at 1, and 5, and 10, and 20 clients. But as I get to 30 and 40, things just start..." I was going to say breaking, they're not really breaking. Things start slipping through the cracks, and the fact that it takes me 5 to 10 minutes to do something that should probably be 30 seconds in technology starts adding up when you've got a couple of dozen clients, and that's, like, hours and hours every month of work that probably shouldn't be as manual as it is.
Charesse: Yes, that's such a great point, and I have a lot of conversations about yellow pads often. So, for the solo advisors, yes, the biggest challenge that they run into is that they don't understand the systems that they have in place. And so, usually for advisors like that I'm really trying to gauge, do they have a streamlining problem or an automation problem? And for those who are more DIY people who have been able to dig into how they want their client experience to look, they usually just need to automate a little bit more, whereas some people who aren't really into operations, the streamlining is really important for them to really get to that step 2.
Michael: So, can you distinguish those a little bit more? I was just going to say, you're talking about streamlining versus automation, I feel like, in a very deliberate, distinct manner, when I think a lot of advisors basically use those terms interchangeably. So can you just explain to us further, what's the difference between, "I have a streamlining problem," versus, "I have an automation problem?"
Charesse: Yes, and I'll throw my 3rd one in there, which is a delegation problem. So, every time I talk to a potential client to work with, I gauge where they're at in their business, and sometimes it's because I may have to refer them out, too. So, when you're looking at the pillars of operations, in my mind, I like to start off with streamlining. So, the first thing that you want to do is make sure that you have a repeatable process for your business and making sure it's documented. So, most of the work that we do is around the client journey, so we want to make sure, do you have a repeatable system for prospecting the onboarding, review meeting process, things like that?
Michael: Okay. So, then that helps a lot for context. So, the streamlining phase, to me, like, as you're describing it, is much more round. Do you actually have a system? Is there a process, like, a coherent process that flows from one step to the next? It doesn't have to flow automatically but it flows. We do these things, we do them in a consistent manner, we do them in a sequence and process, because it totally...you can't do anything to automate it if it doesn't happen in a consistent way in the first place, because then it's basically not automatable, because every time you do it differently. So, the streamline phase, it sounds like, is all about, have you systematized in the first place, just, can you show me a process of how this works?
Charesse: Yes, exactly. And a lot of people that we work with, they may be streamlined, but they may say, "Oh, I need an audit because I'm considering adding another service offering," or "We're considering switching technology." So, that's when you get into the point, like, operations isn't always for that firm that just launched, or that new firm. It may be a change in the services that cause you to take a second look.
Michael: Okay. So, streamlining, so I get it, that early-stage advisor, "I've just gotten my business going. Now suddenly I'm getting a decent number of clients. But particularly when we were in the early stages, what I do for my first 5 clients is what I do for my next 10 clients, because I'm still kind of figuring it out, which is different than what I do for the next 15 clients after that. Because by now, I've really figured out what my thing is, but it's different than what I did for the first 10 to 15 of my clients." So now clients are all over the place in what they're getting, so that becomes the pain point for the solo-preneurs in early stage, faster growth. So, it starts with streamlining, and just, can we actually figure out how to turn this into a repeatable system, be able to document the steps just so that we can streamline and have a process, have an actual process, process, not just, "I do things, and clients like me, and they seem to stick around?"
Charesse: Exactly. The biggest challenge that I see for firms, like, let's say, 2 to 4 years, is that after the onboarding and the prospecting happens, it gets reactive because they're like, "Okay, well, I've only been doing this for a year or 2, so I don't really have a service calendar to service my ongoing clients." And they get nervous about client retention. They still want to make sure they're adding the value in an ongoing basis. So, a lot of advisors in that phase where they're just starting out usually work with us around, first off, looking at their service offerings, like, "Are you happy with them? Are you priced well?" And then going into building out the service calendar and figuring out how technology ties into that as well.
Michael: And so, you're actually trying to help advisors build out client service calendars, "Here's the things that I'm going to do for my clients throughout the year?"
Charesse: A hundred percent. So, I require all new clients to go through what we call Foundations First, and it's the foundations for your operations. Every firm, no matter what size, needs it, in my eyes. And I just started implementing this last year and it was amazing. So, we do a technology audit and that's around the client journey. And we don't recommend new systems, we just maximize what they're already using, and then the service model audit. So, that's tiers of service, like, financial planning, investment management, and breaking that down, and then the service calendar. That's what we look at before we get into the workflows and the mapping of the client journey.
Michael: Okay. So I guess I'm curious just what...because I feel like there wasn't a ton of discussion historically around service calendars. It's really just started cropping up over the past 3 or 4 years that more firms are going deeper and deeper into financial planning, and not just using the financial plan to establish the relationship to get the client up front, but actually doing ongoing systematized financial planning, where all of a sudden this becomes a little bit more of a pain point, and you have to figure out how to systematize the ongoing. So, I guess I'm wondering, what are you seeing that are cropping up and coming onto client service calendars? What do those look like in practice for advisors?
Charesse: Yeah, so that's a great question. So, for Level Best, we actually...it hit me over the past month that we look at it differently than what I typically see in the industry. We create an internal operational calendar. So, when we build the service calendar, we are looking at meetings, of course, but also all of the operational tasks that happen internally. So, whether it's billing, newsletters, whatever it may be, because that's what we use to build our workflows. So, what we tell firms is, like, "You should have a service calendar paired with each service offering." So, your service offering is what you're providing to clients. The service calendar is, "Okay, how am I going to do it?"
So, we put all things in there, things that are automated, not automated, what's recurring, and then what's not recurring. And then when we break out, okay, the different types of activity that's happening throughout the year, we actually assign it by roles and responsibilities. So, for example, the marketing assistant may do the newsletter. The advisor is responsible for holding the meeting but the client service associate is responsible for scheduling the meeting. So, when you look at that service calendar for March, your task and who's responsible for it in a high level is on there. But another reason why I like to do it this way is because sometimes firms are over-communicating to their clients through all the automated things that are going out. And so, it helps them spread out the different items that are going on all throughout the year.
Michael: Oh, because I may end out clustered if I'm not careful, where have you thought about whether your quarterly newsletter is actually too overlapping to your quarterly meeting cadence, which is too overlapping to the fact that you have to do your quarterly invoice notification? So, your clients are getting 3 things from you in the span of about 3 weeks near the end of every quarter, and then they don't hear from you for 2 1/2 months until it queues up again. If you just spread it out a little, A, your clients would feel like they hear from you more regularly, and B, maybe your team will feel a little bit less stressed, or you'll feel a little bit less stressed because you're not doing meeting scheduling, and invoices, and quarterly newsletter that are all coming at the exact same time, and probably didn't actually need to be, like...you may have accidentally inflicted that on yourself not realizing it.
Charesse: Exactly. And another big thing I like about the service calendar, this is when the lights come on for the team. So, if you have a team, it just helps with that teamwork. A lot of people feel like they're making more of an impact on the client journey when they see, "Okay, the non-advisors in the firm are actually doing a lot to make this happen." So, I like that, too, about it as well.
How Automating Tasks Helps Advisory Firms Save Time And Create Efficiencies [26:26]
Michael: Interesting. So, I get that on streamline, so now take me further into automation. What starts showing up here in automation now that I think we have a clearer picture on streamline?
Charesse: Yes. So, the biggest thing with automation is to look at your technology systems. And I look at automation and integration as 2 separate things. So, integrations are those direct links with different systems, so like, AdvicePay to Wealthbox, for example. You can sync data over but you still have to click the button, whereas automation actually eliminates the task. It creates triggers for things to happen. So, what we do is look at...
Michael: That's a helpful distinction, to me, just to think about, like, the integration just means the data can flow from A to B, but the automation...but you still have to click a button. The automation means you don't even have to click a button. The thing happens, and then whatever was supposed to come next may be a button you have to click. The actual action part goes away and is automated within automation, not with an integration.
Charesse: Yes. And this is where advisors start to get hesitant because you have to trust the process in order for the automation to work. So, I like Zapier. We don't set up Zaps in-house, but we work with a referral partner to make sure that gets set up for our clients who are using our implementation services. But what we tell them to do is, when we map out the workflow we just highlight, "Okay, here's 10 things that could be automated through Zapier." And so, once your systems are documented, we just go line by line and eliminate the task, which is nice.
Michael: So, for those who aren't familiar, just what's Zapier?
Charesse: Yes, so Zapier is a third-party system that allows 2 specific systems to speak to each other. So, pretty much if you have 2 systems, you identify a trigger for an automation to occur. So, if you want someone to schedule a call with you, and then once that happens you automatically want them added into your CRM, that's basically, Zapier would make that happen, make those 2 systems speak to each other without a direct integration.
Michael: So, this is a workaround for when you're using advisor tech that is not already integrated? For all those that say, "I wish my tools would integrate more with each other, Zapier is your workaround if the vendors have not figured this out for themselves how to make the thing integrate."
Charesse: Yes, exactly.
Michael: Okay. And then who do you refer out to or like to use when advisors need help with Zapier?
Charesse: I refer out to Sphynx Automation for all of our Zapier referrals, because it's like, if someone goes to them for automation, like I said, and they're not streamlined, they come to us. And then once we streamline their systems they go back to Sphynx Automation.
Michael: Okay. So, for those who are listening, this is episode 329, so if you're interested, go to www.kitces.com/329, and we'll have a link out to folks like Zapier and Sphynx Automation if anyone is interested in going further down this rabbit hole. So, I get it now, part 1, you're streamlining and systematizing to say, "Can we clearly document the exact things that we do for clients, what we do in each stage, and how it flows?" Because if I've gotten really good at documenting that and writing it out in the first place, then stage 2 here, you literally just get to go line by line, "Okay, your client onboarding process has 12 steps. All right, which of these could we potentially automate? Which could we make easier with an integration, or make go away entirely with an automation?" And you may not get all the steps to go away, but if you go from 12 to 9, that's really nice when you do it on a repeatable basis for each new client.
Charesse: Yeah. And I think between streamlining and automating, there's just a lot of big things, like, this is where different parts of the business come together. I feel like for streamlining and automating, a lot of advisors don't realize but your marketing really comes into this as well because you're going to need branded items. Whether you're sending a newsletter to a client, everyone thinks about marketing just for prospects, but we're always working with someone in marketing to make the deliverable for client onboarding, to have the deliverable for the prospecting process, and the newsletters, and things like that. There's a lot of automation that can happen in your email marketing software. I've experienced that myself personally, too.
Michael: So, now I can visualize as well. So, once we've gone through this process, ideally maybe our 12-step onboarding process is down to 7 steps because we automated 5 of them. Most of the other 7 are at least a little easier because we figured out some integrations, or we made some Zapier Zaps that moved things around and make it a little easier. So, it's more expedited than it was. It used to take me an hour, now it takes me 20 minutes, great improvement.
But then, stage 3 is, like, okay, now that you have a really clear, systematized, documented, 7-step, 20-minute process, do you need to actually be the one that does that? Or is it so systematized and straightforward that you could now train someone else to do it and have them do it for you? And now you're off to the delegation stage because you don't really want to delegate this messy, 12-step, hour-long process. It is more cost efficient to delegate the 7-step, 20-minute process because you went through the streamlining and automation. But as the advisor, at some point, you still shouldn't be doing the 20-minute thing either. Someone has to do it, but it shouldn't be you at some point.
Charesse: Exactly. Yeah, and I think the good thing about phase 1 is, like, since everything is documented, we usually like to assign who is doing what as well. So, when it's time to hire, you can easily look at the 7 steps in your workflow and say, "Okay, what do I feel comfortable delegating?" So, then that takes you into the conversation, "Okay, with these," let's say there's 10 tasks that you've come up with throughout your whole client journey that you want to delegate, what type of role is that?
So, I tell an advisor, "If you're not 100% client facing you can probably delegate more. So, deciding, do you want someone who can give planning advice on the team in addition to you? Are you okay with being the only person that gives advice? Are you okay with still doing the financial plans, or are you just looking for someone who isn't licensed to give advice, but they can help you with all the other things that you do in your business?" When I look at the servicing team, I look at it in 3 buckets. So, you have advice and expertise, then you have operations, and then you have administration. And so, then we're able to gauge, what buckets do we need to fill?
How Charesse Determines If An Advisory Firm Needs To Delegate Tasks [34:18]
Michael: So, this helps now with further context of the 3 types of advisors that you end up working with most often. So, you have the faster growing solo, so, "I've built my business. I started it. I'm actually getting a bunch of clients. Goodness gracious, it's wonderful they're coming in, but oh, wow, there's a lot of work to do now that I'm getting a bunch of these clients." So, they get 30 to 40 clients in after 2, 3, 4 years, and just run face first into either a streamlining wall because they were just doing work for clients to get it done and get paid, but they never really built any particular systems and streamlined them, or you get the advisor who maybe is a little wired that way.
I do know some advisors out there who just, their brains think in terms of systems and process. They're actually pretty good at creating their own systems and process. So, they get further down the road, but at some point they still whack into a wall of there's just all these integrations that need to be set up. And, "I could probably automate things with workflows in Zapier but I just don't have the time because I was actually good at streamlining, so I got all the way to 50-something clients before I hit this wall, but now I really don't have time. I have 50 clients to service."
"I just need someone that can come in and take some of my processes, and make them more automated, and set up more of these integrations that I don't have time for. Because it's going well and I'm growing but I don't have the time to figure this stuff out or necessarily hire a full-time person. Because I'm not necessarily hiring a full-time, deep-ops manager with 50 clients. I might hire a client service administration associate who can do the task work, but they're usually not necessarily systems builders. They can execute the system. I can delegate to them. They're not necessarily the builder of it."
Charesse: Yeah, exactly. And I think with the solos and multi-advisor firms, another thing that comes up for them is when their niche changes, or they're adding a new type of service, which is when they really need to fully build out a new system.
Michael: Right. So, then you get the seasoned solo-preneurs. So, they probably got further in this. They've done some streamlining and some automation, because, just, you have to do that at some point to get to be more seasoned, even if you do it more slowly because it's not necessarily your gift. But at some point, "My revenue is good, my client base is good. I would just like to be able to service them in less time because I'm trying to re-balance my work-life balance, right? I did the ability phase, now I want to do the enjoy-the-thing-I-built phase."
But they're still not necessarily wired for really systematizing, streamlining, and automating, and so that's where the seasoned solo-preneur comes to you, like, "Charesse, I have some systems. I don't think they're working great. I'm pretty sure we could do things faster and more automated, but I don't actually know how to do that, because if I did, I would've done that in the first place, but I don't know how to do that. That's why I need your help." And that's when they show up?
Charesse: Yeah, so they show up to...you were spot on with the lifestyle change. So, this revolves around the service offerings because a lot of people say, "I was working with anyone that could fog a mirror." And so, now they want to get more lean and be more intentional with the clients that they're working with, so that's when we have the conversation, "Well, what do you want your life to look like? How do you want to manage your business?" And then we can go in and really talk about the change of services. So, people may find a better way of doing things, or a lot of the firms that we work with in this seasoned solo-preneur were primarily investment management and they want to add financial planning into it. So, how do you charge for it? What are the best practices? What are other people doing? And then from there we're creating that new model with them to offer to their existing clients, which is really cool to see.
Michael: And then you get the more established RIAs that have a couple million dollars of revenue, and may even have an operations manager, but they're still stuck on this. So, why are they stuck if they have someone in the role? What are they coming to you for when they already have someone nominally in the seat in the first place?
Charesse: Yes, so it's typically a multi-advisor situation. So, trying to get all of the advisors to deliver the same consistent client experience, and they really need a facilitator to come into the business and guide that conversation to get everyone on the same page. Then, from there, "Well, how do we leverage our back office a little bit better, because we do have different servicing teams?" So, with that third step of hiring and delegating, we do have to have that conversation of an accountability chart. When we build accountability charts, we stick with the servicing teams, and so that's really what they're coming for.
And once we go through mapping it, it's really me training the advisors and the back office on the new system. I always draw the line, I'm not an advisor. So, the advisors have the planning hat and I'm just doing the logistics of how to build out and streamline that planning process in an efficient way.
Michael: So, can you explain further, what does it mean in building out an accountability chart of the service teams?
Charesse: Yeah. So, the term accountability chart I heard from "Rocket Fuel," the book. I love the book. So, what we do is look at, it goes back to that service calendar. So, you have all of your tasks, ongoing tasks that need to happen for all of the clients at a high-level basis, but who's responsible for actually executing on the different responsibilities? So, we have the advice and expertise, so those are all licensed professionals. Typically, there may be CFPs that are paraplanners. So, it's not only those who are client-facing but those who can develop recommendations and deliver it to the client.
And then we have operations. The operations people that we think about are those who are making sure the client service calendar is actually being delivered and executed, making sure all things that are happening behind the scenes are flowing. And then you have administration, which is more of client servicing. So, those people who do the client support tasks, like, scheduling the meetings. Any time a client needs something that's non-advice driven, they're reaching out to them. So, depending on the firms that we have, we look at their problems, their existing team, and make a recommendation. And client segmentation for the bigger, bigger firms, that comes into the conversation, too. So, top clients may work with the more senior advisors, whereas the smaller clients may work with the up-and-coming advisor.
Michael: And so, to the extent that you've built out the client service calendar, here's the things we do, the deliverables we provide, the meetings we have, the services we offer, who gets to interact with what, where, and how. From the client end, the accountability chart is essentially going through each of those items that we do for clients then and just documenting all the way down to, who's accountable for making sure this step happens? Who's accountable for making sure this step happens? Who's accountable for making sure this step happens? And it's just actually documenting out the name that goes next to, or I guess the job title, because you might have multiple people in a role, but the name or the role that goes next to each item of each step of that process so that you can actually really systematize it, and just track, and monitor, and manage it.
Charesse: Yes, so, it's like roles and responsibilities. So, I don't like seeing...we're talking about the larger firms now, and there are multiple servicing teams. So, it's not, "Charesse does this and Michael does that." It's like, "Okay, what are the actual roles for your firm?" So, when people get stuck with, "Oh, who should I hire next?" Well, it's easy, look at your accountability chart, which is really all of the job descriptions in summary of, let's say, 10 people on the team, and putting it into a chart to see, "Okay, here's the different servicing teams." So, when someone leaves, you just replace that role and continue to move on.
Michael: And I guess, and just, the firm can't necessarily do it because this is a level of being more strategic around, right, it's not just what you do for clients, it's what you're systematizing into your client service calendar? And it's not just Bob does this and Sarah does that, it's, the client service administrator role does this, and the operations manager role does that. And just the strategic layer of how to actually do this as a system across the firm, I'm guessing just, that's the gap they can't necessarily solve for internally. They may have an operations manager but the person is not strategic enough or familiar enough with how other firms do this just to be able to figure out how they actually systematize this at the next level in their own firm.
Charesse: Yes, exactly. So, a lot of advisors don't have some, that strategic partner in-house, so they will work with us. And it's usually 6 months at least to go through this whole experience I just explained to you, where we can strategize and I'm non-bias. My job's not on the line. I'm not fearful of the automation. Because we see that, too, where we are recommending to automate because it's going to make the business better or make the business more lean, but if someone's job was to schedule meetings the past 15 years, that's really intimidating. So, as the business evolves and the tech evolves, how can you make your team not be so fearful of that change? That's very, very difficult to navigate.
Michael: Yeah. It reminds me, I used to call this the Betty problem. An advisor I knew a long time ago, his name was John. He built the advisory firm with a couple of partners. They were in the zone. They were coming up on $2 million of revenue and 11 or 12 staff members. And their operations manager was this woman named Betty who had been at the firm for, like, 20 years. I think she was John's original, original assistant when the business started. And it was just the 2 of them, and then it grew and it grew, and over a whole bunch of years they got up to a couple million dollars and they hired more client service and administrative folks, who Betty then trained and managed because she'd done it forever and she knew how everything was done in the firm.
But they'd hit this wall because the reality was Betty was really good at doing the administrative and operations work because she'd done it for a long time. She wasn't really terribly good at strategically systematizing and figuring out how to scale because she'd never been in a business that was larger than that firm in the first place. She'd always lived in small businesses. And so, wonderful in getting the firm to where it was, had no idea how to grow it to the next level, and just one of those, right, the old saying of, "What got you here won't get you there."
I call this the Betty problem. John had the Betty problem because Betty was a wonderful, absolute key member to the firm that had unequivocally gotten them to where they were, and was the absolute, utter bottleneck preventing them from growing anymore because she didn't know how to go further. And they didn't want to do anything to piss off Betty. They didn't want to demote her or move her because she was very valued and she'd been there for a long time. But Betty couldn't figure out how to grow them, and they couldn't figure out how to grow around Betty. And so, they got stuck in the, "My loyal assistant who's been with me forever," kind of scenario because the business grew larger than her skill set was really what it came down to. And they couldn't figure out how to manage around it.
Charesse: Yes. This is such a great point. The past year to year and a half, I've been working, in a coaching capacity, with operations leads or client service associates who are now managing the systems that we set up, and helping them get to the next level of managing and being more of an impact to the firm. So, every time we work with advisors we always ask, "Do you already have someone who you think could manage the systems that we've set up?" Now it's 50-50. Sometimes we have firms where they're able to take it and run with it, and the person on staff has me as an accountability person to help them figure out how to navigate the challenges.
I usually like to go through a quarter with them one-on-one, and then usually they're fine. But then the other 50%, they don't have someone. So then, we have to figure out, "Is it time? Do you want to outsource for this? Is there someone that can manage it for now," or some people may decide not to hire for managing the system.
How Much It Costs To Engage With Level Best And The Engagement Process [48:41]
Michael: So, from the business end, what does it cost for working with you going through this? For the firm that has these pain points and needs help in getting through it, how does it work to actually engage you around this?
Charesse: Yeah, so we have 3 tiers of service. So, our first offering is Foundations First. So, that's where we do all of the strategy around your tech service offerings and service calendar. So, that package starts off at [$]5,000 starting, and then we have complexity things that we go through to figure out if it needs to be higher. The second tier is called Master Your Map, and that's for usually the career changers or the solo-preneurs. And in that offering it's consulting, and then that's where we do the workflow mapping, and you get your full toolkit. I call them process playbooks. When you work with us there, those services range between $2,000 to $3,000 per month.
And then we have our top package, which is Be Your Level Best. So, everything I just said, plus the technology setup and the team training. That offering starts at 5,000 per month. So, Be Your Level Best usually is about 6 to 12 months, depending on how fast we get through it.
Michael: Okay. So Foundations First, where you're just trying to get in and understand their current process, and systems, and what's going on, that's just, like, a, what, $5,000, one-time consultation, or a single-scope engagement?
Charesse: Yes, it's a one-time offering, single scope.
Michael: And then Master Your Map is, we're actually figuring out the workflow mapping, the client service calendar, what ties to what. So, you said $2,000 to $3,000 a month. How long do those engagements typically last? How long does it take to get through that?
Charesse: Yeah, it typically takes about 3 to 4 months. So, we do 2-hour intensives, and it's, like, just very straightforward prospecting, onboarding, the review meeting process. So, it could be completed in 3 months, it just depends if people need more support after that.
Michael: Okay. And so, it's interesting to start thinking about that, like, as you get all the way up to...well, I guess, as you're going through that, so I may do 3 to 4 months, $2,000 to $3,000. This is a $6,000 to $12,000 engagement for me to just get my process and systems figured out and written down for all those who are not good at figuring them out, writing them down, and putting them into a system. The ones that then want the full-on tech setup and training, all in, you may be looking at a $30,000 to $60,000 engagement, $5,000 a month for 6 to 12 months.
So, if I've got these pain points and I'm not ready to hire full time, this is much less expensive than hiring full time, right, if I'm trying to fractionally ease into it. But I got to be a certain size and have a certain pain point just to want to build that out, which I'm guessing is why you get either faster growing firms, well-seasoned solos, firms with a couple million dollars of revenue who have these pain points. Those are firms, if you're at those size points and you're experiencing that growth momentum or that efficiency pain, $30,000 to $60,000 to get this solved for your business for the next 3, 5, 10 years is a really good deal.
Charesse: Yes. And it's so funny, I worked with a firm, like, 4 years ago and they're like, "Yeah, we're still using your workflows." And I'm like, "Are you really?" But we typically find people may come back every 2 to 3 years, but it's not for a full, new engagement. It may just be a 2-hour intensive or a VIP day, where it's like, "Hey, we've had this big change. Can we work through this together?" So, it works pretty well with refining it. So, for the technology setup, I used to not have strict requirements on it but now I do. I require the firm to have someone on their team or planning to hire someone on their team to manage our systems.
Because when I first started Level Best, I would build out systems for a lot of different people. As I've grown I've been more selective, but what would happen is they were so dependent on us to manage it, the advisor didn't want to figure it out. So, I think the Master Your Map has been very successful. Last year we got a lot of good comments on it because it's really organizing what you do, what's in your head, and making sure it is repeatable, and making sure you're not missing anything.
Michael: So, then what does this look like from the firm end for you? Do you have a team that does this, or are you doing all the consulting work directly? How does it actually work from the Level Best consulting services perspective?
Charesse: Yes, so I definitely have a team. I am the only consultant right now, so for every advisor that we work with, they work with me as a consultant, and then I also have an operations analyst. So I would think of an operations analyst equivalent to a paraplanner. So, the analyst goes in and prepares the recommendations for the clients and then I present them. So, depending on the level of expertise for the analyst, they may cover the workflow piece or the strategy piece as well. And then I also personally have an operations manager that I hired last year that was really inspired by the advisors that I've worked with over the years, and just seeing how much success they've had with having someone on their team in operations.
Michael: So, I guess, just distinguish for me, you said, "Personally, I have my own operations manager." Is that a Charesse thing separate from the Level Best business?
Charesse: So, that's a great question. So, the operations manager is for Level Best, but I just, personally, they're helping me so much as a business owner, it's changing my day-to-day life. So, sometimes it feels like she's here for me personally.
Michael: A great testament to the value of good operations management support. It's amazing what a lift you get.
Charesse: Yes.
Why Charesse Built 'FinOps Co-op' As An Operations Educational Resource And Community [55:26]
Michael: So, then what comes next for you and Level Best from here? You've built out these service tiers and the 3 primary advisor types that tend to have these pain points that come for them. So, what comes next for you?
Charesse: Yeah, so, I would say I'm definitely at a crossroad because the last few years I've been very blessed to have a good funnel, but with wait lists coming up every year, it made me really think about how I'm running my business. So, I did a lot of work on the backend last year. So, what we're doing now is really trying to create more educational resources for the industry. So, the best practices that we're seeing can be more accessible. I see a big gap in continuing education for operations professionals, and then I also see a large gap for firms who are starting out. They want help, they want resources, but they can't afford the $30,000 to $60,000. I bootstrapped my business on my own. So, I know what it feels like. So, that's what I'm working on. The past 2 years I wrote a curriculum for everything I consult on. So, now we're figuring out how we're going to deliver that in the coming year.
Michael: So, what will that offering look like? How will that work?
Charesse: So right now, I've launched one, so we have FinOps Co-op, which is continuing education and community for operations professionals. So, those people in firms that are helping run the systems for the business, managing the technology, we have a great community there. We just launched actually recently, and that looks like, we have different industry experts who are speaking each month, and they are actually giving us toolkits as well when they present. I offer office hours once to twice a month as well, and then they have a platform, Circle, that they can also have peer-to-peer knowledge. So, the goal there is peer-to-peer knowledge, continuing education, and then also, support in your career. Because a lot of the firms, there's not a second operations person, so that's the reason for that.
Michael: Interesting. And so, what does it cost to be part of the FinOps Co-op community?
Charesse: FinOps Co-op is, annual fee is $1,200 a month, or you can pay monthly at $125 per month.
Michael: Wait, $125 a month or $1,200 a year?
Charesse: Yes, so yeah, different if you pay monthly or annual.
Michael: Okay, so $1,200 a year or $125 per month. So, I guess I was just thinking, priced to that operations manager in small to mid-sized firm where I can make that math work as a business owner.
Charesse: Yeah, exactly. A lot of advisors...I wouldn't say a lot, some are questioning, like, "We're not focused on operations right now. We don't have operations projects right now," but it's really the continuing education piece that no one's talking about. If advisors get the continuing education, then where will their team get the continuing education? I have a small mastermind group for past clients, COOs, and they're telling me they're going outside the industry to level up their career. The operations people in the community want to become leaders but they aren't getting that opportunity to develop their skill set. So, it's something that I really hope the industry can make a change in.
Michael: And so, ideal fit, it's not necessarily...I'm going to try to think of these in roles within firms. This isn't necessarily the end client service administrator doing administrative and support tasks. This is really built around the ops managers', directors' levels, like, "I've got a firm that's got 3, 5, 10, 20 people. I've got some systems-y things I actually need to figure out and build," and that's the community and space that you're trying to create and hold for them?
Charesse: Yes, great question. So, in the community right now, I do want to clarify, because operations is its own thing, we have people who are operations managers at compliance companies but they manage the technology. They manage the service calendar. They're building the workflows. But then we also have people who are working within an RIA and they're doing the same exact thing. So, pretty much those people that are managing the technology, creating SOPs, all those things where business owners say, "I'm working on the business," that's actually their job. They're taking those tasks off of the business owners' plate and managing it for them. A lot of people in our community also have team leadership duties as well. So, we're trying to find speakers to talk about that as well.
Michael: Interesting. So, where were they going outside the industry?
Charesse: So, Google, I've heard Fortune 500 companies, we're all reading the same books, so like, "E-Myth," and "Checklist Manifesto," just really learning from different authors. But there's no one to really help them with specific questions.
Michael: Right, and so that's the focus of the content and the community?
Charesse: Yeah, exactly. So, that's for FinOps Co-op, but I also see an opportunity as well for educational resources for those new advisors as well with building out their systems.
Michael: So, like, a self-directed, DIY, build-your-own stage 1 ops for new advisors?
Charesse: Exactly, yes. I think that's really important. That's who I worked with when I first launched and now. I have a lot of career changers that I work with. And I think everyone says, "So, what are the best practices?" And it's like, "Okay, Charesse, you can either talk about this one-on-one or create an opportunity for everyone to share their knowledge with each other."
Michael: So, the new advisor DIY ops course, that's a future thing you want to move towards? That's not necessarily one that you've created yet, you started with FinOps Co-op?
Charesse: Yes, exactly.
The Surprises Charesse Encountered On Her Journey [1:02:39]
Michael: Okay, so that's future opportunities. Stay tuned if you're an advisor in that bucket. So, as you've gone down this road, what's surprised you the most about building a consulting business? I know there are a lot of interesting parallels of what we go through in building a consulting business and what advisors go through in building advisory businesses, because both, at the end of the day you're selling knowledge, you're selling wisdom, you're selling intellectual capital. It's a service business. You're charging fees enough to justify them. There's a lot of parallels between the 2, so what surprised you most just from the business end of trying to build and scale a consulting business back to the advisory community?
Charesse: Yeah, so, I consider myself, like, I definitely was focused on being a freelancer, so just working alone, having my own clients. I wanted the lifestyle freedom in my schedule, but I had decided to become a founder. So, I'm just grateful, when I first started, I kept my head down, I worked hard, and a lot of people kept referring business to me, so I had to decide what I was going to do. The hardest thing when I first launched was getting used to the up and downs of income, so I hired a financial coach. I truly believe in the financial space, so I hired a financial coach to help me create a system for the unpredicted income. And I was single when I launched my business. So, I had to figure it out off of one income, and I worked in the industry, so I couldn't necessarily do this, I couldn't work with other RIAs when I was working full-time for an RIA. So, I had to make that decision if I was going to quit my job and go all in.
Michael: So, I'm just curious, what was the system to deal with the unpredictable income, right? Because consulting work in particular, you get a couple of clients and they're paying well, and you can have a couple months of really good income, and then they wind down, and all of a sudden the income goes to zero if they all wind down at the same time, which is common early on because if you get a whole bunch of clients you're doing all the service work, which means your business development slows down for a few months while you're doing it. So, there's this feast or famine cycle that gets a lot when you're getting going. Eventually you get enough of the network and reputation that there's some flow of new business coming in, even when you're busy. So, it levels out a little, but not at the beginning. So, what was the system to deal with the unpredictable, unstable income?
Charesse: Yeah, so just keeping the expenses down, personal and for the business. But I lived in my finances. I just looked at it every single morning. And getting on an automated savings plan was really big for the tax piece of it. I think that's the biggest shocker when you become an employee to a contractor, but I just lived in it. And I didn't hire, I did it all by myself back then. The first website, I built. I'm just, I'm grateful that people came to work with me, but I just really put all my energy towards it and tried to be as lean as possible.
Michael: I always find it fascinating to look back at the websites that we build for our first businesses. For anyone who's built and launched, almost everybody does it on a shoestring budget. They're standing up themselves, or today, I know you're using Wix or Squarespace. It's been different low-cost DIY providers over the years, but it always fascinates me. On the one end you look back at those and you're like, "Wow, that's really embarrassing by modern standards. I'm really thankful anybody decided to work with me." But on the flip side it's like, "But I'm here, people did." Because I've seen advisors that get really focused on, "I really got to launch with a really high-quality website, and it's going to cost all these thousands and thousands of dollars out of the gate. I don't know if I can afford it," and maybe you can, and maybe you can't. But I'm always fascinated by how many people reflect on how awful their first website is.
To me, that's kind of the point, but they're still here. I don't want to say that websites don't matter because I'm really big on websites, and marketing funnels, and what you can do with them, but just the reality for almost any advisor is, your first few clients don't come from your website, they come from your hustle. Then you start doing stuff and getting known in your community a little, and people start checking you out, and then your website starts to matter. But the first few out of the gate, it tends to come from the hustle much more than the website, which is why so many folks who start their businesses and are long-term successful reflect on how awful their first website was, but they're here.
Charesse: Yeah. I think...I don't remember, I would say maybe the first year, year and a half I worked with 15 firms, and I was just emailing everyone, like, "Hey, love your website." I was working at a multi-billion-dollar firm before and I really was drawn to the startup lifestyle. I had no idea what I was getting into, but those first firms I worked with became raving clients, and it was all word of mouth. I didn't know anything about marketing and I kept my head down. I just was so regimented, like, what I ate, how I slept. I was just very in a routine, and that took me far, but then I had to pivot because I needed more time to be strategic. And I was seeing things happening in my business and I didn't know how to solve them. It wasn't going to be the work that was going to take me to the next level.
Michael: So, what was the wall you were hitting that said, "Oh, wait, I need to pivot?"
Charesse: Yes, so looking at the sales. So, new entrants in my space were coming in, and so, the sales process was a little bit more challenging. Everyone loved my story when I first started, but I never really had a system on how to sell. So, one of the first things, I think one of the first things I invested in, there was, I think, marketing and sales. I didn't know how to hold a sales conversation. I would just go in, talk about what I do, how much it cost, and that's really it. I didn't have a follow-up process. So, I did the Genuine Sales Course with Nancy Bleeke about how to guide those conversations with intention, and it changed the game for me.
No matter what other people were doing and how the new entrants were coming in, I was focused on, "Okay, what do we do best? How are we different?" And making sure we talk about next steps. That helped our sales process and saved me time. I'm not wasting time talking to people that aren't really interested. I'm only focusing on those who were mutually beneficial and interested in moving forward.
Michael: And so, that was Nancy Bleeke's Genuine Sales Course? I know she does that out to the advisory community but you used that for working with the advisors as well? It works equally well, I guess?
Charesse: Yeah, exactly. A lot of the stuff that I use myself, just networking, and I'm like, "Oh, that's great. I need that myself." So, yes, when I did the program I was with, I think, 6 other advisors and me, but it still was helpful and I was able to apply it to my business.
The Low Points On Charesse's Journey [1:10:44]
Michael: So, what was the low point for you on the journey?
Charesse: Hiring. Hiring, and as I was scaling, the cost of service. So, it's like, I would hire people and then I'm like, "Oh, your price point isn't high enough to support this person." So, making decisions on HR, financials, service offerings, that, the past 2 years have been really challenging for me. And it's like, am I good at this? Do I want to do this, and just spread so thin. I've had a really hard time with building a team. I think I looked too much into what financial planning firms do, but that's where we're different. How we scale our businesses for consulting, you don't have 20-year clients ongoing paying you. It's always revolving so you have to keep that in mind. And there's not a lot of people that have consulted with financial planning firms. So, I would hire those who were operations managers and who were back office, but they weren't used to providing advice to these firms. So, it was challenging to figure out where to put them in my business.
Michael: Interesting. Yeah, because it is one of the things that I feel like to some extent we sometimes take for granted in the advisory world, particularly with the growth of AUM and then subscription models. There is a real power in how much easier scaling and hiring gets when your business is recurring revenue based. And I don't want to belittle how hard it is to hire and scale in any environment as though it's supposed to be easy because you're a recurring revenue firm, but just, there are some things that get easier around planning for hires, and supporting them, and supporting the payroll commitment that comes with it when the bulk of your revenue is recurring and resets every year that you notice really quickly if it doesn't. And you constantly have to live by, "Am I getting enough sales opportunities coming in to keep a steady flow of business that might only last 3, 6, 12 months at a time? Because now I don't just have to support myself, I've got other mouths to feed now."
Charesse: Yeah, and it's very stressful, and I realized it's all about mindset. That's one thing I have been working on, is mentally I'm a leader. It's not even like, I'm not making that up. I have people on my team. I'm talking to other business owners. And so, sometimes it's just too much pressure, where you're just always providing advice but you're never getting advice for your business, and that can be challenging. So, taking a moment and finding that time when you're always trying to look for the next client, like, "Okay, when can I make time for me in the business?"
And I had to let go. The people on my team now, they are leaders at Level Best and I trust them because I have that mindset now. I feel confident to be able to lead a team internally and not only my clients. I was only focused on the clients for so long and I think a lot of people that are in that practitioner role, sometimes we get caught up in the sales and things like that. But my team has helped us break revenue months. And then it's like, "Okay, well, Charesse is burnt out because all she's been doing is selling and bringing in clients," but I'm not developing internally. And someone told me before, "You grow from within." And so, I had to have a big reality check.
I was like, "I like working with the team, and if I want to do this, I truly need to focus on the infrastructure of my company and really develop other leaders within the firm to do this." And it was very hard for me because I started my business very early in my career. I didn't really have management experience so I had to figure it out on my own but it's been very rewarding to be on the other side of that.
Michael: Where did you ultimately go to try to learn and figure this stuff out, was it books, courses, programs, something else? What worked to actually help you get through that transition?
Charesse: A combination of things. So, I'm in a mastermind group that I actually started. So, it's called The Team Leadership Mastermind Group. We meet monthly to talk about the challenges that we have. I read a few books, and then the 2 biggest resources was my business coach, and then I also did a lot of work with the SBDC, and it's a national organization. They give free consulting on HR, accounting, everything. I spent a lot of time with them here in Houston over the past year, and then Score Mentors. They also give you a free mentor, and through that I worked with someone who had experience at a Fortune 500 company in HR. I worked with him and he taught me best practices on how to navigate my hiring woes. And these people are really trained. They work with small businesses all the time so they understand, "Okay, what's your cash flow like?"
Okay, so when we see businesses with cash flow like this, or when we see certain situations where you can't retain client or teams, it's about the infrastructure of your business. So, let's get a financial person on the phone. They are incredible. That really changed the game for me with no investment. And then my business coach was also able to help me with the mindset shift to scale up.
Michael: And then how did you find the mastermind group?
Charesse: Yes, so I started the mastermind group.
Michael: Well, that'll solve it. I need one, I can't find one, so I just made one.
Charesse: Yeah. I actually have 2 mastermind groups. I meet with COOs monthly, and then I meet with people who manage teams, so partners and a combination of COOs. So, after all my friends that are also entrepreneurs, after so long in this industry your colleagues become friends, right? So, after talking to them one-on-one, I'm like, "Hey, I want to start a mastermind group." And everyone's like, "Yes, please. I'm having so much trouble managing my team. I have no one to talk to." And it's been amazing.
Michael: And any books that were particularly impactful for you? You said you were reading through a few as you were trying to navigate this.
Charesse: Yes, so, I would say, "Built to Sell" was incredible. So "Built to Sell" is about a busy, successful entrepreneur who, he wants to sell his business. And this book isn't about selling but making your business more scalable. So, in that book they talked about creating a system and hiring the right people so you can have a good day-to-day life, so that was a light switch. And then "Rocket Fuel" was really cool for me because it helped me break down my business. So, now I look at Level Best in 3 different tiers, and so when I'm hiring I'm like, "Okay, where do I need to fill different buckets with outsourcing?" I think those are the 2 that are top of mind for me.
The Advice Charesse Would Give Her Former Self [1:18:44]
Michael: Very cool, very cool. So, what else do you know now you wish you could go back and tell you six plus years ago when you were getting ready to launch this?
Charesse: Your mental health is very important, and burnout is real. I did not prioritize myself and my mental health probably for the first 5 years. I think the past 2 I've been more intentional, but we need brain space. We need real downtime to unplug. I work with a lot of advisors. Our phones are always on. Our emails are on our phone. We need time to shut down, and if you don't, it will take over your body, your physical health. And that has happened to me where the stress was so unbearable that my body was telling me, "Hey, you need a break." And I think that it can happen to anyone, no matter age. It's important to prioritize your mental health because if you're not there, your business will not be able to be as successful, and you want to put your best foot forward.
I realized this when I took some time off. And my client, I came back, my client's like, "You just seem so different. You're just, like, your persona, your energy." And that's when I was like, "You have not been hiding it." So, it was a big eye-opener for me. So, I'm slowing down a little bit and taking care of myself because that's when we get the best results.
Michael: So, tell me a little bit more, just what did you do? What did you do and change as you said 2 years ago, "I got to start doing this differently to get to a better place with my mental health and sanity?"
Charesse: Yeah, so I hired 2 people, a business coach, and a therapist. And I was able to focus on myself personally with the therapist, and then focus on what I want in the business with the business coach. When someone asks you, "Hey, where do you want this to go?" So, let's figure out how to get there. And what are you doing that you don't enjoy anymore? What are solutions? Do you want to drop this offering or should we hire someone for that?" So, having those accountability partners to put myself first were really key for me.
Michael: And can I ask, who did you work with for a business coach?
Charesse: Yes, so his name is George Fernandez. He's actually in the industry, and he was a COO, I believe, at a large RIA. And he reached out to me years ago because he launched his business, and I was like, again, "That sounds amazing. Can we work together? Can I be a client, but I'll refer clients to you?" And so, that's how that happened, and I've been working with him for, I think, a year and a half now.
The Advice Charesse Would Give Advisors Looking To Launch Their Own Business [1:21:59]
Michael: All right, very cool, very cool. So, what advice would you give newer advisors coming into the industry today and trying to figure out this path of how I get going with my business if I want to be a little more mindful about what I'm creating from an operations perspective?
Charesse: That's a good question. Before deciding if you want to launch your business, definitely know all your options. I talked to a lot of people who are just starting out that don't enjoy owning their business but they may be a good partner at a firm. I think weighing out all of your options is important, but if you do decide to start your business, I think you should start with the resources that you have. Don't stress yourself out with financials if you don't have it. There's a lot of free resources like I mentioned here on the podcast today. And make a budget, and then from there, find the best route for you.
So, if you're DIY, find the courses. Leverage platforms like XYPN to get started. Leverage mastermind groups. Start with the low-cost options and then from there, if you're not getting enough support, then look into hiring a coach or a consultant, and making sure you understand how long it's going to take to really get your business off the ground.
What Success Means To Charesse [1:23:32]
Michael: So, as we wrap up, this is a podcast around success, and just one of the themes that comes up is the word "success" means different things to different people. And so, you're on this wonderfully successful path for building up and scaling the consulting business, and hiring team, and building courses, and all the things that we get to do from a scale and growth from a business perspective, but how do you define success for yourself at this point?
Charesse: Yeah. Success, for me, is impacting this industry more beyond myself and my team, and then also, just being fulfilled personally while pursuing that journey.
Michael: Very cool. I like the balance of industry impact and keeping just a personal fulfillment or personal balance piece to it. As you said, otherwise it gets pretty easy to get so into your business, you lean into it so hard, you start burning yourself out.
Charesse: Yes. We all have people who love us outside of the industry and they need our attention just as much as our clients do and our team does.
Michael: Amen, amen. Well, thank you so much, Charesse, for joining us on "The Financial Advisor Success Podcast."
Charesse: You're welcome. Thank you for having me. It's been a pleasure.
Michael: Absolutely. Thank you.