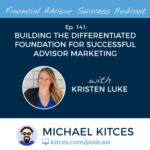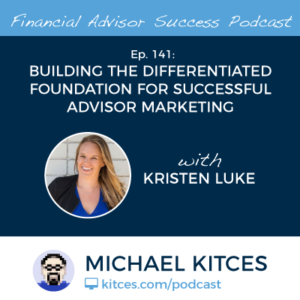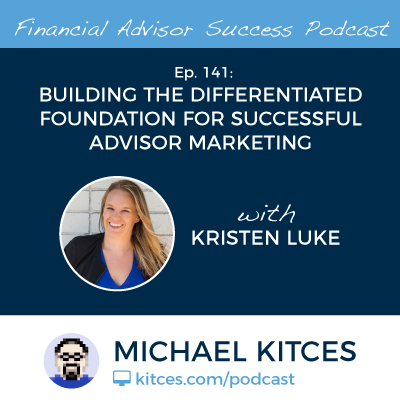 Welcome back to the 141st episode of Financial Advisor Success Podcast!
My guest on today's podcast is Kristen Luke. Kristen is the founder of Kaleido Creative Studio, a marketing consulting firm that specializes in multi-advisor fee-only RIAs with $100 million to $1 billion in assets under management, doing financial planning for individual clients.
What's unique about Kristen, though, beyond her clear focus on her target ideal client, is the kaleidoscope wheel of advisor marketing activity she's created, and the steps that advisors can take in each area, from basic to intermediate to advanced, in growing their own marketing channels.
In this episode, we talk in-depth about Kristen's marketing wheel, including the six core areas of client referrals, COI referrals, online marketing, thought leadership, community awareness, and conversion, and what it takes to improve in each of those areas, from refining client profiles by first concretely defining the triggering events that bring your target ideal clients in, to the starting steps of online marketing, from various "find an advisor" websites to refining your local SEO, to the reason why you shouldn't write books or try to appear on TV until you have a blog first, and why podcasts are replacing webinars as the hot new advisor marketing channel.
We also talk about what it takes to build the right marketing foundation. Why defining an ideal client profile really is absolutely essential to differentiate and build a successful marketing funnel, how to identify the right target client for your firm if you've already got a wide range of clients and aren't sure where to go next, and the key data that you should start tracking in your advisor CRM now so that you'll be able to measure the results of your marketing efforts properly once you begin to invest into them.
And be certain to listen to the end, where Kristen talks about how she's lived the advisor marketing path in her own consulting firm to advisors, from making a decision or find the focus of her own ideal target advisory firm to work with, how she's been able to grow her own marketing reach without actually spending a lot of money on marketing, and how she followed the path of many advisors in growing her own firm to the point that she had to spend more time than she liked just managing the people, and the reason she ultimately decided to right-size her own firm to better focus on the types of clients she enjoys working with the most, and got a lot happier in the process.