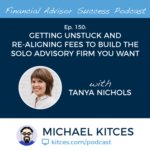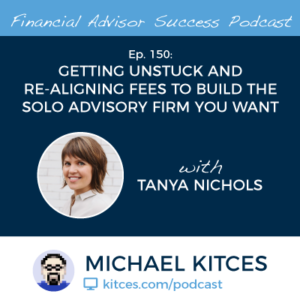 Welcome back to the 150th episode of Financial Advisor Success Podcast!
My guest on today's podcast is Tanya Nichols. Tanya is the founder of Align Financial, a hybrid advisory firm near Duluth, Minnesota that oversees nearly $50 million of assets for 80 client households.
What's unique about Tanya, though, is the way she took a leap last year to start her own independent advisory firm after nearly 20 years of working in a larger firm environment, not because of the opportunity for more money or independence, but simply because she found a community of others with a similar growth mindset that would support her in the journey.
In this episode, we talk in depth about Tanya's journey through the advisor industry. From why she left the wirehouse environment to join a smaller independent firm as their succession plan, only to have the plan fail a few years later, to the moment of realization she had that she needed to go in another direction that led her to both leave the firm and become a solo advisor and also divorce her husband all in the span of two weeks. And how she set her current goal to double her revenue to $1 million by age 40 while working only 30 hours a week and laughing more with her kids along the way.
We also talk about how Tanya has completely restructured what she does in her advisory firm itself. From implementing a firm-wide realignment of fees to ensure she was getting paid what she's worth by every client, even if it meant a nearly 50% increase on some clients who've been working with her for over a decade. The meeting surge approach that she uses to schedule all of her client meetings for the year in just two two-month clusters, in the fall and the spring. How she refined her financial planning process leveraging MoneyGuidePro to do the analysis but summarizing it all in a one-page financial plan of observations. And why she starts off every prospect and client meeting with the simple question, "What has your attention right now?"
And be certain to listen to the end, where Tanya shares why she refocused her business on the alignment of our life and money, thus the Align Financial name, how a redesign of her website has generated more inbound inquiries from prospects who say that her website speaks to them, and how ultimately, the biggest surprise of her advisory career is that she never actually thought she'd be running a firm on her own until she got to the point in her career where she could actually give herself permission to do so.