Executive Summary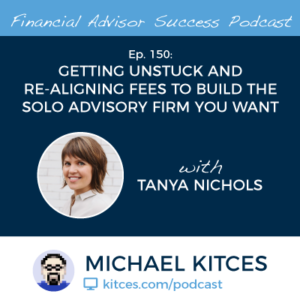 Welcome back to the 150th episode of Financial Advisor Success Podcast!
My guest on today's podcast is Tanya Nichols. Tanya is the founder of Align Financial, a hybrid advisory firm near Duluth, Minnesota that oversees nearly $50 million of assets for 80 client households.
What's unique about Tanya, though, is the way she took a leap last year to start her own independent advisory firm after nearly 20 years of working in a larger firm environment, not because of the opportunity for more money or independence, but simply because she found a community of others with a similar growth mindset that would support her in the journey.
In this episode, we talk in depth about Tanya's journey through the advisor industry. From why she left the wirehouse environment to join a smaller independent firm as their succession plan, only to have the plan fail a few years later, to the moment of realization she had that she needed to go in another direction that led her to both leave the firm and become a solo advisor and also divorce her husband all in the span of two weeks. And how she set her current goal to double her revenue to $1 million by age 40 while working only 30 hours a week and laughing more with her kids along the way.
We also talk about how Tanya has completely restructured what she does in her advisory firm itself. From implementing a firm-wide realignment of fees to ensure she was getting paid what she's worth by every client, even if it meant a nearly 50% increase on some clients who've been working with her for over a decade. The meeting surge approach that she uses to schedule all of her client meetings for the year in just two two-month clusters, in the fall and the spring. How she refined her financial planning process leveraging MoneyGuidePro to do the analysis but summarizing it all in a one-page financial plan of observations. And why she starts off every prospect and client meeting with the simple question, "What has your attention right now?"
And be certain to listen to the end, where Tanya shares why she refocused her business on the alignment of our life and money, thus the Align Financial name, how a redesign of her website has generated more inbound inquiries from prospects who say that her website speaks to them, and how ultimately, the biggest surprise of her advisory career is that she never actually thought she'd be running a firm on her own until she got to the point in her career where she could actually give herself permission to do so.
What You'll Learn In This Podcast Episode
Tanya's Firm As It Exists Today [04:19]
Her Onboarding Process For New Clients [09:48]
Why Tanya Has Remained Independent And The Business Metrics She Tracks [16:20]
Why And How She Increased Her Fess By 50% For Some If Her Clients [20:45]
The Important Realizations That Helped Tanya Make Some Big Changes [36:19]
What Her Planning Process Looks Like For Her Clients Today [46:29]
The Meeting Surge Approach Tanya Uses With Her Clients [56:20]
How Tanya Plans To Double Her Revenue To 1 Million Dollars [1:09:04]
Where Her Clients Come From [1:16:31]
What Surprised Tanya The Most About Building Her Own Advisory Firm [1:27:14]
Advice She'd Give To Young Advisors And What Success Means To Her [1:33:15]
Resources Featured In This Episode:
Never miss a Financial Advisor Success podcast episode! Get notified of the latest episodes (and all our research as it's released!) directly via email:
Full Transcript:
Michael: Welcome, Tanya Nichols, to the "Financial Advisor Success" podcast.
Tanya: Thanks, Michael. I'm glad to be here.
Michael: I'm really excited about the discussion today. This is one of those conversations about what it's like to take a leap. I know you spent the better part of 20 years working mostly in large firm environment and with other advisors, and only in the past year or two went out on your own. And it's not specifically about kind of celebrating independence and put it on a pedestal. I think there are lots of ways to be successful in the industry, both in large firms and small firms, on your own, in a firm with lots of other team members and support.
But one of the challenges, I think, that happens in our industry, so much of the recruiting and the hiring happens in the large firm environment because they're literally the largest and have the most jobs. Like, most of us tend to come in through larger financial services firms, which means you get used to that environment. And I find for a lot of people in that environment, figuring out how to take the leap, figuring out how to figure out, "Maybe I'm actually not in the right environment and structure and maybe I should do this differently" is a really hard transition for people. And so, I'm kind of excited to talk about just that journey and how you go from working in large Wall Street firm to, "I want to run my own independent advisory firm."
Tanya: It is a journey, for sure.
Michael: So, maybe as a starting point, just tell us a little bit about your advisory firm as it exists today. Where are you now?
Tanya's Firm As It Exists Today [04:19]
Tanya: I run an investment firm for women within a few years of retirement, and right now we have...we serve about 80 families. There's two of us. I have a full-time practice manager, Cooper, and we really do our best work with independent women. And I would consider us a full financial planning firm. Some people call it life planning. I don't really know what the name of it is, but my goal when I sit with clients is to just be with them and hear them, where they're at, and then just try to help them feel good about their money and their life, and kind of how those connect. And that's really where the vision behind the brand came from, is that I saw so many...so many people that I met with, whether it's professionally or personally, we just all have...we feel bad about stuff. Whether we have a lot of money or a little money, we just feel bad. And a lot of times it was because there's an incongruence between what we say is important to us and then how we spend our money and our time.
So, that's the work we're trying to do here is just helping people make those things make sense. If they tell me that it's important to retire yet they keep helping their son and they're buying him a new car and bailing him out of whatever problem that comes up, then my job, to me, is to bring that forward and to say to the client, "Are you sure retirement next year is really important to you? Because it sounds to me like helping launch your son is actually more important." And then give them permission to honor that priority and make sure their money supports that.
Michael: If that's actually your priority, let's just talk about that and how to do that well, since it seems you're going to do it no matter what, so let's talk about how to do that well and have a plan for it, as opposed to, "Hey, you keep saying you're going to retire, but then you don't retire, and you keep saying you're going to save more for retirement and then you don't save more for retirement." And then we have, even from the advisor end, the very negative frictiony sort of meeting with the client where like, they're going to come in for the review, and I can already see that their deposits aren't happening, and we're going to have to have another one of those awkward conversations.
Tanya: And then they don't want to come and see you.
Michael: Right. And then they want to come in, and then they don't come in, and they're not getting any value because they're not coming in, and so then they fire you. Like, down the hill we go for not having what sometimes feels like a more awkward conversation upfront, but just naming the elephant in the room, like, "You said, you want to work with me to retire and you keep putting money to your son, so should we change your plan to be a support-your-son plan for now? Let's just have that conversation."
Tanya: Right. Exactly. Same thing with if people aren't that concerned with running out of money. And I don't know if this is going to be how my firm works forever, but for right now, if I have a client that it's not that important to them to have money when they're 95 years old, to me, I just kind of think, who am I to decide what their priority is? So, we spend a lot of time talking about that with our clients.
Our minimums are $500,000 at 1.5%. So we are all-in AUM. And we really just adopted that in the last, I would say six months or so, and have gone all-in and committed to it even on the website. So that's some new developments in the last year or two.
Michael: And so all clients that work with the firm, like just, they have to bring a half-million-dollar portfolio to the table as a minimum and goes up from there if they have more dollars?
Tanya: Correct. We have to be their primary advisor. So, we don't work with clients that have other advisors. Which I realize isn't unique, but that's one of the other factors in onboarding a new client.
Michael: And you literally say it to clients, like, "We will not be working with you if we're second chair to another advisor?"
Tanya: Right.
Michael: And so, what does this look like overall for an asset base of the firm then? You said you had 80 families, is everybody on an AUM model now?
Tanya: Everybody is on AUM, and we're just approaching $50 million.
Michael: Okay.
Tanya: And that's actually in the accounts here. I know in some of the...whether you're custodied or not, and I don't follow all that very well, but as far as my traditional IBD model, independent broker-dealer model, which I'm still on, for now, we're about $50 million under management. We, of course, advise our clients on their outside accounts that are with 401(k)s, etc., but we have an expectation that once those plans are available for us to manage, then we do expect them to roll that in.
Michael: Okay. And who's the broker-dealer platform that you work with?
Tanya: Raymond James.
Michael: Okay. So you're on the RJ platform. So, you have this base of clients doing these sort of connecting money and their life conversations, and then now this kind of gives the context of the firm name, I guess, a little more connection. I know you called the firm Align Financial, right? So the whole focus is, "Let's align your money with your priorities or what you say your priorities are." And that just becomes part of the whole focus and theme of the brand in how you're working with clients, "We'll help you get aligned?"
Tanya: Right, right.
Her Onboarding Process For New Clients [09:48]
Michael: Very cool. And so, what does this look like with clients in practice? Like when I say, "Okay, Tanya, this whole align my money and life thing sounds really neat. I'm going to sign up with you. I do have the $500,000 minimum," what happens next when I actually agree to come on board and be a client and go through this process of yours?
Tanya: So, in the last two years, I've refined the onboarding process for a new client. And it's actually on the website even. So kind of how you go through and become a client eventually. And then once they're a client, and maybe this is more informal than most, I'm not sure, but this is the kind of season of my business right now. In the old days, I remember spending a ton of time telling people things and trying to get them to understand things about their money. And I would have these big 40-page elaborate plans. And through a series of just, I think trying to pay attention to my clients and what they really need, I've just discovered that more of them need somebody to just be with them and hear them and do their best. Rather than spending a bunch of time getting them to understand me, I spend a lot of time trying to understand them.
And so every meeting I start with a question about, "What has your attention right now?" And that might scrap my entire agenda. And I have used a version of the one-page financial plan that I learned through...I've adopted through a coaching program that I'm a part of right now called Limitless Advisor Coaching Program. And what happens is, in this one-page financial plan, I tell them what I'm paying attention to as it relates to their priorities, their taxes, their estate plan, their investment strategy, their cash flow and debt and all the pieces of their financial puzzle, right? And then, before I do any of that, I ask them what they're paying attention to or what has their attention.
Michael: I love that. Just that question, "What has your attention right now?" I feel like there's a very deliberate wording choice there. Like, why attention? Because they're focused, what are you thinking about? What are you working on? I feel like that was a very precisely chosen question, "What has your attention?"
Tanya: It is. And I think I actually took it, because really, all my best ideas are someone else's, hands down, but I believe that I took it from a coach at some point, some sort of coaching program or something over the years. And what's interesting about asking that question over a question like, "What are you worried about?" or, "What did you come to discuss today?" it changes the dynamic. But, "What are you paying attention to?" actually requires an answer, right? It's like, "Is there anything on your mind that you'd like to discuss today?" Well, that's a closed-end question, right? And so I don't want them to get out of here without being able to share something with me that has their attention because it allows me to get them and understand them more.
And your original question was, what does it look like once they're on board? Sometimes we can't really get into some of that deeper stuff until we've been together for a year or two years. So if I create a space in which they can have those kinds of conversations eventually and I keep asking those kinds of questions, then eventually you uncover the things that really, in my opinion, that I can make a difference with.
Michael: And so, are there other questions of this type that you found that work particularly well for you in sort of these probing discussions with clients? Are there other go-tos besides "what has your attention right now?"
Tanya: One of your epic podcasts, Matt Jarvis, I learned this from him in the coaching group, and he uses the phrase "what else?" And I use that non-stop. And his tip is, again, all my best ideas are someone else's, his tip is to say "what else" at least three times. So that's another way to get at the meaning of what the client is actually talking about is they bring something up, and then the conversation moves to and ends, and then you ask, "What else? What else has your attention right now?" or just, "What else? What else is on your mind?" And then making sure that it's open-ended. And that's a version of Bill Bachrach coaching, which I did 100 years ago, "What's important about your money to you?" And you just keep digging into that.
And to me, I can review their tax return and give them some interesting data about how to save on taxes next year, but if I can help them hack maybe some of their patterns of behavior about money and decision-making, that's going to influence their net worth and the way they feel about their money and their financial security more than which money manager we use or how much we saved on taxes this year. Those are a given. I'm a technical geek. I've been writing the CFP exam for the last 10 years. I've been volunteering with CFP Board. So I can get geeky with the best of them. But to me, I think that's where we make the biggest impact, or that's where I make the biggest impact.
Michael: Interesting. So, as clients come on board, how does this flow occur to them? Are you just like right into these sorts of meaty conversations? Do you have like a two-meeting process or four-meeting process? What happens as you're trying to go through these money life alignment conversations.
Tanya: So, I have done a variety of formal like questioning process. Like at Wells Fargo Advisors, we had something called Envision Cards. And it would kind of get at some of these priorities through this card interview process. I've done the Bill Bachrach formal questions. I've had a checklist that I've used. And after 20-some years now, 21 years, I really think that most people can't go there right away. And so, it's an informal conversation where I'm explaining to them things about their money, I'm understanding their cash flow and all the different pieces of the puzzle, and then I'm telling it back to them. And all along the way, I'm just trying to gather that information. So it's more informal for me.
Why Tanya Has Remained Independent And The Business Metrics She Tracks [16:20]
And that's one of the reasons I chose to stay inside of and stay solo, because I don't want anybody else putting any metrics on what my success or my clients' success looks like. And this has also allowed me to give them the space that they might need. And no Wells Fargo is coming down on me telling me I need to have four meetings a day or something like that.
Michael: It's a powerful statement unto itself. "I don't want anyone else to put metrics on my success."
Tanya: Right. That was harder. And that awareness was very hard-earned.
Michael: Yeah. Well, and I think it's one of the struggles that we have in the industry overall these days. There's kind of this growth obsession and size obsession. The media tends to put the largest firms on the pedestal with virtually all of the media coverage. And I don't think it's bad to do some conversations about large firms, but it's...if you read media coverage, you would think 95% of advisors work at large firms, when in reality, it's about 95% the other way, particularly in the independent channels. And likewise, kind of this never-ending focus on, you should always be growing. And in essence, growth rate has become a forced key metric for everyone. It's not necessarily always actually everybody's metric, particularly once you get to a certain mature point in your business and got a good base of clients and making a good income and may not actually be a priority for you anymore.
Tanya: Right. That's exactly right. I wanted to decide what success looked like for me.
Michael: And so, how do you define those kinds of metrics for yourself at this point? What do you pay attention to in your business if you're trying to figure out what makes you more successful in those terms?
Tanya: So a couple of years ago, I was part of another office, and we shared space and staff. And I had decided...I knew I wanted to go out on my own, but I was really stuck. And I spent a lot of time with...I was being recruited to all these firms, and they were willing to write me all these checks. I just had to decide that my personal agency wasn't for sale. And so today, if I think about what my success looks like, last year, I opened the office. So there was tons of time and energy devoted to that that got kind of taken away, so to speak, that I took away from my personal life. So this year, for example, one of my metrics is laughing with my kids. It's actually on my business plan, laughing with my kids. It's hard to quantify that, but I'm actually...I'm paying attention to that.
The other thing I'm paying attention to this year is having time to choose. So I'm a taskmaster and I check the box, good girl. And I want to do everything. And I want to get an A. And what I've had to really do is step back and say that when I do the best work for me, my clients, my kids, my business, is when I have time to think and choose. So that's something else that I'm monitoring this year.
So those are some of the metrics. I look at all the other KPIs. Like I'm looking at margins and how many clients do I have and profitability. And we just went through and did a standardization of the fee schedule, which was very hard because I had to go back to clients who've been with me for 13 years and raise their fees by 50%. And we've already had I think a 60% return rate on those in a year, or excuse me, in the last month. The project due date was yesterday, actually. So I monitor all those numbers too, but I was always so incredibly focused on growth, growth rates and numbers and minimums for clients and services provided. And it was like that hyper-focus created an intensity in me that actually at this stage of my business and my life, I kind of had to ask myself, "Why am I not measuring things like my relationship with my kids or how I feel when I'm at work?" So I build all those into my business plan as well.
Why And How She Increased Her Fess By 50% For Some If Her Clients [20:45]
Michael: Sorry, I want to go back for a quick moment that you just kind of quickly went by, "Oh, and by the way, I did a nearly 50% fee increase on some of my clients who may have been with me for a decade or more." So, why exactly did that happen?
Tanya: Well, really it happened because when I felt stuck in this firm a couple of years ago, or I felt stuck in where I was at in my career, and I knew that wasn't going to be the place for me, and I was trying to figure out where to go next. But my vision, I had no vision of what that was going to look like. I was stuck. I was full of fear and like, who am I to be a business owner? I remember that playing over in my head. I had come across this coaching program, and that's really where the fee standardization came from. It was certainly not my bright idea. That is the last thing on the planet I would have wanted to do was to go back to clients who have trusted me for a decade and say, "Listen, in order to be a true fee-only fiduciary firm, I need to have a standardized fee schedule. And by the way, I haven't had one. If you hired me five years ago, you might be on a different fee schedule than today." And once I really spent time in that program and with the coaches, they helped me see how that was actually unfair to clients as well. So it was unfair to me and clients.
Michael: Because now, in essence, you're amplifying the fact that large clients are now subsidizing small clients. That happens to some extent already just in an AUM model. But if you're going to keep old clients on different fee schedules, you just amplify how much some clients are cross-subsidizing others and not paying their own way for their services.
Tanya: Exactly. And I think, almost as important, if I am going to have a solo firm where I'm the primary advisor and I have a practice manager, then one of the most critical things I can do, in my opinion, is have my processes institutionalized. They need to exist without me, almost. And so, if I have a fee schedule that's based on, well so-and-so hired me when I was at Wells Fargo and this is what we did there, well, that's not institutionalized, that requires me in order to provide that judgment. And I think by institutionalizing many of these processes as a result of that program over the last two years, what it allowed me to do is to kind of rise above and kind of look down and then be sitting with a client and having a real meaningful conversation, rather than stuck in all this noise. Because once those processes are written and thought out, then all of a sudden, it's just about the real work that you're doing for your clients or at home or wherever, in your relationships.
Michael: And so, how does this conversation go in practice when you have clients that have been with you for a decade and you have to break the news of a fairly material fee increase? I'm going to presume a lot of was just like, you used to have a fee schedule that, I don't know, that started at 1% and now it'll start at 1.5%. And it was those kinds of, "We've got to apply a new percentage to your asset base, and it's going to be a potentially material fee change?"
Tanya: Right. So I belabored this for a long time, and what I came up with, after working with other advisors who had done the same thing, is I decided to write a letter. And I started the letter with Matt Jarvis's, actually, and then I revamped it to mine. It, of course, became four pages long, because that's how I do everything, and then I had to shrink it.
Michael: I'm familiar with that writing style. 🙂
Tanya: So I shrunk it. So it was a page and a half. And I told them the story about why we were doing this. "I decided to do that because if it was me, I would want the details before I had a conversation with the person. I'd want to have some background so I wasn't caught off guard." And then when we did the...we're in meeting review surges right now, in the fall, we usually do our meetings with clients in spring and fall, when I'm doing those meetings, they're bringing in the forms and we're having the conversation at that time. But many of them just sent it in without even a conversation. And then I'm just adding it as an agenda point to their meeting surges.
Michael: Interesting. So you sent a letter out, "We're changing our fees. Here's why. We've gone through all these changes since you started working with us years ago," because you've literally been through several firm changes. "In order to do our best work, here's the new fee schedule. If you're okay with this, just sign this letter and send it back. If you want to talk further, we'll talk at our next review meeting?"
Tanya: Right. And I even had other advisors, local advisors, that were willing to honor the current fee schedule that I put as an option that I would refer them to if they wanted to keep the same fee schedule. So to me, that felt internally congruent for me that I'm giving them these options. There was plenty of choices for them, I guess, is my point.
And the other thing I've realized that what got me here, and I think this is important, all these years that I've been working with some of these people, I continue to learn and grow and improve, right? And I just solve problems that need to be solved at the time. And I don't charge or bill for that. And I'm not saying that's right either, but that's just how my processes work.
So let's say in 2017, when the Equifax had the data breach, I didn't really provide identity theft advice, per se, but I did a bunch of research. I actually outsourced the research to Upwork and then they provided me reports on what the best scenarios were. And then I went to my clients, and we spent a bunch of time helping our clients raise their credit, because that was the best solution. And they're not getting an extra bill for that. I've begun to evaluate tax returns in the last three or four years on a more consistent basis. They're not getting charged extra for that. It's just we're trying to provide the best service we can. And over the course of the last 15 years or so that I've been advising clients directly, I keep adding without necessarily charging for it. So I've had that conversation with a handful of clients too, but more importantly, I had to get through that in my head. That's valuable. To be a part of a firm that's consistently growing and changing and innovating, I think is a special thing. And those are the kinds of advisors I want to be associated with.
Michael: And so have you had any backlash from clients that got the news of, at least in some cases, fairly dramatic fee changes?
Tanya: You know what? There have been a couple clients who have chosen to do it themselves. One of these folks, in particular, I really...I'm sad to not have a relationship with them anymore, but more importantly, that's also what's right for them. I could see that in her path for the last few years that she was interested in managing more of that herself, and she's just highly cost-conscious. So it really wasn't even about me, per se, it was just a triggering event.
Michael: Yeah. Yeah. So in essence, you...at worst maybe it slightly hastened the exit of someone who probably was going to exit anyways and probably wasn't a good fit anyways, because she literally didn't value your services that much.
Tanya: Right. And then I had another tough conversation with the client who they just...costs matter to them. They're always looking at their heat costs going up and their...the gas is going...all those numbers matter to them. And so, they're just a cost-conscious kind of person, and that I just had to separate that, that that wasn't about me. If they didn't value that as much, that wasn't a reflection on me providing bad service, it's just that it wasn't worth that much to them. Now, they signed the forms and they're still here, but I did have to have that conversation.
Michael: Well, I think that's a powerful statement that you make, that if they ultimately say no to the fee increase or just the realignment of fees to services, it's not a reflection on you, it's a reflection on them. It's not about your value, it's simply about the fact that they don't happen to value those services as much. So, fine, best of luck to them to someplace else that doesn't offer them things that apparently they don't value.
Tanya: Right. Exactly. And I think that I'm offering this kind of full-picture advice that maybe not everybody wants. And maybe they're comfortable going to Edward Jones and working with the guy on the corner who's providing more one-off kind of advice and housing their account...not every Edward Jones, obviously, but in one case I'm thinking of, and they just need that one-off advice to be able to ask questions periodically. Where I'm telling a client, "Listen, I'm going to own your story with you. I'm going to partner with you to sort out all the things that matter to you over the course of the next 5 or 10 or 20 years. And the advice that I give you in year one is not nearly as valuable as the advice I might give you in year nine, because now I know you so well. And how's that going to impact your net worth?"
And there's all those studies out there that I could quote in these prospect meetings. I try to avoid doing that, because really, it has to come down to either they want to partner or they don't. And that's why most of the women that I serve are independent, or the primary decision-maker in their family system. And that because that's kind of what's happened for me, I need a sounding board to talk through some of these decisions with, I've really recognized that that's an incredible value that I can bring. And I primarily work with women but then have some awesome male clients, too.
Michael: And it sounded like you said that overall, your yield or your revenue went up. So, I guess, you got more in realigned fees from the clients who stayed than you lost from the small subset of clients who just said, "All right, not for me at these fees, I'm outta here?"
Tanya: Oh, yeah, hands down. I would say my estimate was, it would have been a 15% increase in revenue growth. But some fees went down, too. So that's important to note, that the net result was an increase in revenue of about 15% or so. So then of the clients that left, maybe that would be another, I don't know, maybe 5% of that at the...not even that much, probably like 3% of the 15% left. But what it did was it freed up space. And I'm of this thought process like, some will, some won't, so what? Someone's waiting. And that there is just enough for all of us, so not to get too hung up on that. And it just created room for someone who does want to have that partnership and values that partnership in a different way.
Michael: I love the mentality to it. But it is an interesting point that one of the dynamics of fee increases is...I see a lot of advisors really concerned of, "Well, what if my clients leave? What if I lose some of my clients?" And if you think about in the logical extreme, what happens if you just double your fees and half your clients leave? If you double your fees and half your clients leave, you make the same amount of revenue, and you only have to do half the work. That's actually not necessarily the worst outcome from, at least a pure business perspective.
And I certainly know a lot of advisors, because we tend to come to this with a helping mentality, right, kind of advice is a helping profession, that there's a lot of anxiety around seeing that client leave because they just don't want to send along someone that they feel like they can help. But if that's the dynamic then at least acknowledge like, I'm not actually doing this because this is a client that's good for my business, I'm doing this because I just want to serve a non-profitable client because I think I want to. So, you can do that. You can call it pro bono activity or quasi-pro bono because they pay you but not enough to cover your costs. You can always choose to do that as a business owner, but at least own and acknowledge that you're not doing that because it's a good thing for the business, you're doing it because you just have a personal preference to help some clients who aren't profitable for the business.
Tanya: Exactly.
Michael: So put some parameters on that so you don't drag your business down
Tanya: And for a long time, this probably happens for more than just me, I'm assuming, but I am looking at this like choosing myself and my business is somehow a negative for my clients. When really what this work in the last couple of years has done with these coaches, it's kind of retrained my brain to remind myself that, "Listen, if I'm spent, if I don't have any space, if all I'm doing is spreading myself too thin, that is not serving my clients. I will hit that capacity thing that you just wrote about, and I will be stuck. And then my service will...not just service, but my connection and the advice that I'm providing to my clients, that is going to diminish because I keep choosing them over me. That's not like a rite of passage or a badge of honor. In fact, it's sort of, I don't know how to say this, but it's almost like it's naive or immature or something.
Michael: Well, and just it leads to burnout. It leads to ultimately not serving clients as well. All the way back in my college days, I was actually an EMT. I was on a track to go into emergency medicine early on. And I had this fantastic EMT instructor, and one of the things that he absolutely hammered into everybody's head, because EMTs in their own path have kind of a similar mentality for a lot of financial advisors, it's very much an "I'm here to help the other person" mentality, often some pretty extreme or harsh situations. And the thing that the instructor had hammered into our heads and I still remember it crystal clear more than 20 years later, was that he would say over and over to us, "Never forget that you are more important than anybody else."
Tanya: Right on.
Michael: And it was kind of a weird thing in a helper profession. We're here to be EMTs and the instructor is like pounding into us, "You are more important than anybody else." But the fundamental point to it was, because if you burn yourself out, when you go out to help the next person, you may actually hurt them because you're not in a good mental state to actually help them. And particularly in the world of EMS, if you get called into some outright dangerous situations, if you don't actually worry about your own safety first, you can put yourself in significant personal harm and danger, and then you're not helping anybody in the future.
Tanya: Exactly.
Michael: And so, he had this really just striking approach of, the best way to be a helper in a helping profession is that you have to help yourself first. You have to make yourself more important than everybody else, because otherwise, you will inevitably burn yourself out.
The Important Realizations That Helped Tanya Make Some Big Changes [36:19]
Tanya: Absolutely. And that's really...that's where I found myself. It was maybe five or four and a half years ago, maybe, I had just joined a firm, and I'm looking around, and my normal...the normal things that I would do in order to feel successful were not working. My taskmaster, check the box, work harder than everybody else, work more than everybody else, bring in more clients and everybody else, that was not making me feel good anymore. So it's like, all of a sudden, I was spent. I'd had this successful transition to this independent firm from Wells Fargo Advisors and all of a sudden I was just burnt out. Realized that this succession plan that I had planned to be a part of wasn't the right thing, and then felt totally stuck.
And so I spent a few years there doing things like, I saw a therapist on the advice of another advisor who went through the same thing, a succession plan kind of gone wrong. And that work of sorting out my own stuff, I cannot tell you, and then it put me in a position to be able to finally select the vision and make the decision about opening the office. And all that groundwork that I laid through that time period where I sorted out my own stuff so I wouldn't be burnt out has put me in a place to be a way more impactful advisor to my clients. Better with my kids, better with my staff, better all the way around. But I think it was really hard for me to get to that point to realize that I had to be first. And it's just almost shameful. Like, why wasn't I tough enough to figure it all out?
Michael: Was there a particular, I don't know, like transition point or moment of realization that moved you from stuck to being unstuck or ready to take a leap to being unstuck?
Tanya: So I was in this office with advisors that were my former partners. And 10 years of my life was planned out with this succession plan. And then it was like, it all changed in the blink of an eye. It wasn't a blink of an eye, but it all just changed. And so what happened, it was...I failed. And that was like this huge realization and this humbling experience that I could not create the outcome that I desired in this particular situation. And so that was a major catalyst for me. And what I did after that was I actually, instead of, and this is kind of interesting, but I didn't take a leap, I actually sat still, actually sat still in that space of discomfort and tried to pay attention to, "What went wrong here and what am I missing?" And that's when I started seeing the therapist and doing all that work. And I looked at everything through the lens of curiosity.
And then when I finally was willing to take the leap, I was gathering all this information and I was getting recruited from all over and I'm trying to decide on whether or not I should take this offer for some crazy amount of money to go back to Wells Fargo Advisors, and I did this advisor coaching webinar thing for this group that I'm a part of, and I realized that I needed what they had. And that was actually what allowed me to take the leap is because I was surrounded by these growth mindset people who are doing really hard, big things, and doing it bravely, even though on the inside, they might have been afraid. And I realized, I'm like, "What the heck am I waiting for?"
And I realized through that kind of community, I went to the first retreat, and within two weeks, I told my business partners I was leaving. And within 90 days after that, I had my office and my brand rolled out. A major office build-out and dealing with contractors and leases and all of that. So really, it was the catalyst of having a community of like-minded people who were walking bravely into the unknown. Which sounds heavy, but it was...that was it. Because I was sitting there for a long time.
Michael: That's a very like, how did the change happen? Very, very slowly and then very suddenly, to move that much around in three months after, I guess, building it up for a few years of, I'm on the succession plan track, but it's not working
Tanya: Right. And we broke up about a year into it. And then for the subsequent three years that I was there, I just started to carve out, "What would my identity look like if I stayed here? If I went back to wirehouse-land?" I had other people who wanted me to be a part of their succession plans, and I was like...and I just had to decide that, "Okay, I'm doing this on my own," but then I just sat there. I knew I had to do it on my own, but I sat there because I had no example. I didn't have a vision of how to do it until I got with this group. And then it was like, bam. It just all happened literally within weeks.
Michael: And so, out of curiosity, can you share a little bit more of just what happened in the succession plan not working out in the first place? There's so much discussion the industry these days for, particularly for more experienced advisors, like, go find an advisor who's younger than you who can come in and take over the practice and take over your clients and buy you out. And then when we look at actual succession plans, they seem a little bit more bumpy than the sort of idealized version on paper, like, just go find someone who's younger than you who will stick around longer and have them buy you out. So what happened between making what I guess at the time would have been quite a leap from Wells Fargo and being in the wirehouse environment over to Raymond James and being a succession plan in an independent firm, and then sounds like within a year deciding, "Oh, wait, this actually isn't going to work after all?" What happened?
Tanya: I think the short version is we spent more time talking about how to make my transition successful of my clients from Wells Fargo Advisors, which in wirehouse-land back then, what they did was they split up all your accounts among the 20 other advisors, and then you were competing with all of them to bring your accounts over, right?
Michael: Right.
Tanya: So we spent a lot of time, and I will be forever grateful to that group for that, because I was able to have a really successful transition because we spent a lot of time making sure that my clients were comfortable and that the move was seamless. And then we just figured...we'd figure everything out later. Like how we're going to commingle our processes and what succession looks like. It was more of a handshake kind of a thing. And I guess, in retrospect, the things that stand out to me that I would have maybe done differently, and this is a both sides thing, anytime you have like a divorce, whether it's professional or personal, both parties are involved. And so, in retrospect, I think the things that stand out to me is that if I had been more comfortable in my power, so to speak, I would have asked for contracts and commitments. But I didn't think I had a right to do that really, for some reason. And I just saw myself through a different lens that how I see myself today.
So that was something that I think today it sounds naive that I would have done that, but it really worked well for that firm. And it still does today. They're very successful. They're one of the largest firms in our town, and they're a great firm. They do great work for their clients. And I've known many of them for many, many years. It's just that, in formality, worked really well for them. And I didn't know that. For me, that didn't work. I wanted to be more clear about where we were going.
Michael: So I'm struck by your statement that you didn't feel like you had the right to ask for contracts and commitments. I've seen this before. There's so many deals that just kind of happen on handshakes. And sometimes they work out great, and that's great, but sometimes they don't and then people kind of come back later, it's like, "Yeah, I guess, in retrospect, I should have gotten that in writing and I didn't." But I'm just wondering like, can you reflect more, what was going through your head that you didn't want to or didn't feel like you could ask for more of this in writing and contracts and commitments at the time?
Tanya: The last few years, that's what this journey has been the last few years is to recognize some of this stuff. I wouldn't have been able to say that back then, obviously. But to me...
Michael: Yeah, you don't realize at the moment that's part of the problem.
Tanya: Right, that's part of the problem. And so I was always looking around for someone else. I was always modeling my...looking for like a mentor, looking for some model to follow. And through that process, what I recognized was...it's more about learning to trust myself, but I trust...I was quick to trust other people over myself. Maybe because they were around longer or they had more time, or they had more experience, or they had started a business or whatever the criteria was. And I'd do that in my...I had done that at the time in my personal life, too. So that was just a pattern of behavior that wasn't about them, per se, it was more about me, where I was willing to forego what mattered to me and my gut. I went against my gut, basically. I didn't trust that. But I do now, most of the time.
What Her Planning Process Looks Like For Her Clients Today [46:29]
Michael: So, take us back now to what the firm looks like today and what you're doing with clients today. So I am curious to come back to what this planning process looks like with clients now that it's your firm, you get to do it your way. You can trust your own gut about how you want to serve clients. You've realigned fees so that everybody is paying their fair way to get this holistic service that you want to give them. So what do clients get when they sign up with Align Financial and come on board to work with you?
Tanya: So when you ask that, tell me more about what you're getting at.
Michael: So just what's the process? Like, Tanya, your firm sounds great. I'm going to sign up with you to be my financial advisor. What exactly are we going to be doing for the next 3 to 6 months that I'm going to pay you $7,500 a year as a minimum fee for it?
Tanya: Right. So in those early meetings, I'm going to tell them their financial situation as I understand it. So we'll be digging through and just figuring out what information we're missing, and just trying to create a picture. I don't go through 40-page plans, usually, anymore. I have a couple of cash flow spreadsheets, and then I use a version of the one-page financial plan that tells them some observations about their situation based on the priorities that we've sorted out. So the one-page financial plan, the cash flow worksheets, and then this conversation about my observations about their situation and things that maybe we need to shift and change, and then making sure that we're dealing with the things that have their attention first.
So I've also learned over the years that I'm not going to unload everything on them right away. So estate plan and risk management is one of the sections on the one-page financial plan, but I'll just put some high points there. Like, "Review documents created in 2014." And then I'll just put that. That's not a priority for them, that's just kind of a placeholder letting them know that those are the types of things that we'll be talking about over the course of their relationship. But really it's about helping them understand how they understand their accounts. So I spend some time asking them about, do they read their statements? Do they go online regularly? How do they best interpret their financial situation?
So those first three to six months are really about getting to understand how they interpret their financial story, what their priorities are, and then having me bring that back around and kind of try to connect those things for them, to tell them how I make sense of their financial statement or financial situation and what incongruencies there might be. Like the idea about, you're saying that retirement is really important to you yet you have two car payments and some credit card debt. So I see a cash flow conversation. Is retirement really important or is your lifestyle today more important? And trying to hash some of those things out.
Michael: And so, talk to us a little bit more about this one-page financial plan that you've mentioned a few times. Are we talking literally here like, our financial plan deliverable here is a one-page piece of paper? What does this look like?
Tanya: It is. It's one page on the front, one page on the back. It says "financial priorities" at the top. And then the latest thing I've added is how their net worth has changed in the last five years. So that's been kind of an interesting topic with clients. And then there's a section for cash flow, taxes, investments, estate plan, and then updates from us. Like, things the business is working on. Like we offer our clients secure shredding. So that might be something. If that's fairly new, then that'll go on the business updates, making sure they know they can bring in their old document and they can use our shredding service. But really, that's what we talk about. And that has allowed me, because that's changed in the last couple of years, that's allowed me to spend more time talking about the things that have their attention, rather than trying to shove a bunch of stuff on their throat.
Michael: So this one-page document is kind of a standardized template of the different common areas of financial planning, it sounds like, but you're still covering cash flow, taxes, investments, estate plan, etc. You're just putting all of this into a single page, or I guess a two-page, one page front and back, framework so you can quickly sum up like, "Here are the concerns," or I guess as you say, "The observations we have, stuff that we need to work on," and we're just going to live off of this single page.
Tanya: Right. And sometimes I don't even pull that page out with the client. And this might be heresy, but sometimes it's just a matter of, now I have their story in my mind, the high points that matter to me, some of which I think they need to know about. But if the stuff that's on their mind is more important, I might just connect it back and give them the high points. And I, of course, have a report that talks about their investment results and all that sort of stuff. And I might talk...in the investment section, I talk about maybe one or two points about their investment strategy or the money managers that we've selected. But it is...the investment conversation is very minimal. It's really more of a conversation about their big-picture money and their life.
Michael: And so, do you still use financial planning software? Is there traditional financial planning software at all or is it not even part of the process and the analysis now?
Tanya: No, it is actually. Ours is a version...Raymond James has kind of a proprietary version of MoneyGuidePro. I don't personally think that it's considerably better than anything else. Actually, I just went through an eMoney scenario for myself. I've used an advisor or getting some advice from them, because, again, I think that outside experts are invaluable even to me. So I went through eMoney and I was like totally...it was really cool. But I think more importantly, I'm doing... those plans are being updated. So Cooper, my practice manager, he's the one that does all the prep work for the meetings and then I refine the agenda. That's been a huge time saver and a big shift in the last 12 months since he came on board.
And so what happens is, he'll update the financial plan, but then he'll pull a couple pieces of information out of it. Like the five-year change in net worth, or, "Is this still accurate?" Basically, we're just reinforcing, the priorities that we put in place for this plan a year ago or five years ago or whatever, are we still on track? And if we are, then we don't need to spend a bunch of time proving to them that we're on track. To me, the financial planning software is just my own tool. Does that make sense?
Michael: Yeah. So I'm just wondering like, does either the software or the output come into the meeting at all in your process? Do you get to some point where you put an observation on here of like, "You're on track for retirement" and the client says like, "I'm not sure I am. Can you prove where that conclusion came from?" Where some version of a projection comes back up? Does that just not come up with your clients?
Tanya: Rarely. That's just really been a development over the course of time that I've started to recognize that that data, I don't know, in some cases, it was created by the industry as another sales tool. And while it's an important function of the work that we're doing to make sure that we're giving our clients the best advice, but I tell clients, "I'm not going to bore you with this 40-page plan," thank you, Matt Jarvis, because he gave some awesome language around this, "I'm not going to bore you with this 40 page plan. I can certainly give it to you if you'd like. But this is a tool for me to make sure I'm giving you good advice about whether you can retire," in my case, since most of my clients we're talking about retirement or staying retired
Michael: And is that literally how you frame it? Kind of like, "Look, I can give you the 40 pages of printout stuff if you want it, but I've really been using it just to make sure I'm giving you the right advice."
Tanya: Yes. And most of the time, they say thank you.
Michael: I was going to say like, so how many of them actually say like, "No, no, prove your numbers?" I'm going to imagine a handful of engineers that still want you to prove your numbers. But how often do they actually say like, "No, no, no, I want to see where all this came from?"
Tanya: In the 20 meetings that we've had in the last couple of weeks while we're doing the review surges, not one, not even one. Now, that might be a function of many of my clients being with me for a number of years now, but it'd be interesting to see what your other...what other advisors say about that. But I do think that something happens once you've been with them for a while, where they need less of that. But even in my prospect meetings, I might...if I show them one page of the plan to help them understand how I think about it, maybe, but to be honest, I really believe that that creates more confusion for the kind of people I want to attract than it creates confidence. Because the whole reason they're coming to me for partnership is so that they don't have to worry about this sort of thing and so that they don't have to be an expert.
The Meeting Surge Approach Tanya Uses With Her Clients [56:20]
Michael: So talk to us a little bit about meeting surges. You've mentioned this a few times, that you're in a meeting surge. I think you said do meeting surges in the spring and fall. So what are meeting surges exactly?
Tanya: It's just a period of time where we're focused on meeting with our private clients. And I've experimented with this a few different ways and I find... I used to do this years ago, and then I didn't. And then when I started Limitless a couple of years ago, the coaching program, they were doing it really successfully, so I decided to adopt it. And then what has happened is the message that you are sharing with clients, like the couple of high points that you want to tell them about what you're paying attention to, it becomes more consistent.
So, what happens is we only meet clients Tuesdays, Wednesdays, and Thursdays. Well, that's the intention. And then we usually do it between 11 and 3, because I am a single mom and I go to the gym. I'm a CrossFitter, and I go to the gym at 9:00. I made that change about a year ago or so, and that has been a huge shift for me too, to just accept that that's what I'm going to get that in. Because it's too hard to do it after school with hockey and homework and all the other things that happen. So I do meetings from 11 to maybe like 2 on Tuesdays, Wednesdays, and Thursdays.
And Mondays or the Friday prior, usually Cooper has like the whole...let's say there's eight meetings or something coming up or...I try to not have more than two a day because I just get...it's just emotionally taxing to be present and connected for that many hours in one day. So two, maybe three at the maximum. So let's say there's six meetings in that week. Friday or Monday, he's giving me my folders for each one, and then I'm going through and refining the agenda to make sure we're hitting the high points of what I need to get from them or share with them, or maybe some issues or concerns. So, the reason that works is because then in the off-times, so like December, I do business planning. And January, we do our rebalancing. In the summertime, I take more time off because I own a cabin on a lake, and I want to... In Duluth, where I live, summer is like a few weeks a year, basically, so most of my clients don't want to see me anyways.
Michael: Because they're all going out to their lake houses as well. You are in the state of 10,000 lakes. Understood.
Tanya: Exactly, exactly. So, summertime, we'll do other types of project work where maybe we're evaluating a website refresh or...of course, my mind is blanking. But that's...we try to conserve project time to that time, and we find that we're more effective.
Michael: So the core of the service model then is structured meetings with clients twice a year.
Tanya: Correct.
Michael: And so 80 clients, 6 to 8 meetings a week. I'm going to presume not every client comes in for every semiannual meeting. So it takes you like two months of surging to kind of go all the way through the client base and then you've met everybody?
Tanya: Oh, yes, October, November. Ideally, we're done before Thanksgiving. And this is our second year of doing this. And then in the spring, it's last half of March, and then April and May. So it's somewhere around 8 to 10 weeks, depending on how we get people in.
Michael: Right. And depending on how many of them actually take you up for their semiannual meeting.
Tanya: Right. And then, we do a monthly newsletter via Constant Contact, where I send updates about...I include pictures of my kids. And Cooper and I just were at a foundation that I'm finance chair for. We were just at a gala event. So there'll be a picture of my practice manager and I. So we try to include personal things, but we also say things on there like, "Just know you'll be hearing from Cooper in the coming month to schedule for the fall review season." So now for the last couple of years, we've set the stage with clients that that's when they're going to expect to hear from us. So that has really helped, too, because we're telling them, and then we're telling them again, and then we're telling them again. And so, they're starting to expect it. And then if they can't make it in the fall, they know that there's going to be another opportunity in the spring. They're not just losing their chance to talk to me.
Michael: And so what happens if life happens and they want to call, they want to talk, they want to meet in the intervening months that are not April, May, October, and November?
Tanya: I am not rigid about that. To me, if a client has some sort of event that's happening, and that's what they're paying us for. So we just take care of it when it comes up. And there's also always a handful of exceptions. And I'm really working on in the last year...I don't have to live by so many rules. Things just flow sometimes. And if I'm in a good spot, those rules sometimes restrict us from experiencing joy. Because we're constantly like, "Oh, we've got to make sure to check this box and do this thing." And it's like, jeez, it's a hard way to live. So that's what my practice is this year.
Michael: Interesting. And I guess the reality is, I'm sure there are a bunch of people listening to this and are like, "But what about all the meetings you're going to take in the offseason, as it were?" But I'm going to imagine in practice just A, if you actually have a really rigorous structure for consistently meeting with clients twice a year, for most people, that's probably enough, unless there's really stuff going on with them. I know for some of our longtime clients, you can't even get them in sometimes for a once-a-year meeting. Like, "Yeah, we've been working together for 10 years, I'll call you. If there's a problem, you call me. We don't even need to meet."
Tanya: Exactly. And I do have a lot of people on an annual rotation as well.
Michael: And when they know that's the expectation, I'm going to imagine that a lot of them just...there's calls that we get that, or emails that we get that realistically, the client knew they had a meeting coming up in a month or two, they probably would just bring it to the next meeting. They call us in a one-off because they didn't necessarily know when they were coming in next, so they decided to bump it up because something happened in their life that prompted them to contact us and ask the question. But when everybody knows like, Tanya will be calling in for our October meeting and our April meeting every year, clients start sorting themselves a little bit more to decide if it's something urgent enough they want to talk to you or if they...
Tanya: Can wait until then.
Michael: Or if they can wait. But a lot of them probably actually will just find a way. There's only so many things in our lives that are really actually that financially urgent.
Tanya: Right. Exactly.
Michael: But it's a striking thing to me of just, imagine like you're serving 80 clients and meeting with all of them regularly, and 8 months of the year have no required client meetings. Just that's a...it's a lot of freeing time when you take focused surges. Which I guess is literally the point of the meeting surge approach is grouping them together that way, not just so you can have the intensive period, but that you know when you get to the intensive period, times are lighter, and that you literally may have months without any intensive client meeting activity or almost any client meeting activity at all. So you can do all the other work that still has to happen behind the scenes to support clients, but you have more of a structure of it because you've blocked the time together.
Tanya: Right. And one of the things we're working on is, during the surges, if we do have other work that comes up, to postpone it maybe to the off-time. Like if we discover they really do need to review their documents for their estate plan and we finally got them to move on that, then the goal would be to schedule the meeting with the attorney and the client in the office like in December or January, rather than October and November, and trying to push it all when we just had the review with them, which also, I think, helps the client realize that that deserves space and attention, too. So, rather than hurrying up and trying to cram it all in, we're trying to use that off-time to do more of that project work for clients that maybe they get exhausted by. So they have the review, you have all this stuff, you're talking about all their money and they have all these things going on, and then if you carve out this one project that you really need them to move on but you give that the space in an off-month like that, all of a sudden, it's way easier to make decisions on that because it's not commingled with 1 million other things.
Michael: Right. It's a fascinating approach of just bunching and clustering meetings together. There's a lot of discussion there, I think, in general, personal productivity world right now about time blocking and grouping activities together. Like, do all your emails in one big chunk and then do all your phone calls in one big chunk. But the idea of clustering meetings in big chunks throughout the year and only in certain chunks throughout the year is I think...it's a really interesting sort of meta-time blocking of not just the hours in your day, but the days in your week and the weeks in your year.
Tanya: Well, and I also think there's a different kind of mind or mindset that you have for each of those activities, which is what you're getting at. And years ago, I remember having stacks on my desk when I was at Wells Fargo, and this had to be almost 10 years ago now, these stacks, they felt like they never ended. And I was missing my kids' programs, Christmas programs. I wasn't making it home in time for dinner because these stacks never went away. And I read David Allen's "Getting Things Done," which completely revolutionized the way I thought about my kind of brainpower or brain capacity, because it did exactly what you're talking about. Where if you're in call mode, go whip out your calls, and have a list ready to go of all the calls that you need to make. Or if you are in kind of creative mode and visioning mode and you can think about a project because you're highly focused, that should have its own space.
I've learned over the years, I can't do...open up a new project that requires kind of a curiosity and an openness at the same time I'm doing client meetings. Because the client meetings require emotional engagement and a presence that, I wouldn't say it's taxing, it's not like it's taxing me, but it just costs a different kind of energy, while the project work requires a whole different kind of energy. And I can't do both at the same time, or it's much harder.
Michael: And so, how do you look at this going forward in terms of capacity? How far do you think you can go with this? Well, not that you would want to surge all year round, because then it gets really tiring all year round, but when almost all your client meetings are clustered in 4 of the 12 months of the year, does this change your view about how much capacity you have to take on more clients and grow the firm overall or is this really still the balance of, "'No, no, it still takes the better part of the other 8 months to do all the other behind-the-scenes work that happens in our firm, we just grouped it differently?"
Tanya: Well, that's a great question. And I think last year when I was...I felt so kind of lost about where I was going to go, and then I started the program and then realized that, "Okay, I'm opening my own firm," and then I just did it. I had all this time and all this energy devoted to opening the office and making sure clients were comfortable and build-out and hiring Cooper and getting him up to speed, that this year has been kind of this repair mode, where I'm working half the time, making the same money, bringing great value to clients. And next year, I see myself, now that I've kind of got him up to speed, really starting to leverage him here by me focusing more on growth. So long answer is yes, I see growth totally possible with the space that I've created.
How Tanya Plans To Double Her Revenue To 1 Million Dollars [1:09:04]
So, my vision when I started the program a couple of years ago was to double my business by 40, I'm at about $500,000 right now, and doing it 30 hours a week or less, all the while laughing with my kids.
Michael: Oh, wait, wait, wait. Say that again. There's a lot of stuff there. I want to double my business essentially from half a million to $1 million in revenue.
Tanya: Thirty hours a week, 30 hours a week or less. And I wanted to do it before I was 40. Well, 30 hours a week or less, and I want to do it laughing with my kids. And that's a big deal to me. When I started the program, in the same two weeks I decided to leave my firm, it was the same time I decided to get a divorce. And the program actually really helped me think through that as well. Like this idea of all these relationships and situations which weren't serving me. He had had a long struggle with addiction that had kind of cropped up later in our marriage. And I finally, with love and grace, was able to exit that. Just as soon as I decided to do that, two weeks later is when I told my business partners I was leaving.
Michael: Well, that's a lot of life change.
Tanya: It was so enormous.
Michael: All at once.
Tanya: It was so crazy. It was like I was sitting still, sitting still with these really complicated, difficult situations that had me full of fear. And then all of a sudden it was like I was ready, the teacher appeared, and here we go. And I did it. But what was interesting about that is I got things settled here, but then this year, once Cooper was settled in, I'm learning about this being a true single parent, doing this all on my own, because he's not available. And I want to laugh. I want to have fun. I want to enjoy my life. I felt like I was slogging through all these years trying to figure this stuff out in the muck of it all. And then I emerged from it and it's like, what if I can really have it all? And this moment, I am, which feels pretty cool. So, 30 hours a week or less, doubling my business, laughing with my kids.
But the interesting thing that happened this year was I kind of took it as this year of repair and trying to find all this joy, that is that number of doubling it by the time I'm 40, how much does that matter? Where does that move the needle? It feels good and sounds good to say on a podcast, right, it sounds good to put on a business plan, but where does that number fit for me? So this year, I've been working with my coaches to kind of sort through, what does that number really mean to me? Am I growing just to grow or what impact is that going to have on me and my family and my clients and all the stakeholders involved? So I'm just trying to be really intentional about what those goals look like. Because they are a good tagline, but are they really mine? Do they matter to me, the numbers part?
Michael: Right. It's fun to say, "Let's double our revenue. One million dollars is a nice round number for a revenue target." Could you still achieve all of your life goals if the revenue finish at $900,000 instead? Would that be a failure because you didn't double your revenue or is that still more than enough dollars to do all the things you want to do in life?
Tanya: Right. And I think a lot of people use that 100 client number, right, for as far as capacity goes. I don't know, are those real numbers or not real numbers? Who knows? I'm just going to keep paying attention, making sure I'm intentional about who I'm bringing in, and that the criteria and the structure is in place so that I don't try to help everybody, which was kind of my problem before. And now the process is built and I just have to keep executing.
Michael: There is an interesting phenomenon to me. If you look at goals for advisory firms, the number of firms that I see that articulate goals like 100 clients, $100 million under management, $1 billion under management, which is, for the big growth-minded folks is it seems to be like the bogey that everybody's shooting for, it is sort of an interesting phenomenon that either a huge number of advisors sheerly coincidentally have the exact same personal life goals, they have the exact same financial needs such that they all happen to shoot for the exact same revenue number or assets under management target. Or the reality, I think, as you said earlier, these are just sort of external metrics or literally just convenience round numbers to shoot for. And that we start losing the connection of, "What is my goal?" and asking like, "Why is this actually my goal?" Like, "Where did this number and goal come from?" And if it was 10% or 20% higher or lower, would that actually be materially different?
Tanya: Right. In your capacity article, was really interesting how the actual numbers of income, it doesn't...from the high-performing solos versus these huge enterprise operations, it's not that different.
Michael: Yeah, it's astonishing how similar the income at the end of the day actually is between partners of billion-dollar advisory firms and what you make just by being a really high-income, super-efficient solo advisory firm. Top solo advisors essentially have the same take-home income as partners of $1 billion firms. And just like, that's the numbers when you actually drill the benchmarking studies. And while people often point out, "Well, if I build a $1 billion firm, I also have the equity value that goes with it," but on the one hand, as you point out, your goals actually might still all be set even if you didn't have the equity value and if you're making enough income in the first place.
And the piece that a lot of people miss is that that growth cycle requires you to heavily reinvest. Like high-profit solos make more than the partners of firms that have $100 million, $200 million, $300 million, $400 million, $500 million, $600 million, $700 million, $800 million, $900 million. You actually have to get back to $1 billion just to make the income you would have made by staying a high-profit solo because you have to do all of that reinvestment into the firm to build it and grow it and build infrastructure and hire people, which means like, you better have a more valuable thing at the end because you've got to make back all the income you didn't make for 5 or 10 or 20 years trying to build it there in the first place.
Tanya: Right, right. Yeah. And the idea of hiring more actually petrifies me. So I feel like I really lucked out. And I went through a rigorous hiring process to bring in my practice manager. And I have ruthlessly delegated to him. And sometimes doing it with my eyes closed and like, "Oh, my gosh, it's not going to be done as well as me." But I feel like the bigger that gets, the harder...the more people there are...I'm a highly sensitive kind of person, and so the bigger and more people there are to deal with, I don't know, who knows where it would end up. So right now, this feels totally right for me. And I think...well, I hope my clients would say that they're having a better experience now me even being in a smaller operation than before there was six advisors and two staff.
Where Her Clients Come From [1:16:31]
Michael: So, as you talk about growth, and I guess maybe that growth goal may shift a little about whether it's really to $1 million in revenue or some different number, but it sounds like you're still mentally in growth mode, so where do new clients come from for a firm like yours? Because I know you're upstate Minnesota, you're not in the hyper-dense, multi-million metropolitan area population kind of area of a lot of advisors, you're in a smaller town. So what does marketing and growth and getting clients look like for you with this kind of model that's got a half-million-dollar minimum?
Tanya: Well, what's interesting is our household median income in my community is about $40,000. And I think there's maybe 80,000 people. And I'm in Northern Minnesota, right on Lake Superior. It's a pretty rural area. So the main ways that I still get clients today, and I'm experimenting some with social media more just to exist. Not necessarily to market, per se, just to kind of be credible that I exist there, because I don't do a lot of social media. It actually feels sort of intrusive to me. Like, I have to work so hard to create space for my own mind. The social media feels like just, it's taking my brain away, I guess.
So anyway, so the way that I market today is I do the newsletter once a month. And I'm always teaching classes in the spring and the fall through our local school district called...it's just community education, which I think some communities have. And they arrange all of it. They post it in the newspaper. And I do one on women and money, and just how to feel good about your money, and then I do one for retirees, like how to replace your paycheck, basically. And I've done that for... done the retiree one for 10 years, and I've done this women one for just 2 years, and it's kind of my new favorite because I'm incorporating a bunch of stuff I'm learning from this coaching, and we're just talking about really meaningful stuff, which has been cool. So that's one place I usually get a couple clients a year. And then, of course, from existing clients. And then I have an accountant and attorneys that sort of refer. But I've just kind of decided in my area, that's not really an area of focus for me. So existing clients, community ed are the primary ways that I meet new clients today.
And actually, the website, and Cathy Curtis's podcast talked a lot about this too, I have been super shocked at how...we're getting people just through Google. And they get to Google, and then they get to my site, and they say things like, "Well, your website really just spoke to me. My husband just died and I really...I'm hoping to talk to you." So the website is becoming more of a place too. And I did put a lot of time and energy with a really great agency to put that together. Further Bound did a fabulous job on that. So that's bringing in some clients, too.
Michael: Was that like an industry website designer or just a local website design firm?
Tanya: No, actually, she's in London.
Michael: Oh, very cool.
Tanya: I found her through an article you wrote some interview with Sophia Bera. That's how I actually found Further Bound. And so she does specialize in financial advisors, but it's not like she's like one of the FA advisor website type of programs. And her firm is Further Bound. And she's absolutely fabulous.
Michael: For folks that are listening, this is episode 150. So if you go to kitces.com/150, we'll get a link out to the Further Bound website designers if you want to check them out. Because it sounds like they do very good work. And I think the website, your website looks fantastic just with the strong homepage right out like, "Align your money with your life. We're here to help." Right? It speaks to a certain kind of person who has a certain challenge. It won't speak to others. But that's the point of good marketing on your website, right? That's why you get prospects who contact you and say, "Your website really spoke to me," because you connected with them.
Tanya: Right.
Michael: So these community education sessions, I am curious just to know a little bit more about how these work. Okay? I think it's sort of everybody's generic dream. Like, "Wait, I just do seminars and they get me my prospects?" Like, "Wait, how does this work again?"
Tanya: Well, and they're not fancy. I just started having a short PowerPoint presentation in them a couple of years ago as the technology had improved at the schools. I do them at the middle school, the local middle school, and there's maybe 5 to 15 people that come each time. And I know a lot of other amazing advisors that are in this group with me that they're doing these on a way larger scale, through like community colleges, and they have like 50 or 100 people there. They're getting major people showing up. For me, when I started this, this was purely...I was jazzed about distribution planning. And I was like, "Nobody is talking about this." And this was...
Michael: Well, I love me some good, nerdy retirement distribution talks. That's fantastic.
Tanya: And so I just had something that I was excited to talk about. I made the presentation and I started doing the classes. And I did the same one for literally like eight years, and people kept showing up every spring and fall. So I think the trick is you have to do something that you are excited to talk about. And it doesn't have to be huge. And it doesn't have to be perfect. And I don't have invitations, and I don't go huge on it. It's just like there's 5 or 10 people at each one. And if there's only one or two, I cancel it and offer them a phone call. So I just do that consistently. So my name is always in the newspaper. And it's people who like to learn, and I love to learn, and so we have a natural kind of click. And I always go with the attitude like, this is just about putting this information into the world. It's not about getting another client. And so, as long as I'm excited to share that information with people who want to know it, then that is authentic. And then if business comes as a result of that, great, fine. And one of my largest clients came as a result of one of those programs.
Michael: Well, I was going to say, so I understand the, "Hey, I just want to teach them, put information in the world, if business comes of that, great," but how do you turn it into business? Because I'm going to presume there are, if you're going through like the school district and the community education program, there are probably at least some limitations around what you can do to solicit people afterwards, or maybe there's not a limitation. How do you turn free or inexpensive local middle school presentation into like, "Oh, and by the way, I'd love to work with you for $7,500 a year minimum?"
Tanya: I think because now my website is so clear about who I serve that they just are going out to the website after the fact to see what the story is. And so then what's been interesting is that some people that come to the women and wealth class, which is talking about how to feel good about your money, some of those folks are in a jam, right? They might need like a budgeting counselor through the local Lutheran Social Services program or something like that. So those people will email me afterwards and they'll say like, "Hey, I don't have enough money to meet your minimums, but if I needed help about this, who would I talk to?" And so then I might refer them to something like Lutheran Social Services Financial Counseling or something like that. Or if they don't meet my minimums, I have other advisors locally that I'm referring those people to. So I think what's happening is, I don't know, I don't really have to ask for it, they just call. I've realized that sounds less clever than it should be, but that's just what happens is they want to talk to me afterwards.
Michael: Well, and I think it makes the striking point of just what happens with a good website and the role it plays in the process. That it may not necessarily originate new clients. Sounds like there are some who may find you through Google search, but that when you do other things, when you're networking, when you're doing community education, when you're out there in the world, just making people aware of your expertise and what you do, that at some point, some people are like, "That was kind of interesting. I think I'm going to check this person out."
Tanya: Absolutely.
Michael: And if they check you out and it's a strong website, the website gets the key assist, it may not generate the original business, but most advisors I know never look at their website metrics, the stats, so you never realize like, "Oh, 100 people visited my website in the past week or 2 and 0 of them contacted me. Maybe I don't have a very good website." All we tend to see is like, "Yep, got a website, don't get any clients. Websites must not work." And we never see or look at or realize how many people actually blow through the website and never contact you, which means maybe it's not that websites don't work, maybe it's that your website doesn't work.
Tanya: Right, right. Which is one of the things that when the website rolled out last year, we were getting a lot of influx, for me anyways, we were getting a lot of inflow of potential clients, and a lot of them weren't going to...it wouldn't make sense for them to pay the minimums. And so we realized we had to kind of shift that. So we used some of the colleagues' and coaches' recommendations and shifted the website to be very clear about the minimums. And then what if I don't have enough, what should I do? So right on the FAQ, it's very explicit. It says, "Come check out one of our classes," or, "Contact us and we'll give you a referral to a local advisor." Which I think is really important and it's one of the reasons so many of us are unwilling to set minimums is because we just want to help people. So this way, I can still give them a good option.
Michael: There are more ways to help them than just take them on as a client or feel like you're kicking them to the curb. You can also just help them find another solution that's a better fit.
Tanya: Exactly.
What Surprised Tanya The Most About Building Her Own Advisory Firm [1:27:14]
Michael: So, as you look back over the years and kind of all the different twists and turns that the journey has taken along the way, what surprised you the most about building your advisory firm?
Tanya: You do ask the best questions. I guess that it would be me. That it would be me charting my path alone. And Cooper's here. I have all these great clients and I have great friends and this awesome tribe of advisors that are in this group with me, but I think the biggest surprise for me would be that I would be one of the ones doing it on my own, because I always was looking for someone else's shadow to stand behind. And I had all this evidence to suggest that I was the expert. 2019, I was the chair of the Council on Examinations for the CFP Board in Washington, D.C. I've been writing questions and evaluating the CFP exam for a decade, and yet I was always thinking of myself as someone who is standing in someone else's shadow. So, to now...to realize that it was all me and that I had the vision and that I knew what I wanted to bring to the world, that, I think, has been a really big surprise for me in the last two years.
Michael: And what drove that breakthrough or mental shift?
Tanya: That mindset shift really occurred as a result of that coaching program. Like I was preparing myself to be ready for something, but I didn't know what something was. And then there I was, and it's like they just helped my vision get clear, and almost like I got permission to be the one. This whole experience said to me, "Why not you? This is what you want, why not you?" And it gave me permission to say, "Yeah, this is what I want to do, and this is what I am supposed to do."
Michael: So, what was the low point for you in the journey?
Tanya: I think I would choose two. The first one was accepting that my partnership failed at work four years ago. That was a major low point, to realize that I could not hustle my way to make that partnership work. I had been able to outwork, outthink, outplan. I would just do whatever it took to create the outcome I wanted, and it was this realization that failure, which is right in your iceberg thing, that that's actually a part of the path. So that was a low point.
And then I would say another low point for me, and this is a twofold because it was a low point, but it was also liberating. Sometimes that point of surrender is actually when things start to get better. So, another low point was when I recognized that I was going to have to get divorced, that that was going to be my choice. All the while I'm doing all this other crazy stuff, figuring out what path I was going to be on at work, worried that I was going to be the sole provider and worried about my husband, what was going to happen to him if I just let him kind of flounder, and realizing that I had to choose me, I would say that was a low point but also a moment of liberation, where I realized that I had to pull down the mask for myself, I guess, in order to go to the next stage of my life.
And I didn't know what my next stage was going to look like, professionally or personally, but I just knew that I had outgrown my personal and professional partnerships. And I got very clear on where I was at and where I wanted to go, and I had to just go forward. And now, I just want to be a role model for this idea of like a joyful path to excellence, rather than this slogging it out thing that we all do.
Michael: I love how you said that, "I want to be a role model for a joyful path to excellence." So reflecting back on this, is there anything you wish you could go back and tell you from 20 years ago about the journey you were getting started on as an advisor?
Tanya: I'm pretty sure I wouldn't have listened.
Michael: It doesn't matter what I would have said, I wouldn't have listened anyways.
Tanya: I think that's probably the reality. I'm pretty sure. I could come up with some clever thing right now, but I wouldn't have listened. And so I think the interesting thing is that it's almost like we need every single one of these things. We need all the good and all the bad and all these experiences to discover and become, create the business and the life that we want to live.
Michael: Yeah. It's kind of that frustrating part of like, yeah, but I really don't actually change until it hurts.
Tanya: Pain is the touchstone to progress.
Michael: Yeah. And until I do the thing in the way that probably wasn't entirely healthy but I do it to the point that I actually feel the pain, I don't actually make the progress. There's just not enough motivation to actually listen to someone externally giving us advice about what to do to change.
Tanya: Right, right.
Michael: I like that. Pain is the touchstone to progress. That is wise and poignant.
Tanya: Not mine. I stole that from somebody. Joyful path to excellence I stole too, which I really loved. My friend Tiffany...
Michael: If the words work, use the words.
Tanya: Right.
Advice She'd Give To Young Advisors And What Success Means To Her [1:33:15]
Michael: So notwithstanding the comment, just acknowledge that they may or may not listen, any advice you would give to young advisors looking to become financial planners today and kind of coming into the industry, gearing up for their own journey?
Tanya: I would say a couple things stand out to me. Like staying curious, I think, has been one of my most important skills. And rather than judging everything that's happening, just kind of asking myself like, "What's that for?" and just paying attention to it. So this idea of remaining curious, that maybe we don't know everything and have all the best ideas, and I think that's the other piece, is the connections that I've had with other advisors and other professionals over the last 21 years have really fueled me. And I guess the third thing that comes to mind is to never be afraid to ask for help. Because that Einstein quote, I just heard this on a call that we were on recently, of, "You cannot solve a problem with the same consciousness that created it." And if you can keep that in mind and remain in that growth mindset, then I think you can kind of adjust as things change, because they will for all of us. If failure is right under that tip of that iceberg, we're all going to have it. We just don't know in what form.
Michael: So as we wrap up, this is a podcast about success, and one of the themes that always comes up is just the word "success" means very different things to different people, sometimes different things to us as we go through the stages of our lives and have the pain points to progress. So, you've had this kind of transformational, successful experience working towards this cool goal, "Double my revenue at 30 hours a week while laughing with my kids all along." But I'm wondering when it comes down to you personally, how do you define success for yourself at this point?
Tanya: I think that it just keeps changing, which is one of the things I feel so hopeful about, that it isn't set in stone. And I'm a sucker for business planning. It's not this thing, that isn't necessarily...it's never enough, right? So what the internal, I guess, success for me today, today, 2019, is this idea of joy and personal agency, or this idea of having time to choose makes me feel so good that I can't even...I just can't even describe it. So those things come to mind.
And I guess this just idea that, in all my interactions, do people feel better as a result of their connection to me? Am I putting that kind of good and light into the world professionally and personally? And I just want to be surrounded by that kind of good vibe thing. And I want to put as much of that out there in the world that I can. So I don't know. Today, that's what it feels like for me, which is totally different than what I thought I would tell you when I practiced for that question. But I guess that's how it goes, right?
Michael: Well, sometimes the conversation just goes where it's going to go.
Tanya: And I really want to laugh. I was so serious, so I really want to laugh today. And I'm doing a lot more of that.
Michael: Well, I love it. And I think there's a really both powerful and frustrating point of just that recognition that the definition of success can change. It even can change for ourselves, the goal-oriented amongst us. You set up a success goal and then you hit it, and then you kind of get like the dog catching the car, like, "Okay, now what?" And that even sometimes when we're on our way to the journey to whatever the goal is, if you don't stop and reflect on it for a while, you may not realize that it's not even actually the meaningful goal anymore, and that the success definition really can change as we go.
Tanya: Absolutely. And giving yourself permission to change your mind like that, I think is incredibly powerful.
Michael: I love that. So true. Well, thank you, Tanya, for joining us on the "Financial Advisor Success" podcast.
Tanya: It's been my pleasure, Michael. Thank you so much.