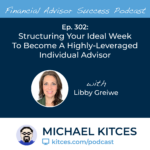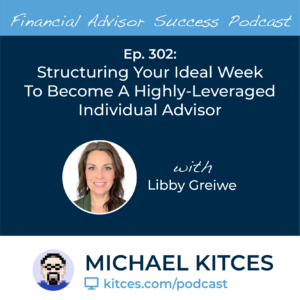 Welcome back to the 302nd episode of the Financial Advisor Success Podcast!
My guest on today's podcast is Libby Greiwe. Libby is the owner of The Efficient Advisor, a financial advisor coaching and consulting business based out of Loveland, Ohio, that's focused on helping advisors create systems and processes for themselves so that they can run their businesses in less time and with less stress.
What's unique about Libby, though, is how she developed the efficiency systems she coaches on by having lived it herself, growing to a $1M revenue practice that she was able to support with a lean team while working just 25 hours per week as a busy Mom, built primarily around creating what Libby calls an "Ideal Week" where she modeled exactly how she wanted to focus her time for maximum efficiency, and then put the team and systems in place to make it happen.
In this episode, we talk in-depth about how, while working for a broker-dealer, Libby realized their internal 'structure for success' was entirely built around working more to earn more and realized that she would need to build her firm with a different kind of mindset if she wanted to earn more while working less (so that she could have the time she wanted to start a family and take care of herself), why, in order to create even more efficiency, Libby decided to implement a tiered service model, which she created based on the amount of revenue per hour she wanted to generate from herself and her team, so that she could determine exactly how many hours of service a particular client would get, and how, by implementing workflow systems that were especially proactive in client communication, Libby was able to systematize a client experience that led her practice to actually be able to grow entirely on a referrals-only basis and no other marketing.
We also talk about how, while she was still working for a broker-dealer, Libby learned to differentiate herself not by learning to better sell her firm's products but instead by diving deep into contract language of her clients' insurance and annuity policies to find the gaps where those products didn't really fit their financial planning needs, how after finding out she was pregnant and realizing she would need to change how she was using her time, Libby went through a process of relentlessly scrutinizing everything the firm did for clients to figure out what they could actually stop doing that no one would likely notice or miss, and why, even though Libby reached a point of efficiency where she was serving 285 clients while maximizing her recurring revenue, she decided to sell her practice and semi-retire at 37 so that she could focus on starting a new consulting business… to have an even greater impact on even more client households by teaching and coaching other advisors on her methods so that they can develop more efficient and effective practices, too.
And be certain to listen to the end, where Libby shares how she began to track time and energy she was spending on each client, which allowed her to right-size her client load to only serve the ones that she truly enjoyed working with (and not just the ones that were profitable), why Libby believes that, while it is important for advisors to absorb as much knowledge as possible and learn what other advisory firms are putting into practice, it is even more important to take the time to discern which pieces actually work for their individual practices and not try to just blindly replicate exactly what they see (as there is no perfect practice to copy because each advisor is a unique human being), and why Libby believes that because the financial services industry can be tumultuous, it can be easy for advisors to be derailed from their core visions of success, but by finding support in like-minded advisor communities, advisors can realize they are not alone and refocus their energy into following through with their own definitions of success.
So, whether you're interested in learning about how Libby implemented her ideal week which led to more efficient, template-able processes, how Libby helps other advisors put into practice more efficient processes for their firms, or how shifting the focus of her service model to revenue per hour helped her maintain revenue for the firm while working less, then we hope you enjoy this episode of the Financial Advisor Success podcast, with Libby Greiwe.