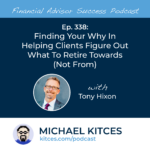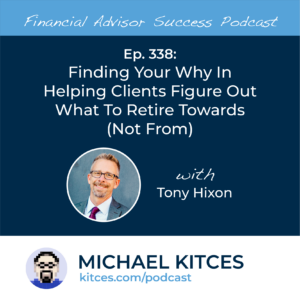 Welcome back to the 338th episode of the Financial Advisor Success Podcast!
My guest on today's podcast is Tony Hixon. Tony is the Co-founder and COO for Hixon Zuercher Capital Management, an independent RIA based in Findlay, Ohio, that oversees more than $300 million in assets under management for nearly 330 client households.
What's unique about Tony's journey, is how the tragic death of his mother just 6 months after she retired, made Tony realize that even though retirees may be prepared financially for their retirement, they may not be prepared mentally for the transition to a life that is separate from their career identities. Which inspired him to change the way he engages with his clients around financial planning… and ultimately led him to write a book to honor her, and help his clients (and other retirees) learn from his mother's story.
In this episode, we talk in-depth about how, just months after her retirement from nursing, Tony's mother became depressed and decided to take her own life, which made him see first-hand how entering retirement means so much more than just being financially prepared (as even though his mom was financially stable, she lacked purpose and was not mentally prepared for life after her successful career), how Tony decided to add retirement transition coaching sessions to work more deeply with his clients to help them prepare for retirement by finding their own purpose in life beyond their careers, and the way Tony has expanded his in-person and now virtual retirement workshops for both clients and non-clients to further increase access to tools and information on how to mentally prepare for retirement.
We also talk about why Tony and his partner have taken an active approach to managing their client portfolios even as passive ETF models have become increasingly popular amongst advisors, why Tony and his partner Adam changed the firm name from Freedom Financial Solutions to Hixon Zuercher Capital Management (because they felt that adding their founder names into the name of the firm was the best way to build a legacy with name recognition that would continue beyond them), and the way Tony and his partner implemented 5 core values for their firm (of integrity, professionalism, excellence, abundance, and teamwork) to further establish a personal identity for the firm that can last beyond their leadership.
And be certain to listen to the end, where Tony shares why he and his firm follow the mantra "We win or we learn" because they don't view mistakes as losing but rather as learning and growth opportunities, why Tony feels that younger, newer advisors should focus on working on their designations before starting a family so that when the time comes, they will be able to devote their full attention to their spouses and children instead of studying, and why Tony believes that feeling fulfilled in life begins with finding your 'why', and how by telling his mother's story and helping others find their purpose in life he has found his 'why'… and plans to continue to help others retire well through financial planning and coaching for the foreseeable future.
So, whether you're interested in learning about why Tony uses the proceeds of his book to fund a scholarship for a nursing student at a local college in honor of his mother, why Tony and his partner decided to launch their firm together at 25 years old, or how the firm's life coach is a former client of theirs from their previous niche of dentists who decided to give back during his retirement and help others find their purpose, then we hope you enjoy this episode of the Financial Advisor Success podcast, with Tony Hixon.