Executive Summary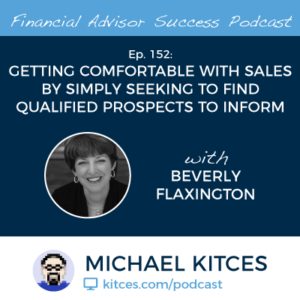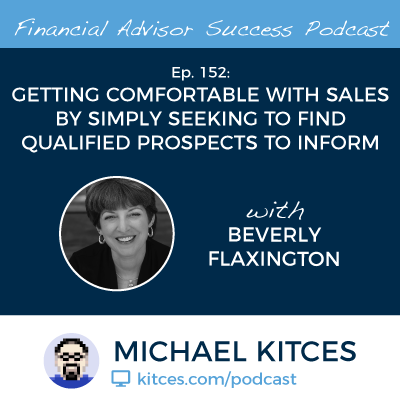 Welcome back to the 152nd episode of Financial Advisor Success Podcast!
My guest on today's podcast is Beverly Flaxington. Bev is the founder of The Collaborative, which provides sales training and organizational development support to financial services firms.
What's unique about Bev, though, is the human behavioral coaching approach that she takes to teach sales and business development skills. Recognizing that, in the end, with financial advisors (as with our own clients) it's not just about knowing what to do, but figuring out how to change your behavior to actually do it.
In this episode, we talk in depth about Bev's approach to sales training and how to conduct a meeting with a prospective new client. Why it's so important to set upfront for the prospect an expected outcome for the meeting, the importance of figuring out whether someone is a qualified prospect by determining if they're suited for your firm services, willing to pay and really ready to make a decision, how to get permission to ask deeper questions to the prospect to get to know them further, and why it's ultimately a kindness to a prospect to ask for their business when that moment comes, instead of just waiting and praying for them to volunteer that they're ready to sign up with you.
We also talk about the challenge of differentiating in today's crowded advisor marketplace, the value of having a niche, at least for your outbound marketing efforts, why getting more specific about exactly who you serve makes it both easier to generate referrals from existing clients and reduces that awkwardness of talking about what you do in social settings, and the importance of defining clear triggers so those who might refer to you know exactly what situations to watch out for that might be a good opportunity to refer.
And be certain to listen to the end, where Bev talks about how advisors who find the sales process icky or uncomfortable can reframe it in their own minds to understand that in the end, settling is simply about letting people know what you do, how you can help them, that you genuinely want to work with them and do good work, and that your job is simply to help them make a decision they're confident about, which hopefully will end out being to hire you to do the work!
What You'll Learn In This Podcast Episode
How Advisors Should Think About "Selling" To Prospects [04:38]
Why Being Able To Articulate Your Client Experience Is So Important [13:47]
How Advisors Should Market Themselves To Differentiate And Stand Out [20:32]
How Bev Recommends Advisors Should Pick Their Niche [27:05]
How Bev Defines and Utilizes "Triggers" [37:09]
How Bev Suggests Advisors Can Help Prospects Overcome Their Intertia [53:25]
How Bev's Sales Process Works [1:18:47]
What Comes After Qualifying A Prospect? [1:35:38]
What Advisors Generally Misunderstand Most About The Sales Process [1:47:54]
Resources Featured In This Episode:
Never miss a Financial Advisor Success podcast episode! Get notified of the latest episodes (and all our research as it's released!) directly via email:
Full Transcript:
Michael: Welcome, Bev Flaxington, to the "Financial Advisor Success" podcast.
Beverly: I'm so happy to be here, Michael. Thank you so much.
Michael: I'm really excited to have you on the podcast today because I will admit, you are someone whose work I followed from afar for many years, ever since you had put out a book, I think probably like five years ago now that was called "The Pocket Guide to Sales for Financial Advisors." And I don't even remember quite what had led me to it in the first place, but as someone who I will fully admit is not a particularly skilled person when it comes to sales, I basically failed out of my first industry sales job and stuck around out of sheer stubbornness, your book left a really strong impression on me because it had an interesting way of just reframing what it means to be trying to do sales when we're coming to the table as a helper, not just here to sell a product.
That you had framed this in your book as like, you want to help them, they need your help, but that doesn't mean you can or should just sit around and wait for them to come to that conclusion, figure it out themselves. It's okay to try to nudge them along on this process and just help them understand why it is you have value and do this good thing for people, and that that's not a bad thing. That's not a dirty sales thing as we sometimes talk about it. You just at some point have to actually open the door for people and let them walk through it to work with you. And it left a really strong and striking impression to me because I feel like I'd always felt the sort of the dirty side of sales. And here is this other completely different worldview of, no, you're trying to help people. You want to help them. They know they probably need help, but not everybody just gets off their duff and does that. So sometimes you help them along. It's just helping them help themselves. That's okay, right?
How Advisors Should Think About "Selling" To Prospects [04:38]
Beverly: I love everything that you're saying. One of the things, Michael, when I came to start working with advisors, because I did start my career in sales and the institutional business, 401(k) where it's okay to be a salesperson. In fact, we celebrate it. We honor it. We do all this classic overcoming of objections and everything.
Michael: Right. And put it up on a board so everybody can see who's doing the best and get all of the competitive sales juices going. And I know there's parts of the industry out there that does that and still does that. It's like, more power to them. But I don't think they have a...they don't have a problem. They're doing fine. It's the rest of us that didn't come to this to sell things. We came to it to help people. And it's like, "Oh, I want to help people. I don't want to sell them."
Beverly: Well, and even add on what I always say to advisors, you think about, people take the financial advisory track because they love the investment side of it. They love the numbers. They're investment people. The CFA, the CFP credentials, it's a highly educated theoretical-type profession, right? And I remember first being in sales and seeing cartoons that it would be like, when you can't do anything else, what do you do? You sell for a living, right? Because what kind of skills does that take? You just sit at the bar, you talk to people and you're done. So I think that there's this disconnect. It's almost like a de-valuing in the mind of the advisor. Like, I worked so hard to get these credentials and now you're asking me to do something that any Tom, Dick, or Harry could do, and I'm not going to be very good at it anyway.
Michael: Well, and there's even an extension to it. I spent all this time and effort, I learned all this stuff, everybody should just see that I'm smart and I know things, and they should want to pay me because I'm going to help them. Can't they see this for themselves, how valuable I am? And then it hurts when they don't quite get there all by themselves.
Beverly: Oh, my goodness. I teach an entrepreneurship class at a college in Boston, and this is what I tell my entrepreneurship students. I'm like, "You're in love with your product and service. Guess what? Nobody else understands why they should be in love with it." And it's the same thing for an advisor. They will believe because I'm doing the best job for my clients, I am smarter than the advisor around the corner, whatever it may be. Everyone is able to see that. But I tell them, they have a responsibility, in my view, right? You're dealing with people's finances. Other than health and family, what is closer to someone's heart? And in some people's lives, finances might trump health and family, right? So, this is such a powerful life-changing thing that advisors are doing in someone's life. And in my view, you have a responsibility to get out there and let people know that you're available. It's not selling, it's informing.
Michael: So that's a good reframing. I think we're going to have a few of these as we go. So it's not selling, it's informing.
Beverly: Because if you think about it, how does the average... Think about our business, right? And I love all of the things that you write about because it takes a step back. Think about our business. Those of us in the business can disagree, misunderstand. I like to make the joke that you put five investment advisors in a room and pick any jargon term in our industry and ask them what it means and you could very well get five different answers, right?
Michael: And we're supposed to be the experts with the consensus understanding of how this stuff works.
Beverly: Right? We don't even agree on what it is. "Can you explain that to me a little bit? What's your view on that?" So now we have the outside investor who doesn't come from our business, who maybe made their money, I don't know, inventing some crazy widget or whatever. And we have this expectation that somehow they're just going to understand not only what we do, but why it's important to them, how we're able to help them, and then why it is that they should be able to pay the fee. Just think of that just logically on the face of it, how is that really even possible?
Michael: I like this framing of it's not selling, it's informing. That I think there is this challenge trap that we just all get into. I suppose it's a version of the curse of knowledge, right? Like, sometimes we know so much, we just sort of forget how not that much everybody else knows and don't adjust our explanations accordingly or our views accordingly. And I think there's a version of that for all of us in advisor world, not just around the financial stuff we try to teach and advise on, but just our value and what we do, that you can't assume everybody else knows and immediately understands what you do just because you said you're a financial advisor. You said, "Well we do comprehensive financial planning" or all these labels we have around the stuff that we do. Because as you noted, if we can't even agree on jargon terms, you put 10 people in the room and say, "Well, what does it mean to have really a truly comprehensive financial plan?" Because we all say we do comprehensive planning. Like, "What does a comprehensive plan really mean?" And you get 10 different answers. And if we don't agree, how on earth does the next prospective client have any clue what we say we're doing because we say we're advisors and do comprehensive planning?
Beverly: And because, Michael, let's even take it a step further. And we talk about this a lot. Because you think about even some of the words that we take for granted. So we might be doing, say, value prop work with an advisor. "Okay, so what's special about what you do? What's different?" "Well, I'm independent." Okay. So an RIA, an independent RIA sees that as a valuable thing, because in their mind, they're comparing themselves, say, to an advisor at a brokerage firm, right? So, who's not independent. But the irony is... I did this very large group at a brokerage firm one day. I said, "Just out of curiosity, how many of you would describe yourselves as independent?" And of course, everyone in the room raised their hand because they believe they're independent thinkers, too.
Michael: I'm at an independent broker-dealer.
Beverly: Exactly, right? I'm independent in the way I think. So even something as simple as that, that to an advisor, they look at it and they say, "Well, it's very clear-cut," but it really isn't. And so how could we have an expectation if we're not putting thought behind the selling process, how it is you're going into the market, how you're telling your story, that we can think that the audience is going to have any chance of understanding it when really even the most simple of terms is not that clear-cut to those of us in the business? So I think that's the part that so gets missed is that it isn't like we're even that clear how we can define amongst one another.
And to your point about, it's fascinating watching what's going on right now with planning, the spectrum around that. But you have to put the muscle behind really crystallizing how you talk about what you do and explaining to the people you think you can help why it's going to be valuable to them. Because they're not going to infer it, and they're sure as heck not going to come looking for you unless they've been triggered to do so or somebody else has told them to unless you're out there and clear about the value that you're adding.
Michael: Well, and I'm struck by it as well that...labels like "I'm independent" are a good example where, well, lots of people actually use that in the industry in a lot of different channels. Where even people in some independent channels say the people in the other independent channel are less independenter than they are, which may or may not technically be true, but really good luck explaining that to the client.
I feel like overall as just the landscape has gotten, I guess, a little bit more competitive, there are fewer prospective clients out there that aren't attached to someone that in some way calls themselves a financial advisor today, that it almost feels like we're spending more and more time just trying to differentiate ourselves from each other, which isn't a bad thing, but we spend so much more time trying to differentiate ourselves from each other that I feel like we don't even get around to actually saying what we do for clients sometimes, we just mostly try to spend our time saying why we're better than the other people. "I'm more independent" or, "I'm more fiduciary" or, "That other person acts less in your best interest than I do." Which is horrifically difficult and subjective to even figure out whether that's true or not. And I feel like we put clients in a position to try to basically figure out whose word is right when they don't have the expertise or knowledge of the industry to even make these distinctions or understand why they're meaningful.
Why Being Able To Articulate Your Client Experience Is So Important [13:47]
Beverly: And you just keyed on something that I think is so important for us to talk about, which is being able to articulate what it is like to work with you as an advisor. We sometimes call it the client experience. But I've had so many situations where, exactly as you say, an advisor will be explaining why they're different. And we have to push on them because, well, okay, we hear that all the time. Or I tell the story about a retail bank that we work with. And they had us come in because there are people that sit in the branches who for years just sold you an annuity, no matter what you walked in to do, annuity was the answer. And they just invested millions of dollars to put in one of the major planning softwares to connect it to Morningstar, to get in Salesforce, because they said, "You know what, guys? You're advisors, you're not just annuity salespeople." So we're seeing this happening all over. So this advisor term, right, is getting applied in so many places.
So then we ask an advisor in practice, "So what's the client experience?" And oftentimes their answer is, "What do you mean? What do you mean?" Put yourself in the shoes of someone working with you. What does it feel like? What do they think about it? What are they going to get? What's going to happen to them at each step? What can their expectation be of short-term, long-term outcome? And I'm just always stunned how it's really tough for many advisors to articulate it. It's like they're so close to it, or I think sometimes assumptions just get made that it's clear or that it's the same or that it's predictable, but there's so much richness in being able to step back and really look at that lens through the eyes of somebody who might be working with you.
Michael: Yeah. Well, and it strikes me that as we get in this world of we're all advisors, whatever exactly that means, that we become so undifferentiated to clients. And I'm always struck, if you go to pretty much any website today that has some kind of "find a financial advisor" platform, CFP Board has one, NAPFA has one, FPA has one. There are a couple of standalone paid platforms out there. For virtually every platform that you go to, when you think about like the first thing that you enter into that website to find the person to whom you may give your life savings and rely upon for the next 10, 20, 30 years, the very first search criteria is zip code, right? It's all geography-based search.
And so when you think about like, at the end of the day, the primary way that a prospective client decides who to give their life savings to is whether the zip code of the advisor is geographically convenient to their home or office. It kind of hurts to think about that way when I look in the even the context of our own advisory firm, because we get some clients from platforms like this, but then like, yeah, we get some local clients from platforms like this, that we become so indistinguishable to the average consumer that I guess whoever is convenient to my house for driving purposes actually becomes literally the number one screening criterion to figure out who to talk to.
Beverly: Imagine that, though, right? When you think about, honestly, I just have the best doctor. I love her. She's great. She's so far away from me. There's a gazillion ones that are closer. I'm not going to them. I trust her. I like her. I want to go where she is. And it's the same sort of thing, right, as an advisor. And not to mention, Michael, think about, in this age of Skyping and being able to Zoom and conference calls. I love my advisor. I don't really care to have him show up here or for me to go there any more than necessary. I'm perfectly happy with a phone call. And I don't care if he's sitting in Montana or California. And on the other side of it, though, and I know you can appreciate this, and you talk about this so much, and it's one of my favorite topics, but ask an advisor to define with whom they best work, right, their market, and it's incredible to me how many still will give you an answer that's an AUM-based answer. And I'm like, in my entire life, I have to admit, there's never been once that I've identified myself by my investable net worth.
Michael: My ideal clients are people who have enough money to pay me and live within 5 to 10 miles of my office.
Beverly: Yeah, exactly.
Michael: And again, I'm...well, I hope we're not too deeply offending anyone who's listening, I'm not trying to pick to our collective sort of advisor marketing strategies that we've done, but just to recognize that this is what we're doing. This is what we're actually doing. The people I work with are people who are within X miles of my office in my zip code who have at least Y dollars. And if they're that undifferentiated to us and we're that undifferentiated to them, this is why growth is getting so hard.
Beverly: And Michael, in fairness, right? So when we talk about this with the listeners, I think that the part of it that we want to be thinking about is, I've sat in so many advisors' offices, though, who are burdened. They're actually burdened with clients who are not paying them enough money, who don't really fit their business model, who aren't really the types of people they want to be working with. And so, that's the outcome, right? It's like if this approach was gaining you the sorts of clients that you really want and your practice was robust and you've got loads of new clients coming in, it's fine. But unfortunately for many advisors, it is broken. And it makes me sad because I do believe... All the advisors we see and we work with are doing a phenomenal job. There's so much heart in this business and so much of a desire to do the right thing and a real calling to help people change their lives. So that's the part for me that's the disconnect, right? Not saying that people are doing it on purpose. Because what they really want to do is add so much value, but it's the way that they go about doing it that's so broken in many, many cases.
How Advisors Should Market Themselves To Differentiate And Stand Out [20:32]
Michael: So let's talk a little bit more about that, about kind of these dynamics of marketing. How do we actually stand out and differentiate? Because unless you're really just in a remote area where you truly are the only advisor, like X miles in radius of your zip code, how should we be trying to market to differentiate and stand out, and then what should that sales process actually look like?
Beverly: So I do really feel very strongly in today's climate, having some sort of a designated niche is absolutely critical. And I just wrote about this again because I was at another session where we get the feedback from advisors saying, "I don't want to be limited." I'll sometimes ask advisors in a room. I'll say, "Given what you do, how many of you could basically, as long as someone has enough money to make it worthwhile, could basically work with anybody? It doesn't matter their age, marital status, career." And of course, they raise their hands. Because this sort of work, there is a lot of people out there that need it. But it just makes it very challenging from a marketing perspective and to stand out and to try to communicate in a way that you're going to catch someone's attention.
So I try to explain that it really is more about that outbound process. Doesn't mean that if somebody comes to you who doesn't fit the niche, so to speak, that you have to say no, although sometimes that is the right answer. But being able to define who those people are I think is key. And then be able to use language that speaks to them. So I think often of an advisor that I had, he's down actually in the Texas area. And just a genuinely phenomenal guy but just could not get traction, could not get traction, former oil executive. And so I was like, "Well, what do you know about people in the oil industry?" Well, he started talking. I said, "Well, then get that in your marketing materials. Go to where you used to work and talk to people." And just exploded his business based on that. Because it's like, "He's one of us," right? The response is, "He's one of us. He gets us, he's talking our language."
So I think that's a really key piece. Who are you targeting? What's the language that's going to appeal to them? And then being able to, again, that client experience, paint the picture for them of what triggers might they have that would make them want to need an advisor. And then when they come to you, what's that experience going to be like? What are you going to take them through? Because I feel like that's where the human side of what you all do really comes to bear. I tell advisors all the time that yes, it's becoming somewhat of a commodity business and this retail bank guy could look just like the sophisticated RIA over here, however, all of what comes to bear is who is this person? What's our culture like? How do we deliver what we deliver? How do clients feel and think about us? And I think that's the part where there's so much opportunity to bring that to the forefront and really attract someone's attention, rather than tax-efficient strategies and legacy planning, which are, what do those even mean to a lot of clients?
Michael: So how do you talk through with an advisor who's still saying, "But I just don't want to take the chance of narrowing my target market of who I can work with?" I feel like that's still the number one objection that I hear in this world of sales and overcoming objections. So we'll do our sales process here for our listeners. How do we overcome this objection of, "But I just don't want to overly limit myself?"
Beverly: So there's a couple of pieces to this. First of all, I don't think that you have to have, say, only one niche. I tell advisors it's really okay if you want to have a couple of niches. And I think that you can talk about the value that you bring because it... I've honestly just never seen an advisor who gets good at this, who really does invest in niche marketing, who redoes their marketing, their story and everything, I've honestly, in all the years of doing this, Michael, never had someone come back to me and say, "You can't believe that I just learned I missed out on this $25 million opportunity because I was talking about these people over here and not that person over there." If somebody wants to work with you, they learn about you. They get referred.
I would liken it to our business. I grew up in the investment business. I love this business. So what we do is targeted only to this industry. If you're a custodian or asset management firm advisor, we will work with you. If a biotech company calls me, I'm going to say, "That's not what we do." But that said, I will sometimes have advisors who are married to someone and they say, "You know what? My wife's company is doing this event. Is there any way you'd just go talk about this human behavior stuff or whatever?" Yes. Okay, we're going to go, but are we going to spend all of our energies now marketing to that? No. So, it's not like you can't still have opportunities come to you. If the world is your oyster, who has enough money to create marketing that is broad enough to cast the net and be able to grab the entire world? It's just going to make your life so much easier if you target, if you message. And then when you get embedded in the community, whatever it is, and they learn about you, back to where we started, Michael, the selling process becomes so much easier because you're one of them.
I've seen advisors where they'll do it around their passion, right? I had a guy who would tell you he couldn't sell his way out of a paper bag, no matter what he did. And we got him involved in some charitable stuff that he was just so passionate about, boxing, these events that they put on boxing. And this guy just lives and breathes it. But guess what? Everyone involved with this charity, wealthy people with friends, with family, he does nothing other than go there, meet people, expand the network, and he's loving it. And he came to me, he's like, "I love selling." I'm like, "Yeah, that's because you're not really selling right now, you're just doing what you love."
How Bev Recommends Advisors Should Pick Their Niche [27:05]
Michael: So how do folks who maybe are at least somewhat convinced, "Okay, maybe I'll try this and try to get more targeted," how do I pick one? Which niche do I pick? What are the good niches? How do I pick the right niche?
Beverly: So there's a couple of different things, I would say, to think about. One really is if you are passionate about something. I had an advisor not too long ago and he said, "It's funny, if I look at my client base, the people that I'm currently working with," and again, let's be clear, he didn't fire any of them. He's still working with them. Everything's still going fine. But he did want to get more focus for the purpose of growth. And so he said, "What I'm really passionate about is women business owners who are running successful businesses and who really want to start to think about succession and monetizing the business." Okay. He had no clients in that bucket, but he said, "This is something that I've always cared about. I have a couple friends that fit in this camp." And so he's now building his business around that. So that's one way, right? So it's like there's something I love, and so I really want to focus on it.
Another way is looking at your existing client base and looking for links. And what I find happens a lot is that advisors aren't putting this lens on it. Like they may segment by assets or they'll segment by revenue or they may segment by career or something. But if you start to look at, are there connections with hobbies? Are there connections with career path? It could be anything from religious affiliation to gender identification, all these different things, disabled children, whatever. And a lot of times, advisors will come back and say, "I've never noticed, but I do have 6 or 7 clients or 12 or 15 clients who all have this characteristic." Okay. So now we do start to see something that we could build from. So that's another opportunity.
The other thing is like my friend in Texas, the oil executive, if you come from somewhere, if you are knowledgeable about an industry, or it could just generally be a passion. I had a gentleman out in the Midwest, and young guy really struggling to kind of kickstart his business. And we just started talking one day about what he's passionate about, what he loves. And boating was one of these things. So there's these high-end dealers that sell boats to the very wealthy. Well, having a partnership with them makes a lot of sense. So he jokes because he's like, "Now I get to do something I love but be around other wealthy people who love this too, and I'm building my business."
I don't know that there's kind of one in-the-box way to think about it. I think there's different ways to think about it. And I think you can be as narrow or as broad. Some people will tell us, "Well, I work with people in transition." Unfortunately, for a lot of us, we don't identify ourselves as in transition. Like, "I'm not sure. My kids are now going off to college, am I in transition? I don't know. What does that mean? Is that an event or not an event?" So that broad can be a little challenging, in my view. But if it's women going through divorce or five years from retirement and that's how you define transition, then define it, because that I can relate to and say, "Oh, okay, yeah, that's me. Let me learn more about what that advisor does."
Michael: Well, and I think you made a good point there that...kind of give this distinction between saying, "I work with people in transition" versus, "I work with women going through a divorce," parentheses, which is a transition. That when you say, "I work with people in transition," a lot of people in those transitions still, that is not their identity, that's not how they think about themselves. So they're not necessarily looking for a solution to that problem. When you get more specific, "I work with women going through a divorce," or, "I work with women going through a difficult divorce," which frames up a whole different subset of people, that now suddenly, there's a level of specificity that, I may not identify myself as being a person in transition, but I can definitely identify myself as someone who's going through a difficult divorce. And I know who my friends are who are going through a difficult divorce. And so suddenly, this goes from a little bit more of a fuzzy concept to, oh, wow, when you get that specific, it's actually really easy to start thinking of and finding people who fit that need, that problem, that description.
Beverly: And that they can self-identify. And I think you keyed on another thing that's so important. A lot of times when we might talk with advisors, say, about, they want to increase client referrals, say. And they'll say, "Well, I ask clients regularly, I'm really good at bringing this up." And I ask them sometimes, "Well, what sort of language do you use?" And they say, "Well, I might sit down with you, for example, Bev, and I would say I really enjoy working with you. We have a great relationship. I would love to work with more people like you." And I like to stop them there because I don't know who's like me. I don't know what aspects you're talking about. Is it a mother of three kids? Is it someone who owns a business? Is it an investment profession? Like, what about me? And oh, by the way, if I think about all of my connections, I can't think of anyone, not that I'm so special, but for all of us, who's exactly like me. And so what exactly are you talking about?
And so this is sometimes, I think, where advisors will get a little bit stuck. Because the more you can really help me identify either I'm a prospect and again, difficult divorce, "Oh, boy, that's me. I need to talk with you." Or like you because they are women business owners who blah, blah, blah. Oh, yeah. So I know about six of those. But I think we take for granted, and this goes back to what we kind of started with, that the audience, the clients, the prospects out there understand things at the same level that we understand it. And it's just not the case. We really have to be so clear and specific and give them the chance to recognize themselves and recognize why we're valuable to them or could be valuable to them.
Michael: And so, I love this framing around just the impact of what happens when you get more specific. And, I don't know, it still feels to me like this, unfortunately, I don't know, double-edged sword, that the specificity is actually what makes it connect better to the prospective client or the person who might be referred to us. And the specificity seems to be the thing that we fear the most as the advisor because we seem to always get stuck on all the people who won't fit the specific definition instead of all the people we connect with because we have a specific definition
Beverly: And that's where...so sometimes as a start, it can be ripping the Band-Aid off, right, for some people. So sometimes as a start, we'll say maybe you pick a couple of categories. And maybe you can keep them broader. We were just working with a client on a website, and they wanted to have some pages that are speaking directly to their audience, but it's not so granular. Like young professionals, say, well, that could span 20 years' worth of people that could be in loads of different sorts of organizations and roles. But what they did is they just talked about, as you're maturing in your career, maturing in your life, there are different sorts of things you're going to face than, say, the advisor who's working with somebody who's on the verge of retirement. And so you don't have to if it's kind of that concern of, "I don't want to be in the box, and heck, I'm not even sure if I'm going to like this niche, and are there enough people out there?" I think you can kind of start a little bit broader, but you do have to find some way to be able to describe.
So I talk about it as the triggers, right? Somebody has to be able to recognize what you're able to help them with and then what the experience is going to be. And then there has to be something about the way you convey what you do that they can recognize themselves in it. Because if I just sold my company, I'm 35 years old and you're talking about retirement, which that's a whole other topic, right? A lot of younger people, they're not putting things in 401(k). They want to figure out how to save money, travel the world 10 times. So their language is even a lot different than ours has traditionally been in this industry, I think. But anyway, 35-year-old tech that goes to the website, all the languages around retirement. Yeah, you're probably not going to hook that person.
But I guess I would just challenge, as we're having this conversation, right, challenge you to think about you, the advisor saying, "I don't want to get in the box." But if your language is so broad, is that tech executive going to recognize themselves anyway? So it is a dilemma because if you don't do it and you stay so high-level and so broad, you're just casting a big net and hoping that somebody's going to go to one of those websites and put in your zip code.
How Bev Defines and Utilizes "Triggers" [37:09]
Michael: And so, I'm fascinated by this framing of triggers. Can you talk just a little bit more about just what are triggers? How do I think about triggers? How do I define my triggers or the triggers I want to use?
Beverly: Yes. And so that's another thing that I think those of us who are in the business, we... I think about just conversations I get into all the time with friends of mine. They'll just talk about something that's happening in their life and I'm saying, "Are you talking to a financial professional about this?" It's just, "No, why would I do that?" Because they don't see it as some sort of a trigger. But triggers are kind of almost like any sort of life event that might wind somebody up sitting in an advisor's office. And they can be the big things: inheritance, retirement, death of spouse, all the big ones that we know.
But there are also a lot of smaller things. Like I feel like especially when we talk about the planning aspect of what you all do, I have a lot of advisors who say that they bring so much value because I want to buy the second home. Does it make a lot of sense right now? How do I think about this? Is it the best thing to actually just pack the 529 or should I be thinking about saving for college in a different way? And oh, by the way, when I start to get to college and I'm paying for my kids, how do I want to think about where I'm taking the money from? And does it even make sense to buy the home in the first place or given the other things I want to do? So it's kind of all these decisions that we make all along the way.
And unfortunately, I think we've kind of created this impression for a lot of investors out there that you don't need an advisor until you get to the point where you've amassed enough money that you've got something to worry about. But there's so many different triggers that we have along the way that could mean it would be worthwhile to just sit down and have a conversation with someone. But I think we have to call them out to people because I don't know that the general population recognizes it the same way we would recognize it.
Think about this, you are probably so much closer to this than I am, but I've had so many times advisors would say, "Oh, if only that client had come to me before they made that bad decision. If only they had come to me, right, to consult with me on that. Oh gosh, I wish that I had been with them two years ago before such and such." We've got to get the message out there before...whatever that bad decision is, you ought to come in and talk with us. But I think we just have to really be clear about what these things are so somebody goes, "Oh, I didn't know that I could go in and talk to an advisor about that. That's probably not a bad idea."
Michael: Well, and to me, that, again, is part of the trigger that comes from when you start getting more specific about who you're serving. I think for a lot of us, I'm like, "Well, I don't know what the trigger is." Like, "Any life transition is a trigger. Hey, hey, anything that happens can be a trigger. So why don't you just refer everybody you know anytime anything happens to them?" Which is sort of what we end out with and then clients can't think of anybody. And because they can't think of a specific person with a specific thing at that specific moment, so they say like, "I'll let you know if I can think of someone."
Whereas when you get super specific, "Hey, we specialize in women going through a difficult divorce, so if you know anybody who is going through a difficult divorce, we'd love to talk to them and see if we can help." If I just say that, I'm sure for everybody who's listening now, we've got a lot of folks that...just saying that, a whole bunch of people right now are thinking of a friend or family member who is going through a divorce. And so the mere fact that we picked up thing suddenly makes it so much more concrete and more referable, but it also has to be believable. So I could give you a list of 27 of these, but then nobody really wants to refer me off of a list of 27 because now my credibility comes into question as to whether I'm really actually an expert on 27 of these things.
Part to me of what makes this so powerful is like, I do this one thing. I'm awesome at this one thing. If you know anyone in this particular high-stakes scenario, that's what I do. And that's part of what makes it so incredibly powerful for so many of us today. Well, we've all had the experience, you go to a cocktail party and someone says, "What do you do?" and I say, "I'm a financial advisor" and they take a step back. Or we come up with a euphemism for financial advisors. So we don't even have to say, "I'm a financial advisor," right? You're like, "Well, I'm a personal CFO to my clients," or whatever things we come up with, because it's too awkward to say "financial advisor" now. That suddenly when you get more specific, to me, it also gets less awkward. What do I do? Well, I work with women going through a difficult divorce to try to help them rebuild their financial future.
Beverly: Yeah, it's a story. It's actually interesting.
Michael: Yeah. I'm like, "Oh, funny you mentioned that. I've got a friend that's going through that exact thing." Right? The specificity prompts something, and we don't have to do this awkward dance of like, "I'm a financial advisor" or a financial quarterback or a personal CFO to my clients or try to come up with these witty elevator speech kinds of lines. Like, just get real specific about a particular problem that you solve and people just start connecting the dots in their own heads, whatever it is. "Oh, I know a person who's going through that. You do that? She's in a lot of pain. I'm going to put her in touch with you when I get out of this cocktail party." Like, boom. You're, making connections because the specificity makes it easy for people to figure out who the right fit is. And the fact that you're so specific actually creates a natural credibility, I think around it as well.
Beverly: Well, and there's two pieces too to what you just said that I think are so poignant in this discussion. One is I couldn't help thinking, when you tell somebody, right, "Don't think about the pink elephant," of course, everybody is mine. So you keyed on something that is so important about the way our minds work. If you ask me something that is this very general, very broad, open-ended thing, I cannot zero in on something. But if you ask me something very specific, it's almost like the pink elephant, I can't help. My mind now starts to go through that ticker, ticker, ticker, ticker thing, where I'm thinking, "Do I know anybody going through a difficult divorce right now?" And so there is this homing pigeon-type thing that goes on with the mind, that the more specific you are, the better able you are to give it the chance to call up an answer to something.
But another piece of it is, so now here you are at that cocktail party. You say this about divorced women. So I'm talking. So my mind kind of goes through the rolodex. I actually can't think, but I say to you, "But are you kind of just like a general advisor? My sister's not going through a divorce, but she's a single mom and she just is actually trying to figure out what to do with this big 401(k) she's got. So do you not talk to people like her?" And see, that, Michael, is where you do still get opportunities outside of the niche, and you get the chance to say, "Well, our sweet spot is working with, but I'd be happy to have a conversation with your sister." So I think it's weird because it also often is this freedom because you've been a little bit more interesting and you've given somebody a bit of a different tidbit that now they have almost like this willingness or this interest in finding a way to engage with you.
Michael: Well, and I find as well just in having these sorts of conversations that like, in practice, I usually don't even get someone that tries to make a connection to someone else with another situation. It's sort of like, "Well, I specialize in pink elephants," and someone's like, "Well, I know a gray elephant." Like, "Well, no." But like, once you say pink elephant, all we can really think about is pink elephant. You kind of get fixated on it. I am a pink elephant, or if I'm not, I'm trying to think of a pink elephant. But our brains don't even usually go somewhere else. Like if I say I specialize in women going through a difficult divorce, your head is pretty much just trying to think of women that you know that have gone through a difficult divorce so that you can say something and make some connection in this conversation. You're usually not even thinking of, "Well, I know a whole bunch of other people who happen to not be women going through difficult divorce, but hey, maybe they could work with you too." Like, "I'm sure you meet a lot of people in your life but usually don't refer them to me at a cocktail party."
Beverly: Exactly.
Michael: But when you get more specific, all of a sudden it's like, "Oh, my gosh, Joanie right over there is going through a difficult divorce. You two should talk."
Beverly: You should talk to her. Exactly.
Michael: And you're getting introduced at the cocktail party. It's just the nature of what happens when that specificity comes in. And what always strikes me just for advisors that kind of balk at, "Well, what happens if I get more specific? What happens to all the people I'm excluding who aren't going to be a fit?" And to just say like, "Honestly, are you getting that many referrals now?"
Beverly: Exactly.
Michael: If you are, more power to you. If you've got a thing that's working and you're getting your 10, 20, or 30 new clients a year or whatever you're trying to do to fill up your client base, more power to you. But the irony I find for a lot of advisors even that are thinking about this path, it's like, "Well I kind of like to do this, but I'm afraid of all the clients that I may lose out on a chance on by getting more specific." It's like, "Well, how many new clients did you get last year?" Like, "Well, like five." And like, "How many of them were actually a good fit versus just someone you took who kind of showed up?" Like, "Well, two or three." And it's like, "Well, how much do we really have to lose here? Because you're not growing that well in the first place." And not to be harsh, but just there's this phenomenon that I find where if we feel like we don't get enough business coming in, we try to cast the net wider, and it just makes us even more undifferentiated and then even less business comes in. And we get scared of making the net narrower and more focused, but we've actually made it so wide that it's almost not producing much growth anyways now.
Beverly: I was really...as we're talking, I'm going through kind of, talk about rolodex, right, different advisors and I'm thinking about situations where the advisor wasn't wired to be a salesperson, back to how we started this. They really don't like it, resist it. And in every single case, the way that we could find to help them explode their business is through focusing on that niche. Now, I'm going to say that in some cases, advisors have really good, deep client relationships. They haven't done niche, they've got all sorts of different people. And if you can appeal to your clients in a certain way and be very defined about who you're trying to help and get a little bit more direct about engaging them, yes, I have also seen advisors grow their business from those referrals. But if you're trying to kind of figure out, "How do I explode this thing," it really is the best way to do it.
And think about COIs, that's a whole other area, Michael, right? And the number of times that we've tried to...we've been helping an advisor say what their value prop. And so we've tried to get from the COI maybe some language to use or how do they differentiate. I have to tell you, to most COIs out there, all advisors look exactly the same. So they may on the likeability scale, "Hey, I like Michael better than I like Bev, so I'll call him in more," but from the perspective of exactly what's being offered. But when again, you can describe to them, "Well, when you have clients who look like this, who are going through this, who are experiencing this and this is how we help them," the same dynamic happens with the COI. "Oh, my goodness, well, I'm going to send you all my divorcees who are in difficult situations if that's your sweet spot." Right?
Michael: Well, and that's part of what happens, right? I go to a COI, who inevitably already has some relationships with some other advisors, because anybody that visible has usually been solicited some other times. And so, I can either go in and try to be, as you said, more likable, and I don't know if I'm going to win that battle, or we can sort of do the like, "Well, I'm sure you have some other relationships, just give me a few, just give me a few clients. I'm sure you're going to refer to others, just give me a few." Which is sort of a just awkward...I don't know, to me, it feels like an awkward beggaring sort of thing. Like, "Come on, can I just have a few scraps" would feel great to us, but what's in it for the COI to say like, "Oh, well, I don't really know you that well, but sure, I'll just go ahead and diversify my referrals for no particular reason that I didn't need to do in the first place."
Beverly: My highly valued clients, right, that I have a reputation with.
Michael: But when you go and say, "Well, I'm sure you have some other advisors that you work with, but we specialize in women going through a difficult divorce. So if you're doing a tax return for someone and they're all stressed out because it's their first time filing separately after having gone through the divorce and they're stressing about all their financial issues, I'd love to work with you and that client to help them, because that's all we do is work with women going through a difficult divorce." I don't care if that COI accountant already has a relationship. Next time that accountant is sitting down with a recent divorcee doing their first tax return as an individual, you are going to come to mind now. You have planted that seed. If you ever sit across from a divorcing woman preparing her first tax return as a solo, don't think of a pink elephant. You've built this association.
And now I've got a way to break in with even a COI who already has existing relationships with other advisors. Like, "I don't want all of them, and I'm not just asking for my arbitrary 'fair share.' I specialize in this particular thing. I'm great at these people. I know you're inevitably going to see some of them at some point. So just let me help them, because candidly, I'm better at them than the person you're working with. I'm not going to say I'm better at everything than the person you're working with, I'm better at these clients, so let me help you help them."
Beverly: And think about this too because, so we often will get asked about COI strategy, right, COI marketing. And first of all, I would say, and again, if we go back to the kind of the sales perspective, I don't think enough advisors think of a COI. I ask them to think of them as a prospect. A lot of times it's a little bit of one and done, right? That COI knows me. I went in, I spoke with them, they know what I do. So you really do have to, like you would any prospect, cultivate a relationship. But again, some of what you're saying, my mind is going to, so can you imagine now you come across some important article about tax filings the first year of divorce. Well, you get to email the COI and say, "I thought this would be interesting to you the next time this person comes in." Oh, and you get to send them an article on the topic, or you get to call them to say.
So it just gives you this nice platform to work from, when otherwise, again, we're back to this whole general, maybe I learned what they like to do on vacation and I can send them a follow-up. But I can't do a lot past that. But if we have a common ground around the niche and elements of the niche, it gives me ways to continue to touch in with that COI too. And from a sales perspective, that's another great way to continue to cultivate the relationship.
How Bev Suggests Advisors Can Help Prospects Overcome Their Intertia [53:25]
Michael: So let me shift tracks a little bit to talk...we've kind of talked about the marketing side, differentiating by getting specific at who you serve, because it makes people's brain start making those connections, and shift over to the actual sales side. Because as I'd mentioned earlier, I was fascinated by reading your book and the way for me it just crystallized this different way of thinking around sales as like, you want to help them, they need your help. We all kind of know this, but sometimes people just don't get there on their own or it takes them a while to get there. And there's nothing wrong with helping them along that journey and just expediting it a little bit more. Like, you're not pushing them, you're not trying to get them to buy anything they wouldn't have bought anyways, you're just trying to get them to the thing that we all know they should buy. But human inertia is a powerful thing. And so if you're going to help them overcome inertia, it's okay to do something to try to help them overcome inertia.
Beverly: Yes. And so a couple things that I think are really key on the topic of kind of classic selling, if you will. One is it is imperative to have a sales plan. So most business leaders are going to have a business plan, and that's great, also imperative, but a sales plan says what exactly am I targeting to, how many clients. You did it earlier, right? You talked about numbers. I need 20 new clients this year. What sort of revenue are we looking for? How do we describe these clients? Do we want these to come from referrals? Do we want to find two COIs? And advisors will say, "Well, I don't know, it could be all of it."
And I'll share that even in classic selling, I ran large sales organizations in my...way back corporate careers, and how did we come up with the numbers? How do we come up with the number of clients? We did a best guess or we did, "This is what the business needs," or, "Well, this is what we did last year. So extrapolating another 20% makes sense." So it doesn't have to be a perfect science, it needs to be a focus. And so I think that that's one area, because of this hesitancy around sales and sales is dirty and we're not salespeople, there's a hesitancy to say we're going to commit that it's this many clients this year, it's this much revenue. Here's who we're going to ask to do some selling. We got 10% of our clients to refer last year. This year, we're going to get it to 25%. We're going to have two COI. So it's really important to set some targets. Back to where the mind's going to focus, if you put the emphasis on it, you're going to put more rigor around it. So that's one big piece that I think gets missed all the time. Just start with the plan.
Michael: So is there a template around the plan? What things do I need to be sure to put in the plan? Because I imagine like, if I've never made a sales plan before I'm trying to make a sales plan, I'm probably still struggling with like, "Wait, what exactly is supposed to be in this thing and what am I doing with it again?"
Beverly: Exactly. Really good question. So, one would be revenue goals. So what is it that we're hoping to do with our revenue this year? Increase of 5%, increase of 10%. Second would be looking at are there certain types of clients that we're trying to attract? We were just with a group this week, and one of their challenges is so many small clients with very low fees but very high demands. Pretty common in a lot of practices.
Michael: Yep, familiar with those.
Beverly: Yes, exactly. It does seem to be the problem in a lot of places, because you don't necessarily want to just kick them out. But on a go-forward, you may want to be more directive of like, "Okay, so what sorts of clients? What size? What kind of fees are we targeting to?" And in the plan, you can get somewhat specific if you think, "Okay, we want to do niche, so we want 50% of our new clients this year coming from our niche." So that's what I would call kind of the quantitative aspect. So you are going to outline quantitatively what are the goals that we're shooting for, and we're going to measure to them each quarter to see where we're at.
Then qualitatively, it's kind of to look at, where do we need our business to be coming from. So I think in terms of three main buckets, but how are we doing on client referrals? It's a good place to start because a lot of advisors aren't exactly sure. They have a good sense of which clients refer and which don't. But there is some rigor to looking at your client base and being able to identify who's referring and who's not. So let's say I realize, wow, 5 of my clients refer all the time, the other 480 are doing nothing. So, okay, could we get 10 more clients this year to refer? That's one bucket. Second bucket would be the COI. So a lot of times we see in the sales plan what you need to look at is the culling down of relationships. Because an advisor might say, "Well, I'm so proud, I've got 32 COIs that I market to." "Well, who's sending you business?" "Well, none of them, but I have 32." So can you cull down to three referring COIs? And so again, I called it qualitative. There is a quantitative component to some of this too inside the buckets. So what are my goals there?
Michael: So I'm just imagining this like, I have 32 COIs, how many of them have given you a referral? None. That again, I think it's one of those, I don't know, traps we get into, like, "Heard I was supposed to get COIs, went and tried to make connections with accountants and attorneys, got 32 business cards, put them in my CRM. I send them an email every three months on a quarterly basis, but I'm waiting for the referrals and they haven't showed up yet."
Beverly: And I don't want to let go of them. That I hear all the time. Like, "What if one pops?" So sometimes, Michael, I'll tell them, I'm like, "So guess what? Leave the 32 in your database if you've got this email that goes out, but do me a favor. Figure out of those, what are the three that you actually want to put a sales plan around, right? That I'm going to go meet them. That I'm going to learn more about the business. That I'm going to create some sort of a marketing presentation just for them, whatever it is, but pick the ones you're going to focus on."
And then, of course, the last area is the...either it's direct selling or increasing your brand, because those are really the only two. Some firms do do a good job of direct marketing, calling, all of that. Others, I think, do a very good job of getting known for something in their market. I'm the expert in a certain sort of annuity. I'm the expert in business owners retiring, whatever.
And so what sorts of things do I need to be doing to raise visibility in that specific area? So that does become oftentimes a little bit more of where the marketing supports the sales, but it does require you planning for it. If you're going to blog, if you're going to write articles, you're going to go speak, all these things require some sort of specific plan. What are you going to do? Who's going to do it? When are you going to do it? How much is it going to cost you? So it's not that the plan has to be 15 pages. This could be a two-page document, but it is just thinking through, "What are those numerical goals I'm aiming for? Is there any sort of descriptor around the types of clients I want, size, look and feel, niche? The buckets, what am I doing now in each of these buckets? Where do I want to be?" And then I can come up with my tactics to, "Okay, what am I going to do next?"
Because let's get really granular on sales. Let's say I have five clients who are referring, I want to increase that. So then my first step might be, let me go through, we call them the should be's, and identify the 10 should be clients. These are people who should be referring. They like me, they're connected, they're not referring right now. And so they should be. And so here's the 10, now I can play in my tactical sales approach around those 10. So eventually, you've got to get down to a very...it's no different than somebody who makes their living selling. We would call it territory management. Who am I going to call today? How many calls do I need to make? What do I need to get? But we just treat it a little bit differently in the advisory space because I'm not going to sit there and bang on the phones, but I am going to be very thoughtful and strategic, and then get very tactical about specifically what steps I need to take.
Michael: So beyond the start with the sales plan, right? So essentially, to me this frames up like, where are we actually going to focus our energy? Like, okay, I know I've got a bunch of COIs, but we're going to try to work on these three. And I know I've got a bunch of clients who could refer, but we're going to get these 10 should be's going so then I know where I'm putting my energy, where I'm putting my focus and hopefully have some metrics so I can figure out whether this actually worked. What comes next as I'm trying to bolster my not very salesy sales process?
Beverly: And so then next is going to be, "Where am I going to focus my time and attention?" So here is one of the biggest obstacles that advisors will give us, and that is that there is no time. Got to watch the market. I've got to respond, reactive, right? That's their favorite word. "I'm very reactive, I can't be proactive." And not, I'm not bashing them. It does feel that way, right? My day was planned.
Michael: We are. Life gets busy, the day gets full and then stuff happens. So we have to react to it. It's just, reactive is a fact of life for most people.
Beverly: Exactly. This is how it goes. But I do like to point out that just like with anything, if I don't start then to take the specific things I need to do and calendar them, I am not going to do them. And so that could be something like, again, let's stick with the 10 clients that I want to get the referrals from. And that is, for what I have found, one of the biggest untapped areas for most advisors, to be able to get new sales from existing clients who know a lot of people you should be talking to. So I put on my calendar that Michael's my client, I'm going to give him a call this week. And so what we try to teach advisors is that, but it's different, right? I'm not just calling you up and, "How's it going, Michael? And, hey I just was wondering, we talked about if there's anybody else that you know. And have you thought more about that?" Of course, your response is going to be in the back of your mind like, "Are you absolutely kidding me? You know how many other things I have going on right now?" But your polite response is going to be, "Hey, I haven't, but I promise I'll keep thinking on it, Bev. You know I love working with you."
So it's putting a plan in place to actually have a conversation where I'm being a little bit more honest about what my desire is. Michael, you are such a valued client of mine, and it has occurred to me that I don't do a very good job of letting even my own clients know that I want to not only be able to help more people out there, but that I'm not talking to enough people so that they know that I'm available here to help them. And you know me. I am the least salesy person around. So, I'm not looking for an opportunity. But I'm wondering, you're involved at your country club, and I know you've talked a lot about playing golf with John and playing golf with Paul, and you guys all sounds like you had a great year this year. I'm wondering, could I come to the country club? I'd be happy to treat, and the three of us sit down. I just would like the chance to meet them and tell them a little bit more about what I do.
Michael: So I hear it. It makes sense. Why is it when I think of doing that, I still feel icky?
Beverly: Because it's not something that comes naturally. So I just did it. My first thought would be, are you actually going to leave this call with me go and do that? No. But here's what you would be able to do. You would be able to practice on somebody who isn't your client until you get language that's comfortable enough for you to use. Because what's surprising to advisors who do finally take the plunge and do it is this is something honestly I wish I did have like $100 for every time this happened because I would be sought after as one of the most wealthy people around. Because I've had so many times an advisor will call me and not only does the client respond positively to it or give them something else, right? They might say, "John and Paul, are you kidding? You don't want to have lunch with those guys, but you know who we should be having lunch with at my club is Karen. Holy cow, she is running businesses. That's who we should be talking with."
I had one advisor, very, very low-key individual. In fairness, I want to be clear, most people we work with are not comfortable with this language. They're not comfortable doing this. And he was so hesitant. And I've finally got him to kind of get over the hump. And he called this client of his, who actually works in a funeral home but he's an advisory client. But what ended up happening through this conversation is that the guy now has the advisor come into the funeral home because there's so many people when you're going through death and estate planning and all this talk about all the financial implications. And so he was basically saying to his advisor, "I had no idea that you wanted to grow the business. And my goodness, based on what I do, we should be partnering together because you could help a lot of my clients."
And so, the point is to finally get there. It's almost never that the client is going to be like, "Well, you have some nerve." And if they do, you say, "You know what, you're right. Sorry, I just really trying to figure out the best way to do this. So tell me about your golf game, though." And you just change the subject and it's all forgotten.
But to get up the confidence to do it, it really is just a matter of practice. It's role-playing. It's asking your spouse on Saturday morning, "Hey, will you play this client of mine? And how does this sound?" And it's getting language that's the right kind of language for you. Like I tell people, "Don't ever imitate me, because I'm going to say it, and as I like to use humor, I like to kind of put something out there and make somebody laugh but make them think about it, that's not for everybody. Other people are more serious or they want to be more detailed, whatever it is." So I just encourage to take the idea and then practice it until you get to the point where, "Okay, now I can do it." But it literally is practice hearing yourself talking to your phone. Did I stumble over that? Did that sound really rote? How can I get more comfortable with it? And then do it.
Michael: Yeah, I think you make a really good and very underappreciated point about how important it is to actually practice saying it out loud. Just literally saying it out loud that...well, either sometimes we just haven't even sort of rehearsed the scripts in our heads, we just have to kind of get the words out and figure out how we say it that feels natural and flows to us.
But for a lot of advisors I've met and talked to over the years, I'll just have conversations, like, "Well, just tell me about your firm. What do you do and who do you do it for?" And they'll talk about what the business looks like and what they do. And because I'm just fascinated by business models these days, I'll ask, "What are you doing?" "We have $110 million under management. We've been doing this for a bunch of years. And we work with retirees and have a really strong firm and provide this great service." So I'm like, "Oh, that's so awesome. What is your fee model? What does it look like" "Well, [funny mumbling sounds] 1%." Like, "What?" If you can't even say it to me in like a conference business meeting context, I really wonder how that conversation goes when your clients inevitably at some point ask like, "Hey, your services sound great, but what do you charge? I just want to understand what this is going to cost."
And that for a lot of us, we build it up in our heads of what we want to do and what we're going to say, and we fumble it on the finish line when we actually have to say it out loud, because often we've literally never said it out loud, or the only other time we said it out loud was in front of another prospective client in a relatively high-stakes situation where we got nervous and fumbled the words in the exact same way. And that there's a lot of power to just sitting down, and not only kind of this conversation, like, how am I going to ask this client with intention to work with me to find more business opportunities in their personal network, and just getting down to things like, can you actually really say out loud to another person proudly and confidently, "Here is what I charge for my services?" And there's just this effect of, I can write it out. I can think in my head. We all have those like scripts going in our head of like, "I just don't know what I'm going to say the next time I get in this situation." But it's not the same as when you actually try to say it out loud to another human being and doing that and repeating it enough times that you can say it confidently and directly.
Beverly: And if you think about how easy it is today, you set up your smartphone to video, you can even video yourself, be able to see how comfortable do you look. And you keyed on it, because people will say, "Well, I'm still not saying it to the client," but when you start to hear yourself, when you practice it, when you get a little bit more comfortable, the truth is that now when I pick up the phone and I call that client, I am more at ease. But if I've only let it roll around in my head, or I have people tell me all the time, "Well, I can't say it the way you say it." And I tell them, "Don't say it the way I say it. I don't want you to say it the way I say it. I just want you to take the idea and then go practice what is a comfortable way for you to say it."
Michael: But I find like, even when you say that, we practice it in our heads.
Beverly: I know. Well, that's it.
Michael: And like, I'm so like, "I'm listening to this podcast right now, and when it finishes, I've got like 15 minutes left on my commute and I'm totally going to be thinking about this in my head about how I'm going to say it for this client later today." And I'm sure there are people listening to this and that's exactly what's happening in their heads. But this point of like A, you have to say it out loud for real, and you have to say it out loud to another human being that's looking back at you. You're not just allowed to say it out loud in the car. That helps, but you have to be able to say it when another human being is looking at you and be able to say it. And if you can't, that's, I think, an issue unto itself of like, is your problem that you don't like selling or is your problem that deep down you don't actually feel like you have the value and that you're worth what you're charging or that you're not proud of your company or the products itself or the service it provides? And are you holding yourself back in the sales process because you're just not actually proud and confident of what you're offering? Because if you were, why wouldn't you be really excited to tell everybody about it?
Beverly: And that's it. And that does, I think, come back to where you started, which is so important around the reframing. Because again, I don't believe in advisors calling the client up and saying, "Hey, I really need to grow my business. How can you help me?" And I have sat in on sessions and heard people advise advisors to do this. And that's like, oh, I don't know. That sounds a lot about me, the advisor, not about you, the client. But I think if you take this attitude that those clients who mean a lot to you know people in their lives who are trying to make decisions that you could help with making those decisions. And if you don't let the client know that that is your goal, that you want to be able to raise visibility, get out there and help more people, be able to be with the people that they're circulating with when they need you and that you are not looking to "sell," you're looking to make people just aware, I have never once had an advisor come back to me and say, "A client took my head off because they couldn't believe how brazen I was to say this to them."
Michael: To tell them what I do when they already pay me for it. How bold.
Beverly: I literally am and never...and again, I'm talking a lot of people who are so uncomfortable with this. But more I've heard the stories where they come back or a client will say, "I had no idea you could take on more clients. I would love you to talk to John over here. I didn't know. I thought you were tapped out."
Michael: Or the breadth of our services. That to me is the other one that usually creates huge gaps even with existing clients. If the first thing you did was help them out with a life insurance situation, like, hey, say it. They probably don't think of you as your financial advisor, they think of you as their life insurance person. And if you helped them with the 401(k) rollover, you're their 401(k) rollover gal. You don't always get framed as full comprehensive advisor, you're the person that solved that one particular thing for them. Because again, we like to...our clients will slot us in with specificity even if we're trying to be generalists. And just going back to clients saying like, "Here's actually the full breadth of the stuff that I do and all the different ways that I can help clients and work with them." I know for a lot of firms, just having that conversation, clients suddenly come back like, "Well, I didn't even realize you do all this different stuff." Because they only thought of us in the one context that they personally engaged us, because they, as you said, that they literally haven't been informed of all the things that we do.
Beverly: And that does bring us to another point, which is around, I call it reselling or retelling, but it's another important piece that you just keyed on, which is that we tend to take a client relationship for granted, that we believe that they know us, they know what we're capable of, that at a minimum, they would call us to ask if we do this. But that's not the way that it works. And so there is that opportunity, I think, to be able to retell and resell.
So the client example to say, "Hey, I don't know if you even remember, but when you came to me and you were faced with this decision as to whether or not you should buy into this business or not, and do you remember how we went through all of this? And sometimes I think our relationship is so much around the buying and selling of the business that I just think it's my responsibility to make sure you know that when you encounter a personal issue or if you and your wife would like to sit down, or it's certainly even anybody in your extended family, these are the other things we do that are similar to this issue that we resolved for you way back when." Because you as the client, you're not thinking about this, you're on to the next thing. So that's another piece that I think you have to get good at, which is kind of that retelling and reselling and reminding them what you've done, but then also being able to say what else you're able to do.
How Bev's Sales Process Works [1:18:47]
Michael: So talk to us about kind of sales process itself. I've got a prospect, they contacted me somehow. Maybe they got referred to me. I'm going to have my first approach meeting with them next week. I want to do better at this than I've done in the past. What should that selling process itself actually look like when it's done well?
Beverly: So, a few kind of high points, I guess, we'll hit on. One is it's so important always in any sort of exchange with a prospect, or quite frankly, even a client, to set an expected outcome. So you think about it, we're going to sit down and meet, I've got this prospect coming in. Maybe they have even worked with another advisor, but they may not know what to expect. They don't know what we're here to do. And so we love our agendas, but we don't actually put out an intention around what is the expectation for this meeting? So that's an important thing to be able to say, "Thank you for coming in. Really hoping from my vantage point that when we get to the end, I'll have learned enough about you to be able to share if we can help you, where I think we can help you and what that would look like, and then we'd be able to set up a next meeting to talk about specifics."
Michael: Because we're setting the expectation from the client's end. This isn't a story about like, you need your goal as the advisor about what you're trying to get out of this meeting. It's specifically like, this is literally, you will say this to the prospect so they understand what we're trying to get to at the end of this meeting.
Beverly: Exactly. And you do it for two reasons. Again, back to that pink elephant, when you set an intention with somebody about where things are going, they automatically move in that direction. And so, rather than us both sitting there trying to figure out, "What should we do next steps," you have said it. Now, you do then need to ask them, of course, "Does that work for you? Do you have another expectation of this meeting?"
Think about that, Michael, we go into so many exchanges with people where we don't state it, we don't ask them, and neither of us are exactly sure where it is we're going with this. And we just hope that we're going to wind up there. So it's so much easier on me if I state it, and then you might say, "Whoa, whoa, whoa, this is a totally exploratory thing. My current advisor is really blowing it on numbers. I just want to know about your performance." I want to know that as the advisor out of the box. I want to know where this person is at and what they're thinking about before I share everything that I need to share. So it accomplishes two goals and helps me drive them towards where we want to get to. But then it also gives me the chance to ask them and kind of establish like what is it that they are kind of here to do. And so that's an important piece.
And we will sometimes do whole workshops where we have people practice just that piece three and four times. Because for whatever reason, we don't do it naturally, but when you start doing it, it changes the entire tenor of all of your sales meetings. And you can do it with clients, too. Every quarterly meeting does not have the same desired outcome, same expected success, and so you want to be clear, and then you want to have them state it. So that's number one.
Number two is you never want to give away too much until you've learned about the other person. Of course, we could say, "Well, that's pretty clear," but we do tend to talk only about like specific questions around goals and what they've done so far financially, risk tolerance, whatever. And so one of the things that we want to be able to do is start to just generally ask some of the why questions. Like, "Just out of curiosity, why are you talking to an advisor now? Why not six months ago, or why not six months from now?" Just be interested in what's happening. "Have you had any experiences? And if so, what are those? I'm just wondering what your view is, what your impression is of what we do and what I'm here to be able to help you with." If you look at some of the best sales books, right? These are classic kind of sales questions, because it does give me a bit of insight into a person's headspace, right? Where are they at? Why are they here? What are they doing?
And so, that's a better place to start than, "Oh, so what are some of your goals and what have you done?" Because now I'm starting to get myself a little in a box and I really don't know from a qualification perspective if this person really is ready to make a decision or whether they're interested or not. So one thing, state the expectation, ask them their expectation, and then think about your questions a little bit differently, and more about kind of the why and what do they know and what perceptions do they have before you ever even open a pitchbook or start talking about what you can do, or quite frankly, even start talking about their goals and what they're trying to accomplish. Our favorite topic is ourselves. And so it is rare if you ask someone like the way I'm talking about for them not just to simply answer. That's a couple things. So then it is about qualification. That's an important piece too which really is...
Michael: Define qualification for us.
Beverly: So, how serious is the prospect about making a decision? How suited are they for my firm and what I do? And how willing are they to pay for what I do to accomplish whatever it is that they...? Those are kind of like the three tenets, right, that I'm going to try to qualify on. And so it is important to ask about decision-making process. Now, I like to think of it as you as the advisor are the expert. You're the one that's onboarded a number of clients, you've talked to people. I think it makes sense for the advisor to lay out and say, "Here's typically how we've seen the process work. We'll have this conversation to then have a follow-up, learn a lot more about some of the things you're trying to accomplish. Then by the third meeting, I'll come and I'll be able to lay out for you some of the results of the planning process. What's going to vary, of course, depending on what sort of practice you have. But then by the fourth meeting, we always find people are ready to make a decision. You may not choose to hire us, but to hire us or not hire us. Does that make sense for you, for your timing?"
And again, this is going to help me with serious...like if it's a couple but only one person showing up, perfectly fine to state, "We really do need to at some point in one of these four meetings have your spouse join us. We've just found over time, we're going to do a much more effective job if we have the chance to speak with both of you. And it is always our goal to do the best work for you." So you do want to lay out for them what you have found to be the best process for decision-making, and then confirm with them whether that's okay. Because that's where you're going to start to get somebody wavering a little bit or telling you they're not ready to do that, or they're going to need a whole lot more information.
Advisors have to be careful. You all are super smart people. You know a lot. You're tied into the markets. You've got a lot of investment expertise. You can fall into the trap where people will just sit and pick your brain and get a lot of information but not necessarily be a truly qualified prospect. So that's one way to make sure that we're clear together. Expectations in this process, how many times we're going to meet, how much information I as the advisor I'm going to give you, and that you're going to confirm that that's enough for you to be able to make a decision.
Michael: And it strikes me just the other piece of that conversation is, or you literally just clarify that they're a tire kicker and they're not actually interested in working with you. And I feel like for a lot of us, "Oh, my gosh, I've got a prospect on the line, I just have to go...I've got to go full tilt to get this one on board because I don't know where the next one's going to come from." That rather than clarifying, is this person even actually really a good fit? Were they really here and ready to buy? We sometimes get stuck in this mode of like, I've got to try to close them. I've got to try to get them across the finish line, I've got to get them on board as a client, and don't take that pause to say, "Maybe this person actually just isn't really a good fit in the first place and they weren't really that ready to come on board." So trying to do three follow-up meetings to pull them along is probably just a waste of time. Just recognize this person isn't a good fit and move on.
Beverly: So I think it is, Michael, kind of thinking about it as, you do have to take a bit of a more directive role. You're doing it always around the client's benefit, and you're doing it always around just making sure that we're clear and helping to clarify process. But really, you can so easily be led in a sales process, anybody can, where we call it the jump, how high problem. And so what happens is if I don't lay it out, "Here's the expectation, are you in agreement with that? Does that make sense? Now I'm at the second meeting. I just want to clarify again. We talked about four meetings. Are we on track? Is there anything else that's come up?" We're afraid to give voice to this. And so what happens is now in the prospect's mind, they're thinking, "I'm just not ready to do this. And advisor is thinking, "I've got to give them everything I can to show them how great it will be to work with me."
And so then, "What else do you need?" "Oh, well, could you just run some numbers on this? Oh, do you think that you could just provide that?" And so there we are, right? "Jump." "How high?" "Jump." "How high?" And I've had 1,000 advisors over the years say to me, "But now they don't respond. I sent the proposal and I'm not hearing anything." Sure thing. "Oh, they just went to Florida for six months and I can't get them to answer the phone." And that's because there wasn't that serious intent on the part of the prospect to really get to an end decision. So you have to control it.
Michael: Or at least just clarify upfront, like, "Are they actually here to get to an end decision?" And if they're not, that's cool, we're going to have this meeting, and then this will be the last meeting. And like, "It was nice to meet you. When you decide you're ready to do something, we're happy to talk to you again. But I don't have to keep pushing you for meetings if I just clarified how serious are you about moving forward," and we've already actually figured out that they're really just in an exploratory phase.
Beverly: And because think about it, and again, if we go back to, the reality is none of you have tons of time. There's a lot going on, there's a lot of requirements, commitments, things that have to be done. And so here in a way, you're allowing somebody, in my view, to kind of steal time and you don't know that it's actually leading anywhere. And I just don't know too many advisors that have as much available time that they're actually able to do that. Again, to your point, right now we're sitting here, okay, let's make the best of it. I have calls all the time with people just, "Okay, hey, I'm happy to give you some insights and ideas but I know we're not going anywhere with it, but I'm not going to spend any more time with you after this." And so it is a little bit being jealous of your own time and realizing that there isn't a lot of it to waste. So you've got to be very strategic about where you focus it.
Michael: Well, and to me at least going through this, part of it was just, I don't know, a mindset shift of going from, okay, I've got a prospective client. I've got to pursue this. I've got to see what we can do. I've got to see if we can get the business, and feeling bad if I didn't succeed. And I'm a fairly competitive person. So that would just make me want to try harder, to stepping back and saying like, "Is this person actually really a good fit for the business? Are they really looking to make a decision in the near term future here?" Because if they're not, I'll have to feel bad if I don't get them. Because they weren't actually really ready to buy. Like, we just can have some mercy for both of us by saying, "Okay, this person just really isn't a great fit. I don't have to count it in my lost column if I don't turn them into a client." They're just not a good fit and they're not ready right now. So move on and focus on who's actually qualified to do business with you and try to get them to do business with you.
Beverly: It's funny because classic selling, right? Let's say you start as maybe one of an outbound phone caller. It's a tough job. And so you're just calling and calling and calling all day long. But one of the things that they'll tell you to kind of keep your spirits up is it's exciting to get the nos because if every, say, 20 people you call, 19 are nos, right?
Michael: If you get enough nos, you've got to eventually get to a yes. So just accumulate your 100 nos and there have to be a few yeses in there. Oh, taking me back to my dark days of starting out in cold calling.
Beverly: Right? And hey, there are few people, I've only met one guy in my whole life who told me, "I love cold calling." I was like, "You're lying. Nobody likes it." But anyway, but think about it. But there is something to that thought process. And the reason they're saying that is because you've got to keep your spirits up and you've got to also realize, though, that not everybody is going to be a fit. And it's the same in our sort of work. I kind of get to a point where I'm so happy if I can early on realize you know what? This is not a firm we can help or this is not a fit for us or these people aren't serious, whatever. Just because there's so many people that we can help, and I want to be spending my time there. And this is the same thing I say to advisors. So what? Celebrate the fact that you learned early on in the process this wasn't going to work, because what that does is frees you up to go find the people that are going to be so excited that they got you for their advisor.
Michael: Well, and one of the things that I know crystallized this for me from your book originally, at some point I think you said something to the effect of like, not everybody you meet is a prospect. Sometimes they're just curious and they're friendly and they like to talk. And that's cool. And you can have a lovely conversation. But don't fool yourself they're even a good prospect. And then don't spend a bunch of time trying to get them because they were friendly and talked to you. That's not what actually makes them a qualified prospect to potentially do business with you. It gets back to, as you said, like, do they have a need for what you do? Are they willing to pay? And are they actually serious about making a decision?
Beverly: Yeah. No, we talk a lot about behavioral style. And you have people who are just verbal. They're upbeat, they're happy people. They love to engage. And they're the ones that say, "Oh, I've just got 30 minutes for you," and then 2 hours later, they're still talking. But they're really hard sometimes to pin down. And you start asking those questions about well, four meetings. And again, whatever, could be 2 meetings, could be 10 meetings. Whatever your process is, have a process, though. Let's add that in there. Make sure that you do have a clearly outlined process. But yes. And it's good because you may be enjoying them, and that's fine, but it's good to have something to pin someone like that down because it could all feel wonderful, go nowhere, and then it doesn't feel so wonderful.
What Comes After Qualifying A Prospect? [1:35:38]
Michael: So presuming I've qualified them by kind of going through this process, I set an expected outcome, I've tried to learn more about the other person instead of just going on and on about myself so I can understand the parts they actually care about. I've had some conversation to qualify them. Do they actually have a need for what I do? Are they willing to pay? And are they serious about making a decision? What comes next in this sales process?
Beverly: So I want to be able to ask enough questions. And again, you're going to always frame this by saying that, "There's a lot that we're able to do. We actually have a pretty robust process. I want to make sure that I'm focused on the things that are most meaningful to you. Your time is really valuable. So I'd like to ask you some questions first just so I can make sure that I'm focusing on the things that are important to you." Again, if we can frame things of value for somebody else, especially if you talk to them about their time, there is not a human being walking the planet who won't acknowledge, "Yeah, I'd like to make sure that we're focused on what's meaningful and that this time is valuable." And so then I kind of get that permission, if you will, to ask the questions because it's in their best interest.
Then I want to be selective. One of the things I've seen a lot of advisors do is that they will then kind of go into their whole story. So it's not necessarily that an advisor sits there with their pitchbook, but they may talk a lot about all of what they do or how they do it. But if you've asked the questions and you've kind of heard what the prospect says, you want to make sure that you're conscious about using some of their language and describing it the way that they've described it, and being able to feed back a little bit to say, "Well, I'm going to talk with you about, let's say it's our overall planning process and all these different pieces, but it was interesting to me when you talked about the struggle that you're having, having had that fifth child you weren't expecting around college. We have a specific area of focus. I really want to tell you a little bit about our specialists there."
And then you go into the most powerful tool that you should have in your arsenal, which is storytelling. And this is the most undervalued, high-gain sort of thing that every advisor needs to learn how to do really well. And that's being able to understand where that prospect is at, and then share a story that is relevant to that person. When we do workshops on this, Michael, I have this one quote, and I love it because it talks about how the research now shows us that stories are actually the only way to change someone's mindset. Data doesn't do it. Research doesn't do it. Burrowing them with information doesn't do it. Telling someone a story that they can see themselves in and relate to is how we get people to start thinking about something differently. And so I think advisors undervalue it because it's like, "Oh, boring, boring," but that's where then you can start to really connect with your prospect.
And then the other pieces are to be really clear. And this goes back to what you were saying earlier about confidence in the fee. But to be able to state what you're willing to do as part of the sales process and what you do once somebody becomes a client. Because that can vary, right? Some advisors will actually run the plan, or they'll do a model portfolio, or they'll come back with changes that they would make to what the prospect currently has done. Some don't believe that that's...I'm not a big proponent of giving a whole lot away, but you want to be clear too, "These are the things I'll do for the rest of the process, but then we will get to a point where it will be important for you to make a decision." And I always like to also point out that you need to use the language that, "It's not my job to necessarily make you hire me, it's my job to help you reach a decision that you are confident about."
Michael: That's an interesting way to frame it. "It's not my job to get you to hire me, it's my job to help you make a decision you're confident about."
Beverly: Yes. Because that way we can close it somehow, right? And you almost inevitably do get the business when you do that because you're being really clear that if you're not there to try to just sign them up, you're there to help them think this through and know, "Is this right for me or not right for me?" And so that's also another thing from a qualification...it may be you that says, "As we've gone through this, I don't know that we are the right advisor for you right now." Of course, that's when they will want to, of course, work with you, as soon as you say no.
Michael: Yeah, negative selling strategies is a whole other discussion for another day.
Beverly: That's another discussion.
Michael: And so, once I'm going through this process of connecting them, hopefully some kind of story, "Here's how I've helped another person that was a similar situation to yours and what we did" so they can start connecting to like, "Oh, I could see myself in that role as well." So then what comes next?
Beverly: And then you have to move them again back to, "We've talked again about the four meetings. So the next time we meet, we'll be going through what you've given me so far on the plan. My expectation is that after we do that, you will be in a position to know if this is the right decision for you or not. Do you see anything that might get in the way of being able to make a decision at that point in time?" This is another thing that people are very, very hesitant to do because they'll call it like planting a negative seed. Why do I want to ask if something's going to get in the way? And I like to say that just because you asked it doesn't make it real. It's going to be swimming around in there whether you ask or not. And so you want to know if something is going to get in the way.
And so, it's another one of those things, back to what we talked about, talking out loud and practicing. You do need to practice it, because not many people are comfortable with it. But I'll tell you, that's another place where now I've learned. "Well, when you were telling me the story about this other family, I started to think, I don't know that my family actually is ready to make this decision." Well, heck, I want to know that now, because I don't want to go run your plan for you. Sit down with you again and do all the rest of the stuff and you've already made up your mind.
And then you've got to get them to commit. And I never would put an agreement in front of somebody until I'm sure that this is definitely, "If we go through this, I talked to you about my 1% fee. We always charge," I don't know, "$3,500 to run the plan. So I'm going to lay all of that out. I've got to be honest with you. We often encounter people that get very busy, they get distracted. I don't like to just send that. Could we set up a time that we could...if the person is available to you, that we could sit down, or if they're not available to you, that I could send it to you, but then maybe we could jump on the phone together just to make sure everything is clear."
Michael: Well, and just going for that part, I guess the traditional sales label is going for the close, to me, it was one of the big things that impacted me from your book as well, that just, I think recognizing even for a lot of my own prior sales process that really, at the end of that meeting, it basically came down to, well, I told them about all the good stuff that we do. So I'm sure they'll see that they should hire me.
Beverly: Exactly.
Michael: And never actually quite got to the like, "So with everything we've discussed, it sounds like we're a really good fit in that I can help you solve your problems. So I'd love to work with you. Can I give you an agreement to sign and we can start working together?" And just, again, saying it, being able to say it out loud, not faltering on it. That it's sort of that moment of ultimate tension. Like, you put yourself out there and you'll see if you get rejected, right? At least for me, I start having horrible flashbacks to trying to date someone when I was young. That moment where you've got to go ask someone like, "Will you be in a relationship with me?" And wonder whether they're going to say yes or no and be really afraid that they're going to say no and then it's going to feel awkward. But if you never get to that moment of actually asking someone like, "Can we do business together? I think we're a good fit. I'd like to work with you. Can I send you an agreement?" If you don't ask, very few people will just sort of spontaneously volunteer like, "Oh, well, Mr. Advisor, you were so fantastic about talking about yourself for the past 40 minutes that I would love to just hand you my life savings now."
Beverly: But I like that you actually used the date analogy because that's what I try to say, right? We want to be asked. We do want to be asked. The prospect wants you to ask. They don't want to be sitting there wondering if, "So are we at the point where I ask them if we should work together?" Think about that, right?
Michael: Yeah. If you think it's awkward to you, it's probably awkward for them, too.
Beverly: Right? So that's what's so funny about, it's like, it's not a natural expectation. It's like any sort of thing where if I would like something from you, in this case, a decision, for or against, I need to ask you, "What's the decision?"
Michael: And I know certainly reflecting back like, this was probably the place that I dropped the ball the most, of just, "Well, I feel like we had a great meeting. Let me know if you want to move forward." Or even send them home, like, "Go home and think about it." Because that was the ultimate cop-out of like, well, I don't have to ask them to do business with me on the spot. I'm going to tell them to go home and think about it. And not that I'm one for advocating high-pressure sales, but you're literally expediting them out the door without making a decision. It kind of slows them down from making a decision.
Beverly: Well, and again, see, that's where, and I just think so much of this, Michael, is just kind of trying to think about it differently, because asking isn't, and that's the problem with sales language, I hate so much of it, like go for the jugular. Even think about it, right? Overcome their objection. I'm like, "Oh my gosh, how about...?"
Michael: Yeah, very adversarial.
Beverly: Right? How about, listen to their concern and address it? "Could we just simply talk about this differently?" And so same thing, right? Asking someone, "What is your decision," it's not necessarily like, okay, go for the close. And if you have done all these things, you set the expectations, you've told them how long it would take, you understand enough about them, you've told them a story, it should somewhat be natural now the polite thing to do is to then ask them, "Would you like to work with me?" And by the way, I do this all the time, and at this point, it feels very natural because it's true for me. I say, "We would really like to partner with you. We would like to be your partner and have you hire us. So we really are hoping that next step, that's what you'll decide. Can we talk about what you'd like to do?" Because I genuinely want to work with someone. So what is so bad about that? That seems to me like a respectful kind of polite thing to do.
What Advisors Generally Misunderstand Most About The Sales Process [1:47:54]
Michael: So, as you look overall having done this with lots of advisors over the years, what do we, I don't know, understand the least or misunderstand the most about the selling process with a prospect? As advisors, what do we not get?
Beverly: I do think that in some ways, we come around to where we started. Talk about like close. I do think that it is really the misperception that letting people know what you do, how you can help them, and that you genuinely want to work with them and do good work is somehow this negative, dirty, awful thing, when really fundamentally, that is what all advisors want to do. And I have yet to meet one that is simply in this because it's a great way to make a living. That's like a wonderful outcome, but most advisors I know do this because they love this business, they really want to be able to transform people's lives. They feel that they have the ability to do that with the tools available to them. And they genuinely are committed to doing the right thing. So why in the world wouldn't you want everybody to know that? And so it's that disconnect and somehow keeping that frame on it that says selling has to be this dirty thing, when it's really truly, in my view, for the work that you all do and what you can bring to the table, not even remotely about that.
Michael: So tell us a bit about your own business. We've talked for quite a bit here of all the different sales and marketing ideas and strategies of what you've learned and how you work with advisors, but can you actually just tell us a little bit about, how do you work with advisors? What is your business and background?
Beverly: So we have an interesting business model because we did start really as a growth firm. Our backgrounds are in selling and marketing and being able to work with advisors and bring them tools and ways of thinking about things to help them grow. And everything from strategically, how do you make it a part of your business, to tactically, what are the words that you use? A lot of what we've been talking about here. And we do a lot of marketing development. We do website development. We do marketing materials. We help with value prop. So all of that kind of front-office, growth-related, and everything from training to literally going into a firm and helping them with coaching of individuals or getting their story tightened.
But it's interesting because over the years would find that the tools we'd put in place would sometimes not be effective. And so we started to recognize this thing that I fondly refer to as the human element. That those doggone people kept getting in the way. And so we started to learn a lot about behavioral and communication and where teams get stuck. So we really have carved out, I think, a nice niche because we really get the human side of it. So a lot of our clients use us for organizational change, for team building, but we are business people at heart. And we're about the growth. And we're about what's practical and what's going to help the firm to really be able to thrive. And so consulting, training, coaching, and then the marketing, but they're all those pieces will sometimes come together and we pull all the elements in to help an advisory firm be more effective.
And we've been really fortunate, we've got great relationships with many of the major custodians, some asset management firms, where we've been able to build broad programs that then they can roll out to their constituents. So we've taken a lot of our stuff and been able to make it so that it's digestible on a broad basis, which is really exciting, too.
Michael: And so, I've just got to ask like, what's it like running a growth firm doing sales and marketing training?
Beverly: Do we practice what we preach?
Michael: Yeah, yeah. There's like a circular thing there. Like, what's it like doing sales and marketing for a firm that trains in sales and marketing?
Beverly: So you know what is the funniest thing? So I had a client this week. We were rolling out this big program. We've been working on it for quite some time. I was with their group. We had about 35 of their advisors in the room. And it was so funny because one of the people came up to me and she said, "You know what's so fascinating about watching you training our people?" She said, "I feel like the whole process with you, to decide to pick your firm and then build these...you actually do all the things that you teach us." And I was like, "Well, isn't that...?" Because I do have to tell you, and I won't...
Michael: It kind of worked.
Beverly: It kind of worked. But I won't name names, Michael, but in my career, I've just come across so many "sales trainers," and I'm like, "Really, you're training people but you have no finesse when it actually comes to your own sales process." So we do really try to practice what we preach, but we do...you have to put an emphasis on relationships. You have to understand what somebody is really dealing with. We never walk in and say we have all the answers or we've done this so many times. "Oh, yeah, yeah, yeah, we've heard this before." We always want to learn about the client. We have a lot of tools to bring. But we're very much about trying to make sure that we understand the person we're working with, the firm, be it small or large. And we're doing something for them. And then trying to make sure we do stay visible and do all the other things you have to do to keep your brand alive.
Michael: So what advice would you give to younger or newer advisors looking to come into the industry today? Because I know even the nature of what it means to be doing selling in our business has changed quite a bit. As we said, it wasn't that long ago that you started in cold calling, I started in cold calling, that it's a different world today. And so, where would you tell someone coming to the business today to be focusing if they want to figure out how to have a good trajectory of eventually being good at sales and business development?
Beverly: So I really would encourage them to spend some time learning the relationship side of things. I just was asked by one of our custodian clients actually to put together something. And they presented it to me as soft skills. And so I said to them, "We have to stop using that term." Because the soft stuff is going to become...
Michael: Is pretty hard.
Beverly: ...the game-changing stuff in this business. If we become commoditized, it's going to be that EQ, right, emotional quotient relationship stuff that's going to differentiate. And I tell this, I teach at a school with a finance track, I tell every finance student who'll listen to me, I'm like, "Get really good at this. You need to fundamentally be very good at your craft but don't... If you get a chance to take psychology courses, take them." Because that's...I really do think learning that aspect and understanding the people aspect and how much money means to people, how hard it is for them to make decisions around it. Look at all the behavioral finance stuff now, biases, I would strongly encourage. I just think you're going to be so much better at your craft if you also understand that aspect. Have some depth there.
Michael: As we wrap up, this is a podcast about success. And one of the themes that always comes up is even just the word "success" means different things to different people. And so, you've had this career of doing sales training, growth and business development and built a firm doing it and teaching other advisors to do it and built kind of objectively successful business. But how do you define success for yourself at this point?
Beverly: So I really put a priority on loving what I do. I'll say that over the many years and in the last few, we have a policy here that we do only work with people that we enjoy. I had many in my career that I didn't, and so, I do this because I really truly love it. But I want to also work with people who really want to make a change and are just good people to work with. So that's a big piece of success for us. And we do, we actually look at it and say, "Okay, here's who we have right now. Yep, they're all a 10 on 10." So that's an important thing.
To be honest, success to me also is being able to do other things that I love. So I teach. Do I have time to teach? No, but I'm passionate about the next generation. And then I like to...I'm pretty close with my kids. So I spend time there. And I do a lot of animal rescue work, and so I like to be able to do that too. So the fact that I can do work I love with people I really enjoy, but then also be able to have these extensions of things that are meaningful to me, that is absolutely the height of success for me.
Michael: Well, very cool. I love it. And I really appreciate you, Beverly, taking the time to join us. We'll make sure we have some links out in the show notes as well to the book, which I truly do highly recommend. It had a very big impact on me, and out to your firm as well. So for folks that are listening, this is episode 152. So if you go to kitces.com/152, we'll have links out to all of Beverly's materials. But thank you so much for joining us, Bev, on the "Financial Advisor Success" podcast.
Beverly: My honor to be here, Michael. Thank you.
Michael: Thank you.