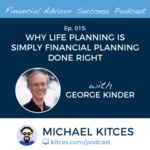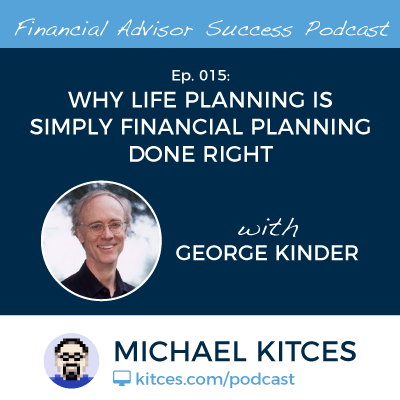 Welcome back to the fifteenth episode of the Financial Advisor Success podcast!
This week's guest is George Kinder, who is known to most as the "father" of the life planning – a way of holistically delivering financial planning that focuses on delving into clients' real goals, beyond just their financial concerns, in an effort to help them use their money to deliver freedom into their lives.
What's fascinating about George, though, is that he didn't start out trying to create a movement towards life planning. George was actually a math major at Harvard, who then became a CPA (and earned the Bronze Medal for the third highest score in his entire state on the CPA exam!), and only began to explore the intersections between financial planning and psychology after forming a niche financial advisory practice delivering advanced tax strategies for self-employed psychologists and therapists!
In this episode, George talks about his early career and the inception of life planning itself, how he ultimately transitioned away from and sold his financial planning firm to teach life planning full time, his now-famous three questions that he asks of new clients to get to know them and begin the life planning process, and the five pursuits that most clients articulate in the life planning process… which rarely have anything to do with "traditional" financial planning goals like retirement! Though notably, George doesn't view life planning as an alternative to financial planning, but simply as "financial planning done right".
So whether you've been curious to learn more about life planning in particular, or are just looking for ideas about a whole new way to approach financial planning (and differentiate yourself in a crowded financial advisor marketplace!), I hope you enjoy this latest episode of the Financial Advisor Success podcast!