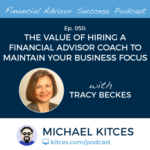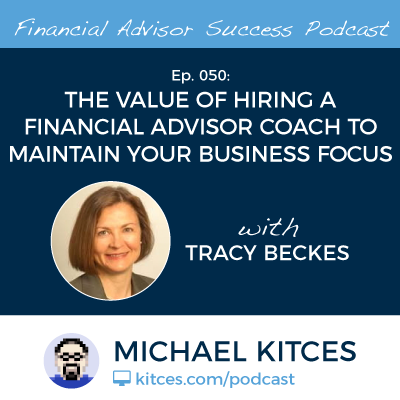 Welcome, everyone! Welcome to the 50th episode of the Financial Advisor Success Podcast!
My guest on today's podcast is Tracy Beckes. Tracy runs an eponymous financial advisor coaching firm, and in fact was one of the very first coaches to specialize in working with financial advisors nearly 20 years ago.
What's fascinating about Tracy, though, is not merely her history as a coach for financial advisors, but the way that she's been able to systematize her coaching strategies into concrete tools and templates that she uses with her coaching clients to help them navigate the common challenges of trying to run what she calls an "Effortless, Outrageous" practice.
In this episode, we talk in depth about some of Tracy's coaching tools, from the value of creating Engagement Standards with clients that set the terms of both what the advisor commits to doing for the client and what the client is expected to do to be a productive part of the advisor-client relationship, to why it's so important to create a "cadence of accountability" within an advisory firm with a regular series of daily, weekly, and quarterly scheduled meetings, to the benefits of creating a one-page strategic business plan that sets forth the business' Core Values, its Purpose, its Big Stretch Goal, and a series of 3-year, 12-month, and 90-day objectives, all built to help the firm create better focus in what it does... and how establishing a clear target market or niche can actually bring tremendous efficiency to an advisory firm and an advisor's time in the business.
We also talk about what financial advisor coaching itself actually is, how it differs from training or consulting, why successful financial advisors so often seek out coaches – even when they're already fairly successful in their businesses – and why the real secret to advisory firm growth is all about systematizing, developing people, and honoring the power of the 80/20 rule... which a financial advisor coach can help you to focus on.
And be certain to listen to the end, where we talk about how the real secret to having more productive team meetings is all about your ability to actually structure meetings to make key decisions or solve problems... and how advisors can better craft a meeting agenda process that helps to target the most important issues at every meeting.
So whether you have been considering hiring a financial advisor coach to maintain business focus, contemplating how you can better set and manage expectations for your relationships with clients, or interested in how you can have more productive team meetings, I hope you enjoy this episode of the Financial Advisor Success podcast!