Executive Summary
2022 was a year that began with high hopes as households were slowly re-emerging from pandemic shutdowns, markets were reaching new highs, and most advisory firms had growing momentum. Within just a few months, though, Omicron had led to another wave of at least partial shutdowns, inflation began to rear its ugly head in a way not seen in decades, and the market fell to its worst first-half start since 1970. Yet despite this – and perhaps even because of it – advisory firms are putting an ever-greater focus on financial planning in 2022, as a way to both show value to clients in the midst of difficult market returns, and, more broadly, to help clients navigate the current environment. Which we've witnessed first-hand here at Kitces.com, as the advisor community has engaged in record numbers with some of our recent articles on how best to advise clients through it all, and capitalize on the opportunities along the way.
And so, as we enter the second half of the year, we want to give all of you, our Readers and Members, an update on what we're doing to continue to serve and support the advisor community through a challenging year, and some of the new enhancements you'll see from us in the months to come.
First and foremost, we're excited to announce that, effective immediately, all of our Nerd's Eye View blog and recorded webinar CE from 2022 (and all future CE) is now eligible for the new IAR CE requirements. Which is relevant already in 2022 for any advisors who are registered in one of the 3 states (as their home state, or simply a state in which they have more than the de minimis number of clients) that has already rolled out the IAR CE obligation – Maryland, Mississippi, and Vermont – and will be relevant for far more advisors in the years to come as more states implement the NASAA Model Rule for IAR CE (with Arkansas, Kentucky, Michigan, Nevada, Oklahoma, Rhode Island, Wisconsin, and Washington DC already expected to enact their IAR CE requirements for 2023). All advisors in the Kitces Members Section will be able to earn IAR CE in addition to their credits for CFP, CPA, EA, and various IWI and American College designations as part of their ongoing membership fee (though notably, NASAA is imposing a $3/credit, or $36/year, reporting fee that Kitces will also have to collect on behalf of advisors and remit for their reporting).
In addition, we've also just launched a major update to our popular Course on "How to Find Planning Opportunities When Reviewing a Client's Tax Return", which has been refreshed to include the latest IRS forms and schedules, new educational videos from our very own Jeff Levine, and improvements to the Course navigation and supporting materials (downloadable video transcripts for your highlighting or future reference!). And in the coming month, we'll be rolling out our newest course on "How To Spot Planning Opportunities when Reviewing Estate Planning Documents". Because, the reality is, while we may learn about tax and estate planning in our CFP classes, there's remarkably little to show us as advisors how best to navigate the reams of tax returns and estate documents that we collect from clients to figure out what their opportunities are! A gap our Kitces Courses aim to fill!
We're also gearing up for our upcoming Kitces Financial Planning Value Summit, after more than 1,000 advisors registered for our first Value Summit last year! This year's Summit will be held on Thursday, December 8th – Save the date! – and we're already accepting submissions for those who have a unique financial planning value-add that they'd be willing to showcase to other advisors. Notably, this is a paid speaking opportunity for advisors whose submissions are chosen to be featured at the Summit!
In the coming months, we're also looking to make more updates to our popular AdvisorTech Directory that launched earlier this year at FinTech.Kitces.com. Stay tuned for new data on each software provider that shows how often they're used by other advisors, and the Satisfaction scores that other advisors are giving the software. Along with, in partnership with our Consulting Consortium partner Craig Iskowitz of the Ezra Group, a new "Integration Score" to make it easier for advisors to understand how well various AdvisorTech tools actually integrate with other software solutions!
And given all of this growth, we're also proud to welcome several recent new hires to the Kitces team – including Director of Engagement Steve Viner, Curriculum DesigNerd Shelitha Smodic, and Education Systems Manager Ryan Taylor – and have announced (or are about to launch) several new openings as well, including Director of Advisor Education, an Instructional DesigNerd, an Associate Financial Planning Nerd, and an upcoming role to become our full-time Director of Research. Those who are interested (or have a friend or family member who might be!) can check out our Career Opportunities page for more!
All in pursuit of our mission – Making Financial Advicers Better, and More Successful – through our ongoing focus on Navigational resources, Educational insights, Research on advicers, and Development of advicer skills. We appreciate the opportunity to continue to serve you within and especially in the midst of a challenging year, and welcome your ongoing feedback about what else we can do to serve you even better!
Announcing Annual IAR CE For The Kitces Members Section And New SmartRIA Partnership
One of the fundamental principles of being a professional is that, as a professional, you've acquired a specialized body of knowledge in your profession… but over time, that body of knowledge changes and evolves with new research, new discoveries, and new best practices. After all, you probably wouldn't want to be represented by a lawyer who learned "the law" decades ago and wasn't up to date on the actual laws on the books today, you wouldn't want to have your tax return prepared by an accountant who was still doing tax planning based on the tax laws from decades ago, and you certainly wouldn't want to have brain surgery being done by a neurosurgeon who wasn't up to date on the latest research and techniques since the last millennium. Consequently, to ensure a 'minimum' level of ongoing competency, it's a standard requirement for professionals to be required to obtain continuing education.
When it comes to financial advisors, as our professionalism has increased, so too have our own requirements for continuing education. In the early years, continuing education was primarily confined to state Insurance and FINRA CE obligations, which mostly revolved around the products that we may use with clients, and the (insurance and securities) laws that we are subject to. As advisors increasingly sought out professional designations – such as CFP certification – and joined membership associations more focused on lifting professional standards (e.g., NAPFA), the requirements for the number of hours of annual continuing education also increased.
In late 2020, after several years of background research and seeking public comment from investment advisers, NASAA (the North American Securities Administrators Association, an association of state investment regulators) put forth a Model Rule that would, for the first time, add an annual CE obligation to the investment adviser representatives (IARs) of RIAs – specifically, 12 hours of continuing education each year, including 6 hours of "Products & Practice" and 6 hours of "Ethics & Professional Responsibility".
Technically, though, because NASAA is an association of state regulators, it doesn't actually control the regulations of the states – which typically requires each state's legislature to draft its own laws or the state's regulator to go through its own formal process for implementing new rules (ideally using NASAA's Model Rule as a template). As a result, while NASAA implemented its Model Rule in the fall of 2020, individual states are still rolling out their IAR CE requirements, one state at a time. Though as long as the advisor is registered as an IAR in that state – whether it is their home state, or an additional state in which they're registered – the IAR CE obligation will apply.
And so, to help financial advisors who work within an RIA (or are dually registered as a broker and the IAR of a corporate RIA) meet their new IAR CE obligation, we're excited at Kitces to formally launch our own IAR CE offering in the Kitces Members Section!
Going forward, all of our Nerd's Eye View blog content and Member's Section recorded webinars that are already eligible for CFP CE will also be eligible for IAR CE as well – more than enough to cover the full annual 12-hour IAR CE requirement for both Products & Practice and Ethics & Professional Responsibility. (Notably, due to differing requirements for live content from NASAA, live Kitces webinars are not yet eligible for IAR CE, though we aim to incorporate our live webinars into our IAR CE offering as well in 2023!)
In order to receive IAR CE credit, Members simply need to add their CRD number (if you don't recall yours, look it up in BrokerCheck or IAPD!) in the My Account area of the Members Section. (Unfortunately, due to NASAA requirements for IAR CE reporting, we are not able to grant IAR CE credit retroactively for CE credits already earned earlier this year.)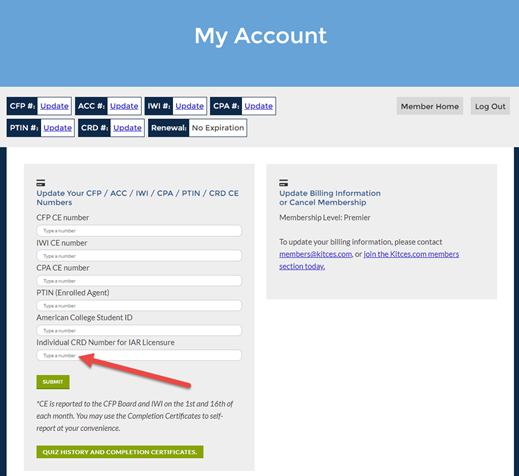 Notably, as a part of the new IAR CE obligation, NASAA has implemented a $3-per-credit-hour ($36 per year for the full 12-hour CE obligation) course reporting fee to track advisers' CE credits. As a result, in the coming year, Kitces will be adding a separate $36/year processing fee to the cost of Membership for advisors who want IAR CE reported on their behalf.
However, there will be no other additional fees or costs for advisers – beyond the standard Kitces.com Members Section fee – to receive IAR CE credit going forward… in addition to also getting credit for CFP certification, CPA and EA licenses, and all the designations from IWI and the American College, that are also covered under Kitces membership! Multi-advisor firms will continue to be eligible for discounted group rates as well.
In addition to the launch of IAR CE within the Kitces Members Section, we're also excited to announce a new partnership with RIA compliance platform SmartRIA, which going forward will also be offering IAR CE powered by the Kitces Members Section. SmartRIA users will be able to access the Kitces Members Section directly from SmartRIA (via a Single-Sign-On integration), and in the coming year additional integrations will make it possible for SmartRIA users to track and monitor their completed IAR CE credits directly within SmartRIA! (SmartRIA users who are interested should contact SmartRIA directly to implement within their own firm!)
Kitces Tax Course Refreshed With 2022 Updates, And A New Estate Course Coming
While Kitces.com and the Nerd's Eye View have been around for more than 14 years, and have offered CE credit to advisors for more than a decade, it was only at the beginning of 2021 that we announced the launch of a new "Kitces Courses" offering.
Kitces Courses were intended to be different from 'just' another way to get CE credit, though. As instead of merely focusing on the raw knowledge that advisors need to know to be better and more successful, our focus in the Course is to give advisors a chance to see how that knowledge is applied in real client situations, and have an opportunity to practice applying the knowledge to realistic case studies. So that ideally, advisors learning to go deeper with their planning will be able to practice with hypothetical clients before they have to do it with a real client. (And for experienced advisors, it's a good opportunity to refresh on the best practices of how planning should ideally be done… for those of us whose only option was to learn by the 'school of hard knocks'!)
Accordingly, our first Kitces Course – on "How To Find Planning Opportunities When Reviewing A Tax Return" – was focused on not just 'teaching about tax planning' (which we all learn while studying for our CFP certification), but specifically on how to navigate the tax return itself. As it's a standard practice to ask clients to share copies of their tax returns… but few advisors have ever really been taught what's in a tax return, which pages and schedules are most relevant, and which lines to focus on to spot the actual planning opportunities (especially when tax returns can span up to dozens or sometimes even a hundred or few pages for complex clients!).
In turn, last fall we rolled out our second Course – on "Social Security Optimization for Couples" – and next month, we'll be launching our third Course… this time, on "How To Spot Issues For Discussion When Reviewing Estate Documents". Similar to taxes – where CFP classes teach about tax planning, but few financial advisors ever get an opportunity to see a client's tax return until they request it for the first time – our upcoming Estate Documents course will guide advisors on what to do when clients provide their estate planning documents, highlighting the most important passages and phrases to look for in those legal documents to understand how assets will actually flow, along with the key players involved and the powers the documents will (or will not) grant them. Because advisors may not draft estate planning documents and still work with the client's attorney, but it's still crucial to understand what's in the documents, to be able to help clients determine whether their existing documents will accomplish their goals, or if they need to be connected to an estate planning attorney to make changes and updates!
The new Kitces Course on Reviewing Estate Documents will be in beta testing in August, with an anticipated launch date at the end of August.
In the meantime, though, we've also just completed a full update on our Tax Course, including adjustments for the latest versions of 2022 tax forms, recent guidance/regulations the IRS has published regarding key provisions of the SECURE Act, and new explanatory videos for additional planning strategies, in addition to several 'back-end' refinements to make the Course easier to navigate with more and better takeaways to reference back to in the future (e.g., downloadable video transcripts!).
Ultimately, our goal with Kitces Courses is not necessarily to add to the proverbial 'alphabet soup' of industry designations on the advisor's business card, but to give practical opportunities to practice, learn, and master the key domains of financial planning – like navigating tax returns to identify tax planning strategies, or spotting planning opportunities in estate document reviews – that helps make advisors better and more successful in their work with clients. And perhaps at least provide advisors some 'Kitces Certificates' they can add to their resume!
Adding More Key Data To The Kitces AdvisorTech Directory
Several years ago, in response to the ongoing proliferation of technology providers serving financial advisors, we launched an AdvisorTech Landscape Map to help advisors navigate the available choices. With all the major advisor technology companies sorted into their 'primary' category (based on the features you 'must' want to use from them, or it wouldn't be worthwhile to buy the software), organized into clickable icons to go directly to the company to learn more.
The caveat, though, is that the breadth of AdvisorTech companies has grown so much, the Map is now not only a navigational aid for the advisor community… but also sometimes the punchline to a joke about how complex the technology choices for advisors have become! (No offense taken for our Map. It's simply a reflection of the technological reality we all face as financial advisors!)
To make it easier and more practical for advisors to use, earlier this year we converted our AdvisorTech Map into an entire AdvisorTech Directory at FinTech.Kitces.com, sorting all the advisor technology tools into both their primary and 'secondary' (can-also-use-this-for) categories, and including a "Build My Stack" feature where advisors can fill out all the tools they use (or plan to use) in their firm, and then save (for future reference) or share (for feedback from other advisors) the stack they're aiming to use.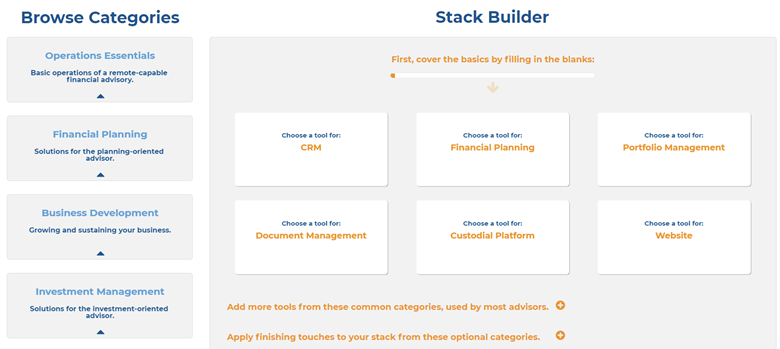 Given the popularity of the AdvisorTech Directory that we've already seen, our team has spent the past several months retooling the back end of the system to make it easier to make changes and updates and roll out new features (in addition to making a number of enhancements to the interface based on your feedback!).
In the coming months, we're looking to expand further on the data that's included for all the AdvisorTech companies in the directory, including usage and Advisor Satisfaction scores from our latest Kitces Research on AdvisorTech, and in partnership with our Consulting Consortium partner Craig Iskowitz of the Ezra Group, a new 'Integration Score' to help advisors understand the quality of various vendors' integrations with other tools in their stack!
Advisor Submissions Now Open For The Kitces Financial Planning Value Summit
In addition to our launch of Kitces Courses, our second big initiative of 2021 was the launch of Kitces Summits. As having experienced a wide range of 'virtual' conferences and webinars throughout the pandemic, we realized that there was a need for a new kind of advisor event. One that was not driven by vendors and consultants delivering sponsored sessions as a way to market their own products and services. There was a need for an event where the agenda was driven entirely by advisors, for advisors, where real advisors who are finding success could share exactly what they're doing, that is actually working with clients.
Partnering with fellow advisor (and blogger, and podcaster) Taylor Schulte, we decided to focus our Kitces Summits into two domains: how advisors are marketing their advice services to prospects (our "Marketing Summit"), and how advisors are showing the value of their advice to their clients (our "Value Summit").
And after a huge turnout with more than 1,000 advisors who registered for our first Value Summit last December, we're gearing up for the second. So please save the date for Thursday, December 8th, as the next Kitces Value Summit!
Last year's Value Summit highlighted a number of interesting new trends amongst financial advisors, including the use of One-Page Financial Plans for ongoing clients (sparking a number of financial planning software providers to launch OPFP tools this year!), creating Stewardship Reports to show all the 'shadow work' that's being done for clients throughout the year, and systematizing quarterly deliverables (value-adds) to create physical manifestations of the advisor's value on an ongoing basis.
For this year's Value Summit, though… we want to hear from you! What have you built in your practice for clients, that you'd be willing to share with the advisor community to help us all better demonstrate the value of financial planning to clients?
For those who are interested, proposed topics for this year's Value Summit can be submitted directly via the Kitces website. And notably, this is a paid speaking opportunity for advisors who are willing to share their best practices with their peers!
In the meantime… stay tuned for Early Bird registration for the Value Summit, which will roll out later this summer!
Expanding Kitces Team And New Career Opportunities (For Advisor Nerds)
The ongoing growth of financial planning – and the demand that comes with it from advisors looking for more tools, resources, and guidance on how to improve at their craft – has led to substantial growth of the Kitces team in recent years. Which is how we've been able to expand both our content – with more navigational resources like our AdvisorTech directory, more webinars and Office Hours, and the launch of Kitces Courses and our Marketing and Value Summits, as well as a host of behind-the-scenes platform improvements such as the ability to Save Articles and Suggest Topics that you'd like us to 'Nerd Out On' for you, in addition to our recent rollout of IAR CE – all in pursuit of our mission to "Make Financial Advicers Better, and More Successful".
In recent months, this has meant the addition of several new members of the Kitces team. In January, Steve Viner joined us as our new Director of Engagement, with a focus on helping us better communicate with our Readers and Members about the full breadth of Kitces content (and make it easier for you to spot what would be most relevant to you!). In March, our Advisor Education team expanded with Shelitha Smodic, our 'Curriculum DesigNerd' spearheading the development of our upcoming Estate Course, and Ryan Taylor, our new Education Systems Manager who oversees and maintains all of our CE accreditation, CE reporting, and the Learning Management Systems we use to deliver our content!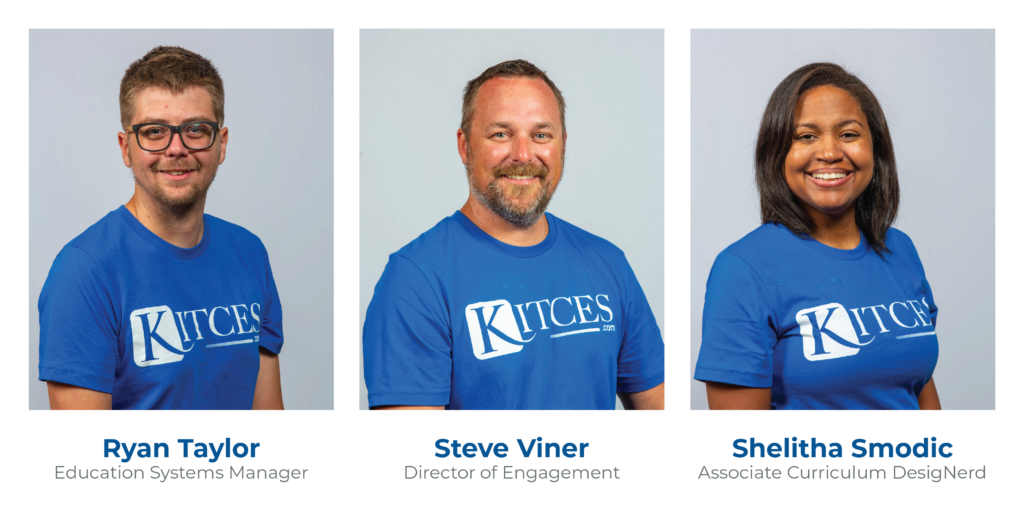 And we're still looking to add more! For those who have an interest in joining our 'team of Nerds', there are several roles currently open or coming soon, including:
Director of Advisor Education to lead (and grow, and scale!) our Education team as we continue to ramp up our Courses, Summits, webinars, and other CE offerings for the advisor community
Instructional DesigNerd on our Education team to turn our advisor curriculum into actual Course material in our LMS (for those who have expertise in instructional design tools like Articulate or Captivate!)
Associate Financial Planning Nerd on our Editorial team, to support the ongoing creation of Nerd's Eye View blog content and our Navigational resources for the advisor community
Director of Advisor Research to lead our expanding research work on Advicers, with an opening coming later this year!
If you or anyone you know might be interested, they can apply directly via our Career Opportunities page. (Or sign up for the mailing list here to stay apprised of future openings on the team!)
All of which is ultimately in pursuit of our mission at Kitces.com – To Make Financial Advicers Better, and More Successful – through our focus on providing Navigational resources, Educational insights, Research on advicers, and Development of advicer skills. (Yes, our organizational strategy really does spell out N-E-R-D!)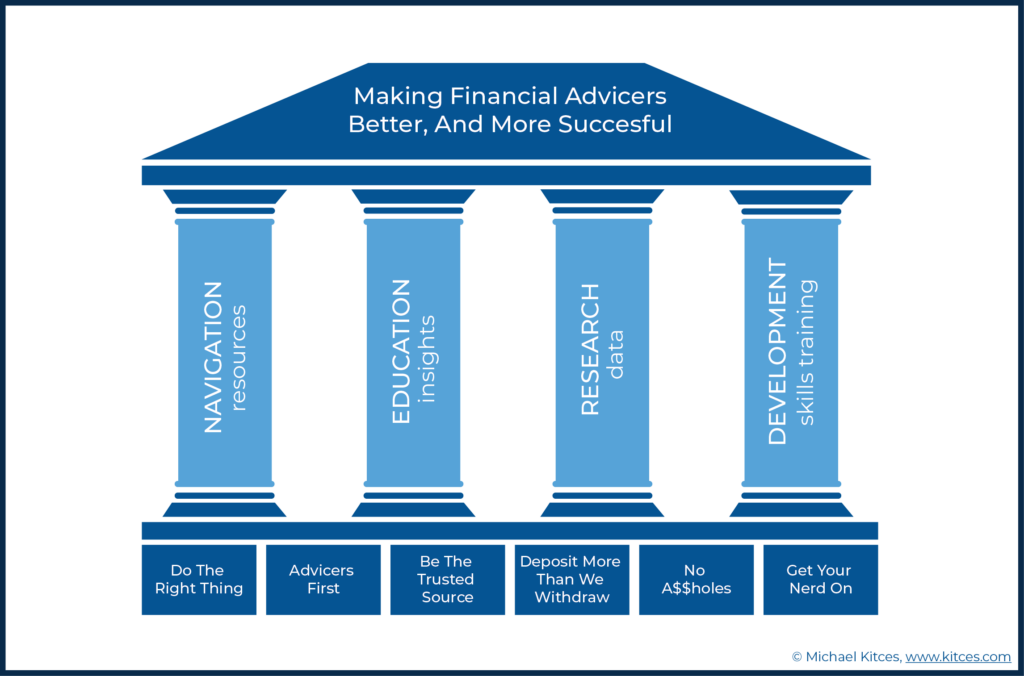 I hope you'll continue the journey along with us! And if you think there's anything else we should be working on that we've missed, please share your thoughts in the comments below!