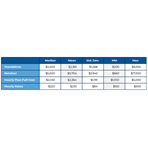 It is a simple question: how much does it cost to get a comprehensive financial plan? Yet despite the rising popularity of financial advisors offering financial planning services, remarkably little has actually been published about what financial advisors charge for the service. Which is striking for both consumers – who want to know what a plan might cost – and for financial advisors themselves, who may want to benchmark whether the pricing for their financial plans is "reasonable" relative to their advisor peers and competitors (rather than solely setting the price based on its time-and-labor cost to the advisor).
In our latest Kitces Research survey on "What Financial Advisors Actually Do", we found that the average cost for a standalone comprehensive financial plan is $2,400 (up from $2,200 in a 2012 study from the Financial Planning Association). Notably, though, our research finds that more and more advisory firms who offer financial plans actually are charging for them separately – rather than merely bundling the plan into their AUM fees – and in fact there is a growing rise of financial advisors who are charging for financial plans solely in a "fee-for-service" manner (hourly fees, monthly subscription fees, or annual retainer fees), rather than blending fees with AUM at all.
In addition, not surprisingly, financial plan fees did vary significantly from one firm to the next, although as it turns out, the biggest driver of financial planning fees is not the cost (i.e., how long it takes) to produce the plan, nor even how comprehensive the plan is, but the affluence of the client themselves paying for the plan in the first place. In other words, clients with more financial means to pay for a financial plan tend to pay more for a financial plan. Opening a debate of whether more affluent clients pay more for financial plans simply because they can afford to do so, because they tend to use more experienced advisors with deeper expertise (even if "the plan" itself is the same), or simply because their higher net worth and affluence means they perceive more value in the financial plan, to begin with.
On the other hand, it's notable that, because financial advisors only spend about 50% of their time on client-facing activities in the first place, advisors are still greatly limited by how many financial plans they can do and how many clients they can support, which ultimately limits their ability to charge for their time and generate revenue. In the end, the average advisor generates a fee of about $150/hour for their client-facing activities… even as they only spend about 50% of their time on client activities that generate fees in the first place.
On the other hand, the research does indicate that advisors who have advanced professional designations, and more years of experience, do manage to command higher financial planning fees in the marketplace. Though, again, this appears to be less a function of advisors with greater credentials and experience charging higher fees, per se, and more the result of experienced and credentialed advisors being more effective at attracting the more affluent clients who are willing to pay higher fees and perceive greater value in the financial plan in the first place. Which means in the end, when it comes to setting the cost and determining value, the answer to "what should a financial plan cost" truly is in the eyes of the beholder.