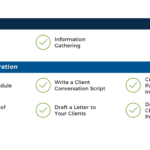 While a growing number of advisors who have built AUM practices at a broker-dealer have been making the switch to the RIA channel as a pathway to have better control over their businesses and how they serve their clients, the transition itself is still fraught with risk. At best, launching your own RIA – or even joining an existing one – entails an immense amount of paperwork to transition clients from the old firm to the new one, even as the prior firm may take steps to try and retain them. At worst, the onslaught of required paperwork causes mistakes to be made and transfers to slip through the cracks… undermining client confidence and leading them to decide not to make the switch with the breakaway broker after all.
In this guest post, Grier Rubeling of Advisor Transition Services details what it really takes to make a transition successfully – along with practical tools and templates she's built – based on her real-world experience as part of a firm that made the transition and then founding an Advisor Transitions business to help many more advisors work through the transition process since then. Because the reality is that in a high-stakes competitive environment, where the breakaway broker is trying to persuade clients to come along as the prior firm fights to retain them… there is very little room for error.
The key to a successful transition process is to lay the proper foundation to begin with. Not just with respect to the formalities of creating the legal RIA entity and establishing a custodial relationship, but planning out each step of the transition process in advance, and putting the necessary tracking systems in place, so that when the time comes to hand in the resignation letter… the breakaway broker can hit the ground running immediately.
Unfortunately, even when done well, a breakaway transition can take many months of detailed tracking and client interaction to ensure that every account is opened and transferred and funded properly before the burden finally eases. Nonetheless, there are a lot of practical, time-saving tips that can be employed along the way to make the transition process at least a little easier to manage!