Executive Summary
Traditionally, financial planning meetings have been held face-to-face in an advisor's office, and over the years, a body of research has emerged showing that how the advisor's office is laid out can have a significant impact on how clients perceive the advisor, their mood during the meeting, and even their resulting financial planning decisions. However, over the last decade (and particularly since the beginning of the COVID-19 pandemic), many advisors have increasingly been holding virtual client meetings over Zoom or other videoconferencing software – and more recent evidence is showing that, just as the physical office environment matters for advisors who meet in person, the 'virtual' office environment also matters for those who meet virtually.
In this post, Kitces Senior Financial Planning Nerd Ben Henry-Moreland writes about the unique challenges created by virtual meetings and how advisors can optimize their meeting space (as well as the structure of the meetings themselves) as a virtual environment.
For many advisors, the transition to meeting virtually was a struggle on account of two major challenges. First, communicating effectively and creating the same level of personal connection over a video call is more difficult than when meeting in person; in other words, there is a decline in what researchers call 'social presence' or the feeling of being present with a real person. Second, many people (not just advisors) who have greatly increased their use of virtual meetings in the last few years have experienced the phenomenon of 'Zoom fatigue', in which a combination of factors (including excessive eye contact, the distraction of viewing one's self onscreen, limited mobility, and louder speaking) make virtual meetings far more tiring than those held in person.
However, advisors can significantly reduce these negative effects of meeting virtually by optimizing the setup of their office environment and meeting structure. For example, the way that an advisor sets up their lighting, sound, and office furniture for their virtual meeting can affect how 'immersive' and realistic it feels for the client on the other end of the call. Furthermore, setting up a meeting background (either in the form of a physical office space or a computer-generated backdrop) that's more inviting than imposing can help the client feel more relaxed and open in conversation, while introducing opportunities to go 'off-screen' during the meeting (such as using screen sharing options at various points or even just building occasional breaks into the agenda) can help both the client and advisor fight Zoom fatigue and stay focused.
The key point is that with just a small investment – both in monetary terms for lighting, sound, and camera equipment, and in time spent planning how to set up the office space and structure the meeting – advisors can meaningfully improve the virtual meeting experience for both their clients and themselves, and create an environment more conducive to talking about the client's issues and feelings around money. Ultimately, that investment can make the transition to meetings well worth it, since the ability to meet with clients virtually means that advisors can work with more types of clients, specialize in new niches, and thrive in new ways without the geographic constraints of meeting in person.
When it comes to the elements that go into a successful financial planning process, the focus tends to be either on the advice itself (e.g., whether the recommendations made by the advisor were what made the most sense for the client), or the way in which the advice is given (i.e., whether the advisor frames the recommendations in the right way, and at the right time, so that the client is prepared and motivated to act on them).
Historically, however, there was less of an emphasis on a 3rd element that nonetheless can have a large effect on whether, and when, the client decides to follow the advisor's recommendations (and even on whether the client decides to hire the advisor in the first place): the environment where the advisor and client meet. Although advisors have long recognized that appearances matter when giving financial advice (and have consequently employed a number of signals, like formal suits and expansive desks, to signal their authority and competence to clients), it's only been in relatively recent years that the effects of the meeting environment on financial planning outcomes have been studied.
In fact, Dr. John Grable and his colleagues at the University of Georgia found that, counter to the traditional financial advisor's office with its stacks of books and imposing desks, the ideal meeting environment from the perspective of most clients was one more akin to a therapist's office – with couches and soft chairs, relatively few physical barriers (such as what a desk can effectively create), and plants and other objects that signal tranquility and relaxation. And as it turns out, nearly everything about the meeting environment – from the lighting and the color of the walls to the temperature and ambient noise in the room – can impact a client's decision-making in the moment. As a result, many advisors began to pay a lot of attention to the layout and ambiance of their client meeting spaces in order to create an environment conducive to openly discussing – and making decisions on – their clients' personal money matters.
The caveat, however, was that the majority of the research on meeting environments took place in a world where meetings were almost always held in person. However, by the mid-2010s, improvements in videoconferencing software allowed a rising number of advisors to launch virtual-first practices where meetings were mainly (and often exclusively) held over video call, and, beginning in 2020, the COVID-19 pandemic put the shift towards virtual meetings into overdrive. Just like that, advisors' meeting spaces shrunk from an office or conference room where they could control nearly every detail of the experience down to a 2-dimensional box no bigger than the client's computer screen – and at the same time, advisors no longer had the same degree of control over the meeting environment that they once did, since the client could now choose to hold their half of the meeting in whatever space they chose.
The Unique Challenges Of Virtual Meetings
The rise of virtual meetings was a sea change in the financial advice industry, not only because of the possibilities it opened up for new service models – e.g., by allowing advisors to pursue niche clientele that wouldn't have been possible when the range of potential clients was restricted to whomever was within driving distance of the advisor's office – but also on account of the challenges it posed, particularly in creating an environment that could passably replicate the feel of an in-person meeting.
Social Presence: Why Virtual Meetings Feel Less 'Real' Than In-Person
In scientific terms, virtual meetings suffer from a decline in "social presence" – that is, the feeling of being in the same meeting space with a 'real' person. If you've ever noticed how interactions with other people via Zoom or other videoconferencing software just don't quite replicate the experience of meeting in person, the difference in social presence is likely a big part of the reason why.
One reason that virtual meetings feel so socially 'un-present' is because we don't get access to the full range of nonverbal communication that people typically use in conversation: With the camera typically focused only on the other person's face, changes in posture, hand gestures, crossing legs, etc., are de-emphasized, if not entirely invisible. Furthermore, because there's no shared environment between the meeting participants and no single room where they're hearing, seeing, and feeling the same things at the same time, there's a disconnect between what each person sees on their screen and what they're actually experiencing around them. All of which presents a major obstacle to simulating the feeling of a real, in-person conversation.
Why does this matter? Because social presence fosters connection, empathy, and trust between meeting participants, all of which are key elements for advisors in creating deep personal relationships with their clients. The more real the advisor's presence feels to the client, the more real their relationship will feel and the more likely they'll be comfortable talking openly with the advisor – and, in turn, to put stock in the advisor's recommendations.
'Zoom Fatigue' And The Factors Behind It
Yet another challenge created by virtual meetings is a higher "cognitive load" placed on meeting participants, which can cause distraction and ultimately make the meeting a fatiguing experience for both the advisor and the client, which in turn decreases the effectiveness of the communication in the meeting.
Imagine you're sitting in a room with someone you are familiar with, having a relaxed conversation. You're likely sitting several feet apart from each other, probably at the same level (though one person or the other may stand up once in a while to emphasize a point, to write something on a whiteboard, or just to change positions). Eye contact is periodic but not constant, there are occasional pauses for thought that fall naturally between conversation topics, and the volume and tone of both voices are natural.
Now picture the typical Zoom meeting. If both parties use the standard 'floating head' camera setup, the other person's face on the screen feels like it's no farther away than the computer monitor (usually around 18–24 inches), and since the cameras don't move, both people are fixed to the same spot for the entire meeting. 'Eye contact' can only be created by somehow looking simultaneously at the camera lens and at the disconcertingly close-up face in the screen, but all too often what we're actually staring at is the virtual image of ourselves that's onscreen rather than the person on the other end of the call. Silence is rare, but when it does occur, it's common to get sucked in by other windows or onscreen distractions. And when we're talking, our communication style in general is exaggerated: People on video calls generally speak louder, and use more exaggerated gestures and facial expressions, than they do in person.
These effects, added up, mean that video calls are often just tiring compared to an in-person meeting. In the early days of the pandemic, when one or more video calls per day suddenly became a fact of life for many professionals, researchers began to study the phenomenon of 'Zoom fatigue'. Jeremy Bailenson of the Stanford University Virtual Human Interaction Lab attributed Zoom fatigue to 4 specific factors:
Excessive amounts of close-up eye contact;
Seeing one's self constantly during video calls;
Having limited mobility due to the fixed-camera setup; and
Higher cognitive load due to the need to work harder to communicate (e.g., by exaggerating speech and gestures), and to interpret other people's nonverbal cues.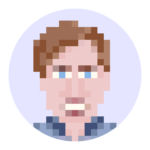 Nerd Note:
Bailenson and his team at Stanford also developed a Zoom Exhaustion & Fatigue (ZEF) Scale, based on a 15-item questionnaire that rates the level of participants' Zoom fatigue across a range of categories (including emotional, motivational, visual, social, and general fatigue) on an overall scale from 15 (least fatigue) to 75 (most fatigue). The questionnaire is free and open to anyone who wants to participate and rate their own Zoom fatigue.
Interestingly, further research by Bailenson and others found that the above factors are experienced to a greater extent by women than men, suggesting that women tend to be particularly susceptible to Zoom fatigue.
It's clear why battling exhaustion due to Zoom fatigue during a client meeting might not be an ideal situation. It gets harder to listen and stay focused, and decision-making might also be impaired (for example, an exhausted client might be more likely to just say "yes" to something in order to get the meeting over with that they may have normally pushed back on had they not been so sapped by Zoom fatigue). As a result, an advisor who was accustomed to holding 1 1/2–2 hour in-person planning meetings might find having meetings of the same length over video call to be much more taxing.
Taken together, the two main challenges of video meetings – the reduced social presence that makes it harder to build trust and connection, and the propensity for Zoom fatigue that zaps the participants' energy in a shorter amount of time – make for some significant hurdles in communication compared to in-person meetings. Which would mean that, in a vacuum (or with a teleporter handy), live meetings would almost always make for the better option.
However, there are other considerations at play that can make live meetings suboptimal; most directly, the scheduling demands required of a client (and often 2 co-clients) not only to meet with the advisor but also to travel to and from the advisor's office can be a hurdle to finding a time to meet at all, let alone to meet in the same room. There is also the need for an available space that's suitable for in-person meetings, as well as the fact that meeting virtually can allow advisors to niche into (and therefore gain deeper and more specialized expertise in) client types that wouldn't be practicable when meeting only in-person.
In other words, there are situations – quite a few of them, in fact – where the benefits of virtual meetings can outweigh the challenges. When that's the case, it's important for advisors who do meet virtually to put into practice some ways to minimize the potential barriers to communication.
How To Optimize The Virtual Meeting Experience
It almost goes without saying that the bare necessities for holding a virtual meeting are having a meeting space where the potential for disruption is minimal, and a strong enough network connection to avoid any technical snafus. However, given the additional challenges of virtual meetings outlined above, those minimum factors aren't always going to be enough to make a meeting held over Zoom as effective as one held in person.
The additional goals, then, for advisors who want to avoid the major pitfalls (e.g., diminished social presence and potential for Zoom fatigue) of virtual meetings are:
Making the meeting feel as close to a face-to-face meeting as possible; and
Minimizing the factors that can lead to Zoom fatigue (both for the client and for the advisor).
With these goals in mind, advisors can optimize their meeting setup (i.e., the space they're sitting in while holding the meeting), as well as the structure of the meeting itself, to be best suited to a virtual environment.
Lights, Camera, Action: The Virtual Meeting Setup
As mentioned above, social presence is the feeling of being in a place together with an actual person. In a virtual environment, the key aspect that can create this feeling is its immersiveness – that is, the extent to which the environment is realistic enough to make the participants feel removed from their actual physical surroundings. If you've ever seen a movie in an IMAX theater, you know what an immersive environment feels like: The screen, sound, and seating are designed to make the audience fully feel like they're a part of the action onscreen. And it works! The stomach-drop feeling as the camera goes over the edge of a waterfall means your body really believes it's in the movie, even though your brain knows you're sitting safely indoors.
That's an extreme example, and luckily advisors don't need an IMAX level of immersion to create an adequate amount of social presence with their clients. What's important is just to have an onscreen environment that looks like it's real enough for the client to 'step into' – and inviting enough that they would actually want to do so if they could. To this end, the way the virtual meeting room is set up – both in terms of the audio/visual equipment used (camera, lighting, and microphone) and the physical layout of the office itself – has a huge impact on how immersive the meeting environment can feel for clients.
Let's start with the basic elements: lighting, sound, and camera location. These can be considered the fundamental elements of a good virtual meeting environment. Without proper attention to them, even the best-laid-out office won't look or feel inviting from the client's computer screen.
Lighting
Proper lighting for a virtual meeting can require a little bit of stagecraft, since the type of lighting needed for a person to look 'real' onscreen is often different from the kind you would want for an in-person meeting. For instance, a room lined with windows and flooded with natural light can be a great setting for a live meeting, but that same light in a virtual meeting can cause the person onscreen to appear washed-out (if the light is coming from in front) or obscured in shadow (if it's coming from behind).
What complicates matters is that lighting requirements can vary depending on the meeting room itself – a third-floor corner office with windows on 2 sides will have different needs than a home office set up in a basement spare bedroom.
That said, there are some basic lighting guidelines for setting up a virtual meeting space that can be applied to almost any space:
If there are any windows, they should be behind the camera (or if windows are on two walls, behind and on one side of the camera). Curtains or blinds can help with controlling the amount of light that comes in.
If there aren't windows or if the windows don't provide adequate light, put a floor lamp somewhere behind the camera – any cheap one with a shade will work (I use this one from IKEA that I've had for years, which also has a flexible reading lamp that's helpful for more focused light when it's needed). Overhead lights usually aren't great for video calls because of the shadows they cast on faces.
If that still isn't enough light to light your face naturally, you can add another light specifically made for video streaming, such as this compact Logitech panel light, that goes on top of the computer monitor next to the webcam.
As shown below, these guidelines can accommodate several types of office configurations, depending on where windows are located (and whether there are windows at all).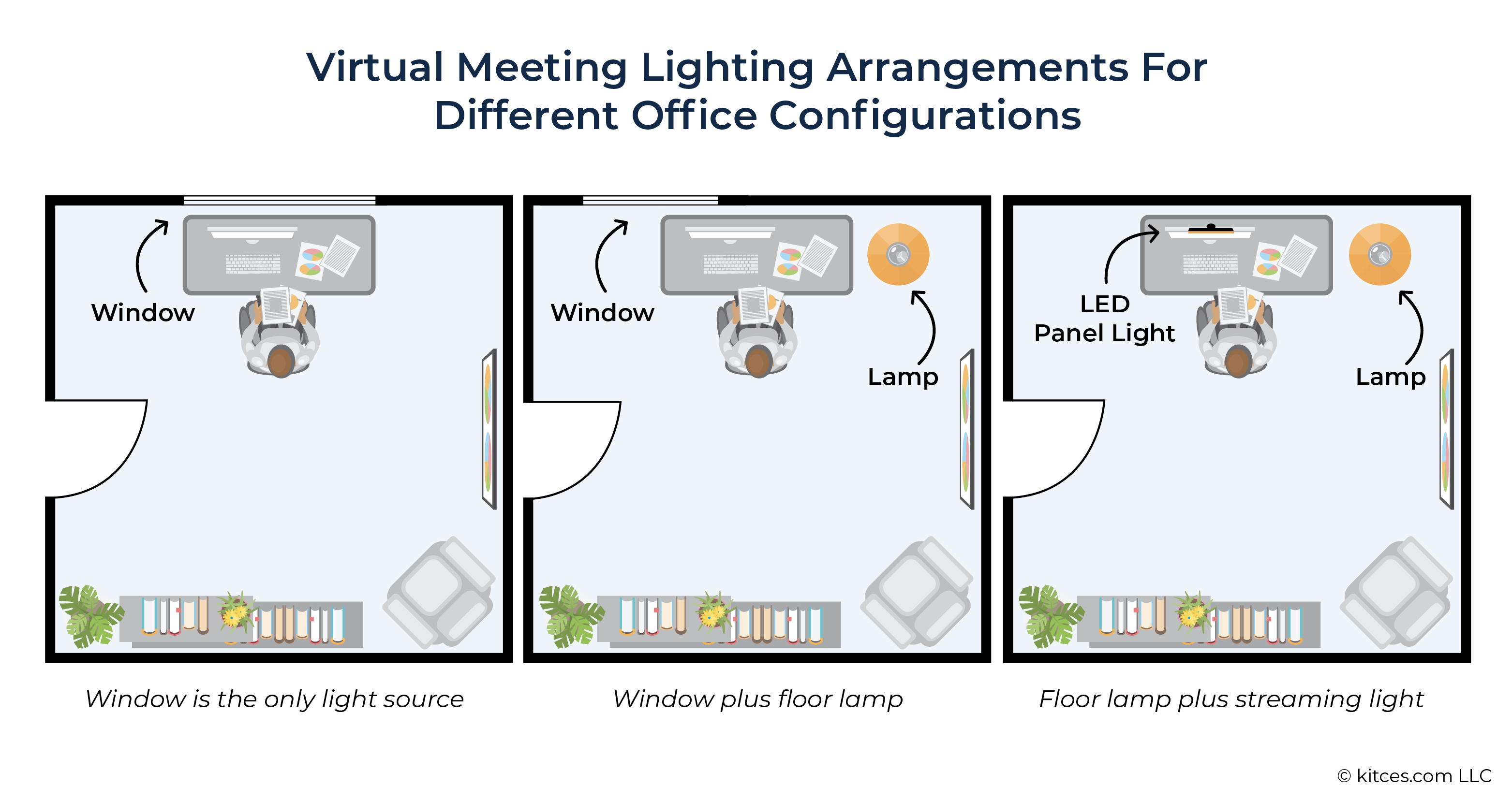 Below is my own desk setup – note that there are 3 sources of light behind the camera (the window, the floor lamp, and the light on top of the monitor), since the window itself is below ground and doesn't provide enough light for virtual meetings on its own.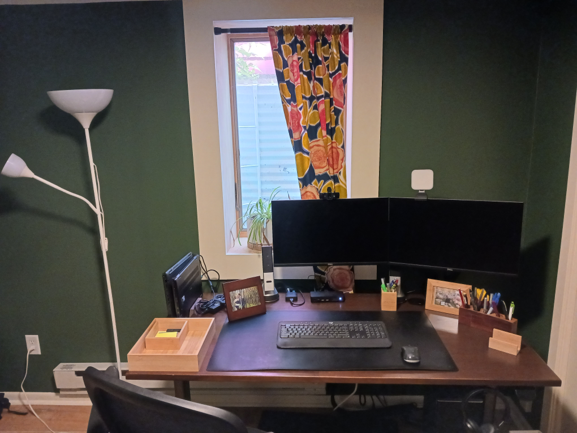 A final note on lighting: Since the best lighting for a meeting space is so dependent on the individual characteristics of the room itself, it's best to start with the most basic setup – e.g., with the window as the only light source – then add a floor lamp if needed, and then a streaming light last of all, rather than go out and buy all of the lighting equipment at once. The more lighting elements there are, the more complex it gets to control and coordinate them all.
Sound
The most basic approach to the audio component of the virtual meeting is to use the equipment that's already there: the internal or external computer speakers, and the microphone embedded in either the computer or camera. The advantage of this is that it is simple and, when everything works correctly, can feel the most akin to talking 'naturally' in person. However, technical glitches in this setup can quickly lead to disruption: network issues can cause an echo or feedback effect when the microphone picks up the sound from the speaker, which is an instant way to derail any video call. A desktop microphone, which is focused on the person speaking instead of picking up sound from all directions as many computer and webcam speakers do, can be one way to avoid this.
The other way is to wear earbuds or headphones, so there's no external sound for the microphone to pick up. This is my preferred approach: I use these Jabra Elite 45h Bluetooth on-ear headphones for most of my video calls. Some people may not like wearing headphones for every meeting, and admittedly this is one component that takes away from the illusion of being in a 'real' meeting. However, for me, the tradeoff of having reliable audio where the client and I can hear each other no matter which direction I'm facing, is worth that small concession.
Camera Placement And Selection
The camera is, in effect, the client's-eye view for the video meeting, so where the camera is situated can have a big impact on how the client perceives the meeting.
When positioning a camera for virtual meetings, it's important for the advisor to imagine themselves in the eye of the client. How 'tall', relative to the advisor, do they want the client to feel? How near or far away do they want to be situated? In many cases it simply isn't comfortable to sit through a long meeting where the other person's head takes up most of the camera's field of view – calling up the feeling of being close enough to have one's personal space invaded – or where the person is either looking up or down at the camera for the entire time, which suggests a power imbalance and can prompt an urge to change positions to match (which of course isn't possible when the camera is fixed on the other end of the call).
Keeping the camera at or slightly above eye level creates a level appearance. If using a desktop computer (or laptop) with an external monitor, the top edge where the webcam typically sits is usually a good spot; if using a laptop alone, however, it's likely better to use a stand (or even just a shoebox) to lift the laptop higher and avoid the appearance of staring down at the client.
It isn't necessary to spend a lot of money on a professional-quality camera for virtual meetings, but video quality does have an impact on the effectiveness of client meetings – with respect to both social presence and Zoom fatigue – so it isn't necessarily advisable to go for the cheapest webcam either. From my own experience, cheaper cameras can distort light and color and can thus make it difficult to see the entire environment onscreen – and if it's hard to see the environment, it's going to be even harder to be 'immersed' in it. Additionally, poor video quality has been shown to cause people to talk even louder on video calls and get more animated with their gestures (beyond the already-heightened level of a 'normal' video call), making Zoom fatigue an even bigger issue when the camera isn't capturing the meeting participants clearly.
For the traditional monitor-top webcam setup, the Logitech C920S has been the go-to for years and still works well for the purposes of video meetings where the advisor is sitting or standing in one place for the entire meeting. However, for advisors who like to stand up and move around during meetings (which can be a great tool to combat Zoom fatigue), the Logitech Brio 500 – which features a wide, 90-degree field of view and can even automatically track the person onscreen to keep them in the center of the field of view, could be a worthwhile alternative. Or yet another option could be setting up a second camera that gives the advisor another place to move to during the meeting. (This is my preferred option, since I like to get up and use a whiteboard during meetings, so I've set up a second camera on a mini tripod to face the board that I can toggle back and forth to).
Setting Up The Advisor's Virtual 'Office'
The backdrop that an advisor uses for a virtual meeting is akin to the way they arrange their office for an in-person meeting: What is (or isn't) in view can reveal details about the advisor (and influence the client's state of mind) in both intentional and unintentional ways. Some advisors fill their background with bookshelves stuffed with markers of their personal and professional lives – from books to artwork to family photos to sports memorabilia to childhood mementos (and my personal favorite, musical instruments) and beyond – while others keep their background relatively sparse, or even simply sit in front of a blank wall. Neither approach is necessarily the 'right' one, but both say something about the advisor in the foreground.
In my own setup shown below, I keep things fairly simple, with a chair, some pictures, and a bass guitar in the background, and a small bookcase along the wall next to me to add some interest and a sense of depth.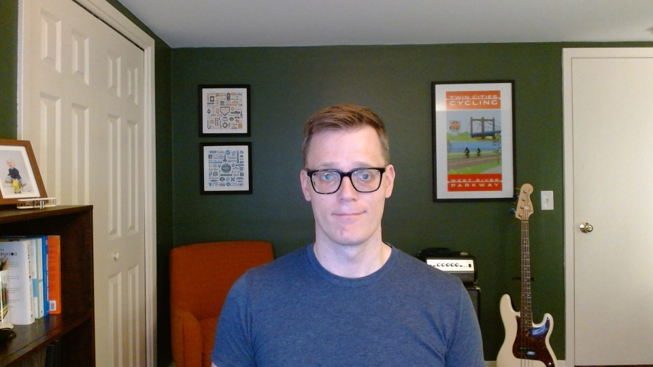 Once again, the key is to see things through the camera's – and therefore the client's – eyes. If the client were in your office, sitting where the camera is positioned now, what would you want them to see? The most common virtual meeting setup I've seen mimics the feeling of sitting on the other side of a desk from the other person, who is framed by bookshelves on the wall behind them. This is a pretty traditional setup for an advisory meeting, yet at least some research has shown that clients prefer a less formal and more 'therapeutic' setup with fewer of the trappings of the traditional advisor's office and more sofas, art, and live plants, as well as wider distances between participants.
As a practical matter it's hard to create a workable virtual meeting setup on a sofa, but there are still ways to suggest a more therapeutic environment in a virtual meeting. A soft chair placed somewhere in the background, shelves with potted plants, and an area rug (if the floor is visible) can all be ways to create an immersive environment that a client can feel like they can step right into and be comfortable. Additionally, anything that can create a sense of depth – with some objects closer to the camera and others farther away (for example, like my bookshelf and bass guitar in the image above) – can make the picture feel more three-dimensional, and thus more 'real' and immersive, to clients.
To Virtual Background Or Not To Virtual Background?
There are many virtual meeting participants who use 'virtual' backdrops (i.e. computer-generated images that replace the actual physical environment around the meeting participant). Feelings on these seem to be mixed among advisors, as evidenced by a lively discussion around the topic on a LinkedIn post I wrote while preparing for this article: Some say they would never use them because they find them fake, unprofessional, and even as though the advisor could be hiding something. However, other advisors have used virtual backgrounds successfully and creatively to project a specific atmosphere or emphasize the firm's brand identity without the significant investment that designing and decorating a physical space entails.
For instance, the virtual background in the graphic below, courtesy of Brian O'Neill of Winged Wealth, is 'just' an image, not a picture of a real office. Yet it projects a clean, minimalist environment framed by images that reinforce the firm's brand as an advisor for military families. And just as advisors might hire an interior designer to design their physical office, Brian hired a digital designer (Justine Goode of The Goode Creative) to create this virtual backdrop.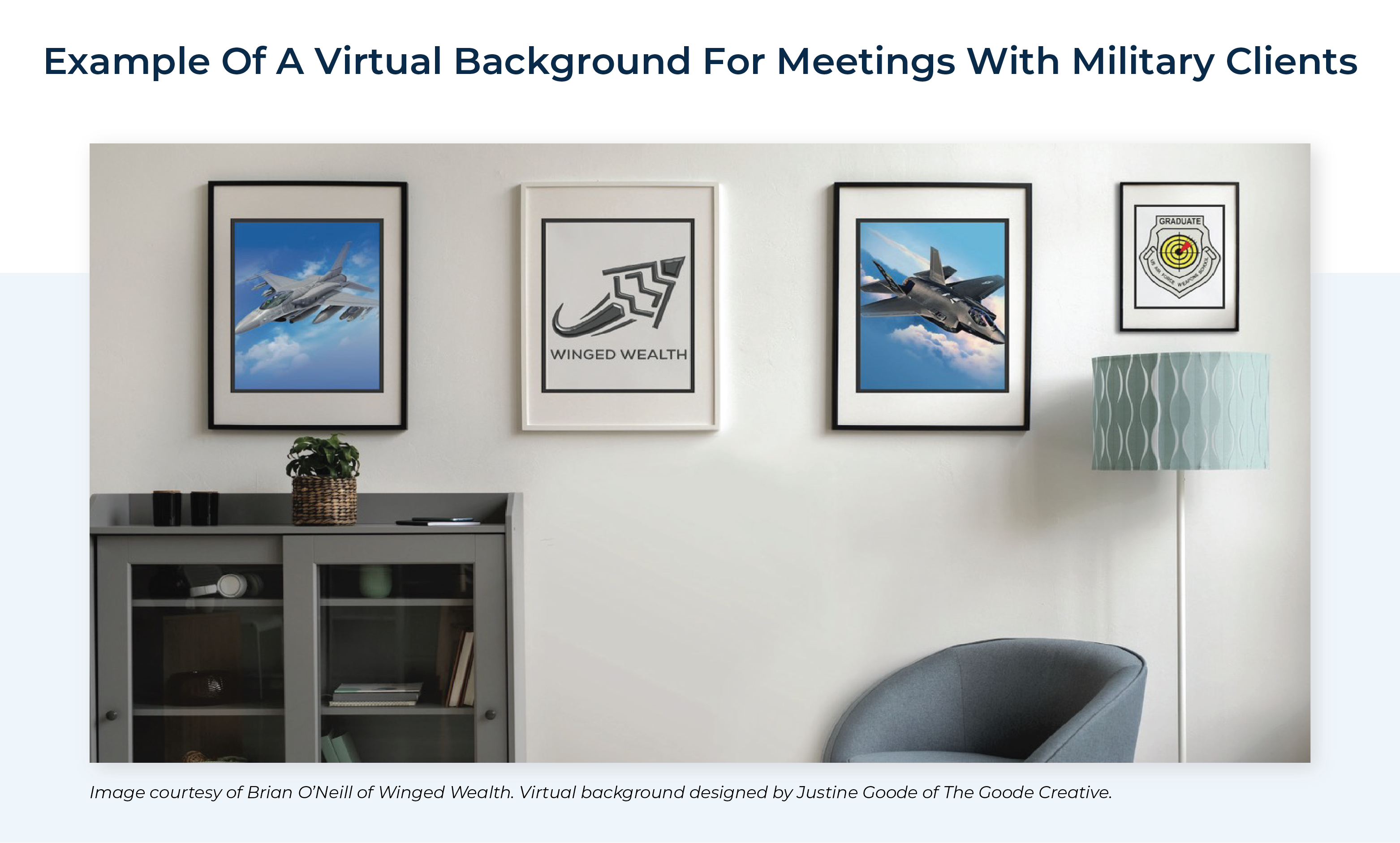 On the other hand, the virtual background in the following graphic, courtesy of Shanna Tingom of Heritage Financial Strategies, showcases the firm's innovative and informal office space (perhaps reinforcing the notion that even if it's a virtual meeting, in-person is how you really should meet with this firm), and even includes a QR code in the lower right hand corner that, when scanned, adds the firm to a phone's contact list.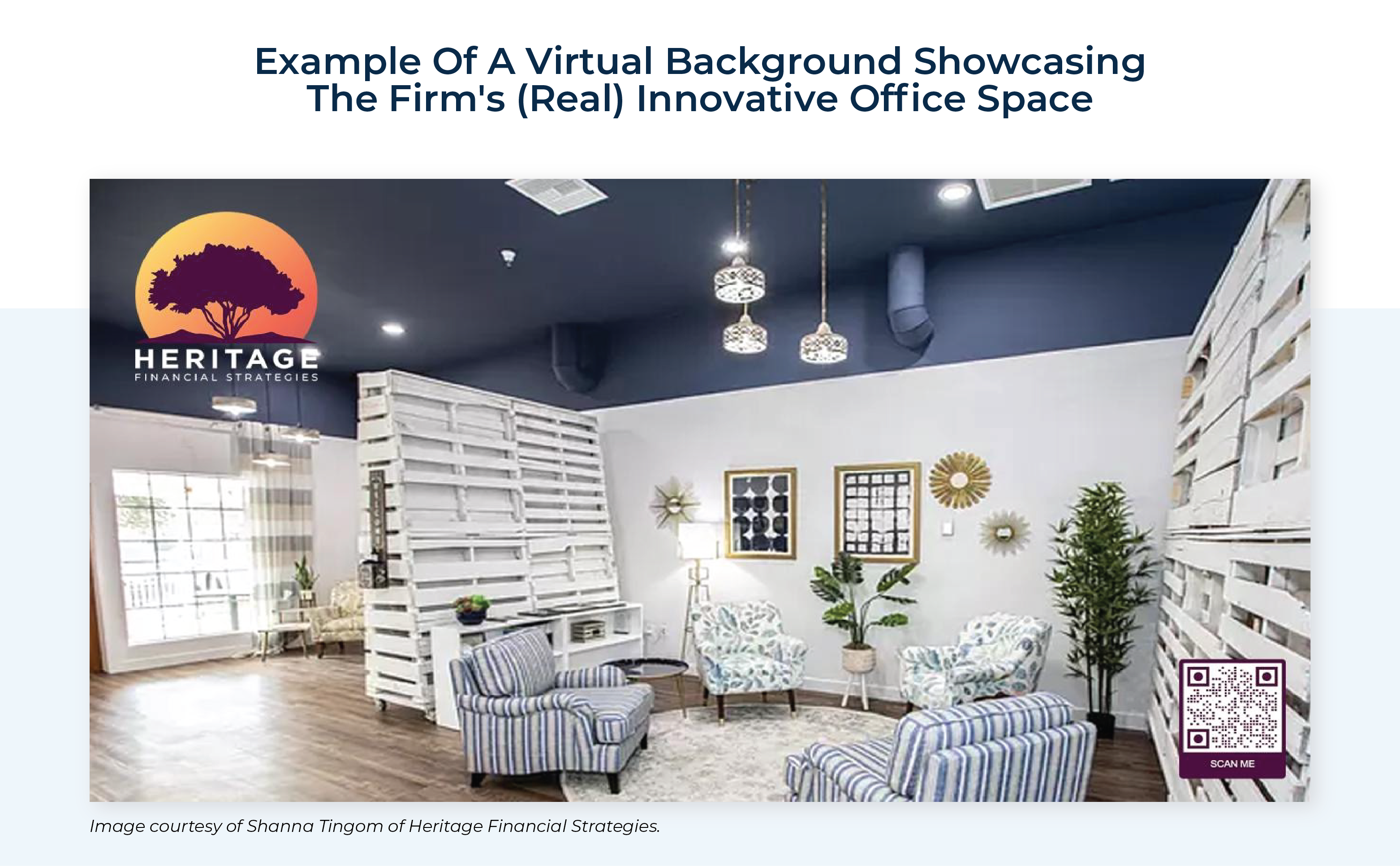 Ultimately, a virtual background will likely never be as immersive or 'real'-feeling as the actual space that the advisor is in, but in situations where, for whatever reason, the advisor's office or home office space simply isn't conducive to using their physical background in a video call, the virtual backdrop might be the only choice (although a physical room divider such as a shoji screen can do the same job). Similarly, in situations where a video call isn't the primary way that the advisor meets with clients, but rather is a backup option for certain situations where an in-person meeting isn't possible, a virtual background might be preferable to making the investment in creating a proper physical backdrop (which could involve rearranging furniture, fussing with lighting, and other elements that might be optimized in different ways depending on whether the meeting is virtual or in-person).
In those cases, it's still important to be mindful of what's on the virtual backdrop and what it says about the advisor – and just as many advisors hire interior designers to optimize their physical environment, it may be a worthy investment to have a graphic designer create a virtual backdrop that sends the signals that the advisor wants to convey to current and prospective clients!
Structuring The Meeting To Minimize Zoom Fatigue
Along with the setup of the meeting environment, the structure of the meeting itself can also impact the effectiveness of a virtual client meeting. Advisors can optimize their virtual meetings to minimize the effects of Zoom fatigue and ensure that important topics don't get lost or glossed over.
The first element to consider is meeting length. Whatever an advisor does to minimize Zoom fatigue, it will still happen, which means that virtual meetings simply can't go as long as in-person meetings and still be just as effective. If an advisor is used to stretching their in-person meetings to 2 hours or more, they may want to consider 90 minutes (or even 60 minutes) as a hard cap for their virtual meetings. This might require covering fewer topics per meeting and having more frequent meetings, but it will make it more likely that every topic gets the attention it deserves.
Second is managing the amount of 'face time' for the advisor and client. In an in-person meeting, it's natural to hold eye contact at certain key times, and then find another spot to focus one's gaze in between those moments. In a virtual meeting, however, the other participant's face takes up most of the screen and commands our attention, leading to a length and intensity of eye contact that can be exhausting when held out for long enough. Ensuring that the meeting contains a healthy back-and-forth between 'video-on' and 'video-off' moments – for instance, by finding opportunities to screen-share the advisor's financial planning software, or even simply building a couple of stretch breaks into the meeting agenda – can provide some relief from the taxing effects on both the advisor and the client of having a close-up face onscreen for prolonged periods during the meeting.
Finally, it's worth noting that one of the main causes of Zoom fatigue is the distracting effect of having our own faces show up on screen in front of us (the default setting in most video conferencing software), which can be eliminated by turning off the 'self-view' function. It's tempting to keep that function on to make sure we're centered onscreen, there's nothing in our teeth, and our hair isn't sticking out in a weird way – but that very temptation is what makes the self-view function so exhausting, since it naturally draws our eye throughout the meeting. Try turning off self-view for one meeting – chances are you'll realize almost immediately how much easier it is to listen to the other people onscreen when you're not being distracted by your own mirror image.
Guidelines For Clients
There are several best practices for virtual meetings from an advisor's point of view, but the reality is that the advisor isn't the only person holding the meeting – the client also has a role to play. If the client isn't in a place where they can tune out distractions and concentrate on the discussion (as they would in an in-person meeting), then all of the advisor's work in setting up an ideal virtual meeting environment might go to waste.
That's why it's important for advisors who hold virtual meetings to set expectations (and even provide instructions) for clients on how to prepare for and manage their end of a virtual financial planning meeting to ensure the best possible experience. The temptation is always there for clients to squeeze virtual meetings between other work meetings, and they will often face challenges with schedules, childcare, and other commitments that can lead them to call in while in less-than-ideal environments. I've had clients join virtual meetings while walking from the subway, eating lunch in a noisy restaurant, and even driving (note: this always requires rescheduling, since there's no way to have a safe – never mind effective – financial planning meeting from behind the wheel).
To that end, it might make sense to provide some written guidelines or reminders for the client. This could be sent when onboarding the client and/or at the time each meeting is scheduled. It could even be worth it – and would certainly make a big impression – to send each new client one of the webcams linked above as a 'welcome' gift. At a cost of $70-$100 per client it isn't cheap, but it would be a small fraction of what each client might be paying annually and could help ensure they got the most value out of their investment in financial advice.
Here is a sample of what these guidelines might look like, which advisors can download and adapt for their own purposes:
---
The thinking on virtual meetings has evolved greatly in the past few years, but while many advisors now embrace meeting over video, others still view it with some trepidation. For a few of the latter group, virtual meetings will never be able to replace experiences in person – but for those who are open to investing some time in learning, thinking about, and setting up a space that works (which you likely are if you've made it this far into the article), a better virtual meeting experience really is possible.
Ultimately, the best way to look at virtual meetings might be not as a tradeoff between convenience and effective communication, but as an investment in the opportunity to choose from a broader base of clients, develop more niche expertise, and serve clients more efficiently – which means that finding ways to improve and optimize the experience of meeting virtually is simply a way to get the best return on that investment!