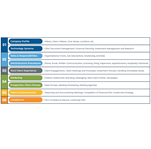 Financial advisory firms can find themselves struggling to grow their businesses for a wide range of reasons. While some firms have difficulty developing a seamless client service experience, others may find business development strategies difficult to implement (or scale across additional new advisors) to increase their client base, and others yet may feel their executive leadership team is unable to connect with the firm as a whole. Regardless of where the difficulty lies, though, the root problem for most firms struggling with growth often lies in the lack of a well-developed training program.
For many busy firms seeking growth, investing time in establishing an effective training program is not often a top priority, and it can be difficult to even find the time to develop training protocols. However, a well-defined training program is critical not only for providing employees with a solid foundation of specific procedural requirements on how to run a firm that can grow, but also in establishing a unified firm culture that provides the vision required by employees to attract the right clients to the firm and to develop an implicit understanding of the expectations for servicing those clients. And the good news is that a good training program doesn't have to be built all at once; instead, it can be developed iteratively, often in conjunction with fleshing out an advisory firm's Operations Manual of processes and procedures.
Through an extensive study of employee training programs across many fast-growing financial advisory firms that were expanding their reach across the country, Herbers & Co. identified certain key characteristics that were consistent across successful training programs. From the research, they optimized an effective six-week program that can be adapted by firms to create a defined and repeatable training program for their new employees.
The weekly focus of the six-week onboarding training program for new employees is as follows:
Week 1. Understanding the company profile and its technology systems;
Week 2. Roles and responsibilities of employees across the firm and administrative procedures;
Week 3. Total client experience;
Week 4. Marketing and the prospective client process;
Week 5. Understanding the Client meeting process and client communications; and
Week 6. Compliance.
The easiest way for a firm to build a training program based on the six-week program is to develop an Operations Manual that encompasses all of the firm's protocols and values on which training will be based. For firms that don't already have an Operations Manual in place, it can in turn also be created one topic at a time, and over the span of several months. In fact, firms that aim to address each of the areas outlined in the weekly training topics may need up to 9 – 12 months to establish their training programs (though of course, it will still be updated over time to reflect how the firm's processes evolve).
In today's work environment, given our current pandemic state, it is important for remote training to be an available option for new employees. Strategies for an effective remote training program include timing the training sessions in short bursts, mixing in self-paced instructional videos, and assigning 'homework' exercises to be completed in between training sessions. Once the instruction and assignments have been completed, the trainer should review the assignment and offer feedback to the new employee.
Ultimately, the key point is that firms who want long-term, sustainable growth of their business need to have a well-developed training program in place. A consistent and thorough training program will ensure that all employees have a clear understanding of the firm culture and its goals, as well as being able to execute within the systems the firm uses. And while establishing a good training program can be a long-term process that may require a significant investment in time and resources, the end result will be a well-trained firm that not only knows how to operate consistently and in accordance with the firm's culture and values to promote growth, but also is able to delegate training to more employees across the firm, which in turn frees up firm leadership from much of the training responsibilities so that their focus can be on developing and implementing growth strategies!