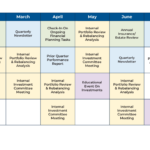 When assessing the suitability of a service provider, from a plumber to an attorney to a financial advisor, prospective clients consider several aspects of the service they anticipate receiving: reliability (will they do what they promised to do?), assurance (can I trust them?), empathy (will I receive individual care and attention?), responsiveness (will they be prompt, or accurately communicate timelines?), and tangibles (the physical experience of the service, from the offices and attire of the professional to the deliverables they provide?). Of these areas, tangible components are often overlooked by most advisory firms – given the otherwise intangible nature of financial planning as a service – yet actually present an interesting opportunity for financial advisors to improve their clients' experience with the firm and the financial planning process.
Some examples of tangibles that can influence a prospective (or existing) client's perception about the service they will receive from their financial advisor include the condition and décor of the office space, appearance and attire of employees, and the materials associated with the financial planning service itself (e.g., marketing materials, client statements, the physical financial plan, deliverables at the client review meeting, etc.).
In practice, advisory firms often struggle to create tangible deliverables for clients on an ongoing basis because of their time-consuming nature. But systematizing a firm's financial planning processes also makes it easier to systematize the deliverables along with them. For example, a meeting surge system can be implemented to help advisors streamline their processes, which can give the team the time they need to prepare appealing, tangible deliverables that are systematically produced for all clients and prospects at specific times throughout the year. Alternatively, a client service calendar can be developed to organize and showcase upcoming deliverables that clients can expect to receive on a monthly basis.
Turnkey resources are also widely available to financial advisors, and can be used to help an advisory firm systematize processes that include tangible elements for existing and prospective clients, from stand-alone planning modules (e.g., Right Capital's menu of planning report options), to modules that provide more of a comprehensive interactive experience for clients (e.g., MoneyGuidePro's 'My Blocks' modules), and planning tools that provide specific analyses (e.g., Holistiplan's tax analysis report, Riskalyze's risk assessment tools, Hidden Levers' portfolio stress test report, and i65 Medicare planning tools). Further, customizable template tools, such as fpPathfinder's financial planning checklists, flowcharts, and market commentary messaging services from firms like Clearnomics, Broadridge Forefield Adviser, and Marketing Pro, can be used to send clients informative, tangible deliverables that remind them of the value their advisor provides to them. Advisors can even create investment performance reports and beneficiary summary reports on a regular basis as another simple way to provide their clients with tangible, impactful deliverables that remind them that their advisor keeps them top of mind.
In designing a more tangible client experience, advisors can consider introducing tangible elements throughout the five key stages identified as a client's most memorable milestones in their relationship with an advisor: 1) Introduction – when first impressions are made and scheduling meetings take place, 2) Interaction – the first opportunity for clients to assess the meeting environment and data collection process, 3) Guidance – where advisors use technology tools to create analyses and recommendations to share through reports, illustrations, and other deliverables, 4) Implementation – the process created by the advisor to make plan implementation easier for clients, and 5) Relationship – the ongoing services and engagement opportunities created by the advisor that can deepen the rapport with clients.
Ultimately, the key point is that there are many resources for advisors to elevate the client experience by incorporating tangible deliverables into the menu of services they provide. And by considering the most memorable stages of the client journey, advisors can strategically implement impactful deliverables that remind clients how valuable they really are!