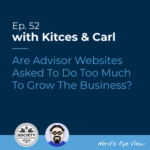 Over the past several years, the technological capability for financial advisors to implement dynamic, interactive websites has evolved dramatically. Gone are the days of needing to publish static brochure-style webpages with images of lighthouses, compasses, and winding roads, and instead, advisors are able to publish robust portals that allow them to share content that demonstrates their expertise, provide information about the advisor(s) and their team, communicate directly with those they hope to serve, share the details of their pricing and the value they provide, and (if everything goes to plan) have visitors become a lead or even outright book an appointment. Yet the end result is that the advisor's website becomes a sort of Swiss Army knife… chock full of little tools that can do a lot but don't necessarily work nearly as well as a tool with a singular purpose. Which, in turn, raises the question: Are advisors asking their websites to do too much?
In this our 52nd episode of Kitces & Carl, Michael Kitces and client communication expert Carl Richards discuss the one important thing that all advisor websites should do, ways to create awareness and become relevant to a specific audience over time, and why some advisors have unrealistic expectations from their website.
At its core, the key to marketing success as a financial advisor is learning how to solve the specific problems of a specific group of people better than anyone else (rather than trying to be 'everything to everyone', and in the process, not actually being especially relevant to anyone). Because having a clear focus on a clear target market niche clientele allows the advisor to differentiate themselves in a crowded and competitive marketplace, by being able to clearly stand out to the clients they are best able to serve. Which also means moving away from having a website that tries to be everything to every visitor, and instead simply gives a clear statement about who they serve… and an obvious next step for those prospects to actually move forward with the advisor.
Which, in almost every instance, isn't going to be a newly minted client deciding to hand over their life savings. Because, outside of referrals who are doing their last bit of due diligence before reaching out, most visitors to a website simply aren't ready to do business with an advisor upon their first visit.
Instead, by simplifying a website's design and 'just' having a well-defined audience and clear next step, advisors can build a targeted mailing list that they can use to share out relevant and actionable content, so that when someone who's been on that list realizes they have a problem that needs solving, they will remember that the advisor who serves 'people just like them'. In other words, an advisor's website should have one purpose, and that's to gain permission to communicate with a visitor again. And use those subsequent communications to build the trust relationship necessary to actually do business with them whenever they are ready.
Ultimately, the key takeaway is that advisors should shift their mindset around what their websites are meant to do, and recognize that it's extremely rare that a first-time visitor has arrived ready to do business. And that, unless it's clear who the advisor serves and what the next step is, the odds are that all those first-time visitors will also be last-time visitors as well (even if they are exactly who the advisor serves in the first place) unless there's a simple way (and a reason) for them to give their permission (by sharing their email address) to hear from the advisor again. While advisors who can find a way to stay in front of people in the future after they come across the advisor's website once have at least a fighting chance of being top of mind when that one-time visitor eventually needs to actually hire a financial advisor!