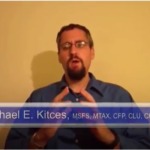 The looming implementation of the Department of Labor's fiduciary rule has raised many questions about whether products like non-traded REITs, variable and indexed annuities, and actively managed mutual funds will still be able to survive and thrive when commissions are at least curtailed. And the shift raises significant challenges for the broker-dealer platforms that distribute those products. But as it turns out, broker-dealers aren't the only ones facing significant collateral damage from the coming product fallout.
In this week's #OfficeHours with @MichaelKitces, my Tuesday 1PM EST broadcast via Periscope, we look at how the contraction of commission-based products may also lead to a significant contract in financial services product advertising, which could have significant spillover effects into the industry trade publications and membership associations that are highly reliant on those advertising dollars to buy ad inventory and booth sponsorships.
Ironically, though, a contraction in financial services product advertising could actually be a boon for financial advisors, as a reduction in the advertising from financial services product manufacturers after our clients' money could leave more room for advertising from companies that actually create solutions for advisors themselves. There's more room for advisor FinTech firms and industry consultants to compete for advisors' attention when they're not being crowded out by large financial services product manufacturers.
But given that solution-providers for advisors tend to be much smaller companies, with less revenue and less advertising buying power, a contraction is still coming in industry advertising, which could have harsh consequences given the over-abundance of industry trade publications and conferences, all vying for advisors' limited attention.
In the long run, though, the reality is that financial services industry advertising may end out being larger than ever. After all, if financial services product manufacturers cannot compete by paying the best commissions, and have to compete by designing and offering the best product, there's even more pressure to market that product effectively. Which means more advertising, and more spending at conferences. But given the timeline for DoL fiduciary implementation, those dollars may not show up until 2018 and beyond. In the meantime, trade publications and membership associations may be facing a very tough 2017.