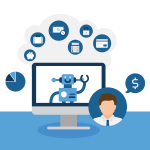 Welcome to the October 2021 issue of the Latest News in Financial #AdvisorTech – where we look at the big news, announcements, and underlying trends and developments that are emerging in the world of technology solutions for financial advisors!
This month's edition kicks off with the big news that Franklin Templeton is acquiring O'Shaughnessy Asset Management and its Canvas direct indexing platform, as yet another 'traditional' asset manager makes a bet that the future will be increasingly driven by 'direct' indexing over traditional mutual funds and ETFs. Notably, though, OSAM's Canvas wasn't simply another platform to turn an index fund into one where its component stocks can be tax-loss harvested for incremental tax alpha; instead, it was part of a 'second generation' of direct indexing platforms that are building tools for advisors to create increasingly personalized "custom indexes" for each client based on their own individual preferences… where the asset manager can get paid as a Separate Account Manager to implement those unique-to-each-client portfolios?
From there, the latest highlights also feature a number of other interesting advisor technology announcements, including:
Morningstar acquires Moorgate Benchmarks to become a licenser of (direct) indexes
Betterment for Advisors increasingly pivots from TAMP to RIA custodian competitor with more custom model-management tools
The SEC opens an inquiry into when FinTech-driven nudges become formal recommendations or bona fide investment advice
Docupace acquires PreciseFP as digital onboarding increasingly focuses not on advisor replacement but back-office business process automation
Read the analysis about these announcements in this month's column, and a discussion of more trends in advisor technology, including:
AdvicePay launches Engagements for Enterprises to manage the entire end-to-end process of overseeing fee-for-service financial advice
Vanilla raises $11.6M in Series A funding to scale its estate planning solution for financial advisors
Fidelity partners with Armorblox to help RIAs improve their email cybersecurity to avoid fraudulent wire transfers
MoneyMap.io launches a new API-based service to help existing FinTechs connect their users with financial advisors to 'upsell' human financial advice
And be certain to read to the end, where we have provided an update to our popular "Financial AdvisorTech Solutions Map" as well!
*And for #AdvisorTech companies who want to submit their tech announcements for consideration in future issues, please submit to [email protected]!