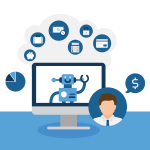 Welcome to the April 2021 issue of the Latest News in Financial #AdvisorTech – where we look at the big news, announcements, and underlying trends and developments that are emerging in the world of technology solutions for financial advisors!
This month's edition kicks off with the big news that AssetMark has acquired UK financial planning software provider Voyant for $145M, with plans to bring the planning software as a new competitor to the US (in addition to likely deeply integrating it into AssetMark's own technology stack), highlighting both on the ongoing rise of financial planning, the dearth of new financial planning competitors with enough market share for strategic acquirers, and the reality that financial planning software continues to be an appealing synergistic value-add not only to investment-centric firms offering financial planning but also asset managers and TAMPs trying to expand into working with more planning-centric advisors.
From there, the latest highlights also feature a number of other interesting advisor technology announcements, including:
Orion acquires Hidden Levers to not only expand their risk-centric proposal generation tools but also to overlay portfolio stress testing onto the risk management of advisory firms themselves
Tifin Group acquires Totum Risk and MyFinancialAnswers to bring together yet another emerging advisor platform with embedded financial planning
Outsourced IT managed service providers have become the latest RIA services play for PE firms looking to roll up in the RIA channel
AdvicePay rolls out mobile deposits for financial planning checks to cut down on overnight postage fees for large enterprises (no-longer-)overnighting paper checks
Read the analysis about these announcements in this month's column, and a discussion of more trends in advisor technology, including:
Envestnet fully acquires Apprise's high-net-worth planning tools to feed its new Trust Services Exchange
Skience launches a new data warehousing solution for mid-to-large-sized advisory firms that want more control over their client data
Pershing beta tests a new digital repapering process that aims to take the pain out of breaking away from a broker-dealer
FP Alpha launches a new "Tax Snapshot" to compete against Holistiplan as technology-driven reviews of tax returns get increasingly popular
And be certain to read to the end, where we have provided an update to our popular "Financial AdvisorTech Solutions Map" as well!
*And for #AdvisorTech companies who want to submit their tech announcements for consideration in future issues, please submit to [email protected]!