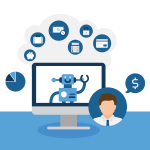 Welcome to the August 2019 issue of the Latest News in Financial Advisor #FinTech – where we look at the big news, announcements, and underlying trends and developments that are emerging in the world of technology solutions for financial advisors and wealth management!
This month's edition kicks off with the announcement that Orion Advisor Services is acquiring newcomer financial planning software maker Advizr for a whopping $50M (on a revenue base of only $3M), and will almost immediately begin offering it for free to Orion users as a way to make the Orion client experience more financial planning centric… but in the process, creating potential client experience and workflow conflicts for actually-planning-centric advisory firms already using other third-party financial planning software tools.
From there, the latest highlights also include a number of other interesting advisor technology announcements, including:
Independent software goes wirehouse as Morgan Stanley selects Box to power its new Client Vault and Merrill Lynch cuts a deal with Envestnet Tamarac to replace its own proprietary portfolio performance reporting solution.
AdvicePay launches a new Fee Calculator tool for advisory firms to show and explain their pricing to clients, as Schwab's Intelligent Portfolio Premium service quickly garners $1B in 3 months with its own financial-planning-for-a-monthly-subscription-fee offering.
Northern Trust Asset Management acquires robo-advisor-for-advisors Emotomy as standalone digital onboarding tools continue to struggle to find traction.
Salesforce rolls out a new "downmarket" version of Financial Services Cloud in an attempt to compete in the small-to-mid-sized RIA market
Read the analysis about these announcements in this month's column and a discussion of more trends in advisor technology, including Betterment rolling out an "Everyday" high-yield cash savings option for its investors but finding that it's the Betterment For Advisors RIAs quickly becoming its biggest cash referrers, Ritholtz Wealth re-launches its LiftOff "robo" service for small clients and chooses to pay Betterment For Advisors 0.25%/year just to not use existing RIA custodians' digital onboarding tools, "Techno-TAMPs" are on the rise as Ethic Investing raises a $13M Series A to provide advisor-customized centrally-managed SRI strategies, Plaid rolls out new student loan account aggregation capabilities that may finally bring more student loan planning tools to advisors, and Envestnet MoneyGuide partners with Jackson National to leverage its wholesalers to provide training on MoneyGuideElite's new "Secure Income Modeling" tool designed to make it easier for RIAs to begin using annuities with their clients.
And be certain to read to the end, where we have provided an update to our popular new "Financial Advisor FinTech Solutions Map" as well!
I hope you're continuing to find this new column on financial advisor technology to be helpful! Please share your comments at the end and let me know what you think!
*And for #AdvisorTech companies who want to submit their tech announcements for consideration in future issues, please submit to TechNews@kitces.com!