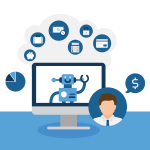 Welcome to the April 2019 issue of the Latest News in Financial Advisor #FinTech – where we look at the big news, announcements, and underlying trends and developments that are emerging in the world of technology solutions for financial advisors and wealth management!
This month's edition kicks off with the blockbuster deal of the decade in advisor technology: Envestnet acquiring MoneyGuidePro for a whopping half a billion dollars, or nearly 10X its forward revenues… though ultimately, the purchase may not merely be a testament to Envestnet's expectations for growing MoneyGuidePro's software revenue, but the potential to link its new Insurance Exchange to MGP as a means to facilitate the distribution of fee-based insurance and annuity products to independent advisors through the software as well.
From there, the latest highlights also include a number of interesting advisor technology announcements, including:
Schwab adds a new "Premium" option to its Intelligent Portfolios robo-advisor, that will offer human CFP professionals providing personal financial planning… not for a traditional AUM fee, but a financial planning monthly subscription fee instead.
AdvicePay announces half a dozen new partnerships with broker-dealers and signs 17,000 advisors under Enterprise contracts as fee-for-service financial planning models expand deeper into the RIA and hybrid broker-dealer communities as well.
Hidden Levers signs a 7-figure deal with Focus Financial in a pivot from portfolio stress testing software into a business intelligence platform that can stress test the revenue and profits of an entire advisory firm (or an aggregated collection of them).
Economic Laurence Kotlikoff rebuilds his popular-with-consumers financial planning software platform ESPlanner into a new web-based solution dubbed MaxiFi Planner and rolls out a financial advisor version for "just" $499/year.
Read the analysis about these announcements in this month's column and a discussion of more trends in advisor technology, including the winners of the recent TD Ameritrade Innovation Quest FinTech Competition, the opening of submission for the latest (4th Annual) XY Planning Network FinTech Competition, a recap of the recent ScratchWorks FinTech competition at the Barron's Independent Advisor Summit, and the arrival of Harbor Plan, a new player in the world of digital marketing automation for financial advisors with a unique tool specifically to help advisors send timely follow-up messages to prospects without allowing any to accidentally slip through the cracks while servicing their existing clients as well.
And be certain to read to the end, where we have provided an update to our popular new "Financial Advisor FinTech Solutions Map" as well!
I hope you're continuing to find this new column on financial advisor technology to be helpful! Please share your comments at the end and let me know what you think!
*And for #AdvisorTech companies who want to submit their tech announcements for consideration in future issues, please submit to TechNews@kitces.com!