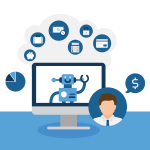 Welcome to the November 2018 issue of the Latest News in Financial Advisor #FinTech – where we look at the big news, announcements, and underlying trends and developments that are emerging in the world of technology solutions for financial advisors and wealth management!
This month's edition kicks off with the big news that Fidelity has rolled out a new open architecture marketplace aptly called Integration XChange, in what is both a major shift for the RIA custodian towards a more open architecture, a substantial potential threat to TD Ameritrade's marketplace differentiator, a huge new opportunity for FinTech upstarts to have a second go-to-market channel for RIAs besides Veo, and a creative way to feed Fidelity's new Consolidated Data initiative.
From there, the latest highlights also include a number of interesting advisor technology announcements, including:
Riskalyze rolls out a new "GPA" scoring system to evaluate how efficiently a prospect's (or advisor's) portfolio allocation maximizes its return potential for a given level of risk tolerance.
eMoney Advisor launches a new Foundational Planning module that takes a bizarre step into MoneyGuidePro's past, just as FiServ launches a new Financial Advice Management module that also bears eerie similarities to the MGP interface.
Edmond Walters re-emerges after a 3-year hiatus with digital marketing platform AdvisorStream to potentially continue what he started with eMoney's Advisor Branded Marketing.
AdvicePay announces new integrations with both TD Ameritrade's Veo and Orion to more easily facilitate fee-for-service billing of financial planning and retainer fees alongside an advisor's AUM fees.
Read the analysis about these announcements in this month's column and a discussion of more trends in advisor technology, including Vestmark's acquisition of Adhesion and the rollout of Orion Enterprise, YCharts' new Model Portfolio tracking and analysis tools, Redtail's new AI system for advisors and what it might someday do, Hearsay's CRM overlay system to make it easier for advisors to manage tasks and workflows directly from their smartphone, SigFig's new CoPilot solution to replace more back- and middle-office functions for human advisors, and the rollout of CapGainValet's 2018 estimates of end-of-year mutual fund distributions for advisors.
And be certain to read to the end, where we have provided an update to our popular new "Financial Advisor FinTech Solutions Map" as well!
I hope you're continuing to find this new column on financial advisor technology to be helpful! Please share your comments at the end and let me know what you think!
*And for #AdvisorTech companies who want to submit their tech announcements for consideration in future issues, please submit to TechNews@kitces.com!