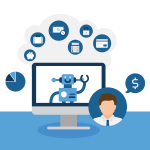 Happy New Year, and welcome to the January 2021 issue of the Latest News in Financial #AdvisorTech – where we look at the big news, announcements, and underlying trends and developments that are emerging in the world of technology solutions for financial advisors!
This month's edition kicks off with the big news that storied Silicon Valley VC investor Sequoia Capital is investing $45M into Vise, a new tech-enabled TAMP looking to capitalize on the emerging trend of direct and, more importantly, "custom indexing", where advisory firms use technology to create portfolios for clients customized down to the individual stock level (eschewing mutual funds and ETFs), and where Vise hopes that advisors will be willing to outsource the subsequent implementation of that portfolio for a 0.50% fee. But in the end, it's still not clear if custom indexing will ultimately be a TAMP solution – with the basis point fees – or if the technology will eventually make it so easy and efficient that advisors can just do it themselves with the software they purchase for a flat software fee?
From there, the latest highlights also feature a number of other interesting advisor technology announcements, including:
- JP Morgan acquires 55IP's rebalancing and model management software in the hopes that tax management overlays will be the new model marketplace differentiator
- FMG Suite acquires Twenty Over Ten to expand into the realm of digital marketing automation for advisors
- MassMutual acquires Flourish Cash as AdvisorTech solutions increasingly become viewed as the pathway to the RIA channel
- The SEC's new RIA marketing rule may kick off a new wave of Advisor Review and Rating sites to capitalize on the new opportunity to leverage client testimonials
Read the analysis about these announcements in this month's column, and a discussion of more trends in advisor technology, including Advyzon launches a new prospect portal and highlights the benefits of creating simpler extensions of advisor software for specific use cases, Morningstar integrates FinaMetrica into its Investment Proposal Tool as a way to at least partially compete against Riskalyze, FA Match raises seed capital for a platform to help brokers find new (and better-matching) broker-dealers, and Pulse360 launches a new task automation tool to turn post-meeting advisor notes directly into after-meeting action items and takeaways.
And be certain to read to the end, where we have provided an update to our popular "Financial AdvisorTech Solutions Map" as well!
I hope you're continuing to find this column on financial advisor technology to be helpful! Please share your comments at the end and let me know what you think!
*And for #AdvisorTech companies who want to submit their tech announcements for consideration in future issues, please submit to [email protected]!