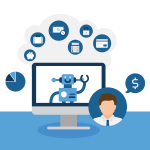 Welcome to the March 2022 issue of the Latest News in Financial #AdvisorTech – where we look at the big news, announcements, and underlying trends and developments that are emerging in the world of technology solutions for financial advisors!
This month's edition kicks off with the big news that FeeX is going all-in on helping financial advisors (get paid to) manage held-away 401(k) plans, providing the ability to facilitate trading and rebalancing without transferring or liquidating the employer retirement plan… and in the process, has raised a whopping $80M of fresh capital and is rebranding away from its "FeeX" roots to a new name "Pontera" to signify how it is building a bridge to retirement plans ("pont" is the Latin root for "bridge"!).
From the advisor perspective, the growing demand for Pontera highlights the ongoing expansion of wealth management services from 'just' managing a client's liquid investment account to providing more holistic advice on their entire household… for which advisors at the least are increasingly charging AUA (Assets Under Advisement) fees, but are increasingly interested in tools that allow the advisor to manage the held-away account and provide their full scope of services (and be able to charge their full scope of AUM fees).
From there, the latest highlights also feature a number of other interesting advisor technology announcements, including:
Datalign launches a new lead generation service that will allow the advisory firms with the best processes for converting prospects to clients to outbid their competitors for the best leads
Fidelity Labs launches a new compliance solution, dubbed Saifr, to facilitate more rapid compliance reviews of marketing and other advertising materials in large advisor enterprises
Morningstar launches a new Wealth Management Solutions offering in an attempt to TAMP-ify its existing Morningstar Office and related portfolio management tools
Read the analysis about these announcements in this month's column, and a discussion of more trends in advisor technology, including:
AssetMark launches a new integration with RightCapital, less than a year after acquiring Voyant, and highlighting the ongoing advisor demand for best-of-breed (over all-in-one) solutions
The SEC proposes new cybersecurity rules that would require RIAs to disclose, to clients and (via Form ADV Part 2) to prospects any cyber incidents they've experienced (ostensibly in the hopes that the risk of being 'cybershamed' will encourage more advisory firms to invest more into their cybersecurity practices)
NaviPlan founder Mark Evans is preparing the launch of his new financial planning software – Conquest Planning – in the hopes that a 'strategy-centric' approach will become the Next Big Thing in financial planning software!
In the meantime, we've also launched a beta version of our new Kitces AdvisorTech Directory, to make it even easier for financial advisors to look through the available advisor technology options to choose what's right for them!
And be certain to read to the end, where we have provided an update to our popular "Financial AdvisorTech Solutions Map" as well!
*And for #AdvisorTech companies who want to submit their tech announcements for consideration in future issues, please submit to [email protected]!