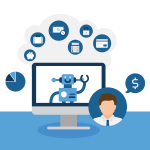 Welcome to the September 2018 issue of the Latest News in Financial Advisor #FinTech – where we look at the big news, announcements, and underlying trends and developments that are emerging in the world of technology solutions for financial advisors and wealth management!
This month's edition kicks off with the big news from Schwab that, after years of promising that it is working on a next-generation multi-custodial replacement to PortfolioCenter, the new PortfolioConnect solution will only work directly with the Schwab custodial platform… but will be more deeply integrated, and more importantly free to Schwab advisors, in what could become a major inducement to advisory firms to join or consolidate with Schwab given that portfolio accounting software is the most expensive line item in most RIAs' technology budgets. In the meantime, for those who want to remain multi-custodial, Schwab noted that PortfolioCenter will also be receiving an upgrade this fall, to ostensibly remain as the multi-custodial server-based alternative that independent RIAs can choose to purchase separately.
From there, the latest highlights also include a number of interesting advisor technology announcements, including:
JPMorgan Chase launches a new "YouInvest" trading platform that will provide 100 trades for free with no account minimums, and indefinite free trades to those in its Private Client group, putting newfound pressure on independent RIA custodians to justify why their advisors should be at a competitive disadvantage.
RightCapital launches the first dedicated student loan planning module in a financial planning software package
MoneyGuidePro deepens its integration with WealthAccess as advisors and clients apparently prefer the third-party PFM solution to MGP's own client portal
Galileo Processing announces a new debit card structure that can allow clients to spend directly from an investment account that stays fully invested without the need to hold any cash aside in advance
Read the analysis about these announcements in this month's column, and a discussion of more trends in advisor technology, including Orion adding its own "planning light" tool in partnership with FinMason, UBS deciding to wind down its internally built SmartWealth robo platform and go all-in with its SigFig partnership, FMGSuite acquires Platinum Advisor Strategies to build out its "HubSpot for Advisors" content marketing platform (as ousted former Platinum co-founder Robert Sofia spins up his own HubSpot-for-Advisors competitor SnappyKraken), and the CFP Board demonstrates a novel application for applying blockchain in financial services: a public ledger to verify who is a CFP certificant, replete with an authenticated "digital CFP certificate" that advisors can use on their websites and in their email signatures.
And be certain to read to the end, where we have provided an update to our popular new "Financial Advisor FinTech Solutions Map" as well!
I hope you're continuing to find this new column on financial advisor technology to be helpful! Please share your comments at the end and let me know what you think!
*And for #AdvisorTech companies who want to submit their tech announcements for consideration in future issues, please submit to TechNews@kitces.com!