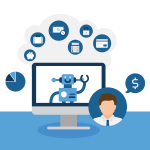 Welcome to the May 2022 issue of the Latest News in Financial #AdvisorTech – where we look at the big news, announcements, and underlying trends and developments that are emerging in the world of technology solutions for financial advisors!
This month's edition kicks off with the big news that Orion Advisor Services is acquiring Redtail CRM, increasingly positioning Orion as the 'All-In-One' solution to compete against Envestnet with its combination of financial planning (Advizr vs MoneyGuide), performance reporting (Orion vs Tamarac), and now CRM (Redtail vs Tamarac CRM), paired with its back-end TAMP solutions (Brinker and Orion's model marketplace vs Envestnet's PMC and its SMA platform). Though in the near term, it is more likely that Orion and Redtail will simply focus on trying to cross-sell their respective services to the users of the other, given what was 'only' a 20% - 30% overlap in existing advisors already using both (while still respecting the majority of each user base that may not be looking to switch and will remain with its current CRM or portfolio management solution).
From a broader industry perspective, though, the real significance of the Orion-Redtail deal may simply be a sign of the ongoing bullishness of growth for AdvisorTech more broadly, as Redtail's valuation was likely buoyed by Wealthbox's recent Series B, and Orion's potential IPO valuation in the future may be boosted by rumors that a PE firm may take Envestnet private. In other words, the Orion-Redtail deal may not necessarily be one of a great unified vision of a single all-in-one solution for all advisors – though few would likely object to seeing greater integrations between the two – but simply a financial opportunity to attempt to make the whole worth more than the sum of the parts.
From there, the latest highlights also feature a number of other interesting advisor technology announcements, including:
Advyzon launches its "Quantum Rebalancer" to shore up its hold on small-to-mid-sized investment-centric firms that want to use Advyzon for 'everything' (excluding financial planning)
RightCapital launches a new 'One-Page Financial Plan' Snapshot feature that highlights the gap in financial planning solutions for clients after their initial plan is done
Read the analysis about these announcements in this month's column, and a discussion of more trends in advisor technology, including:
Vanguard launches a new partnership with American Express to pay the same 25bps promoter fees that have become common in the independent RIA channel as well (and highlighting the ongoing extraordinary cost of lead generation)
SimplyEasier launches a new fee-for-service billing solution as more advisors continue to explore non-AUM business models
Schwab gears up for the launch of its new Personalized Indexing solution at a 40bps cost that may actually offset most or all of the tax-loss harvesting benefits it purports to generate?
In the meantime, we've also launched a beta version of our new Kitces AdvisorTech Directory to make it even easier for financial advisors to look through the available advisor technology options to choose what's right for them!
And be certain to read to the end, where we have provided an update to our popular "Financial AdvisorTech Solutions Map" as well!
*And for #AdvisorTech companies who want to submit their tech announcements for consideration in future issues, please submit to [email protected]!