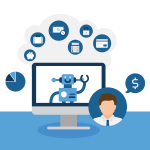 Welcome to the April 2020 issue of the Latest News in Financial Advisor #FinTech – where we look at the big news, announcements, and underlying trends and developments that are emerging in the world of technology solutions for financial advisors and wealth management!
This month's edition kicks off with the news that Vanguard is now actively piloting its "Digital Advisor" robo-advisor platform, which is being positioned as a 'downmarket' 0.15%/year fully automated alternative at half the price of its human-CFP Personal Advisor Services (at 0.30%/year)… though by building various custom allocations of existing Vanguard funds, looks in practice more like a "custom target date fund" solution that is actually pricing up Vanguard's existing funds at 3X the cost (as a fee for designing the asset allocation) instead?
From there, the latest highlights also include a number of other interesting advisor technology announcements, including:
Envestnet partners with Compliance Solutions Strategies to build a new "Form CRS Automator" with the June 30th effective date (and May 1st first filing date) for Form CRS looming large
Schwab announces that its new PortfolioConnect service has rapidly grown to more than 1,000 RIAs, immediately making it a contender as one of the most popular portfolio performance reporting solutions for RIAs (and free for Schwab-only RIAs!)
Morningstar acquires Canadian financial planning provider PlanPlus to compete internationally, but in the mix, will get the opportunity to scale up FinaMetrica as a competitor to Riskalyze in the US?
fpPathfinder launches a Redtail CRM integration to facilitate interactive financial planning checklists for client due diligence and compliance purposes.
Read the analysis about these announcements in this month's column, and a discussion of more trends in advisor technology, including Addepar raises another $40M of capital as it launches "AddeparGo" to compete with middle-market RIAs and broker-dealers, a slew of companies from Hidden Levers (portfolio stress testing) to AdvisorPeak (portfolio rebalancing) offering free access to their software amidst the coronavirus bear market, and an explosion of open APIs as more AdvisorTech providers relegate themselves to the background as "engines" to power advisor dashboards that are increasingly being built within CRM systems.
And be certain to read to the end, where we have provided an update to our popular new "Financial Advisor FinTech Solutions Map" as well!
I hope you're continuing to find this column on financial advisor technology to be helpful! Please share your comments at the end and let me know what you think!
*And for #AdvisorTech companies who want to submit their tech announcements for consideration in future issues, please submit to TechNews@kitces.com!