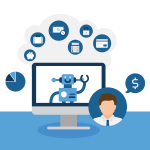 Welcome to the September 2020 issue of the Latest News in Financial #AdvisorTech – where we look at the big news, announcements, and underlying trends and developments that are emerging in the world of technology solutions for financial advisors!
This month's edition continues with new co-author (and AdvisorTech guru) Craig Iskowitz, along with guest contributor Kyle Van Pelt, and kicks off with a look at Schwab's announcement that all existing Schwab clients will receive free access to a MoneyGuide financial plan that they can create for themselves using the MoneyGuide One guided experience (or work with a Schwab Intelligent Advisory CFP professional for an advisory fee as little as $30/month), and highlighting how financial advisors can no longer justify their financial planning value by just inputting client data into and presenting the output from comprehensive financial planning software, and instead will increasingly be required to specialize into niches, and/or demonstrate their value in the conversations they have around the planning software.
From there, the latest highlights also feature a number of other interesting advisor technology announcements, including:
Apex partners with Marstone for a tech-plus-custody all-in-one in an anticipated effort to charge fees for RIA custody (and has hired Morningstar's Chief Product Officer Tricia Rothschild to help execute!)
Riskalyze partners with Rowboat Advisors to support 'tax alpha' and tax-intelligent optimization as the new portfolio value-add
LPL launches a Meeting Planner solution to optimize the surprisingly-time-intensive meeting prep process for advisors
The SEC changes the Accredited Investor definition to include financial advisors themselves, in what may be a boon to AdvisorTech crowdfunding efforts to raise capital directly from their future users?
Read the analysis about these announcements in this month's column, and a discussion of more trends in advisor technology, including Envestnet preparing its own direct indexing overlay tools as technology increasingly becomes the new value-add layer, Vanguard begins to develop its own 'robo' platform for advisors to compete for custody, XTiva raises $10M to compete for the complex process of integrating advisor compensation systems in large-scale financial services enterprises, and Timeline raises $2.3M in capital to compete in the increasingly popular realm of specialized planning tools that goes beyond what 'generalist' planning software can provide (in the case of Timeline, to facilitate retirement distribution planning in the decumulation phase!).
And be certain to read to the end, where we have provided an update to our popular new "Financial AdvisorTech Solutions Map" as well!
I hope you're continuing to find this column on financial advisor technology to be helpful! Please share your comments at the end and let me know what you think!
*And for #AdvisorTech companies who want to submit their tech announcements for consideration in future issues, please submit to TechNews@kitces.com!