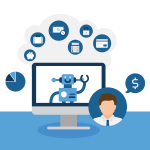 Welcome to the January 2020 issue of the Latest News in Financial Advisor #FinTech – where we look at the big news, announcements, and underlying trends and developments that are emerging in the world of technology solutions for financial advisors and wealth management!
This month's edition kicks off with the big announcement that Fiserv is spinning off its 'tiny' (at least relative to Fiserv's banking and payments business) investment services unit, valued at $880M, to a private equity firm focused on aggressively growing Fiserv's presence in the enterprise 'WealthTech' space, positioning the company to become an even more direct competitor for large-broker-dealers and large-RIA enterprises with Envestnet, Fidelity, Morningstar, and Broadridge, in what may spur a heavy reinvestment cycle into more capable enterprise systems for large advisor platforms.
From there, the latest highlights also include a number of other interesting advisor technology announcements, including:
Invesco acquires RedBlack rebalancing software as asset managers increasingly look to (vertically integrated) model marketplaces as the future of ETF distribution
Pershing launches its own "Subscribe" fee-based annuity marketplace, integrated directly to its Managed Accounts platform, to compete against Envestnet's own new Annuity Exchange
Merrill Lynch abandons the 'bring your own device' approach of the 2010s and stakes its compliance oversight in the 2020s on brokers carrying two smartphones (personal and business)
SEI launches a Developer Portal with new APIs in an attempt to become more of an advisor FinTech platform hub (perhaps eyeing the potential demise of TD Ameritrade's VEO after the Schwabitrade merger closes?)
Read the analysis about these announcements in this month's column, and a discussion of more trends in advisor technology, including Envestnet announcing new enhancements to PortfolioCenter (and signaling that PortfolioCenter isn't 'doomed' to be deprecated under Envestnet, and may simply become 'Tamarac Lite" instead), Schwab launches a robo-for-retirement-income offering that overlays tax-sensitive retirement distributions on top of its robo-investments-plus-human-CFPs offering, Investor.com rolls out a new advisor-vetting platform that aims to present consumers aggregated regulatory data to spot relevant disclosures and conflicts, and Vanguard capstones its 2-year battle with TD Ameritrade over pay-to-play access by dropping stock and option trading commissions to $0 (on top of its already-free ETF trading platform) as TD Ameritrade is queued up for a sale.
And be certain to read to the end, where we have provided an update to our popular new "Financial Advisor FinTech Solutions Map" as well.
I hope you're continuing to find this column on financial advisor technology to be helpful. Please share your comments at the end and let me know what you think!
*And for #AdvisorTech companies who want to submit their tech announcements for consideration in future issues, please submit to TechNews@kitces.com!