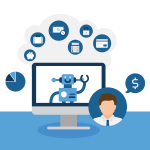 Welcome to the December 2018 issue of the Latest News in Financial Advisor #FinTech – where we look at the big news, announcements, and underlying trends and developments that are emerging in the world of technology solutions for financial advisors and wealth management!
This month's edition kicks off with the big news that Blackrock is taking a whopping $123M stake in Envestnet as the company doubles down on the strategy of using technology as a distribution channel after its $150M acquisition of FutureAdvisor just 3 years ago… and raising the question of both what other asset managers may acquire FinTech companies for distribution in the coming years, and what Envestnet itself may invest into and acquire with its newfound cash.
From there, the latest highlights also include a number of interesting advisor technology announcements, including:
E*Trade ramps up its competitive push into the (large) RIA custodial space with new account aggregation tools and an advisor referral program,
RightCapital becomes a real financial planning software contender with enterprises as a Commonwealth deal takes the company beyond its independent RIA roots,
Stonecastle launches an FDIC-insured cash management solution for RIAs to compete with MaxMyInterest as cash yields start to matter again, and
United Capital partners with Medicare BackOffice as "real" retirement planning increasingly expands beyond just retirement portfolio management.
Read the analysis about these announcements in this month's column, and a discussion of more trends in advisor technology, including a signal that Investopedia's Advisor Insights may be shutting down, a Vestorly pivot away from content marketing into trying to license its content curation engine instead, Smartasset ramping up its financial advisor directory for consumers (but without learning the lessons of BrightScope from years ago), Morningstar fighting back against Riskalyze and Blackrock's Aladdin, and TD Ameritrade announcing the finalists for its first "Innovation Quest" FinTech competition.
And be certain to read to the end, where we have provided an update to our popular new "Financial Advisor FinTech Solutions Map" as well!
I hope you're continuing to find this new column on financial advisor technology to be helpful! Please share your comments at the end and let me know what you think!
*And for #AdvisorTech companies who want to submit their tech announcements for consideration in future issues, please submit to [email protected]!