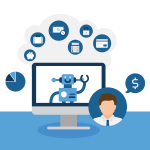 Welcome to the March 2019 issue of the Latest News in Financial Advisor #FinTech – where we look at the big news, announcements, and underlying trends and developments that are emerging in the world of technology solutions for financial advisors and wealth management!
This month's edition kicks off with the mega-news that Envestnet has acquired PortfolioCenter from Schwab, and in the process, has stirred up a feeding frenzy of what may be once-in-a-lifetime deals as all the major portfolio performance reporting solutions compete for the nearly 2,000 legacy PortfolioCenter users that are now in transition.
From there, the latest highlights also include a number of interesting advisor technology announcements, including:
Commonwealth spins off its proprietary broker-dealer operating system and advisor tools into a standalone entity, Advisor360, and then promptly licenses it out to MassMutual's 9,000 brokers
Cetera stakes a new direction in the post-product future of the broker-dealer model with a "fee-for-service" advice initiative using AdvicePay
OnPointe Risk Analyzer launches a new Riskalyze alternative that aims to compete not just on risk tolerance assessment but marketing capabilities as well
FA Match raises a $500k seed round and builds a broker-dealer recruiting matchmaking platform for independent brokers looking to make a switch
Read the analysis about these announcements in this month's column and a discussion of more trends in advisor technology, including the latest new "Multiple Opinions" and "Timeline" features announcements from Riskalyze, Chalice Financial Network's acquisition of SuccessionLink as a channel to recruit new advisors, PreciseFP launches a standalone "digital onboarding" solution with SSG that does not require advisors to change client portals and portfolio performance reporting solutions, and Yourefolio launches a new drag-and-drop estate plan flowcharting tool (at least for the subset of advisors still doing estate planning flowcharts!).
And be certain to read to the end, where we have provided an update to our popular new "Financial Advisor FinTech Solutions Map" as well!
I hope you're continuing to find this new column on financial advisor technology to be helpful! Please share your comments at the end and let me know what you think!
*And for #AdvisorTech companies who want to submit their tech announcements for consideration in future issues, please submit to TechNews@kitces.com!