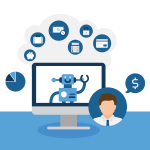 Welcome to the January 2023 issue of the Latest News in Financial #AdvisorTech – where we look at the big news, announcements, and underlying trends and developments that are emerging in the world of technology solutions for financial advisors!
This month's edition kicks off with the news that Envestnet has decided to enter the RIA custodial business through a partnership with Australian bank FNZ to white-label what was once the State Street RIA custodial platform of many years ago – providing Envestnet an opportunity to even more deeply integrate its front-end advisor platform to the back-end of custody for a more seamless end-to-end experience (and, potentially, a more competitive bundled pricing arrangement for a unified technology-plus-custody offering).
Notably, though, with so much of Envestnet's existing base of advisors in the independent broker-dealer channel, it seems less likely that the company will be competing with the 'traditional' RIA custodians of Schwab and Fidelity for independent RIAs and wirehouse breakaways, and more against the likes of LPL and Pershing for broker-dealers that are adding and expanding RIA offerings to their increasingly hybrid platforms (and might welcome the opportunity to save on Envestnet's software costs by adopting its RIA custodial platform in the future?). Which positions Envestnet well to grow with a unique segment of 'emerging' RIAs… while providing relatively little competitive pressure to the existing RIA custodial ecosystem.
From there, the latest highlights also feature a number of other interesting advisor technology announcements, including:
Docupace launches an 'RIA Productivity Toolkit' as it increasingly expands beyond its document management roots in a bid to become more of the back-office workflow engine of small-to-mid-sized advisor enterprises
Raymond James launches 'Opportunities' as the latest competitor to facilitate 'Next Best Conversation' insights to help their advisors engage with the right clients at the right time for the most meaningful conversations
FMG partners with Catchlight to integrate its marketing insights about the prospects on an advisor's email list to better target content that can turn them into clients
Read the analysis about these announcements in this month's column, and a discussion of more trends in advisor technology, including:
AdvisorFinder launches a new expertise-based lead generation portal that matches prospects based not on their zip code or advisor compensation preferences, but on the advisor's specialization or typical (i.e., niche) clientele
Modern Life raises $15M and rolls out a digitally-based life insurance brokerage solution for advisors who want to continue to offer life, disability, and long-term care insurance but with a more 'modern' technology platform to facilitate applications, underwriting, and in-service support
In the meantime, we're excited to announce several new updates to our new Kitces AdvisorTech Directory, including Advisor Satisfaction scores from our Kitces AdvisorTech Research, and the inclusion of WealthTech Integration scores from the Ezra Group!
And be certain to read to the end, where we have provided an update to our popular "Financial AdvisorTech Solutions Map" as well!
*And for #AdvisorTech companies who want to submit their tech announcements for consideration in future issues, please submit to [email protected]!