Executive Summary
The financial advice business is a service business, and a service business is a people business. Which means the ability to attract and retain people to work in the business, and keep them happy and engaged with that work becomes increasingly essential as an advisory business grows and scales. And keeping employees happy is a function of not only having meaningful work to do, but also compensating them appropriately for that work. In recent years, this has led to an ever-growing number of "perks" that firms offer employees to keep them happy, from retirement benefits to health insurance, to education reimbursement to student loan support, and gym memberships, and employer-provided meals. But in the end, employers can't just pile on a never-ending stream of employee benefits and perks in the hopes that it will help employees to retain; at some point, the question becomes: what are the best "perks" and employee benefits that really, actually help to retain employees?
In this guest post, Angie Herbers – Chief Executive and Senior Consultant at Herbers & Company, an independent management and growth consultancy for financial advisory firms – discusses her four principles that she has determined are most effective at supporting employee happiness. Known as the "P4 Principles", they include a combination of Preparation (helping all team members achieve success), Pay (designing satisfying compensation and incentive packages for employees), Perks (offering lifestyle benefits that motivate employees and help them balance their work and personal life), and Productivity (providing the tech tools that allow employees to do their work in the first place). Importantly, though, "P4 Firms" that implement all four P4 principles successfully have shown that offering the right Perks to employees is the most impactful of the four P4 Principles in achieving lower turnover, higher growth, and more successful employees.
Research conducted by Herbers & Co revealed several perks offered by companies that were most effective in increasing employee happiness. Two perks, above all others, that are important for all financial advisory firms to offer to their employees are health insurance and retirement plans (even if the company is unable to contribute on behalf of their employees). Not only are these two perks necessary for financial advisory firms to attract (and retain) top talent, but they are also important to offer employees access to these benefits simply for company morale, especially when the firm teaches its clients that purchasing health insurance and saving for retirement are essential practices for a healthy financial future (which can quickly make employees wonder why they're not receiving those benefits, too!).
In addition to the essential employee perks of health insurance and access to an employer retirement plan, financial advisory firms can offer a menu of additional optional perks to motivate their employees and help them better manage (and enjoy) their professional and personal lives. In fact, Herbers' research indicates that while there is a wide range of potential perks and benefits that firms might consider offering, including flex time, unrestricted vacation, bereavement time off, family leave, time off for volunteer work, paying for continuing education, time off for continuing or further non-work-related education, group discounts, and sabbatical time off, companies need not offer all (eleven) types of perks; instead, offering at least six of these options (chosen from any of the top eleven) was sufficient to maximize employee happiness (by allowing enough options that all employees could appreciate and benefit from at least some of the available perks).
Furthermore, employees who are given a range of these perks (and the autonomy to choose amongst them) tend to feel that their employer trusts them to balance their lives with doing a good job which further motivates them to manage themselves (and each other). In fact, despite fears from many employers that too many – or too flexible – perks may lead to abuse, in practice, firms with strong positive work cultures typically find that employees still feel accountable to each other… and consequently generally do not abuse the privileges the perks afford (e.g., if offered unlimited vacation time, P4 Firm employees still end out taking only what they really need). In fact, P4 Firm employees were found to take less vacation (14.5 days per year) when compared to non-P4 Firm employees (who took an average of 19 days per year), despite having more flexibility and often "unlimited" vacation access!
Ultimately, the key point is that financial advisory firms that focus on a P4 culture by implementing good Preparation, Pay, Perks, and Productivity practices, with an emphasis on providing the right Perks for their employees to support their happiness, will generally have great employees with high morale and the motivation to manage the company responsibly and effectively, which can help the company grow into a truly great business!
There is no greater time than now, during the COVID-19 pandemic, to focus on employee happiness. What makes a happy employee? Companies have tried many different approaches to create a workplace their people enjoy – extending those attempts in a virtual work-from-home environment to include everything from snacks delivered to the homes of employees to online group video game leagues to Zoom-based happy hours.
At Herbers & Company, we track these trends within the client base of advisory firms we serve to see if they produce the desired happiness outcome, with the goal to find what works. So, what truly creates happy employees? A process and system, of course, with four key elements working cohesively in a unified system.
P4 Principles: The Four Key Elements That Create Happy Employees
The four key elements that are crucial for creating happy employees are something we collectively refer to as the P4 Principles. We discovered them in 2010, as the culmination of a 3-year ongoing research project that Herbers & Company had been conducting. Why is this important now? Throughout the pandemic, we have seen a dramatic shift to "culture awareness" among firms, obviously as a result of working from home, where it's becoming more crucial than ever to reflect on whether the business is really doing what it needs to do to keep employees happy and engaged.
With that, I thought it would be helpful, as COVID cases rise again, to summarize the research and help you understand how the P4 Principles can help your culture through these interesting times.
Let's begin with what the four P4 principles are:
P1: Preparation
A work environment that prepares and trains owners and their employees for business success.
P2: Pay
Thoughtfully designed compensation packages and incentive structures that connect employees to something greater than themselves.
P3: Perks
Lifestyle benefits that provide employees with motivation and a balance between their working and personal lives, to help them balance the demands of living.
P4: Productivity
Technology hardware and software designed to help employees, and that translates a firm culture into a highly productive work environment.
In this article, we'll take an in-depth look at why being a P4 firm that embraces these principles as an integral part of their culture is more important to advisor success than ever, and then we'll look at the elements advisors are struggling with most in a virtual environment – perks – and the role they play in creating a business that effectively runs itself.
Great Businesses Are Made From Great Employees
Current conventional business management wisdom says that great managers produce great businesses. While that might be true in large, publicly-owned corporations – though I seriously doubt it – it is certainly not the case among independent advisory firms.
If you own an advisory business, you might think that because owner-advisors rarely have management training, they would have the greatest need for it. And in my work with thousands of advisory firms over the past two decades, I've come to realize that most owner advisors will never become great (or even good!) managers – at least in the conventional sense.
But the good news is that to have great businesses, advisors don't need to be great managers; they do, however, have to build businesses that create great employees – and then stand back and let their employees help them grow the business they've always dreamed of having.
In order to do that, owner-advisors need to implement all four key elements of the P4 Principles into their firms. Each principle is essential to creating an environment that supports a firm's employees and helps them maximize their contributions – resulting in a great business. It may sound simplistic, idealistic, or even a bit 'new age', but in reality, it's both practical and immediately actionable.
The Key to P4 Success: Cultivating Great Employees Who Are Happy With Their Jobs
In the course of our research, we found striking differences between firms that had implemented an approach consistent with the P4 principles versus those that had not. Our findings in terms of growth, owner income, and time in office beg the question of why some firms are successful and others are not.
One thing is clear: the success of P4 firms is not a result of better hiring practices, management, or HR processes and procedures. The numbers in the graphic below provide some insight into why P4 firms are so successful.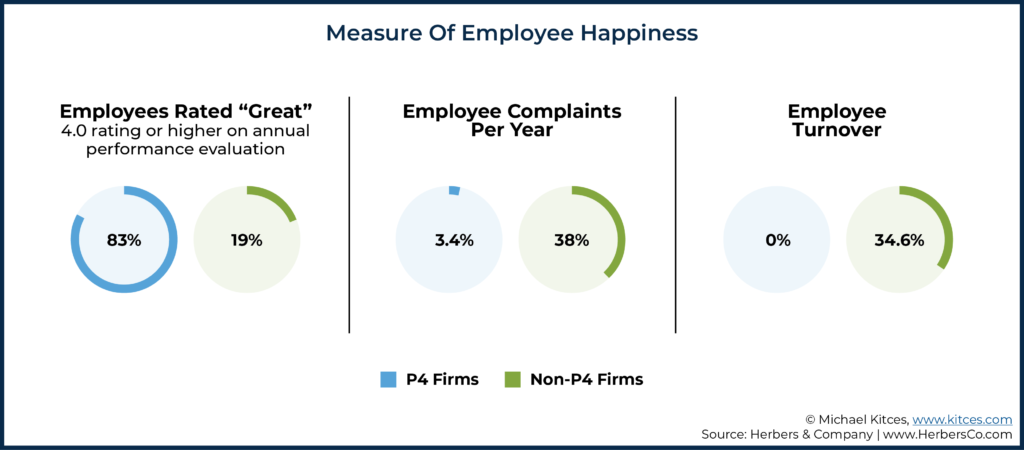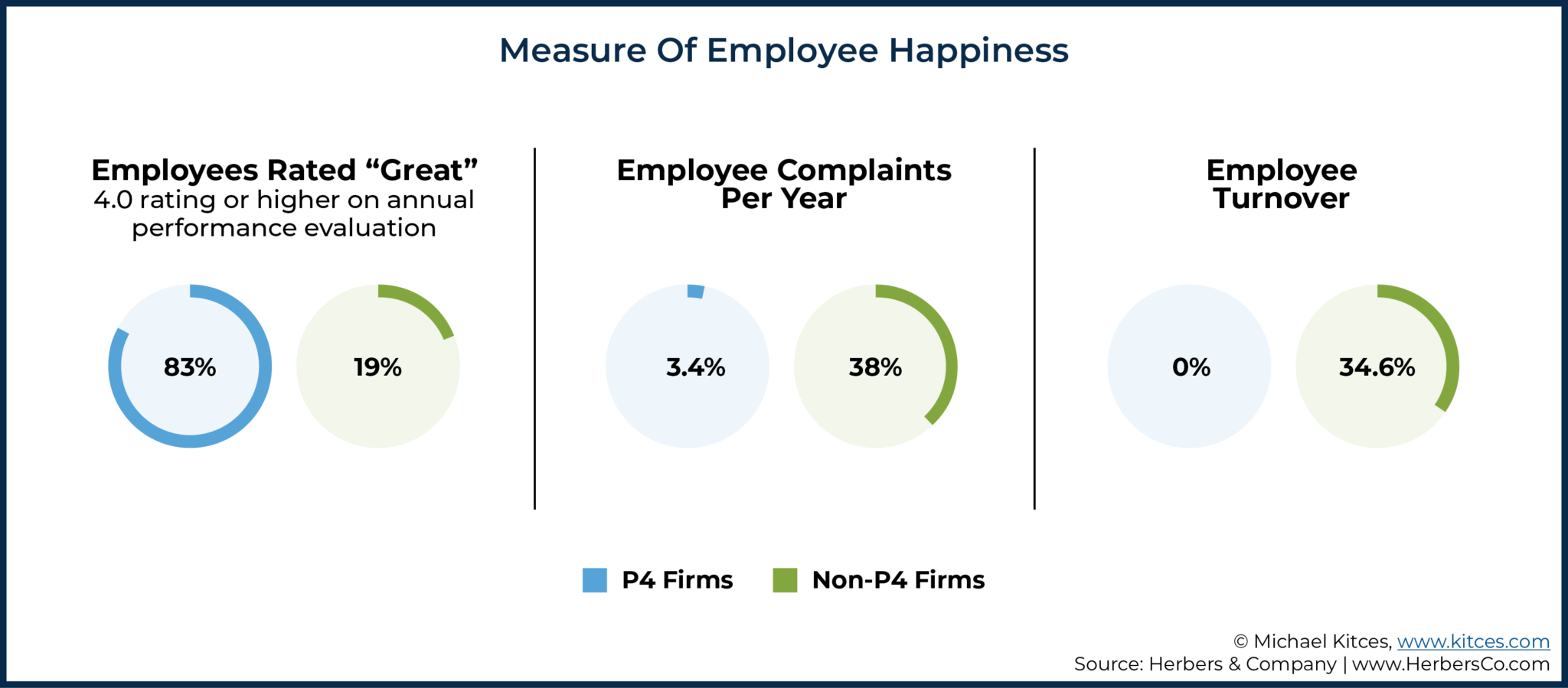 Employees at P4 firms were more than four times more likely to receive a "great" employee rating, which means that more than 4 out of every 5 employees at P4 firms are "great" employees. Meanwhile, not quite 1 out of 5 employees at non-P4 firms are "great."
The graphic above also shows one of the primary reasons why there is such a large discrepancy in employee greatness: on average, only 3.4% of all the employees at P4 firms find something to complain about each year, while 38% of non-P4 employees file a complaint each year.
Among other things, this increased happiness at P4 firms translates directly into employee tenure: P4 firms have virtually no employee turnover, while their non-P4 counterparts exhibit annual turnover of more than one in three employees.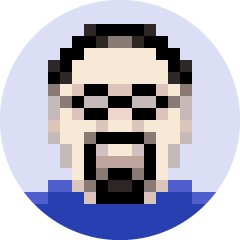 Nerd Note:
It is important to understand how turnover is calculated here. There are two types of turnover: lifestyle turnover and culture turnover. Lifestyle turnover (such as when a spouse accepts a job in another city, when one spouse decides to quit working to stay home with children, or when a career change is involved) is not included in the turnover data above. The turnover represented is culture turnover, where an employee leaves for a better job and/or pay, or an employee is fired for poor performance. P4 firms, in the time the study was conducted, did have turnover. The turnover, though, was only lifestyle turnover, not from culture issues.
Losing one-third of the employees at a small business every year has a devastating effect on virtually every aspect of these firms:
Quality of client service;
Workload of the principals (who are constantly hiring and training new employees, in addition to their regular jobs);
Profitability (higher hiring and training costs and decreased productivity); and
Overall employee morale
The dramatic difference in turnover alone goes a long way toward explaining the vastly better performance of P4 firms.
Taken together, the P4 firms had lower employee turnover, much higher annual growth in revenue and owner income, a much higher rate of achieving their owner's goals, and during all this success, their owners worked far less and took a lot more vacation – and they were all doing the same things to get these results! When it comes to statistical confirmation in business management, it rarely gets any better than this.
To achieve lower turnover, higher growth, and more successful employees, the most impactful of the P4 Principles is Perks. While many advisory firms believe compensation is the primary driver for lower turnover rates, what we learned is that, without the available benefits to support the life an employee wants to live, rarely will an employee pick money over benefits as to what makes their life happier.
Let's take a deeper look at those Perks and see which were most impactful and how they were organized to improve overall firm happiness.
The Positive Impact of (the Right) Employee Perks And The Essential Benefits Of Medical and Retirement Plans
As the name implies, "perks" are neither basic nor required – they enhance the lives of employees and help to create a strong bond with the company. Our research shows that offering the right perks increases employee happiness, motivation, and commitment.
On the other hand, failure to provide the right perks creates a negative image of the firm in the minds of employees that can never be overcome, leading to poor morale and many times high turnover rates. Worse, it leads to high management of employees who are projecting their own personal unhappiness into the company culture.
So, what perks actually matter?
While perks are nonessential, there are two that advisors can't afford to ignore: medical insurance and retirement plans. In short, companies just need to offer them, period. Contrary to popular belief, and possibly common sense, simply offering these benefits is far more important than whether the firm pays for all or part of them. This is a function of the industry we're in: Associate Advisors are trained to teach their clients about health insurance and saving for retirement at an early age, and that both are essential elements of a sound financial plan. Other advisory firm employees, too, get the same message early in their tenure.
And given that advisors preach the benefits of retirement savings and health insurance to their clients, if you don't provide that to your employees, they will notice. It's like working for a doctor who tells his patients to eat healthily and stop smoking, yet who provides beer and pizza to his employees for lunch every day, in the lunchroom filled with ashtrays to accommodate smokers. Think about the message you're sending to your employees if you don't offer retirement or medical plans: Either you don't really believe in the advice you're giving your clients, or the financial future of your employees just isn't important to you. And it shows.
Before you start saying a small business like yours can't afford expensive health or retirement plans, the good news is that our research shows that employees are far less concerned about who pays for what, than they are with just having access to these plans. And, if you think about it, that makes sense: employees understand that they're not working for a Fortune 500 company so they're not looking for comparable benefits. But they also understand that having access to a group health plan can substantially reduce their own costs of insurance, particularly if they have a family.
As for retirement plans, most employees like the pay-yourself-first aspect of payroll deductions. Some advisors will argue that employees would do better contributing to a Roth IRA, but, since we usually don't know what the spouse's income or retirement plan benefits are (so they may not even qualify for a Roth), and because pre-tax contributions do matter, the psychological impact of a company-sponsored plan is well beyond the cost. (And if you really want to, you can add a Roth-style option to your 401(k) plan, too.)
Another benefit for businesses that offer health insurance and retirement benefits surfaces when it's time to recruit. Advisors that the firm may be hoping to hire are extremely interested in both of these perks. To put it bluntly, you must offer these two benefits to be competitive for top talent. Some of you might be reading this and saying, "Duh! We know that!" But there is still a tremendous number of advisory firms we see each year who do not understand that medical and retirement plans are critical to recruitment and retention.
The "Lifestyle Six" Benefits Program Supports Happy And Motivated Employees
While a retirement plan and health insurance are just bases that business owners have to touch, additional perks – what I call "lifestyle perks" – are one of the greatest discoveries of our P4 research. They form a collection of benefits, or perhaps freedoms, that allow employees to merge their professional and personal lives and simultaneously make both better, producing happier and more motivated employees.
We identified eleven of the most effective and common lifestyle benefits that employers can offer, but our research has shown that firms don't need to offer all eleven; instead, the magic number of perks a company can offer to make their employees happy is six – the "Lifestyle Six" as we call them.
It doesn't seem to matter which six perks are offered, but hitting that critical mass shows a willingness and trust on the owner's part that employees can manage their workload responsibly. To begin picking six, it's helpful to ask your employees what they want. You can do this simply by sending out an email that asks, "If you could have any employee benefits that you don't already have, what would they be?" Or you can conduct an employee survey. With that, the most popular perks offered by P4 firms are often flexible time, open (or also called unrestricted) vacation, and lunch being provided.
It's the mentality that shifts the owner's role from setting and monitoring parent-like rules to one of mentoring and trust. When lifestyle perks are implemented correctly, employees will begin to manage themselves and each other, freeing owner-advisors to focus on serving clients and growing the business.
One important note here is that no matter how great you make the working environment, if an employee isn't happy in their personal life, it's hard for them to be truly happy at work. And while owners can't (and shouldn't) try to fix their employees' personal problems, by offering the right perks, you can create a working environment that minimizes conflicts with home life, which often can be a major source of personal problems.
Here's a brief description of the top eleven lifestyle perks:
Flex Time
It's now a pretty commonly accepted practice to let employees set their own work schedule – especially since COVID-19 forced businesses' hands with remote work where it's not practical to monitor an employee's exact work hours, anyway. For small business owners, this is one of the key elements in shifting their mentality from micromanager to employee mentor and coach. And for employees, the reality is that one of the greatest sources of employee stress (and one of the most easily eliminated) is conflicts between work schedules and other important activities such as children's schooling and daycare, a spouse's demanding schedule, commuting, carpooling, continuing education, volunteer work, etc. If shifting an employee's working schedule by an hour or two – either earlier or later (or even both ways, with a longer lunch hour) – can make their life less complicated, they will be able to focus better, work harder, be happier, love their job more, and will never forget how your flexibility improved their life.
Unrestricted Vacation
This is the one that requires the biggest leap of trust, and consequently, the one that owners have the most trouble with. I'm talking about allowing each employee to decide how much paid vacation time they take and when they take it (still coordinated with other employees, of course). I know it sounds crazy. But let me ask you this: Who decides how much vacation the firm owner takes? Do you spend so much time out of the office that it hurts the firm? Of course not. So, why would your employees? A funny thing happens when you give employees the freedom to take vacations: they actually tend to take less vacation time. Why? For one thing, when you offer use-it-or-lose-it annual vacation time, it's human nature to use it, just so you don't lose it. Give employees as much time off as they want, and they tend to want less. (Some have suggested that employees who take less time off risk burnout. However, we've found that employees actually self-moderate to the levels they need depending on their lifestyles, and it's important for you to allow employees to make these decisions on their own. The only times we've seen this as a problem is in major down markets, where employees are working harder for the clients and at times during a crisis. In COVID-19, we have seen firms force time-off and/or vacation.)
Provided Lunch (or other meals)
Many large corporations provide meals for employees to eat in the office. You should, too. Often, employees will eat while they are working but, even if they don't, their time away from work will be much less than if they go out. What's more, when employees eat together, they usually talk about work and/or connect in a different way. It doesn't have to be fancy or expensive, but offering a small reward for not going out for lunch (or staying over dinner or breakfast if they come in early or stay late) can result in a major increase in productivity. We have seen much success with employee bonding and productivity when lunches were delivered to homes during COVID, where employees would jump on a call to eat together. This was particularly critical for the empty nesters.
Bereavement Time Off
This is time off when employees suffer an emotional loss, and no questions asked. It's not just for a death, but for any grief in their life: a divorce; marital strife; the death of a pet; the illness of a spouse, family member, or close friend; etc. It's an expanded version of a mental health day for employees who need some time away to deal with their emotions. The truth is that during or after emotional trauma and crisis, employees usually aren't much use in the office, anyway. And time away can help them recover more quickly. In the coming years, I believe this benefit will be crucially important with the lack of balance and overwork/burnout issues we are seeing in isolation.
Female and Male Family Leave
This perk is legally required of large businesses but is still a good idea for small businesses to offer, too. Having a baby is a life-changing event for a whole family, and taking time off to sort it all out is good, not just for an employee's personal life, but also for their productivity at work, too. This is one of the times when work and personal life usually come into conflict; forcing an employee to choose between the two can result in long-term mental issues that can affect both their work and personal life. It's far better for businesses to let employees decide how to best balance their work with a new member of the family. With that, it is entirely unfair for women to have to be forced back to work too soon. One of the most heartbreaking moments I have ever experienced in my consulting career was learning of a woman, through an employee survey, who asked for nothing else but a "peaceful, quiet place to pump breast milk and cry without someone knocking on the bathroom door."
Time Off for Volunteer Work
Many of these perks become moot for firms that offer unlimited vacation time. But even for those firms that do, offering paid time off for charitable work sends the right message. Resist the temptation to create a list of prescribed charities; volunteer work is a matter of conscience for employees, and any attempts to meddle will only create resentment from folks with strongly held inclinations that may not parallel yours. This is a low-cost/high-reward benefit that many employees like to have, and it underscores the value the employer places on what's personally important to their employees.
Paying for Continuing Education (and PTO to Attend)
This perk is really a must for professional service firms. When employees make the effort to obtain and maintain professional designations, it increases the firm's expertise and credibility. It can also broaden the firm's referral network. Once again, this benefit works best when owners resist the temptation to control employees' inclinations: any professional designation is better than none. The average CE allowance for professional advisors is around $3,000 per year.
Paying for Further (Work-Related) Education and Professional Resources
This perk is related to the one for continuing education, and the same comments apply. Usually, advisor education isn't very expensive, and not paying for it sends the message that education is unimportant to the firm. This perk should apply to non-professional employees as well, but with careful management of expectations. If employees are planning to advance their careers through further education, they need to know how their education plans fit in with the growth plans for their firm.
Time Off for Continuing or Further (Non-Work-Related) Education
Employers often have a hard time with this perk, too, but the reality is that few employees will ever use it. Also, when combined with flex time, it rarely results in much real time off. The real benefit of offering this perk is sending the message that, as part of a firm's commitment to the happiness of its employees, the firm supports employees' efforts to improve themselves.
Group Discounts
It's a growing practice among firms to negotiate employee discounts with local vendors such as health clubs, country clubs, nutritionists, counselors, technology stores, etc. Sometimes these arrangements are directly in the best interest of the business (e.g., health clubs and tech stores), but more often they're just a nice, no-cost perk for employees. It sends the message that the employer is thinking about the welfare of employees, and you'd be surprised how many employees rate these perks highly. What's more, it gives advisors a reason to chat up local business owners who may be future prospective clients.
Sabbatical Time Off
A sabbatical is a substantial amount of paid time off every few years. Typically, firms will offer around five weeks of sabbatical after five years of employment. This perk is important for P4 firms in which employee burnout is a constant danger. Encouraging employees to take the time to truly get away from their jobs from time to time improves relationships, increases judgment and productivity, and restores a sense of perspective to their lives. These benefits also apply to firm owners who also need to set an example by taking periodic sabbaticals to recharge or to just take an extended break to gain perspective.
Trusting Your Employees To Manage Themselves Is Key To Becoming A Successful P4 Firm
Firms send a powerful message by offering at least six of these lifestyle perks. Doing so says that the company trusts its employees to balance their lives and to do a good job. When a firm's management is focused on the results an employee produces, rather than on micro-managing the process the employees take to produce those results, employees can learn to literally manage themselves. And when management offers perks in support of their employees, they send the message that they trust in their employees' capability and motivation.
As shown in the graphic below, 100% of the P4 firms studied offer six or more of these perks, with flex time, open vacation, and provided lunch being the most common perks. Conversely, only 20% of the non-P4 firms offered at least six perks.
And as far as the amount of time employees took off each year, the results show that none of the P4 employees abused these policies (and when a few people started to push the limits, the other employees quickly stepped in and told them to fly right.)
In a P4 firm, where the company trusts all of their employees to do the right thing, everyone becomes accountable to everyone else. In support of this, our data show that P4 employees average 14.5 days a year out of the office, while non-P4 employees average 19 days or 24% more than employees at P4 firms. And nearly all of the non-P4 employees ask for additional vacation or days off every year!


The data could not be more clear. If you want to create happier employees and build a more successful independent advisory firm, then offering lifestyle perks that allow employees to take responsibility for their own happiness will set your business apart.