Executive Summary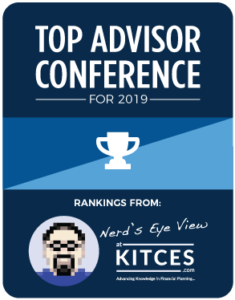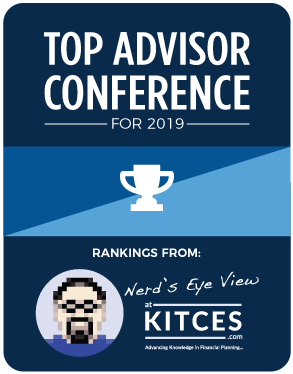 The need to engage in continuous learning is a simple reality for anyone in professional services. As a profession's body of knowledge grows and evolves with ongoing research and discoveries, new products and solutions, and emerging best practices, even the best practitioners have to update their knowledge and skills from time to time. You want your surgeon to be up to speed on the latest surgical techniques that speed recovery time and reduce scarring. You want your lawyer to know the latest laws and regulations that might adversely impact your business to reduce the risk of regulatory or legal hassles. And consumers want their professional financial advisors to be up to date as well.
And the reality is that while you can get a lot of this continuing professional education directly from the comfort of your own office, in a technology-driven world with an ever-growing number of webinars and reading opportunities – including in the Members Section of this blog! – it's still important at least once a year to take a break from the office and get away from it all. Both to give yourself the opportunity to really immerse in your education without the inevitable drumbeat of distractions in the office. And because mentally, you really can better focus on your education and thinking about steps to improve your business when you get away from it for a few days.
The caveat, however, is that these days, there is an overwhelming number of financial advisor conferences to choose from. Because while the good news is that for most successful advisory firms, it just takes one good takeaway from a conference that can be implemented in the business to make the whole trip worthwhile… the bad news is if you don't find a conference that's the right fit for your needs and business, you aren't likely to find even that one good takeaway. Which makes both the expense of the conference, and the lost time out of the office, very costly indeed.
As someone that has been speaking at nearly 70 conferences a year for almost a decade myself, I've seen the good and bad of our various industry events, which are spread across membership associations, broker-dealers and insurance companies and RIA custodians, product manufacturers, trade publications, private events, and more. And as a result, am often asked for my own suggestions of what, really, are the industry's "Best" conferences to attend.
Yet the reality is that what conference is "best" really depends on what you, personally, are looking for. Some advisors are focused more on broad-based technical educational content, while others want to go deep into a niche. Some advisors want practice management advice as business owners, while others need help with their personal career development as employee advisors instead. Some want to talk about innovating technology, while others want to innovate new business models.
Accordingly, back in 2012 I started to craft my own annual list of "best-in-class" top conferences for financial advisors in various categories (to allow advisors to match the available conference specialties to their own needs), and have updated it every year since in what has become one of our most popular annual articles.
And so now, I'm excited to present my newest list of "Top Financial Advisor Conferences" for the upcoming 2019 year, from practice management to technology to career development and deep-dive educational content, and a special focus on the rise of "niche" financial advisor conferences aiming to serve the growing number of financial advisors who themselves are focusing more and more into niches to differentiate themselves in today's competitive environment.
So, I hope you find this year's 2019 conferences list to be helpful as a guide in planning your own conference budget and schedule for next year, and be certain to take advantage of the special discount codes that several conferences have offered to all of you as Nerd's Eye View readers!
***Michael's Note: See here for our latest 2021 Best Conferences rankings, and here for our Master List of Top Advisor Conferences for 2020!
Best Conference For/In: Overall Financial Planning | Advanced Education | Advisor Technology | Investments | New Financial Planners | Experienced Practitioners | Practice Management | Specialized Niche Conferences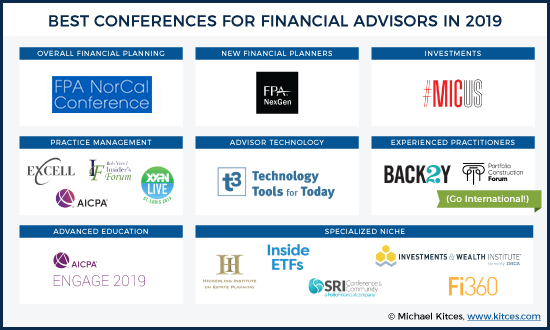 Where available, Nerd's Eye View reader discounts are highlighted in red.
Prior Years' Best Conferences List: 2018 | 2017 | 2016 | 2015 | 2014 | 2013 | 2012
For Conference Organizers: For the embed code to post a "Top Advisor Conference in 2019" badge to your own conference website, click here or scroll to the bottom of this page.
For Vendors/Exhibitors Considering Sponsorships: Hopefully, this list will be helpful to you in deciding what conferences to potentially attend and exhibit at. For further ideas, please see our prior-year 2018 "Best Conferences For Financial Advisors," and the earlier years' conference lists (noted above), which includes a number of other niche and specialized practice management conferences for advisors. There are also many opportunities to exhibit at various FPA chapters, some of which have sizable (150+) attendance at annual chapter symposia. For those seeking further assistance, I have limited availability to consult directly with companies seeking further guidance on distribution and go-to-market strategies to reach financial advisors as well.
Best Overall Financial Planning Conference: FPA NorCal 2019

The FPA NorCal conference may not technically be a "national" conference… but it certainly acts and feels like one, and at the least is a "nationally known" (and perennial favorite) regional conference. Conducted jointly by five northern California chapters of the Financial Planning Association, the event is actually the longest continuously running financial planning conference in existence (celebrating its 47th anniversary in 2019!), and sells out its ~500 advisor capacity every year.
The NorCal conference features national-caliber speakers, not only in its keynote sessions, but also across all of its 6 different breakout tracks – which ironically leads to a common frustration at NorCal of wanting to be in more than one session at once and having trouble choosing (though fortunately, NorCal includes a recording of all the conference sessions as a part of the registration fee so you can hear the sessions you couldn't attend!). And unlike so many other events, NorCal fully screens out and separates its sponsors from its content agenda – so there's no need to worry about attending a presentation that turns out to be a thinly veiled product pitch.
Another big plus of FPA NorCal is that it's also an excellent "destination conference." The venue itself is the stunning Palace Hotel in the heart of downtown San Francisco, and the event is run on the Tuesday and Wednesday immediately following Memorial Day, which means it makes for a great 5-day excursion to northern California (3 days over Memorial Day weekend to wander the city itself or head up to Napa or Sonoma Valleys, then 2 days at the conference, while deducting 100% of the travel airfare for your trip as a business expense!).
Notably, though, the high quality and long-standing reputation of the FPA NorCal conference means that it does sell out every year (as total attendance is limited to around 500 given the capacity of the Palace Hotel). So if you're interested in attending, don't wait too long to register!
Who Should Attend: Financial advisors looking for a well-run conference with high-quality content, and/or those who want a nice destination conference to travel to with a spouse. If you're only going to go to one "national" conference in 2019, and want to be confident you'll have a good experience at a reasonable price, you can't go wrong by going with FPA NorCal!
Details: May 28th – 29th at the Palace Hotel, in San Francisco, CA
Cost: Cost: 2019 Conference Registration opens December 17, 2018, with Early Bird rates of $749 for FPA members and $949 for non-members. As of Feb 2nd, Registration rates are $899 for FPA members and $1099 for nonmembers.
Conference Website: FPA NorCal 2019
Best Advanced Educational Conference: AICPA ENGAGE 2018 (Formerly AICPA PFP)


While the Financial Planning Association (FPA) is the largest membership association of financial planners, the organization's "open tent" approach to membership results in an extremely wide range of business models and experience levels, which in turn results in its Annual Conference providing a good breadth of conference content, but often lacking depth for more experienced practitioners.
By contrast, the AICPA's Personal Financial Planning (PFP) section is about half the size of the FPA, but by definition, its practitioner members are CPAs as well. And by virtue of having already completed the rigorous educational and exam requirements to receive the CPA license, its typical member tends to have a higher caliber of technical knowledge and depth, which in turn results in the AICPA PFP annual conference having a much deeper level of content for advanced practitioners (though a CPA license is not required to register or participate).
Unfortunately, though, in 2017 the AICPA restructured its conferences, converting the long-standing AICPA PFP conference from a standalone event, into a larger multi-section conference called "AICPA ENGAGE" instead… and in the process, suffered from substantial implementational snafus (from problematic meal quality to some rooms that didn't have enough seats for the attendees to sit down for the sessions themselves). As a result, even though the conference content itself remained strong, it was difficult to justify the $1,500+ price tag as a "premium" conference.
Fortunately, though, the conference bounced back on execution in 2018, resolving most of its prior implementation challenges, while maintaining its technical quality… and as a result, has returned for 2019 to the Best Conferences list again.
Over the span of 3 days, the PFP section of the AICPA ENGAGE runs 5 intensive tracks – Retirement, Investments, Tax/Wealth Management, Risk Management, and Practice Management – with a full-day agenda that starts with 7AM breakfast sessions and runs until 6PM in the afternoon, allowing the event to cram in a whopping 20+ hours of CE content.
In addition, the consolidation of the PFP conference into ENGAGE also brings two other advanced conferences under the umbrella that may be relevant to advisors – Advanced Estate Planning, and Tax Strategies for High Income Individuals. Consequently, registrations for the 3-day pass to AICPA PFP will automatically include access to the sessions at Advanced Estate as well (which runs concurrently on the same 3 days), and added one more day onto the event (the 4-day pass) allows access to the Tax Strategies conference as well (which runs on the 2nd and 3rd days of PFP, plus a 4th day of its own).
On the other hand, the fact that the AICPA PFP conference is just one small slice of a much-larger ENGAGE conference means that it's difficult to connect with other financial advisors (as the majority of other attendees are CPAs participating in other non-financial-advisor tracks), and as a result the networking and community experience suffers. Nonetheless, for advisors who just want to put the blinders on and focus on advanced educational content, the AICPA ENGAGE conference consistently delivers.
Who Should Attend: Financial planners who already have CFP certification (or a similar educational designation, or a Master's in Financial Planning) who don't really care about networking and are simply looking for more advanced conference content that really teaches them something new. This conference is best for advisors in a technical support (e.g., central planning department, paraplanner/associate planner) or client-facing role, who want to sharpen their technical planning skills and strategies.
Details: June 9th to 13th, at the MGM Grand in Las Vegas (or online, as the entire conference is available on Livestream as well).
Cost: $1,795 for the 3-day pass (which covers all of the PFP and Advanced Estate conference), or $2,095 for the 4-day pass (to stay for the final day of Tax Strategies), with a $150 discount for AICPA PFP members and another $150 discount for early bird registration by January 31st. Nerd's Eye View readers get an additional $110 off with KITCESPFP discount code!
Conference Website: AICPA ENGAGE 2019
Best Advisor Technology Conference: Technology Tools for Today (T3) Advisor Conference

The Technology Tools for Today (T3) conference is the largest of its kind – an event focused on technology solutions for financial advisors and wealth management firms that predates, by more than 10 years, the rise of the now-popular "FinTech" and "WealthTech" categories.
Functionally, though, the T3 conference operates less as a "conference" and more as a "trade show" – an exhibition-style event where advisor technology companies come to demo their latest wares and new or coming features. As a result, while there is an agenda of conference sessions, many are simply designed to allow companies to showcase their software… which isn't seen as "selling out" the session to a sponsor, but the whole point of the session in the first place.
Accordingly, the event is very well covered by the industry media and independent consultants, and many companies time major software or product releases to announce at T3, from the launch of Riskalyze Premier and its Autopilot Partner Store in 2017 to the new eMx release from eMoneyAdvisor and the newest Morningstar Office Cloud solution… along with many companies that make their formal debut at T3 (including CRM provider Wealthbox, advisor PFM portal WealthAccess, portfolio risk analytics tool RiXtrema, and compliance software provider RIA In A Box).
Thus, the T3 advisor conference should be viewed as the best way to take in the entire landscape of the advisor technology ecosystem. Which is valuable both for financial advisors who are "shopping" for new solutions – especially those making a transition to a more independent model, and trying to understand what may be available to them – as well as those who simply want to stay cutting edge and see the latest tools coming to the market. Many advisory firms simply come back to T3 Advisor every 2-3 years just to stay abreast of what's changing… while larger enterprises may attend annually in search of whatever new solutions are available to bring a little more efficiency to a more scaled advice firm.
Notably for tech vendors, though, the T3 conference is still not a "huge" buying audience for companies looking for new users (as almost half of the 600+ attendance is typically fellow software vendors, media, and industry consultants), and those looking for big "deal" opportunities would be better served by the T3 Enterprise conference in the fall (which specifically targets large broker-dealer and RIA enterprise decision-makers), or showcasing their solution in the XYPN LIVE FinTech Competition.
Nonetheless, the T3 conference is valuable for most vendors, both for the opportunity to gain at least some advisor users, introductions to some enterprise buyers who show up at the Advisor conference in addition to the fall Enterprise version of the event… and simply a chance to network with industry media and advisor tech pundits for visibility, and to establish relationships with other tech vendors that might be future integration partners (or even future strategic acquirers!).
Who Should Attend: Independent advisory firm owners (or those looking to go independent), and/or the staff member in the advisory firm responsible for technology decisions. Companies looking to provide tech solutions for advisors should also aim to attend, both to showcase their solutions to the media and consultants, and also for networking opportunities (and perhaps a few advisor user sign-ups as well).
Details: January 29th to February 1st, at the Denton Convention Center in Dallas, TX
Cost: $799, discounted to $599 ($200 off) for early bird registration ending October 31st, or $699 for advance registration ending December 31st. Nerd's Eye View readers get an additional $100 off with KITCES discount code!
Conference Website: T3 Advisor Technology Conference 2019
Best Investment Conference: Morningstar Investment Conference 2019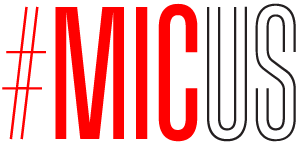 Despite the near ubiquity of investment management as a key aspect of what financial advisors do, it's remarkably difficult to find a "good" investment conference for advisors. On the one hand, organizations like the CFA Institute conduct a world-class event on investing, but it tends to be focused more to the core CFA audience – who are hands-on managers, often of individual stocks and bonds – and not necessary for the typical financial advisor who picks funds (or ETFs) and asset allocates them into a diversified multi-asset-class portfolio. Or the events are more "niche" oriented, such as the SRI Conference for those focused on Socially Responsible Investing, or Inside ETFs for those building solely ETF portfolios. At the other end of the spectrum are "investment" events that are really just a parade of wholesalers delivering their pay-to-play investment product pitches.
By contrast, the Morningstar Investment Conference has a history of finding the "right" balance between the two. Speakers at the Morningstar conference are often from asset management and product firms… but the speakers are typically the knowledge fund managers themselves, not just a wholesaler making a product pitch. And over the years, the sheer size and clout of Morningstar itself has allowed them to bring out the true investment management thought leaders as well, from Jeremy Grantham and Rob Arnott and Cliff Asness, to Bill Gross, Michael Hasenstab, and more.
Furthermore, the Morningstar conference typically has a number of panels that include Morningstar's own research analysts, who – again because of Morningstar's size and scope – have valuable and unique perspective on the broad trends underway in the world of investment management.
Who Should Attend: Financial advisors who are responsible for selecting investment funds or strategies, or design investment portfolios for clients, along with those who are members of an advisory firm's Investment Committee who are looking for new ideas to bring back (from Morningstar's huge exhibit hall of all things investment management!).
Details: May 8–10, 2019 at the McCormick Place, in Chicago, IL
Cost: $900, discounted to $675 ($225 off) for early bird registration ending December 31st, or $730 for advance registration ending March 15th. Nerd's Eye View readers get an additional $75 off with KITCES75 discount code!
Conference Website: Morningstar Investment Conference 2019
Best Conference For New Financial Planners: FPA NexGen Gathering 2019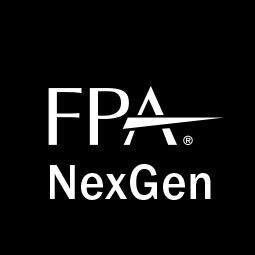 For most of the history of financial planning, new advisors were put through a limited sales training (at best) and then turned loose to find and service their own clients. Which meant that regardless of whether you were operating under an independent broker-dealer or in a "captive" insurance agency or broker-dealer, you generally had independence with and control of your time… including the opportunity to spend some of that time joining various membership associations to find your community of peers and expand your network of professional relationships.
In today's era, though, financial advisors are increasingly starting out as paraplanners or associate advisors in a full-time employee role, or as various "training" programs that entail several years of similar work. The good news of this shift to more employee-oriented roles for entry-level advisors is greater financial stability, and the opportunity to succeed over time without the threat of starving in an "eat what you kill" sales role. The bad news, however, is that being an employee advisor often means far less flexibility and control of your time, and a loss of access to the broader financial advisor community as more and more time is simply spent within the firm's own four walls.
To fill this void of lost community and networking opportunities for young advisors, NexGen was born. Now part of the Financial Planning Association, the FPA NexGen community includes more than 2,500 financial planners who are age 36 or under (required for membership), who share their experiences and provide support for each other through a combination of a private message forum, and an annual conference called the FPA NexGen Gathering.
Notably, though, the NexGen Gathering conference is not like traditional financial advisor conferences, focused on technical sessions for earning CE credits, or "practice management" (since more and more NexGen advisors are employees, not independent practitioners or business owners at the early stage of their careers). Instead, the content of NexGen is focused on what actually matters to NexGen advisors – which is primarily about personal/career development, and how to effectively grow yourself and your career, and navigate the dynamics of trying to climb the ladder and "make partner" as an employee at an independent advisory firm.
The FPA NexGen Gathering is a "must attend" for all those new financial planners who are trying to survive and thrive in their early years, and want to find a community of like-minded peers all looking to build long-term successful financial planning careers. In fact, the bonds formed in NexGen are so tight that many members stay connected to their NexGen peers years later by forming study/mastermind groups (once they "graduate" of the community after age 36).
Who Should Attend: The NexGen Gathering is best suited for financial advisors in their 20s. While the conference itself does not have an age limit (unlike the overall NexGen membership), the reality is that its membership is predominantly 20-something advisors who are still starting their careers, while advisors in their 30s with 10+ years of experience would be better suited to a more typical practice management conference, and career-changers in their 30s, 40s, or 50s – who enter financial planning with very different circumstances than recent college graduates – would be better served to go to a broader financial advisor conference like the FPA Annual conference.
Details: TBD
Cost: Not yet announced, but last year was an intended-to-be-affordable $249 for FPA members ($299 for non-FPA-members), with a $40 early bird registration discount, plus a separate discounted onsite lodging option (cheaper than local hotel costs for the multi-day event).
Conference Website: FPA NexGen Gathering 2019
Best Experienced Practitioners Conference (Go International!): Australian Finology Summit or UK's Back2Y Conference
Most financial planners became one for the purpose of serving their clients, finding fulfillment in helping clients to reach their goals. Over time, the focus of those goals have changed and evolved, as the financial planning profession itself has changed and evolved; in the early years, it was common to focus on insurance needs, estate planning, and college funding, while today it's more common to focus on retirement planning (and especially the decumulation aspects of retirement portfolios).
Yet the reality is that in today's world, it's not enough to just be focused on crafting the right recommendations for the right insurance and investment products for clients. Instead, it's also about figuring out how to most effectively communicate with clients and deliver those recommendations, so clients actually implement and follow through. Which means recognizing that what actually motivates the client to address their personal financial issues are, to paraphrase Tim Maurer, often more personal than actually financial.
And notably, while the particular investment and insurance products vary from one country to the next around the world, the nature of better communicating with clients about what really matters to them is universal. Consequently, despite the fact that historically financial planning practitioners around the world have traveled to the developed financial planning conferences in the US to learn best practices, now some of the most interesting conferences to emerge for advanced practitioners are now coming forth in other countries, that may be appealing to US-based advisors to travel abroad!
So for highly experienced financial planning practitioners, who are looking for some fresh perspective and insights, along with a chance to see how financial planning is being done differently in other countries – and perhaps as a good excuse for an incredible destination conference – this year's highlighted events for advanced practitioners include two international conferences of relevance to US financial advisors!
Australia Finology Summit 2019

The 2-day Finology Summit event in Australia is one of a series of conferences offered by Portfolio Construction Forum, the leading provider of continuing and advanced education for investment advisors and portfolio managers in Australia and New Zealand. Founded by Graham Rich – a former financial planner in the 1980s who went on to found a mutual fund research firm in the 1990s that was sold to Morningstar, and then established his Brillient publishing firm and conference offering in 2002 – Portfolio Construction Forum focuses its investment content around the five pillars of Philosophy, Markets, Strategies, Investing, and Finology… where the latter is meant to focus on how investment advisors can better relate to investors (i.e., their clients).
In recent years, it has been popular to classify various client "misbehaviors" around investing and their portfolios under the broad rubric of "behavioral finance," but in practice behavioral finance research has focused more on describing the various ways that investors may act irrationally, than what to actually do about it as a financial advisor. Whereas the Finology Summit, and its focus on "learning how [advisors can] better relate to investors," is intended to be much more practical in helping advisors to think differently about how to work with and communicate with clients.
Thus, while Portfolio Construction Forum's "Finology Summit" is not quite the expansive version of Finology as envisioned by Dick Wagner, it is focused squarely on the aspects that are most relevant to investment advisors themselves – how to better understand and communicate with our clients about investing, markets, and their portfolios. Which is only becoming more relevant than ever as financial advisors try to figure out how to better demonstrate and justify their own role and value proposition in a world where investment portfolios themselves are increasingly implemented through technology.
And of course, it doesn't hurt to get to learn all of this while traveling around the world to beautiful Sydney, Australia, during the thick of winter in February (which is actually the lovely mid-summer season in Australia!).
Who Should Attend: Financial advisors who manage client portfolios and are looking for better inspiration, ideas, and insights about to communicate with clients, or simply want a fresh perspective on portfolio management and working with clients by seeing how it's done on the other side of the world (not to mention being a good excuse for a destination conference to Sydney!).
Details: February 20th and 21st in Sydney, Australia
Cost: $955 (Australian dollars), discounted to $795 (Australian dollars) for early bird registration ending January 24, 2019, or $1,285 (Australian dollars) discounted to $1,045 (Australian dollars) to jointly attend the preceding Feb 19th "Markets Summit" (on investment markets), with early bird registration also ending January 24, 2019. Nerd's Eye View readers eligible for the discounted rate by using the code NEV2019 in the "Special Requests" field on the registration page! Please note that these early bird registration rates are for international residents outside of Australia or New Zealand.
Conference Website: Australian Finology Summit 2019.
Back2Y Conference


The Back2Y conference – which is shorthand for getting "Back To WHY" – is an event in the UK created by Paul Armson, a financial planner who pioneered what he calls "lifestyle financial planning," roughly akin to the "Life Planning" movement here in the US where the focus is not on financial services products, or just financial advice for advice's sake, but specifically on doing financial planning to help clients fit their money to the end lifestyle they want to achieve that will be most personally meaningful for them (or as Armson puts it, "financial planning with the end in mind").
From a practical perspective, the significance of this financial planning approach is that it is very much not focused around insurance and investment products, and instead is a fee-for-service model of delivering financial planning for advice fees, with a heavy focus on doing cash flow planning with clients to help them truly align their personal values and priorities with where their dollars are actually going.
Accordingly, Armson launched an online training program called "Inspiring Advisors" in 2013 to teach his financial planning approach, and subsequently launched the Back2Y conference as a gathering point for UK-based advisors making the transition from products to advice fees and a more "client-life-centered" approach to financial planning.
What makes the Back2Y conference unique, though, is not merely its content lineup around changing the way we work with clients to be more focused on the planning issues that really matter most to them – which is rarely to purchase the insurance or investment products the industry wants to push at them – but in recognizing that "lifestyle financial planning" is about being paid for advice from the client, and not the sale of products, the Back2Y conference itself has not only no sponsored sessions, but no exhibitors at all, and instead is – like fee-only financial planning itself – a fee-only conference focused entirely on the advisors it serves.
Who Should Attend: Financial advisors who are struggling to make the transition from products to advice fees and need to be inspired about a different way to create value for clients or fee-only advisors who are looking for new ideas about how to create and demonstrate a better value-proposition for clients to support their advice fees.
Details: September 26th, 2019 in Birmingham, UK (2 hours northwest of London).
Cost: £397, discounted to £297 for super early bird registration ending March 31st, or £347 for early bird registration ending June 30th. Nerd's Eye View readers are eligible for the discounted rate of £247 through March 31st, or £297 ending June 30th when using this dedicated registration page.
Conference Website: Back2Y Conference 2019
Best Practice Management Conferences: Excell, Insider's Forum, XYPN LIVE, and AICPA Summit
Historically, there have been relatively few practice management conferences for financial advisors. To the extent that an advisor was affiliated with a particular platform – from an insurance company to a wirehouse or even an independent broker-dealer – it was generally expected that the "mothership" would provide any/all of the necessary practice management resources. And even with the rise of the independent RIA model, the national conferences of the major custodians like Schwab and TD Ameritrade are still some of the largest financial advisor events of the year.
However, the real constraint on "practice management" content in the past was arguably just that most advisory firms weren't actually very big in the first place – often just a solo advisor and perhaps a (registered) assistant – which meant there wasn't much content necessary anyway. Most practice management advice effectively amounted to little more than tips for personal productivity and time management… and the rest was mostly about how to use the advisor's platform to conduct more insurance, investment, or other product business.
But the shift to various fee-for-service models, and especially the rise of the AUM model, has created the potential for – even if sometimes only accidentally – very sizable advisory firms, with multiple advisors working together in an advisor, with 3, 5, 10, or even dozens of staff members… and for whom there is a need for a whole other realm of practice management advice about how to start, run, grow, and scale an advisory firm.
Accordingly, in recent years, a growing number of practice management conferences have begun to appear. The events tend to be smaller than other traditional advisor conferences that offer continuing education credit – if only because a new tax law is relevant to all advisors, but a particular practice management topic may only be relevant to a small subset of advisory firms that are at that exact size/stage and have that exact problem.
Nonetheless, for advisors who really have hit a wall in their firms that they're trying to break through, the "right" practice management conference at the right time can be, literally, a life-changing breakthrough.
The key, however, is to find the right conference that addresses the relevant issues and problems of that particular financial advisor. Which is why, in the world of practice management content, there can't be just one "best" conference, but several… each for a different type of advisor, at a different career stage or a different size of advisory firm.
Transitioning From Advisory Practice To Business: Carson Excell 2019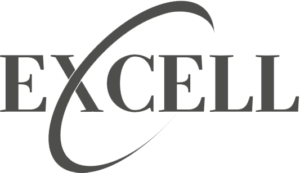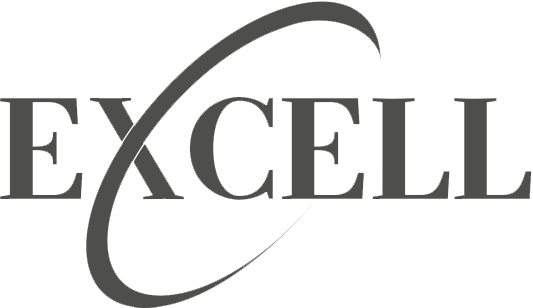 Thanks to the ongoing progress of technology and the efficiencies it brings, high-income solo advisory firms are amongst the most profitable that exist today, with the best netting as much take-home pay as the partners of $1B+ AUM ensemble firms. Which means the path to higher income as a financial advisor doesn't necessarily require growing a larger firm; instead, doing so is a choice to build a sizable advisory business that extends beyond just the founder.
The caveat, however, is that transitioning from a "practice" to a true business is very, very difficult. At best, there are substantial complexities in who to hire, and when, and how to train and develop them, while sustaining the overall growth and profitability of the firm. At worst, the shift from a practice to a business is a gut-wrenching personal transition for the founding advisor themselves, who must completely reinvent their own role in the business, and learn an entirely new set of skills, in making the shift from being an advisor who sees clients, to an advisory firm business owner who has to manage and lead a growing business (and may not see clients at all anymore!).
It was in this context that the well-known advisor Ron Carson – who was LPL's #1 rep for over 25 years, and one of the most successful at making the transition from advisor to advisory firm business owner – first launched his "Peak Advisor" coaching program (recently rebranded to the Carson Group Coaching platform), to teach other advisors how to make the same transition from practice to business, paired with a semi-annual conference for his coaching clients called Excell.
Last year, though, the Carson Group announced that it was opening up the Excell conference to any/all advisors who want to attend, with a stated focus of trying to make Excell one of the industry's all-around leading practice management conferences for those trying to make the transition from practice to business (typically advisors generating between $250k to $750k of revenue, who have "hit the wall" on personal growth, and need to transition the business to reach the next level), and included both in-depth practice management content and a number of high-profile business speakers (including Nexflix co-founder Marc Randolph, businesswoman and Huffington Post co-founder Arianna Huffington, and futurist Howard Tullman).
And recognizing that a successful transition to a business involves both a change for the advisor, and necessitates a deepening of the staff that supports the advisor, Excell is unique in offering dual tracks for both advisors and their support staff with separate "Advisor" and "Team" conference agendas.
Notably, because Excell is still part of the Carson Group Coaching platform, expect that the conference itself will likely still be at least a soft pitch for their Executive Coaching service as well (the original Peak Advisor program) and the Carson Institutional TAMP platform. Nonetheless, the reality is that many advisors going through the practice-to-business transition actually need coaching support to make the transition, and outsourcing investment management is increasingly common anyway, so getting to understand Carson's related services may be helpful for many! And the Carson Group maintains that it is focused on keeping the conference itself "pure" with practical takeaways.
Who Should Attend: Advisors (regardless of RIA or B/D) generating between $250k to $750k of revenue who want to make the transition from being an advisor to being an advisory firm business owner, either out of a desire to grow or the struggle of having "hit the wall" on personal capacity. Given the dual-track nature of Excell, advisors should consider bringing their support staff/executive assistant/operations manager as well.
Details: May 8th to 10th in Chicago, IL.
Cost: Cost: $925, discounted to $649 for early bird registration ending December 31st, or $849 for advanced registration ending a few months before the final conference date. Nerd's Eye View readers will receive an additional $150 off (any registration tier) with the KITCES discount code.
Conference Website: Carson Group Excell 2019
Best Conference For Larger Independent Advisory Firms: Bob Veres' Insider's Forum 2019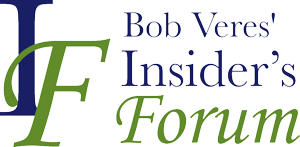 Bob Veres is the publisher of Inside Information, the longest-standing (and highly recommended!) newsletter for financial advisors on practice management for independent advisors, who several years ago decided to produce his own conference, originally dubbed the "Business and Wealth Management Conference," and now simply known as the "Insider's Forum."
Similar to Carson's Excell conference, Veres' Insider's Forum features separate conference tracks for advisors and their staff members. However, since the typical attendee at Insider's Forum is a mid-to-large sized independent advisory firm (e.g., "ensemble" firms that have at least $2M of revenue, 3+ advisors, and 10+ staff, including firms with $10M+ of revenue and 40+ staff) which have more specialized roles, so too are the Insider's Forum tracks more specialized, with one for advisory firm Executive leaders (e.g., Founders, CEOs, etc.), and a second for Operations leaders (e.g., Chief Operating Officers, Operations Managers, etc.). The latter includes sessions on cybersecurity, implementing technology tools for operational efficiencies, and tracking business metrics, while the former covers topics like succession planning, establishing employee compensation plans, and alternative fee models.
Also notable at Insider's Forum is its "invitation-only" exhibit hall, where vendors are hand-picked by Veres (who also personally selects and vets all the speakers) to ensure appropriateness and relevance for the independent advisory firm attendees.
Who Should Attend: Advisory firm owners/founders and key personnel at mid-to-large-sized growth-oriented independent firms (typically $2M+ of revenue and multiple staff and owners). Ideal attendees include founders/partners, CEOs, and COOs and Operations Managers.
Details: September 11th – 13th in Nashville, TN.
Cost: $995, discounted to $895 ($100 off) for early bird registration ending March 15th, or $945 for advance registration ending May 31st. Subscribers to Veres' Inside Information receive a $150 discount (which itself is available at a discount for first-time subscribers to the Nerd's Eye View Member's Section!), and Nerd's Eye View blog subscribers can also receive a $75 discount with discount code KITCESBVIF. (Not stackable with Inside Information subscriber discount.)
Conference Website: Bob Veres' Insider's Forum 2019
Best Conference For Serving Next Generation Clients: XYPN LIVE 2018 & FinTech Competition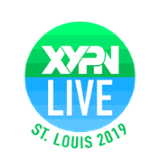 The ongoing transition of more and more Baby Boomers into retirement has been a boon for the AUM model, as retirement itself is a classic "money-in-motion" event that creates new opportunities for advisors to attract retiring clients. The caveat, however, is that as the prospective retiree's portfolio itself transitions from receiving ongoing contributions to making ongoing distributions instead, the advisory firm itself faces new headwinds as the withdrawals at best slow the growth of the advisor's asset base, if not causing an outright decline in billable assets.
The "solution" for most firms has been to take on an increasing focus in serving "next generation" clients instead… only to discover that Gen X and Gen Y clients don't fit an AUM model very well (given that they may have the financial wherewithal to pay for advice but often simply don't have available liquid assets to manage), and have substantively different advice needs (focused around student loan planning, career planning, cash flow and budgeting challenges, etc.). As a result, most firms trying to adapt their business and service models to reach next generation clients have struggled to do so.
By contrast, the XY Planning Network is a turnkey financial planning platform created specifically to support financial advisors who want to deliver financial planning to Gen X and Gen Y clients, built around a unique monthly subscription fee (i.e., a "monthly retainer") business model to serve that clientele. And to support its mission, the XY Planning Network conference brings together financial advisors who are currently executing the model successfully (along with those who want to learn) to share ideas and best practices with each other.
Accordingly, the XYPN LIVE 2018 conference is especially well suited to financial advisors who are trying to expand their services (or go independent and launch a new firm from scratch) to serve Gen X and Millennial clients. Tracks are focused on how to Start (launch), Run (operations), and Grow (marketing) a next-generation-client-focused financial planning offering, covering everything from how to structure and communicate your ongoing financial planning services, ways to structure a combination of monthly retainer fees along with upfront, hourly, or AUM fees to meet revenue goals, how to launch a Next Generation client offering as an "intrapreneurship" initiative within an existing advisory firm, and even ideas for how to bridge the income gap when starting out (via "side hustles").
Also notable at the XYPN LIVE 2018 conference is its (will be 4th annual) FinTech Competition, a platform for emerging financial advisor technology solutions focused specifically on helping advisors to serve younger clientele more efficiently (as technology efficiencies are crucial to being profitable when serving a younger clientele with a lower average revenue per client). Prior XYPN FinTech Competition winners include Snappy Kraken (which recently raised $1M of venture capital after its success at the FinTech Competition), and Vestwell (which also just raised venture capital a month after its FinTech Competition victory).
The XYPN LIVE conference is also unique for its exhibit hall, which features a wide host of financial advisor technology solutions and practice management consultants (i.e., solutions for advisors), with fewer than 20% of exhibitors directly related to insurance or investment products (i.e., solutions not for advisors but targeted at their clients' money instead).
Who Should Attend: Financial advisors who wish to either start their own practice serving Gen X and Gen Y clients, or who wish to launch a "firm within a firm" offering to serve Gen X and Gen Y clients within an existing (larger) advisory firm. The conference is open to advisors of any age, as long as they're focused on serving a younger clientele.
Details: September 9th – 11th at the Union Station Hotel in St Louis, MO.
Cost: $299 for XYPN members and $499 for non-members. An early bird discount of $199 for members and students, and $299 for non-members is currently available through December 31st, 2018. Nerd's Eye View readers can get a further $25 off at any time using KITCES discount code!
Conference Website: XYPN LIVE 2019
Best Conference For Advisory Firm Business Owners: AICPA PFP Summit

Most financial advisors operate practices, either as solo advisors or with a team of 1-3 support staff to help leverage their personal time and efficiency. The good news of operating a solo practice is that by simply building up to an advisor's maximum capacity (no more than 100 active clients), a solo advisory practice can be highly profitable when targeting a reasonably affluent clientele and leveraging good tools and systems. The bad news, though, is that growing any larger from there requires a fundamentally different skillset, transitioning the firm from a practice built around the advisor/owner serving clients to a business of advisors serving clients that the advisor/owner leads instead.
In this context, the agenda of the AICPA's PFP Summit is unique in actually being targeted to the advisor who has made the transition from practice to business and is now trying to improve in their role as a business owner and leader (rather than "just" being an advisor themselves). With sessions ranging from creating business plans to designing/adjusting the firm's pricing model to leadership development and even how to design the advisory firm's office space to best fit its target clientele, the PFP Summit is aimed squarely at advisors who now have the responsibility of managing a growing team and making firm-wide decisions who want better tools to make those decisions.
Notably, the format of the AICPA PFP Summit is unique as well. The event is hosted at the posh Terranea Resort outside of Los Angeles, with an agenda that is designed from the start to facilitate in-depth networking time with colleagues, including multi-hour afternoon breaks to allow time for activities like hiking, golfing, and even "team cooking" with other conference participants. Though the point is not just to have a conference that mixes in some fun activities alongside the presentation sessions, but specifically a structure that allows time for colleagues to have casual conversations to discuss the weighty practice management topics of the day.
For those who may have attended the AICPA's PFP Conference every January in the past – a 2.5-day technical content extravaganza that has long been recognized as one of the best Technical conferences for financial advisors – in 2017 the AICPA moved the PFP conference from January to June to become part of the larger AICPA Engage event. Accordingly, the PFP Summit was created to replace the former conference in the January time slot. Although while the AICPA PFP technical conference has historically attracted a large 1,000+ audience, the PFP Summit is intended to be much smaller and more intimate (apropos for the succession planning topic!), with a likely attendance of just 100 – 200 advisors or so.
Who Should Attend: Experienced advisory firm owners with $300k to $3M of revenue, managing a team of 3-15, who want to figure out who to become more effective owners and leaders of their businesses.
Details: January 7th to 9th (with a pre-event reception on Sunday January 6th) at the Terranea Resort in Rancho Palos Verdes, CA (a suburb of Los Angeles)
Cost: $2,295 for non-members of the AICPA, $1,895 for members. Registrations by November 30th of 2018 are eligible for a $75 Early Bird discount, and non-members may receive the $1,895 member base rate by the Early Bird deadline as well. And Nerd's Eye View readers can receive an additional $125 off with the KITCESPFP discount code.
Conference Website: AICPA PFP Summit 2019
Best Niche Conferences For Financial Advisors
In the not-so-distant past, actually delivering comprehensive financial planning advice was a meaningful differentiator from the overwhelming majority of competitors who put "financial advisor" on their business cards, but were ultimately just operating as financial salespeople trying to get their clients to buy a particular insurance or investment product.
However, the ongoing rise of financial planning, as embodied by the ever-growing share of financial advisors who have CFP certification, is slowly but steadily leading to a "crisis of differentiation," where it's simply no longer enough to say that you provide customized individualized personal financial planning advice to clients based on your credentials and years of experience as an advisor. Instead, it's necessary to have some kind of deeper specialization, or to target a more specific niche clientele, to effectively differentiate from the competition.
A notable side effect of this shift of financial planners from generalists to niche specialists is a rising need for more specialized conferences where advisors seeking to deepen that particular expertise can go to sharpen their ever-more-unique skillset, and find community with the small subset of other advisors pursuing a similar differentiator (recognizing that when most advisors cannot individually serve more than about 100 active clients, there is room for hundreds or even thousands of advisors to serve the same specialty successfully at the same time).
Accordingly, this year's "Best Conferences" list recognizes some of the best-of-the-best in a growing range of particular niches and specializations.
Best Conference For Specializing In Retirement: IWI's Retirement Management Forum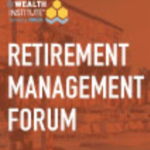 To the extent that the financial advisor is increasingly shifting towards assets under management, and the bulk of liquid investment assets are held by Baby Boomers nearing or in retirement, it is perhaps no great surprise that one of the most common niche specializations is to focus on retirees. Yet, again, with more and more financial advisors all pursuing the same retiring clients, it's not enough to "just" focus on retirees. Differentiating means really learning specialized knowledge about the issues that matter most for retirees.
Accordingly, there have not only been a growing number of retirement-centric designations in recent years, from the RICP to the CRC and the RMA, but also a number of specialized retirement planning conferences have been cropping up as well. Most have been delivered by trade publications, which pursued niche conferences – from Financial Advisor magazine's "Inside Retirement" conference to Investment News' Retirement Income Summit – as a way to differentiate and attract advisors away from the more "generalist" conferences of the various financial advisor membership associations. But last year, the Investments and Wealth Institute (formerly IMCA) acquired the Retirement Management Advisor (RMA) designation from the Retirement Income Industry Association and has now announced a new "Retirement Management Forum" (RMF) conference to complement its newly acquired designation.
And just as IWI has a long-standing history of conducting some of the industry's better conferences, including an investment-oriented annual conference in the spring and a separate private wealth management event in the fall, the new Retirement Management Forum conference provides IWI's usual blend of both practitioners and academics providing advanced educational content, with a purely education-driven agenda (unlike most "competitors" that still include a mixture of educational and sponsored sessions).
Who Should Attend: Advisors who specialize in retirement planning, or would like to move in that direction in the coming years and want advanced educational content on retirement planning issues
Details: December 9th and 10th, 2019 at The Diplomat Beach Resort in Fort Lauderdale, FL.
Cost: $1,095 for IWI members, and $1,295 for non-members who are willing to become members with a "Join & Go" pass. $100 off for early bird registration by November 8th. And Nerd's Eye View readers can receive an addition $100 off with the 19KITCES100 discount code.
Conference Website: IWI Retirement Management Forum
Best Conference For Deepening Fiduciary Specialization For Retirement Plans: Fi360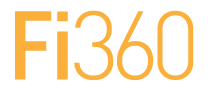 The ongoing debates over first the Department of Labor's fiduciary rule proposal, and more recently the SEC's Regulation Best Interest proposal, have brought a fresh focus to financial advisors wanting to qualify as and then market themselves as fiduciaries. But the reality is that being a fiduciary financial advisor isn't new – not only because RIAs have generally been subjected to a fiduciary duty for decades, but also because advisors who specialize in the employer retirement plan space have been consulting with plan sponsors and administrators on fiduciary issues under ERISA for decades as well.
And the leading organization providing training to advisors about how to fulfill their fiduciary duties to plan sponsors (or help train plan sponsors how to better do it themselves) is Fi360, which started in 1999 as the Center for Fiduciary Studies, and provides both education around the fiduciary standard of care and how to implement it, offers a fiduciary toolkit for financial advisors, and teaches the Accredited Investment Fiduciary (AIF) designation as well.
Accordingly, the annual Fi360 conference has long been the leading event that gathers together practitioners focused on best practices in actually executing the fiduciary duty. And while historically that education and implementation has been focused around qualified plans, arguably the content is relevant to an ever-wider range of advisors as more and more regulatory action suggests that the future for all financial advisors may inevitably be fiduciary.
Who Should Attend: Financial advisors who specialize in working with qualified plans as fiduciaries (or want to learn to do so), or those who generally want to deepen their knowledge of real processes and systems to fulfill their fiduciary duty.
Details: April 3rd to 5th at the Omni Nashville, in Nashville, TN
Cost: $1,195. Super early bird discount of $200 if registered by November 17th of 2018, or $100 early bird discount by February 16th of 2019. Additional $200 discount for advisors who already use Fi360 solutions, and Nerd's Eye View readers who miss the November 17th super early bird discount can continue to receive $200 off through final registration with the KITCES2019 discount code.
Conference Website: Fi360 2019
Best Conference For SRI/ESG Investing: The SRI Conference (formerly SRI In The Rockies)


Consumer surveys about investing trends are increasingly showing a desire of investors to align their portfolios with their personal values, especially amongst women and Millennials (who themselves are both a growing focus of financial advisors). Which in turn has even led Morningstar to launch a new kind of fund rating system, based not on Stars for a fund's performance, but "Globes" for its effectiveness on Environment, Social, Governance (ESG) factors.
And for financial advisors who are involved in such SRI/ESG investing, or especially those who want to learn more, the longest-standing conference on the subject is "SRI in the Rockies," sponsored by sustainable-investing-manager First Affirmative, and now simply known as "The SRI Conference" (nicknamed SRI30).
The content at SRI30 is a blend of discussion on the trends in sustainable investing itself – from new ways to evaluate companies on their environmental, social, and governance (ESG) factors, to new impact investing approaches, and more – and also an opportunity to meet the asset managers that provide SRI investing solutions.
As a result, SRI30 is both helpful for those who want to learn more about SRI investing, those trying to stay on the cutting edge of SRI trends, and financial advisors who perhaps want to add SRI investing solutions for their clients but are trying to figure out what investment solutions, exactly, are appropriate to use, and how to go about actually doing it.
Who Should Attend: Financial advisors who want to learn more about SRI investing, and/or are looking for new ideas on how to implement SRI strategies (using widely available funds and asset managers).
Details: November 11th to 15th, with the Advisor Summit Workshop (which goes deeper in how to begin implementing SRI investing in your client portfolios for the first time) taking place from the 11th to the 13th, and the main conference starting on the afternoon of the 13th.
Cost: TBD for 2019, but the 2018 conference was $1,195, or $1,395 for those who sign up for the separate "Advisor Summit Workshop" content as well. Nerd's Eye View readers get an additional 30% off with KITCES discount code (effective for the upcoming 2018 conference as well)!
Conference Website: The SRI30 Conference 2019
Best Conference For Implementing (More) ETFs: Inside ETFs 2019

The explosive growth of ETFs in recent years have not only led to massive net outflows of the entire equity mutual fund industry in the aggregate, but have even started to raise questions of whether "too many" investors are shifting from active mutual funds to passive ETFs in a manner could begin to undermine to destabilize market efficiency or even undermine capitalism itself.
Yet a deeper look at advisor trends suggests that in reality, advisors are not actually shifting from active to passive investing, but instead are simply disintermediating mutual fund managers and becoming the managers themselves, whether under so-called "Rep-as-PM" programs at broker-dealers or as independent RIAs. In other words, advisors aren't actually making a wholesale shift towards adopting passive investment strategies; instead, they're actively managing those passive investment funds, and are simply using ETFs (rather than individual stocks and bonds) as their trading tools of choice.
Accordingly, there is a rising hunger amongst advisors for really understanding both the mechanics of ETFs and following the latest trends in ETF product development that provides a glimpse into the latest tools that may be coming to market for client portfolios.
And in this context, there is arguably no better conference than "Inside ETFs," originally developed by the team at the leading ETF-tracking website ETF.com (and now operated by Informa). The conference features a very wide range of content, for both advisors newer to using ETFs in their portfolios, those who are looking for the most advanced information and content and ETFs, and a broad slate of investment/economic speakers about markets themselves as well.
The Inside ETFs conference also has the benefit of being one of the cheapest around, especially in the world of investment management – a tribute to both its size (as 2,000+ attendees helps to keep the cost down!), and its draw amongst ETF exhibitors (who pay a much higher price, and who you will periodically see on stage, but hopefully that's not a problem if you're there to learn more about their ETF product solutions in the first place!).
Who Should Attend: Financial advisors who invest primarily using ETFs or ETF strategies (or those who wish to start doing so!), who are looking for the comprehensive event on "all things ETFs."
Details: February 10th to 13th of 2019 at the Diplomat Resort & Spa, in Hollywood, FL
Cost: $445 for financial advisors in the "asset manager" category. (Much higher prices apply to non-advisor attendees.)
Conference Website: Inside ETFs 2019
Best Conference for Advanced Estate Planning: Heckerling Institute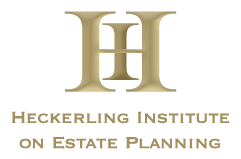 The ongoing rise of the estate tax exemption since the early 2000s has caused a precipitous 95%+ decline in the number of households exposed to Federal estate taxes, and the recent doubling of the estate tax exemption under the Tax Cuts and Jobs Act of 2017 has only further extended the trend, to the point that "Federal estate tax planning" itself is now an increasingly specialized niche.
At the same time, the dearth of estate tax planning opportunities for estate planning attorneys themselves is leading to a shift in the entire nature and focus of estate planning itself, which today is less and less about reducing estate tax exposure, and more and more about either the income tax planning opportunities in estate planning (i.e., how to maximize step-up in basis at death), as well as the asset protection strategies that can be implemented as part of an estate plan.
And for those who want to keep up on the latest of sophisticated estate planning strategies – from tax planning to asset protection – with a particular focus on the subset of ultra-high-net-worth clientele for whom such planning is still relevant, the Heckerling Institute is the conference of choice. The event typically features a true "all-star" lineup of the leading speakers (and practitioners) in advanced estate planning, from Jonathan Blattmachr to Howard Zaritsky, Steve Akers, Larry Brody, Gideon Rothschild, and more.
Notably, though, the conference is first and foremost an "attorney-centric" conference (literally hosted under the University of Miami's law school), and while financial advisors are welcome, expect to hear a lot of speakers citing Internal Revenue Code sections and parsing verbatim the words of the latest Treasury Regulations. Which means that while Heckerling is the best conference out there for financial advisors serious about learning the latest cutting-edge strategies, it's not for the faint of heart!
Who Should Attend: Financial planners who have a niche/specialization around (advanced) estate planning, or who serve ultra-high-net-worth clientele where these issues are relevant. Realistically, attendees should at a minimum have CFP certification, and ideally advanced educational designations/degrees as well; while not a "requirement" for the conference, it will be hard to keep up with the sessions without a sound technical estate planning background.
Details: January 14th to 18th of 2019, at the Orlando World Center Marriott in Orlando, Florida
Cost: $1,120
Conference Website: Heckerling Institute 2019
---
So what do you plan to attend? Do you have any conference favorites that I didn't include in the list? Please share in the comments section below!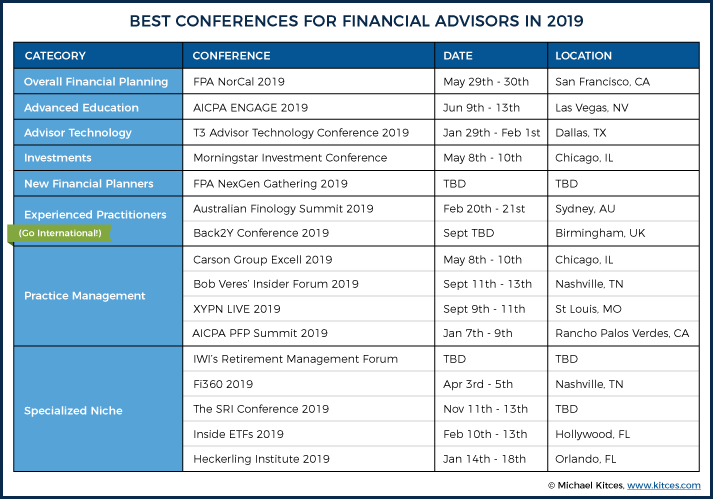 Disclosure: Michael Kitces is a co-founder and partner of the XY Planning Network, which operates one of the "best conferences" on this list.
---
Top Advisor Conference Badge:
You can embed a badge for your conference website or marketing materials using the following:
Copy the embed code below:
<div style="text-align: center; padding: 10px;"><a href="https://www.kitces.com/blog/2019-best-conferences-for-top-financial-advisors-to-choose-from/?utm_source=Top2019Conf_badge&utm_medium=Top2019Conf_badge&utm_campaign=Top2019Conf_badge"><img src="https://www.kitces.com/wp-content/uploads/2018/10/Badge_Top-Advisor-Conference_2019.png" alt="Best Conferences For Top Financial Advisors To Attend In 2019 – Rankings From Nerd's Eye View | Kitces.com" title="Best Conferences For Top Financial Advisors To Attend In 2019 – Rankings From Nerd's Eye View | Kitces.com" /></a></div><p>