Executive Summary
As someone who will speak at more than 60 conferences this year, I've participated in nearly every major conference available for financial planners. Given that there are so many conferences, though, it can be incredibly difficult for most advisors to select the right conference for themselves each year, and I am often asked for recommendations about what I think the "best conferences" are to attend.
Accordingly, I've started to craft my own annual list of what I would view as the best-in-class conferences for financial planners (in the US, at least!). Of course the reality is that what constitutes "the best" depends on the kind of content you're looking for, so I break down this year's list into several key categories: Best Technical Content, Best for Advisor Technology, Best Investment Management, Best for Advanced Practitioners, Best Overall Value, Best Virtual Conference, Best Practice Management, and Best Overall Financial Planning Conference.
Of course, the reality is that the conference season isn't even over yet for 2013; nonetheless, as we head into the fall, it's time to start planning for next year. So I hope you find this list (and some of the details it includes for getting discounts!) useful for you to use as your own guide in setting your conference budget and selecting events to attend for yourself and/or your staff for 2014!
***Michael's Note: See here for our latest 2021 Best Conferences rankings, and here for our Master List of Top Advisor Conferences for 2020!
(Events are listed in chronological order to facilitate planning and registration/early bird deadlines.)
Best Technical Content: AICPA Personal Financial Planning Conference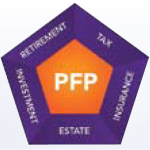 The AICPA Personal Financial Planning (PFP) conference has solidly earned its place as the premiere advanced technical content event for financial planners.
While focused primarily for CPA financial planners - the "other world of financial planners" - the event is open to any financial planner who wants quality advanced content, and non-CPAs are welcome. Similarly, the content is not just CPA- and tax-centric; while there is a wealth management track that is very income and estate tax oriented, there are also tracks for investment management (developed in partnership with CFA Institute and IMCA), retirement planning, and for practice management & technology.
Because of the high level of schooling necessary to get a CPA license before becoming a financial planner, the audience at the AICPA PFP conference are people who are serious about their craft and education, and the speakers know, leading to a level of consistently advanced content across the tracks. In fact, the consistency of quality from the AICPA PFP conference has allowed it to be one of the few events that's grown over the past 5 years since 2008, and the conference has nearly doubled its attendance in that time from just over 500 to more than 1,000 participants (bringing it to the #2 spot for the largest "pure" financial planning conference behind the FPA's national event).
If you're looking for continuing education that really teaches you something new in the technical realm, this is the conference to attend. For firms where the principals are focused more on business development than the latest in technical financial planning, they may wish to look elsewhere, but this is still a great educational conference for their financial planner staff members.
Who Should Attend: People interested in advanced financial planning technical content, including both senior financial planners, and newer planning associates looking for advanced educational content. Content relevant for any CFP certificant, regardless of whether or not a CPA. Notably, for those interested in the conference who cannot travel to it, there is an online/"virtual attendee" option (though it's not clear whether all sessions will be available, or just a subset)!
Details: January 20th - 22nd at the Aria Resort & Casino in Las Vegas.
Cost: $1,095 for AICPA members, $1,395 for non-members. Early bird discounts: $100 off if registered by October 12th, dropped to $75 off if registered by December 6th. Get an additional $110 off with "KITCESPFP" discount code!
Conference Website: AICPA Advanced Personal Financial Planning Conference (separate registration page for the online virtual PFP conference version)
Honorable Mention: An honorable mention in the technical content category goes to the NAPFA National Conferences, which now runs two events annually (in 2014 one will be in Salt Lake City in May, and the other will be in Charlotte in the fall). For NAPFA members, the NAPFA annual conference is always a great event for both education and connecting with the NAPFA community, and NAPFA has a great base of members who are serious about their craft. For non-NAPFA members - especially those who do not meet the NAPFA fee-only requirement - the AICPA event may be more appealing.

Best For Advisor Technology: Technology Tools For Today (T3) Conference

The T3 conference is run independently by practice management and technology consultants Joel Bruckenstein and David Drucker, with both content and sponsors hand picked by the organizers to ensure the conference is useful and relevant to advisor attendees. Born of their own frustration at the lack of quality content for financial planners specifically around technology issues, and an extension of their newsletter by the same name, the conference is now entering its 7th year and has become a staple of the financial advisor conference scene.
If you're looking to really see the latest developments from software companies that serve financial planners, from CRM to portfolio management and investment analysis tools to financial planning software to productivity apps and more, and a glimpse of the cutting edge coming to advisors in the future, the T3 conference is for you. Virtually all of the major technology vendors attend - and even time their big company announcements to coincide with the event, as the big Envestnet acquisition Tamarac was announced at a prior T3 conference and MoneyGuidePro announced their latest G3 release there as well - giving advisors an opportunity to talk directly to the companies that serve them.
Most firms send their principals to this conference for a look at available technology options, although larger firms are increasingly sending whatever staff member is responsible for their technology instead. Notably, the conference is also a good opportunity for companies aiming to serve advisors to "check out" their competition as well, though in practice the T3 conference has been responsible for a lot more collaboration and software integrations than competition (in fact, many advisor tech companies attend primarily for the opportunity to network with other vendors, and cultivating prospective advisors as users of their tools is just a "bonus"!).
Who Should Attend: Financial planning firm business owners, or the firm staff member responsible for technology, and companies looking to provide technology solutions to advisors.
Details: February 10th - 12th at the Hilton Anaheim Hotel in Anaheim, California.
Cost: $399. Early bird discount: $50 off if registered by October 31st. Get an additional $50 off with "2014T3Kitces" discount code!
Conference Website: Technology Tools For Today (T3) Conference
Best For Advanced Practitioners - FPA Retreat

The FPA Retreat conference has a long history of pushing the cutting edge in financial planning. It originated as a peer-to-peer style conference more than 30 years ago, for practitioners to teach each other their own best ideas and practices (in no small part because the event couldn't afford outside speakers anyway in the early days!). In light of its history, this event has an incredible loyalist crowd where many introduce themselves in the opening circle gathering by sharing how many times someone has attended the conference. Last year was my own 10th consecutive time going to the conference, and it is one of the only events I personally commit never to miss each year.
While the FPA Retreat tends to have a strong array of "advanced" content, it is different than the AICPA's advanced planners conference in that Retreat has a far more deliberate focus on the "softer side" of planning as well, and for many years was billed as the cutting edge of both the art and the science of financial planning. In fact, many major "cutting edge" developments in the financial planning world can trace their roots or first discussions back to Retreat, from a panel discussion that helped to birth the Morningstar style boxes decades ago, to the emergence of life planning, to the NexGen young planner movement, and the adoption of mind mapping in financial planning.
Notwithstanding its valuable content, though, participating in the FPA Retreat conference is as much about the peer-to-peer interaction opportunities with other experienced practitioners as it is the content itself. While the conference often has a great lineup, this is also the event you're most likely to miss half the content because you were caught up in conversation in the hallways and completely lost track of time (until you see people coming out of the session you had been planning to head in to)!
Who Should Attend: Experienced financial planners who are looking to challenge themselves, expand their mind around financial planning, or refresh and re-energize themselves - and who want to connect with others looking for the same thing.
Details: May 3nd - 5th at the Doral Golf Resort & Spa in Miami, Florida
Cost: To Be Announced, but 2013 was $1,149 for FPA members ($1,349 for non-members) with an early bird discount. Stay tuned to their website for further details.
Conference Website: FPA Retreat
Best Investment Management: IMCA Annual Conference

Though most conferences for financial advisors have an investment management track, there are few events dedicated solely to investment issues for advisors. If any organization can fill the void, though, it would certainly be IMCA (which actually stands for "Investment Management Consultants Association"). The IMCA annual conference, which was originally for their CIMA (Certified Investment Management Analyst) certification holders but has now grown, drew more than 1,500 attendees last year for an event solely dedicated to topics in investment management.
The distinction of the IMCA conference is that the content tends to be most relevant for investment-centric advisors and how they manage portfolios (and also has a strong wealth management component, with their growing CPWA certification program). By contrast, the most obvious alternative option in this conference focus - the CFA Institute's annual conference (see honorable mention below) - tends to tilt further in the direction of institutional investment management, and individual security analysis, and those areas of focus tend to be less relevant for individual financial advisors, especially with the recent rise of ETFs, tactical asset allocation, alternative investments, outsourcing, separately-managed accounts, and TAMPs. In other words, think of CFA Institute as an investment analysis conference, while IMCA is an investment management (and wealth management) event.
IMCA also has a strong reputation for investing heavily into the quality of its speakers and content. Expect to see some leading thinkers in the investment space, a heavy representation from finance academia (but with broad representation from "traditional" finance to the emerging field of behavioral finance), as well as a wide range of potential investment solutions in the exhibit hall.
If you're looking for a conference with some deeper investment content than "typical" financial advisor conferences, but not quite at the depth of CFA Institute, the IMCA Annual Conference is a great option for investment-centric advisors.
Who Should Attend: Investment-centric financial advisors, or a member of an advisory firm's investment team.
Details: May 4th - 7th at Hynes Convention Center in Boston, MA.
Cost: $950 for IMCA members (with $100 early bird discount by April 4th, 2014); registration fee is $1,095 for non-members and includes a one-year "Join & Go" IMCA membership (which is technically a $250 discount off the price of separately joining as a member and registering for the conference at the member rate).
Conference Website: IMCA Annual Conference
Honorable Mention: An honorable mention in the investment management category goes to the CFA Institute Annual Conference. Hosted in Seattle Washington and running at the exact same time as the IMCA event (also May 4th to 7th), the CFA Institute is without a doubt a high quality investment management conferences. Even if you're not a CFA charterholder (and especially if you are), those looking for a deep dive into investment management topics across the spectrum (though many contend CFA Institute has more of an institutional tilt) may wish to check out the event.
Best Overall Value - FPA NorCal

The FPA Northern California ("NorCal") region conference may actually be the longest continuously running financial planning conference in the country; while administered by several different financial planning predecessor organizations over the years, the conference has an incredibly rich history and is entering its 42nd(!) year. While it is technically a "regional" event - it's hosted by a consortium of five FPA chapters in the northern California region - this conference holds its own against any national conference around, with up to 6 simultaneous breakout tracks that are so quality it's actually difficult to choose just one. Simply put, this conference just oozes "quality" in everything they do, and they've been able to do it that way consistently year after year after year.
The added benefit of the NorCal conference is that you can get all this quality for a better deal than the price of most national conferences, which gives it the best cost/benefit value ratio of any conference around! And not only is the registration fee lower than many comparable events, but the NorCal conference is always held on the Tuesday/Wednesday immediately following Memorial Day weekend, which allows you to keep your travel down to 2 nights of accommodations (at least if you're already on the west coast), further making the conference even more affordable and a great value for the price.
It's notable that NorCal also makes a great destination conference as well - spend the weekend in San Francisco (or if you prefer, Napa or Sonoma Valleys just outside the city!), and then stay through for the conference itself.
The biggest caveat of the NorCal conference, though, is that due to the venue it uses, registration is capped at 500, and they do sell out and close registrations every year so if you're thinking about attending, don't wait too long to register!
Who Should Attend: People interested in an all around quality financial planning conference, packed together with great content for a great value in a great location. Appropriate for both firm owners and staff members.
Details: May 27th - 28th at the Palace Hotel in San Francisco, California.
Cost: To Be Announced, but 2012 was $779 for FPA members ($979 for non-members) with a $50 early bird discount. Stay tuned to their website for further details.
Conference Website: FPA NorCal
Best Overall Financial Planning Conference - FPA Experience (Business & Education)

The FPA Experience conference - now being renamed "FPA BE (Business & Education" is what I call "The Big Show In Financial Planning" - with an attendance of 2,000+ participants, it is the largest standalone event dedicated to and focused on financial planning and financial planners.
The conference typically includes a very wide range of financial planning content, covering both beginning technical topics and more advanced ones, and a track for practice management as well. Although the content is not necessarily "best in class" compared to the more focused technical conferences or standalone practice management events, FPA BE still provides the strongest all-around experience that means almost anyone who attends will be able to find some useful and relevant takeaways.
One of the biggest benefits of attending FPA BE, although sadly quite underutilized, is the conference's exhibit hall, which is by far the largest gathering of companies providing services to and for financial planners. If you're looking for a new solution, option, platform, product, or consultant to help round out your business, career, or client offerings, you should find a lot to choose from in the exhibit hall. And frankly, even if you're not specifically looking for a new solution, professional due diligence alone would suggest that any and every practitioner should make a pilgrimage to FPA Annual Conference at least once every few years, just to see the latest that's out there and available that you might not even be aware of.
Who Should Attend: Any financial planner looking for a conference to make connections with other planners, get some continuing education credit, and learn about the latest platforms, products, and solutions available for your business, career, or clients. Notably, this conference is also popular for those from the international financial planning community.
Details: September 20th to 22nd, 2014, in Seattle, Washington. (Notably, the 2013 event is underway shortly in Orlando, Florida, on October 19th-21st.)
Cost: To Be Announced for 2014, but in 2013 FPA member rates were $699 super early bird registration, $899 "regular" advance registration (deadline October 18th), and $1,099 registration at-the-door. Higher rates for non-members (but non-member attendance includes a one-year "Join & Go" membership in FPA). Significantly reduced student rates available.
Conference Website: FPA BE Conference Site
Best Virtual Conference - NAPFA iConference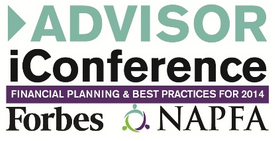 The NAPFA iConference, hosted jointly with Forbes, was the first major virtual conference available. It launched for the first time in the summer of 2012, and the second offering is actually coming up later this year in December of 2013. The iConference aims to bring high-end speakers (prior presenters have including Mark Tibergien, Rob Arnott, Bill Gross, and even Steve Forbes, along with popular practitioner speakers like Carolyn McClanahan and Scott Leonard), with content available over the span of two days (and archive access for a few months thereafter).
As noted earlier, the AICPA PFP conference will also have a virtual option for its 2.5 day conference, but the NAPFA iConference is not merely the live (or recorded) broadcast of an in-person event; the entire conference exists solely in the virtual world. And because it's entirely virtual, it is by far the least expensive conference and quality continuing education event available, given both its incredibly low registration fee, and also the fact that it requires no travel or accommodations to participate! Of course, the caveat to a purely virtual conference is that it has less opportunity to interact and network with other participants (there is an online chat room included in the conference package, but it certainly doesn't support the level of spontaneous conversation and interactions as an in-person gathering).
Who Should Attend: Those looking for a large chunk of quality financial planning educational content at a very affordable price, and without the constraints of travel. May be an especially appealing option for a firm to make available for all the planners in the office.
Details: To Be Announced for 2014, but the 2013 version is coming on December 4th -5th.
Cost: To Be Announced for 2014, but 2013 was $199 for NAPFA members ($349 for non-members) for a total of 8 CFP CE credits (plus some practice management content as well). For 2013, non-NAPFA members can receive $25 off using the discount code "Kitces" thru Nov 22!
Conference Website: 2013 NAPFA iConference Site
Best Practice Management: Your Custodian Or Broker-Dealer Conference
Practice management conferences have languished for years. At various times, practice management events are either run as a standalone (as FPA did with Business Solutions for years, and NAPFA has tried a few times too), as a track within a larger event (as the AICPA PFP conference does now), or as a pre-conference workshop (as numerous events still do). Unfortunately, none of these solutions have ever gained much traction; although some have blamed the lack of continuing education (CE) credit for practice management content as the culprit, more realistically the problem is simply that planners run so many different business models, with different services and structures and of varying sizes, that it's difficult to find practice management content that is specific enough to be relevant, yet general enough to have a "big" draw. The problem is further compounded by the fact that some of the key tools and services for most advisory firms are provided by their custodian or broker-dealer, which means any third-party conference can't possibly provide the necessary depth on at least some of the most important areas.
Accordingly, my recommendation for those seeking practice management content is to focus first and foremost on the major annual event hosted by their own custodian or broker-dealer. Given the size of some organizations, many of these events have become absolutely huge, as Schwab IMPACT and LPL Focus now pull several thousand participants. And these events are unlikely to go away any time soon, as the simple reality is that when these organizations help make their advisors more successful, it results in more growth and financial success for the organization as well, providing the crucial ROI that justifies a significant investment in quality practice management content. And as an added benefit, such events are often (though not always) made available with little or no registration cost to advisors on their platform.
If your primary goal is technology solutions in particular, the T3 conference may be a better fit for you (though some of the solutions may be unavailable on your platform for the time being). But if you're looking for content and ideas to take your practice to the next level, and get insight on the latest tools and offerings integral to your own practice, check out your own broker-dealer or custodian conference first.
On the other hand, if you're looking for ideas on a new custodian or broker-dealer to affiliate with in the first place, then you may wish to check out one of the bigger association conferences like FPA Experience.
Who Should Attend: Financial planning firm business owners.
Details: Varies depending on your own custodian or broker-dealer.
Cost: Often free or heavily subsidized for advisors on the platform.
Honorable Mention: An honorable mention in the practice management category goes to the Bob Veres-organized Business & Wealth Management Conference, which was renamed the Insider's Forum in 2013, and is intended for larger independent RIA practices that have their own unique business and practice management issues (tracks in those for CEOs, COOs, and CIOs and a firm's investment team). Dates for 2014 are September 9th - 11th, and the conference will be hosted at the Hilton Anatole in Dallas, Texas. Stay tuned to their website for further registration cost details and agenda information.
---
So what do you plan to attend? Do you have any conference favorites that I didn't include in the list? Please speak up in the comment section below!