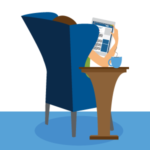 Enjoy the current installment of "Weekend Reading for Financial Planners" – this week's edition kicks off with the news that industry giant Envestnet has filed with the SEC to launch its first four ETFs, which will take an 'ActivePassive' approach that will take both active and passive investing approaches within the same ETF. And while Envestnet has previously used the 'core and explore' approach in its mutual funds, these will be their first offerings using the more tax-friendly ETF wrapper.
Also in industry news this week:
Client risk assessment provider Riskalyze is further expanding its product offering with 'Discovery', a tool that combines Riskalyze's risk assessment score with its proprietary investment risk-adjusted performance metrics to facilitate client portfolio construction for advisors
A new company is being formed that will support RIAs that want to provide Pooled Employer Plan (PEP) services to clients without running afoul of IRS rules
From there, we also have several articles on retirement planning, including:
A critique of Morningstar's suggestion that the "4% Rule" for safe retirement withdrawal rates should be lowered to 3.3%, from the financial planner who first wrote about the 4% Rule
New research shows how retirees increased their spending as a percentage of their pre-retirement income from 2016 to 2019… but subsequently cut back when COVID struck in 2020
How the new, streamlined Social Security statement better illustrates the potential benefits of delayed filing
We also have a number of articles on year-end tax planning:
How to reduce the capital gains tax impact from rebalancing investment portfolios after a strong year of performance in the stock market
How to determine which types of assets (and accounts) make for the most tax-efficient charitable contributions
Why cryptocurrency investors may see increased scrutiny from the IRS as it ramps up its efforts to enforce tax compliance on digital assets
We wrap up with three final articles, all about charting a career path and how it might change along the way:
Why mental models can be useful tools for individuals considering a career change
How individuals can facilitate 'hot streaks' in their career by exploring different areas and exploiting their skills once a promising opportunity is identified
The importance of understanding which 'career season' – growth, lifestyle, and reinvention – an individual wants to pursue at a given time
Enjoy the 'light' reading!