Executive Summary
With the coronavirus pandemic triggering widespread quarantines and social distancing, many advisory firms are implementing measures to set up their operations as a Work-From-Home (WFH) environment. While this allows everyone in the business to do their part preventing the spread of disease, it also poses challenges for these firms of simply staying operational and providing seamless customer service.
In this guest post from Matt Sonnen, CEO of PFI Advisors (a consulting firm that helps financial advisors build more impactful and profitable enterprises), Matt explains that in times of crisis such as the one we are currently facing, firms that switch to a WFH model have important decisions to make as they transition their employees and infrastructure to a new and unfamiliar way of doing business. For financial advisors, in particular, compliance plays a big role when implementing new technology solutions; specifically, firms need to ensure that client data remains safe and uncompromised (whether that be accomplished through a Virtual Private Network (VPN) or secure internet connections), and that all employees understand and follow safe cybersecurity guidelines.
From a Human Resources perspective, firms may need to provide employees who work from home with more flexible hours, as it can be challenging for some to balance personal and work responsibilities in a home setting (e.g., children or other dependents also staying home who may distract parents from working during normal business hours). Yet, at the same time, it is also very important for advisors to practice good leadership skills by communicating clear and specific expectations for all team members, making sure that everyone knows (or can quickly learn) how to function smoothly as a WFH team.
For financial advisors, business infrastructure considerations include not only the standard business tools such as computers, phone systems, and communication protocols, but also some RIA-specific requirements, such as custodial interactions; processes around performance reporting, trading, and rebalancing; and CRM and financial planning tools.
Ultimately, the key point is that, even though there are many considerations to make when transitioning to a WFH model, the flexibility granted to employees and technology tools available can make it a very practical move allowing for firms to continue operations and to provide excellent client service with minimal downtime. In these times when social distancing is crucial to mitigate the impact of coronavirus, the WFH model not only provides employees with the autonomy to continue working as a team while helping them to stay healthy, it also provides the firm with a good opportunity to 'test' the soundness of their business continuity plan and to identify ways to improve upon business operations once things begin to recover and go back to normal.
With the emergence of coronavirus late last year and its rapid spread over the past few weeks, the pressing question on most advisors' minds today probably isn't going to be "How do I set up my RIA for maximum efficiency and profitability?"
Instead, the pressing need right now is, "How do I operate my RIA at all should we be forced to close our office and have everyone work from home tomorrow?"
For advisors who already work from home, the last few weeks have been stressful from a market and client perspective, but in terms of the infrastructure of their business, it's been status quo. For those firms that have 3, 5, 10, or even 20 or more employees who are accustomed to working elbow-to-elbow in the same shared workspace, though, the idea of displacing everyone and working from home can be quite alarming and disruptive.
However, to assist with containment efforts, as recommended by the Centers for Disease Control and Prevention (CDC) and the World Health Organization (WHO), it is imperative that many businesses quickly shift to a work-from-home (WFH) model to protect their employees, clients, and communities. And soon may be outright required to do so by state or Federal authorities.
Many RIAs may not have systems in place for this working model, but thankfully there is an assortment of easy-to-set-up options that can make this transition short and relatively painless, and ensure that advisors and planners can continue to serve and communicate with their clients through this volatile market period. It is crucial to have a firmwide plan, a process, policies, and communication system in place so teams can function together smoothly through these turbulent times.
For those who want a starting place with some WFH considerations, we have compiled a sample "Employee 'Work From Home' Checklist" that you can download by clicking on the image to the right.
Compliance Comes First: Ensuring Changes Are Compliant And In Alignment With The Company's Business Continuity Plan
Before tackling technology, systems, and processes, it would be prudent for RIAs to first review the steps that need to be taken when transitioning to a work-from-home (WFH) setting so that any changes coincide with your written compliance policies and procedures.
Beyond SEC regulations, verify what your company's Business Continuity Plan (BCP) states about how the business should continue if the office becomes inaccessible. Even though most plans were written with earthquakes and hurricanes in mind, in theory, these BCPs should generally apply to pandemics as well.
If there are gaps or outdated information in the plan, they need to be updated to the minimum working level; for example, passwords to key systems need to be documented, steps for setting up Virtual Private Networks (VPNs) need to be recorded, and checklists need to be laid out as quickly and effectively as possible to ensure that all team members are aware of what role they play once the WFH model goes into effect.
In other words, the point is not simply to update "the plan" that says "in the event of disaster, our team will work remotely" but to specifically review the exact systems that will be used and steps that must be taken, and/or identify any gaps that may need to be plugged quickly (as we'll discuss in the remainder of this article).
Winthrop Wealth Management had their BCP plan tested last year when a fire decimated their office. Lucas Winthrop, the firm's COO, had this to say about our industry's current disaster recovery environment:
The right technology for your business can be costly and, as a result, can create a 'want' vs. 'need' dilemma. Before you evaluate technology platforms, it is important to understand where there might be gaps in your current infrastructure.

Being prepared is about strategic planning while staying current and making tactical changes or updates as things change over time. Technology continues to evolve at a rapid pace.

There are so many wonderful solutions to help businesses solve for gaps in their contingency planning. The best part is many of them are either free or very low cost.
Regardless of what shape a BCP takes, there are generally accepted best practices from a compliance and workflow perspective that need to be solved.
The first is that all company files cannot be stored on personal devices – that means that if a business is fortunate enough to have a shared drive such as Box set up, all email attachments or key documents must be created and saved within this system and cannot be saved directly to employees' personal computers or tablets. If your firm does not have a central cloud-based file system or document management software, implementing some solution will be necessary, as soon as possible (specific suggestions coming in later sections of this article).
For firms that use desktops and physical servers in the office, employees should access these on their personal devices through a Virtual Private Network (VPN, as explained further below) for proper, secure business functionality while employees are relegated to their homes.
Another best practice is to ensure each team member uses a secure internet connection to conduct business, especially when sensitive information is being sent and received. Most home Wi-Fi networks have a good level of security (denoted by the lock emblem next to the network name when connecting to Wi-Fi, and the need to enter a password when joining said network), but if there are any staff who do not have strong Wi-Fi connections in their homes, it needs to be made clear to them that for the safety and security of the firm's data, employees not utilizing a secure Wi-Fi connection must physically connect to their modem via an Ethernet cable or use their mobile phone as a secure hotspot instead of connecting to an unsecured Wi-Fi network. As even if you're not concerned about someone within your household misusing client files or data, if your WiFi network is open, then anyone outside and merely 'nearby' the house could access the network and compromise client data. (For which the most straightforward solution, again, is to activate password protection of your home Wi-Fi network!)
It is also incumbent upon the firm to educate staff from a cybersecurity perspective during this transition, as one errant click on a spam email link (which are unfortunately becoming more prevalent during this crisis), could open the door to a hefty fine from the SEC on top of the business impact already felt through this pandemic. Hopefully your firm has undergone training in this area already, but for firms looking to implement solutions quickly, check out services from KnowBe4 (which offers training programs for employees to quickly learn how to recognize and deal with spam, phishing attempts, malware, ransomware, and social engineering) and Cofense (which offers resources to help employees identify phishing scams, including those specifically using the coronavirus as a means to bait email recipients).
Human Resources: Accommodating For More Flexible Working Schedules And The Importance Of Communicating Clear Work Expectations
From a Human Resources perspective, there are several considerations that must be made when working from home. In the words of Bill Valone of TriNet:
With many companies activating work-from-home policies, it may be a good idea to review current PTO (Paid Time Off), vacation, and sick day policies as they relate to state-specific rules and their own company's cultural approach to 'leave' policies.

Avoiding confusion regarding working from home vs. a day off is important.
While there may be some companies large enough to offer their employees two weeks of paid-time-off during this turbulent time, most RIAs won't find this practice feasible, as they need to provide clients with continuous top-rated service. With the right model, though, firms can ensure that they meet the needs of their clients while also providing staff with the means to take care of themselves, as well.
Whether employees are working in the office or from a remote location, they need to be paid for their time. Most RIA employees are salaried, so there is no need for them to "clock in" or "clock out," but for firms that track hours spent on specific clients for client segmentation purposes, extra care will need to be placed on the tracking of hours by all employees across their respective homes. For these firms that do track time, employees can monitor time spent on the tasks/projects they are working on through a simple spreadsheet that they send to a supervisor to ensure client profitability numbers are still maintained during this turbulent time. Firms that have been tracking this type of data may already have a web-based tracking system in place that employees can log into remotely (some available options include the free Toggl app or the team-based Harvest program). For firms without a web-based program, , employees can access time-tracking tools through a VPN.)
If employees are sick and unable to work during standard business hours, then they should be encouraged to rest, and their sick time should be logged. Some companies have become more flexible with how much time is permitted to each team member, given the prevalence of this pandemic, and while business disruptions may require more work to be done to manage those disruptions, it's still important to keep in mind that overworked staff will lower productivity across the board, and feverish employees are far more likely to make costly mistakes.
With schools closed across the nation, parents are being forced to share their 'office' with their kids and are expected not only to maintain their workload, but to homeschool their children at the same time. This scenario is putting added pressure on working parents – something employers need to keep in mind. If employees are expected to maintain professional, calming, reassuring tones on the phone with clients during this turbulent time, maintain the business operations of the firm, and juggle child-care demands, employers need to do everything possible to make them as comfortable as possible.
Kitces.com and XY Planning Network, as well as AdvicePay, have rolled out an employee benefit to pay babysitter costs for up to $10/hour up to 40 hours/week for employees whose kids are home because their school system is closed. Yes, it's an unanticipated cost to the business in a down market, but it likely helps to buy employee focus and productivity back, in addition to being genuinely helpful to and appreciated by parents dealing with a lot of life disruption (not only of their work lives, but of their parent/home lives as well!).
Proactively communicating what policies are in place (what hours should each employee be available by phone and in front of their computer?), what concessions are being made due to these extenuating circumstances, and what general expectations are and should be maintained for various scenarios, are essential when transitioning to a WFH operating model.
Good Leadership & Accountability Practices Help To Maintain Professionalism And Morale
One of the most important things to keep in mind, especially through turbulent times, is how important it is for firms to understand the needs of their employees. This is a very stressful and disruptive time for everyone, and there will undoubtedly be bumps along the way -- staff will inevitably face challenges and technical problems head-on in this environment as they try to recreate their business practices from home.
As Shaun Kapusinski, Director of Technology and Operations for Sequoia Financial Group recently explained:
You want your team to be as close to mirroring their [normal office] work experience as possible, but the reality is, it won't be the same.

Not everyone has a second (or third!) monitor at home; internet speed is possibly slower (especially with kids being home and competing for Wi-Fi bandwidth with their parents); printing and scanning are not likely to happen as easily when out of the office.
The most important qualities that good leaders must demand from themselves are patience, courtesy, and proactivity, as they will inevitably face challenges and technical problems.
By maintaining a high level of professionalism, managers and other firm leaders will help encourage the same from their staff because, even though the work environment may be different, the core values and mission of the firm will remain unchanged. Similarly, by presenting a collectively calm demeanor among the firm, clients will be reassured that they are safe and being taken care of when they need the firm the most.
As far as managing workflow, employers may feel the need to micro-manage staff who are not within arms' reach, but cultivating a greater degree of trust and managing with a focus more on output than on process can give employees the autonomy they need to get things done, and also provides employers with an opportunity to trust (yet still verify) that their employees are meeting expectations for timeliness and quality of work.
That being said, expectations for projects should still be discussed and communicated with clear deadlines and specific metrics of success outlined at the front end; similarly, small milestones can be built in (and celebrated) as progress checks.
Employees still need to have clear guidelines and expectations (and some recognition and acknowledgment of their hard work!), and in reality having specific goals, deadlines, and milestones, is good management even in an in-person office environment. But in a virtual environment they do take on greater importance. Still, though, firms can provide these necessities for staff without the need to constantly check to see if work is getting done or not – doing so is exhausting and a poor use of valuable time. If you trust your employees to service your clients in the first place, they need to be trusted enough to do so even when they're working from home.
Office Infrastructure: Prioritizing Client-Facing Systems and Processes
When reorganizing the office infrastructure to shift to a WFH setting, firms should recognize that during a crisis is not the time to work on setting up the firm's ideal remote-working business plan. Instead, firms need to focus on making do with what is available, with as little additions and unnecessary changes as possible to stay functional.
Throughout the transition, client-facing systems and processes need to be prioritized, and the client experience should be kept as similar as possible to what it would be on any normal business day. This requires speed to quickly get systems up and running, and consequently firms will generally want to stay with trusted, brand-name providers that have a history and proven track record of success to meet the demand.
Computer Systems
In the words of Richard Mabbun, CEO of ITEGRIA, an outsourced IT management firm serving the RIA community,
Part of every RIA firm's BCP needs to include a plan for prolonged absence from the firm's office and equipment. This includes a stable and reliable means to securely access the information you need to function as a firm for an extended period of time. You need to consider being remote for two weeks or even two months and determine exactly how that effects your employees' and clients' experience.
As previously mentioned, for those who have a private server in the office, or only have desktops in the office, it is imperative that access to files stored there is maintained for all employees who conduct business from home.
The answer to this is the Virtual Private Network, or VPN. The VPN creates a secure tunnel, or 'private network,' between an employee's computer and the RIA's servers back at the office. With the aid of the VPN, the employee can access any of their regular files and programs on whatever device they are using at home. Assuming your onsite network is sitting behind a firewall, you can contact the firewall manufacturer and purchase a VPN license. Once you purchase your license to these services, the firewall manufacturer can provide instructions on how to connect your computers and securely access your files and desktops through the VPN.
For firms that can't go the firewall route, check out tools such as LogMeIn (https://www.logmein.com/home2) or TeamViewer (https://www.teamviewer.com/en-us/).Both solutions allow users to access their desktop and/or the firm's servers from their home device, and can be implemented fairly quickly.
For firms that have a cloud file system in place, such as Box or Dropbox, employees can access their files remotely through these websites. Firms should verify that they use a version of these services that allow for file permissions per employee to maintain compliance. Firms should verify that all permissions for employee access to files are correct—internal files should only be viewable by those who have emails that belong to the firm's domain, and client files should only be accessible with the client's email address (triple-check that the correct email is on record) and the advisor/client associate assigned to them.
To enhance security, it is highly recommended that firms deploy Multi-Factor Authentication (MFA) for the VPN or third party application (if the feature is offered).Most RIAs limit files related to the books and records of the firm to those in management. Again, firms should double-check the permission assignments of specific file folders as they activate these remote environment settings, so employees don't get access to private business files they weren't meant to have access to (e.g., the business's financials, or employee/HR files).
As mentioned earlier, not all employees will be set up with dual monitors in their home environment, which will cut down drastically on their productivity. Because it appears that many of these mandated stay at home policies will be in effect for several weeks, you may want to look into purchasing monitors (or sending monitors home with employees from the office) for employees that need them. Here is a Dell monitor and an HP model as reference.
Phones
To maintain a consistent client experience, offices equipped with Voice Over Internet Protocol (VOIP) phone systems such as 8x8 or RingCentral can easily have employees access their office lines through mobile apps on their cell phones.
If your firm uses a receptionist to answer the firm's main 800 number, VOIP systems also allow for them to receive these calls at home and route calls to the advisors and staff wherever they may be, with the client none the wiser. Old-school landlines can be physically forwarded to cell phones, but will require someone in the office to manually set up the forwarding at each extension before they leave the office. Phone service providers can offer instructions to set this up (though for most landline services, call forwarding can be set up by dialing *72 from the phone line to forward, waiting for a dial tone, and then entering the phone number where calls should be forwarded. Once the dialed number is answered, call forward will be in effect. *73 deactivates call forwarding once it is no longer needed).
If staff are accustomed to using headsets at the office, check if current headsets are compatible with cellphones. If they are not, Bluetooth-enabled solutions, such as the Plantronics Voyager x200 Series or Explorer 50 headsets, or models that feature universal headphone (3.5mm) or USB plugs (such as the more budget-friendly Mpow 071 headset), would go a long way in keeping staff productive while acclimating to a different work environment.
When it comes to video conferencing options, firms that use laptops as workstations can use the built-in laptop webcams and microphones that generally work just fine for video conferencing. If staff need webcams, either the standard Logitech C270 or higher-end C920S are highly rated online but are selling fast, so firms may need to be creative about which retailer they order from. Some video conferencing software solutions are discussed in the next section.
With both phones and webcams, firms should brief their staff on expectations and best practices such as finding a quiet environment for calls, ensuring that if they will be screen sharing with a client that they do not have any other client's information visible anywhere on their desktop, and verifying that their background is clean and professional if they will appear on a call. Make sure everyone tests their webcam prior to their first call with a client.
Communication Systems
During times of uncertainty, communication is paramount. As David Canter, head of the RIA segment for Fidelity Clearing & Custody Solutions states,
Maintaining strong lines of communication with all your stakeholders – including your team, clients, and business partners – is especially important when teams are working remotely.

Regular communication with clients helps reassure them that your firm remains focused on their needs and is committed to helping them in these trying times.

The current COVID-19 situation is truly unprecedented, and these communication touchpoints are not just important for us professionally, but also personally. Regularly checking in reinforces our sense of community.
As alluded to with the earlier mention of webcams, video conferencing and screen sharing capabilities will be essential for communication through this time of required social distancing. As it is vital to get face time with clients to assuage fears and soothe rankled nerves, vendors such as Zoom (offering one of the best solutions for group video calls and screen sharing so the whole client household, planner, advisor, and client associate can join if necessary) and Skype (offering high-fidelity one-on-one meetings, internet speed allowing) or GoToMeting (https://www.gotomeeting.com/) become key.
In regards to internal communication, having instant access to your team is crucial, as the situation in the markets and the world at large is changing moment-by-moment. Team messaging platforms such as Slack and Microsoft Teams can be leveraged to keep team members in touch with each other and feature the capability of organizing communication into themed 'channels', which streamline communication significantly.
Both platforms feature a very open infrastructure that works well for tech-savvy teams and also offer many useful integrations for automating messages, workflows, filesharing, saving, and much more. Microsoft Teams obviously has the benefit of integrating with Office365 suite applications, which gives it a potential leg-up on other programs (at least for firms already embedded into the Microsoft Office365 environment).
The connection that team members share with each other is also an important consideration in WFH environments. In the words of Shaun Kapusinski:
Communication to your team on a regular basis is key so no one feels like they're alone on an island. You don't want to lose the social connection that comes from being with others in an office -- some have never been isolated in their roles, so this could come as a shock.

Groups or teams could start each day with a touch-base call or video chat to keep that connection alive.
While these systems are great tools to facilitate communication, keeping track of which team member owns what task will still be a challenge. This is where project management systems such as Trello, Asana, or Monday.com come into play. Firms that already have robust workflows built out in their CRMs don't need these systems. But workflows that have been mainly email driven will be difficult to use as a sustainable practice in a fully remote workplace setting.
All of these systems feature an intuitive card system (which functions much like a set of "To Do" Post-it notes), checklist tools, completion tracking, automated reminders, self-populating deadline calendar, and ability to assign tasks to specific team members can be useful for freeing up email (so that it can instead be used primarily for client communication instead of tracking and managing tasks) and ensuring that nothing falls through the cracks as everyone is moving a hundred miles a minute in an environment where they can't just walk into one another's office to talk and ensure everyone is on the same page.
One other area to keep in mind when a firm's physical office space is empty and all employees are working remotely – incoming mail, which often includes checks, client instructions, and new account paperwork, needs to be retrieved at the office on a regular basis. An employee who (hopefully) lives close to the office should be assigned to stop by the office and retrieve the mail. If the current crisis escalates and the building is no longer accessible, consider forwarding mail to another address.
RIA-Specific Infrastructure Systems
Now that we have worked to recreate the basic office and communication tools in a remote WFH environment, it is time to focus on core RIA-specific systems, including Custody, Performance Reporting, CRM, Financial Planning, and Trading.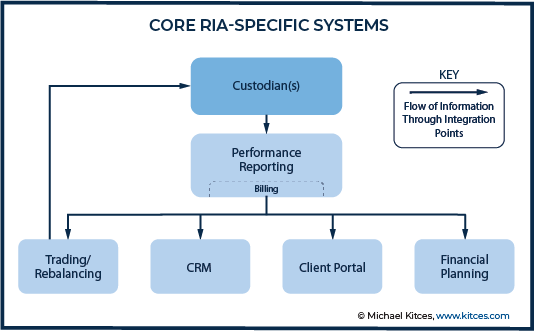 Thankfully, most of these systems are web-based today, and can generally be accessed fairly easily from any internet-connected computer or tablet, but each has nuances that are worth discussing in the context of transitioning to a WFH environment.
RIA Custody Or Broker-Dealer Interface/Tools
The custodial interface is the hub of most activity for an RIA, as that is where money movement, some trading on an account-by-account basis, and activity history can be viewed. Most custodians have options to access all of these functions entirely online, or through a combination of online and phone usage.
As of now, all custodians have maintained staffing at the various service centers, but hold times for advisor support may be increased. Whenever possible, firms should leverage the digital tools available from custodians, such as remote check deposit and digital money movement tools. All major custodians have been communicating with their RIAs regularly to ensure business continuity during this challenging time.
Performance Reporting
While most custodial performance reporting tools are web-based and provide advisors with easy access to view a client's asset allocation and performance data, clients often have access to the same information through their own client portals.
Accordingly, RIAs can expect an influx of client calls asking for their portal login credentials so they can review their performance (not to mention clients wanted to call about the performance itself to be soothed about the market decline); while it would be difficult enough to balance these incoming calls between employees sharing the same office space, it is even more difficult to handle these calls when they are being forwarded to one employee sitting at home.
This is where the internal communication tools such as Slack or Microsoft Teams come into play – client associates should use these tools to divide and conquer the workload collectively as a team, and to ensure all client calls are being returned in a timely fashion.
Performance reporting tools also allow the RIA to bill client accounts, which, if done on a quarterly basis, will need to be done in early April. Plans should be made as soon as possible to determine how the RIA will conduct billing practices should everyone still be working remotely at that time.
Clients will also be very anxious to receive their quarterly reports in a timely fashion – as such, RIAs need to plan in advance over the next few weeks how they will print and bind reports if they are usually mailed to clients. Any employees involved in the creation of reports and the electronic delivery to clients should start testing their remote capabilities immediately. Alternatively, for firms that were considering shifting away from printed-and-mailed quarterly reports to offering a client portal and encouraging clients to log in there, this may become a 'convenient' time to execute the transition when printing/mailing reports without access to industrial-size office printers may be difficult anyway.
CRM
With employees being displaced and unable to rely on proximity to keep each other informed of client activity, the advisor's CRM tool becomes all the more critical. RIAs must enforce policies around documenting client calls and should have a specific person assigned to verify that the practice is being upheld by all remote workers by checking client records for recent call activity.
With employees working from home, firms will not be able to rely on scribbling notes on Post-its and placing them on each other's desks. Those firms that have already instituted workflows within their CRM systems, and are accustomed to assigning tasks through the CRM, will have a leg up on other firms.
For those firms not accustomed to running back-office tasks through the CRM system, communication tools (such as Slack or Microsoft Teams mentioned earlier) and project management software (such as Trello, Asana, or Monday.com) should be utilized.
Web-based CRMs will be accessible by everyone, regardless of where they are sitting. For server-based CRMs, RIAs can leverage VPNs to access these systems remotely (we've spoken to several clients who are successfully navigating their server-based CRMs through VPNs this week).
Financial Planning
With the current market volatility, more and more clients will want to review and/or create updated versions of their financial plans with their advisors in the coming weeks.
Accordingly, advisors can prepare by practicing their web presentation skills, either through the financial planning tool itself or by using video conferencing tools mentioned earlier (e.g., Zoom or Skype) where financial planning software or financial plan reports/output are screen-shared. Practice sessions are most effective when held before any client calls or meetings, and can help advisors ensure their presentations are conducted in a professional manner.
Many RIAs use financial planning software tools as the backbone of their client portal – consequently, here again many clients who have never logged in will likely be calling and asking for their credentials, which, as mentioned earlier, can put a strain on remote employees. Firms can balance these incoming calls among team members by leveraging internal communication tools so that clients are being responded to in a timely fashion.
Trading/Rebalancing
With drastic swings in asset prices, some RIAs may be looking to make changes to their model portfolios and positions that are held across many clients/households. To ensure clients receive the same execution price when model changes are enacted, it will be impossible to enter trades one-by-one through the custodial interface.
Accordingly, where feasible (and depending on the size of the trade order), advisors can use custodial trading and portfolio management tools (e.g., using block trades placed on a firm's master custodial account, and subsequently making allocations across multiple individual accounts as necessary) to ensure trades made for various clients on the same day are also executed fairly among accounts. If you haven't been leveraging trading software prior to this disruption, the quickest way to get set up would be to look at the block trading capabilities of your custodian, or check with your reporting provider to see if they have a trading tool embedded in their software suite.
As with other RIA infrastructure systems, most trading and rebalancing tools are web-based, which makes it easy for team members working remotely to access. For firms using server-based tools, team members can access the tools through the firm's VPN connection.
Ultimately, when it comes to trading and rebalancing client portfolios, what is most critical is the communication among displaced members of the RIA's investment committee and those employees tasked with executing trades. Displaced team members need to be extra-vigilant to avoid trade errors, which could be extra-costly given the wild swings we are seeing from day to day (and hour to hour!). It is highly recommended that firms implement an additional review of block trades before a displaced employee submits orders from their home. Where teams could rely on in-person communication in the office as trade files were being built and ultimately submitted for execution, an employee "on an island" in their home is now building that trade file – a second (or third!) set of eyes needs to review that trade file before being submitted to the custodian for execution.
---
The coronavirus has wreaked havoc on the markets and has created never-before-seen environments in communities across the world. Clients and employees are under extreme stress, with continually changing circumstances, adding more and more pressure on everyone. However, some quick, easy-to-enact technology solutions, along with a firm's leadership and resolve, are what's needed most right now for firms to continue business as close-to-usual as possible. Advisors cannot over-communicate in times like these –with clients or employees.
I thought Mr. Winkler, my son's elementary school principal, concluded his weekend email with the proper tone when he said:
You can expect to continue receiving weekly e-blasts and updates on school happenings. We appreciate your support through safe, calm, and caring communication.

I expect we will make mistakes and changes as we navigate this challenging time. I also expect that we have left some questions unanswered.

Please be patient and remember this is a first for all of us; we are in this together.
In my mind, that type of communication should be shared with both employees and clients.
Once we are through this ordeal, advisors can take this opportunity to examine their firms' systems and policies for responding to emergency situations. Update business continuity and disaster recovery plans and be sure to test them regularly, moving forward.
Migrating file systems from a server-based model to a cloud-based model and updating hardware to match these capabilities can facilitate a transition to a WFH environment, and can also be incorporated as a BCP protocol in case emergency relocation measures need to be taken. And finally, choosing new systems for a firm to integrate into its workflows moving forward can turn a difficult situation into a fruitful testing ground for making the firm better than ever.