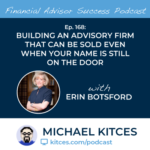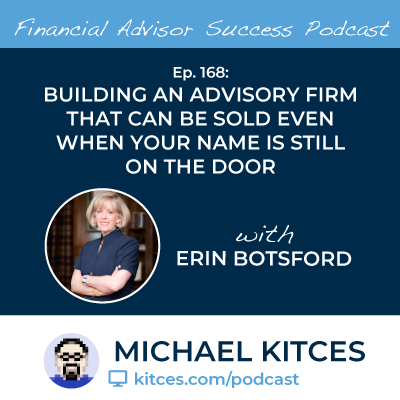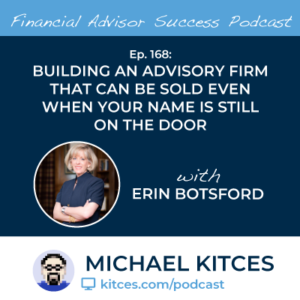 Welcome back to the 168th episode of Financial Advisor Success Podcast!
My guest on today's podcast is Erin Botsford. Erin is the founder of Botsford Financial Group, a hybrid RIA with the LPL platform that oversees nearly $1 billion in assets under management with offices in Dallas and Atlanta. What's unique about Erin, though, is the way she built and evolved her firm over the years, from being entirely centered around herself as the lead advisor, to the end where even still having her name on the door of the firm, Botsford Financial Group, presented no impediment at all to her selling the firm and transitioning the clients. Because in the end, it's far more about the mentality of the founder to build the business beyond themselves than how they happen to name the firm.
In this episode, we talk in-depth about how Erin built her advisory firm over the past 30 years, the transformation she went through after spending the first 10 years of her career working hard to grow to $300,000 in gross revenue and then, after a breakthrough coaching session, made a deliberate shift to transition herself from lead advisor of the firm to being rainmaker and CEO instead, and nearly 10X'ed  the growth of the firm in barely three years. How Erin developed herself into a lead rainmaker role for the firm after self-admittedly not being a natural business developer and the way that Erin balanced letting go of being the lead in client relationships but still maintaining vigilant oversight of the firm and know that the work was being done properly for clients.
We also talk about how Erin actually shifted control of client relationships and execution of the firm, the three-meeting approach she used to transition clients, next-generation advisors who would manage the relationship in the future, the after-action meetings that Erin conducted with her advisors after the client meetings to instill lessons about how to better manage those relationships, and the steps that she took to initially institutionalize all the firm's processes and procedures as someone who isn't naturally inclined towards writing out her own processes and procedures.
And be certain to listen to the end where Erin shares why she ultimately decided to sell her advisory firm, the reason she felt drawn back to the advisor industry to teach other advisors how she built her firm by tying it to one of her charitable passions, and the way that Erin came to embrace the radical authenticity approach that she now takes in everything she does after a breakthrough meeting early with a client whose child was suffering through a terrible accident similar to something Erin herself went through as a teenager.