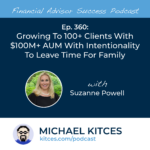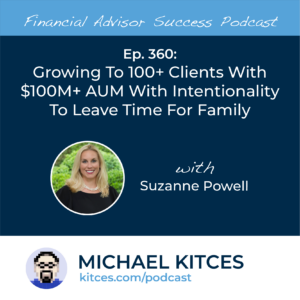 Welcome back to the 360th episode of the Financial Advisor Success Podcast!
My guest on today's podcast is Suzanne Powell. Suzanne is a Senior Financial Advisor at Meridian Wealth Management, an RIA based in Lexington, Kentucky, where she oversees approximately $110 million in assets under management for nearly 150 client households.
What's unique about Suzanne, though, is how she grew to more than $100M of AUM by intentionally organizing her schedule from month to month throughout the year, clustering client and nearly all of her prospect meetings in the Fall and Spring, allowing her to spend the remaining 6 months away from the office and with her family, while still not needing to spend much time on prospecting by leveraging (and almost fully automating her responses to) a steady flow of SmartAsset leads.
In this episode, we talk in-depth about how Suzanne has been able to drive client growth through the lead-generation service SmartAsset and dials the lead flow up or down depending on how busy her month is, the way Suzanne has set up a series of email and especially text message automations that allow her to convert a very high percentage of her SmartAsset leads into clients without needing to be available to immediately to inquiries reply herself, and how Suzanne has customized the targeting of which leads she buys from SmartAsset to ultimately generate nearly $70M of new assets over the past 5 years for less than $100,000 in cumulative marketing spend.
We also talk about how Suzanne structures her weekly meeting schedule to balance the need to have 5 to 6 meetings a day during her busy seasons while still having time to prepare for each meeting and complete follow-up tasks, how Suzanne uses a standardized client meeting agenda to stay on track and ensure each meeting fits within the allotted 1-hour time block, and how Suzanne leverages technology – including a large, retractable television monitor located next to her desk – to present and adjust her clients' financial plans during the meetings instead of presenting them with a physical plan (which saves essential meeting prep time during her busy meeting season).
And be certain to listen to the end, where Suzanne shares how she entered the financial advisory industry without a Bachelor's degree and how she earned her degree 20 years later by taking college courses while working full-time as an advisor and will now officially be able to become a CFP certificant, how bringing her own consistent and authentic presence has allowed Suzanne to convert prospects into clients several years after their first contact with her (because as Suzanne notes, the fact that someone doesn't become a client today doesn't mean they aren't still watching and keeping up with you!), and why Suzanne has taken an approach of not trying to work and save for retirement as a time to enjoy when she gets there, but instead has structured her busy-season-light-season approach to client meetings to allow for more space to enjoy trips and time with her family now, instead.
So, whether you're interested in learning about how to use a compressed meeting schedule to free up time away from your business, how to structure those meetings to effectively provide value to clients, or the tools Suzanne uses to automate the process of converting SmartAsset leads to viable prospects, then we hope you enjoy this episode of the Financial Advisor Success podcast, with Suzanne Powell.