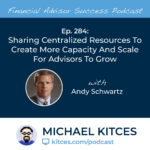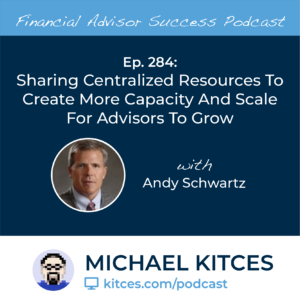 Welcome back to the 284th episode of the Financial Advisor Success Podcast!
My guest on today's podcast is Andy Schwartz. Andy is a partner of Bleakley Financial Group, a hybrid advisory firm based in Fairfield, New Jersey that broke away from a major insurance company and in just a few years nearly tripled its size to over $9 billion in assets across more than 50 advisors.
What's unique about Andy, though, is how he and his partners have built their firm into a platform that gives advisors the opportunity to leverage centralized large firm support services such as marketing, technology, compliance, and human resources, while still maintaining the freedom to run their own investment book of business how they see fit for their clients.
In this episode, we talk in-depth about how Andy and his partners run their firm as a form of cooperative with advisors sharing resources and additional services, to provide space and capacity to grow and scale their own practices, even including an in-house life coach (for both their advisors and their clients), how Andy and his partners purposefully do not receive any compensation as equity owners (making a living purely from their own practices' P&L) and instead reinvest money generated by the firm back into the business to provide even more services their advisors can leverage, and how Andy attracts new top talent by not only trying to offer capacity and scale that is aligned to their advisors, but doing so while supporting a wide breadth of RIA custodians to give their advisors flexibility.
We also talk about how Andy accidentally started his financial services career in college by selling life insurance to college seniors after looking for a way to pay for his education, how after working at a large insurance broker dealer for over 30 years and becoming frustrated with corporate constraints, Andy made the difficult decision to walk away with his $3 billion practice and start his own firm, and how Andy approaches his leadership of the firm by viewing himself as a player and a coach (rather than simply an executive) as he maintains his own practice within Bleakley to show solidarity and create alignment with the other advisors in the firm.
And be certain to listen to the end, where Andy shares how, despite working hard for more than 3 decades on building an advisory firm and reaching $9 billion in AUM, he is still surprised at just how far it has grown over the years, how Andy has taken the approach that the moments when things go wrong can be viewed as learning and growth opportunities to better himself and to lessen the regrets he has in his own life, and why Andy believes it's the combination of building credibility, and our own financial resources, that is the key to position oneself to truly make an impact as an advisor.
So whether you're interested in learning about how Andy runs his firm as a cooperative and is able to offer advisors freedom and shared resources to leverage for their own practices, why Andy intentionally forgoes equity compensation and instead reinvests in tools and resources for the firm, or how Andy applies his unique leadership role to not only help his own practice reach their goals, but to also guide the firm as a whole to reach $9 billion in AUM, then we hope you enjoy this episode of the Financial Advisor Success podcast, with Andy Schwartz.