Executive Summary
When deciding on a marketing strategy to pursue, one of the key factors for financial advisory firms to consider is efficiency. Different strategies have different Client Acquisition Costs (CACs), in terms of both hard-dollar marketing expenses and the cost of the advisor's time spent on the strategy, and an efficient market strategy is one that can effectively attract new clients while minimizing the amount spent to acquire them. According to the most recent Kitces Research on Advisor Marketing, one of the most efficient marketing strategies is Search Engine Optimization (SEO), which involves taking a series of actions meant to get an advisor's website listed at the top of the rankings of a search engine like Google for specific search terms. And yet, despite costing only a fraction of the amount to acquire each client that other marketing methods like paid advertisements, podcasting, or social media do, fewer than a quarter of advisors reported using SEO as part of their marketing strategy – which is more than likely a function of the perceived cost and/or complexity of deploying SEO effectively that often leads advisors to avoid SEO in favor of more familiar (but potentially less efficient) marketing strategies.
However, advisors don't need to become an expert in SEO themselves or hire an in-house expert to do it for them, as there are a host of outsourced SEO providers who have the technical expertise needed to effectively leverage SEO. And when deciding between providers – which have a wide range of skills and reputability – having a basic understanding of fundamental on-page and off-page SEO principles and the type of work that SEO providers typically do can be useful for advisors to find the right SEO provider to work with. Furthermore, knowing how to gauge the effectiveness of the provider's past work (as well as their performance for the advisor over time) by assessing keyword ranking reports, consulting with existing clients of the SEO provider, and asking about the provider's experience in the financial services industry can help advisors pinpoint providers who will provide the best and most cost-effective strategies to make the best use of the firm's marketing dollars.
Notably, the point of an SEO strategy is to drive users to an advisory firm's website so that those visitors can eventually be converted into paying clients. But to do so, it's necessary for the website itself to be designed to drive conversion. Importantly, the focus of most outsourced SEO providers is not on client conversion, but rather simply on getting them to the advisor's website. In other words, if the website isn't properly set up beforehand to convert visitors into clients (e.g., by including calls to action, tools to contact the advisor and schedule meetings, or newsletter signup forms), there's a good chance that any money spent on SEO will go to waste if there's nothing encouraging visitors to take steps towards becoming a client!
Ultimately, the key point is that despite its reputation as a black box, there are concrete ways to measure the success of an SEO strategy, and hiring a third-party SEO provider doesn't need to be a guessing game. By creating a process to identify the key data, monitor and discuss progress regularly with the SEO provider, and test different SEO techniques for their effectiveness (e.g., by using paid ads) before committing to a bigger and more expensive strategy, advisors can better capture the potential of SEO as a gateway to connect with a broader audience, amplify brand presence, and drive unprecedented business growth!
Search Engine Optimization (SEO) is a series of activities with the goal of getting your website listed at the top of search results for specific search terms. For example, the phrase "retirement planning" is entered into Google's search engine approximately 40,000 times a month in the United States. Imagine your website being the first result listed every time someone entered "retirement planning" in Google! If 5% of those searching the term visited your website, that would be 2,000 visitors. If just 0.1% of those visitors turned into clients, you would have 2 new clients a month. That is the power of Search Engine Optimization.
SEO As A Powerful Marketing Strategy For Financial Advisors
While the example above is theoretical, Kitces Research on Advisor Marketing (April 2022) confirms that SEO can be an extremely successful strategy for investment advisors. According to the study, SEO had the lowest Client Acquisition Cost (CAC) of all marketing tactics evaluated (where CAC represents the total cost in terms of either hard dollars or the 'time cost' – the number of hours the advisor spends to get a client, multiplied by the cost of their time based on their own compensation – divided by the number of clients the strategy produces).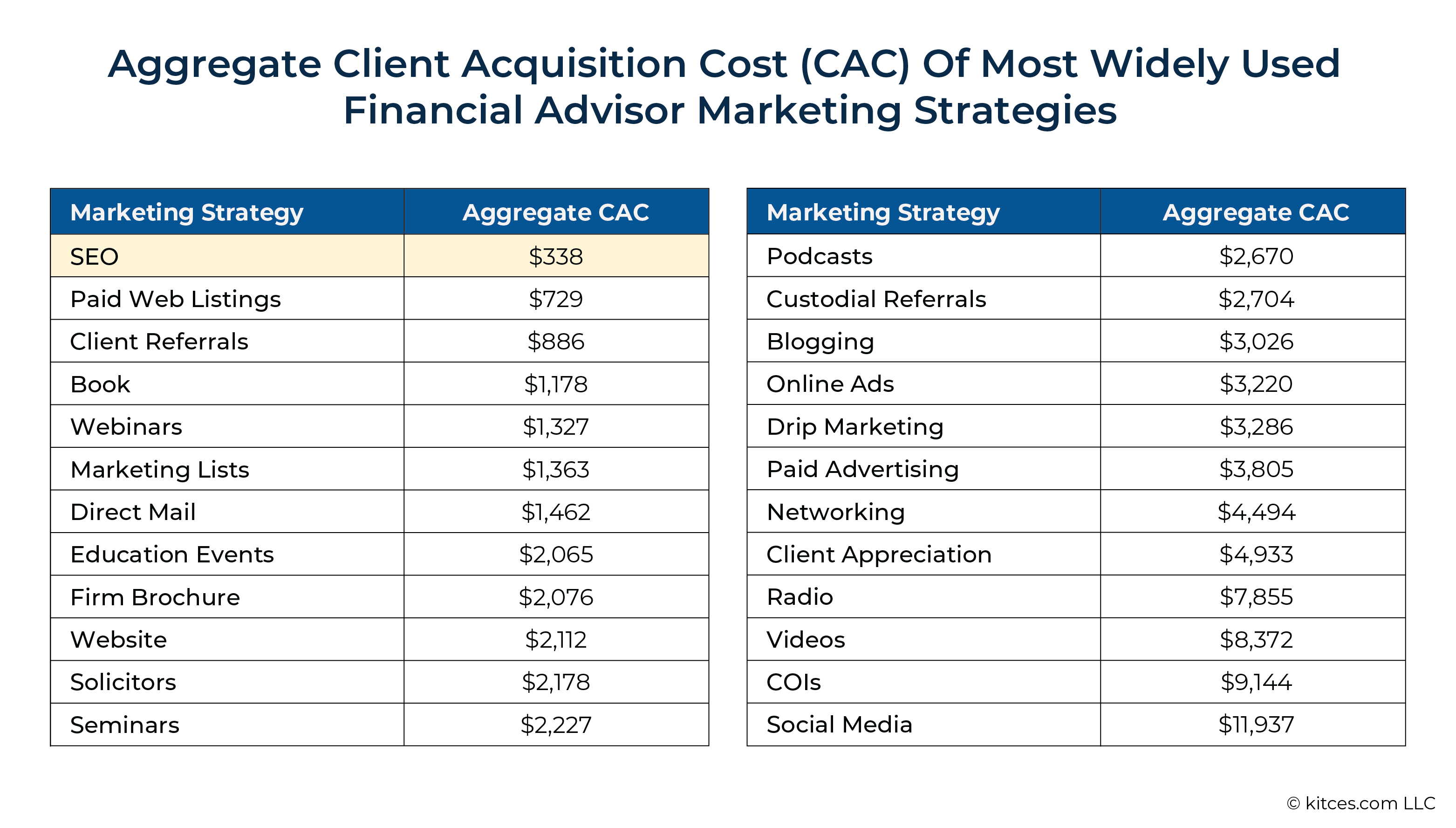 Further, SEO ranks 2nd for marketing efficiency, just behind client referrals. Despite these rankings, only 22% of advisors in the survey used SEO as part of their marketing strategy.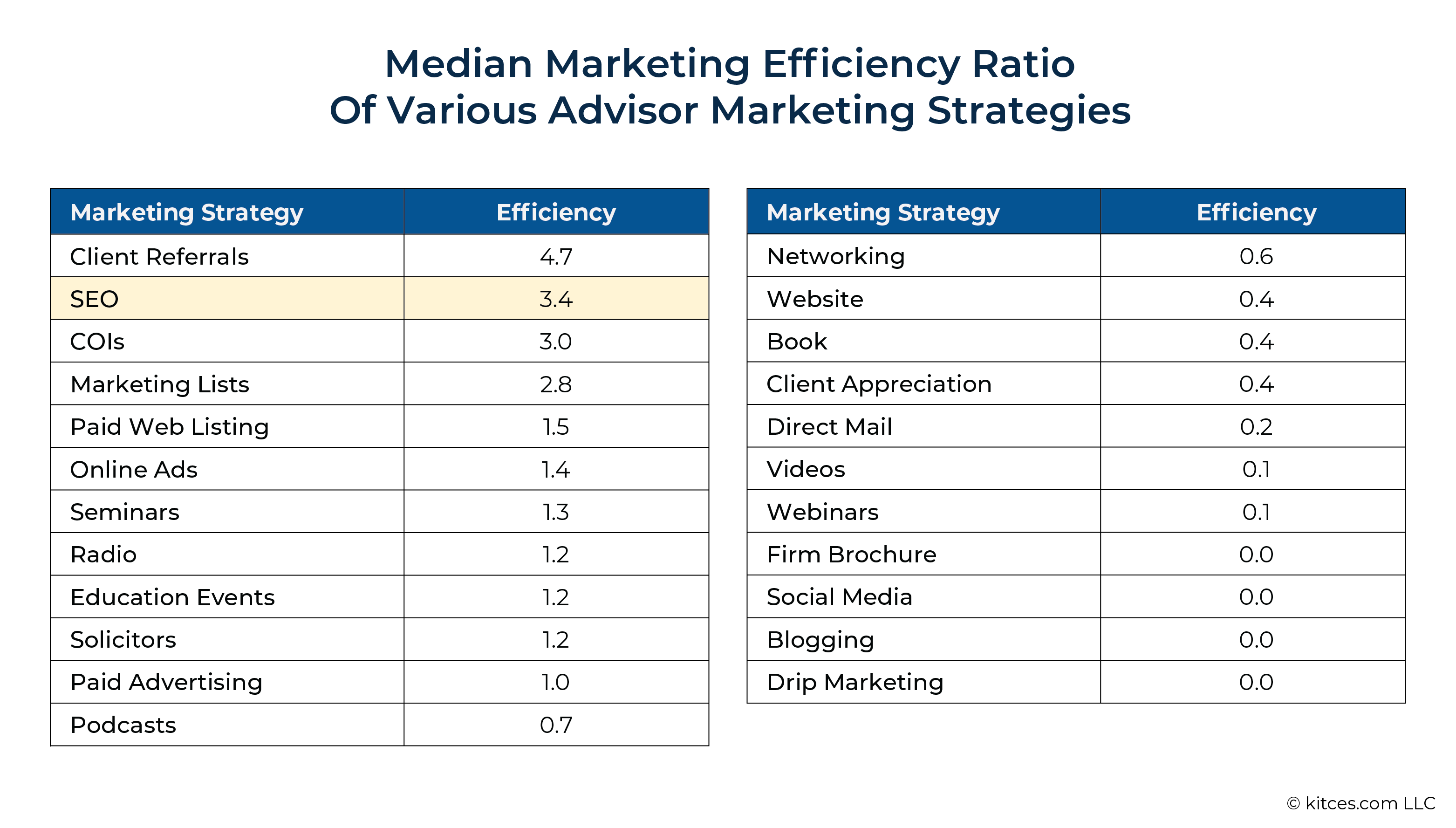 Given its effectiveness, one would think more advisors would use SEO as part of their overall marketing plan. Unfortunately, SEO has some drawbacks that may limit its adoption. It can be expensive, take a long time, and seem like a black box, making it difficult to understand just how it works. Imagine getting approached by a consultant specializing in SEO. They offer a strategy that will cost you $3,000 a month. It will take 1 to 3 years to work, meaning you need a total investment of $36,000 to $108,000. Finally, they will not be able to articulate how it works or what your money is doing. That strategy does not sound very compelling.
The End Goal Of SEO: Website Conversion
But what is the whole point of using SEO? Why does it matter where your website ranks in a search result? The answer is all about getting more conversions. Conversion is when a website visitor takes a specific desired action, and the conversion rate is the percentage of visitors who carry out the desired action. And when your website ranks higher in a search result, that helps more visitors to actually see your website in the first place… which means there are more opportunities for conversions!
For financial advisors, a good example of a desired conversion would be for a website visitor to schedule an appointment through the online calendar system. If you had 100 unique visitors to your website and 5 of them scheduled a meeting with you as a result of visiting your website, then your conversion rate would be 5%.
But just because more visitors come to your website doesn't mean that more conversions are guaranteed to happen. There are actually 2 crucial elements involved in determining how many conversions actually happen: the number of visitors and the rate of conversion. Contrast 2 different SEO results that drive traffic to a website. Website A ranks very highly in Internet search engine results; it receives 1,000 unique visitors in 1 month and converts at a 1% rate. That website will have 10 new meetings booked. On the other hand, Website B only receives 100 unique visitors but converts at a whopping 10% rate for 10 new clients as well.
Website A: 1,000 visitors X 1% conversion = 10 new clients
Website B: 100 visitors X 10% conversion = 10 new clients
So even though Website A got 10X more visitors than Website B, Website B still got just as many conversions because it had such a good conversion rate. The reality is that SEO is used to drive traffic and increase the number of visitors; it does not necessarily improve conversion. Which means that you want to make sure that a visitor to your website can easily reach you via your website and do whatever it is that you are counting as a conversion – whether it be to sign up for an email newsletter, schedule an appointment, or ultimately become a client – before you spend money on SEO.
If the "Contact Us" section is buried or your phone number is placed in fine print at the bottom of the page, it will be difficult to convert the visitor. You could be spending $5,000 a month on SEO and driving lots of traffic, but if the location you are driving to does not support the visitor's conversion, you will simply be wasting your money.
Demystifying The Role Of SEO Providers
Given all of the technical complexities and required knowledge that come with designing and implementing effective SEO strategies, SEO will almost always need to be an outsourced activity. How can advisors select the right partner? How can they evaluate initial activity to ensure their dollars are being spent effectively?
To help answer these questions, we will look at the core functions of an SEO provider and clarify some of the common terms used. An SEO provider will provide 4 essential services for financial advisors:
Website Optimization

: They will make sure the website is well organized for the search engines and that it loads quickly.

Keyword Strategy

: Keywords are the terms entered in the search engine text box. With the advisor's input, an SEO expert will offer guidance in selecting the right keywords for the advisor's business. Notably, when it comes to keyword selection, consultants talk about competitiveness. Competitiveness refers to the number of people searching for a set of keywords and the difficulty in getting your site to rank or appear at the top of the search results. The strategy will need to balance keywords that are relevant for your business, the search volume for those keywords, and the investment required to rank in the search engines for those keywords. For example, "retirement planning" is a highly used search term, and it would be difficult to get your site on the first page of search results with that phrase, not to mention the broad scope of topics it involves. However, while "retirement planning for Goodyear employees" would have a much lower search volume (i.e., it is much less competitive), it would also be easier to rank for and is much more likely to represent the service actually provided more accurately. You know your business, and the SEO provider knows the strategy. You will need to work together to create an optimal outcome.

Content Creation

: They will create content on your site as well as other sites that will lead visitors back to your site. People are asking questions in the search engines. Your content provides the answer to these questions. The more content you provide to answer these questions, the more opportunities search engines have for recommending your site to searchers. What may be less obvious is that your provider will also create content to place on

other

websites by embedding links in the content that point back to your website.

Link Building

: Link building is the process of getting links on other websites to point back to your website. This is one of the most important and misunderstood parts of SEO. If 2 web pages are nearly identical and both talk about "retirement planning", which one should rank higher? How does a search engine make that determination? They use links pointing from other websites as a voting system for which web page should show up higher in the search results.
Understanding these basic SEO terms and processes will make it easier to properly manage your consultant. Additionally, it will also help you understand the importance of designing and testing your strategy before committing large dollars and potentially years of time.
The best way to conceptualize SEO strategies is through the concept of bullets versus cannonballs. This phrase was made popular by "Good to Great" author Jim Collins. The concept is to commit a small number of resources (bullets) until you become confident in your strategy and then to fire cannonballs (more money) for a strategy that you have already shown will work well. SEO is a cannonball strategy. Understanding how to use paid ads (bullets) to test your ideas before committing to a larger SEO campaign (cannonball) will be essential to implementing your SEO strategy with confidence.
Categorizing SEO Work
When practitioners talk about the type of work they will be performing for a client, they often break their essential work into 2 discrete categories: on-page and off-page SEO. On-page SEO refers to activity that happens on your website. Optimizing your website and creating content fall into this category. It is called on-page because you are working 'on' the pages of your site. Off-page SEO is all the activity that happens off your website. Keyword strategy and link-building are associated with off-page because they do not involve your website.
The important takeaway is that you need both categories to rank successfully with effective keywords. You may be able to rank for low search-volume terms with just on-page SEO, but more popular keywords will require off-page services as well.
On-Page SEO
To get ranked in the search engines, the crawlers used by sites such as Google and Bing need to view your site. If they cannot easily view your site, your pages will not end up in their indexes for ranking. I like to think of it like a science fair presentation: The science fair competition will have a set of rules for how you submit your presentation, and the judge at the science fair is the search engine crawler. You could have a great presentation, but if you do not follow the specific rules, you could end up disqualified.
The good news is that search engines want you to create websites that are built for users and not for search engines. Following Google's guidelines will not only help you rank for SEO but will also result in a better user experience for visitors to your page.
On-Page SEO Technical
On-page SEO can be further broken down into technical and non-technical components. On-page technical components are the parts of your website that are typically handled by a webmaster or developer. While some firms build websites and provide SEO services, often these are separate. Your SEO consultant can review some of the technical components and make recommendations to the webmaster.
Google refers to the technical components of on-page SEO as Core Web Vitals. They reward sites that score higher along their selected dimensions and punish those that score lower. Core Web Vitals are a collection of scores that evaluate how useful a website is for a human. A simple example of one of these dimensions is how fast a page loads. Naturally, users enjoy fast-loading web pages. A 2022 study by Portent found that "your e-commerce conversion rate decreases by an average of 0.3% for every additional second it takes for your website to load." This simple example clearly demonstrates that site speed matters to users.
Why does Google care about the speed of a website? When a user enters a search term, Google lists possible websites for the user to visit. Essentially, Google is giving a recommendation or a referral for the user to visit that site. If the site is slow or has technical glitches, users will get frustrated. Google wants to try and get you the right information as quickly as possible so that you'll continue using their service. It wants to make sure the referrals it gives are good. Even if you have the best content, Google will not rank it as high as it could be if your site is glitchy, slow, or has usability issues. By addressing technical issues with the site, you can ensure that visitors will be happy and that Google will not penalize you.
Google's PageSpeed site is a way to view your website from Google's perspective. You can use this report to work with your webmaster to ensure you are optimized. It measures 6 different categories of usability, including speed. Google has created an entire tool around these specific technical issues. If Google built a tool for site owners to use, there is a high probability that these dimensions will be factored into the algorithm for ranking sites. It is important to note that perfection is not necessary. Kitces.com ranks for a large volume of keywords and has a green score in 3 out of 4 categories.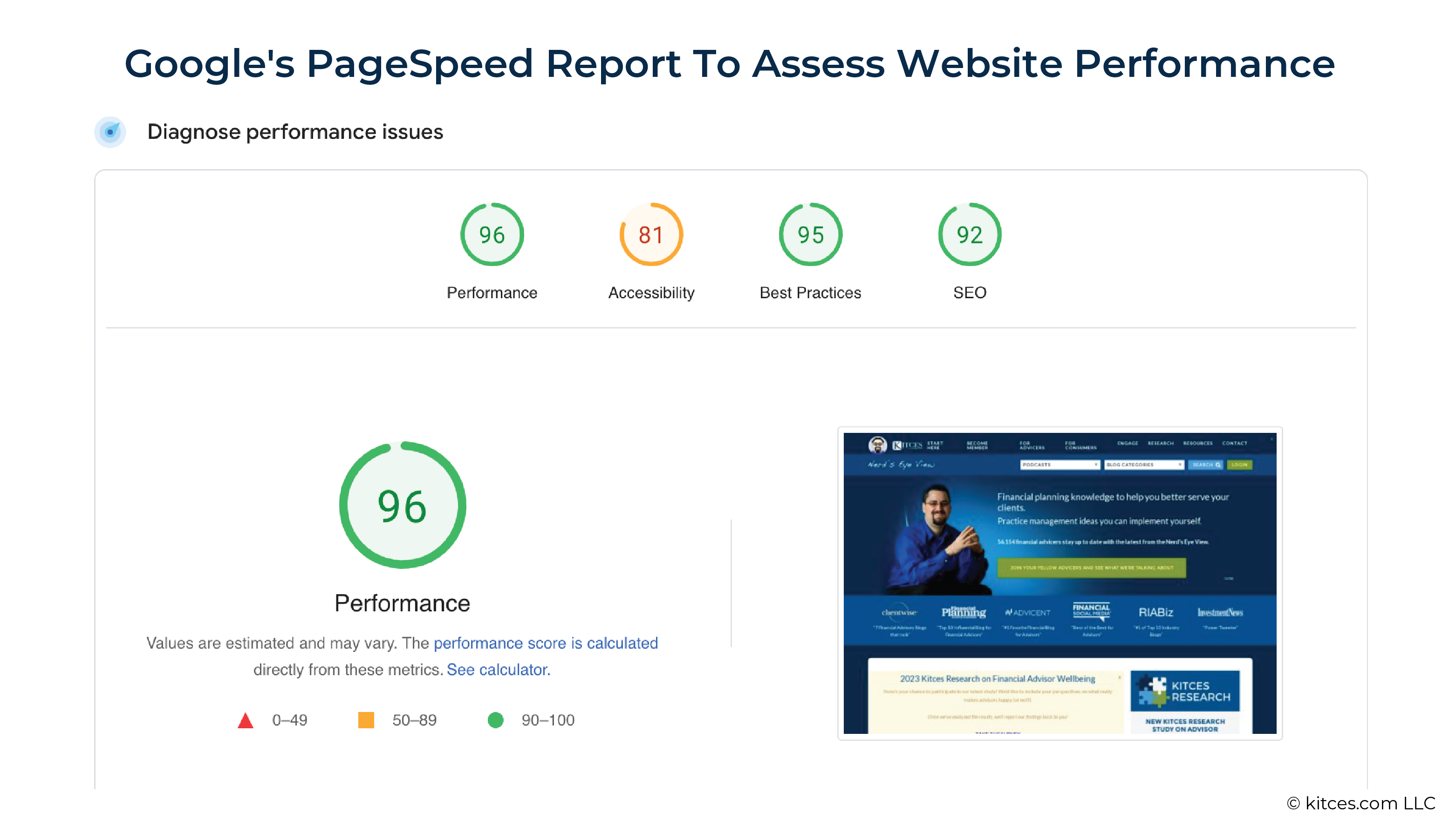 The PageSpeed report will give you a high-level overview of how usable your site is from Google's perspective and likely a user's perspective as well. You may not understand the specifics of what PageSpeed is asking for, but your webmaster or SEO consultant should be able to adjust your website to increase your overall score.
On-Page SEO Non-Technical
On-page non-technical SEO refers to the actual content of your site. Think of non-technical SEO as the components someone other than a developer or webmaster works on. More specifically, non-technical SEO focuses on 3 main components: 1) the title tag, 2) the meta description, and 3) the actual content of the page itself. The title tag and meta description are important because these are the elements used in the Search Engine Results Page (SERP).
In the graphic below, the page title (i.e., title tag) is displayed as the clickable link "Kitces Research On The Best Advisor Marketing Strategies". The meta description is the text under the title tag. Notice the search term used was "Kitces Marketing Study". 2 of those words are in the title tag, and 3 are in the meta description.
The search engine will have a harder time knowing what to display if the title, description, and content are omitted or do not flow together neatly. All 3 elements – including the title, meta description, and content – should use similar keywords and content.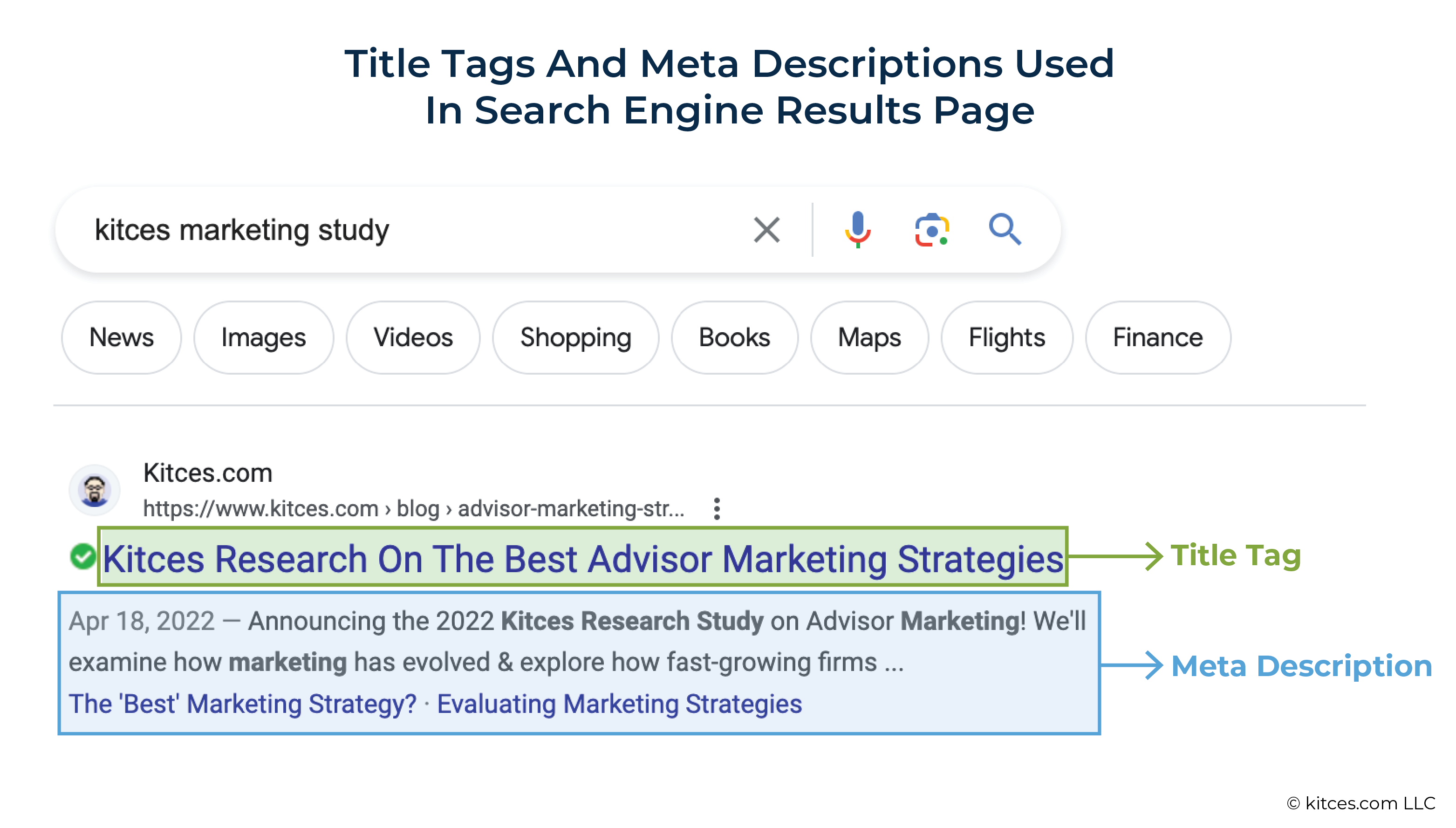 Off-Page SEO
Off-page SEO is the activity that will help you rank for more difficult (e.g., highly competitive) keywords. It is centered around link building. Link building is the process of getting links from other web pages to point to your website. To help with this, SEO experts will often engage in the process of creating content on websites other than your own. This practice generally involves embedding links in other websites that point back to your website using the specific anchor text for which you want to rank. Anchor text is the underlined text to which a hyperlink is added. Good anchor text can be thought of as a description of the link if you were to click the link. It sets expectations for the user. Search engines also use this to help them gather context about what a website is about or what keywords should be associated with that site.
How PageRank Influences Search Results
To understand how link building works with SEO, it is helpful to know about Google's PageRank system. You can think of PageRank as a voting system developed to identify the most relevant web pages for specific keywords. Every time a web page includes a link to another page, the link is considered a 'vote' that counts toward the target page's score. However, while every web page on the Internet is assigned a PageRank score (based on a logarithmic scale of 0 to 10, where the highest score of 10 is considered the most authoritative), votes are not cast equally in the PageRank system, as pages with a higher PageRank will be considered more influential in ranking other sites. In other words, a page with a high PageRank score containing a link will count more toward that site's rank than a page with a low PageRank score.
Let us walk through a hypothetical example. Pretend there are only 2 articles on the entire Internet written about "financial planning." One is written by Michael Kitces, and the other by Geoff Moore.
Which one should rank higher in the search results and why?
Obviously, Michael has more expertise in the subject and his article should be better, but how does a search engine know that? To help make that determination, Google uses PageRank.
Assume each article's link is used by a different site pointing at the respective article. Each link uses the phrase "financial planning" in the text attached to the link. CFP Board has a link pointing to Michael's article, and I have a link from The Bear Island Homeowner's Association pointing to mine.
While Google no longer publishes the PageRank of a webpage, you can safely assume that CFP Board, as a publicly recognized resource for financial advisors, would have a PageRank score anywhere from 4 to 6 for the terms "financial planning" and that Bear Island would have a much lower score probably as low as 1. Since the link on CFP Board's website (counting as their 'vote' pointing to Michael's article) has a higher PageRank, its vote will weigh more than the one from Bear Island. Therefore, Michael's article would rank higher in the search results when a visitor searched for "financial planning".
A higher PageRank does not necessarily mean the article is any better or more popular; it simply means that a website with more authority is linking to it. In other words, external links pointing back to your page, especially from more credible and authoritative sources, are more beneficial for your SEO than links on other less authoritative websites.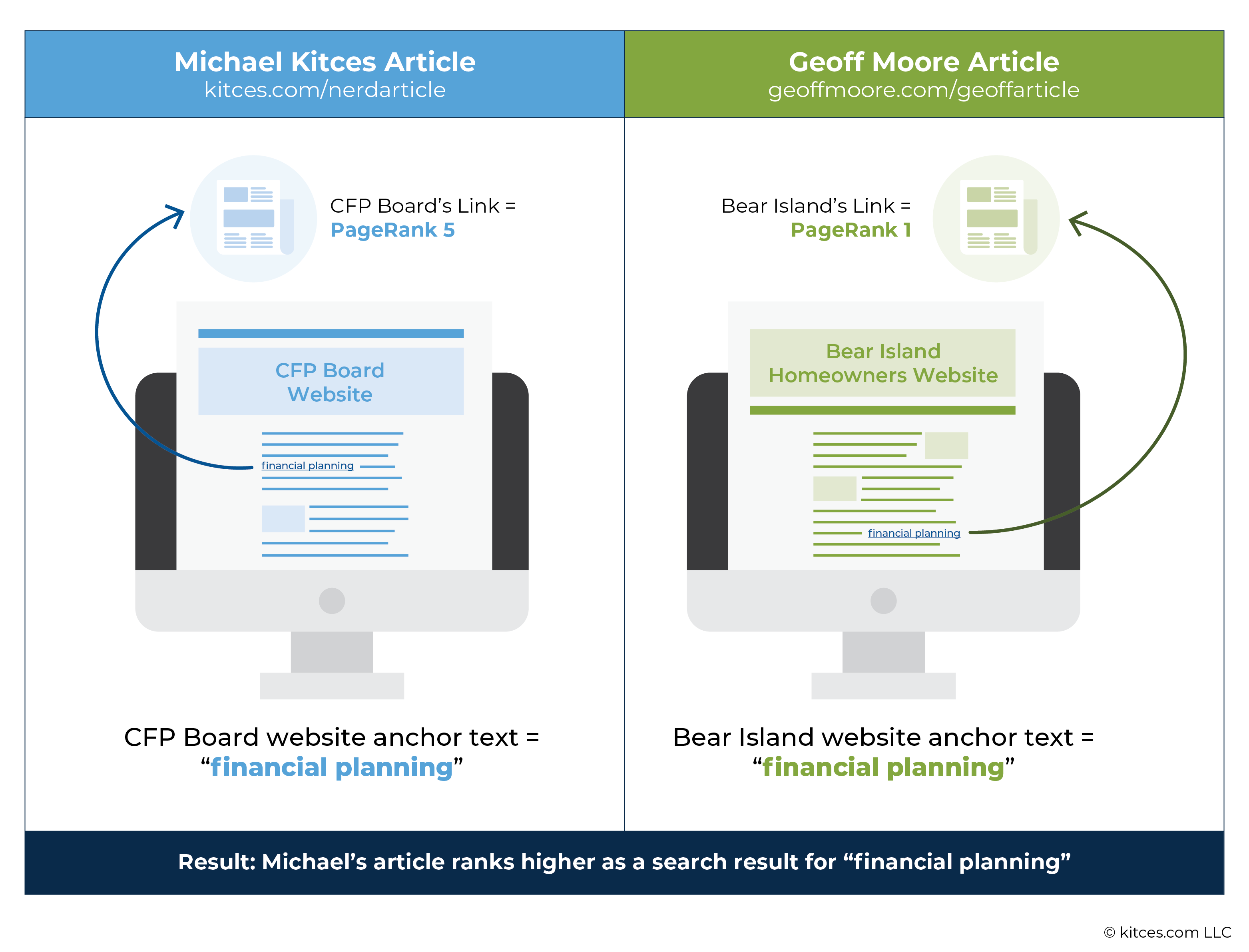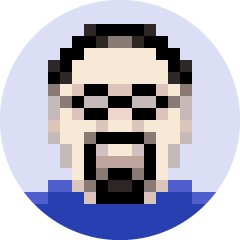 Nerd Note:
Google used to publish the PageRank score of every single page on the Internet. As you can imagine, people were always trying to get links from the pages with the highest PageRank. There was an entire economy built around people renting links from pages based on their PageRank. Google wanted to stop this behavior, so they stopped publishing PageRank. It is still used as a system, but the underlying score is no longer visible.
Let us throw in another twist. Assume the text in the link (anchor text) from CFP Board said "Michael Kitces" instead of "Financial Planning." The CFP Board would be casting a vote for the page as "Michael Kitces" and not "financial planning".
If the link to my article from Bear Island said "financial planning", my article might rank higher in the search engines when a visitor searches for "financial planning", even though the site had a lower PageRank.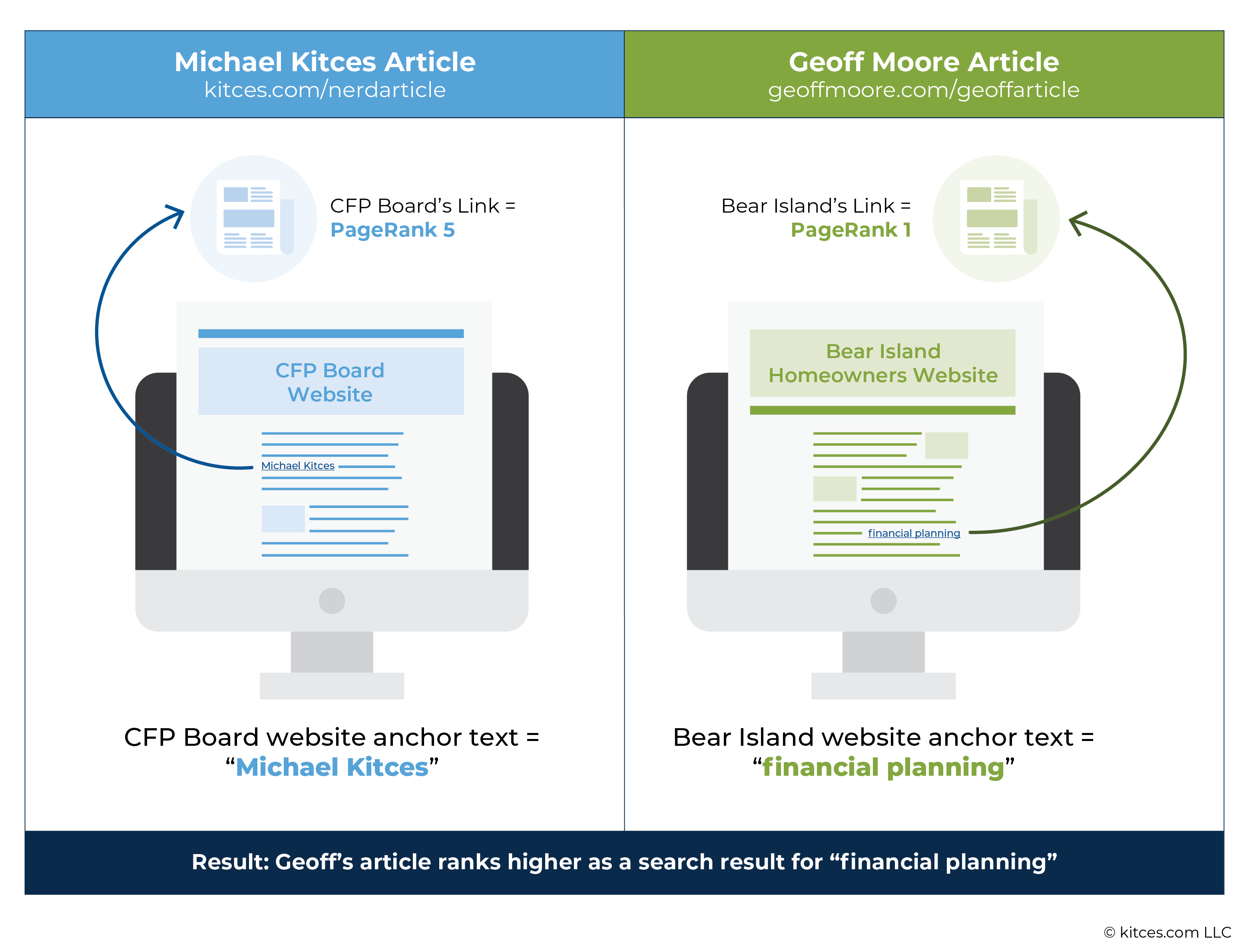 To summarize, the anchor text on the referring website helps Google understand the context of the page. Google uses the anchor text to determine what keywords should be associated with the page. This is why text such as "click here" isn't very helpful to Google, and where possible, you want to use anchor text that closely matches the search terms you are trying to rank.
These are oversimplified examples, and, in actual practice, such pages might not rank as shown as the search engines have other compensating mechanisms to display search results. These examples simply serve to illustrate the importance of both the PageRank of the site providing the link and the anchor text associated with the link.
Keyword Research And Strategy
Given the importance of the words used to design anchor text, you can begin to understand how important it is to consider which search terms a visitor might use to find information on your site. These search terms are known as "keywords" and are the individual words entered into search engines that you want to rank for in the Search Engine Results Pages (SERPs).
Before you begin any type of SEO activity, you need to think through the exact keywords for which you would like to rank. Important considerations for selecting keywords include the volume, difficulty of ranking the keyword(s) (i.e., its competitiveness), and relevance to your offering.
Volume
Volume is simply the number of people searching for a given keyword phrase each month in a search engine. The phrase "financial advisor" is searched 165,000 times a month, whereas "financial planner" is searched 33,000 times a month.
There are numerous tools available to assess the volume of keyword searches, but the tool illustrated below is called Semrush. Let us look at a simple example of fire pits. I have added 4 different keywords into Semrush to view the volume for each keyword phrase. Notice that the use of 1 word ("firepit") versus 2 words ("fire pit") and plurality ("firepits" versus "fire pits") make a significant difference in the search volume. If one is successfully ranked based on the search term "fire pit" (with a volume of 90.5K) versus "firepits" (with a volume of 8.1K), there will be over a 10X difference in the number of people searching on that term!
In other words, you are not ranking for broad ideas; you are ranking for the exact characters typed in the search bar.

Competition
You may be tempted to use only the keyword that has the highest volume. Many people will view the report and try the same strategy. This is where competitive analysis comes in.
The same Semrush analysis to examine keyword volume can drill down deeper into how competitive it is to rank for those keywords. Based on the keyword "fire pit", you can determine the number of backlinks (links from other websites pointing to a page) and the specific page they point to.

In this case, usatoday.com has approximately 1,100 backlinks pointing at their specific page, which means that other (non-usatoday.com) websites have linked back to that reviewed.usatoday.com page that many times. The more high-quality (see discussion on PageRank) backlinks a website has, the higher they will show in the search results (everything else being equal). To rank for the keyword "fire pit", you would need to create more links back with the exact phrase "fire pit" in the link pointing at your site.
This was why the explanation of PageRank was critical. It helps you to understand just how difficult it can be to rank various search terms.
Long-Tail Keywords and Clusters
When confronted with the task of trying to rank for a keyword phrase such as "financial advisor", you may be tempted to give up on SEO altogether. It feels overwhelming and impossible. Some sites may have been working on ranking for that term for over 2 decades. Fortunately, people do not just type in the keywords "financial planner". They also type in phrases like "financial advisor in akron ohio."
The keyword phrase "financial advisor in akron ohio" may have a lower volume than "financial advisor", but the difficulty for ranking is also lower. And according to Semrush's "Keyword Difficulty" assessment, it may be possible to rank for that term without any backlinks.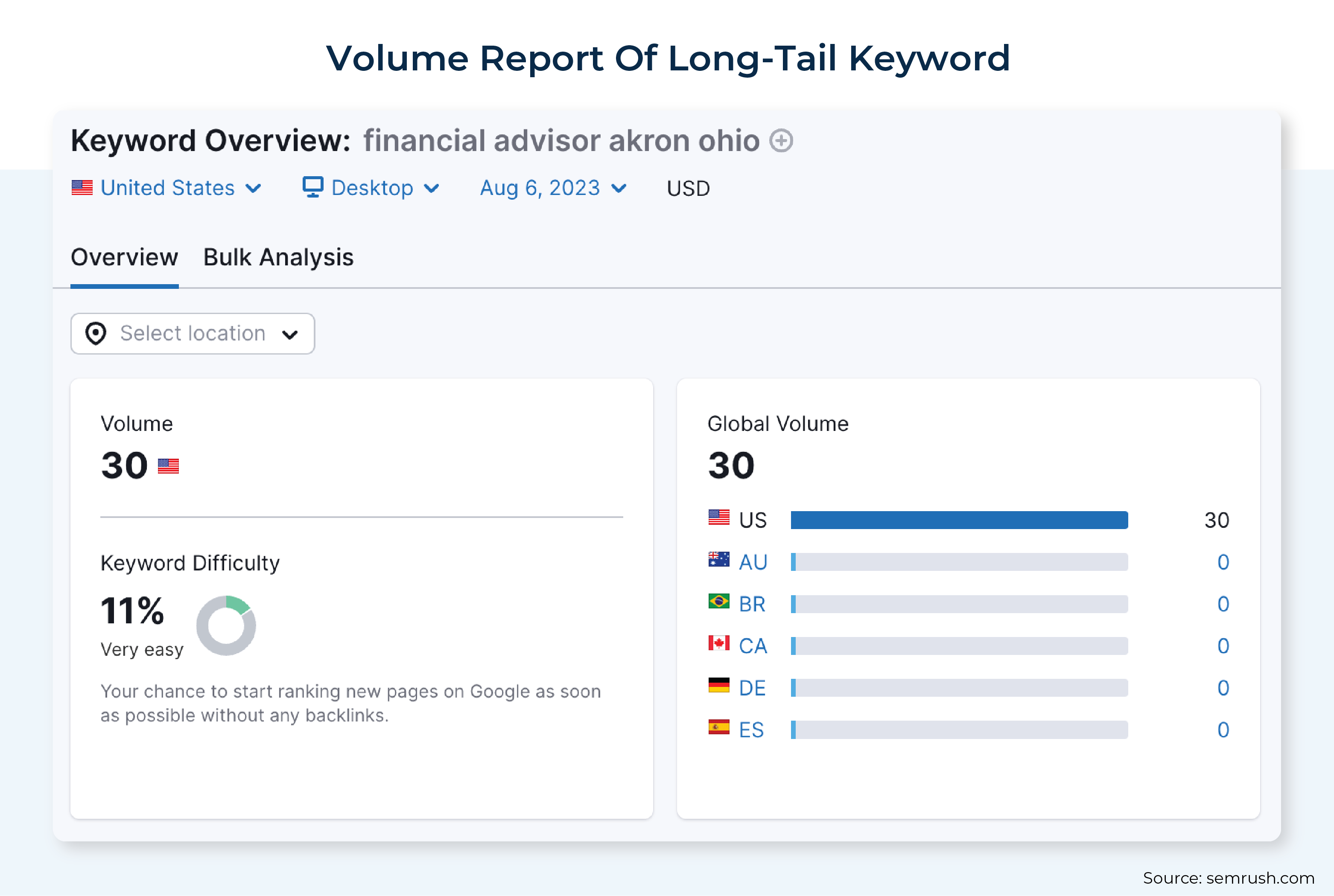 Such keywords are referred to as long-tail keywords, which, more specifically, are keywords that are less frequently used because they tend to be much more specific. The word "long-tail" comes from the statistical distribution of keywords that shows how frequently certain keywords are used based on their volume. And when enough low-frequency occurrences register farther away from the highest volume events (represented by the left-side peak of the distribution), a "long tail" representing these less-often used keywords is the result.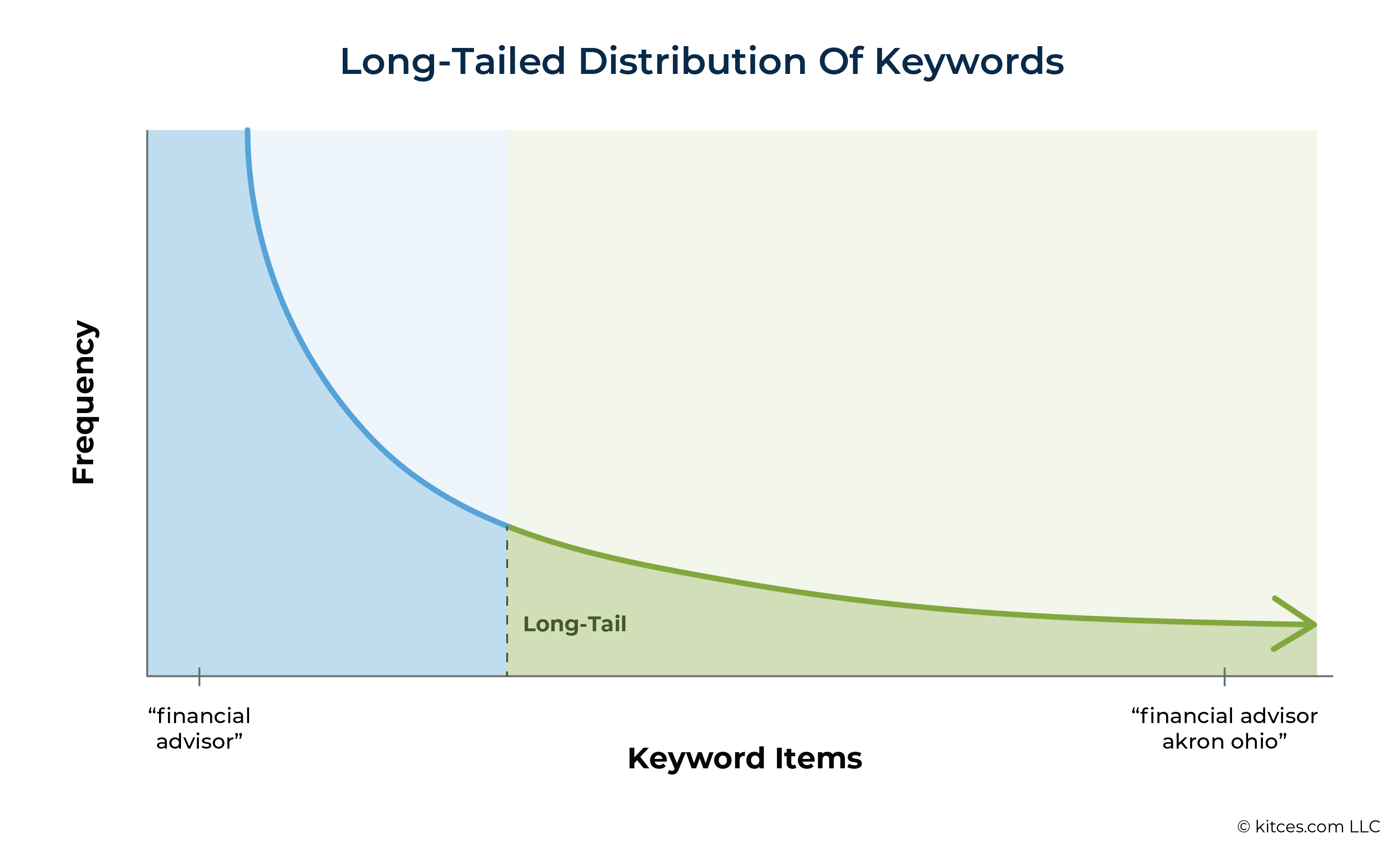 Notably, when you string together a collection of similar long-tail keywords, it is called a cluster. While each phrase on its own may not have much volume, you can often rank higher more easily by using a cluster of many keywords to get volume from each of them.
Let us explore the use of this strategy with the keyword phrase "backdoor roth ira."
If we try to rank for just the phrase "backdoor roth ira", we can see that there is decent volume, but with a 64% keyword difficulty score, it will still be difficult to rank in the search engines.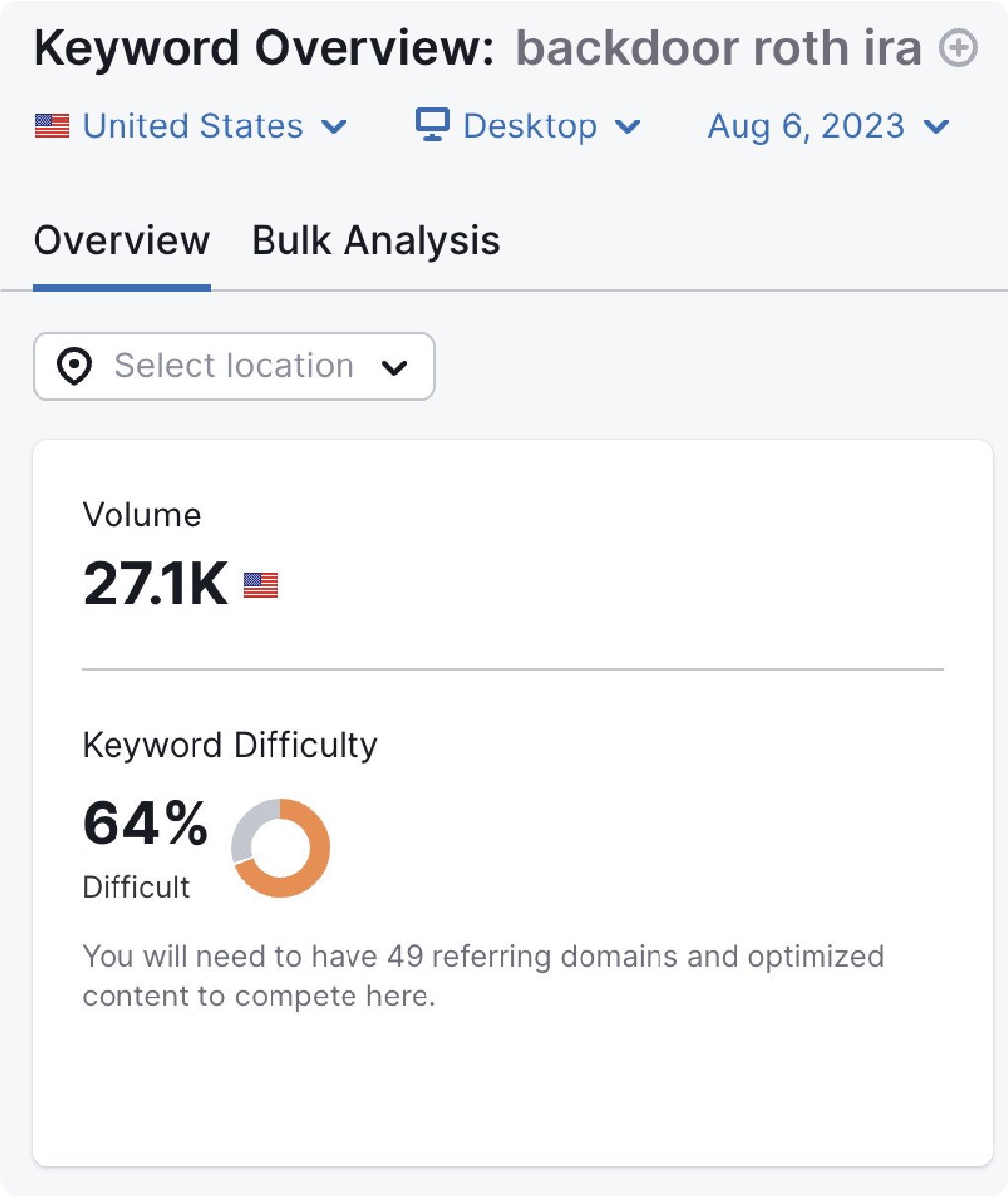 Instead, you can rank more easily with a cluster of multiple similar phrases. I had Semrush perform a cluster analysis on the phrase "backdoor roth ira." It produced 503 similar keywords for a total volume of 94,550 and an average keyword difficulty score of 36.64%. This produces a higher total search volume with lower overall difficulty.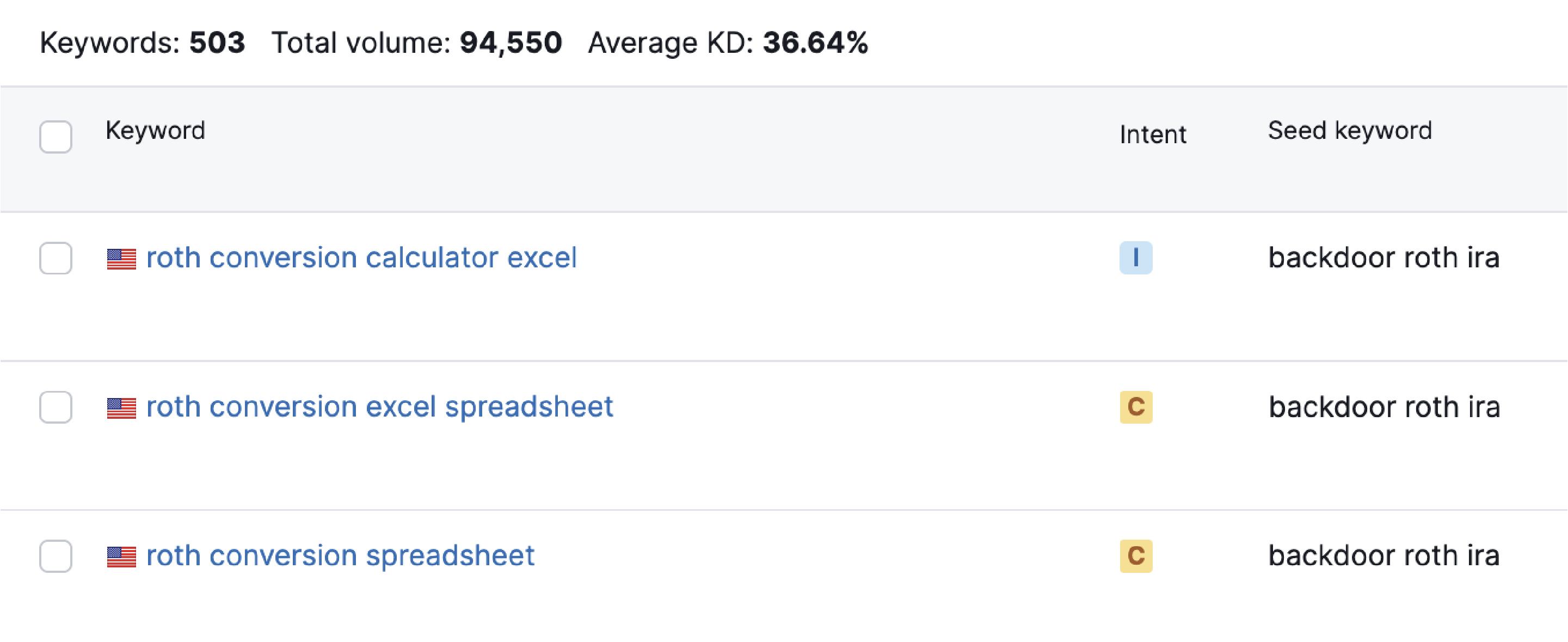 So instead of trying to focus on 1 difficult keyword (i.e., "backdoor roth ira"), you can instead focus on a cluster that consists of multiple related keywords such as the following:
"backdoor roth ira for millennials"
"backdoor roth ira for executives"
"backdoor roth ira key dates"
While each of the related keyword phrases will have a much lower volume than the main phrase "backdoor roth ira", in the aggregate, they can create a robust cluster with a higher total volume. When you couple this with the fact that they will be easier to rank, keyword clusters can become a powerful strategy.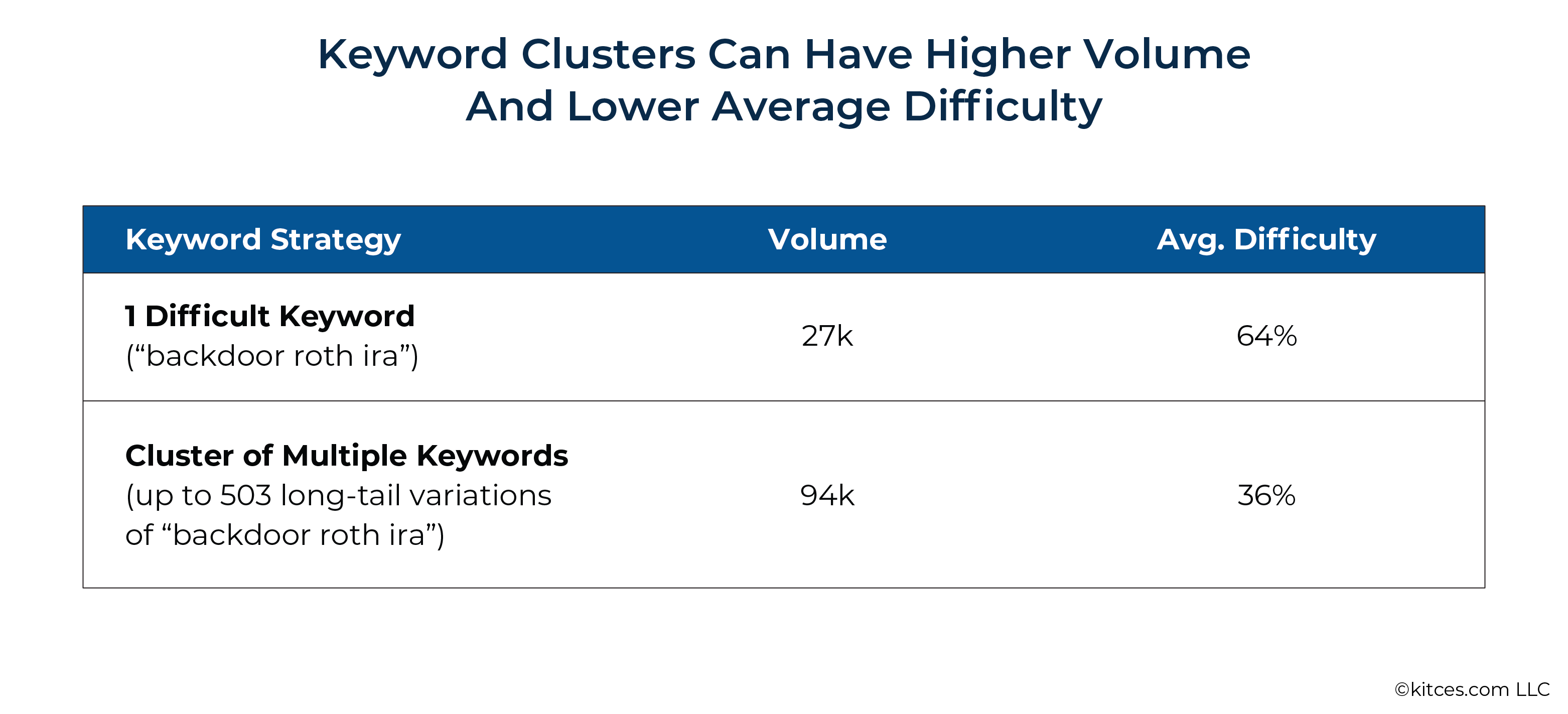 To be clear, including all 503 keywords associated with one page would involve creating a massive amount of content, but you get the idea. Instead of trying to go head-to-head for big-volume keywords, you can create a similar or higher total volume by using a keyword cluster consisting of a collection of related long-tail keywords.
Long-tail keywords are also associated with stronger purchase intent. Think about your own behavior as you start to research a new topic. Typically, search keywords start broad and get narrower as the person gets closer to solving their problem. For example, you may search on "financial advisor", then "financial advisor in Akron", and finally on "financial advisor in Akron for employees of Goodyear". The final long-tail search is closer to the type of advisor the person wants to work with. In other words, the final search should have a higher conversion rate.
How To Get Started With An SEO Provider
While past performance is not a guarantee of future results, in the world of SEO, it is a good indicator that you are working with a reputable provider. Thus, before you engage with an outsource vendor, ask for the following items to assess the vendor's past track record:
Keyword Ranking Report. A progress report for specific keywords shows the skill of the consultant. Other reports, such as total traffic volume, lack specificity. There are lots of ways to drive traffic to a website. The SEO provider's job is to help you select specific keywords and move them up the SERPs for your website.
Client Interview. There is no substitute for interviewing an existing client. Unlike traditional e-commerce websites, financial advisors do not always follow a linear funnel when it comes to being serviced by an SEO provider. Often, the advisor can provide additional color to the results of the SEO program or give more specificity on the number of meetings booked through the website before and after the SEO campaign. The data is important, but talking to existing clients can provide much more insight than data alone.
Financial Service Experience. While not required, having an SEO consultant with financial experience could prove extremely useful. Simply scanning Investopedia's dictionary reveals the variety of words and phrases used in the financial services industry. A provider who understands the nuances between words can be helpful with keyword research and strategies.
Progress Over Time
Depending on the keywords selected, getting placed on the first page of Google could take anywhere from 1 to 3 years for moderately competitive keywords. A typical SEO outsourcing agreement could easily cost $3,000 a month. It is possible that you could spend close to $36,000 in the first year and still not show on the first page of Google results. With that type of investment, you will want to ensure your outsource provider is making progress even if you are not yet showing up on the first page of Google. And aside from running initial experiments to ensure you have a good set of keywords to begin with (discussed in the next section), the best way to assess your SEO provider's progress is to track the ranking of your selected keywords for your website over time.
There are many tools that can help you do this. Tools like Semrush and Google's free Search Console tool both track the average position of keywords currently associated with your website. If you are seeing progress going from position 100 to 80 to 60, you know that you are heading in the right direction.
Like the stock market, organic keyword positioning fluctuates. It is common to go from 100 to 60 to 80 and then back up to 40. If the general direction for the keywords you are trying to rank for is increasing, you can be confident your provider is doing a respectable job. If you are using a cluster strategy, it will be important to use a third-party tool to evaluate performance, as it would be too time-consuming to individually evaluate all the keyword iterations.
Run Initial Experiments With Paid Ads
It may sound counterintuitive, but before you commit to a multi-year SEO campaign, the first step is to conduct a preliminary test of your initial keyword strategy hypothesis. Consider the keyword phrase estate planning". As a financial advisor, you may help people with estate planning all the time. It could even be your niche. However, running the right tests might help you discover that those searching for "estate planning" are primarily seeking an attorney instead of a financial advisor!
The way you would run such a test early in the process is to run what is called a paid ad campaign. Essentially, this involves paying money directly to Google in the form of a sponsored ad. In turn, they place your website as a sponsored link at the top of the search results page. Without paid ads, showing up in the search results occurs through organic listings that rely on SEO strategies and content creation.
In the example below, the team at FinanceHQ bid against others to show in Google's search results as a "Sponsored" result for the keywords "financial planning". Instead of engaging in SEO to increase the chances of showing up organically, this firm decided it was better to pay Google directly for placement in the search results. On the other hand, the team at Smart Asset has the first organic ranking (i.e., unsponsored) for the word "financial planning." The distinction is important because paid ads will always show before organic listings. When SEO experts say they have the #1 ranking in Google for a search term, they are really saying that they have the first organic listing after the paid ads.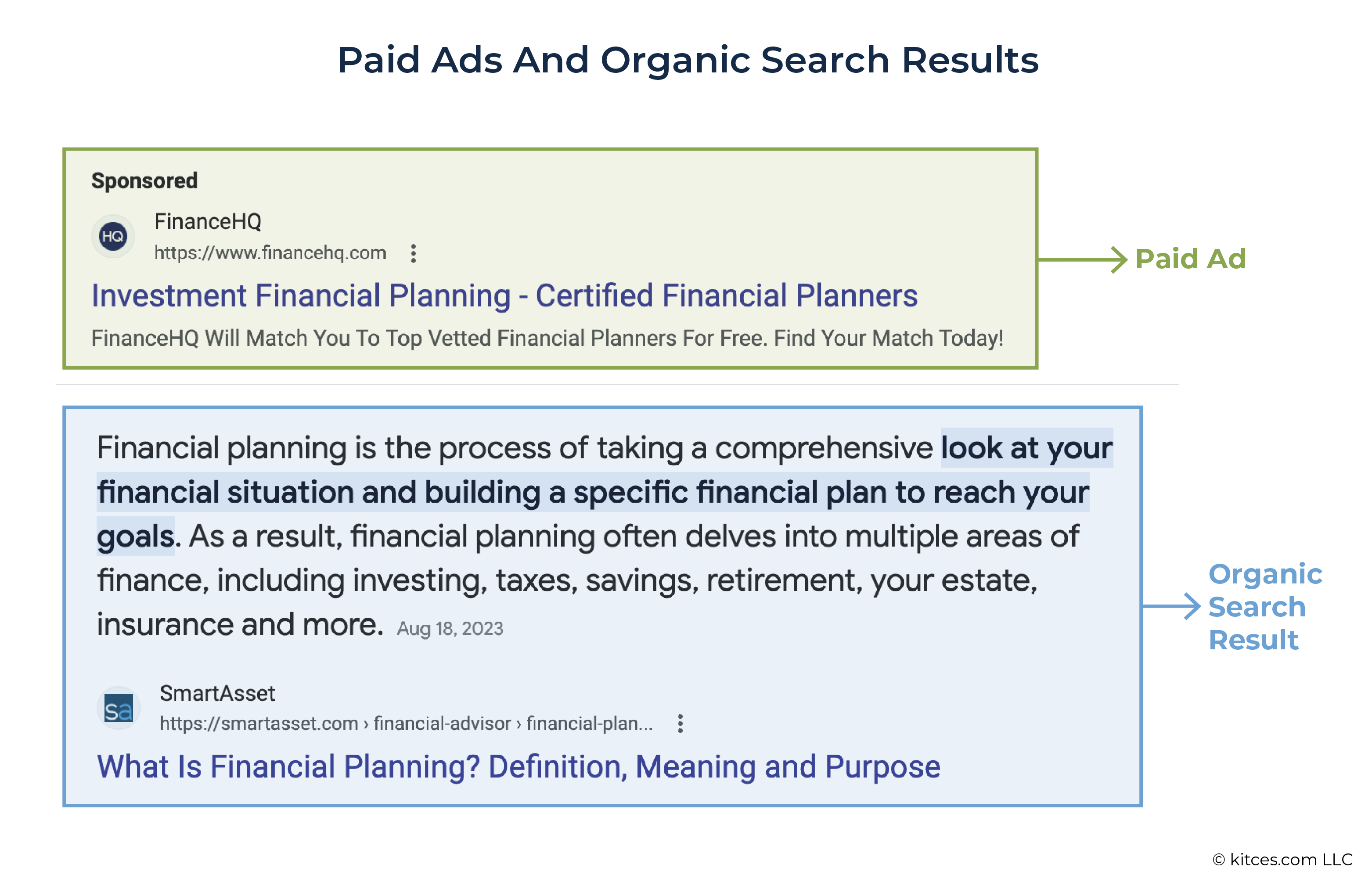 In a fashion, using paid ads gives you a way to fast forward through time: Instead of waiting for your website to show up organically in the search results, it shows up immediately. This way, you can test your keyword choices right away to see how well they work to convert visitors before investing valuable resources in a lengthy SEO campaign since it would be much easier to spend a few hundred dollars on a paid ad campaign for "estate planning" to learn that it does not convert well on your website. Had you not run the simple ad campaign, you would have lost thousands of dollars and waited a year or more to see that the keyword phrase used in the larger multi-year SEO campaign was a bad idea.
Let us look at an example to further clarify. You have 3 keyword combinations in mind to drive traffic to your website, and each one requires a $10,000 investment to achieve a first-page Google ranking. However, in our hypothetical scenario only 2 of these keyword combinations will convert visitors into prospects.
To test the effectiveness of each keyword phrase, you plan to spend $1,500 on paid ads.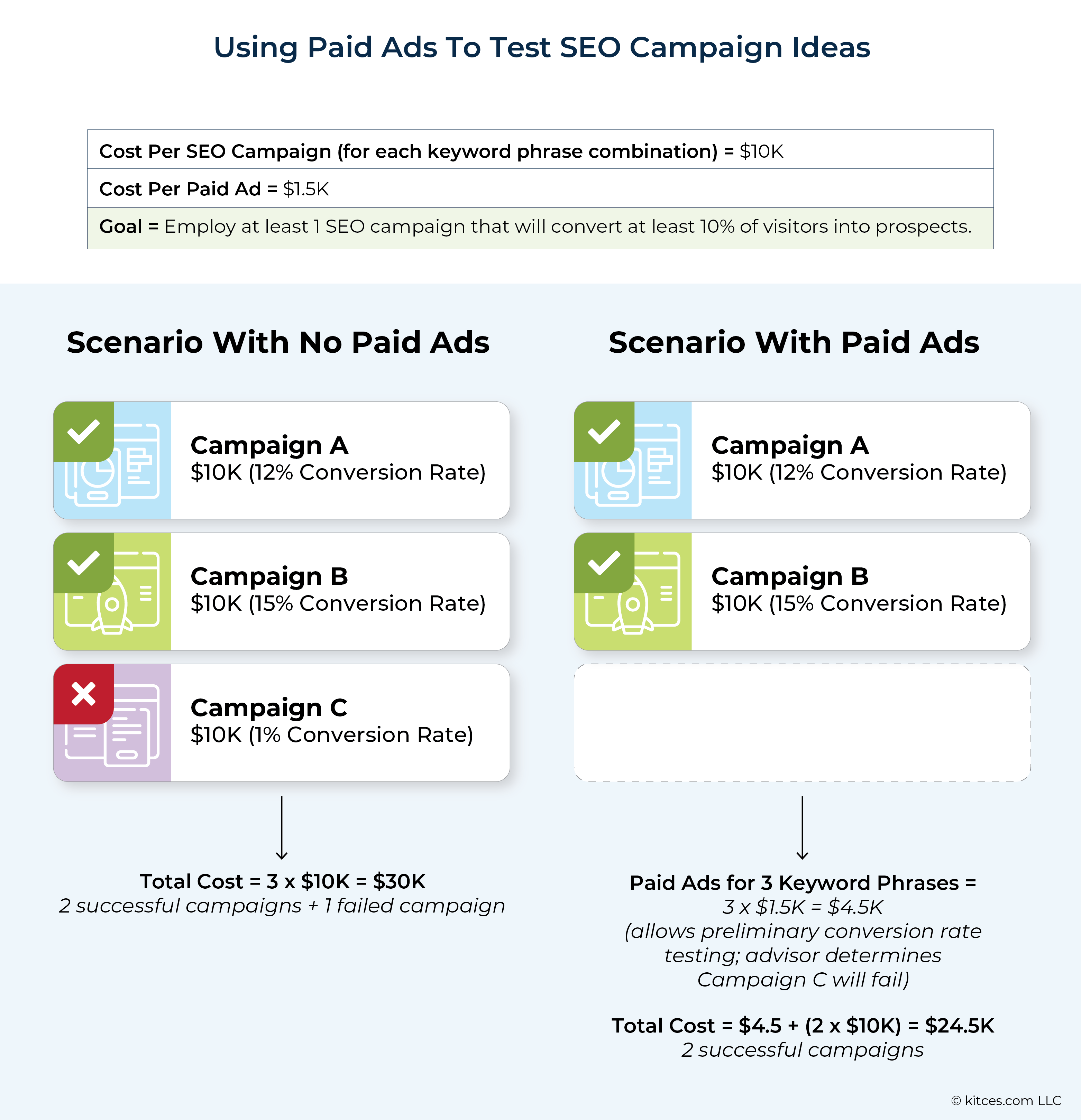 By utilizing paid ads, you were able to identify the 2 keyword combinations to invest SEO campaign efforts into and spent less money overall, amounting to $24,500 versus the $30,000 spent without the cost of ad testing. This approach allowed you to avoid investing in a keyword phrase that did not work effectively for your niche, such as "estate planning." Testing with ads provided valuable insights and helped you save $5,500 compared to investing blindly in all 3 keyword combinations through SEO alone.
This strategy reinforces the concept mentioned earlier of firing bullets and then cannon balls. By making small, minimal-risk bets first to validate their keyword strategy, advisors can have more confidence about spending larger amounts of money on their chosen SEO campaign.
When you run your initial ad tests, pay special attention to these elements:
Volume.

Does this keyword have sufficient keyword volume, or is it a phrase that is seldom used?

Bid Price.

Since purchasing a paid ad through Google is an auction-based process, the bid price isn't the price you pay; rather, it is the price someone would be

willing

to pay to have their ad listed in Google. The relevant ads with higher bids will be placed higher on the search results page. While more of an art than a science, a higher bid price for a set of keywords is an indication of the value of the keyword. It is likely that keywords with higher bid prices will also be more difficult to rank for using SEO.
Once you have tested with paid ads, you can be confident that you have selected the right keywords for your website and practice.
Create A Website That Converts
You can drive 1,000,000 visitors to your website, but if it is not properly configured to drive conversion, your SEO activities will be wasted. As mentioned earlier, conversion happens when a visitor takes a specific action that moves them closer to becoming a client. In the strictest sense, website conversion is not the exact job of the SEO consultant. However, they should be a resource to help think through various conversion strategies.
Consider the following features to create a high-converting website:
Professional Design

. The overall design of the website should be clean and easy to navigate.

Mobile Optimized.

Your website should be optimized for a mobile experience to make it easy for potential clients on the go to view and access your information. Most new web platforms handle this natively, but you should always test this out by viewing your website on your phone.

Testimonials and Reviews.

With the recent changes in the

SEC's Marketing Rule for Investment Advisers

, you can now place

testimonials and reviews on your websites

with the proper disclosure and approval from their compliance teams.

Lead Magnets

. Offering something of value in exchange for a visitor's contact information can be an effective way to increase conversions. This could be a free guide, an online seminar, or a free consultation.

Online Scheduling

. A simple online scheduling tool, such as

Acuity Scheduling

or

Calendly

, allows people to connect at a time that is convenient for them.

Advice Engagement Tools.

The goal of advice engagement is to motivate clients to accept and follow advice. Offering website tools that let prospects enter a few pieces of data and receive lightweight, tailored advice for a specific situation can be used to differentiate the online experience from other advisors' websites. Some of the tools on the

Kitces Financial AdvisorTech Directory

include content or online tools to integrate with your website.
Monitor Keyword Rankings
"Trust but verify" is a crucial mindset when it comes to choosing an SEO firm. While many reputable firms exist, there are also unscrupulous ones out there. The nature of SEO's long-running process allows some to collect money over time without delivering results, simply blaming changes in algorithms or external factors.
To safeguard against such scenarios, it is essential to independently verify the results provided by the SEO consultant. While they may furnish ranking reports, you should conduct your own Google searches or use tools like SE Ranking, Semrush, Moz, or the free Google Search Console tool to corroborate the findings. Small variances between reports are normal, but they should show a similar trend.
Meeting with your SEO provider monthly to discuss progress and strategy is highly recommended. By analyzing the rankings and activity, you should notice a correlation between content creation, link building, and increased ranking results. This ongoing collaboration and transparency will enable you to stay informed and ensure that your SEO investment is yielding the desired outcomes. By remaining vigilant and actively involved in the process, you can mitigate the risk of falling prey to exploitative practices and instead achieve meaningful progress in your website's rankings and visibility.
SEO represents an untapped opportunity for many financial advisors. To successfully utilize SEO, an advisor will need to work with a 3rd party to complete many of the tasks. Once you identify and engage with a reputable SEO provider, the critical tasks to perform include the following:
Optimize Website:

Make sure people can easily navigate the site and contact you.

Keyword Research and Strategy:

Create a plan together on the exact keywords you want to rank for.

Test with Ads:

Test your plan with paid ads before committing to a full SEO campaign (i.e., strategize with bullets first and

then

cannonballs).

Content and Backlinks:

Once your plan is validated, start building specific content and getting links from other sites. This is most of the work performed by your SEO consultant.

Evaluate Performance:

Independently use a tool like Semrush to evaluate the performance of and monitor the results provided by the SEO consultant.

Discuss Progress Regularly:

Meet with your SEO consultant monthly.
By performing these activities, you increase the probability of SEO becoming one of your successful marketing tactics.
The potential of SEO is vast, and it offers a gateway to connect with a broader audience, amplify brand presence, and drive unprecedented business growth. Stay curious, be data-driven, and embrace the principles of SEO to unlock the true potential of your online ventures. As you venture into the realm of SEO, remember that it is an ongoing journey of learning and adaptation. Monitoring performance metrics, keeping abreast of industry trends, and continuously refining your strategies will lead to sustainable growth and a strong online presence.