Executive Summary
2020 was an incredibly disruptive year for nearly everyone. From the health toll of the pandemic itself to the economic impact of social distancing, the business disruption of work-from-home to the personal disruption of schooling-from-home, last year was a year of change for nearly everyone, whether they wanted it or not. And while the financial services industry escaped relatively unscathed with a sharp V-shaped recovery – particularly in contrast to the damaging impact of the 2008-2009 financial crisis and the recession that followed – financial advisors were not exempt from the forces of change that rolled through. A shift we felt particularly acutely at Kitces.com, with the total shut-down of in-person conferences (to which we previously had traveled on a weekly basis throughout the year!), paired with an explosion of virtual webinar events and a newfound hunger amongst the advisor community for (quality) online education.
In fact, as we look to the "State of the Blog" in 2021, the ironic reality is that last year was one of record growth for Kitces.com, with our Nerd's Eye View blog readership marking new highs, our Members Section experiencing more-than-100% growth (as we added more new members last year than we did in the first 10 years, cumulatively!), and the Kitces team that keeps it all running behind-the-scenes more than doubling as well (to a total of 15 now, including yours truly!).
Yet even as Kitces.com had the good fortune to be able to grow rapidly amidst a challenging year, it has also helped us crystalize that, like any business that envisions being a 'Small Giant' (which Bo Burlingham defines as companies that try to be the Greatest instead of just being the Biggest), it's impossible to serve everyone. Instead, we have to maintain a clear focus on who it is that we serve best, and focus our services and resources for them.
And so I'm excited to announce an update to our Mission at Kitces.com, which is now about "Making Financial Advicers Better, And More Successful".
What's a "Financial Advicer" you may be asking? Simply put, a financial advicer is someone who is actually in the business of financial advice itself, and whose compensation (whatever the form) is for that advice. Which matters, because it means that when you're a Financial Advicer, the product isn't the product. The advice itself, and the advicer delivering it, are the "product" that the client is purchasing. Accordingly, Financial Advicers recognize that it's essential to continue learning and developing their own knowledge, as a means of reinvesting into and upgrading and increasing the value potential of the advice that they can deliver to their clients. And that's who Kitces.com aims to serve.
In the coming years, our mission of "Making Financial Advicers Better, and More Successful" will come across four domains: Education for Financial Advicers in the form of the Nerd's Eye View blog daily content; Resources to help Financial Advicers find (the right) solutions from our Master Conference List to our new CFP Scholarships List and our popular AdvisorTech Map; Research in the form of original studies on what Financial Advicers really do in delivering advice and being successful; and Training to develop the skills that Financial Advicers need to succeed, as embodied by the recent launch of our (first of many to come) Kitces Courses on "How To Review A Tax Return To Find Planning Opportunities".
2020 was a challenging year for most, and there was no exception at Kitces.com as our value proposition and business model, too, had to adapt to the pandemic and its impact. Yet in the end, just as the industry was itself already in the midst of a shift from sales to advice, the pandemic has in so many ways simply caused the 'future' to arrive more quickly than most anticipated. Which means the 2020s are increasingly shaping up to be the decade of the financial advicer, and fortunately we've been able to emerge from the pandemic stronger and in a better position than ever to serve the financial advicer community. I couldn't be more excited about what's ahead for the business of financial advice and serving all of you, our Financial Advicer readers, in the years to come!
Looking Back On 2020 And The Ongoing Evolution Of Kitces.com
When Kitces.com first launched back in the spring of 2008, it was little more than a 'digital storefront' for a new e-newsletter offering called "The Kitces Report".
At the time, I was the Director of Financial Planning at an independent RIA, Pinnacle Advisory Group, and as I researched and analyzed complex financial planning situations for our own clients, it felt like a 'waste' to do so much work for just that one client, and not share it more broadly with other advisors.
So I took the financial planning knowledge I gleaned from my client work in the advisory business and published it as a paid e-newsletter, where for $149/year, I would dive deep into one planning issue or strategy every month. I then began to travel to industry conferences and present that educational newsletter material in-person as well.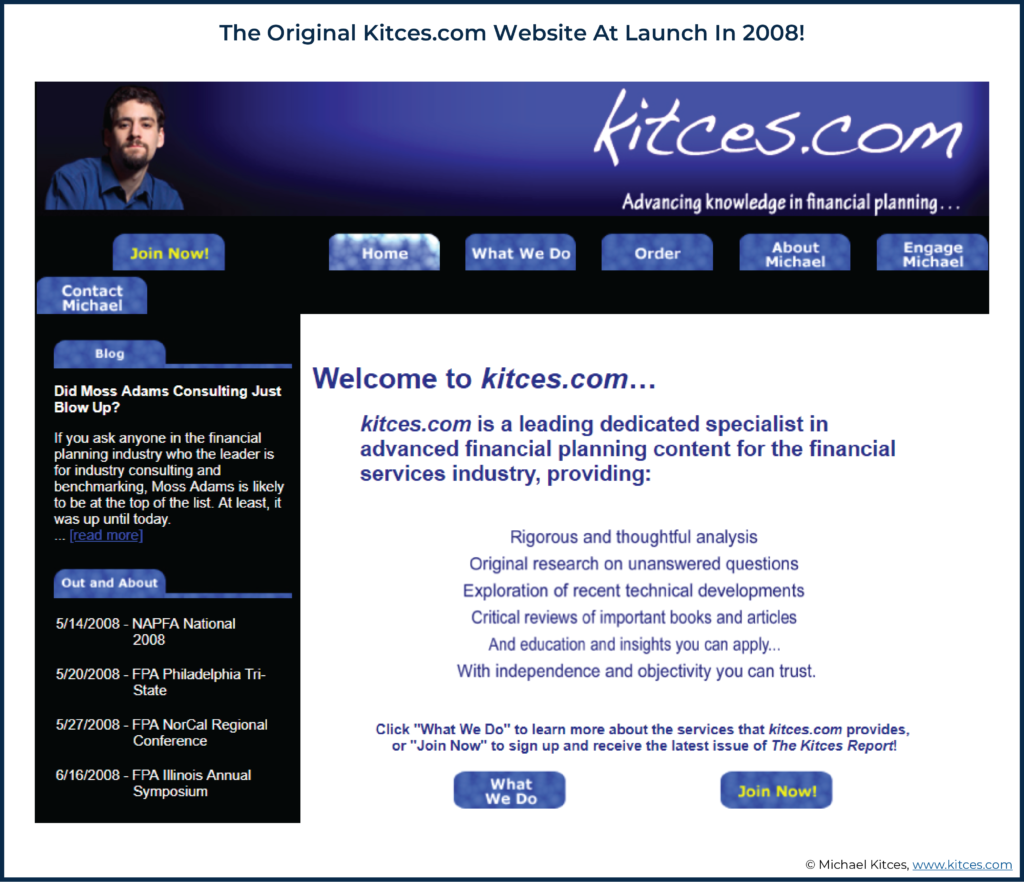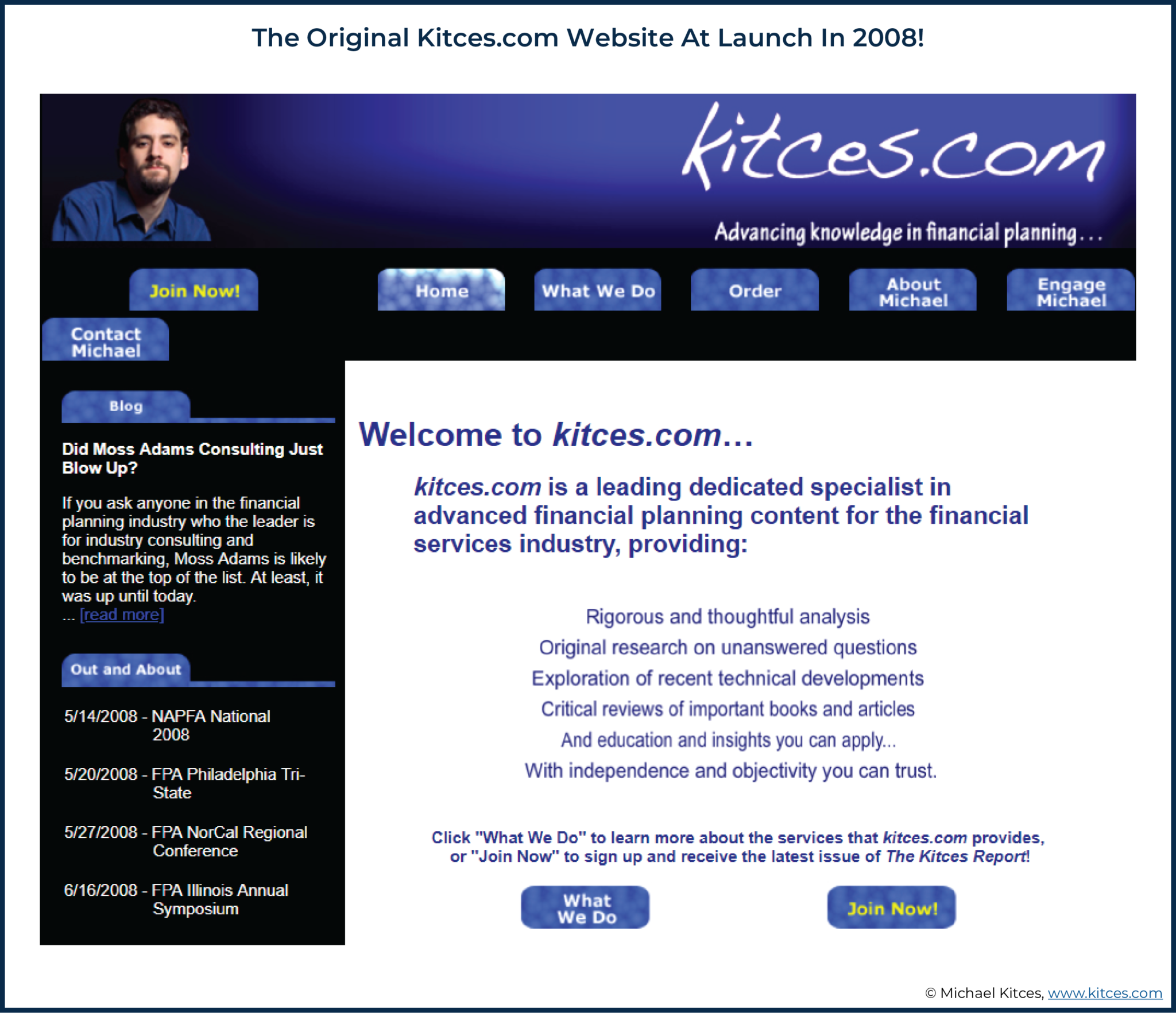 In 2010, our original paid speaking-plus-newsletter offering expanded further to include the launch of the Nerd's Eye View blog as a free resource to the advisor community, so I could share what I was seeing and learning about practice management, industry trends, and advisor technology as well (while The Kitces Report remained focused on the more 'technical' aspects of financial planning).
Over the decade that followed, the Nerd's Eye View blog and the Kitces.com platform grew rapidly, from dozens to hundreds to thousands and now more than 10,000 readers every day. While my travel for industry speaking events grew from 20 to 40 to 70+ events per year. All with a focus on advancing knowledge in financial planning.
Yet throughout that growth, the Kitces platform itself remained, by design, a 'solo' practice, built around my own personal journey of learning, and sharing that learning with the rest of the advisor community. And it was driven by just myself and a virtual assistant who helped keep me organized behind the scenes.
But in 2018, as we celebrated our 10-year anniversary of Kitces.com, I made a conscious change to our strategy, as I realized we could do even more with the Kitces platform for the advisor community if it wasn't limited to just myself. And so we began to change and grow, from a "solo" business, to what Bo Burlingham calls the vision of a "Small Giant" – a company that doesn't necessarily seek to be Big, but is focused on being Great at what they do, and having a real impact on the community it serves.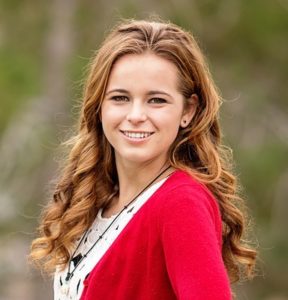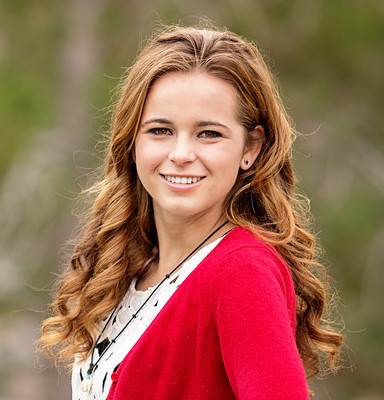 And so in the years that followed, we began to invest into the growth of the Kitces team, from 3 in 2018, to 4 in 2019, 7 in 2020, and now 15 in 2021 with the addition of our latest team member, Managing Editor Sydney Squires.
And by reinvesting into the Kitces platform, we have been able to do far more for the advisor community, with both an expanding reach of the Nerd's Eye View blog, and through our growing Members Section, from the expansion of our CE offering to include the CIMA and CPWA designations from IWI, CPE credits for CPAs, CE for Enrolled Agents, and most recently the addition of CE credits for the American College designations (e.g., CLU, ChFC, and RICP CE credits). As well as the rollout of our popular CFP Ethics CE program.
In addition, the growing Kitces team has made it possible for us to further expand our Members Section Events to include our Kitces Office Hours series with curated guest experts, our monthly webinar series, and our 'breaking news' webinar events on topics from communicating with clients during the coronavirus market volatility last March to our recent webinars on the Biden Tax Plan and the coronavirus stimulus legislation in December.
Notably, the core focus of the Nerd's Eye View blog – to educate the advisor community – has not changed, and our blog content remains (and will remain!) as free as it ever has. Our growing Members Section is for those who want to see the content instead of read it (i.e., in the form of a webinar instead of a written article), for those who want access to the Kitces team and our curated experts (in the form of our Office Hours sessions), to use the images from our Nerd's Eye View blog in our Kitces Graphics library, and to earn a wide range of CE credits for what they're already reading.
Still, though, as the industry moves inexorably away from a focus on products towards a focus on financial planning advice, placing ever-increasing pressure on financial advisors to deepen their own expertise to demonstrate their value to clients, the demand for advanced advisor education has continued to grow, driving growth to Kitces.com and our Members Section as well.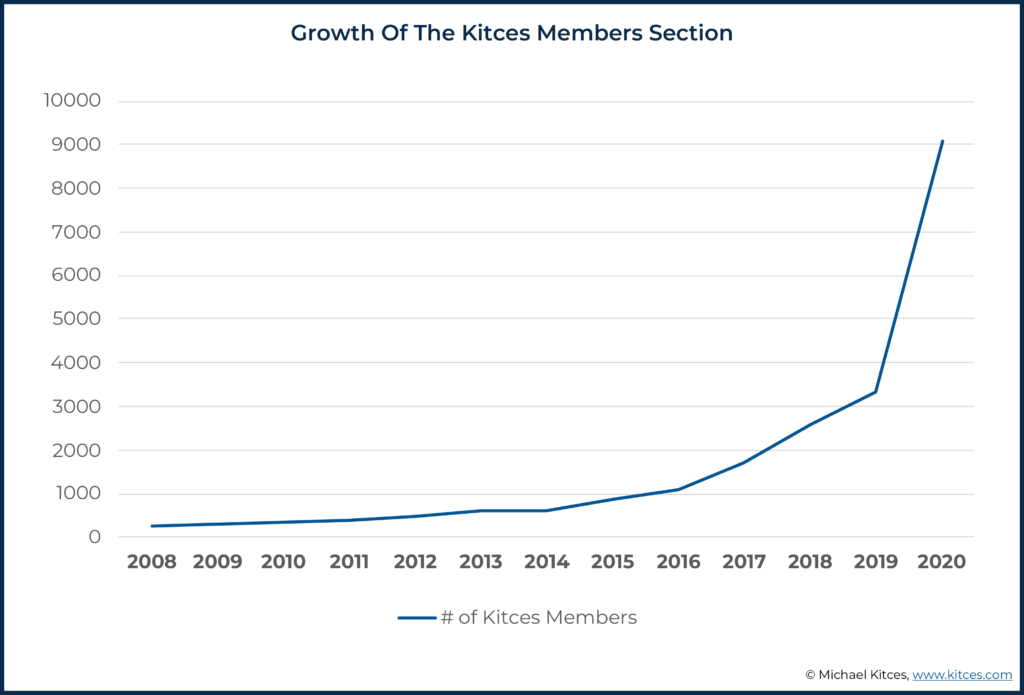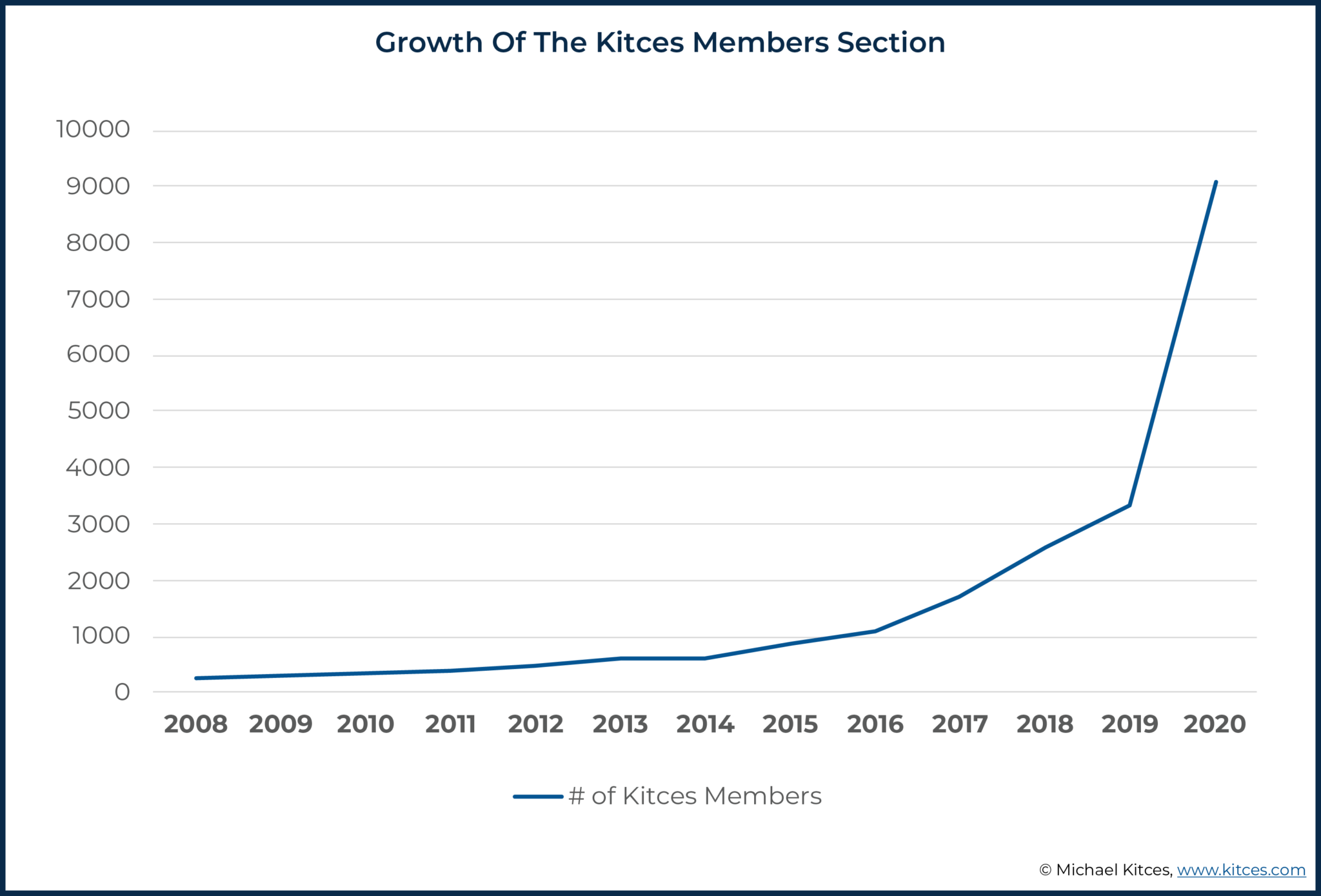 The end result was that, despite the disruptive challenges of the coronavirus pandemic over the past year, our Kitces.com Members Section grew by more than 100%. Leaving us better positioned to do even more for the financial advisor community in 2021 and the years to come!
From Financial Advisors To Financial Advicers
Notwithstanding the tremendous growth of Kitces.com over the past year, I recognize that what we produce – long-form, deep-dive, advanced educational content for financial advisors – is not for everyone. Few will want to read every article – which is fine, that's why we email it with a clear subject line and a full-length executive summary to understand if it's worthwhile for you to invest the time – but some just won't want to read Kitces-style content at all.
In part, that's simply because some people don't like to read long-form articles as a means of education (though we have tried to resolve this in part by also offering some of our content in an audio format as a podcast or via webinar instead). In part, it's because some financial advisors have reached a point in their career and their business where they no longer feel the need to keep reinvesting so much time into their professional development, and are satisfied with their current business and clientele. And in part, it's also because the "financial advisor" title is so ubiquitous that, for a large segment of the advisor community, their value isn't actually based on their financial advice (business card title notwithstanding) and their own knowledge, but by the financial products they sell. And as a result, they are not rewarded for investing in their own advisor education to upside their advice; they invest in their product and sales training instead.
In essence, then, we've recognized that Kitces.com is not actually a platform for "financial advisors", per se, but a platform for Financial Advicers.
So what does it mean to be a Financial Advicer?
At its core, being a financial advicer means being someone who is in the business of financial advice (not financial products), and the compensation they receive is remuneration for that advice (not a reward from product manufacturers or distributors for implementing the products they wanted to have sold). In other words, the Financial Advicer may help to implement solutions, but their value itself is product-agnostic.
Not to say that implementation of financial advice isn't important. Ultimately, what makes financial advice most valuable is when it's advice that "sticks", resulting in real-world behavior change that leads to better outcomes.
But just as there's a difference between a doctor that prescribes medication, the pharmacist that fills the prescription (but doesn't do the prescribing), and the drug company that manufactures the drug for sale, there's a difference between a Financial Advicer hired by their clients to prescribe recommendations, and those employed by product companies to sell and implement the company's products (or fill the orders that consumers come to purchase).
In the context of the current state of financial advisors, this definition of Financial Advicer recognizes that there are financial advisors at broker-dealers and insurance companies who may be compensated primarily via commissions for the products they implement, but who, in the end, really are in the business of advice and could easily choose to charge fees for that advice (but by virtue of how their advisory business operates and who they serve, happen to be compensated by product implementation instead). Similarly, this definition of Financial Advicer also recognizes that there are AUM-based advisors who are paid a percentage of the assets they manage, but their value is the holistic financial advice they provide (and the AUM model just happens to be a convenient way to be paid for it from their clients who have available assets to manage). Yet at the same time, there are also many "financial advisors" – within broker-dealers and RIAs – who in the end simply sell certain products for commissions or implement portfolios for a fee, and may help their clients benefit from the value of those solutions, but the value is in the solution itself, not the advice.
Because when you're a Financial Advicer, the product isn't the product. The advice itself, and the Financial Advicer delivering it, are the "product" that the client is purchasing.
Which is why Financial Advicers operate as fiduciaries (i.e., by having an affiliation to a Registered Investment Adviser, which is literally legally required to be in the business of financial advice). So that the Financial Advicer is legally accountable to their clients for the quality of the advice they provide.
In addition, this is why Financial Advicers have not only a substantive continuing education requirement – as all bona fide professions – to continuously improve their advice, but an outright business incentive to continue to invest in themselves and their education to better their business and their value proposition to clients!
And it's that need for the professional development of Financial Advicers that Kitces.com aims to serve.
THE FINANCIAL ADVICER MANIFESTO

A Financial Advicer is one who:

1) Is in the business of financial advice, and the compensation they receive is for that advice. [Be Advice-Centric]

2) Creates value through their advice, not the sale of any particular product. [Be Product-Agnostic]

3) Is legally accountable to their clients for the quality of the advice they give. [Be a Fiduciary]

4) Only provides advice in areas where they're knowledgeable. [Be Competent]

5) Reinvests into the ongoing development of their own professional knowledge. [Be Continuously Learning]

6) Avoids undue personal financial pressure that could undermine their objectivity. [Be Financially Sound]

7) Balances service to clients and the operation of a financially viable advice business. [Be Sustainable]
(Michael's Note: As we put forth the concept of Financial Advicers, we're still trying to find the right words to precisely describe it! So whether you agree with this definition, or think we need to modify it and explain it better, please share your thoughts in the comments at the end about whether you think we got it right, or need to refine this definition further!)
Though in the end, Kitces.com is not just focused on serving those who are already Financial Advicers. We also aim to support those on the journey to becoming Financial Advicers, and those transitioning from being "financial advisors" (in all its various forms) to being Financial Advicers. Simply put, we aim to be part of making the transition from sales to advice happen.
Which is why we not only provide upfront and continuing education for Financial Advicers (from this Nerd's Eye View blog to our Members Section), but also have the Financial Advisor Success podcast to share those journeys on the path of becoming a successful Financial Advicer. It's also why we've also developed an array of business solutions for Financial Advicers.
And it's why we don't make 'easy' CE quizzes on Kitces.com. Because ultimately, we believe that giving financial advice is a sacred duty to clients. Simply put, if one client's lifetime of financial diligence can be ruined in one hour of bad financial advice, it's important enough to have to take the time and get it right on a quiz!
Kitces.com: Making Financial Advicers Better And More Successful
As Kitces.com continues its transition from a platform of "me" (Michael Kitces) sharing my own personal learning journey to one of a team that serves to advance the business of financial advice itself, we are formally updating the mission of Kitces.com:
"Kitces.com: Making Financial Advicers Better, and More Successful"
In this context, "better" means being better at the delivery of financial advice itself. From having the knowledge it takes to know what the right advice is to deliver, to the skills it takes to deliver that advice well (and get clients to actually implement it!).
Successful means… whatever "success" means to the Financial Advicer. It may be building a bigger advice business. Or deliberately building a smaller, more focused one. It may be finding your first job on the advicer career path or advancing your advicer career as an employee within an advisory firm. It may be getting ready to retire from and wind down your advicer business or making the transition to gear up and start your own financial advicer practice.
At Kitces.com, we aim to achieve our mission of Making Financial Advicers Better and More Successful with a focus in four key areas: Education, Resources, Research, and Training.
Education is what we provide through the Nerd's Eye View blog, making knowledge on both the business of advice and the delivery of (technically accurate) advice directly accessible to the Financial Advicer community.
Resources are informational and reference materials made available to the financial advicer community to help them navigate the landscape of solutions and next steps, from our Master Conferences list, to our new CFP Scholarships list, to our popular AdvisorTech Map of technology solutions.
Research embodies the original research studies we're now conducting on what real Financial Advicers actually do, from the real-world financial planning process that advicers engage in, how financial advicers market and grow their advice businesses, and what determines the well-being of financial advicers themselves.
And Training is represented by our new Kitces Courses launch, focused not on financial planning knowledge – which is available directly through the Nerd's Eye View blog – but on being able to practice and build towards mastery of the skills that Financial Advicers need to actually be successful (such as how to review a client's actual tax return to glean insights and find financial planning opportunities!)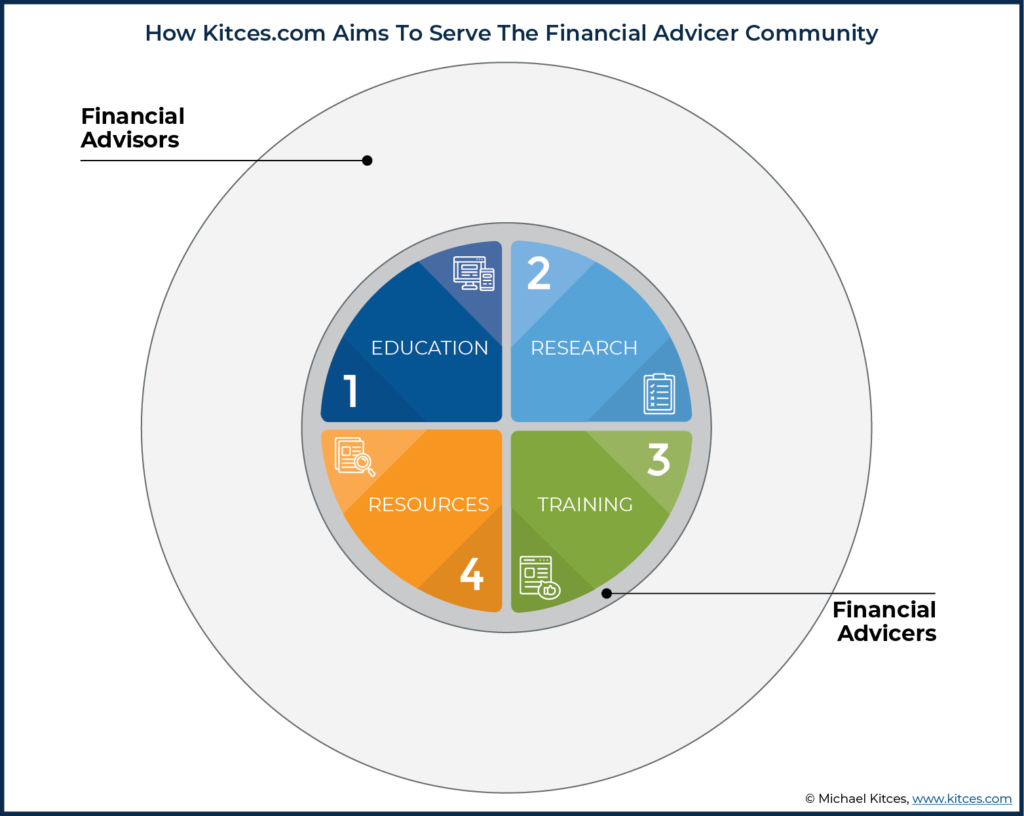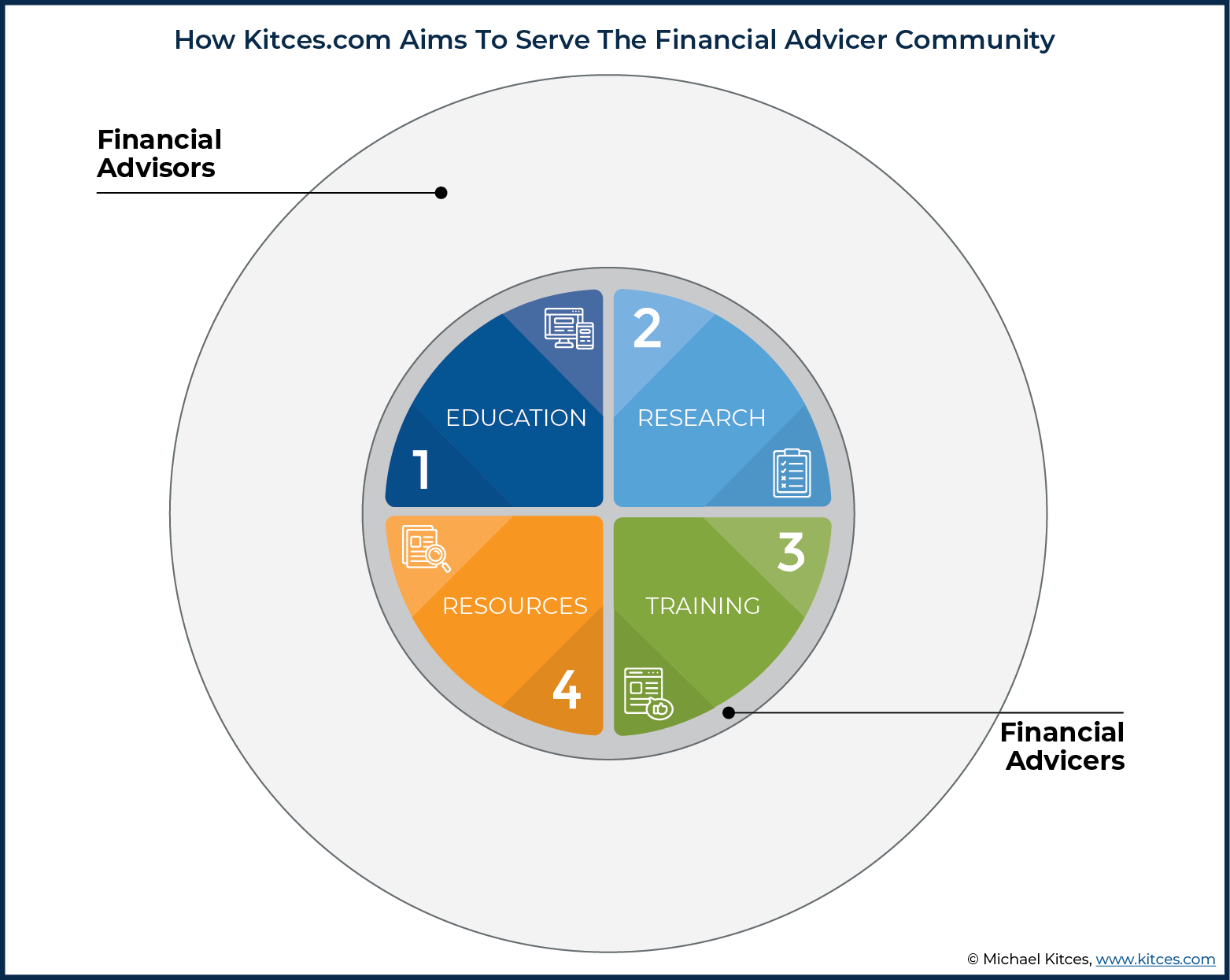 Research, Resources, Education, and Training, for the community of Financial Advicers, all in pursuit of Helping Financial Advicers to be Better and More Successful.
So whether you already are a Financial Advicer, or are looking to someday become or evolve into one, I hope you'll continue to find Kitces.com helpful to you in your own journey. Or if you're so inspired, join our Kitces team to help make it happen!
So what do you think? Is it appropriate to make a distinction between Financial Advisors and Financial Advicers? How would you define the difference between the two? Is there a better way to define the business of financial advice? Please share your thoughts in the comments below!