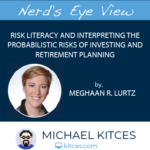 The concept of "risk literacy" may be new to financial advisors, but it is not a new construct. In fact, risk literacy – or the ability to understand the probabilities of risk and internalize them to make a good decision – has been applied in the context of the behavioral sciences for years. Thus, why it is so common now to talk about the risks of a medical procedure in terms of the mortality or survival rates… so people can make a good decision with a thorough understanding of the risks involved.
Except the challenge of risk literacy is that not everyone truly understands probabilistic risks. Which is concerning not only in the world of medicine, but also financial advice. Especially with the rising popularity of econometric-style risk tolerance questionnaires that ask investors to choose from a series of probability-based trade-offs… without first clarifying whether the investor even truly understands how to weigh those trade-offs. Or similarly, making a decision about which strategy to pursue for retirement based on the Monte Carlo probabilities of success (that, again, not all prospective retirees may really have the risk literacy to understand properly).
The good news, though, is that it turns out risk literacy can be taught. It is a function of financial education, and investors can be helped to make better decisions with a supporting explanation and education about the probabilities. Which helps to ensure that investors or prospective retirees really are considering the odds properly.
The key point, though, is that it's not safe to assume that everyone understands "the odds" when those probabilities are presented to them. In fact, researchers often use a (relatively short and feasible for financial advisors to use) risk literacy assessment to find out whether the individual really understands probabilistic risks, before making a decision. Which means perhaps it's time for financial advisors to consider using such assessment tools as well. To either ensure that clients really do understand the risks they're taking. Or at least, gain a better understanding of which clients need to have an additional explanation to really ensure they're comfortable with the (potentially risky) path they're choosing to take!