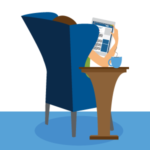 Enjoy the current installment of "Weekend Reading For Financial Planners" - this week's edition kicks off with the news that recent survey data indicate that advisors are more satisfied and productive when they have more time to spend with their clients and when those clients fit within their ideal client profile, in terms of needs, specialties, or engagement levels. Which suggests that advisor wellbeing could potentially be improved not only by automating or outsourcing administrative tasks, but also by adjusting their client rosters to better match their ideal client type.
Also in industry news this week:
A recent survey indicates that a strong majority of financial advisory clients have maintained their trust in their advisors despite the investment market setbacks experienced last year
A report from the SEC shows that a majority RIAs have mandatory arbitration clauses in their client agreements, a practice that has come under fire from some consumer groups
From there, we have several articles on RIA mergers and acquisitions:
A study has found that while RIA M&A activity has been hot during the past 3 years, many firms have walked away from deals, often due to misaligned valuation expectations between buyers and sellers
What RIAs contemplating an acquisition can do to make sure they get their first deal 'right'
The options for firms considering whether and how to adjust fees for clients acquired through an acquisition
We also have a number of articles on tax planning:
How IRMAA surcharges, while a nuisance, tend to represent a relatively small percentage of a retiree's income
The IRS is warning wealthy taxpayers about scams involving CRATs and monetized installment sales
How advisors can help clients take advantage of the 0% long-term capital gains tax bracket
We wrap up with 3 final articles, all about overcoming mental obstacles:
The psychological phenomena that help explain why individuals tend to think that the world is worse off today than it was in the past
Why self-judgment can contribute to burnout and how to overcome this tendency
Why it can be easy to fall into a funk when pursuing a goal and how to get out of it
Enjoy the 'light' reading!