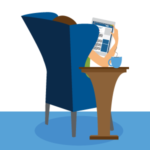 Enjoy the current installment of "weekend reading for financial planners" – this week's edition kicks off with the news that the Small Business Administration has released data on all Paycheck Protection Program (PPP) loans above $150,000, which includes more than 1,000 independent advisory firms and related industry service providers, raising the question of whether advisory firms are being hypocritical advising clients on their finances while needing to rely upon PPP for their own, or simply humanizing the reality that particularly mid-sized scaling advisory firms are still businesses with staff and overhead that face economic business cycles that can include layoffs in difficult times (which PPP loans were specifically intended to prevent).
Also in the news this week are requests from advocacy groups to the Department of Labor to extend its rather-narrow 30-day Public Comment period regarding the potential for ERISA fiduciaries to begin to receive commissions and other revenue-sharing agreements, and a Model Rule proposal from NASAA for more consistent requirements of state-registered investment advisers on their policies and procedures for everything from their code of ethics and proxy voting to handling material nonpublic information and business continuity and succession.
From there, we have a number of additional industry research studies out lately, including Cerulli research that finds the overwhelming majority of the mass affluent still rely on human advisors (and not robo-advisors) and that most clients are still very satisfied with their advisors (so satisfied, in fact, that it may soon become increasingly difficult to find new clients who aren't already attached to another advisor!), a J.D. Power study that finds the majority of advisors at broker-dealers aren't satisfied with their platform's technology tools (despite 92% acknowledging that technology is crucial to their choice of platform), and a LIMRA study finding that almost 3/4ths of advisory firms have shifted their marketing focus to expand relationships with existing clients as prospecting has become more difficult in the world of pandemic social distancing.
We also have a few marketing-related articles this week, including a look at the kinds of online/digital marketing strategies advisors are testing in the face of the pandemic, guidance on how to create an effective sales process that can be tracked and improved over time, and the core outcomes to focus on whenever conducting a client meeting (hint: the #1 key simply boils down to answering the client question: am I going to be OK?).
We wrap up with three interesting articles, all around the theme of managing ongoing stress: the first examines the concept of "goal diversification" as a way for us to break a cycle of stress and burnout by finding new ways to have some 'small wins' that give us more positive feelings of progress; the second is a powerful reminder that in the age of the 'always connected, always be productive' mindset, sometimes it's incredibly powerful and rejuvenating to make a proactive decision to be deliberately unproductive for a little while; and the last explores recent research findings that the greatest adverse effects of stress actually derive from our mindset about stress, that the more harmful we believe stress will be the more harmful it turns out to be, and that by Acknowledging and Owning the stress, we can try to Use it, changing our mindset about stress that takes us down a (literally) healthier path.
Enjoy the 'light' reading!