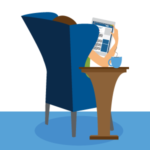 Enjoy the current installment of "Weekend Reading For Financial Planners" - this week's edition kicks off with the news that the Securities and Exchange Commission (SEC) has received significant pushback from investment adviser and financial industry trade groups to the regulator's recent proposal that would establish formalized due diligence and monitoring obligations for investment advisers that outsource certain advisory functions. While the proposal received support from state regulators and consumer advocates, adviser industry groups argued that the measure would create unnecessary extra work for advisers and could be a particular burden on smaller firms.
Also in industry news this week:
Amid a robust regulatory agenda, the SEC is facing elevated employee attrition, particularly in its senior ranks
How planning specializations can help firms and their advisors stand out from the pack
From there, we have several articles on retirement planning:
Why an individual's portfolio of relationships could be just as important as their investment portfolio when it comes to happiness in retirement
A recent study shows how delaying Social Security benefits typically leads to greater lifetime wealth than claiming benefits early in order to reduce portfolio withdrawals
Why 'failure' scenarios in Monte Carlo simulations are very different than plane crashes
We also have a number of articles on practice management:
Why the most successful firms in the coming years might be those who dominate individual market segments rather than those that are 'overdiversified'
Four ways firms can attract next-generation advisor talent
Why being proactive can help firms overcome the challenges of hitting capacity 'walls'
We wrap up with three final articles, all about New Year's resolutions:
Why the most successful goals are often those that fit within one's self-identity
How a 'time audit' can help an individual spend more time on their most important personal and professional activities
Why a single push-up could be the key to achieving a New Year's resolution
Enjoy the 'light' reading!