Executive Summary
The ongoing growth of financial advisory businesses over the past decade, when combined with the shift to ongoing recurring revenue models (from assets under management to monthly subscription fees), has led to more and more advisory firms accumulating a critical mass of clientele that requires them to expand their capacity by shifting from the 'solopreneur' advisor model into forming an advisor team. The appeal of the team model is the potential to both improve operational productivity through delegation of tasks, expand service with a broader range of expertise, and train and develop next-generation financial advisors in the business. At least, if the advisor team can actually function effectively… as in practice, it's not enough to simply form the team, it's also important to ensure it's the right kind of team to accomplish the business goals of the firm, and that the team develops the skills necessary for it to function successfully!
Because the good news is that, with the right design and training, an Operational Advisor Team can function to increase revenue productivity, an Expertise Advisor Team can offer a wider range of professional services for clients, and a Development Advisor Team can cultivate a deeper talent pool for the benefit of the firm's future. However, because those teams require different designs and training for each, it's first necessary to identify the specific bigger-picture goals that are most important to the firm, to ensure the firm selects, optimizes, and fully leverages the team's structure and training protocols to suit their purpose more appropriately. In other words, by first considering the benefits and challenges inherent in each type of Advisor Team, firms can optimize their team designs to fulfill their desired purpose.
Operational Advisor Teams function mainly to increase revenue productivity and operational efficiency by establishing work roles (e.g., back-office paperwork, scheduling, financial plan research and preparation) that support advisors, allowing them to maximize their facetime with clients. Yet, an effective Operational Team generally requires team members to work together seamlessly and to rely on the work products of their co-workers. Accordingly, the primary challenges for Operational Advisor Teams are developing trust among all team members, and establishing accountability standards through the development of training protocols that ensure the team knows what and how to do the work that is expected of them. Providing opportunities for autonomy can help team members develop trust with other team members, and even assigning team members themselves to create training protocols can encourage a culture of trust and accountability.
Expertise Advisor Teams provide clients with more of a 'one-stop-shop' experience for their financial planning needs, and include multiple advisors across different areas of expertise (e.g., CFPs provide comprehensive financial planning, CPAs run tax analyses, CFAs oversee client portfolio management, and estate attorneys identify estate planning strategies and create appropriate legal documents). The main challenges for these teams revolve around composition and communication. It is critical to identify the specific services to be offered so that the right set of experts are selected for the team. Furthermore, the importance of establishing (and reinforcing!) good communication protocols will be important, especially with a team of experts, to ensure that messages delivered to clients remain professional (e.g., ensuring that team members are courteous and respectful to clients… and to each other, even when they professionally disagree!) and uniform (e.g., getting all team members on the same page with respect to client strategy, despite different expert opinions that may conflict with one another). Thus, developing good communication skills within the team by holding meetings to review client strategies in advance, rehearsing conversations through roleplay exercises, and, when hiring new team members, will ensure that all members of the team understand the reason in order to maintain positive morale.
Development Advisor Teams foster new and rising talent in the firm with a focus on investing for the firm's future talent pipeline, whether the reason is to support succession planning needs, to offer more vacation time, or to deepen the firm's next-generation talent pool. For Development Advisor Teams, one of the main challenges lies in establishing training programs, which can be both time- and labor-intensive. Delegating to less experienced team members is another challenge, which can be emotionally difficult for more seasoned team members who may be struggling with the idea of retirement or moving on to different roles, and mentally challenging for those who must remember that tasks which are easy for them (that they have carried out routinely for many years) can be complex and potentially difficult to master for newer team members who need detailed instructions. Yet, in order to develop effective training programs and to delegate the right tasks to the right individuals, it is important to crystallize the specific goals of the company. Accordingly, by setting goals that are SMART (Specific, Measurable, Achievable, Realistic, and Timely), firms can design Development Advisor Teams that meet their specific objectives.
Ultimately, the key point is that there are different types of teams that advisory firms can develop, and choosing the right type of team will depend on what is most important to the firm and what overall goals the company has. But with a clear understanding of the ideal type of team that can fulfill the advisory firm's goals, it's possible to tackle the unique challenges that each type of team commonly faces, and advisory firms can target specific solutions to help their teams thrive while meeting organizational goals!
The Advisor Industry's 3 Main Types Of Teams: Operational, Expertise, And Development
The financial services industry loves to tout the benefits of advisor teams. And certainly, teams can be really great things for many reasons. Yet, a somewhat undiscussed issue when talking about how great teams are is just how difficult it is to actually build a good one!
The difficulty of building a good advisor team starts with the reality that there are actually many different types of teams… and each one serves a different purpose and has different needs to run effectively and improve itself.
As it stands today, the three common types of advisor teams are Operational Teams that function to increase revenue productivity, Expertise Teams that are designed to offer a wider range of service expertise to clients under one roof, and Development Teams that aim to train and develop future financial advisors (either as a successor to the original advisor or, more generally, to expand the firm's next-generation talent pool).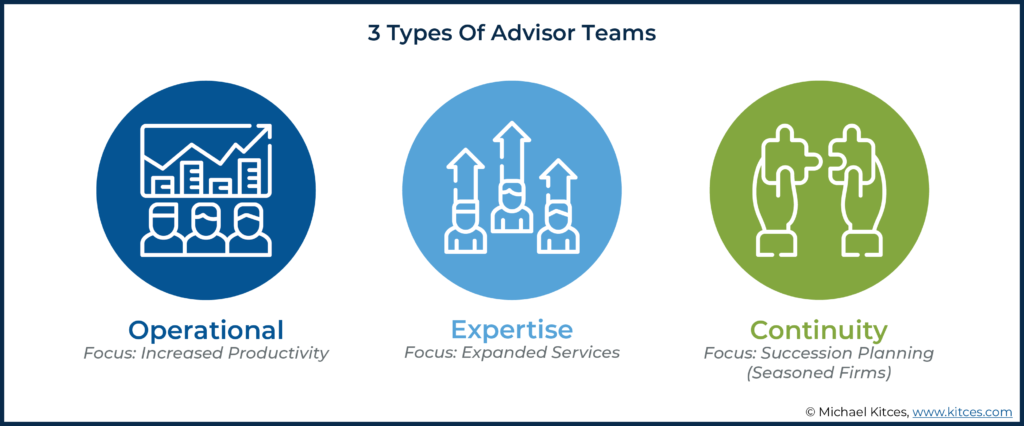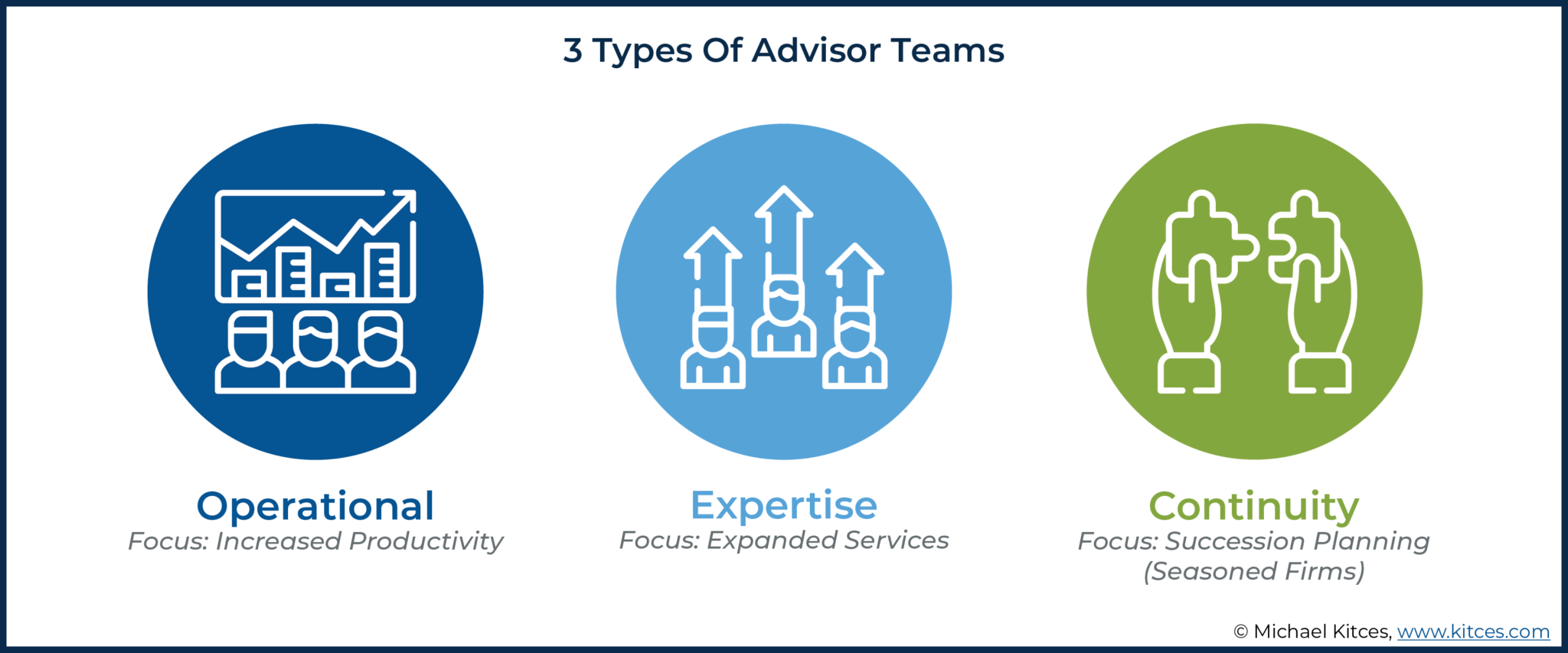 Operational Advisor Teams –More Hands For Business Productivity And Cost Efficiency
Operational Teams in an advisory firm are designed to increase productivity and operational efficiency, often with roles for team members who provide support to advisors, giving the advisors themselves more client-facing time. Since these advisor support roles typically have lower salary costs than for an advisor themselves, Operational Team structures tend to improve firm profitability by spreading the work across more employees at a lower average salary/cost.
For example, the lead advisor of an Operational Team might hire a virtual assistant or client service administrator to handle client paperwork, scheduling meetings, and other back-office work, or a paraplanner to support the financial plan creation process, plan presentation meeting preparation, and other middle-office work. Many advisory firms operate with a 3-person team that includes the lead advisor, and an associate advisor, and a client service administrator.
Research has consistently shown that financial advisory firms that function as a team are able to service more revenue at a lower cost relative to simply hiring more solo advisors to handle more clients/revenue.
In our own Kitces Research study of how financial planners do financial planning, the median (50th percentile) of advisors with support staff earn $210,000 in income, which is more than 90% of advisors without support staff (who earn a median of only $184,000 annually). This suggests that solo advisors with no support staff are doing a lot more work (as they have no one to share their with work with) just to generate similar levels of income as solo advisors with support staff on their teams.
And we observed a similar trend in our Kitces Research study on advisor marketing, showing that lead solo financial planners reported spending an average of 29.5 hours to complete the financial planning process, whereas the lead advisor's time drops substantially to an average of only 20.6 hours for a solo advisor with support (because the remaining work is being done by the other team members, at a more cost-efficient salary).
And we are not the only ones that find these trends. Another study conducted in October 2015 by McKinsey, specifically examining advisor teams, found that teams managed more assets, generated more revenue, and maintained more client relationships when compared to a solo. Support staff members are critical to growth, as non-advisor team members can delegate and offload non-advisor middle- and back-office work to free the advisor for more client- and prospect-facing front-office work.
Simply put, Operational Teams are all about having 'more hands' – more cost-efficient hands – to do the work for clients.
Expertise Advisor Teams –Specialized Hands Offering A Wider Range Of Services Under One Roof
Expertise Teams, different from an operational or 'more-hands' approach, are actually about expanding the services that the advisory firm is able to offer under one roof.
For instance, common in the wirehouse and private trust worlds, the team might include a lead advisor, an investment specialist, a tax expert, an attorney, and a banker. In the RIA world, a subset of very large independent advisory firms is similarly trying to build depth with in-house team expertise across the tax and legal domains, with attorneys and CPAs all under one roof (or at least under a shared entity umbrella).
There are even practices that have an in-house marriage and family therapist or financial therapist on staff to help clients with the emotional side of money, in addition to the actual financial planning services provided by the financial advisors themselves.
Staff with specialized expertise can offer a deep bench for clients who may need varied and in-depth services, and allow advisory firms to provide that wider breadth of services themselves (rather than referring out externally to strategic partners or simply other providers in the area).
Notably, though, unlike Operational Teams, Expertise Teams do not necessarily result in cost savings or productivity enhancements. As while Expertise Teams do involve bringing on more people, it's not about having 'more hands' to do the work, but more 'specialized hands'.
In fact, Expertise Teams are often a higher cost model (at least relative to offering 'just' financial advice services and referring out the rest) – as 'specialized hands' are also 'expensive hands'! – but may be appealing if those 'specialized hands' can help advisory firms to attract a more affluent (i.e., higher-revenue) clientele that can pay more in fees to more than offset those higher Expertise Team costs.
Development Advisor Teams –New Hands Expanding The Next Generation Of Talent
Last but not least, Development Teams in advisory firms are centrally-geared around providing training with a focus on business continuity and developing the firm's pool of next-generation financial advisor talent.
In other words, in contrast to an Operational Team whose focus is on providing 'more hands', and an Expertise Team providing 'specialized hands', the Development Team emphasizes reinvesting the firm's resources into training and developing the next generation of 'new hands', which in turn allows them to rejuvenate tired hands (e.g., allowing for vacations) and to replace retiring hands (e.g., succession planning).
For example, an experienced lead advisor might train and develop younger advisor(s) to support ongoing relationships and eventually to be in a position to take over those relationships. Through Development Teams, natural succession planning can be organized so that, as lead advisors retire, internal takeover provides a way forward.
And, with some coordination, members of the advisory team can take vacations to avoid burnout by having some redundancy in client service, which is distinct from adding more hands working on a single client (operations). Instead, it relies temporarily on a different set of new hands in the firm to help in a pinch, as needed.
It's important to recognize, though, that Development Teams don't necessarily bring about significant productivity gains to make the firm more profitable (as it's not just about delegating to serve clients more cost-effectively), nor do they expand Expertise to attract more affluent clients and generate higher revenue (since the new hires tend to be newer advisors with less experience and expertise); instead, Development Teams tend to reduce margins of an advisory firm, and are effectively a reinvestment strategy for the firm, spending dollars on future talent needs under the auspices that it's less expensive in the long run (though not likely in the short run) to develop the talent internally rather than to simply try to hire it in the marketplace when needed in the future.
Too Many Hands? The Unique Problems That Arise When Building (Various Types Of) Advisor Teams
As great as they can be, it is no surprise that each type of advisor team comes with their own set of common problems that must be overcome to actually gain the desired benefits of the team.
Trust & Teaching – The Primary Challenge Of Operational Advisor Teams
When it comes to Operational Teams, 'more hands' can be beneficial for the firm, but, in reality, this is only if everyone trusts what the other hands are doing. To develop this trust, it can take a lot of time, multiple iterations of a process, some patience, and a good deal of practice.
Why does it take so long, and why is it such an iterative process? Well, in my experience working with advisors (and from being a teacher myself), knowing something well does not necessarily equate with good teaching. In research, this is called the Curse of Knowledge, which says that teaching something that we know really well can sometimes be really difficult because, as a 'knower', we don't remember what it is like to be a learner.
Said another way, the 'simple' tasks that you want to offload are simple – for you – because the 15 micro-steps that it takes you to do them feels more like maybe 2 steps, all of which are 'intuitive' (because you likely built the process for yourself in your natural operating style) and take little thought (because they've often been reduced to habits you can handle on 'autopilot' at this point). Yet, to a learner, all 15 steps really matter, and it takes a lot more time and patience to document and monitor 15 steps than it does 2 steps.
Hence, the development and testing of procedures, as well as the training on those procedures, will require a lot of back and forth dialogue, open communication, and time.
Example 1: Frank, a financial advisor, recently hired a paraplanner, Paul. Paraplanner Paul was chosen because of his prior experience in the financial planning industry, but now Frank realizes he does not operate the same way the advisors in Paul's last office did, which means Paul's existing industry experience hasn't actually prepared him for Frank's office the way Frank anticipated.

Moreover, Frank realizes that to get Paul up to speed, he and Paul will need to spend even more time together to help Paul unlearn old and current habits, and to (re-)learn how to do things the way Frank wants things done.

This takes a lot of back and forth communication, learning, and patience from both parties, over a 5-month period, before Frank really feels that he can trust Paul's work. Frank wants to be able to hand plans off to Paul without having to go over them with a fine-toothed comb together to find places where Frank may have wanted something done a different way.
The story of Frank the Financial Advisor and Paul the Paraplanner not only exemplifies how we may have to un-teach and teach a process but also the importance of open communication (Frank and Paul were able to work through learning and re-learning, probably getting stuff wrong a time or two). And it illustrates a final key point as well – the importance of trust. Through the learning process, trust is built. It can be really scary to allow someone other than yourself to complete tasks for your clients, unsupervised. But it's essential for an Operational Team to operate efficiently; without trust, the inevitable result is time-consuming micro-management that undermines the very benefit the 'more hands' Operational Team was intended to solve for.
Composition & Communication – The Primary Challenge Of Expertise Advisor Teams
In Expertise Teams, specialized hands are great for meeting (and maybe even exceeding) especially the most complex of client needs… but only if the composition of the team is seen as beneficial, and good communication between team members exists, so clients feel well-served by the team of specialized experts.
A common challenge of Expertise Teams, though, is that team members often struggle with figuring out how to work together for the benefit of the client as opposed to garnering the spotlight themselves and their own expertise. As experts are experts, if you put them in a room together, they often each still want to be the expert!
In essence, then, the crux of the Expertise Team problem is twofold: structuring the composition of the team itself (so it has the right expertise to solve client problems), and later establishing good communication protocols and best practices so those experts work together and not each for themselves.
And while it's a matter of determining the expertise the firm needs in order to set the composition of the team, getting the team to work well together doesn't automatically happen simply because smart people are brought into the room together.
Thus, when adding a new team member, firm leaders should be aware of the impact of the new addition to the existing team, as introducing a new expert can potentially ruffle the feathers of other team members if they do not see the need for that new team member (or worse, feel that the addition of the new team member is a statement about their own lacking expertise, and a challenge to them to 'prove' themselves!).
And even if the team generally agrees that it is good to have all of its members… this does not necessarily mean the team will be good at presenting or communicating as a team! For instance, it is also not uncommon for experts in different fields to disagree (rightly or wrongly) with each other with respect to determining what is best for their shared client.
Example 2: Millie, a self-made multi-millionaire, has chosen to work with the firm aptly named, Under One Roof, because she wants just that –the opportunity to work with a team of experts to serve all of her needs as both a business owner and an individual, all in one place.

Yet, at a recent meeting, she actually begins to question this decision.

Because in the meeting, the firm's estate planning expert knew of a somewhat obscure aggressive estate planning strategy and recommended it for the benefit of Millie, only to have the new tax specialist, recently added to the team, question whether the strategy would hold up to IRS scrutiny and recommend against it as being too risky. While both experts know about taxes, the estate planning attorney wanted to minimize Millie's taxes, while the tax specialist wanted to minimize Millie's potential for conflict with the IRS.

As the meeting continued, the tax specialist and the estate planning specialist debate got increasingly intense and heated, as they argued over the next course of action that they felt was best for Millie.

Millie's main point of contact, her financial planner John, tried to mediate the conversation, but it did not go well. All of the different suggestions left Millie feeling confused and torn, but she also didn't feel included. Instead, she felt like a frustrated audience member, just watching and listening to her life's work being discussed as though she were on Shark Tank, and not in a good way!
It is undoubtedly great to have lots of ideas and plans for a client. In fact, if there is a financial advisory team that can increase client satisfaction, it is likely the Expertise Team, based on medical field research that finds cohesive communication among patient care teams (that often involve experts) have the potential to increase client satisfaction. However, cohesive communication, let alone clear communication is tough to master!
The problem for Millie, in Example 2 above, was not the expertise of the experts – who arguably did a great job considering an issue from all angles – but how her team of experts presented the information. Being presented with lots of ideas and perspectives is a good thing, but without being offered a clear way forward involving Millie's own feedback? Not so good.
Training & Delegating – The Primary Challenge Of Development Advisor Teams
Development Teams also have their share of issues. Essentially, new hands are great for expansion and a long-term talent pipeline, but only if team members can communicate expectations surrounding training and delegation. And it is important to recognize that this is a two-way street!
For instance, new hires need training and that, obviously, requires a training program. Yet, I know that there are not many advisory firms with comprehensive training programs. For those that do, great! But let's be honest, their training program probably was not in place with the first hire...maybe even the first five.
Yet, for firms that did have something in place on day one with hire one, I would also guess that, because of the Curse of Knowledge phenomenon (discussed earlier), what you did have in place has since been revamped because it is hard to know what people know (or don't) and how to teach them what they need to learn, especially for new trainers who have never done it before.
So while we need training programs, training programs don't exist until we create them… and it can be hard to design a training program without actually training a few people in the first place! Advisors can feel stuck in a cyclical training conundrum (but don't worry, in the next section, we will talk about how to fix this).
Remember, we said that communication is a two-way street; the other side of this is that advisors also really need help delegating. Again, or similar to the problems in Operational Teams, the whole point of delegating is to eventually let go of some tasks and or teach people to do tasks individually and unsupervised.
In Operational Teams, this is task-oriented and stays that way. In Development Teams, on the other hand, we are teaching the next generation to be advisors and to carry the weight of the relationship – not just complete paperwork or draft a plan. Moreover, as much as new hires need training steps, the lead or senior advisors, as supervisors, need delegation steps because it is not easy, emotionally, to become a delegator.
Example 3: Bonnie has hired Ted, her first associate advisor! Ted is very smart and knows the 'right' answers, but he is also fresh out of school and has never managed a client relationship before.

Bonnie has spent the past few months including Ted in her meetings. She has met with Ted before and after each meeting to prep and debrief, and has given Ted tasks to research and prepare some of the financial plans. Despite the fact that Ted is doing a great job, though, Bonnie is not yet feeling comfortable to let Ted lead a meeting or even be the one to respond to a simple client request.

Ted is confused and isn't sure what to do. He wants to help Bonnie and is excited to work with clients, but he senses Bonnie's hesitation and does not know what he should do to prove or demonstrate his growth to Bonnie so that she trusts him more. Neither Bonnie nor Ted know what progress or development means to the other, let alone what steps to take to establish a stronger foundation of trust.
Simply having a desire to either grow the next generation or to train someone to eventually take over your business is one thing. Actually doing it – handing over tasks and clients is another, and it can be very emotionally difficult.
How To Keep All Of Those Hands More Organized
Taking a glass-half-full approach, even though there are clear challenges that face the rollout of new advisor teams, the most common problems, discussed in the last sections, are luckily problems that we can see coming down the pipeline and, therefore, can be prepared with solutions to implement for each type of team to move forward faster and with greater efficiency.
Opportunities For Autonomy – The Antidote For Operational Team Challenges
To maximize their efficiency opportunities, Operational Teams should focus on creating opportunities for autonomy to help counteract the issues of teaching and trust.
The key step, knowing that experts don't necessarily make great teachers, is for advisors to utilize new hires themselves to document the processes needed to establish a great training program.
Example 4: Jamie, a solo financial planner, has hired Samantha to be her customer service specialist.

As the boss of her own company, Jamie has always set up new clients with the client-vault system so that she and her clients could send and receive documents with sensitive information to each other. This is not a task that Jamie needs to do; it is not advisor work. Jamie decides to hand it off to Samantha.

In order to hand off this task, Jamie decides to record a short video of herself walking through the process to begin the delegation process. She then shares this video with Samantha and asks Samantha to give it a try with a new client signing up. In addition to practicing the protocol, Samantha is also assigned to document the process in writing and to record an updated video if, as Jamie explained, the video that she made was unclear or if Samantha felt that a key step that perhaps Jamie rushed over, needed a few more moments of explanation.

Jamie and Samantha then meet to review the written process. They walk through it, discuss any final questions and, of course, check to see that the client was actually able to send and receive a document. At the close of the meeting, Jamie selects another couple of tasks that she can quickly document, and so the process begins over again.
In Example 4 above, while Jamie is using her new hire, Samantha, to document processes, that is not necessarily all she is doing. At the same time, Jamie is encouraging Samantha to check her work, and then they actually review the process together to ensure not only that it works but also that they both understand it.
By providing her new employee with quick, high-level guidance, Jamie has given Samantha a level of autonomy that leverages Samantha's detailed mind-set. Because Samantha is still unfamiliar with the new processes, she needs to carefully think about each step of each task she is responsible for, no matter how small, and in the process, she is also able to meticulously capture and document all of the important nuances.
Furthermore, giving autonomy (e.g., writing down the process, checking the process, perhaps developing a slightly new process) establishes rapport and trust between Jamie and Samantha because, through this work and discussion, they are learning each others' strengths and blind spots, as well as putting mechanisms and processes in place that they are both checking and agreeing to, which fosters that very important key ingredient – trust.
In Example 1, earlier – with Financial Advisor Frank and Paraplanner Paul – perhaps because Paul had some experience, Frank could have simply asked Paul to begin documenting processes right off the bat, and then the two of them could come together to talk about what Frank had documented. This would still create that chance for Frank and Paul to learn about each other, but it would have also set up a system for reviewing what Paul already knew without Frank necessarily just worrying about having to just be on-top of catching the error.
Practicing Communication – The Key For Expertise Team Challenges
For Expertise Teams, the big to-do is to practice communication. Because while we often take our ability to communicate for granted, there are many nuances to communication that, to do it well, require practice and skill, especially in groups that have many expert hands involved.
After all, consider how many times we thought we communicated something well or efficiently, and then found we didn't actually live up to that. We might communicate all the time as humans, and it might make sense to us in our own heads, but this does not mean that we are actually good at doing it, with others, in groups, without practice.
Expertise Teams are created to address the wide-ranging needs of clients whose issues tend to have many potential solutions. That's why Expertise Teams bring together a group of experts to solve those complex challenges. Yet while everyone is being brought together to share their great ideas and perspectives in the interest taking care of the client, presenting and weighing all of these great ideas in a professional and productive manner still takes practice. Meetings in front of the client can't be a free-for-all because it is confusing.
As such, Expertise Teams will benefit from quickly rehearsing meetings, considering who will say what and when, and going through the motions to get used to the hand-offs, like actors walking through a scene.
Example 5: Thanks to some feedback from their client Millie, the advisor team at Under One Roof has decided to improve their meeting flow in an effort not only to make what they have to say clearer but also to help the client to feel like part of the team.

Now, instead of just entering meetings cold with each advisor knowing what they want to say (and maybe having a vague idea of what someone else might say), they huddle to review their strategy 20 minutes before the start of each meeting and actually create a bullet point version of how their 1-hour meeting will run and who will take the lead on each key topic.

For instance, the tax expert prepares a single statement for the pre-meeting huddle group that summarizes for the group each of the five slides he intends to use during the client meeting and reads only the single statements to the group (because the point is not to teach the group the topic itself, simply to present how the conversation will flow for the client). This continues as each person presents their piece.

Before the end of the huddle meeting, the experts consider appropriate points during their presentation to the client, where it would make the most sense to pause, turn to the client, and ask for questions and feedback.

If they find that they have questions or concerns about each other's work or presentation, the huddle also provides an opportunity for them to ask questions of each other, expert to expert, before they get in front of the client, so that it does not appear that the team itself is out of sync in the meeting itself.
Example 5 above explains how a team might briefly huddle before a meeting to cut down on any client confusion. While communication, in general, can be tough, communication gets really tough when more than two people are involved. Developing a quick plan for the meeting and ironing out kinks before getting in front of the client helps to ensure that the team is able to include the client as an active participant in the meeting, and also that the team operates well together.
It can be worthwhile to go through these same practices using client case studies in a regular educational team meeting (outside of the pre-client-meeting huddle). Remember that it can be a bit awkward each time the group changes (adding a new member or even working with a new client) and, thus, using case studies is a low-stakes way to practice communicating and learning about other team members' areas of expertise and knowledge.
Expertise Team members generally want to be the expert in front of the client, but if there is no client to begin with, and if the focus of the conversation is simply on strategy and practicing communication, the potential for competition is, in many ways, removed. This allows the group to practice in a more productive and collaborative manner to build their own team rapport.
One last consideration for Expertise Teams involves adding new members to the team. For Expertise Teams, in particular, it is important to communicate and discuss why new team members are being added. We want to avoid ruffled feathers, people's feelings getting hurt, or someone responding in a territorial way. The goal here is to maintain positive morale when someone new is added to the team. This should be an accepted event, not an uncomfortable one.
Setting SMART Goals – Solutions For Development Team Challenges
Last but not least, an assist in untangling the issues of Development Teams comes in the form of developing the right kind of goals for team development… specifically, goals that are Specific, Measurable, Achievable, Realistic, and Timely (SMART).
A key consideration to remember with Development Team new hires is that they are expected to progress through a defined career trajectory with the firm. They are not expected to remain associate advisors forever. As such, don't just rely on their current job description when developing SMART goals to take them to the next rung or challenge that will ultimately lead them to the next job description. Look ahead to their next job description and what they need to be training towards as well.
Using SMART goals in this way tells the new hire specifically what is expected from them and, in turn, what they need to learn to demonstrate progression. In the initial stages, these things might be very task-oriented but may become more flexible and open-ended as skills develop over time.
SMART goals can also be used by the supervisor to determine what tasks they want to hand over. For instance, the lead advisor wants to take a vacation and is planning to leave the associate advisor in charge. Instead of rushing to do extra work so that the associate advisor does not have to stretch themselves to fill the lead advisor's shoes while they are out (eventually, we are trying to turn them into a lead advisor… so why not let them stretch a bit?), set SMART goals for the associate advisor to tackle while the lead is out.
Moreover, this gives the lead a chance to give very Specific, Measurable, Achievable, Realistic, and Timely (SMART) tasks to the associate advisors, so that they then don't have to worry as much about what is and what is not getting done.
Example 6: Bonnie is a senior advisor and has really tried to do a better job with her newly hired associate advisor Ted. Ted told Bonnie that he wanted more responsibility, and Bonnie knew that she had to find a way to let go of some of her hesitations and give him a chance to try.

As such, Bonnie and Ted sat down with Ted's original job description and mapped out a plan for how to get Ted to the next job description. This wasn't as simple as it may sound. For instance, Ted asked what does 'proficiency in financial planning software' actually mean? Is he not proficient already?

Bonnie and Ted realized that, even though they understood what 'proficient' means, they weren't really clear about what Bonnie's expectations were. After some careful thought, Bonnie defined her proficiency metric as having created 25 complete plans, entirely independent of her help, with zero errors.

With a clear understanding of what 'proficient' actually meant to Bonnie, Ted and Bonnie can now construct a SMART goal around it. For instance, by the end of the quarter, Ted will have reviewed two current plans, attempted to construct his first plan on his own, and present it to Bonnie as though she was the client.

Bonnie and Ted selected some time on the calendar for this to take place, and have a training session once a week for an hour to talk about software, planning assumptions, and questions that Ted has along the way, reviewing only the two current clients' plans that need updating with Bonnie.

Ted responds well to this, too; knowing what's expected, he finds he works harder to prove he can do the work, learning and documenting his questions and progress, getting lots of constructive feedback along the way.

Moreover, because things have been going so well, Bonnie is actually planning her first big vacation, where she fully intends to leave her phone and her laptop at the hotel each day instead of taking them to the beach. She plans to check her email once a day and will be available for an emergency, but she is not just going to sit on the beach and answer emails from her phone all day – Ted knows what needs to be done because he has already proven he can and she trusts him.
Development Teams need concise, measured feedback and expectations, but that is easier said than done. Taking the time to build SMART goals for both the lead and the associate advisor can make a world of difference in understanding not only where one wants to go but how to get there in a way that both parties see and acknowledge as progress (or room for improvement).
---
Beyond the steps it takes to make Advisor Teams actually be efficient and effective to accomplish their goals, it's also crucial to reflect on why an advisory firm may want and need a team (or not) to begin with. Because the reality is that not all problems are best solved with a team (lots of solos out there are totally happy without a team and can totally stay that way), and different types of teams – Operational, Expertise, and Development – are built to solve for very different types of problems.
If you have an Expertise Team or a Development Team in place, it might not be the most productive. But productivity is not the main goal for those teams. If the goal was productivity all along, one should have gone for an Operational Team. A single team does not necessarily do all things, and having the wrong type of team – even if the team is otherwise operating well – won't accomplish the business goals of creating the team.
So, as you evaluate teams in your own firm, including if the team has already been in place for some time, ask yourself not only "how well is the team working?" but also "is this the right kind of team for the needs of the business in the first place?"
Being clear on why is also about patience and context. Some days you might wonder why you decided to hire a new team member in the first place – so it is helpful to remember what the end goal is. Envisioning what that really looks like to you will help to sustain you when teams get tough and work through the training challenges to accomplish what the best advisor teams are capable of!