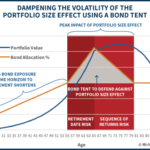 The final decade leading up to retirement, and the first decade of retirement itself, form a retirement danger zone, where the size of ongoing contributions and the benefits of continuing to work are dwarfed by the returns of the portfolio itself. As a result of this "portfolio size effect", the portfolio becomes almost entirely dependent on getting a favorable sequence of returns to carry through.
And because the consequences of a bear market can be so severe when the portfolio's value is at its peak, it becomes necessary to dampen down the volatility of the portfolio to navigate the danger – a strategy commonly implemented by many lifecycle and target date funds, which use a decreasing equity glidepath that drifts equity exposure lower each year.
Yet the reality is that the retirement danger zone is still limited – after the first decade, good returns will have already carried the retiree past the point of danger, and bad returns at least mean that good returns are likely coming soon, as valuation normalizes and the market cycle takes over. Which means while it's necessary to be conservative to defend against the portfolio size effect, it's not necessary to reduce equity exposure indefinitely.
Instead, the optimal glidepath for asset allocation appears to be a V-shaped equity exposure, that starts out high in the early working years, gets lower as retirement approaches, and then rebuilds again through the first half of retirement. Or viewed another way, the prospective retiree builds a reserve of bonds in the final decade leading up to retirement, and then spends down that bond reserve in the early years of retirement itself (allowing equity exposure to return to normal).
Ultimately, further research is necessary to determine the exact ideal shape of this "bond tent" (named for the shape of the bond allocation as it rises leading up to retirement and then falls thereafter). But the point remains that perhaps the best way to manage sequence of return risk in the years leading up to retirement and thereafter is simply to build up and then use a reserve of bonds to weather the storm.