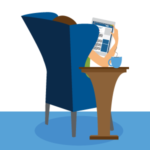 Enjoy the current installment of "Weekend Reading For Financial Planners" - this week's edition kicks off with the news that amid public interest in the potential conflicts of interest involved in 'payment-for-order flow' arrangements between brokerages and market-making firms, SEC Chair Gary Gensler has asked agency staff to explore various ways to make the U.S. equities market more transparent and fair, including potentially creating an order-by-order auction mechanism to help retail traders obtain the best pricing for their orders. While payment-for-order flow arrangements have likely subsidized the dramatic reduction in direct trading costs during the past several years (as well as 'free' custodial services for advisory firms), questions remain as to whether the practice leads to better trade execution (and lower indirect costs) for investors compared to alternative arrangements… and whether potential changes from Gensler could alter how brokerage firms (and advisors' custodians) price their own services.
Also in industry news this week:
RIA aggregator Homrich Berg announced a $75 million debt financing agreement through a multi-bank syndication, demonstrating that RIAs looking to access capital do not necessarily have to give up an equity stake in the business
Invesco and Cerulli Associates have launched a free benchmarking tool allowing advisory firms to compare themselves to the rest of the industry on a range of metrics, from AUM growth to client services
From there, we have several articles on inflation:
What advisors are doing to help their clients cope with the current elevated levels of inflation
8 inflation conversations advisors can have with their clients, from creating a cash management strategy to reassessing long-term inflation assumptions
Why recent declines in the prices of key inputs could lead to a cooling of prices for consumer goods
We also have a number of articles on retirement planning:
How a new study shows that a typical retirement is made up of four stages, with the first beginning during the working years
How recent research shows why personal health, anticipated health care costs, and legacy desires help explain why individuals choose not to smooth their consumption throughout their retirement years
The seven non-financial investments individuals can make during their working years that can lead to greater happiness in retirement
We wrap up with three final articles, all about advice:
10 key lessons from some of the most successful companies, from Stripe's diligent recruiting practices to why Red Bull outsources production of its own beverages
The big ideas that changed one author's life, from understanding the importance of tribes to the importance of learning from history
47 lessons learned over the course of one writer's first 30 years, from when to take risks to the importance of being intentional in your decision making
Enjoy the 'light' reading!