Executive Summary
As financial advisors - like any business owner - we want our clients to have a "great experience" when they do business with us, providing a high level of service and proactive communication. Yet the challenge is that what constitutes the "right" level of communication and engagement with clients will itself vary by the client, making it difficult to standardize "good service" across the entire firm. And ultimately, it's hard to differentiate on good service anyway, as virtually all advisory firms like to pride themselves on providing "good service" to their clients. Which means if we truly want to provide an extraordinary service to our clients, we must go beyond just great service and think much deeper about what an extraordinary "client experience" truly is.
In this guest post, Julie Littlechild of Absolute Engagement (a firm that helps advisors craft a client experience that makes them attractive to the right clients) shares her 11 action steps that advisory firms can take to design their own extraordinary client experience, recognizing that the key to a create experience starts with clearly understanding who the firm is trying to serve (and not trying to serve) in the first place, and then crafting a plan to execute the plan profitably. Though ideally, it's not just about segmenting clients, creating a service matrix for the firm to follow, and assessing capacity and profitability, but also better defining what your target clientele or niche is in the first place, and then working with them to co-create the client experience and map out the client journey, along with the supporting client communications plan and necessary business infrastructure.
Ultimately, though, the key point is simply to acknowledge that what we tend to think of as delivering great service in an advisory business is simply too narrow when it comes to really defining experiences, and great service alone isn't the differentiator it once was. A broader and more holistic client experience really can differentiate a firm, but only if the firm clearly understands who it wants to serve, so it can create an extraordinary client experience for that particular target clientele. Because in the end, it's not about finding the one particular tactic that is going make the difference, but instead, the building of a strong foundation that supports a specific target clientele and is consistent with the client's journey that truly makes a client's experience extraordinary!
What Is Client Experience?
We think of client experience as delivering great service. It is so much more.
We think of it as frequency of contact and the communications we send. It is so much more.
We think of it as the cost of entry, as table stakes. It can be so much more.
Today I'd like to go deep – very deep – on client experience. And I know you hear ideas about how to enhance your client experience all the time. Mine won't be the first blog you read on this topic and it won't be the last. The ideas all sound reasonable, but often leave us with bigger questions. Where do I start and when am I finished?
I believe that what is missing for so many of us who want to design something extraordinary for our clients is a clear framework. We need a framework that provides us with a logical place to start, a connected way to build on the experience we deliver and a path from the foundational to the extraordinary.
To take you through the framework, let me introduce you to James. James is a financial advisor with a goal that many of us share – to deliver a client experience that is not only engaging for clients but sets him apart.
James works with 200 families for whom he manages $50m in investable assets with two assistants. He is 42 years old and started the business 10 years ago. His growth has been strong, but he has even bigger plans.
James loves his business but he's feeling the pressure of his own success. He was feeling an almost crushing responsibility to his clients and was being pulled in 100 directions. He worked long hours but always felt like he was behind and wondered if he was really doing the best for his clients, or for himself. He knows he not only needs to get his house in order, but he wants to do more than that to really stand out.
OK, James, let's get to work.
So let's begin with James' core objective. "I want" he said, "to deliver a client experience that is truly engaging for my clients."
It's a good start but James had a more pressing need. Before he could even begin to think about driving deeper engagement, he needed to get his client experience house in order. He met with most of his clients regularly as best he could, but knew that some were slipping through the cracks.
The Challenge? James needed a strong foundation on which to build a more engaging client experience. He needed to ensure he was delivering good service, consistently. And, he needed to ensure that it was profitable and efficient. Without that foundation James could never succeed in designing an extraordinary client experience. He was building a house of cards.
Laying that foundation involved three clear actions: segmenting clients, creating a service matrix, and doing the math by analyzing capacity and profitability.
(Michael's Note: For advisors who want to apply this process to themselves, Julie has made a workbook available for download to help you assess where you are today and set goals for each of the steps in this process.)
Action 1: Segment Your Clients
James was trying to do the right things for everyone and, in the process, felt that he was often falling short. His service plan was disconnected from the value of his clients, and instead based on a strategy of providing service to whoever needed it at the time (which usually ended out as "whomever screamed the loudest"). As a result, he felt out of control, because his service model was entirely reactive.
He began by segmenting his clients based on the direct and indirect value they represented to the business, and put a process in place to keep those ratings up to date.
To do that, he completed the following 6 steps:
Define client value.
Create and test a rating system.
Rate all clients.
Define client segments.
Define process for tracking client segments.
Define processes to update segmentation ratings/rate new clients.
James determined that the core drivers of value in his relationships were assets, referrals and connection to a top client. He created a rating system with assets on a scale from 1 – 5, referrals from 0 – 3, and connection to a top client as a 0 or 5. This, he felt, weighted the drivers of value appropriately, and didn't 'punish' clients too much for not providing referrals or not being connected to a top client.
James then rated all client households using this method, and then sorted from high to low. He decided to put clients into five segments to reflect the nuance in his client base. His A+ clients were the top 2% based on the composite score, his A clients the next 18%, his B clients the next 10%, his C clients the next 50% and his D clients the next 20%. He entered the segment data into his CRM so he could easily filter lists based on segment.
Finally, James created a simple process to ensure he didn't need to go through this difficult exercise again. For existing clients, he added an internal action item to his annual review that triggered a review of ratings so that he could make changes on an on-going basis. For new clients, he added an internal trigger to his onboarding process to rate them based on available information.
With segmentation complete, James felt a strong sense of relief. The challenge now? He needed to decide what it actually meant to be (i.e., what clients would get for being) an A, B or C client in his business.
Action 2: Create a Service Matrix
For too long, James had been providing service on an ad hoc basis. While he thought he was doing a good job, there was no real structure to what he was delivering. So his next action was to map client value to a clearly defined offer, including frequency and form of direct content, scope of education, and appreciation.
To do that, he followed these 2 steps:
Define frequency and form of reviews, frequency of education and appreciation, and scope of service by client segment.
Define service standards for the business.
James created a simple matrix with client segments across the top and the components of the service he provided in the first column, including frequency of reviews, scope of educational activity, form of client appreciation, products and services, and the platform used. He then completed each row based on the value of the client. As a final point, he broke his contact goal down further to define the form of reviews, specifically face-to-face, telephone, and web-meetings.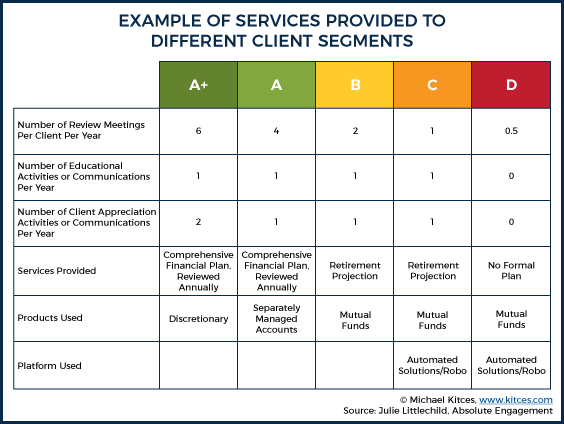 Next, James set some service standards to provide some further structure to how the team operated. These were the standards to which he wanted the team to commit, above and beyond the core offer. They included the following:
If you call or email the office, we'll respond within two hours or the next business day if you contact us after 3:30 p.m. ET. We may not have the answer, but we'll let you know
If you find an error or don't feel you have the information you need, we're so very sorry. We are committed to fixing that problem as soon as possible. At a minimum, we will provide you with a daily update as we work to make it right.
You can reach someone on the team between 8:30 – 5:30 ET, but we're often very busy with our clients, so see #1.
When we hold a review meeting with you, we'll provide a written follow-up within 48 hours of the meeting, including any specific action items we are taking, or we hope you will take.
Once James had completed the service matrix and service standards, it was a thing of beauty. He had client segments, a defined offer by segment, and clear service standards that everyone on the team believed were important. The service matrix provided James and his team with a clear structure. But there was a big unanswered question: could they actually deliver on the plan they had just outlined?
Action 3: Assess Capacity and Profitability
James could easily have finished the service matrix and posted it to his website and sent to all of his clients. It was good that he resisted the urge, though, because he would have missed a critical and often overlooked piece of the puzzle. He needed to do the math. He needed to ensure that he could actually deliver on the commitments he was making in that service matrix. And, he needed to ensure that the plan would be profitable. Oh right, that little detail.
So James went deep into the plan by following these four steps:
Assess the time required to deliver what you have outlined in the service matrix, by team member.
Assess team capacity based on an evaluation of the hours available to do client work and the time required to service your existing clients.
Assess profitability by client segment by assigning a cost to the time you calculated above and allocating your other business expenses to each segment.
Refine your service matrix based on your capacity and profitability analysis.
At this point, James had all the information he needed to assess both capacity and profitability, and he began to calculate the ramifications of the Service Matrix he had created, considering not only basic information like the number of meetings being committed to, but all the related support work as well, including the time to:
Prepare for, hold and follow-up on client reviews
React and respond to client enquiries throughout the year
Provide service for clients that does not take place during reviews, including rebalancing, plan reviews and estate and insurance reviews
Respond to clients, prepare for reviews, and maintain client accounts, for all the other team members who don't meet with directly clients
James also recognized that it's not realistically feasible for 100% of time in the business to be spent on client work, given the need for both employees who want to take vacations and get continuing education, and James' own additional responsibilities to engage in new business development, team management, and planning for the future of the business as well.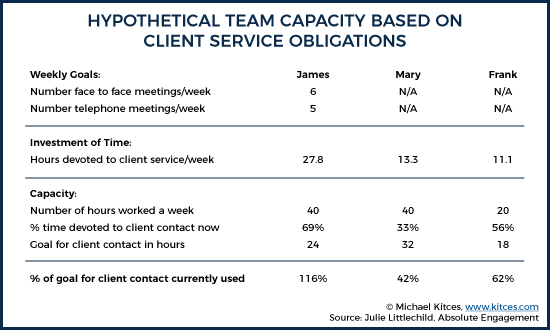 Unfortunately, James' analysis revealed that he still had placed too many of the client work burdens on himself, while not delegating enough to the rest of his team; thus James was at 116% capacity, while Mary was underutilized at only 42%! In other words, James was the roadblock, and could not have delivered on this plan without giving something up, like new business development.
On the basis of this analysis, James and his team went back to the drawing board, and focused on how to transition more of the client review preparation to the team.
James eliminated one telephone contact for his 'C' clients, reduced the length of his review meetings, and delegated more to his team, including review preparation and responding to ad hoc inquiries. And they kept making adjustments until the capacity was better balanced.
With just those changes, the picture changed considerably. There is no doubt, however, that James will need more support in working with clients very soon, and that could involve hiring a paraplanner or expanding the role of one of his existing team members. Nonetheless, the plan was at least viable for the time being in its updated form.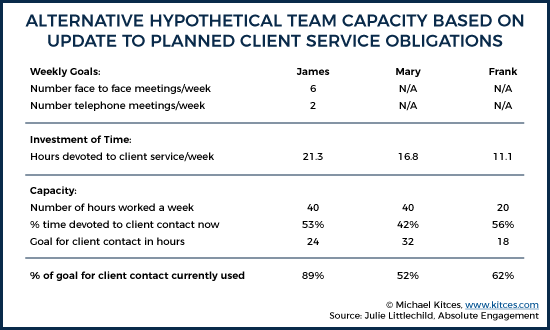 And this, my friends, is where most professionals stop. And doing the first three Action Steps discussed thus far will drive greater satisfaction, because you are delivering on your offer in a consistent way.
But… remember the objective that James set at the outset? "I want," he said, "to design a client experience that is engaging and sets my business apart." He didn't, you'll note, say that he wanted to design a client experience that makes him just as good as everyone else who properly segments their clients and establishes a service matrix and basic service standards.
The Shift from Good to Extraordinary
To take this experience further, to drive deeper engagement, and to get clients talking, James needed to shift his focus from his offer (which connects to the value he provides clients) to the experience (which reflects what clients actually need).
But as soon as James realized that there was more, he ran straight into a big challenge. And he was not alone in facing that challenge.
The challenge is this: You can't build an engaging client experience around the needs of everyone. Before James could design a meaningful client experience, he needed to decide whom he is building the client experience to support in the first place.
Action 4: Define Your Niche or Ideal Client
James realized that designing an extraordinary client experience meant actively supporting his clients and providing significant value based on their unique needs. And he knew that deep value was not really about what he provided as much as what his clients needed.
The reality is that you can deliver good service to all clients and that's exactly the result of a service matrix. But it's much harder, if not impossible, to really deeply engage a diverse client base and provide a great experience when they have very different needs.
Which means James had two options. He could define a clear niche for his business, or he could identify his most important segment of clients and focus the experience on those individuals.
He opted to go down the path of defining a niche. To do that he followed the 6 steps below:
Craft a personal vision of what energizes and inspires you.
Define a niche that reflects your personal vision.
Clarify your ideal client and deal breakers within that niche.
Assess the strength and viability of your niche by asking four questions:
- Is it authentic?
- Are you committed?
- Do your clients perceive value?
- Is it economically viable?
Determine how you will handle existing or new clients who are not part of your niche.
Define/Update your client acceptance criteria, as it relates to your niche.
James had always defined his target client based on asset levels because he had a clear asset minimum in place. He worked, he would have said, with high net worth clients. It became clear, however, that clients didn't define themselves in that way, and so while it made sense for his business, it wasn't compelling to prospective clients.
James had always loved working with family-owned businesses. He was passionate about their challenges, and knew he could make an impact. He didn't want to work with just any family-owned business owner, of course, so his ideal client definition included a minimum asset level, a desire to do financial planning, an assessment of the health of the family relationships, and a personality gut check. He was energized and he knew that the focus resonated with prospective clients, because it was clear that he understood their unique needs. He would probably lose some clients, but he was willing to take the hit in order to focus his client experience in a way that could ultimately grow the business even bigger anyway. And to be able to do the work he really loved.
At this point James had clarity and direction. He could begin to design the client experience, building on the framework he had created with the service matrix. He believed he had a strong understanding of what an extraordinary experience looked like. But as he was staring at the blank sheet of paper in front of him, he realized he was missing something – input from his clients.
Action 5: Co-Create the Client Experience
James wasn't thinking about getting feedback from his clients because that would only tell him how he had done in the past. He did, however, want to their input in designing the experience of the future. Without realizing it, James set out to co-create the client experience.
When he was creating his service matrix, he could rely on a multitude of industry benchmarking studies to ensure that his plan was reasonable relative to what others were doing. But as he began to think about the evolution of his client experience, he knew those studies couldn't provide the direction he needed. You see, he didn't just want to create a client experience that was as good as what was on offer by other advisors. He wanted to match the experience delivered by the great service organizations in the world. He wanted to be ahead of the curve.
With that in mind, James completed the following 4 steps:
Identify and examine your own greatest client experience
Invite the team to share their greatest client experience
Interview 5-10 clients about a client experience that has had a profound impact on them (and isn't already about you).
Look for the themes that are common across these examples.
James thought about his own greatest client experience, a trip to Disney. In a personal brainstorming session, he dissected the experience, making note of everything that had happened before, during, and after, and considered which had the greatest emotional impact. He then invited his team to do the same. They each identified their own greatest experience and shared that in a team meeting, once again ripping the experience apart to understand why it had such an impact.
At that point, James met with 10 clients, all of whom ran family-owned businesses, and asked them a simple question: "What one client experience has had the most profound impact on your business or life?" With each, he dug in and probed until he understood why.
Finally, he brought the team together and looked at all of the input to identify the specific things that were common, and which they wanted to replicate. They discovered that the common themes were experiences that brought clients together as a family, that involved people who fully understood their needs, that made doing business easy, and that demonstrated caring or connection.
Now they had some important filters to help guide them, and could get to work designing the client experience. The tendency, at this point, is to jump straight to your communications plan and focus on those tangible things you can do for your clients. Instead, James paused at this point, and this pause was the thing that made the difference between a good experience and real innovation. He need to design the client experience around his ideal clients' journey.
Action 6: Map out the Client Journey
A client journey map provides a single view of the experience, through the eyes of the clients who are exactly right for your business, using their motivations and challenges to trigger opportunities to engage and to innovate. It's a process used by many of the most successful firms and brands, but the same thought process can be applied to smaller businesses.
To create a client journey map, James completed the following 5 steps:
Create a persona for your target client.
Create a stakeholder map which identifies the other people involved in the client's journey.
Identify key stages a client goes through in his/her journey, starting before they begin working with you.
Identify the actions, feelings, information needs, and touchpoints your target client experiences at each stage.
Look for opportunities to support clients at each stage of their journey, thinking beyond your core offer.
James identified one of his best clients as his persona so that he could have that individual and her business in mind as he mapped out the client journey. He expanded his thinking to acknowledge that it wasn't just about the client, but her spouse, her business partners, her children and her other professional advisors. They all played a role in the journey.
With the players in mind, James put himself squarely in the shoes of his ideal client, and he realized that her journey started well before they met. He thought about the conversations that led to seeking out professional help, and about how she researched potential advisors in the first place. He thought about what happened when she first reached out, the questions she would have had, and if those were answered. He thought about the first meeting, and what she was feeling before, during, and after coming in to see him. He wondered who she talked to about that meeting, and if the conversation really focused on what she needed right away. He thought about all the questions she must have had during the on-boarding process, and the questions she still had in advance of review meetings. And he thought about all of the challenges she faced in running the business, thinking about transition and trying to juggle the responsibility of her family.
He created a simple client journey map and below each stage he identified the following: What was she thinking? What was she doing? What questions did she have? What concerns did she have? What information did she need?
With this journey map in place, James began to see opportunity. Instead of thinking only about what he was trying to deliver to clients (his offer) he began to see how his offer fit into each client's journey. And that fundamental shift opened up opportunities to help and support them in different ways.
He thought about how to give business owners the questions to ask themselves as they start the journey, about helping them understand what to expect in working with a professional advisor before them come into the meeting. He thought about how helpful it would be to have all of the stakeholders involved in some conversations, and how important it was for his clients to know that the children are prepared to run the business. The more he thought about it, the more he realized that his communications plan could be so much more.
Action 7: Create Client Communications Plan
At this point James focused on his communications plan for the next 12 months, and how that could reflect the specific needs of his ideal client. He wanted to ensure that everything he delivered was tied to the journey and their needs throughout that journey.
Specifically, James walked through the following 4 steps:
Identify the stages of the client journey where you can have the greatest impact.
Brainstorm ways in which you can have the greatest impact with your communications at each stage.
Identify the communications and activities you will deliver.
Create a client communications calendar for the next 12 months.
In order to focus his plan, James started with on-going communications as he felt that would have the biggest impact. He identified the three biggest challenges faced by his clients: getting comfortable with the idea of having less control over the business, helping their children make good financial decisions, and enhancing the long-term enterprise value in the business.
Accordingly, James then identified ways to help clients with each of those challenges, including a mix of third-party articles, links to Ted Talks, and a live workshop with an outside expert. And he decided to do something more dramatic: he began to write a blog about the issues he saw owners of family-run businesses facing. He wanted to transform that into a podcast, in which he would interview successful business owners. None of the communications were directly tied to investments; instead, they all supported clients on their journey.
His plan was clear and focused, and he knew the communications would resonate with his clients and prospective clients. But he wondered if there was more… and he was right. All of his external communications supported his target client. However, he also needed to look inward and ensure that the he had structured the business in a way that also supported his target clients.
Action 8: Structure the Business Around Ideal Client
James recognized that his target client needed to be reflected in every corner of his business in order to stand out. To do that, he needed to step back and look at his business with the eyes of a consultant to identify opportunities.
To do that, James completed the following 2 steps:
Review all aspects of the business to identify opportunities to reflect the needs of your ideal client. Specifically, he looked at:

Client Acceptance Criteria
Products and Services
Team Structure, including fit
Skills
Outside Partnerships
Technology
Office Environment
Digital Presence

For each area of the business, ask three questions:

What are the needs of my ideal client?
Where are the gaps between those needs and what I provide today?
What would need to happen to close the gaps?

Prioritize where you can add greater value.
As a result of this process, James set specific guidelines for whom he would accept into the business, he transformed a boardroom into a more casual meeting space for extended families, he enrolled to get his CeFT (Certified Financial Transitionist) designation to help his clients make significant changes, and he updated his website to focus only on the needs of his target audience.
With all of these changes, James moved from being a professional who could work with family-owned businesses, to a professional who did work with family-owned business, to a professional whose entire business was built around the unique needs of family-owned businesses.
James felt that the client experience was almost complete, and significantly better than when he started the process. However, he still worried about efficiency, and ensuring that his clients not only received great communications, but that day to day service was delivered efficiency and consistently.
Action 9: Define Core Processes
As a final step in designing the client experience, James turned to the challenge of process. Everything he had identified in his current plan was something that was delivered on a one-time basis (like sending an article or link to a website) or was delivered on an occasional basis (like a workshop he ran annually). None of these things got to core (recurring and ongoing) processes in his business, and he wanted to ensure those were just as great.
To that end, James completed the following 5 steps:
Identify the core processes in your business, which might include things like on-boarding, creating an initial financial plan, or setting up and running a client review meeting.
Define what would constitute an extraordinary experience for each process.
Map out the associated activities, timelines, responsibilities, and templates used in delivering on that process.
Determine how the processes will be automated within a CRM.
Document processes to use as a training vehicle.
James created process maps with his team for each core process. Each map listed the specific activities that were involved, the timing between activities, and the responsibility for executing on each activity. One of his team members created workflows within the CRM so that they could trigger a set of automated communications or reminders for each process.
To provide more detail, below is an example of a workflow, created by practice management consultant Jen Goldman, that defines the specific steps for a sample on-boarding process, connected to the specific systems where each part of the process lives.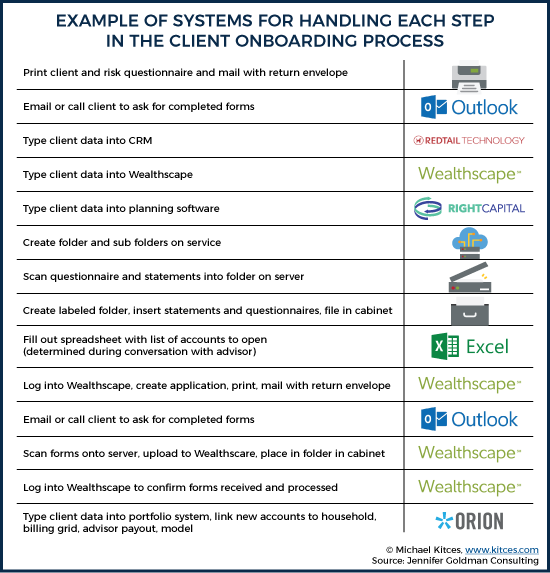 With every action, the client experience was getting better and better. And while James knew he had something special, he also realized that his clients didn't know that yet.
Action 10: Create a Client Service Agreement
James knew he wanted to clearly articulate what clients could expect when working with him, and what he expected of clients. By doing so he would not only reinforce value, but demonstrate his commitment to clients and help to manage client expectations.
To do that, James went through the following 3 steps:
Create a service agreement that outlines everything a client can expect.
Determine the ways in which you'll communicate that agreement to clients and prospects.
Define a process to reinforce the value you provide and manage expectations over time.
James created a client service agreement that included the following:
Frequency of review meetings
His service standards
The scope of service he provides
How he educates clients
How the team stays current/is educated
The communications clients can expect
His expectations of clients related to attending review meetings
He shared his service agreement with prospective clients, and put it on his website. He also included a copy in the information he sent to prospects before meeting. For existing clients, he sat down and reviewed the details, despite having worked with some for many years, and he reviewed it with them annually to ensure he continued to deliver on his promises.
The plan was complete, and James felt great about it. The difference between this process and everything else he had tried was the fact that each step built on the one before. He had laid a strong foundation, focused his efforts and then designed the experience in a way that reflects the needs of his ideal. Instead of approaching client experience in an ad hoc way, everything fit together.
But he had one remaining question. How do I know if I'm doing a good job?
Action 11: Gather Client Feedback
James had asked clients for input to help him design the experience, but he also wanted to ensure he was delivering on his promises. He wanted to implement a process to assess his performance in delivering on or exceeding client expectations.
To take action, James completed the following 5 steps:
Define your objectives for client feedback by identifying what you want to learn and how you will use the information.
Choose your methodology, whether that is a written/online survey, telephone survey, advisory board or focus group.
Craft your questions, aligning those with your core objectives. Specifically, craft questions to answer the following:
- Are my clients satisfied or are some at risk of leaving?
- Where are we doing well and where do we need to improve?
- What is most important to my clients?
- What do my clients expect (e.g., frequency or form of review meetings)?
- What topics are clients interested in learning more about?
- Have clients referred?
- What other services are clients interested in learning more about?
4. Execute the client feedback process.
5. Analyze and leverage the results.
James decided to do an annual on-line survey to understand if clients were satisfied with what he was doing, and to assess exactly what clients valued. He designed a survey that would take clients about 7 minutes to complete, and he executed it within SurveyMonkey.
He focused in on things like the format of review meetings (wondering if clients wanted more video meetings), his reporting (to ensure clients valued everything he was doing to create quarterly reports) and he concentrated on who had provided referrals to see if there were opportunities he was missing.
He shared the survey results with his prospects and centers of influence, in addition to reporting back to all clients, whether they had responded or not. He used the results as part of the team compensation structure, ensuring they contributed to the questions and scoring. He discussed the results with his clients at the next review meeting, using the completed survey as a way to trigger a deeper conversation on value.
Now That's a Client Experience
I began with the idea that too often we think of client experience as delivering great service, or being limited to the basics of a service matrix. Client experience is all of these 11 actions. The thing that will set you apart is not necessarily the specific tactics you choose, but the way in which you design the client experience. If it is built on a solid foundation, if it is designed to support a clear target, if it reflects the client's journey, if it is apparent in your communications and your structure, if it can be delivered consistently, and if you are measuring success, you're on the right track.
The actions are shared in a specific order, each building upon the prior and leading to the next. While I could write an equally lengthy post on every single action, the framework is what matters. Use this structure and you will not only deliver an experience that is profoundly engaging, you will set yourself light years ahead of everyone else.
So what do you think? Is client experience more than just delivering a great service? Can a service matrix help advisory firms segment clients? How do you determine the level of service your clients will receive? Please share your thoughts in the comments below!
Michael's Note: For advisors who want to apply this process to themselves, Julie has made a workbook available for download here to help you assess where you are today, and set goals for each of the steps in this process for yourself.